Porridge Yams aka Potash, Asaro-  An easy one pot meal, made with yams and leafy greens  enjoyed throughout West Africa also known as Sese Yams in Cameroon.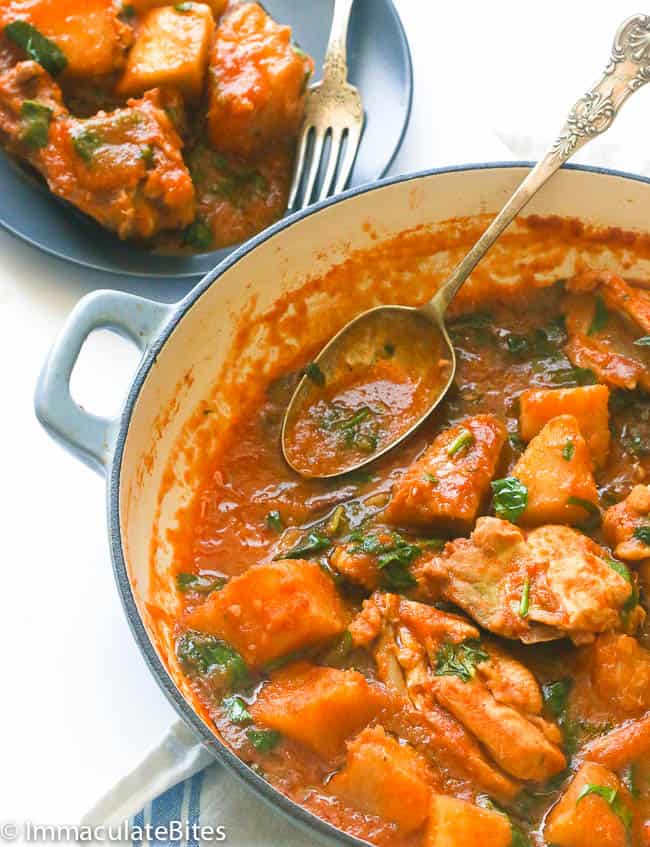 There are times when you want something easy, yet comforting without sensationalizing your taste buds. When that feeling heats… I think of the lovable porridge yams
Yams are starchy tubers that are grown in most countries in Africa, South America, Caribbean, South Pacific and Asia- with each country have it's own variety
They are not comparable to the sweet yams grown in North America. – which are softer (when cooked) and overly sweet. These  African yams  are firm and  tender, when cooked.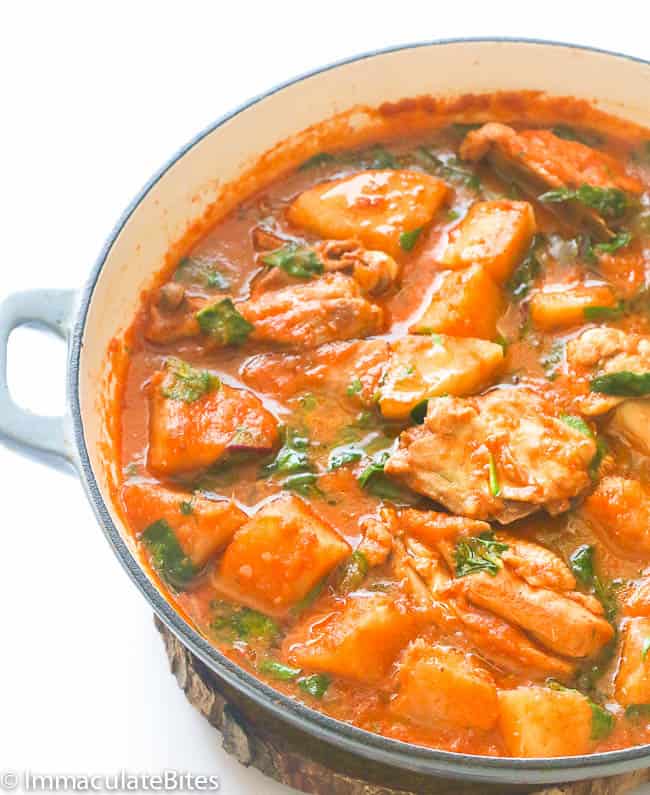 There are different species of yams in Africa some white, some yellow, and in certain parts of West Africa you have sweet yams (which are firm in texture).
Porridge yam is a one pot meat that is prepared with white or yellow yams or any starchy tuber (cocoyam, plantains, cassava, potatoes); However, when you use a different starch, it takes the name of  the starchy tuber. Just like … porridge plantains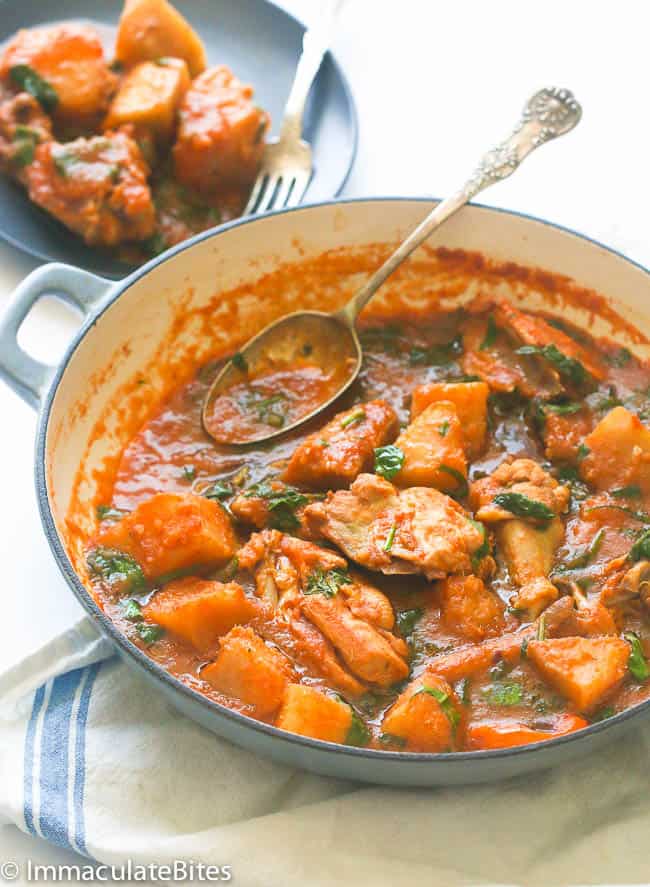 In this recipe, yams are peeled, cut into big chunks and then cooked in tomatoes, onions, and chicken until tender. You can use boneless chicken thighs or bone in. Either works just fine.
A more traditional way of making this is to include  smoked/ dried fish. Dried Fish is sometimes hard to come by and is pricey too , that is if you live abroad .  A great substitute is smoked turkey .
After the yams are  tender , you can either smash it, to make porridge also known as  Asaro in  Nigeria  or  leave as is.  I prefer chunks of yams.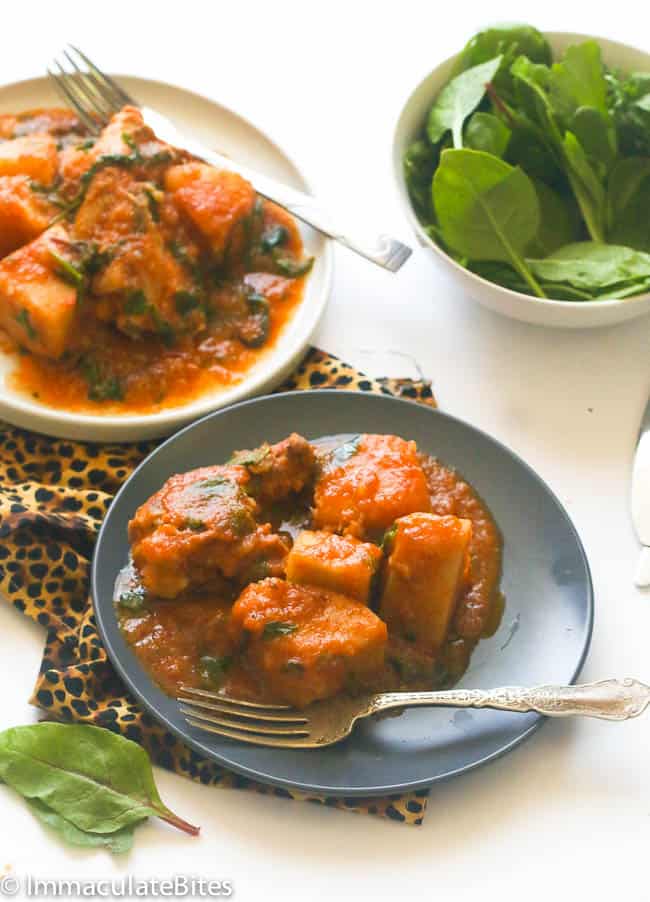 Most people add bitter leaves  to the porridge yams for its nutritional value and taste .  A great substitute would be any dark leafy greens .
I used my leftover bag  of leafy greens ; kale, collard greens and spinach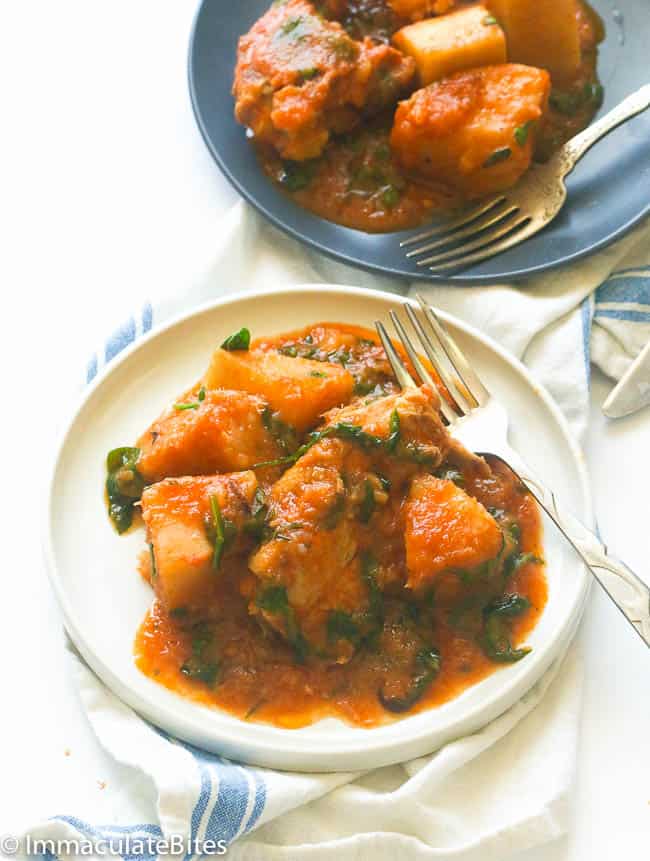 Throw in some hot pepper for some extra heat and you are good to go.  You cooking time will vary depending on protein used . Be sure to cooked the chicken first until tender before adding yams.
Serve immediately or warm
Enjoy!!!
Porridge yams(Sese yams)
Ingredients
1½ - 21/2 pounds chicken cut in chunks
¼ cup or more canola or vegetable oil
3 Fresh Tomatoes
½ medium Onion
3 garlic cloves
creole seasoning spice
½ teaspoon white pepper
1 tablespoon smoked paprika (optional)
2-3 pound of yam (sub potatoes)
1 habanero pepper or scotch bonnet(optional)
3-4 cups ( Fresh leafy Greens
Optional ingredients
¼ cup ground cray fish
2 Tablespoons palm oil
½ Tablespoon or more chicken bouillon powder
Instructions
Peel the yam with a sharp knife, peeling away from your body carefully draw the paring knife down the body of the yam, being careful not to remove too much of the yam in during the process.
Look for any spoiled spots, such as bruising and discoloration, in the yam as you peel. Remove the spots away with the tip of the knife.
Cut into large chunks and wash immediately to prevent discoloration and leave them in cool water until ready to use.
In a blender puree the tomatoes, onions and garlic
Heat up a non-stick pan or dutch oven with vegetable oil and pour in the tomato , onion and garlic blend . Add chicken, Maggie powder or chicken bouillon ,white pepper , creole seasoning or salt saute for about 5 minutes.
Add 4- cups of water or more ,bring to boil -cook until chicken is tender about 25 minutes or adjust cooking times depending on chicken use. Boneless would be considerably less.
slowly add the yams and cook on medium – heat for about 15 minutes .Add water as needed, you may throw in the a whole or ground pepper at this time.
Finally add greens, mix, let it simmer for about 2 minutes.
Again adjust for salt and pepper
Turn off heat and serve warm