Asian Pea Sprout Salad-A colorful  blend of  vegetables  tossed with a delicious almond dressing , crispy oven-baked wonton strips and pea sprouts. Healthy, filling ,Vegan and Oh so good!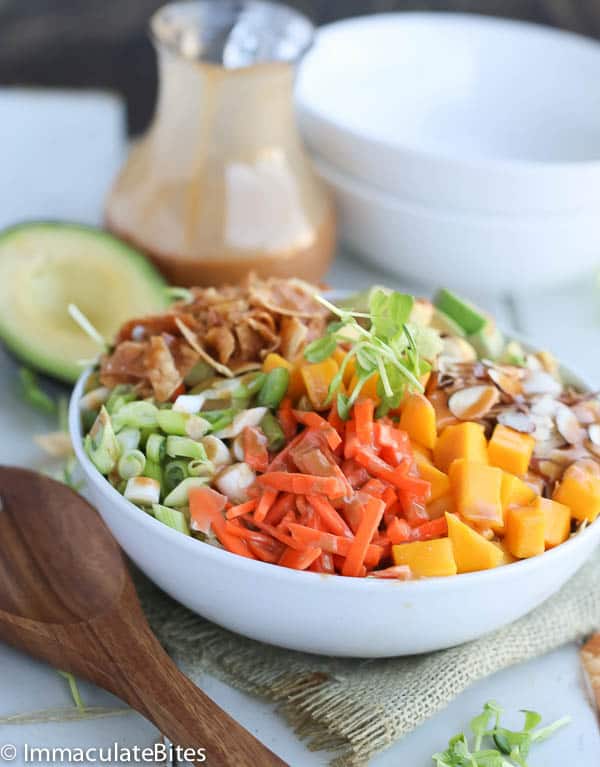 Dinnng out my sister would always go crazy over salads, not me. I considered them just plain boring. Growing up in Africa, we always joked around about salad being reserved for cows. And I truly believed that… until it became something that was fashionable. What every household should be serving if they were following the food trends. And I still did not get- let's blame this on teenage rebellion.
But, as you grow old, there is no one forcing you to eat salads- it just becomes natural progression of adults and that's what happens to me- a sense of maturity.
Then I tried Asian Salad, the Americanized version served at most restaurants. And quickly fell in love with it- Boy, it is an explosion of flavors.
 I ate it everyday for a while until my older sister busts my bubble. Just when I found a salad I truly liked – She loves doing that to me.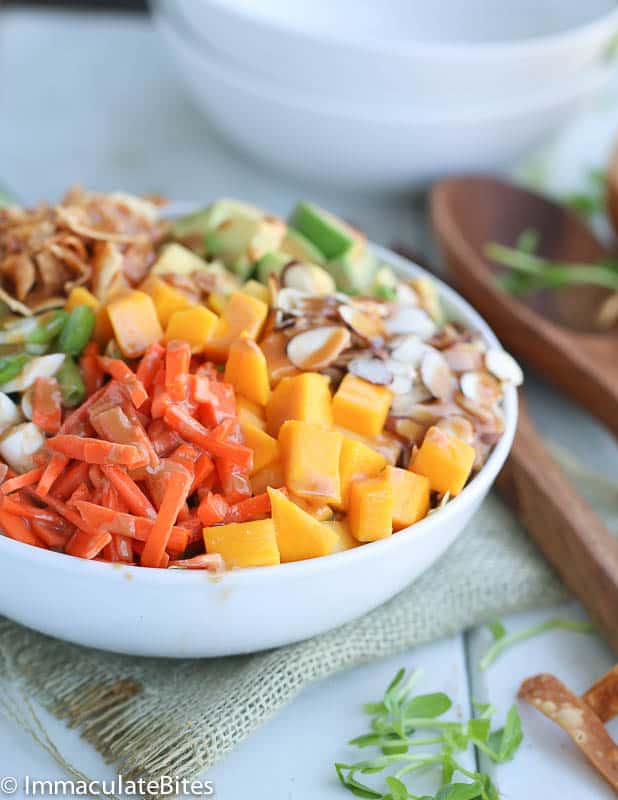 This salad Asian Pea Sprout Salad is another variation of this Healthy Chinese Chicken salad here.
  Spring is here and these pea sprouts are popping up at local Korean food market. They sure are and I am making good use of it. Yes, I not going to lie, they were on sale for a dollar each and a girl can't pass up a good sale. Ok, forget the sale.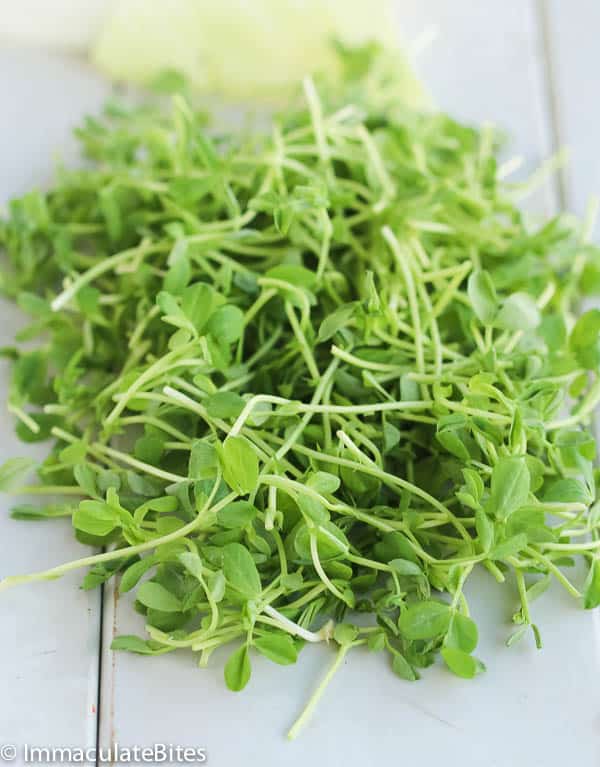 These greens are packed with nutrients, my friends. They contain no fat, about 10 calories per serving full of vitamins and carotenes. Now you get it.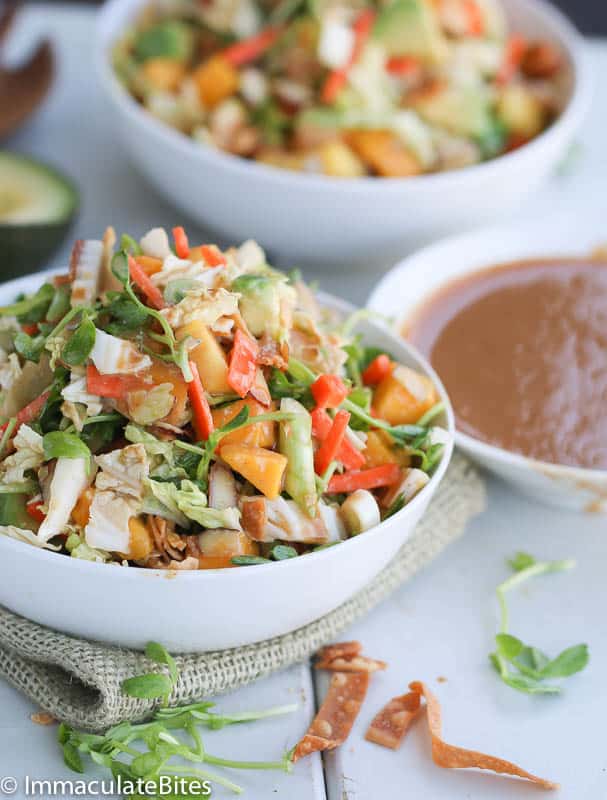 I used the pea sprouts as part of my salad green combination, together with Napa cabbage and Romaine lettuce; any combination of these greens would work as well. Sometimes, I use pea sprouts. The strong flavor from the spicy Asian dressing blends beautifully with the sprouts.
Now, another great reason for you to make this salad is this dressing- Baby! My one and only Asian salad dressing, I can't get enough of it.
Can I say it is nutritious? I don't know. Is it healthier? Yes. Not saturated with oil.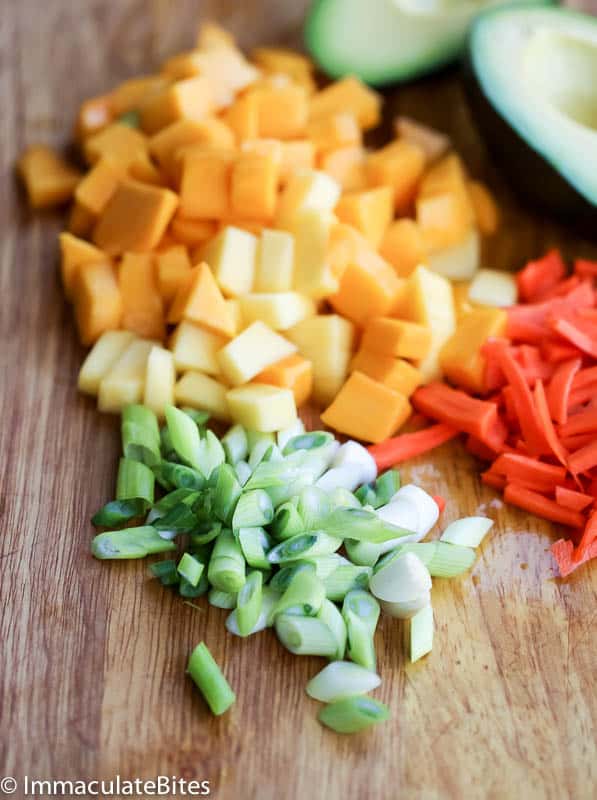 So this is how I went about it, I cut down on the oil, used only 3 tablespoons. Replaced part of it with almond butter for added flavor. Then poured in honey in place of sugar and for a spicy kick (siracha)
I have been using this dressing forever and sometimes I just want to put it on everything. Go ahead, make it.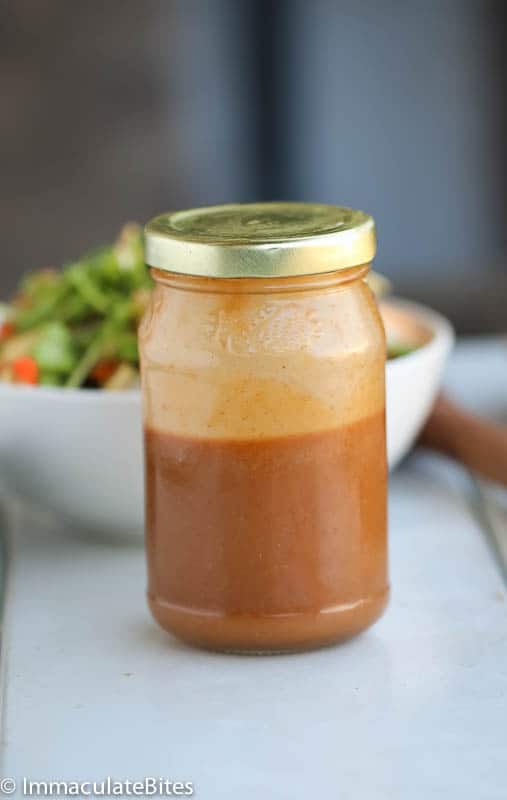 If you want a chicken variation of this salad try this one I made a while ago
Enjoy!!!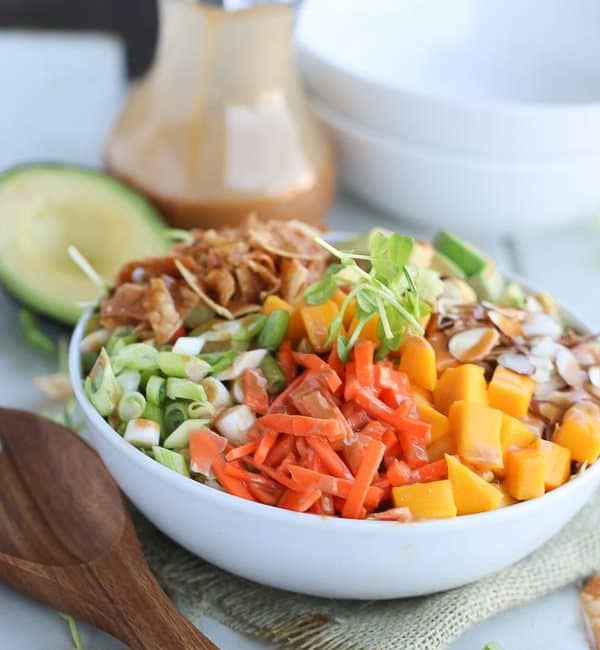 Print
Asian Salad
Asian Pea Sprout Salad-A colorful blend of vegetables tossed with a delicious almond dressing , crispy oven-baked wonton strips and pea sprouts. Healthy, filling ,Vegan and Oh so good!
Ingredients
1 ½

cup

wonton strips

or 8 wontons

6 -8

cups

chopped salad or pea sprouts

Napa cabbage, romaine lettuce

2

cups

hredded carrots

1

large mango

seeded and chopped

1

large avocado

seeded and diced

2

scallions

white and green parts, sliced diagonally

2

tablespoon

white sesame seeds

toasted

¼

cup

parsley

optional
Almond dressing
2

tablespoon

dark sesame oil

1

tablespoon

canola oil

3-4

cup

apple cider vinegar

1

tablespoon

soy sauce

2-3

tablespoons

honey

½

teaspoon

garlic

minced

½

teaspoon

fresh ginger

grated, peeled

2

tablespoons

almond butter

½

teaspoons

salt

½-1

teaspoon

sriracha
Instructions
Preheat oven to 400 degrees

Line baking sheet with parchment paper, or foil sprayed with non-stick cooking spray. Cut wonton wrappers into strips and lay on baking sheet.

Bake for approximately 8-12 minutes depending on your oven until wontons are crispy and lightly golden brown. You may have to wash them very closely. Remove from the oven, let cool

If you prefer deep fry wanton for about 2-3 until golden brown. Set aside

In a large bowl, combine Napa cabbage, carrots, scallions, pea sprouts, mango, avocado, and parsley and wonton strips. Sprinkle with sesame seeds

Combine all the dressing ingredients in a jar and shake like crazy -to emulsify for about 2 minutes. Set aside. Be sure to shake it before each use. You may also use the blender to make dressing.

Add dressing to salad and toss to coat right before serving Serve and enjoy
Nutrition Information:
Calories:
467
kcal
(23%)
|
Carbohydrates:
58
g
(19%)
|
Protein:
9
g
(18%)
|
Fat:
19
g
(29%)
|
Saturated Fat:
2
g
(13%)
|
Cholesterol:
5
mg
(2%)
|
Sodium:
940
mg
(41%)
|
Potassium:
808
mg
(23%)
|
Fiber:
7
g
(29%)
|
Sugar:
14
g
(16%)
|
Vitamin A:
11645
IU
(233%)
|
Vitamin C:
30.9
mg
(37%)
|
Calcium:
139
mg
(14%)
|
Iron:
4.1
mg
(23%)