Banana Biscotti – Chewy, crunchy and dunkable with tea or coffee with a pleasant yet not overwhelming banana taste. Super easy to make, too!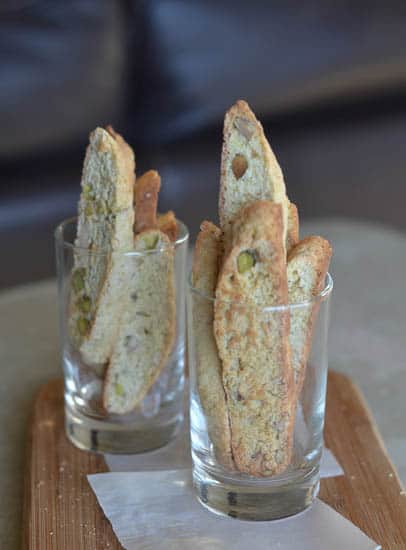 When am at Costco or a coffee shop, I frequently buy biscotti. It is exactly the kind of snack, that I am usually attracted to sweet, crunchy and perfect with coffee or tea. Sometimes I buy the ones with all kinds of interesting seeds nuts or flavor to it. But my favorites are usually the simple ones that are crunchy, and flavorful and of course, less calories – good luck on trying to figure that out.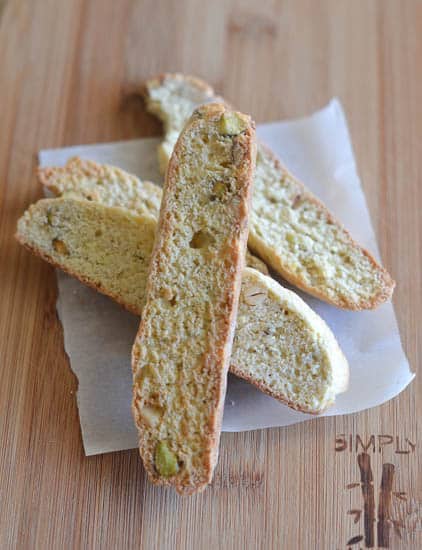 Fortunately enough biscotti's are easy to make, I often had the notion that, you needed a specialized gadget to make one of these. So not true. I started off making these snacks weekly – so I could munch on them all week but discovered quickly enough that it was not such a good idea.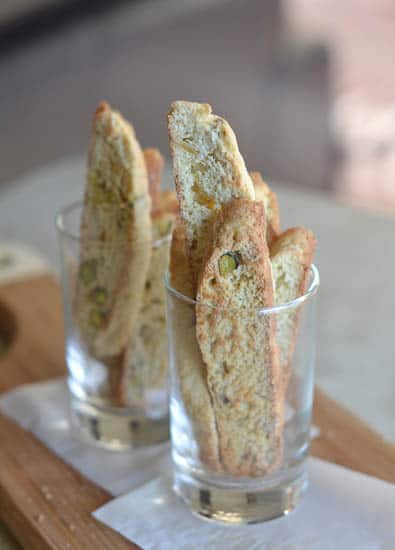 So I switched out the butter with banana and this made a significant difference, calorie wise, cutting it almost in half- from 110 to 68 calories per serving, if you happen to be counting.
This does not mean, you have a " carte blanche " to indulge but it does give you the opportunity to have 2.. maybe 3… or 4 with less guilt.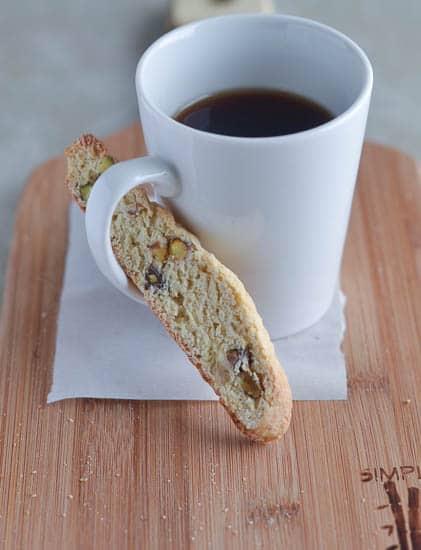 The butter version offers a delicate crumble texture with a buttery taste that would woe any café -goer -biscotti- seeker. While the banana version has a more pleasantly sweet taste ,not too overwhelming. – Chewy, crunchy and dunk able.. just the way I like it.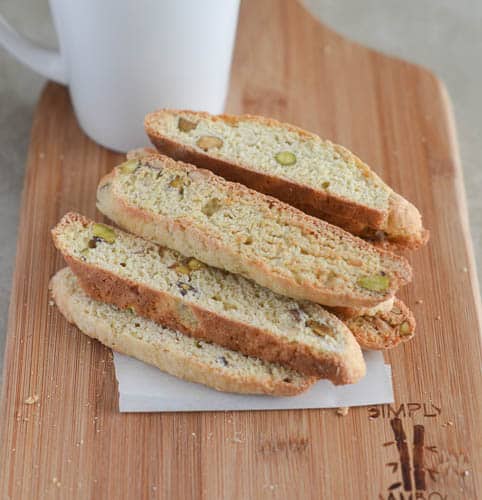 If this is your first time making biscotti, I would caution you towards the butter version before you graduate towards the banana version .If the dough is too sticky, just add a little bit of flour -biscotti dough is very forgiving.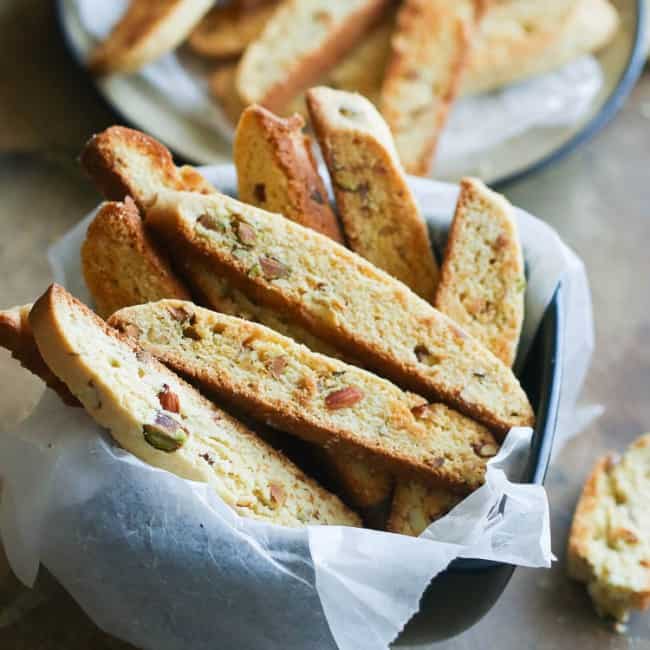 Print
Skinny Banana Biscotti
Banana Biscotti - Chewy, crunchy and dunkable with tea or coffee with a pleasant yet not overwhelming banana taste. Super easy to make, too!
Ingredients
2

cups

all-purpose flour

½

cup

mixed nuts

almonds and pistachios

2/3

cup

sugar

1/2

cup

fine cornmeal

or polenta

1

ripe small banana or 8oz butter)

1

teaspoon

baking powder

1/4

teaspoon

salt

2

large eggs

1

teaspoon

vanilla extract

1

teaspoon

almond extract

2

teaspoons

grated orange
Instructions
Preheat oven to 375°. Line two baking sheet with parchment paper.

Mash bananas with spoon or puree bananas in food processor or blender. Then add eggs, vanilla, and almond.

Combine, cornmeal, sugar, flour, salt, grated orange. and baking powder in a large bowl, followed by the nuts ,

Add the flour mixture with the banana mixture, stirring until well-blended

Turn dough out onto a lightly floured surface; knead lightly. Divide dough in half and flatten. Shape each portion into a 12 inch-long log and 1- inch thickness Place rolls about 4-5 inches apart on a baking sheet.

Bake at 350° for about 25-30 minutes. Transfer the logs to a cutting board and let cool 10 minutes.

With a serrated knife cut the logs crosswise into 1/2 inch slice, 36 total biscotti. Arrange the cookies in a single layer on a baking sheet. Lower the oven temperature to 300. Bake the biscotti about 10 minutes per side, turning once as you bake. Transfer biscotti to a wire rack. The biscotti will crisp as they cool.
Tips & Notes:
Butter version
In a large bowl, cream butter and sugars until light and fluffy. Add eggs, one at a time, beating well after each addition. Beat in vanilla. and almond . Stir in the combine flour mixture , followed by the nuts.
Nutrition Information:
Calories:
72
kcal
(4%)
|
Carbohydrates:
13
g
(4%)
|
Protein:
2
g
(4%)
|
Fat:
2
g
(3%)
|
Saturated Fat:
1
g
(6%)
|
Polyunsaturated Fat:
1
g
|
Monounsaturated Fat:
1
g
|
Trans Fat:
1
g
|
Cholesterol:
10
mg
(3%)
|
Sodium:
23
mg
(1%)
|
Potassium:
47
mg
(1%)
|
Fiber:
1
g
(4%)
|
Sugar:
4
g
(4%)
|
Vitamin A:
16
IU
|
Vitamin C:
1
mg
(1%)
|
Calcium:
10
mg
(1%)
|
Iron:
1
mg
(6%)