Baked or Fried Super Crispy Chicken  Samosas full of chicken , peas  and spiced up with just enough spices and heat .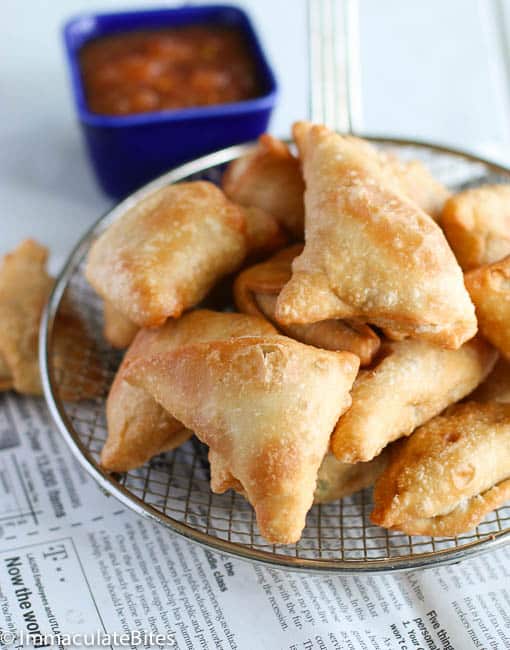 If you have tried this vegetable samosa here, then it is time to treat yourself with another samosa. If you have not, you are missing out on a darn good appetizer/snack. Ok, you don't like fried foods?
Then make a healthier version of these street snacks, baked instead of deep fried and if you want it to be super quick, use filo dough.
Now for the folks that have tried it, I am going to say, you are in for another treat with this chicken samosa. They both taste great but if I where to pick one it would be this chicken version-cause I love chicken!
Samosas are a deep fried spicy pastry snack that originated from India and East Asia but have quickly become an African favorite especially in East (Kenya, Tanzania) and South African Countries, due to the influx of Indian immigrants to these parts of Africa. I would say it is quickly spreading to West African countries as well especially Nigeria.
I am going to say that, this right here, is the top of my favorite fried appetizers, it is not only filling but it is out of this world good. The spice combination is what gets me all the time- curry, thyme, chili sauce, garlic, ginger, parsley, white pepper coupled with crispy crust. What's not to love?
 Spice lovers rejoice!
Here, I used coarsely ground chicken- I like to ground my own chicken whenever I can. However, you can use pre-bought ground chicken if you are press for time.
Looking for a vegan samosas check out this vegan version here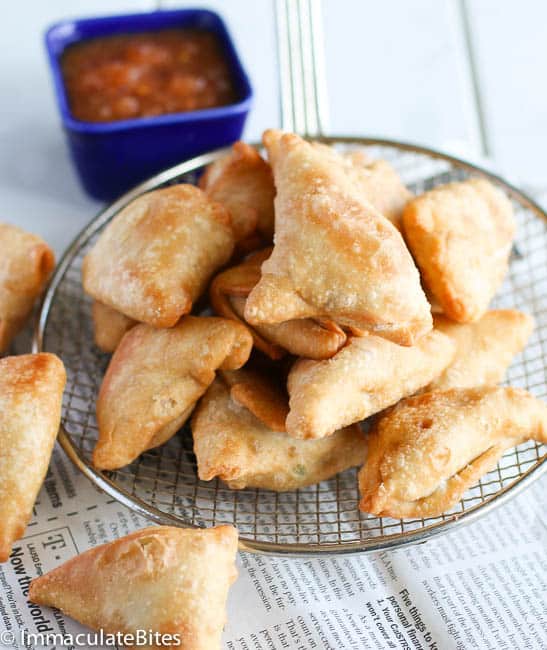 Enjoy.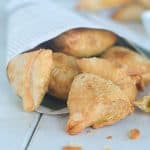 Chicken Samosas
Baked or Fried Super Crispy Chicken Samosas full of chicken , peas and spiced up with just enough spices and heat .
Ingredients
Dough
3

cups

all-purpose flour plus more as needed

1

tablespoon

granulated sugar

1 1/2

teaspoon

salt

1/2

cup

ghee

Clarified butter or oil

1

cup

warm water
Filling
1

pound

ground chicken

1/2

cup

frozen peas

thawed

1

medium onion

chopped

½-1

teaspoon

pepper sauce or chili sauce

3

tablespoons

oil

1

teaspoon

ginger

grated

2

teaspoon

minced garlic

1

teaspoon

curry powder

2-3

tablespoon

parsley or cilantro

½

teaspoon

cayenne pepper

½

teaspoon

smoked paprika

1

teaspoon

white pepper

salt to taste
Instructions
Filling
In a medium- large skillet, add oil, onions, garlic, ginger and sauté, for about 2-3 minutes, stirring constantly to prevent any burns.

Then add, curry, pepper sauce paprika, white and cayenne pepper and continue stirring with a heavy wooden spoon, about 2 minutes.

Add minced ground chicken mix until ingredients have been thoroughly combine. Simmer for about 5 minutes or more Finally throw in peas , parsley , adjust the seasoning, to taste. Remove from the heat and let it cool. You may prepare this a day in advance.
Dough
In a large bowl add flour and make a well then add sugar, salt

Followed by water, ghee or oil

Knead to form soft and sticky dough.

Place dough on a heavily floured board and knead for about 3-4minutes. Continue to flour dough as needed to facilitate kneading. Be careful not to over do it. Dough should be soft, elastic and smooth.

On a lightly floured surface form the dough into 16 balls.

Roll the dough using a lightly floured rolling pin; cut it half. Spoon a generous 1-2 tablespoons filling in the center of a half-circle; lightly moisten the dough edges with water or flour paste, using your finger. Fold the end over the filling to form a triangle, and then continue to fold up the strip in triangles, like you would a flag. Continue with remaining dough. Set samosas on tray.

In a large, sauce pan pour vegetable oil, until it is at least 3 inches), and place on medium heat until oil is 350 degrees.

When ready gently place a few samosas at a time into saucepan

Fry for a few minutes until the bottom side is light brown

Turn over and fry for a few more minutes until the other side is light brown.

Serve warm or at room temperature with this avocado ranch dressing.

If baking Place on a baking sheet and brush with canola oil. Then bake at 375 degrees

For about 20 minutes or more until golden brown turning once.

Use a large spoon or something like that to take it out of the oil. Repeat the process until finish. Best serve warm with this pepper
Recipe Notes
If you are press with time, you can buy pre-bought ground chicken.
Jump to Recipe