Jamaican festivals aka Caribbean Fried Dumplings, paired with a creamy mango coleslaw and Jamaican Escovitch.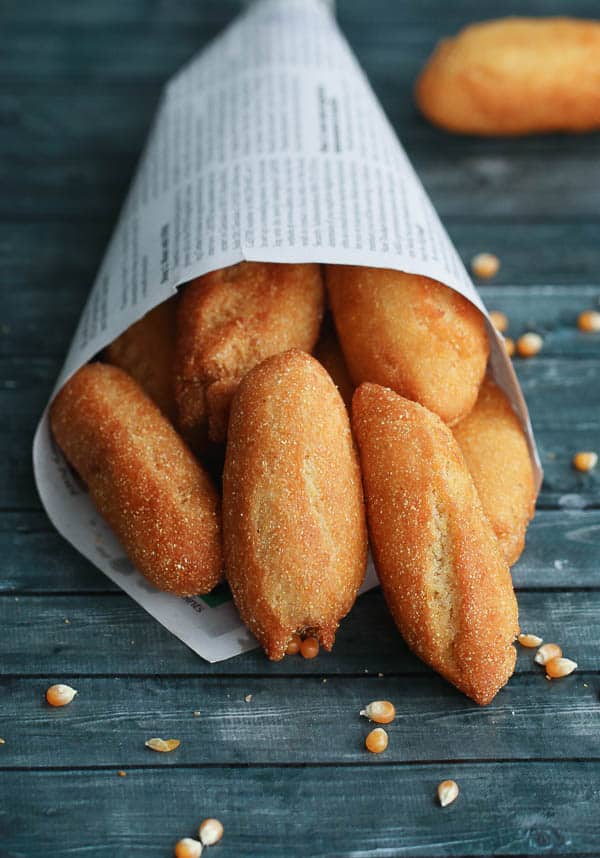 I originally set out to make Caribbean Fried Dumplings, and then I could just hear you saying "What! Another fried dough?" Yes! So instead of providing you with another fried dough recipe, I'm going to offer you a complete meal, somewhat of a beach side experience and MORE! Are you ready for a festival? Well, not that kind of festival, although you are going to think you are in a festival, you might even start doing some moves too! Don't  worry, I'm not looking.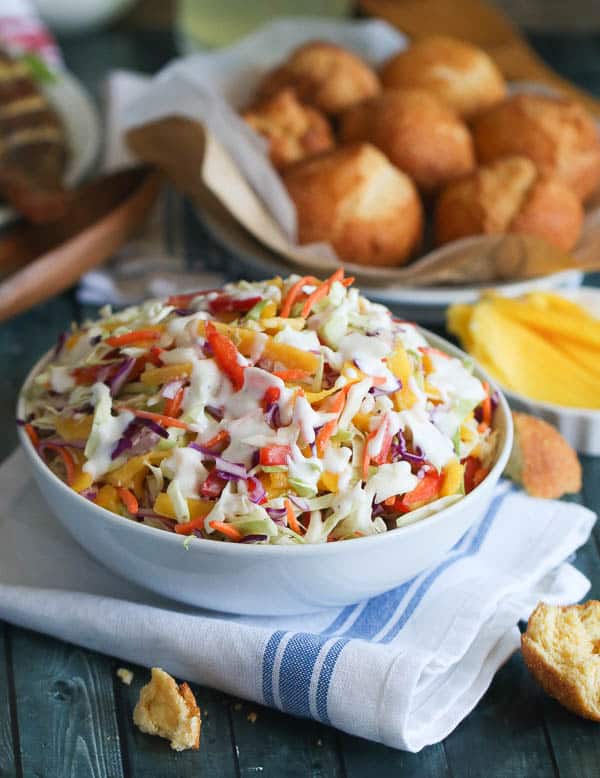 These fried dumplings are a comfort food—no matter where you're from. They have always been that for me, during my child and adulthood. So whenever I get a hectic or crazy week, I do some sort of frying — I can't help it. And I've been having those days more frequent recently. However, I only provide you with the best and this does not disappoint. Fresh out of the fryer, it is a delight. A festival in your mouth!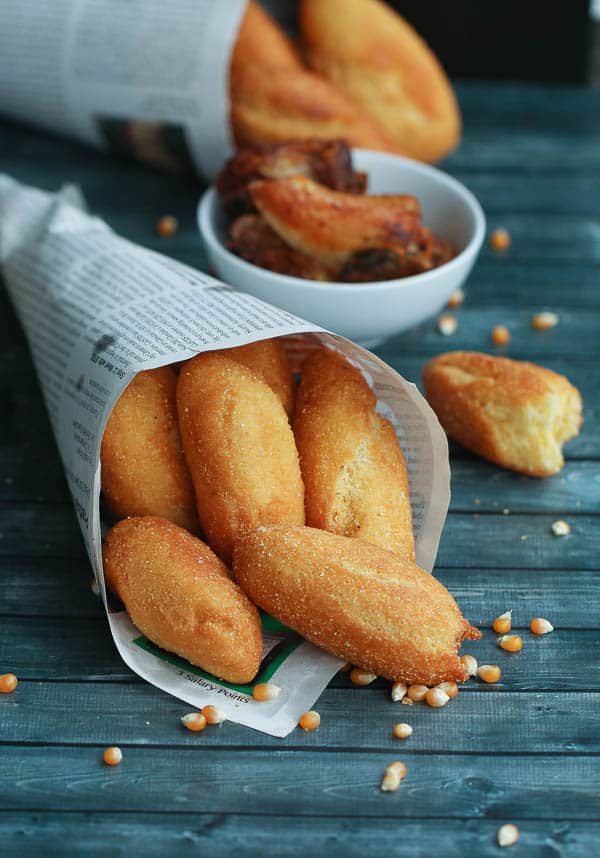 So let me clarify a few things, Caribbean dumplings are made for the most part without cornmeal and are shaped like biscuits. While Jamaican festivals are made with cornmeal and are sweeter and shaped like an oval. I used some butter and milk to produce a tender interior and a crispy outer layer.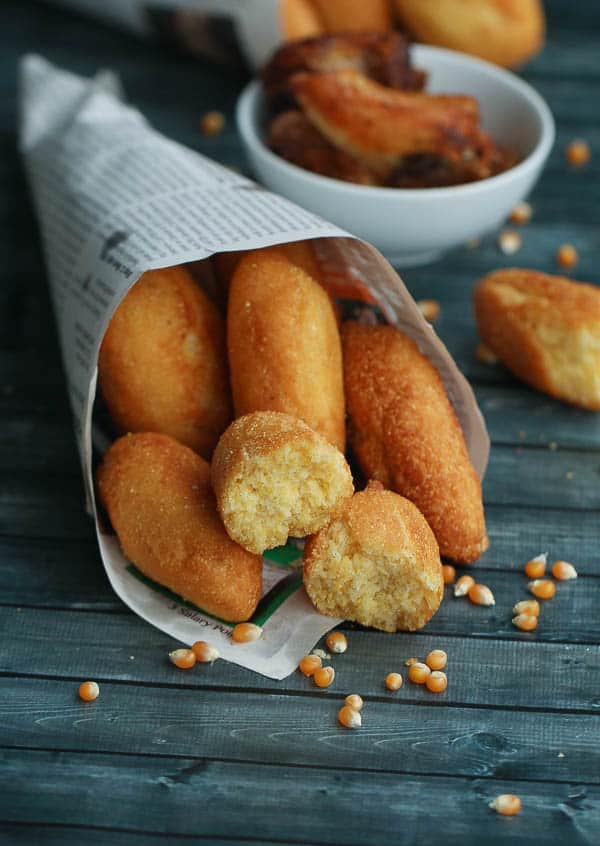 The ratio of cornmeal to flour varies from recipe to recipe, just like with hushpuppies. Adjust depending on preference. I have tried it with different ratios of flour to cornmeal and this proportion works out just fine for me. So proportions vary according to preference. However, keep in mind that more cornmeal produces a much more dense dough.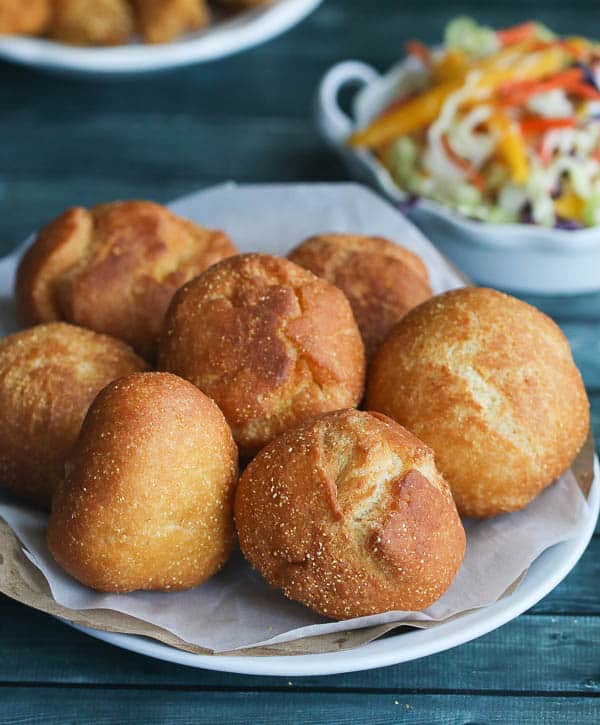 Making the fish is a breeze, if you have your green seasoning on hand or this jerk seasoning – they both work fine.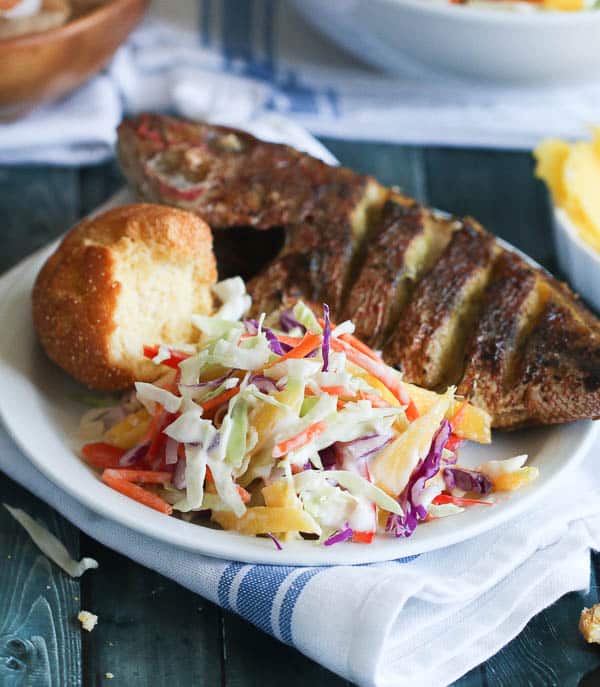 Or just go with this Jamaican Escovitch here.
See, I have got you covered, no need to go looking elsewhere.
Print
Jamaican Festival (Caribbean Dumpling)
Jamaican festivals aka Caribbean Fried Dumpling, paired with a creamy mango coleslaw and Jamaican Escovitch.
Ingredients
Jamaican Festival
2 1/4

cups

(270grams) flour

3/4

cup

(120grams) cornmeal

2

teaspoons

(12grams) baking powder

½ - ¾

teaspoons

(2.5 -4 grams) salt

3

tablespoons

(40 grams) or more sugar

2-3

tablespoons

(30-45grams) soft butter

1

cup

(240 ML)milk or water

adjust water to form soft dough

1

teaspoon

(5 grams) grated nutmeg spice

or vanilla extract

Oil for deep-frying
Mango Coleslaw
1

cup

purple cabbage

sliced

4

cups

cabbage

sliced

2

cups

mango

thinly sliced

½

medium onion

thinly sliced

½

red bell pepper

thinly sliced

2

cups

carrots

thinly sliced
Dressing
½

tablespoon

mustard

¼

tablespoon

honey

½

cup

Non Fat Greek yogurt

½-

cup

Low Fat Mayonnaise

1-

teaspoon

salt

½

teaspoon

freshly ground pepper

1

lemon juice

½-1

teaspoon

sriracha
Instructions
Mango Coleslaw
In a large bowl combine the onions, cabbage, purple and green, sliced mango , carrots and red bell pepper.

In another bowl, mix the Greek yogurt, mayonnaise, mustard, lemon juice, and honey; mix to blend all the flavors. Pour the dressing over the cabbage mixture and toss gently to mix .Adjust for seasoning salt and pepper.

You may chill at this point. Serve when ready

Caribbean Dumplings Instructions

In a large bowl mix together the flour,baking powder, cornmeal, sugar, nutmeg and salt.Then add butter.

Make a well , add milk, knead dough for about 30 seconds to 1 minute to form soft dough.

Divide dough into 12 -14 equal pieces. Set aside for about 10 mins or more

If making festivals shape dough like you would a sausage, by rolling with your hands, as if you are making a log repeat the process until finish

If making dumplings, shape into biscuits and then lightly flatten dough.

Divide the circles in half and then place a slit on dough.

In a large, saucepan pour vegetable oil, until it is at least 3 inches and place on medium heat until oil is 350 degrees.

Fry until golden brown about 7 minutes or more depending on size. Remove with a slotted spoon and drain on paper napkin. Let it cool.
Nutrition Information:
Calories:
159
kcal
(8%)
|
Carbohydrates:
25
g
(8%)
|
Protein:
4
g
(8%)
|
Fat:
6
g
(9%)
|
Saturated Fat:
1
g
(6%)
|
Polyunsaturated Fat:
3
g
|
Monounsaturated Fat:
1
g
|
Trans Fat:
1
g
|
Cholesterol:
5
mg
(2%)
|
Sodium:
719
mg
(31%)
|
Potassium:
502
mg
(14%)
|
Fiber:
5
g
(21%)
|
Sugar:
17
g
(19%)
|
Vitamin A:
9914
IU
(198%)
|
Vitamin C:
76
mg
(92%)
|
Calcium:
84
mg
(8%)
|
Iron:
1
mg
(6%)