Caribbean Banana Fritters – An absolutely delightful way to use up your surplus of bananas that you just can't help but purchase. It's quick, easy and disappears quickly.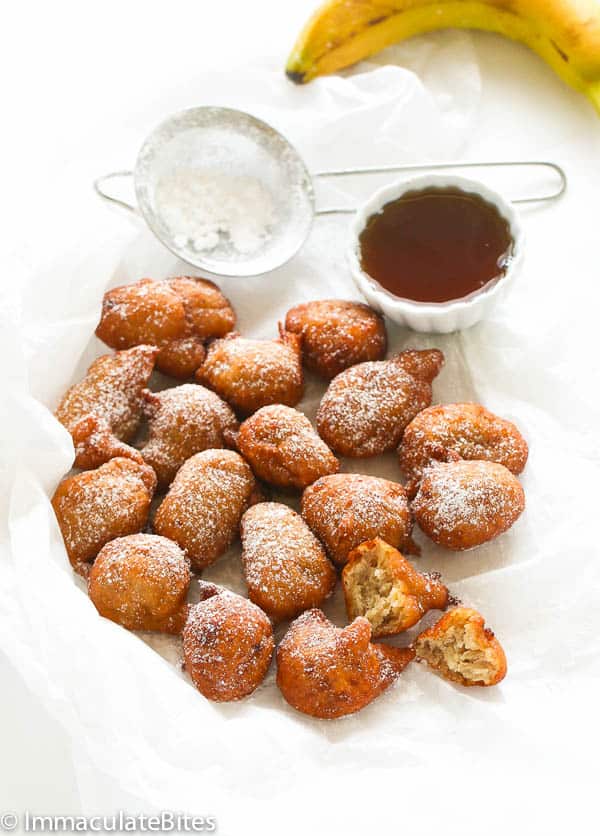 Banana fritters is a popular African Snack or breakfast food but it's well loved in the Caribbean, too! With each household having their own variation. Some are made with milk and/or eggs, while others are not. These here are completely vegan without eggs or milk. Yet taste just as good.
I'm not going to lie, making these was purely selfish on my part, it's been a while….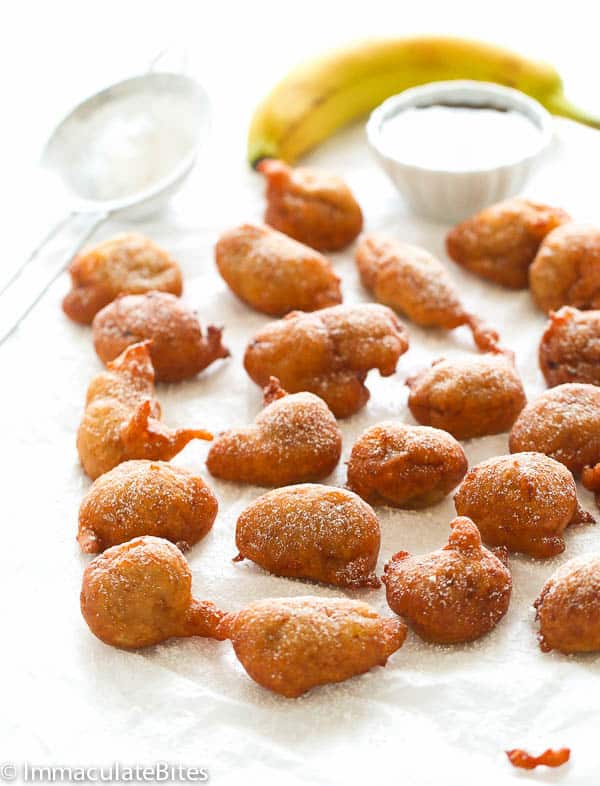 Ever since I was a teenager, these fritters have been a favorite of mine. I can whip them up in my sleep and have tried them so many ways and have never thrown a batch away to this day – I just heart them!!!! They're an anytime food if you ask me.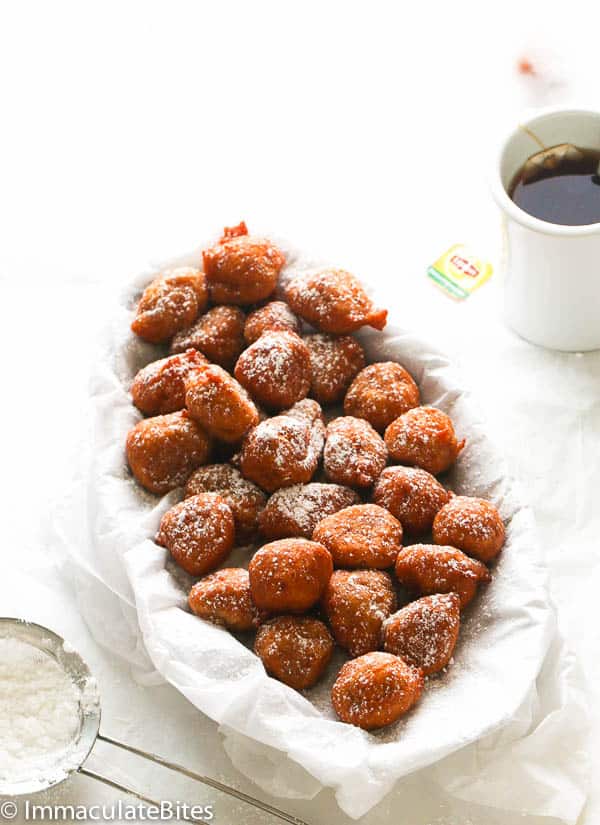 I made two batches for the blog one with coconut flakes and another without. Yes, coconut and me have a thing going on. We truly do. Hubby and son are sometimes envious…. AH, they don't get it. Maybe someone would understand or feel the same way I do about coconuts. If you are a coconut addict , then by all means throw some in. For everyone else, forget you saw this. No hard feelings.
Out of curiosity, I  used half wheat flour and white flour (all purpose)  to see what would happen and it worked  beautifully. Although, I love the nutty flavor from whole wheat flour, it's just too overwhelming sometimes. All  purpose flour balances it out leaving a slight nutty taste.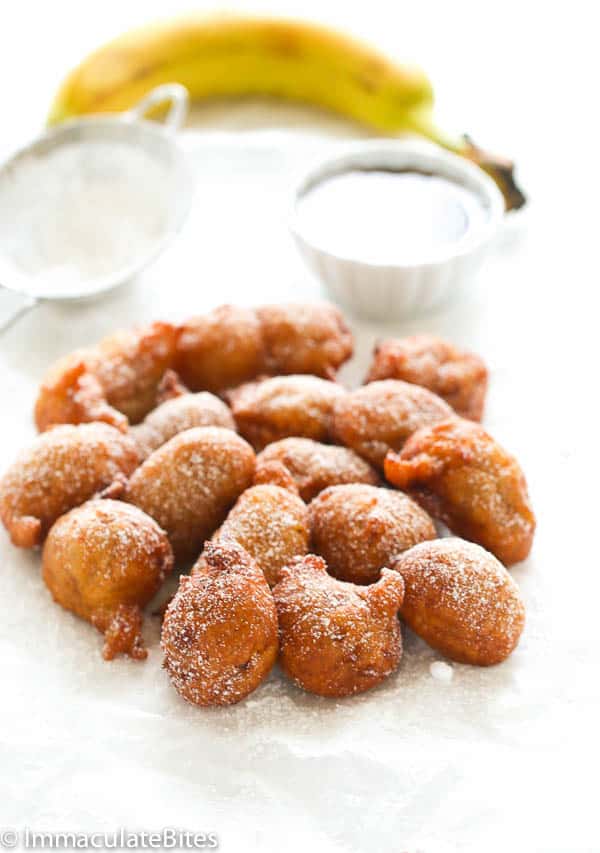 Now here are a few tips to help you decide which route to take.
Key factor here is the oil temperature, too low and it's going to soak up a lot of oil, so make sure it is warm enough, I always do a taste test first before proceeding with the rest of the batter.
If you want super light dough you can start with 1 1/2-cup flour and add more as needed.
Since the batter is somewhat light, the fritters will vary in size and shape.
You may use only white flour.
Eat these warm because they become heavy and dough once they cool (If they stay around that long!)
Enjoy!!!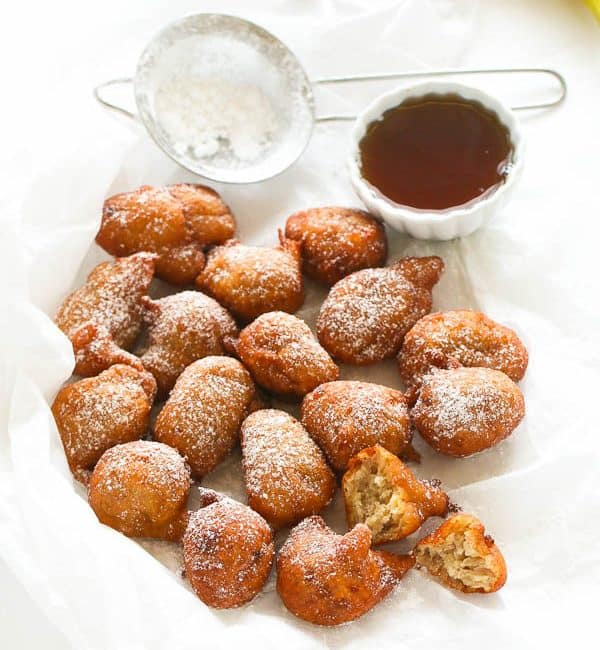 Print
Caribbean Banana Fritters
Ingredients
4

large super ripe bananas or 1 ½ cup mashed bananas

3/4

cup

Whole Wheat flour

3/4-1

cup

All purpose flour

2

teaspoon

baking powder

2-4

tablespoons

brown sugar

1

teaspoon

nutmeg

½

teaspoon

vanilla

Oil for deep frying

Confection sugar

(optional)

1 /2

teaspoon

salt or more

adjust to taste
Instructions
Mash bananas with spoon or puree bananas in food processor or blender.

In a medium bowl mix together mashed bananas, flour, sugar, baking powder and salt. Mix well to the consistency of a creamy batter.

Finally add nutmeg and vanilla. Let it rest for 10 minutes

Heat up a large skillet or cast iron with oil up to ½ inch- medium-high heat (375) until hot but not smoking.

Scoop up the batter and fry in batches, turning once, until golden brown, about 5 minutes. Do not overcrowd the pan (it will cause the fritters to be soggy and absorb excess oil

Using a slotted spoon, remove the fritters and place them on paper towels.

Serve warm