Moin Moin Recipe – Healthy Mouth Watering Savory Black-eyed Peas Pudding. Super easy to make with minimal prep work.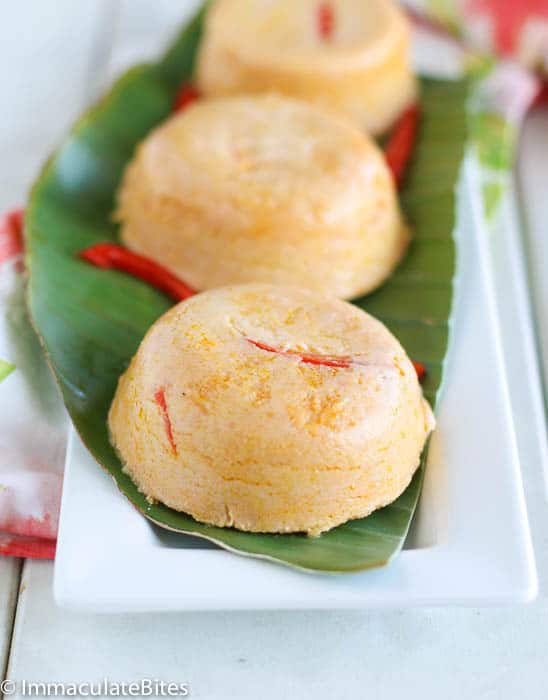 Looking for something new to do with black eyed peas ? This would be a good recipe to start . These Nigerian savory bean puddings are beyond Delicious and are totally healthy too! If you make one-minute change – cut back on the oil. I do it all the time when I am trying to shred a few pounds yet need something substantial and filling.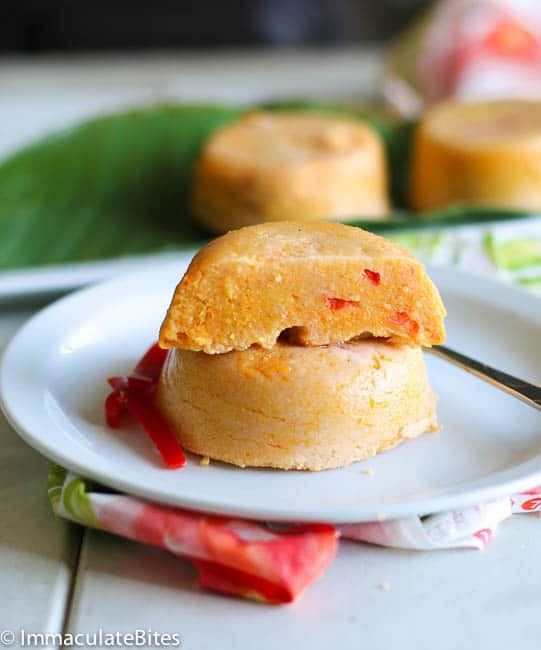 Ok, if you are clueless as to what moin moin, I going to clue you in. It is a flavorful blend of skinless black-eyed peas, onions, and red pepper and scotch bonnet. The end result…. a pleasing pudding, with intense flavor, and lots of hidden treasures that is you want to go that route.It goes by various aliases Mai Mai or Moyin Moyin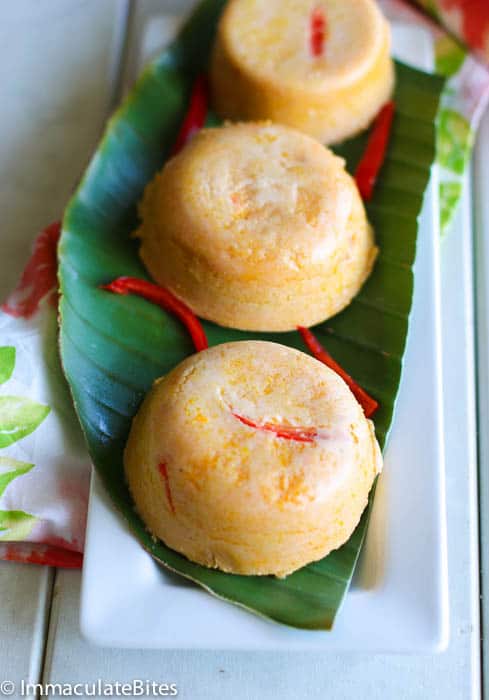 Although moin moin is traditionally made with red oil, most people make it cutting back on the palm oil or completely omitting it in favor of fresh red pepper for its bright vibrant color and for other health reasons.
This one right here – is a vegetarian option – made with no meat or fish and is completely vegan. Two thumps up for that. I have come to really appreciate vegan eating and what it does to your body.
This moin moin is just the way you would want it, without the dreaded wrapping and folding of plantain leaves or foil paper .Not that there's anything wrong with plantain leaves, in the right circumstance when you have all the time in the world it is great, but not with your busy lifestyle.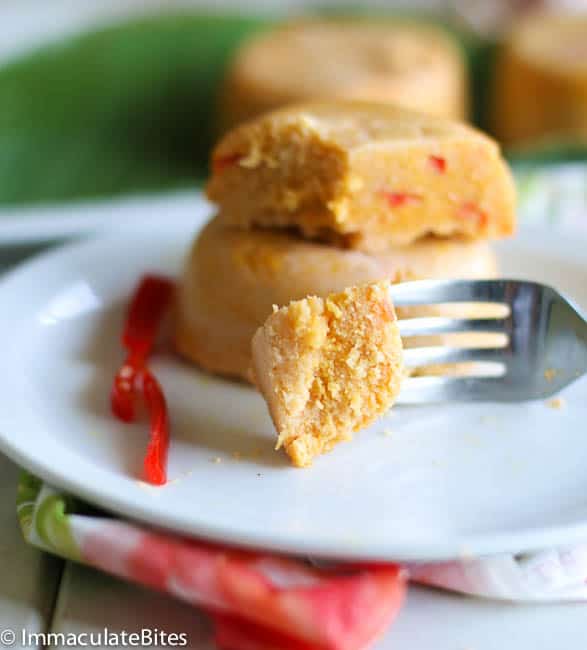 I know you would prefer this version or the baked one featured here. You can use individualized muffin pans or a large baking pan.
Some people eat it for breakfast, for lunch or dinner as a snack, main course. I like mine with boiled ripe plantains
Enjoy!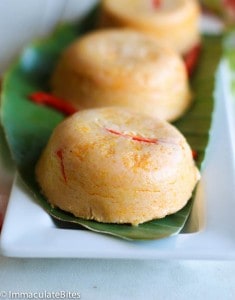 Print
Moin Moin Recipe
Moin Moin Recipe - Healthy, mouthwatering, savory black-eyed peas pudding. Super easy to make with minimal prep work.
Ingredients
1

cup

skinless black-eyed- peas

1/4– ½

cup

chopped onion

1 1/2

cup

water or more if you like soft moin moin

1/2

small red bell pepper

1

Maggie cube

1 teaspoon bouillon powder

1 1/2

teaspoon

salt or more adjust as needed

1-2

tablespoons

palm oil

¼

cup

oil- 1/2 cup oil

½

teaspoon

smoked paprika

½-1

scotch bonnet pepper

1/4

cup

ground crayfish

optional
Instructions
How to peel blacked eyed beans
Soak them for about 15 minutes, pulse in the blender or food processor to break the peas (about 5- 10 times or about 10 to 15 seconds) - you should do this in small quantities.

In a large bowl, soak the beans with warm water for about 2 hours or up to 24 hours, cover with water until tender.

Rub the peas between your hands to take the skin off. The skins will float to the top. Pour off the skins into a colander; you may have to do this process several times.

Most of the skin will come off the peas; Sort through the remaining peas to remove all the skin. You can do this ahead of time and freeze it, to save time
Peeled Black Eyed Peas
Soak beans in water for about an hour to overnight to tenderize the beans to facilitate blending.

Chop onions, bell pepper, and habanero and set aside

In a food processor or blender puree onions, soaked black eyed peas, bell and habanero pepper with about a cup or more of water or stock until completely smooth. You might have to do this in two batches.

Pour the mixture into a large bowl; add, oil (palm and vegetable oil). Mix everything together, then, season to taste with Maggie and salt. Make sure you have used up all the water.

Lightly oil (or use non-fat vegetable spray) about 6 (6-ounce) baking cups and set them into a large baking dish. You can also use a small baking dish instead of ramekins (baking cups).

Pour mixture into ramekins and proceed with method of preparation.
Stove top method
Pour about half an inch of water into the bottom of a large saucepan. Then put something like a steamer to raise the moin moin of the ground.

Gently place the ramekins on the steamer, then cover with lid and let it steam for about 45 minutes to an hour.
Baking method
Before blending the beans; preheat oven to 350 degrees F. Adjust oven rack to center position.

Pour Moin-moin mixture into prepared baking cups, cover with more mixture until about three quarters full. Gently place ramekins pans to the large baking pan.

Bring the water (to place in the large baking dish) to a light simmer on top of the stove; carefully pour hot water into the baking pan to come halfway up the sides of the ramekins cups.

Cover the pan with aluminum foil and bake for about an hour to an hour and a half.

Let mixture rest for about 10 minutes or more before serving.
Nutrition Information:
Calories:
134
kcal
(7%)
|
Carbohydrates:
13
g
(4%)
|
Protein:
8
g
(16%)
|
Fat:
5
g
(8%)
|
Saturated Fat:
2
g
(13%)
|
Cholesterol:
27
mg
(9%)
|
Sodium:
1511
mg
(66%)
|
Potassium:
248
mg
(7%)
|
Fiber:
4
g
(17%)
|
Sugar:
3
g
(3%)
|
Vitamin A:
785
IU
(16%)
|
Vitamin C:
27.7
mg
(34%)
|
Calcium:
28
mg
(3%)
|
Iron:
1.8
mg
(10%)
Nutrition Facts
Moin Moin Recipe
Amount Per Serving
Calories 134
Calories from Fat 45
% Daily Value*
Fat 5g8%
Cholesterol 27mg9%
Sodium 1511mg66%
Potassium 248mg7%
Carbohydrates 13g4%
Protein 8g16%
Vitamin A 785IU16%
Vitamin C 27.7mg34%
Calcium 28mg3%
Iron 1.8mg10%
* Percent Daily Values are based on a 2000 calorie diet.