Hop on these super easy, tasty, and deliciously satisfying recipes perfect for celebrating spring on Easter day! These fun and simple Easter dishes are great for the whole family especially if you love quick-filling meals.
Enjoy this season's blissful feeling with food brimming with delicious flavors that would surely lure the bunny to your kitchen!
I love spring not just because of the gentle breeze and blooming flowers but also because of the festivities! My favorite part about this season is the picnics and potlucks my family and I go to. Preparing dishes for these occasions isn't really a problem for me especially with this list of amazing Easter food Ideas.
Bread
Although it says "spiced", I can assure you that it's a delightful kind of spice perfect for baked goodies. This treat is super convenient especially when you're fasting days before Easter Sunday.
It's a flavor-packed treat you can either make for the kids (using milk) or for grown-ups (using Guinness.) You can see a slight resemblance of fruit cake in this snack because of the beautifully colorful filling.
It's a total head-turner not just because it looks pretty but also because of its rich sweet aroma. The spices such as cinnamon and nutmeg contribute to this and its flavor so every bite is packed with deliciousness. What I like about this, although my son doesn't, is the tasty raisins, cherries, and dried fruits inside!😍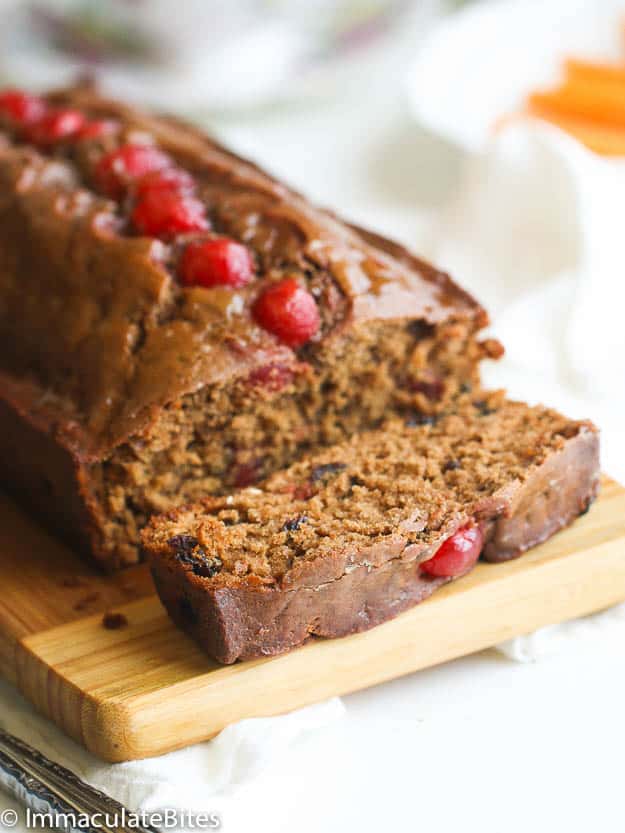 These aren't just your regular bread rolls because it has its own distinct light flavor. This recipe is an Easter staple in many parts of the world and is considered closer to a dessert than a side dish. This is one of the easiest Easter bread recipes you can munch on as comfort food!
What you'll love about this dessert is its surprisingly tasty filling and the brush of light spice with a fragrant aroma.
This buttery roll is great for serving a soft and flavor-filled breakfast and it sits well as a decorative piece. The cross is made from flour which is an easy mixture of basic ingredients for the bread itself.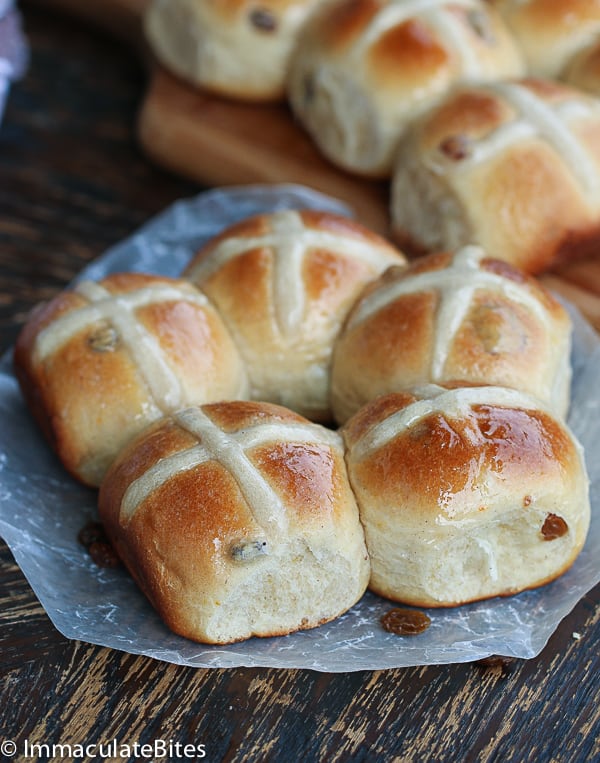 Appetizers
Of course, you've already heard about deviled eggs, it's a popular appetizer almost everyone can make. It's an easy Easter recipe that can be served for simple parties or on fancy occasions.
It might sound a bit devilish but it surely tastes heavenly especially with the perfect blend of spices. It's so easy to make that I actually eat it as comfort food! The yolk of the egg gives you its natural flavor but the mix of homemade mayonnaise makes it so irresistible.
A kick of heat from the hot sauce, mustard, and Creole seasoning make the whole dish more exciting. What makes this a fan favorite is its presentation, it's served like a cross-cut of a cute egg!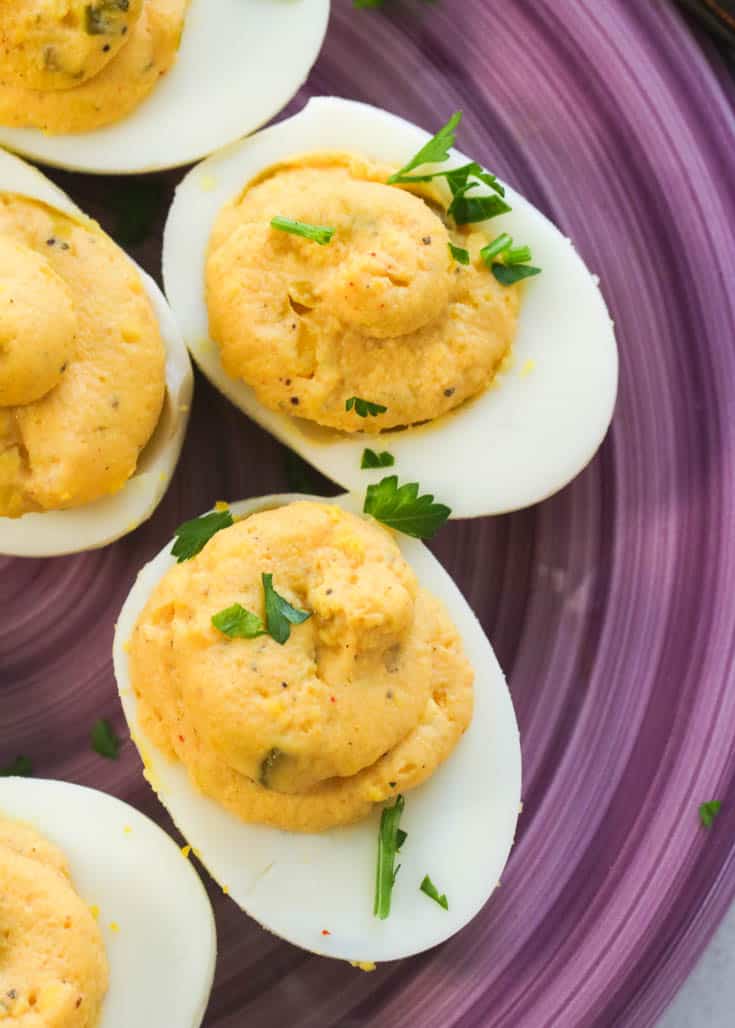 One of the simplest Easter food ideas you can serve as an appetizer is this Duchess Potatoes. Although the name sounds fancy, it's actually just silky smooth mashed potatoes baked to golden brown perfection. You can eat it as finger food or a side dish to your favorite meaty meal.
Personally, I munch on it while binge-watching my favorite shows.
In terms of flavor, it doesn't have much difference with mashed potatoes. However, the texture and presentation of this easy recipe differentiate itself from other potato dishes because of its piped shape. The smoothness of every bite also makes it so irresistible.
Main
Dishes infused with the flavors of herbs are perfect for celebrating Easter. It's that time of the year when we celebrate the fresh earthy flavors of different food.
What better way to do it than with herbs and roasting? It's an easy family dinner you can serve for regular nights or fancy occasions.
This herb-crusted pork doesn't just have flavors on the outside but it infuses everything to the core. The lean meats are perfectly juicy because of the perfect fat content of the meat.
This Easter recipe perfectly pairs with its own mustard and garlic pan gravy! The herbs are both aromatic and flavorful which makes cooking, as well as eating, this dish super appetizing!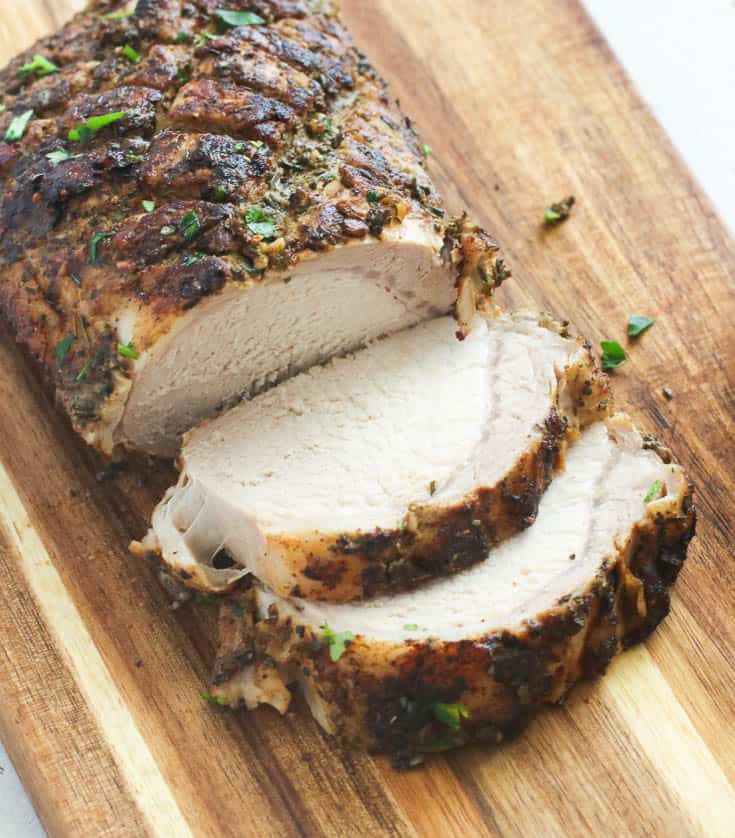 Easter marks the end of lent but a good seafood recipe is great all year round! It's one of those great Easter recipes that's low-carb and also packed with unusual flavor combinations. I really love exploring creative recipes and this is definitely one of my favorites.
Of course, the herby aroma and flavor are infused in the fish because it wouldn't be as Easter-ish without it!
I like this recipe for Easter because of the combination of sweet and tangy flavors over a melt-in-your-mouth protein. The earthy essence and distinct flavors of the herbs set in the fish well so every bite becomes tasty.
Overall, the dish is perfect for spring because of the lip-smacking glaze that'll surely leave you wanting for more.😉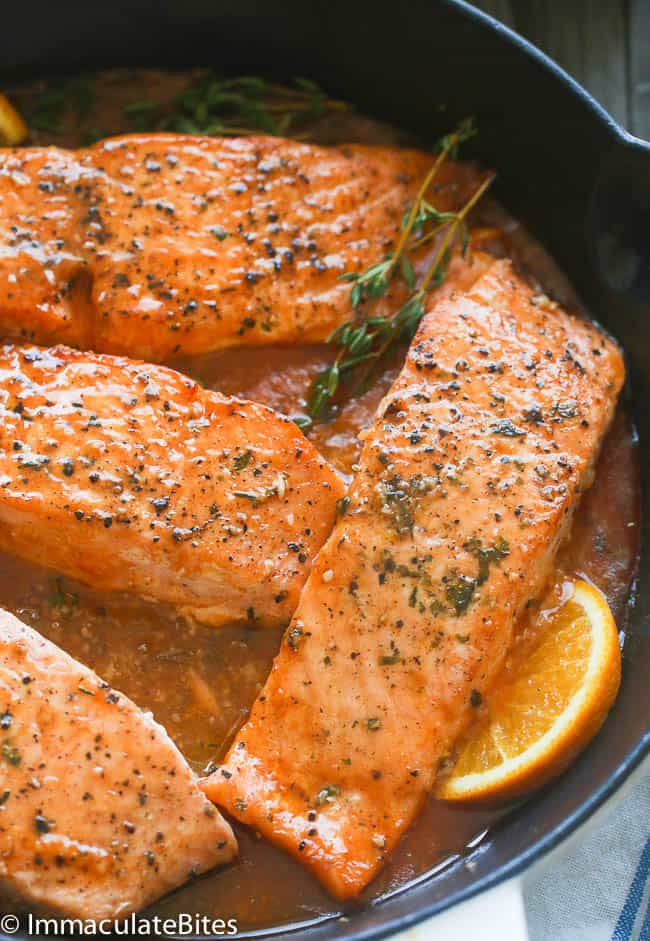 Celebrating the flavors of spring wouldn't be complete without lamb chops. Lamb meat is quite tender because of its low-fat content. It's a great Easter food idea because it's a perfect meat for different mixes of herbs.
Though this meat cut needs a bit of marinating, the herbs and spices you put make it extra fancy!
The strong flavors of the herbs penetrate the meat perfectly and the marinade flavors every inch of it. Just grilling these lamb chops gives me goosebumps especially with the aromatic smoke of the grill. Enjoy this easy and tender meat dish on a bright and sunny spring afternoon!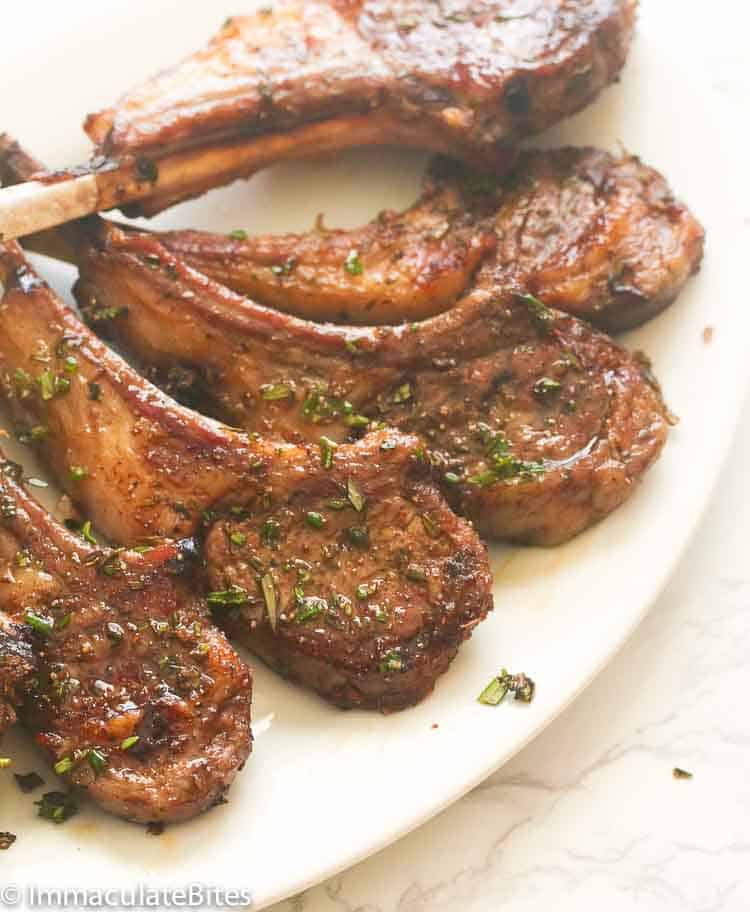 Springtime calls for mild spices and sweet flavors which makes this pineapple honey-baked ham perfect for Easter. This is one of the easiest Easter ham recipes you can prepare, not to mention that it looks deliciously stunning. The flavor combination of this baked meat will surely fill your palate with a euphoric sensation.
Ham is an Easter favorite in many parts of the world and this recipe makes it even tastier. The ham itself already has its own sweet flavor especially bone-in cuts.
The glaze adds in color and sweetness plus the citrusy and fruity juices from the cherries and pineapple adds sweetness. From here, you can tell that each slice of ham is meaty sweet!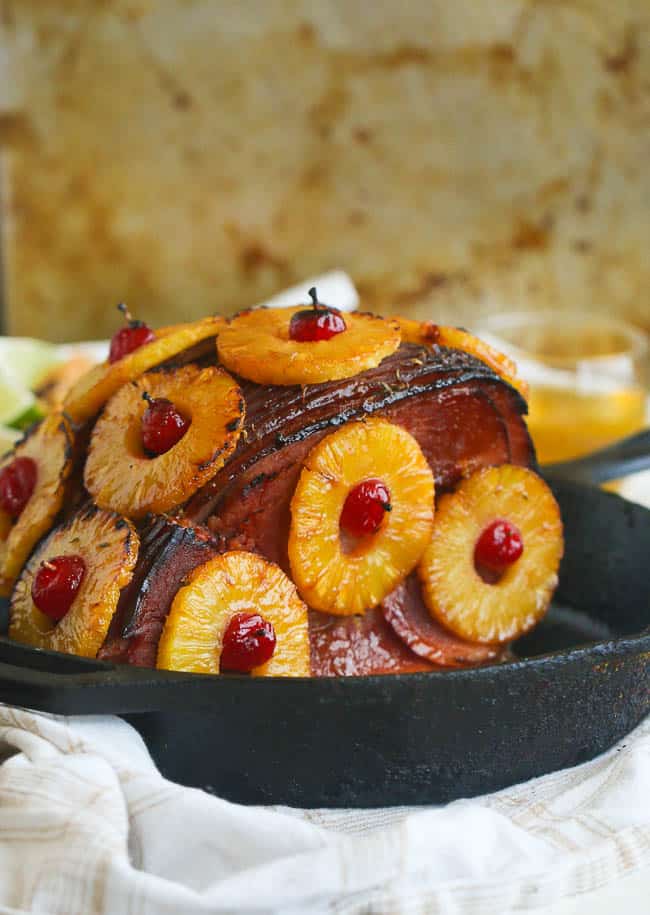 Desserts
Lure in the Easter Bunny with a slice of this sweet and moist cake. This treat boasts a flavorful mix of tangy and earthy-sweet flavors all in one cake. Topped with a generous amount of cream cheese icing, this is one Easter dessert you wouldn't want to miss.
A lot of people usually avoid carrot cakes because they want to taste super sweet treats. The beauty about this cake is it matches the fruity sweetness of pineapple with the mild flavor of the carrots. Now that you know this recipe, you don't have to look far and wide for that perfect balance of sweetness!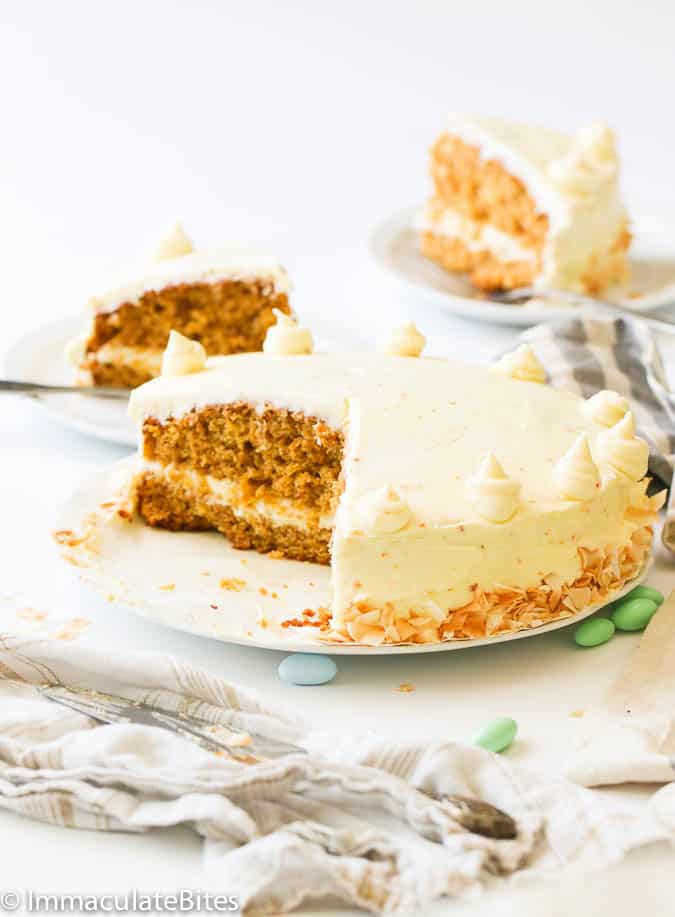 You want your Easter recipes to be as hassle-free as possible from the appetizer to the last bit of dessert! This quick and easy recipe surely embodies the sweet and tangy flavors of Easter without creating a mess.
You'll have this melt-in-your-mouth goodie in just a few minutes!
I personally love this recipe because it takes the lemony essence of the fruit and turns it into a dessert. The shortcrust base of this dessert fills your mouth with crumbly sweetness.
The piece will already be gone before you know it. That's what makes the treat so addicting!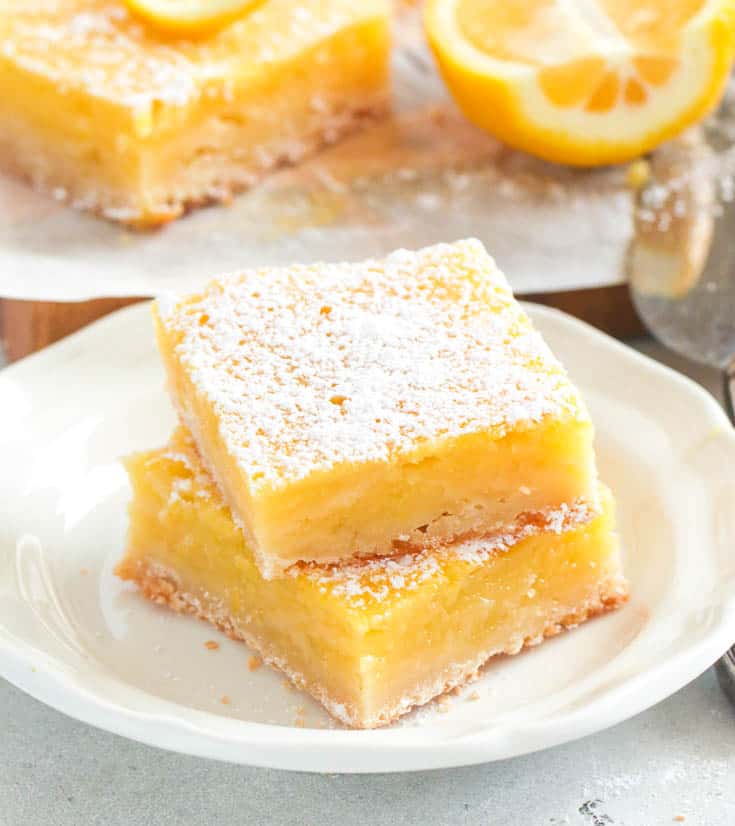 Easter and Spring both symbolize rebirth and what better way to celebrate these days than with food you fasted from.
I believe that celebrating Easter isn't just for one religion, it's an inclusive season that's good for everyone. I hope that these easy comfort food Easter recipes help you in celebrating this season!❤️