Hot Cross Buns Recipe – Soft, tender and lightly spiced brushed with sweet syrup and filled with juicy raisins. Absolutely delightful anytime!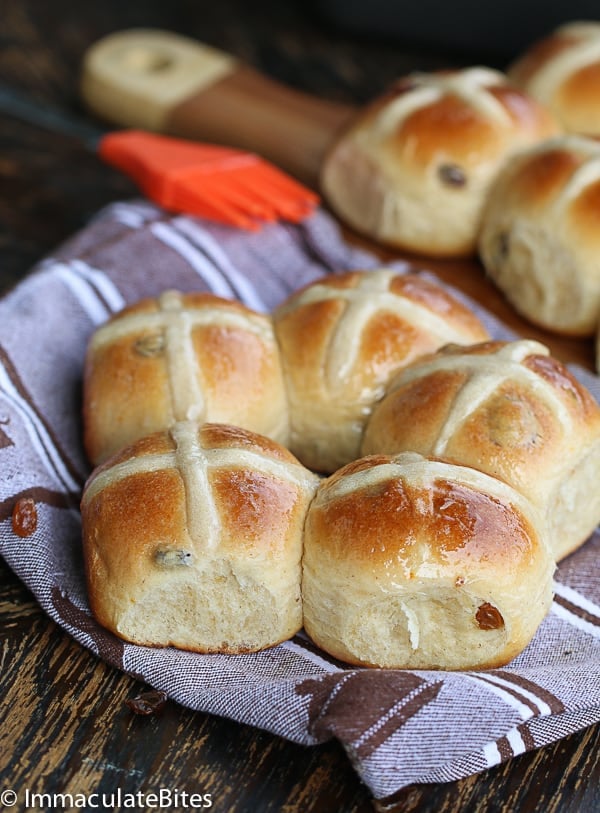 Whenever Easter rolls around there are a couple of things that start filling my mind. This is what's on my mind today – Hot Cross Buns. Sticky, sweet, scented and soft buns.
You know you just can't beat homemade hot cross buns, right?
The first time I tried these buns was coincidentally during the Easter Season.
My aunt had just returned from one of her glamorous trips to London and this time she wanted to share with us a treat that is enjoyed during the Easter Season there. But before she did, we promised to sit patiently and listen to her tales about Europe – Latest outfits, the meals that made you drool, the people – their customs, and the list goes on.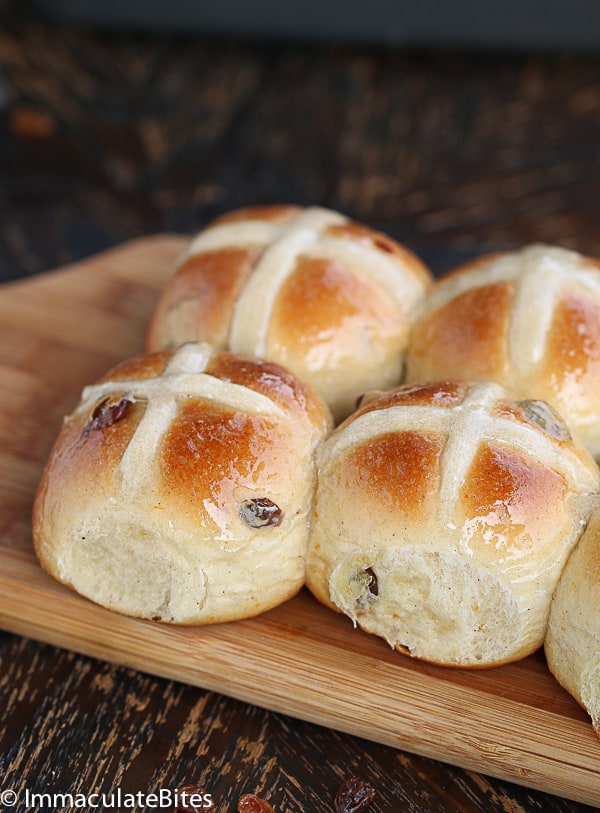 While she was immersed in her narrative suspense, I was deep in thought – to tell you the truth I didn't hear a darn thing she was talking about. She could have been speaking gibberish and I would have smiled and nodded happily. All I could think about was the hot cross buns – the taste, texture and could I have seconds. Yeah, that was me during my preteen years. Obsessed with food and I still am today.
Fast forward to today, here I am making these buns during the Lenten Season – the scent wafting through the house gets me each time. What I do is triple the batch, make and freeze the dough. Whenever the craving hits, I remove, defreeze and just pop in the oven. You seriously don't have to sweat it out in the kitchen every time.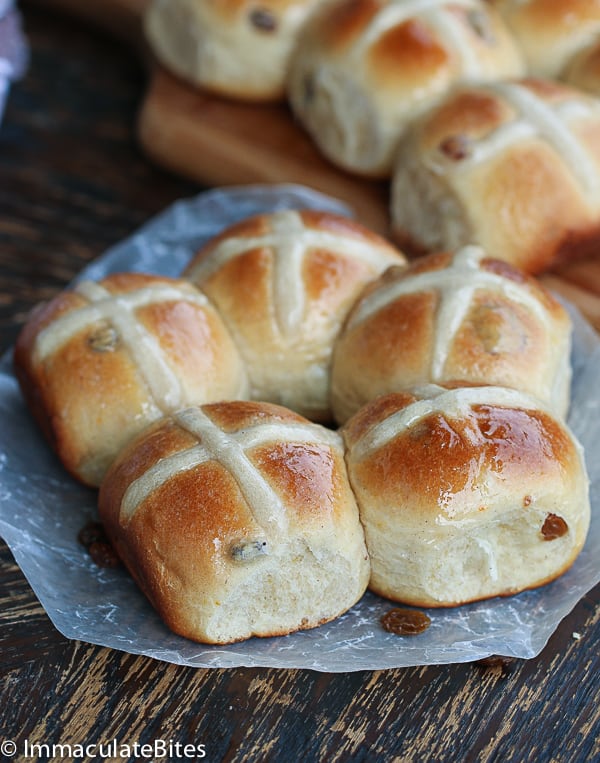 Desmond (my son) does not like any of the spices that goes into this. He picks out the raisin and hands the roll to me. He prefers the regular dinner rolls. It is just not happening, he is going to sit this one out and wait for this season to be over. 
This hot cross bun is not too overpowering – so it is great enjoyed with dinner, breakfast or just because. Adjust the spices to suit your taste buds.
Most recipes use flour and water paste to make the cross but you can use icing (fondant, cream cheese icing or white chocolate) The choice is yours.
Enjoy!!!
Watch How to Make It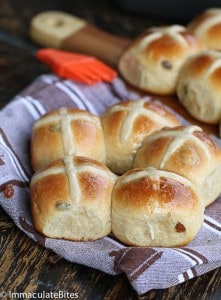 Print
Hot Cross Buns Recipe
Hot Cross Buns Recipe- Soft, tender and lightly spiced brushed with sweet syrup and filled with juicy raisins. Absolutely delightful anytime!
Prep: 30 mins
Cook: 25 mins
Total: 55 mins
English
Ingredients
1 package 2 ¼ teaspoon Active dry yeast
3 tablespoons Warm water 105F- 115 F
1 cup (230 grams, 240 ml) milk
4 ounce (114 gram) unsalted butter
1/3 cup (75 grams) sugar
1 teaspoon salt
1 large egg
3 3/4 cups (445grams or more) all-purpose flour
¾ -1 cup (150 grams) raisins/currants
1 tablespoon grated orange
1 1/2 teaspoons (nutmeg, cinnamon and allspice) 1/2 teaspoon each
Flour Paste
1- cup (120grams) flour or more
1/2 cup + 2 tablespoon water (adjust to thick consistency)
2 tablespoon sugar
Sugar Glaze
2 tablespoon warm milk
2 tablespoons sugar
Instructions
In a standing mixer or large bowl combine 2 tablespoons lukewarm water and yeast. Let it sit until dissolve for about 5 minutes. Mix for about a minute.

Meanwhile in a microwave safe medium bowl, combine milk, with the butter pieces, sugar, salt and microwave for about a minute. Stir until everything is melted.

Lightly whisk in the egg to the butter mixture (if the mixture is too hot let it cool to a warm to prevent eggs from curding.)

Dump everything into the yeast mixture, and

Mix by hand or on medium high speed using dough hook until all the ingredients are combined.

Then add 3 1/2 flour cups of flour, spices and grated orange. Continue mixing dough and stop when the dough doesn't stick to the sides or bottom of the bowl when kneading.

Add additional flour (if needed) to make soft dough.

If kneading by hand, turn dough on lightly floured surface and knead for about 6 minutes, then add the raisins, continue kneading for another 2 minutes or more if you want airy buns. Or you may carry out this same process with in a standard mixer with a dough hook

Place bun dough in a greased large bowl. Cover loosely with a clean cloth and let rise in a warm, draft-free place for 1 to 2 hours or until doubled. Punch the dough down.

At this point the dough maybe divided into 12 equal pieces. Shape into balls. Place in greased 12-inch skillet, 9x13 baking pan or baking sheet.
Flour paste
Mix the flour and sugar with water to make the paste for the cross – add the water 1 tablespoon at a time, so you add just enough for a thick paste. Spoon paste into a piping bag Pipe a line along each row of buns, then repeat in the other direction to create crosses. Let it rise for about 15 -20mins until risen.

You may refrigerate before baking for up to 24 hours

Pre-heat the oven to 350 F. Bake until the crust is deep golden brown and the bottom of the loaf sounds hollow when tapped, 20 to 25 minutes.

Remove from the baking pan
Glaze
Combine milk and sugar and brush buns, let it cool. Delicious when served warm
Nutrition Information:
Calories: 287kcal (14%)| Carbohydrates: 96g (32%)| Protein: 13g (26%)| Fat: 18g (28%)| Saturated Fat: 11g (69%)| Cholesterol: 72mg (24%)| Sodium: 422mg (18%)| Potassium: 186mg (5%)| Fiber: 3g (13%)| Sugar: 17g (19%)| Vitamin A: 580IU (12%)| Vitamin C: 1.3mg (2%)| Calcium: 75mg (8%)| Iron: 4.8mg (27%)
Nutrition Facts
Hot Cross Buns Recipe
Amount Per Serving
Calories 287 Calories from Fat 162
% Daily Value*
Fat 18g28%
Saturated Fat 11g69%
Cholesterol 72mg24%
Sodium 422mg18%
Potassium 186mg5%
Carbohydrates 96g32%
Fiber 3g13%
Sugar 17g19%
Protein 13g26%
Vitamin A 580IU12%
Vitamin C 1.3mg2%
Calcium 75mg8%
Iron 4.8mg27%
* Percent Daily Values are based on a 2000 calorie diet.