Braised Chicken in Coconut Milk – This whole chicken is INCREDIBLY  juicy, tender, flavorful and the meat just falls off the bones. Throw in some potatoes, carrots and you have yourself an effortless one pot weeknight meal.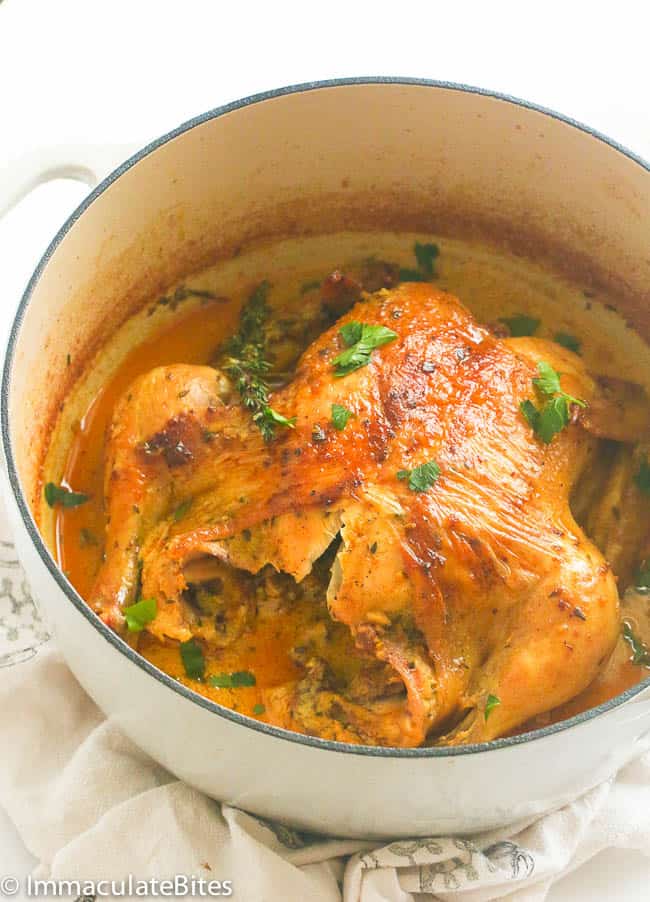 A chicken dinner featuring a whole chicken is often reserved for special occasions. We all tend to go to chicken breasts or thighs for convenience but why not cook a whole chicken every once in a while? Not only is it easier than you think but cooking it whole means more flavor since the bones are intact and both white and dark meat is present.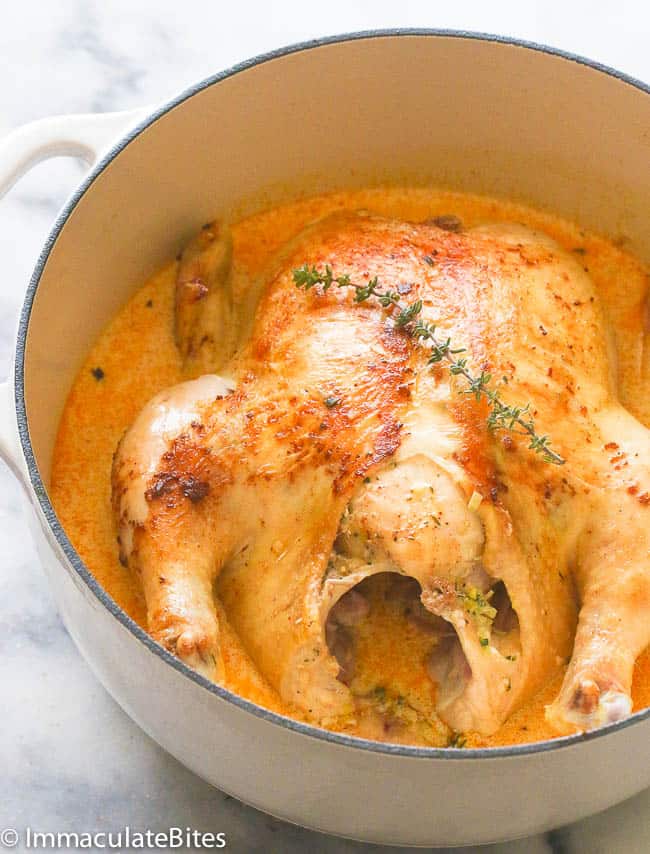 You get all of that with this recipe and more. Lemongrass, thyme, garlic, and ginger are combined and half of that is placed into the cavity to infuse the chicken with flavor and aromatics from the inside out. They permeate the meat and come through as lovely background flavors. The whole chicken is then browned  and popped into the oven to braise.
Braising requires a cooking liquid and the liquid of choice in this recipe is coconut milk. As you know, quality coconut milk is very rich and fatty which is why we love it. Homemade is even better – if you are up for it, try it.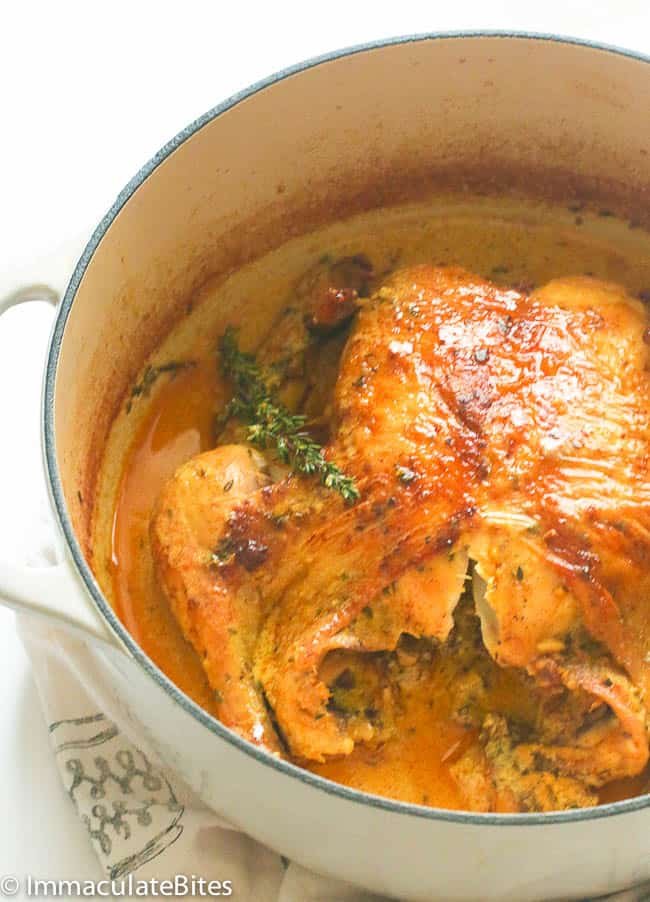 When used for braising, it does a great job at giving the meat some flavor and even more importantly, keeps it moist. And the sauce can be used to spoon over rice or vegetables.
True to my form of cooking, I always tend to bring in extra bold flavors and a teaspoon of curry powder is added – I know what you are thinking…..
Curry chicken?
Not quite.
The teaspoon adds just enough so it blends in with the other ingredients without taking over the other ingredients. Also blends in with the lemongrass. If you are unfamiliar  with lemongrass, it's a lemony stalk which adds a citrus hit with a distinct floral aspect. Available in most supermarkets – especially in Asian Markets.
OH MY! That sauce is SOOO DELISH! You will want to pour it on everything.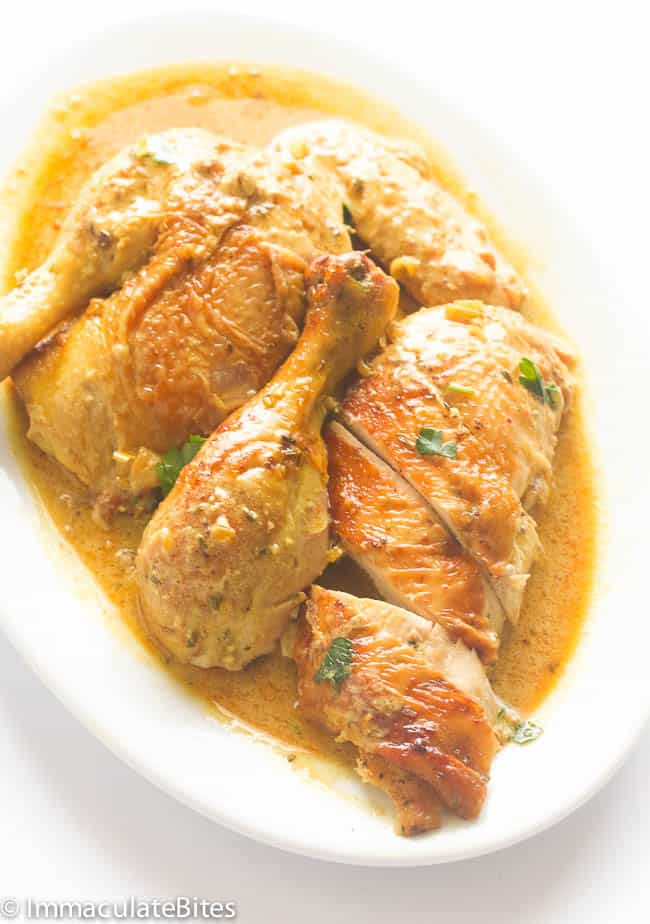 This is all cooked in a Dutch oven (or an oven safe pot) until the meat is tender and the braising liquid has seeped into the chicken.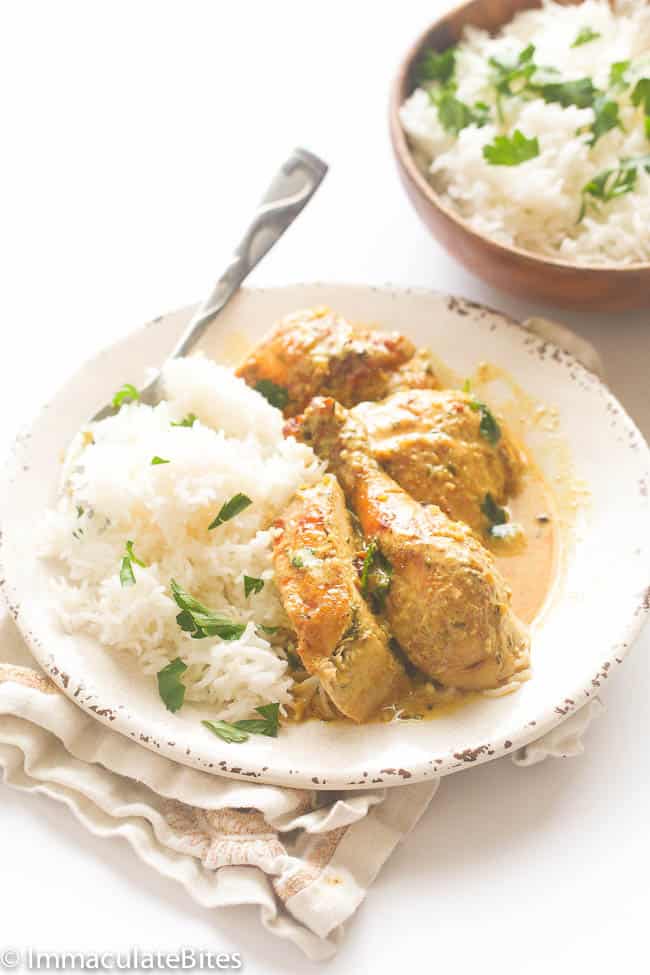 From there, all you have to do is serve it up. You can also pair it with this coconut rice right here 
I give you permission to nibble on the bones!!!
Enjoy!!!
Notes
If you have time marinate the chicken and refrigerate overnight – it tastes even better.
It's best to use an enameled cast iron because it heats evenly and retains temperature well.
 Since we are braising the chicken it  should not be submerged into the coconut liquid.
You can completely leave out the onions – tried it several times and it tastes great without it.
Watch How to Make It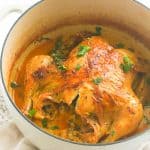 Braised Chicken in Coconut Milk
Ingredients
4- 5

pound

whole bone-in chicken

skin on

Creole Salt to taste

3-4

garlic cloves minced

1

teaspoon

grated ginger

1

Tablespoon

minced thyme

1 1/2

Tablespoons

finely diced Lemongrass

2-3

Tablespoons

cooking oil

Canola, vegetable

2

teaspoons

smoked paprika

1

teaspoon

curry powder

½-1

teaspoon

cayenne pepper or more

½ -1

medium onion diced

13 - 15

oz

canned coconut milk

regular or light

1

cup

water or more

Optional

1-

teaspoon

white pepper

1– 2

pounds

baby new potatoes
Instructions
Preheat the oven to 375° F

Rinse chicken with water, inside and out, then pat dry with paper towels. Rub inside and out chicken with salt, white pepper slipping salt under skin where possible and rubbing some into cavities. so that it's uniformly distributed. Or you may use creole salt Like I did.

In a small pan combine garlic, ginger, thyme, and lemon grass. Mix with about 1-2 tablespoon oil or coconut milk

Generously baste inner cavities of chicken with lemon grass mixture, apply some of the liquid from the mixture to exterior of the chicken- then refrigerate until ready to cook.

When ready to cook add oil to a Dutch oven (preferably with a tight fitting cover) over medium.

Place the chicken, breast-side up, and let it brown for about 3-5 minutes, until skin is crispy Carefully flip the chicken, using a tong and crisp the other side for another 4 minutes or more per side. It usually takes me about 10-12 minutes to brown depending on chicken.

Remove the Dutch oven

From the heat, put the chicken on a plate, and pour off any excess fat from the chicken- leave about 2 Tablespoons.

Add the remaining lemon grass mixture, curry powder, cayenne pepper, and paprika sauté until fragrant - about a minute. Be careful! Don't let it burn.

Add coconut milk and broth/water. Return chicken back to the pot. Bring to a boil.

Finally place chicken in oven, cover and let it cook, basting occasionally with it's own liquid until chicken is tender . About 75 -90 minutes or until internal temperature reads 165 degrees

Carve the chicken and serve over rice with a with sauce and vegetables. Garnish with the fresh parsley