Chicken Slow Cooker Recipes are just in time for this season. Whether you're planning out a get together with family and friends or a simple family dinner, these chicken recipes will totally have your guests licking their fingers and best part cooking is a breeze.
Oh, you can totally make these stove top too! But if you like to keep your house cool , then you've got your self a great collection here . Slow cooking is a great way of allowing the spices to penetrate every inch of the meat, giving off a heavenly aroma and a very tasty and luscious output.
So let's not make the teasing too long .. pull out your slow cooker, pick one and start cooking .
1. Slow Cooker Jerk Chicken – When it comes to Jerk Chicken, I got loads of version of it on my repertoire. Just choose and you'll never be wrong because all of them are guaranteed deliciously mind-blowing!
This chicken crockpot version is as good as the rest of them. The seasoned chicken parts are drenched with a jerk marinate and refrigerated for at least three hours or preferably overnight to absorb the bold flavors before you tossed them into a slow cooker. Oh, don't worry about the crispy exterior coz we got some help from our good ole broiler friend.
You still get to enjoy that crispy exterior texture served with deep explosive flavors from the sauce. Ready for this insanely scrumptious dish? Get the recipe HERE.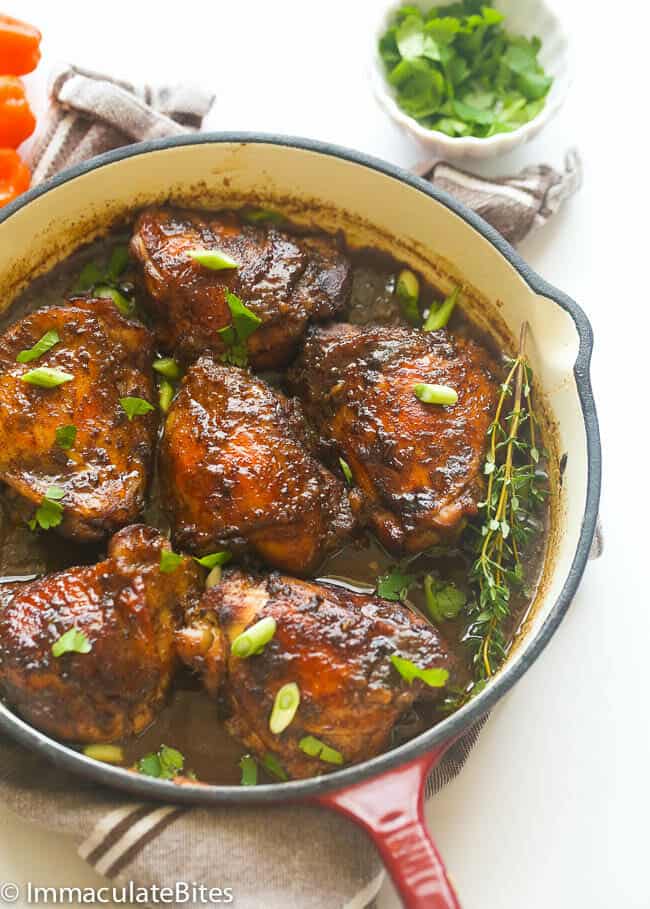 2. Slow Cooker Jamaican Curry Chicken – If you've been around for some time, I'm totally in love with curry with its hot and spicy flavor combination. It even led me to make my own Homemade Curry Powder and boy I was never wrong. I got addicted with my own version of curry spice that led me to create couple of curry dishes like this Slow Cooker Jamaican Curry Chicken that will make you want to lick your plate clean!
Who can't resist this curried chicken slow cooker recipe? Just imagine cuts of chicken thighs soaked and slowly cooked in spices like coriander, cardamom, cumin, ginger, fenugreek, turmeric and cayenne pepper, combined with garlic, onion and coconut milk to balance out the overpowering taste of curry spice while giving off vibrant and subtle curry flavor. Now that's mouthwatering! Want to try it yourself? Get the recipe HERE.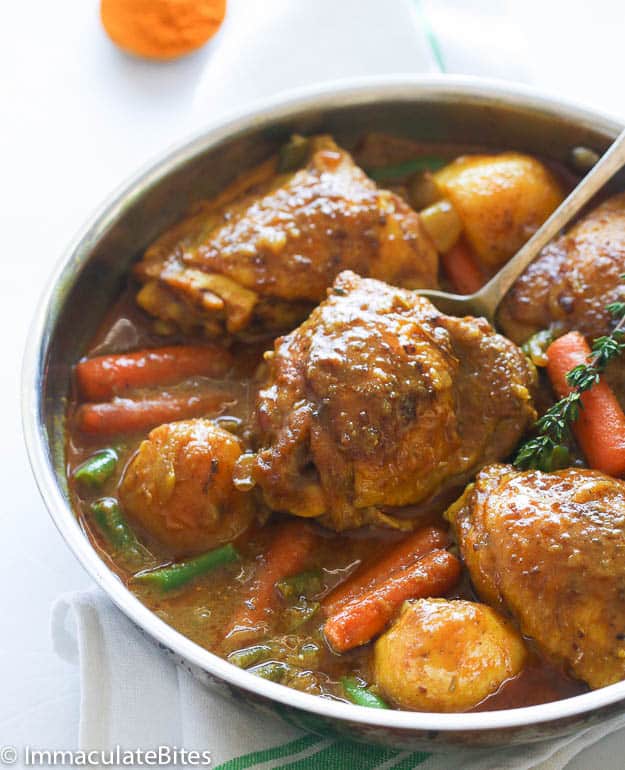 3. Slow Cooker Chicken and Bean Stew – Summer don't just call for refreshing cold drinks or vibrantly colored salad. Chicken slow cooker recipes are still one of my comfort food for this season without heating up the house. This recipe actually becomes a household favorite and incredibly a hit when I served it to a crowd.
You can make this with a canned beans or leftover beans. What I do though is boil more beans than needed in advance, freeze them and take them out whenever I feel like making soups or stews.
With 10 minutes prep time, yes as easy as that, this Easy Slow Cooker Chicken and Bean Stew simmered in aromatic flavors and Caribbean spices will surely win your heart whatever season it may be. Get the recipe HERE.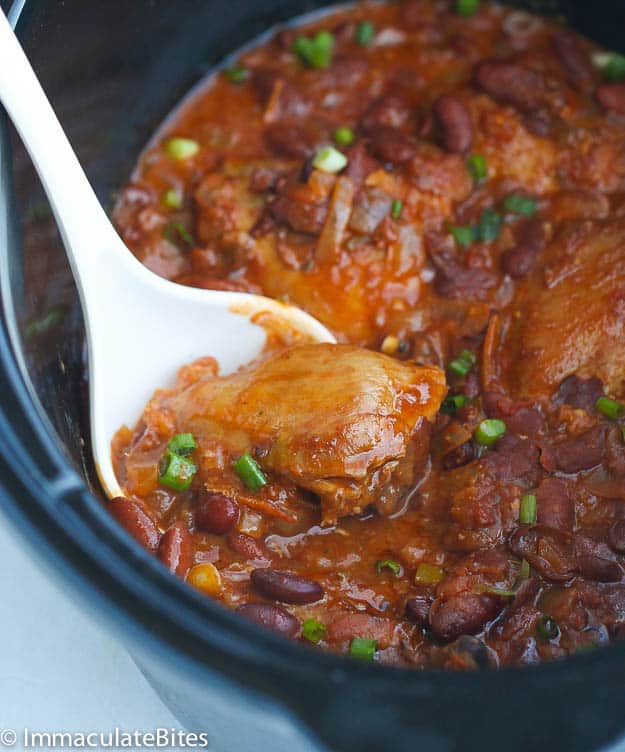 4. Slow Cooker Jamaican Brown Stew Chicken – Make your taste buds happy with this all time Jamaican classic recipe also known as Jamaican Brown Chicken Sauce.
This slow cooker brown stewed chicken got me so madly in love with it that, even the marinated chicken alone got me so hooked. I'm proud to say that when I serve this on the table, everyone follows my lead and shamelessly nibble on the bones and lick their fingers with all the satisfaction this recipe gives off.
The chicken on the bone is marinated with an aromatic blend of spices — ginger, thyme, pepper and green onions – overnight (preferably); browned to enhance its rich flavor then slowly simmered in a heavenly fragrant sauce of garlic, herbs, bell peppers, ketchup and onions. Don't be scared with the list of ingredients because this one is really tasty and straightforward to put together! Pair it with this Rice and Beans or this Coconut Rice and you're all set. Get the recipe HERE.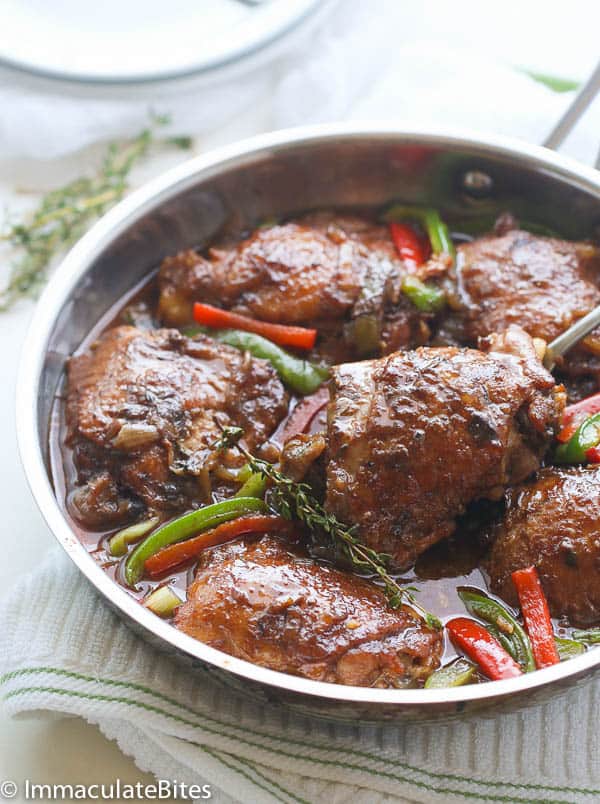 5. Moroccan Slow Cooker Chicken Thighs – Here is another simple chicken slow cooker recipe that still yields big bold flavors. This Moroccan inspired chicken and chickpeas dish will put your name out there for cooking like a pro.
It 's one of those recipes that I don't mind cooking again and again.
The chicken itself is seasoned with spices, browned and deglazed with either wine, juice or chicken stock (depending on your preference) and that alone makes it oh-so-desirable! This is paired with couscous to stay within the overall exotic theme for dinner.
Get the recipe HERE