Do you want to impress your guests and family with an incredibly delicious meal? Almost every meal tastes so much better when topped with gravy. This list of simply indulgent gravy recipes will make impressing family and friends easier than you ever imagined, even if you've never made gravy before.
Have you ever hit a wall when racking your brain on the question, what's for dinner? I feel ya. And here is the solution!
These easy-to-make gravy recipes will get you the compliments you'd love to hear from your family.
Gravy is everyone's favorite, especially in the South. What's Southern comfort food without that savory flavor-intense sauce?
You can hide so many sins with this deliciousness. So the baked chicken didn't come out so hot. Drown it in gravy and save the day. The Brits figured that out centuries ago. And aren't we glad?
What is Gravy?
This mind-blowing sauce is basically the juice that comes out of the meat while cooking. Then you mix the juice (or use canned broth; I won't tell 😉), a little fat, and flour or cornstarch to get a perfect consistency.
You can replace the meat with vegetables and their broth for vegan dishes. You can serve the gravy over noodles, rice, mashed potatoes, and biscuits. Actually, you pour it over just about anything.
Gravy Recipes
Here are 6 homemade gravy recipes that are not only lip-smackin' good but are also super easy to make.
1. Cube Steak and Mushroom Gravy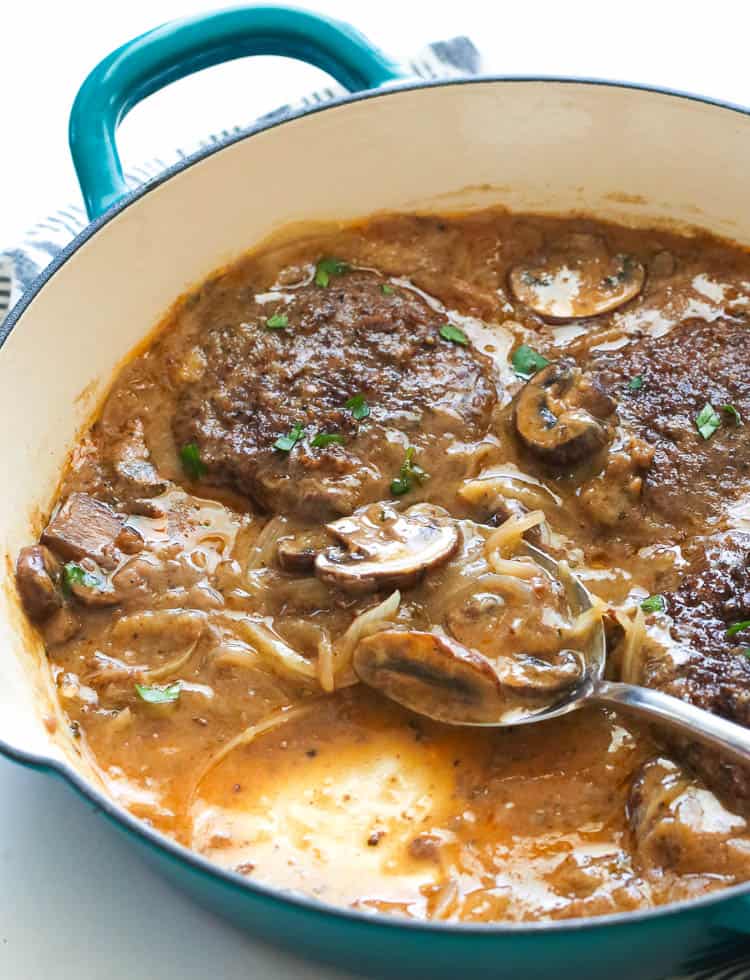 This gravy recipe is a real deal. It will amaze you with every bite. The tender beef with the creamy sweetness of onions and mushrooms makes your taste buds feel like they're on ecstasy.
Even better, you can have this on the table in 30 minutes.
Now you must be thinking, what are the dishes that will go with this gravy the most, right? It's the perfect way to flavor plain or seasoned rice. And, of course, goes great over mashed potatoes. Biscuits are a given, and you can kick up the flavor on roasted carrots and potatoes.
You can store the gravy in an airtight container for a maximum of 3-5 days in the refrigerator. Or you can freeze it for 3 months.
Cube Steak and Gravy
This fuss-free weeknight dinner features budget-friendly, tender, meaty steaks bathed in a tasty beefy mushroom onion gravy. It takes very little time, yet it delivers an outstanding meal. Your family will absolutely love this!
Check out this recipe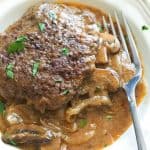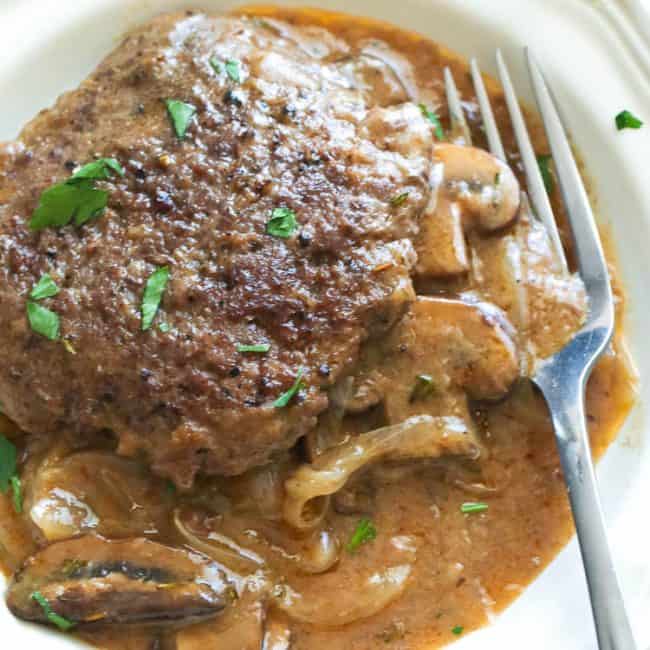 2. Sausage Gravy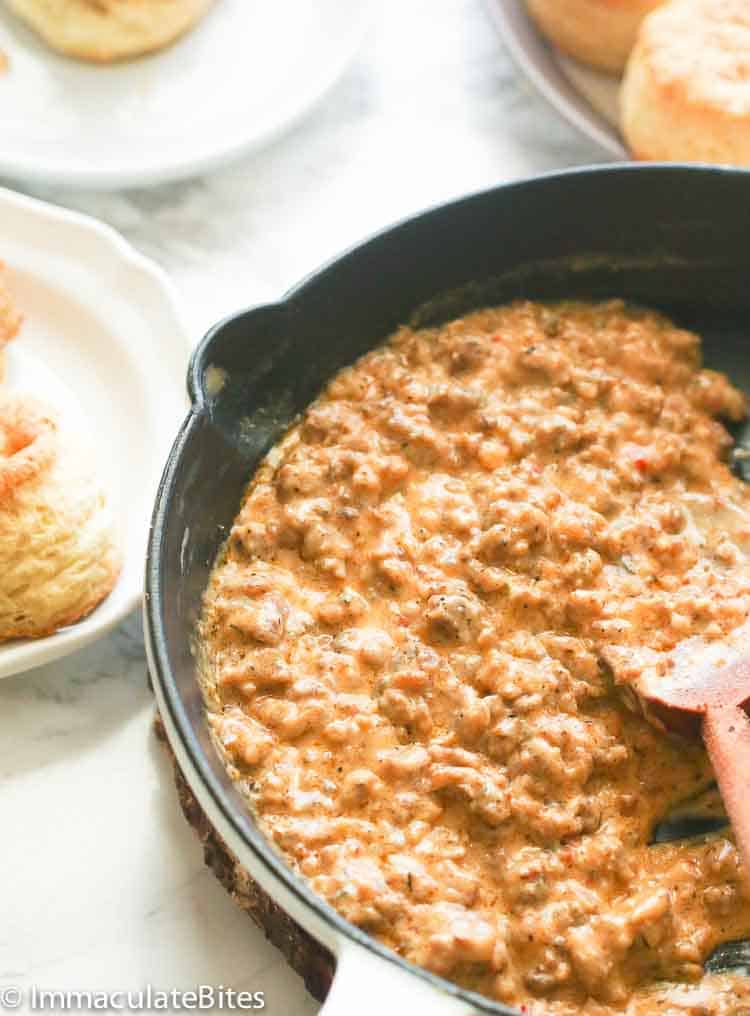 Some mornings you want to make something different than the regular eggs and toast, right?
This recipe is perfect for those days. Don't worry about the time it takes to prepare because it only takes 15 minutes of your busy morning schedule.
Just about any sausage is suitable for this dish. When you add milk, the perfect creamy consistency will give you a memorable experience.
Serve this delightful sausage gravy with flaky buttermilk biscuits, breakfast burritos, eggs, or roasted potatoes for breakfast to remember.
You can store this gravy in the refrigerator for 2-3 days in an appropriate container. Still, it depends on how fresh the milk is.
Biscuits and Sausage Gravy
Biscuits and Sausage Gravy – flaky, buttery and fluffy buttermilk biscuits smothered in creamy and spicy sausage gravy made with sausage, a roux, milk and a dash of creole seasoning. A good old Southern breakfast favorite!

Check out this recipe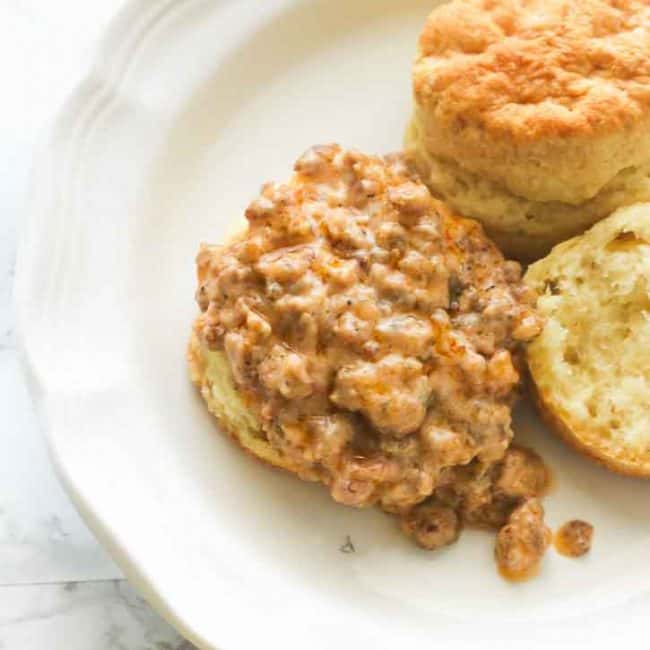 3. Homemade Gravy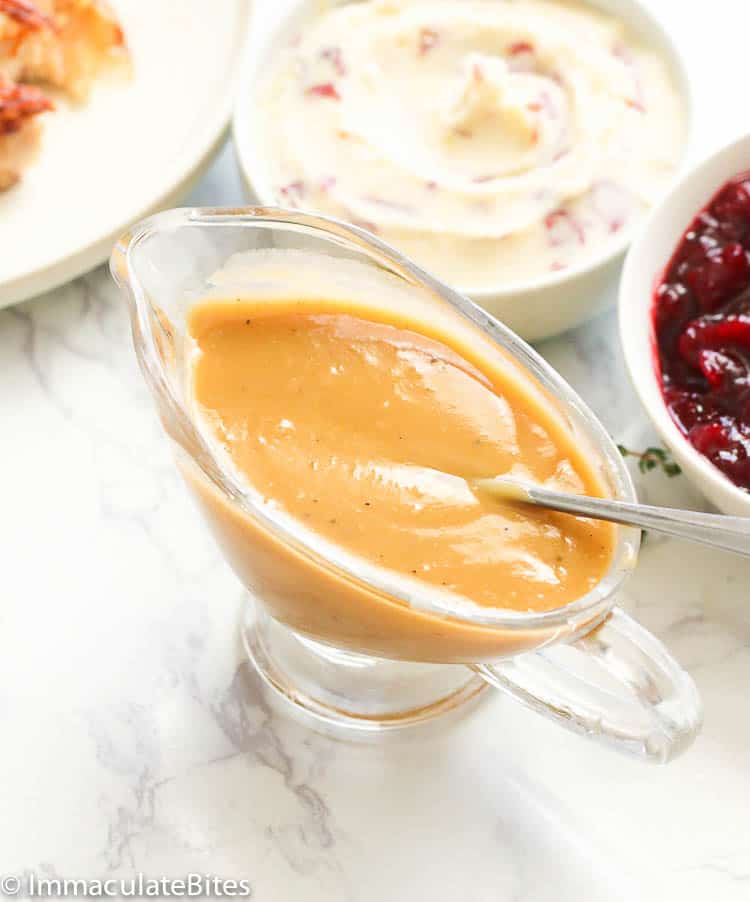 Homemade gravy is the most delicious secret you can count on. It is Southern comfort food that adds extra oomph to your meal.
Bacon grease, butter, flour, and milk are all you need to make this gravy. And it only takes 20 minutes from kitchen to table.
The silky smooth and rich flavors go with just about anything you can think of. Biscuits, roast turkey breast, homemade whole wheat bread, and mashed potatoes will all love being smothered with this awesome sauce.
You can store this gravy in an airtight container for a maximum of 5 days in the refrigerator. Or you can freeze it for up to 6 months in the right conditions.
Homemade Gravy
Homemade Gravy – smooth, thick and very flavorful brown gravy made from scratch. This homemade gravy sauce makes your Thanksgiving roast turkey and mashed potatoes extra appetizing. Packed with nothing but savory goodness!
Check out this recipe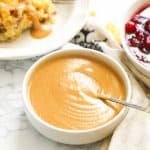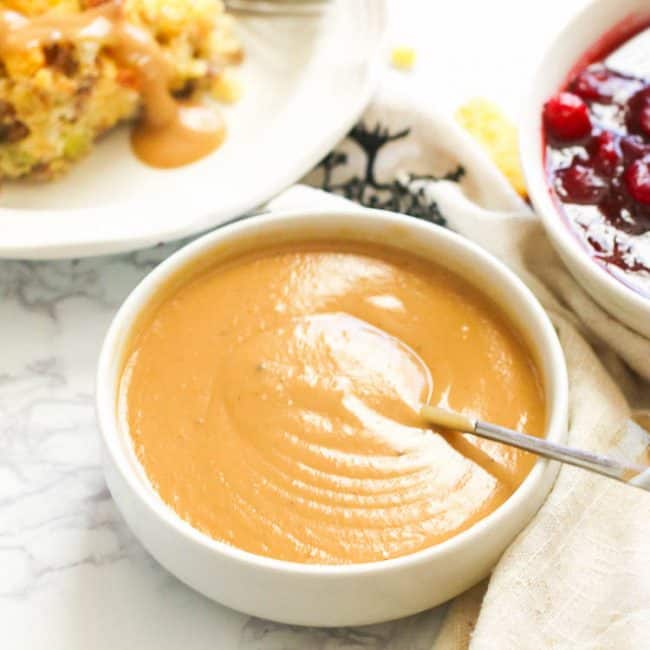 5. Giblet Gravy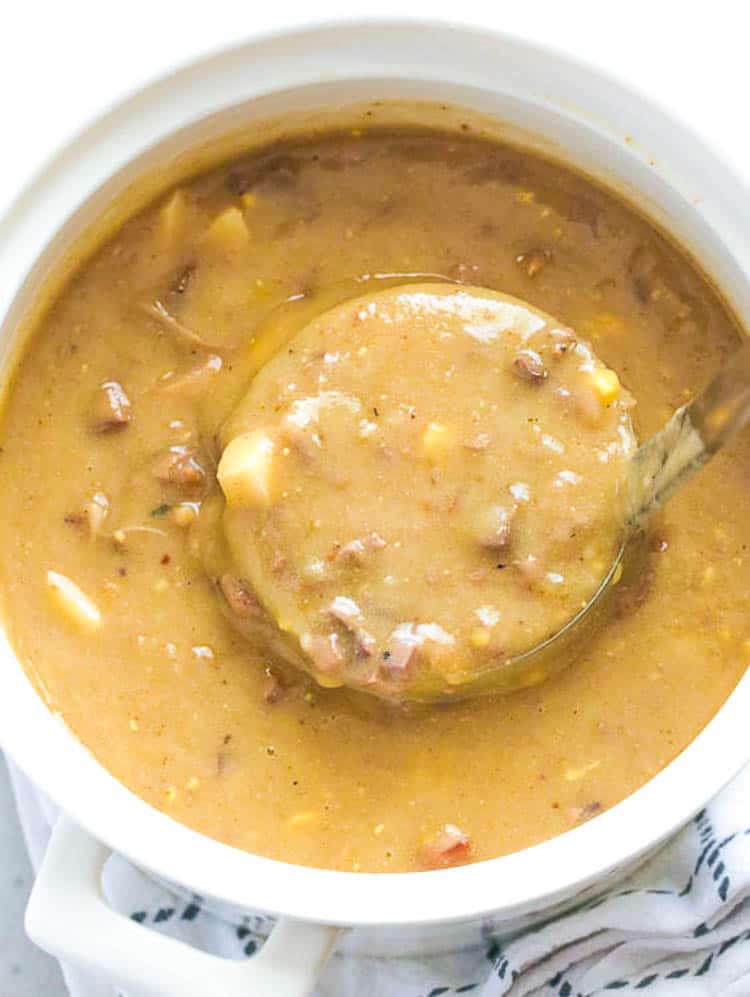 Okay Okay! Don't get scared just because it takes a bit more time to prepare. Think about the positive side of how marvelous it will taste after the wait.
Giblets are typically the heart, liver, gizzard, and neck, those extras that many people throw away. What a waste! They are extravagantly rich and flavorful.
This gravy goes fabulously with roasted turkey or chicken. Good quality turkey drippings get extra delicious fat into your recipe. You can even add hard-boiled eggs if you are a fan of eggs. Or you can use turkey or chicken stock if you don't have the drippings.
Please put leftover gravy in an airtight container within 2 hours of removing it from the heat. Make sure to leave a bit of room at the top for expansion if storing in the freezer.
Giblet Gravy
Gravy made entirely from scratch with pan drippings and giblets is a game-changer. Enhance Thanksgiving dinner with creamy, flavorful, and aromatic giblet gravy. It's super easy and makes mashed potatoes, roasted turkey, and holiday stuffing so much better.
Makes about 3 cups
Check out this recipe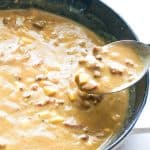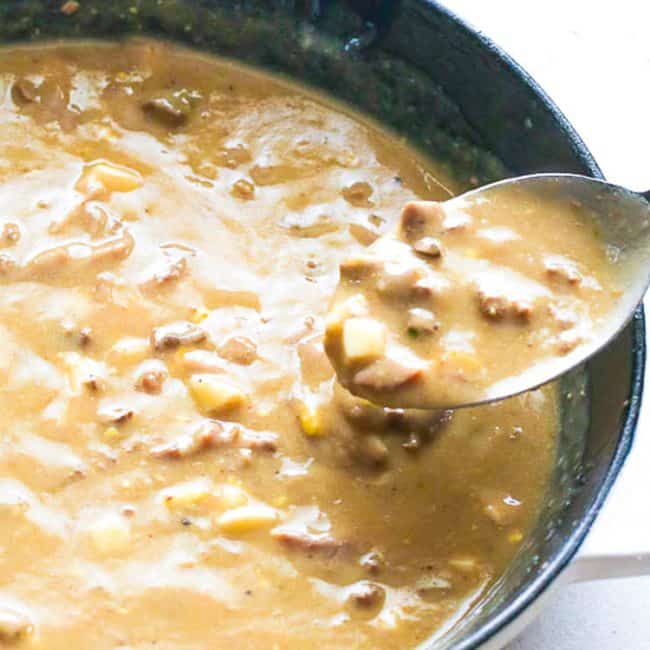 6. Brown Gravy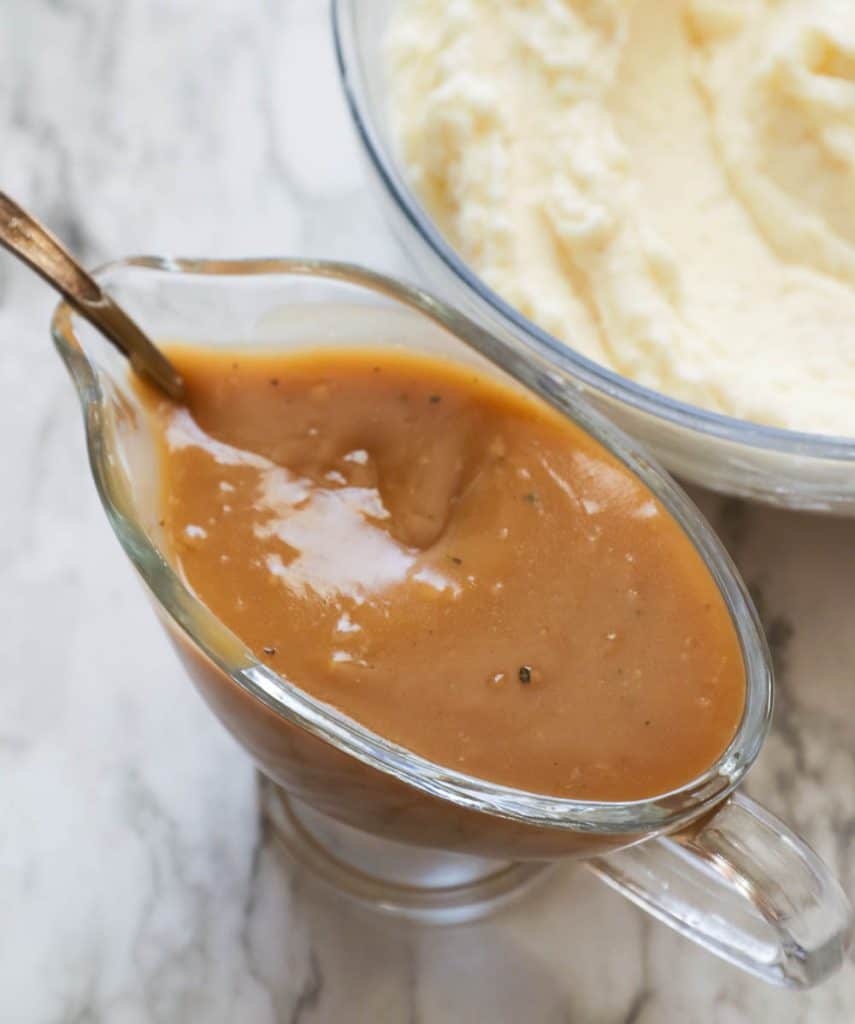 This brown gravy is like the intense version of the regular gravy mentioned above. Intense in a way that its flavor is taken up a notch using onions and garlic, thyme, beef powder or bouillon, and a tablespoon of Worcestershire sauce.
Who would've thought that a gravy could even be more flavorful?
What's even better is that this recipe comes in 2 methods: the easy way and the super-easy way. How do you like that?
I'm leaving you with no option but to make this delicious homemade brown gravy which only takes up 10-15 minutes of your time.😉
Easy Brown Gravy (In Two Ways)
Easy brown gravy, ready in 10-15 minutes, makes mashed potatoes or rice even better with or without drippings. The smooth and intense flavors from beef broth and butter are must-haves for the holidays. So learn the secret to a velvety smooth and rich sauce in these two easy ways.
Check out this recipe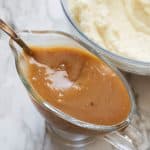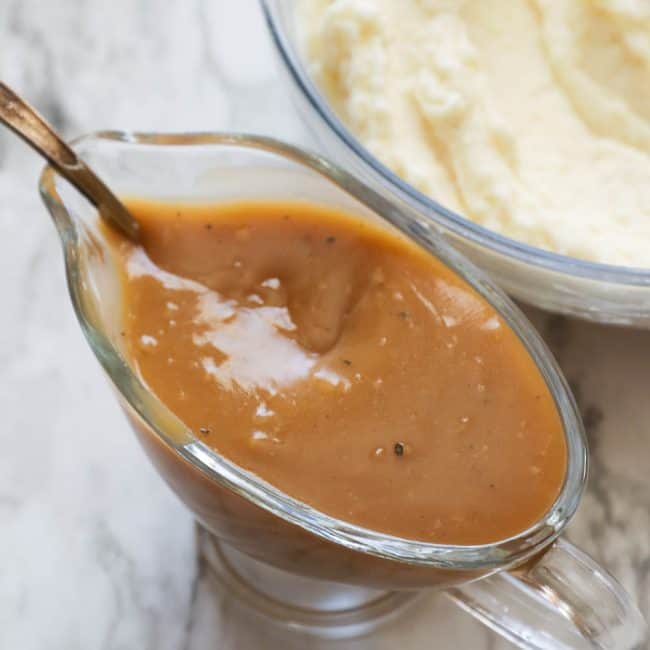 FAQs
How do I make the gravy richer?
You can use drippings (turkey, chicken, or other meat drippings) or stock. Add flour or cornstarch to thicken it, then simmer until it has a perfect consistency. You can also add herbs and roasted veggies while simmering. Additionally, onions add richness to your gravy.
Why is my gravy watery?
You may have added too much stock to the pan. Another reason could be not enough thickener (flour or cornstarch). You can't take liquid out, but you can add more thickener. At this point, you can mix well a tablespoon or two of flour or cornstarch with ¼ cup of cold milk or broth. Slowly add it to the simmering gravy, stirring constantly. Let it simmer until thickened to the desired consistency.
How to fix bland gravy?
If your gravy is a bit bland, that means it is lacking the seasonings you wanted. You can fix it by adding a bit more seasoning like salt, pepper, or Creole Seasoning. Taste the gravy to be sure that you have added just the right amount. Wine is another excellent flavor-enhancer. White wine for a white gravy and red wine for a beefy brown gravy. Yum!
Pairing Suggestions
Now that the holidays is just around the corner, here are fantastic recipes that go oh-so-well with any of the gravy recipes above.