Nothing delivers flavor and finger-licking goodness with little fuss and even less time than Eru soup. When I decided to start a cooking blog, the first recipe that crossed my mind was eru. It was at the top of my list of recipes to make, for the blog, because I have been cooking for a very long time and if there is any dish that I how to cook really well, it's Eru. So it would only feel natural to start with it.
I kept putting it off, in favor of other new recipes – baking up a storm in the kitchen. After making it this weekend, it reminded me of why I cook it often -my taste buds danced with joy. Wow! I can't believe I had not made this in two months!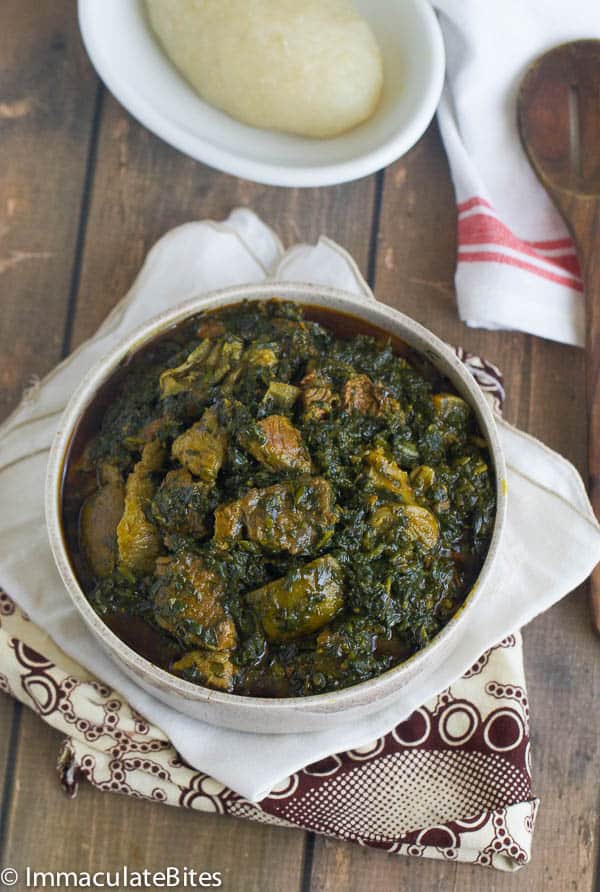 Eru soup is made using the creeping planting Gnetum africanum – an evergreen vine which grows wild in the forests of Central and West Africa. The leaves goes under different aliases; Okazi, Eru, Mfumbwa and Ukase depending on the region and country. Eru leaves are not readily available in stores; you can only buy them at African and Online stores. The soup gets its name from the leaves –eru soup. This meal is very similar to Afang soup (okazi leaves soup featured here)
There have been several reports that say; these very popular and nutritious leaves are on the extinct list; unorganized cultivating practices and extreme high demand, let to this conclusion. It would be a sad day for millions of people if that happens. Let's hope not!!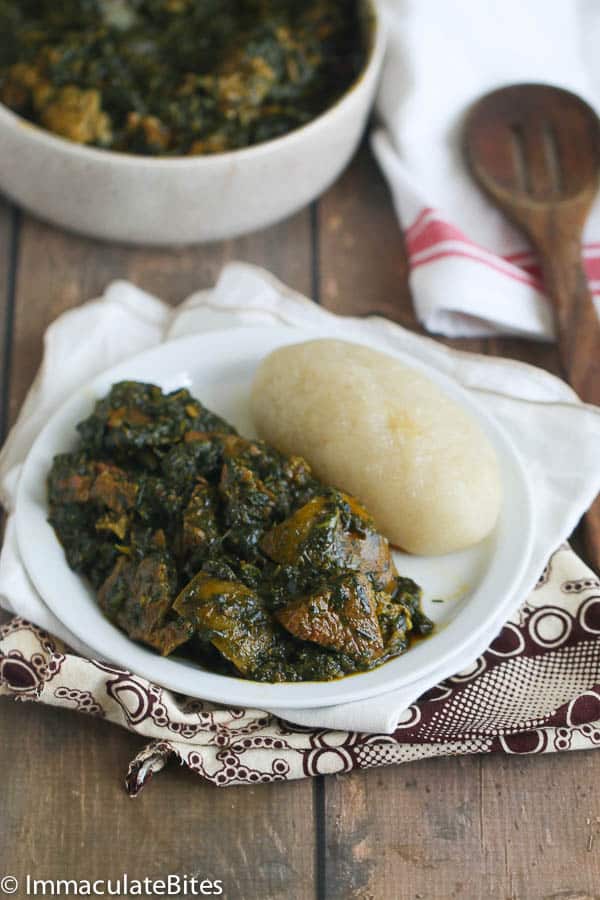 This ever-pleasing meal is very popular in Cameroon and the Bayangis ( a tribe in the south west province in Cameroon ) love it . Most people are tempted to use an excessive amount of oil while preparing eru. I have made this several times with very little oil and is quite tasty. If you want healthy eru, cut back on oil and you can eat this meal frequently, guilt free.
Serve this soup with water –fufu (fermented cassava dough) or any fufu flour.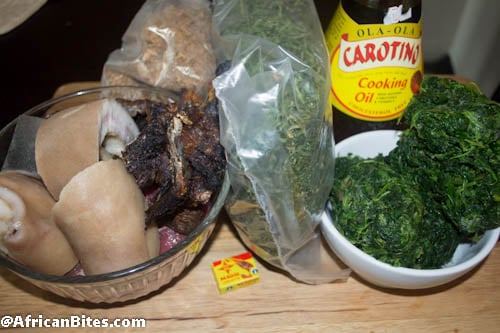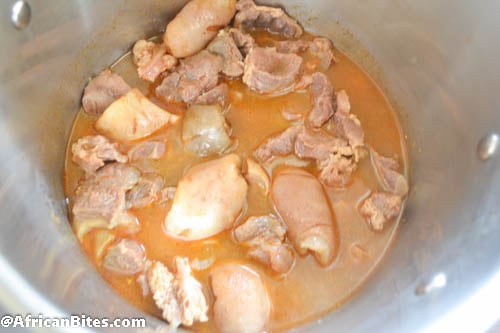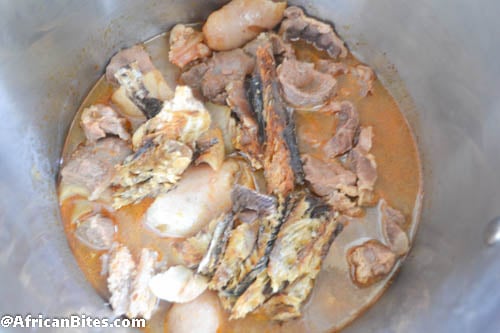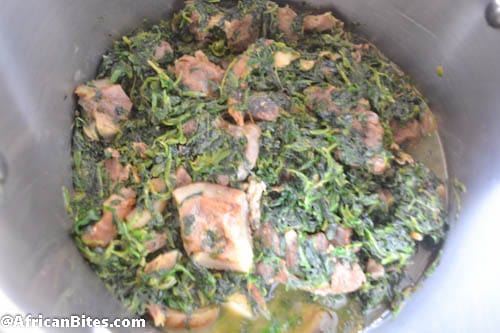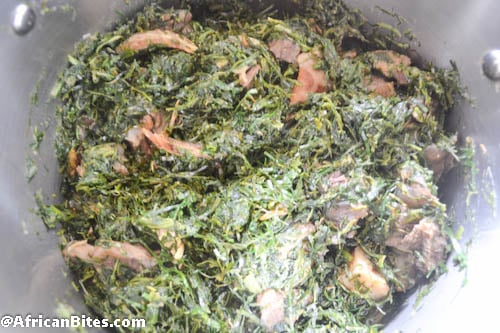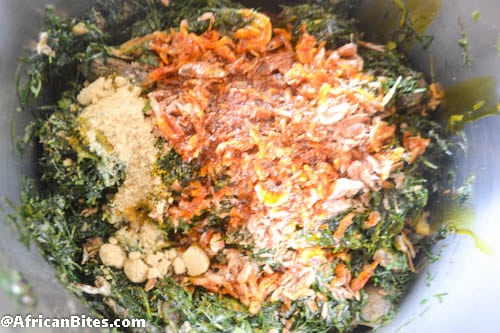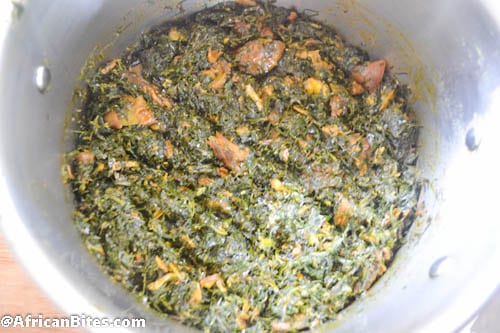 Eru Soup(Spinach/Okazi leaves)
Ingredients
2 pounds mea( beef, tripe, cow skin)
1½ pounds dried fish (smoked turkey)
¼ chopped onion
palm oil 2-4 cups(you can use half corn oil and half palm oil)
Ground crayfish ½ cup
Dried chopped Ukazi 5-6 cups
2 pounds of frozen spinach
2 Maggi/Bouillon
Salt and pepper
Scotch bonnet pepper (optional)
Instructions
Cut the beef in bite size chunks, season with salt, Maggi, and onions and cook until tender. Do the same with cow skin ( they are tough so they take a longer time to to get soft) in a . Use very little water while cooking the meat because eru does not need a lot of water . However, make sure you have at least 2 to 3 cups of stock from the beef. to use in cooking this dish.
While the meat is cooking soak the dried Okazi/Eru leaves in hot water in a bowl to tenderize the leaves for approximately 10- 15 minutes. Rinse and drain
Add the assorted meats - beef, cow skin, tripe a dried fish/ turkey to a large stock pot with at least 2 cups of stock. Bring it to a boil and let it simmer for 5 minutes.
Drain the frozen spinach and add to the pot of assorted meat and fish. Add crayfish and 2 tablespoon bouillon/ Maggi at this point stir, let it cook on medium heat (approximately 10 minutes).
Add shredded Ukazi/Eru leaves, and red oil. Stir again thoroughly making sure all the contents in the pot blend together .Simmer for another 10 minutes, add stock /water if needed . The fragrant smell that erupts from the dish lets you know it is time to eat.
Season to taste with salt and more Maggi as needed. ( I usually season my food with salt and Maggie as the dish progresses .)