Wedge Salad – a classic steakhouse side dish with crunchy iceberg lettuce draped all over with creamy homemade blue cheese dressing, crispy bacon, juicy tomatoes, chives, and crumbled blue cheese. A simple yet boldly flavored salad!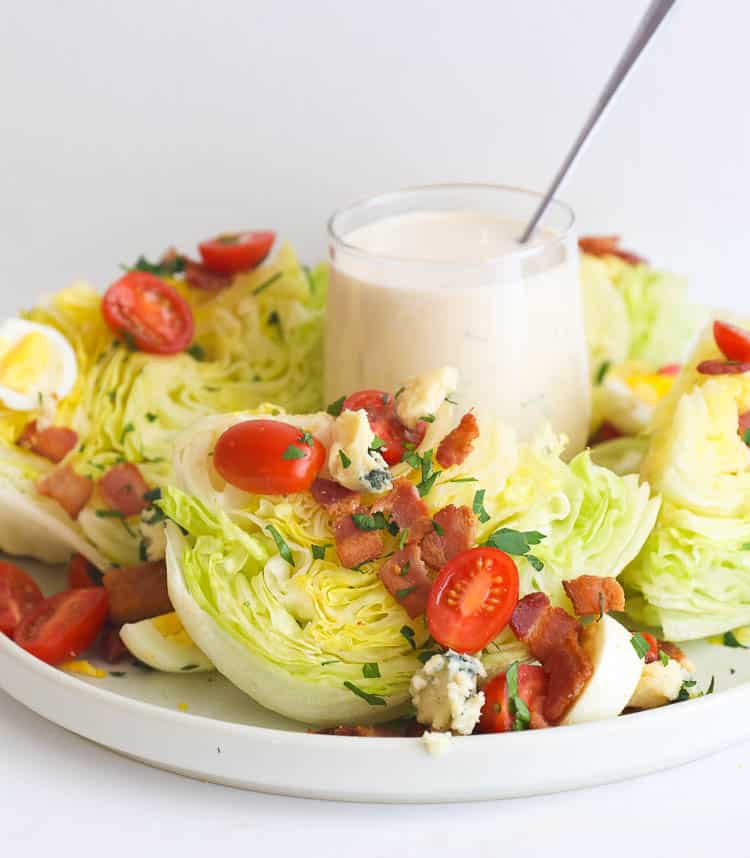 There are certain side dishes that serve their purpose as a "side dish". And there are those few which are showstoppers. The latter type of dishes takes little to no effort at all to make, but they effortlessly make you forget the main course. That's how I describe this Wedge Salad – simple yet super appetizing.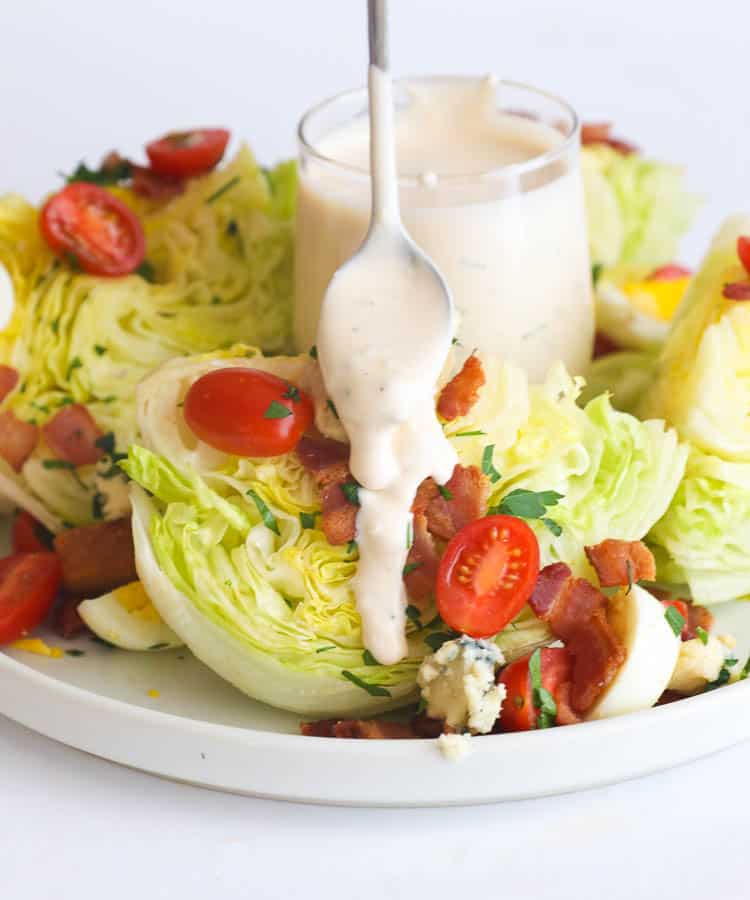 What is Wedge Salad?
A classic and simple steakhouse salad made with cold crisp iceberg lettuce blanketed with a creamy and tangy blue cheese dressing that slowly seeps into every layer of the leaves, sometimes called Blue Cheese Salad. It is usually topped with tomatoes, bacon bits, and crumbled blue cheese to complete that towering presentation which is the reason for its name.
Recipe Ingredients
Iceberg Lettuce – light-tasting lettuce with a crunchy texture and sturdy leaves that are essential for the classic wedge salad.
Bacon – it gives that smokey flavor and crispy crumbly texture to the salad.

Cherry Tomatoes

– they have a thin, snappy peel, plus a very juicy center with a bright and sweet flavor. A great ingredient for salads.

Chives

– get that primary flavor of onion with a slight garlicky note from this herb.
Blue Cheese Dressing – A creamy, pungent, strong-flavored dressing that is an essential ingredient of wedge salad. You may try my recipe for blue cheese dressing.
Blue Cheese – its characteristic flavor is sharp and salty. Its smell is due to both the mold and types of bacteria that are encouraged to grow on it.
Alternative Ingredients
Greek Yogurt – use this instead of the mayonnaise for making the dressing if you want to cut some calories off your salad.
Red Onion – this ingredient is actually optional, add it as you may. It will give that sweet and mellow flavor to your salad.
Balsamic Reduction – just drizzle a spoon of this on your wedge salad and taste that sweet and tangy bursting flavor for a whole new salad experience.
Ranch Dressing – I know that not everyone likes the bleu cheese. This dressing can work as a substitute for the dressing's texture minus the cheese flavor. Try my recipe for Ranch Dressing Recipe.
Do You Wash Lettuce For Wedge Salad?
One of the most important things you need to do when making this salad is washing the iceberg lettuce before cutting them into wedges. You will need to wash those leaves to get rid of that gritty dirt and God knows what else you could find in those lettuce leaves. To wash the lettuce:
Trim off outer leaves. Peel off those outer limp leaves. Then remove its core.
Core it. Hold the lettuce head firmly on either side then hit the core end (the bottom tough part) against your countertop then twist the core, it should easily come right off.
Use cold water. Rinse thoroughly with cold water to remove any debris or dirt.
Drain the water. Put the bottom side of the lettuce head (Yes! it's the one with a hole because you've cored it) on a colander set on a bowl. Once it stops dripping then you can pat dry the leaves with paper towels, making sure there's no excess water on them before cutting into wedges.
How To Cut A Wedge Salad?
Make sure that you've already cored and washed your lettuce, then you can easily make a wedge of lettuce by using a knife and chopping board. Cut the lettuce by following these steps:

Take the iceberg lettuce. Place it on top of the chopping board and hold it firmly.
Start at the top part. Then using a knife (I suggest using a ceramic knife to avoid bruising the leaves) cut lengthwise through the center of the lettuce, starting from the top to bottom. You now have 2 lettuce halves.
Repeat step 2. Take the half of lettuce and follow the instruction from step two, by this time you already have the wedges. Do the same with the other half and you'll get 4 lettuce wedges for your salad.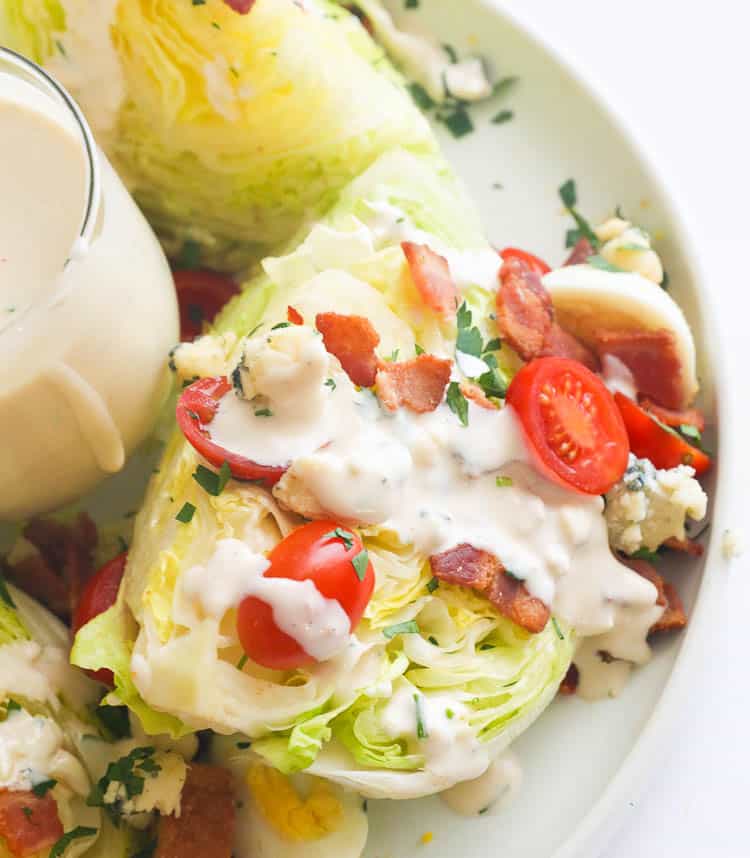 Can I Replace Iceberg Lettuce For Something Else?
For some reason, Wedge Salad isn't the healthiest salad you could think of. In fact, this article from Chicago Tribune exposed all the points which many would just simply shrug off.
It is a salad made from the least nutrient-dense kind of lettuce and covered with some of the fattiest ingredients. Oh well… we like our Wedge Salad that way!
While iceberg lettuce has vitamins C, K, A, folate, calcium, and potassium, some would still consider it as sub-par when compared to its darker counterparts.
For those who want to make the most of the nutrients in their salad, feel free to throw in a mix of other lettuce – the darker, the better.
Tips and Tricks For Making Wedge Salad
Cold and Crisp. Wash and refrigerate it until it's drained because excess water can affect the crispness of the leaves as well as it can make the dressing get watery.
Freshly Made Salad. To keep the crispness of the salad, assemble or add the toppings and dressing just when you are about to eat it. This is because the dressing will make the lettuce leaves become soggy once you add it in.
Season it. Add a dash of salt to the salad to bring out more of its flavor.
Less is More. Don't put too much dressing and toppings (you know too much of anything isn't good). It's always best to get the balanced flavor of the dish as a whole and not overpowering its taste with individual ingredients.
What Goes With Wedge Salad
Pair this simple, fun yet flavorful salad with one of these below and you have a restaurant-like meal for a much cheaper price.
More Dressings
More Fresh Salad Recipes
How To Make Wedge Salad?

Iceberg Lettuce Prep
Remove the outer leaves. Core the lettuce head then wash it properly. Transfer in a colander and let it drain.
Cut the lettuce. On a chopping board, chop the head of the lettuce, cut lengthwise into quarter wedges. (Photos 1-2)

Wedge Salad Plating
Plate and add toppings: bacon, tomato, chives, blue cheese dressing, and blue cheese crumbles. (Photos 3-4)
This blog post was first published in July 2019 and has been updated with photos and additional write-up.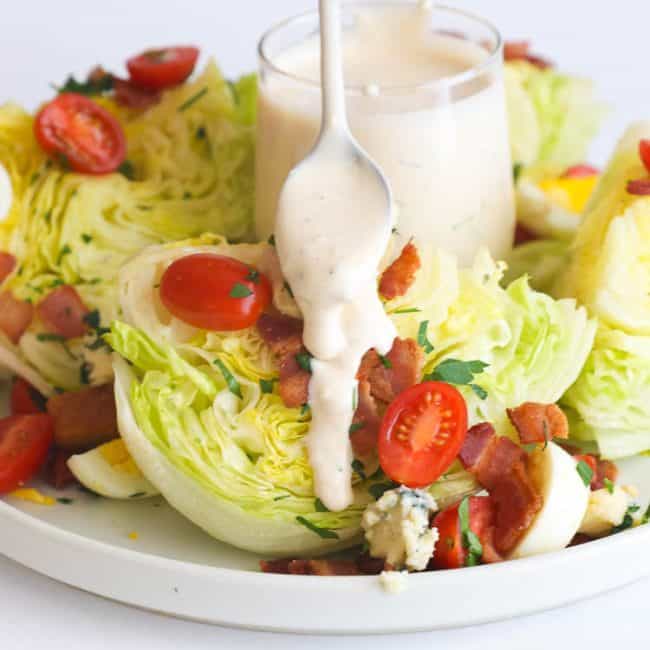 Print
Wedge Salad
Wedge Salad – a classic steakhouse meal side dish with crunchy iceberg lettuce draped all over with creamy homemade blue cheese dressing, crispy bacon, juicy tomatoes, chives and crumbled blue cheese. Simple yet boldly flavored salad!
Ingredients
1

head iceberg lettuce

1

cup

(149 g) cherry tomatoes

, diced

1

tablespoon

(3.5 g) chives

, diced

1

cup

blue cheese dressing

¼

cup

blue cheese crumbles
Instructions
Wash the lettuce properly. Using a sharp knife remove the outer leaves. On a chopping board, chop the head of the lettuce, cut the end to take off stem and cut into four equal halves.

Plate each wedge and top with: bacon, tomato, chives, blue cheese dressing and blue cheese crumbles.
Tips & Notes:
Dice the toppings small to help them stay on top of the wedge. Bigger pieces will fall off.

Please keep in mind that nutritional information is a rough estimate and can vary greatly based on the products used.
Nutrition Information:
Calories:
154
kcal
(8%)
|
Carbohydrates:
8
g
(3%)
|
Protein:
9
g
(18%)
|
Fat:
10
g
(15%)
|
Saturated Fat:
4
g
(25%)
|
Cholesterol:
15
mg
(5%)
|
Sodium:
848
mg
(37%)
|
Potassium:
333
mg
(10%)
|
Fiber:
2
g
(8%)
|
Sugar:
5
g
(6%)
|
Vitamin A:
955
IU
(19%)
|
Vitamin C:
12.7
mg
(15%)
|
Calcium:
127
mg
(13%)
|
Iron:
1.2
mg
(7%)
Nutrition Facts
Wedge Salad
Amount Per Serving
Calories 154
Calories from Fat 90
% Daily Value*
Fat 10g15%
Cholesterol 15mg5%
Sodium 848mg37%
Potassium 333mg10%
Carbohydrates 8g3%
Protein 9g18%
Vitamin A 955IU19%
Vitamin C 12.7mg15%
Calcium 127mg13%
Iron 1.2mg7%
* Percent Daily Values are based on a 2000 calorie diet.