Doubles  (Curry Chickpeas and Spicy Flat Bread)-Doubles are the most famous of Trinidad Street Snack or sandwich and have become known as the epitome of Trinidad's Street Food culture and one of my favorite Caribbean Street food- hands down.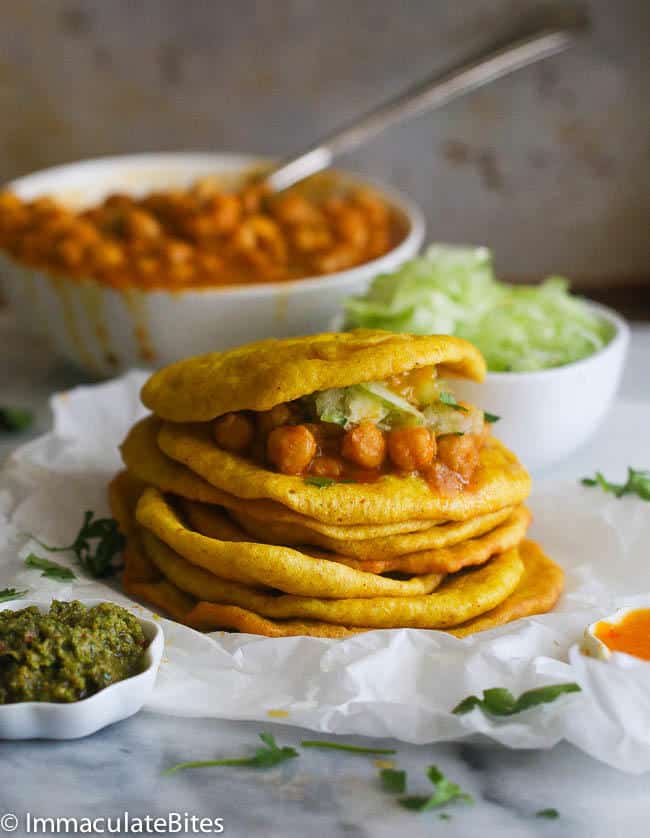 It's Greasy, Spicy, Messy and Sensational.
This my  friends, is not your everyday sandwich.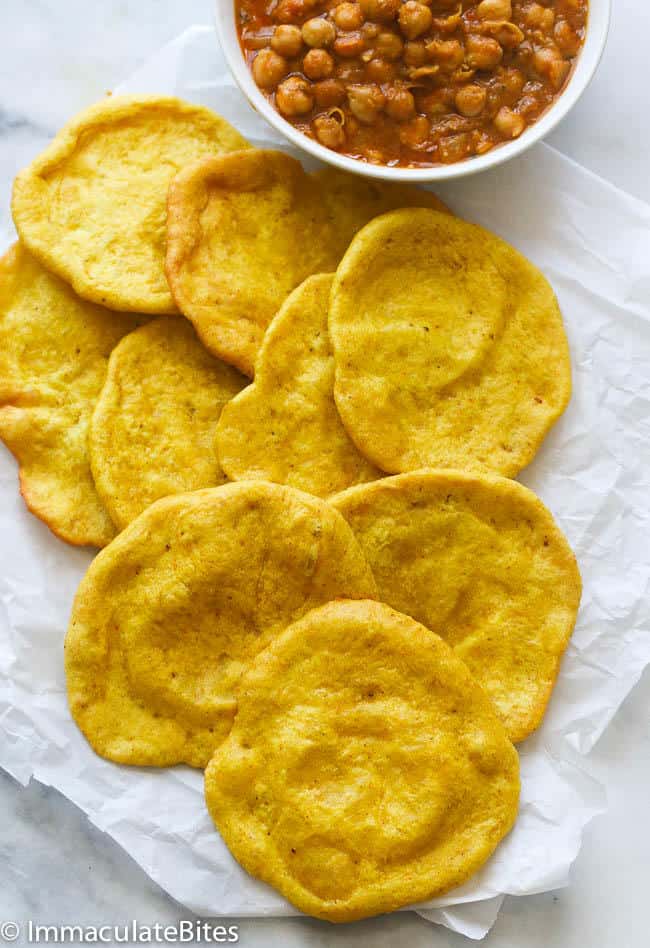 I don't use sensational lightly but when I do, it has to count for something..
I can tell you once you taste this you are going to CRAVE it, Looooong for it, AND want it ALL the time.
Where delicious ends, this sandwich Begins. What am trying to say is that it is beyond delicious!!! Plus it's Vegan too!!!!!
Seeing doubles?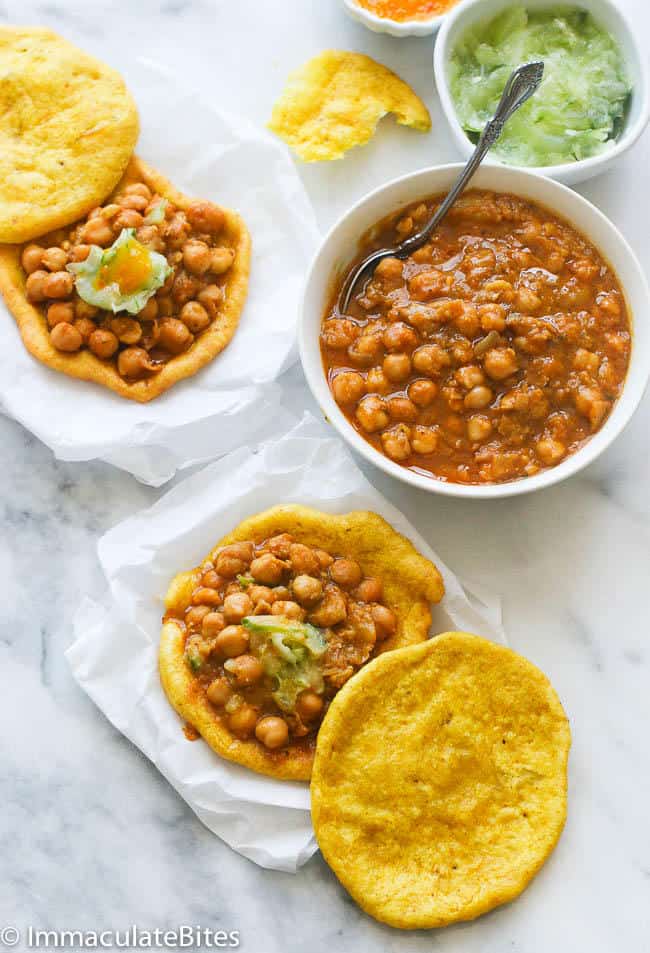 TRIPLES? OH BOY!!!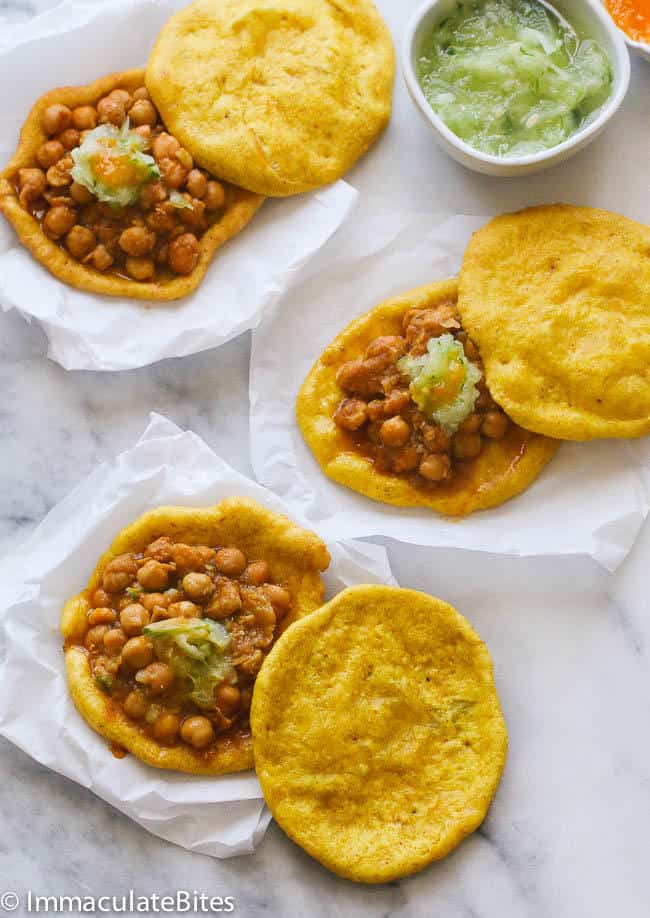 Now… just you wait till you try it . You are going to have Seconds and thirds.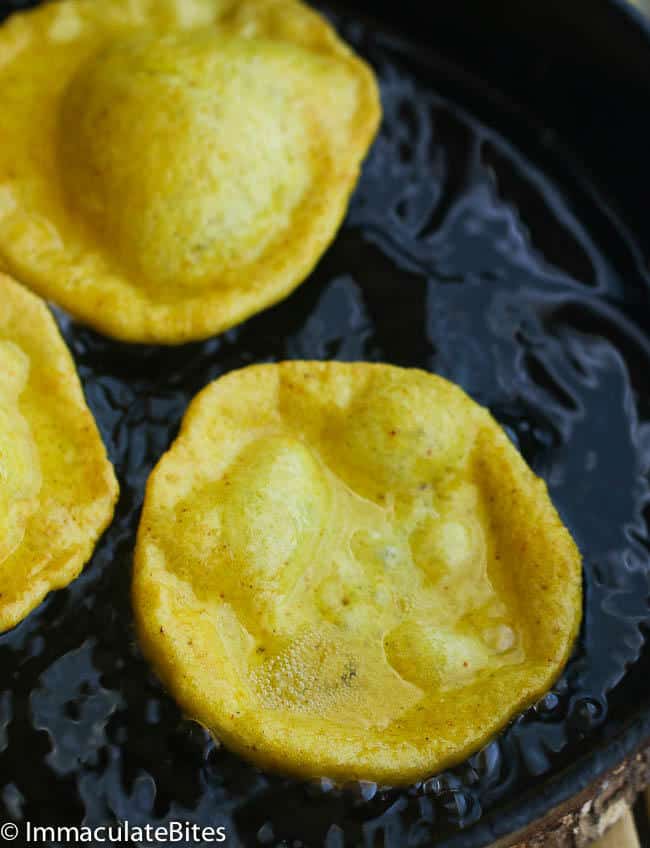 Why am I tempting you with so many pictures … Cause I want you to try it.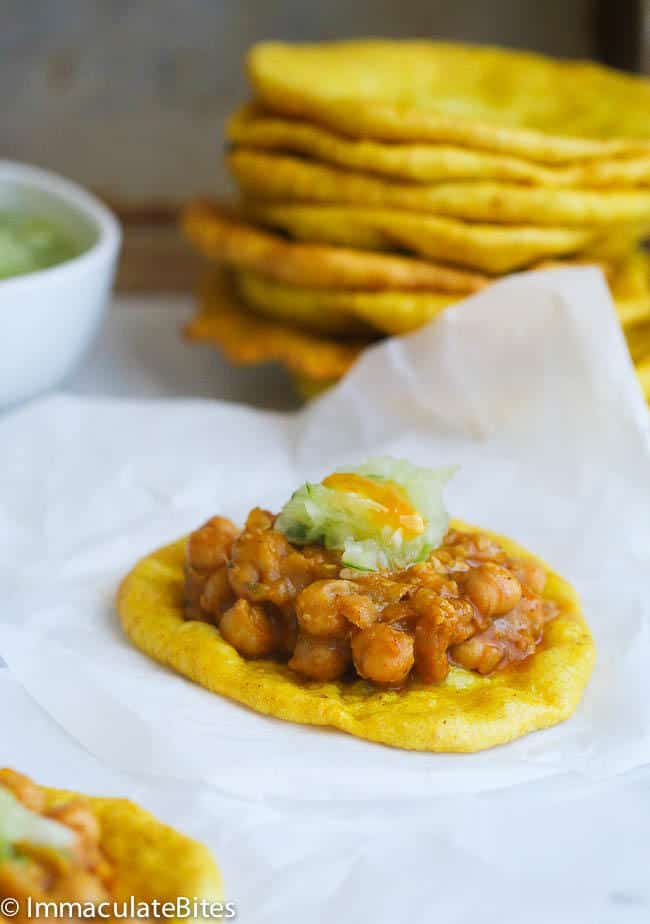 Any ways, Doubles in a nutshell is a combination curry chickpeas, infused with a blend of aromatic spices sandwiched between two deep-fried  Spicy aromatic flat bread dough (Bara).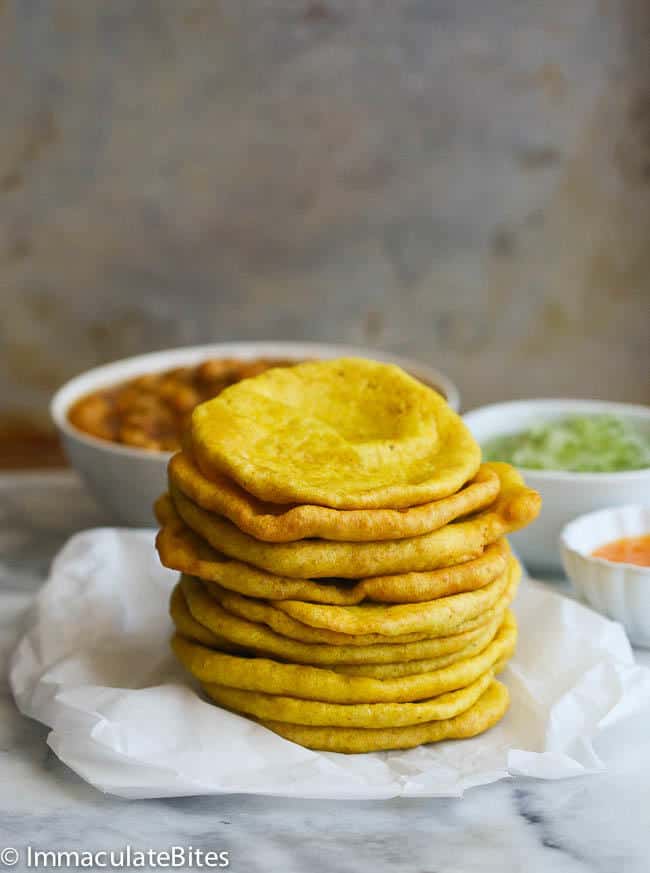 Here is my own recreation of this Sensational Trinidad sandwich- Loaded with tons of flavor. And not too greasy.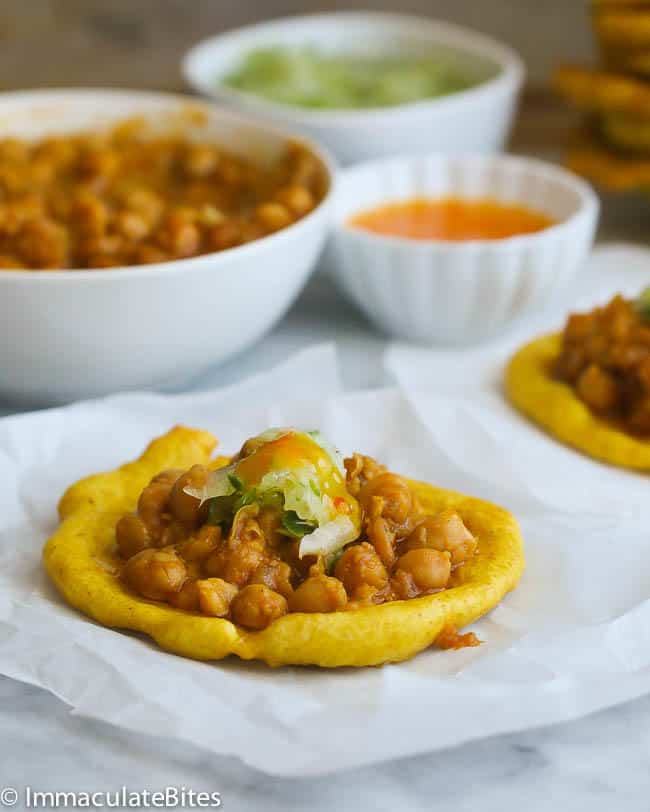 Made with pantry staple ingredients, so anyone can give it a go. Fear not you can too! It's easy. The only hard part is the waiting.
I used yeast as always because it imparts an additional boost of flavor, for a quicker version go with baking powder.
For the Chickpea curry I used this my trusted, channa aloo aka chickpea curry recipe here without the potatoes. If you haven't tried it you are missing out. It's quick and comes together in about 30 minutes. Now it's your chance to try it out.
This is usually served with condiments like hot sauce, pickled cucumber and or chutney. To be honest you don't need it!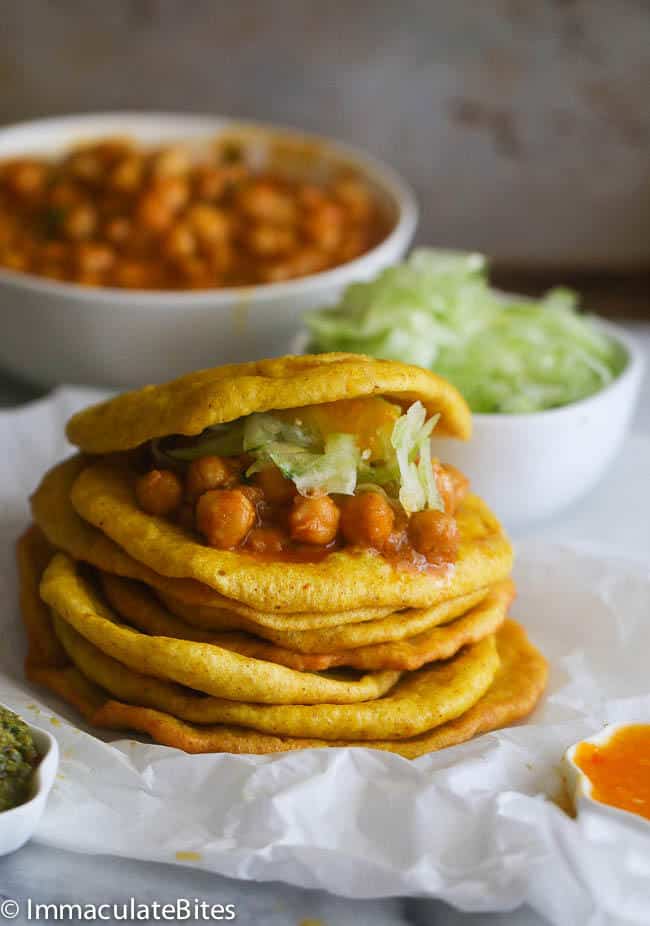 Make the bara first, then while it is rising make the curry chickpeas.
Enjoy!!!

Doubles (Curry Chickpeas and Spicy Flat Bread)
Ingredients
Spicy Flat bread (Bara)
3 cups flour
1-teaspoon cumin
½-1 teaspoon turmeric
2 teaspoons active or dry yeast
½ teaspoons salt
½ teaspoon white pepper
1 ¼ cup warm water or more (adjust water to form soft dough)
1 Tablespoon sugar
Curry chickpeas
¼ - ½ cup canola oil
2 -3 tablespoon curry powder
1 large onion diced
2 teaspoons minced garlic
1-teaspoon ground allspice
1-teaspoon ground nutmeg spice
1½ teaspoon smoked paprika
2 teaspoons fresh or dried thyme
1-teaspoon cumin spice
1-teaspoon white pepper.
2 cans of chickpeas, drained
½ -tablespoon bouillon chicken powder (optional)
2 cups or more broth or water
½-1 teaspoon cayenne pepper (optional)
1 scotch bonnet or habanero pepper
2 green onions chopped
2 tablespoons or more chopped parsley
Salt to taste
Instructions
Bara (Spicy Flat bread)
In a large bowl combine all-purpose, yeast, salt sugar cumin, turmeric, and yeast. Thoroughly mix.
Then add warm water a little at a time until you get to desired consistency – soft- ball. If dough is too stick some oil to prevent dough from sticking to your hands. Knead for about a minute or 2
Place dough in an oiled bowl. Set it in a warm area and let it rise and double in size -approximately 1- 2 hours. Punch down.
Divide in to about 18 or more pieces. These are medium sizes you may make it smaller and divide into walnut sizes.
Place each piece on rolling board or palm of your hand, if dough is slightly sticky oil both sides with oil roll out flat. Set aside or place directly in frying pan. Repeat with the remainder of the dough
In a large, sauce pan pour vegetable oil, until it is at place on medium heat until oil is about 350 degrees.
Fry for about 30 seconds or less on each side. Bara should puff up.
Use a large spoon or something like that to take it out of the oil. I usually place them on napkins right away to soak up some of the excess oil
Serve doubles by placing one Bara on a plate, spooning one tablespoon of the chickpea filling on it, topping desired condiments. You may top with an additional bara.
Curry Chickpeas
Heat up large sauce-pan with oil, and add onions, garlic, thyme, cumin spice, all spice, smoked paprika, nutmeg and curry powder, stir occasionally for about 2-3 minutes until onions is translucent.
Add stock / water if necessary to prevent any burns
Next add chickpeas, scotch bonnet pepper, green onion and broth. Bring to a boil and let it simmer until sauce thickens, it might take about 20 minutes or more Throw in some parsley, adjust for salt, pepper and stew consistency.