Jamaican Curry Shrimp- Curry with big bold flavors like — coconut milk, thyme and bell peppers are among the ingredients that round out this curry stew profile—yet surprisingly simple to make.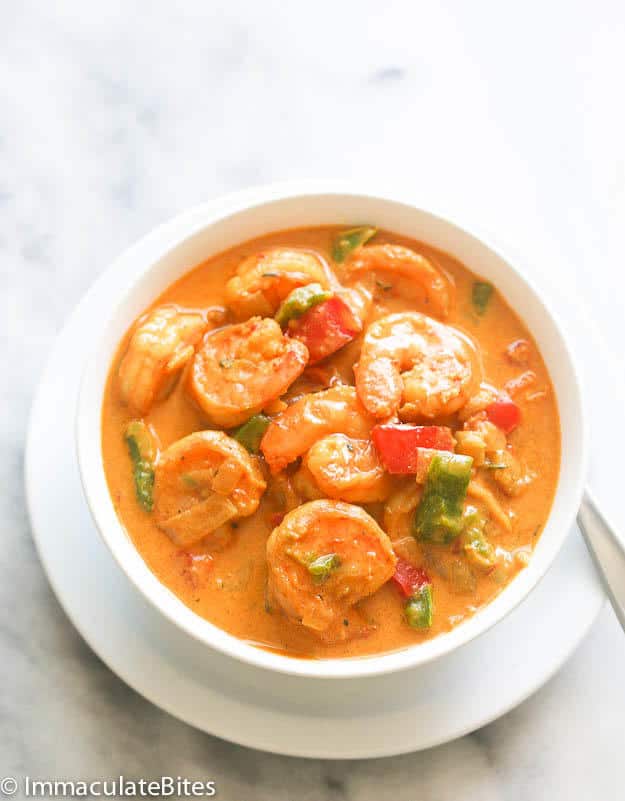 I know looking at this dish may sound exotic, far fetched and that would probably scare off some folks. …BUT in all actuality it is not.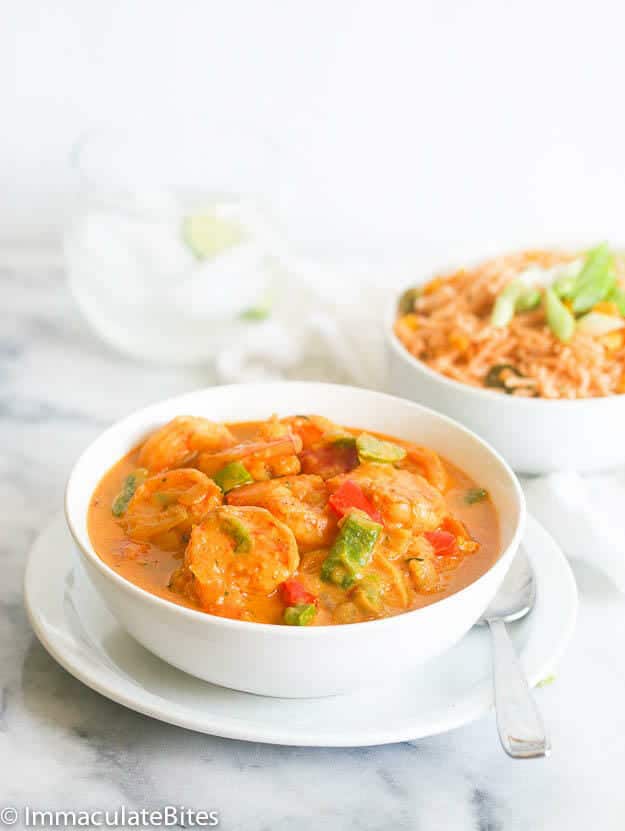 Large plump Juicy shrimp are simmered in a hearty sauce, infused with garlic, thyme, ginger and curry spice. Speaking of curry spice, if you haven't made my Awesome homemade curry spice here then you are missing out – seriously. It just pales in comparison to store-bought-curry. So take some time and give it a try and tell me want you think.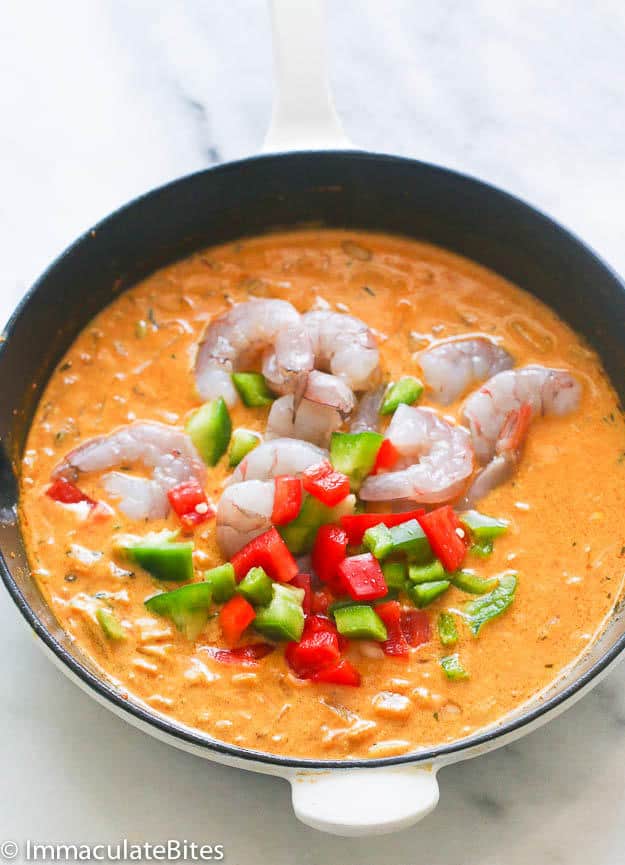 What is also enticing about this Jamaican curry shrimp is that you can have this entrée for family on the table in about 30 minutes, with just a few minutes more of prep included in this.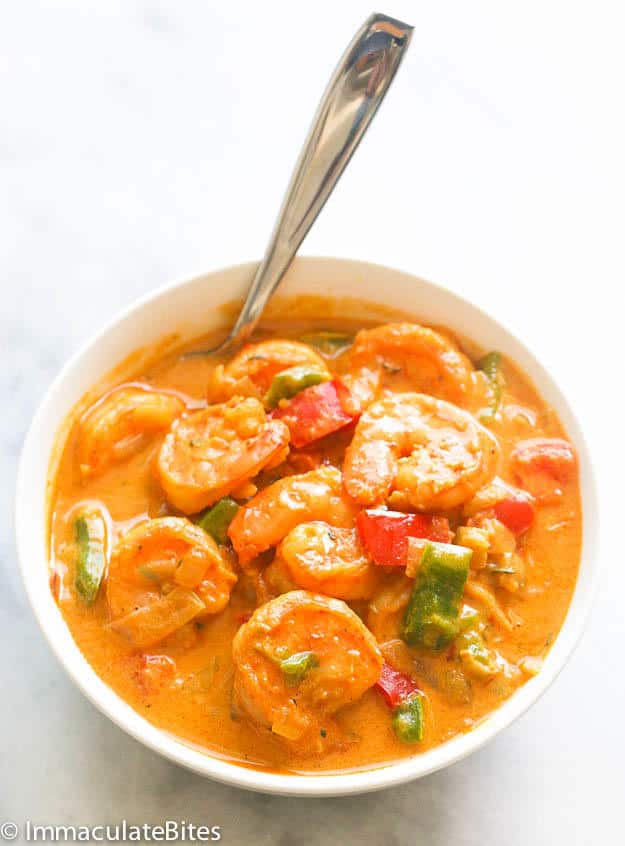 This is excellent served with Jamaican pigeon peas and rice and no less delicious with rice and beans or this coconut rice to be served quite deliciously without any further embellishment. And of course, you are always welcome to embellish as you wish—vegetables on the side broccoli, side salad or whatever vegetable suits your mood.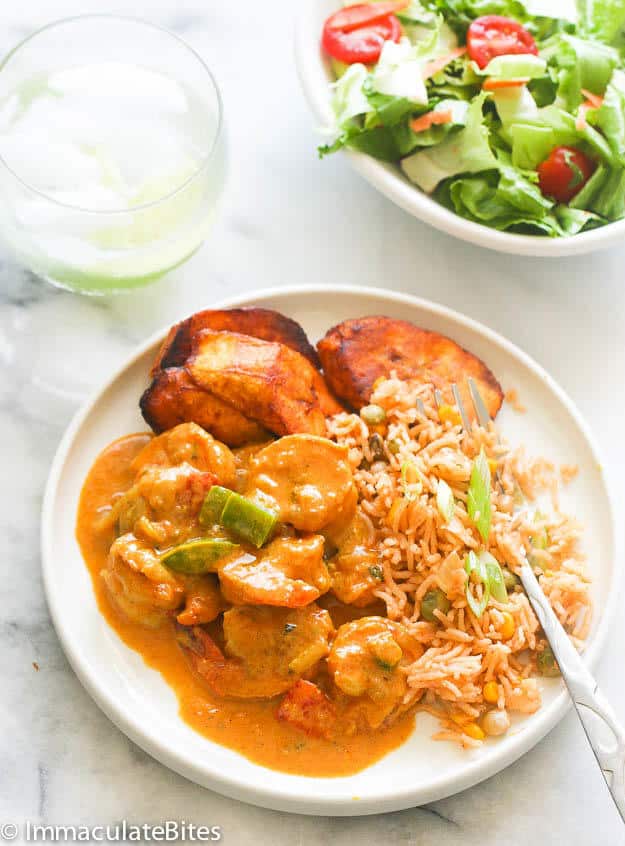 And if shrimp is not your thing then you can go ahead and make this curry with chunks of chicken breast or thighs.   Enjoy!!!    
Jamaican Curry Shrimp
Ingredients
1- 1½ lb. extra large shrimp, peeled and deveined
2-tablespoons virgin olive oil or canola oil
1 teaspoons fresh minced thyme
2 large garlic cloves, minced
1 medium onion chopped
2 green onions chopped
½ -1 Tablespoon curry powder
1 teaspoon tomato paste
1-cup coconut milk
½ red bell/ green bell pepper diced
2 cups broth or more or less
1 scotch bonnet pepper(optional)
Salt and pepper to taste
Instructions
Heat oil over medium heat in a heavy bottomed Dutch.
Add onions, garlic, thyme, curry powder and sauté for about 2-3 minutes. If using scotch bonnet pepper add at this time.
Add tomato paste, green onions , followed by coconut milk, and broth. Bring it to a boil then simmer for about 7-10 minutes. Toss in shrimp, and bell pepper. Cook for another 3-5 minutes.
Adjust for salt / pepper and thickness. Serve with Jamaican rice and corn pigeon rice and/or vegetables