Armed with these 8 Appetizing Apple Recipes, you'll be ready to take on cooling temperatures with a smile on your face. Not everyone is a fan of colder weather, but who isn't a fan of apple season? During peak apple season, apples are abundant, juicy, flavorful, and absolutely perfect for turning into mouthwatering apple desserts and drinks.
Not only are apples delicious, but they are also a good source of antioxidants, fiber, and plenty of nutrients. That means you can enjoy a few health benefits as you dive into an ultra-cozy apple dessert from this list. Hey, life is all about balance, right? 😜
Plus, with so many varieties of apples to choose from, you can have fun experimenting with different kinds of apples – from tart and tangy to mild and sweet. With so many recipes to enjoy apples, they'll be at the top of your shopping list in no time.
FAQs
Can you freeze whole apples?
Yes, you can! Simply wash the apples, wrap them in plastic or seal them in a Ziploc bag and freeze. They'll stay good for 6-9 months. Keep in mind that apples frozen whole take a lot longer to thaw than apples that go into the freezer cored and cut up. Oh, and a squeeze of lemon juice may keep them from turning too dark.
Are boiled apples healthy?
Both raw and boiled apples are good for you. Raw apples do indeed offer more nutrients than cooked apples, but cooked apples provide extra pectin —a form of fiber. That means apples are nutritious even if you boil them.
How long do apples last in the fridge?
When apples are unwashed, whole, and individually wrapped, they can last an impressive 6-8 weeks in the fridge!
The Appetizing Apple Recipe Roundup
1. Apple Turnover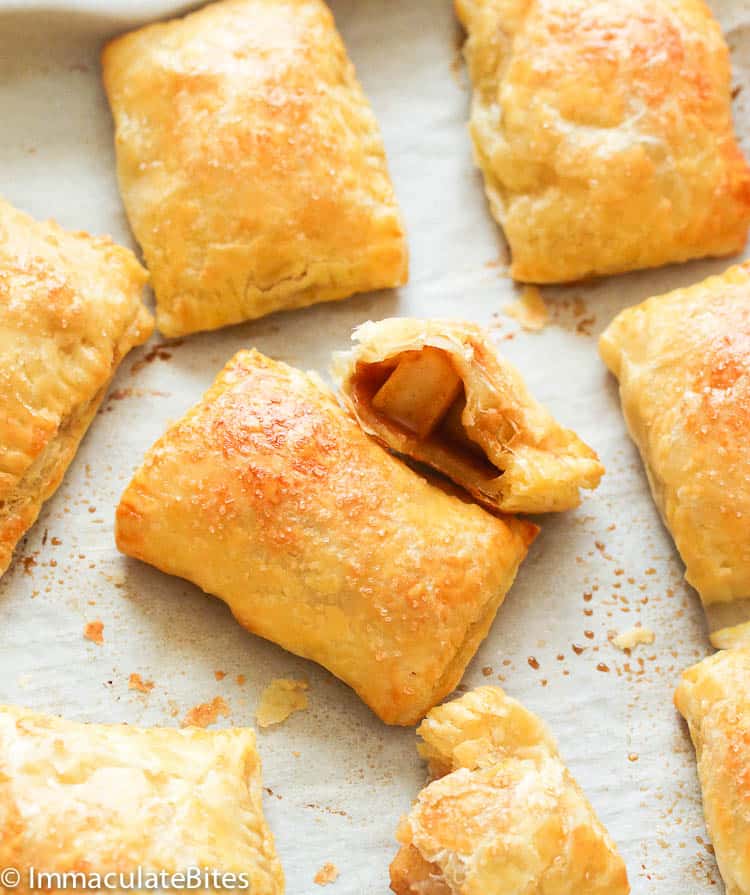 I absolutely love turnovers – I mean, handheld pies? Whoever thought this apple recipe up was a genius. These apple treats are flaky, sweet, and packed with cinnamon. They are perfect for breakfast accompanied by a hot cup of coffee, but they also make great desserts.
Apple turnovers are always a hit when served warm with a dollop of vanilla ice cream. But they also go amazingly with specialty coffee drinks like a pumpkin spice latte. Try serving them as a dessert after a hearty cold-weather meal like roast turkey breast for the perfect finish.
Store apple turnovers in an airtight container. If you store them at room temperature, they'll stay fresh for a day or two. Extend their life to 3-4 days by storing them in the fridge.
Apple Turnovers
Apple Turnover – delicious flaky hand-held treats made with puff pastry and sweet cinnamon-y apple filling. So easy to make and highly-addictive. Great for breakfast and as desserts!

Check out this recipe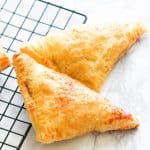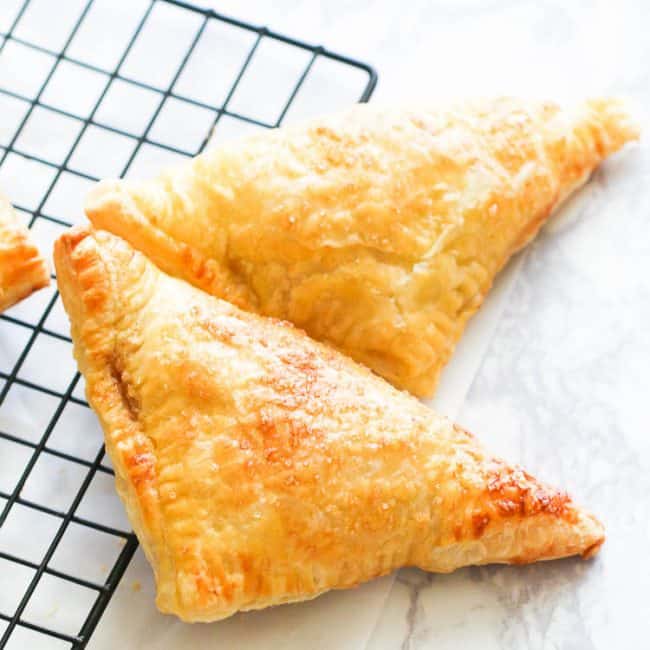 2. Apple Galette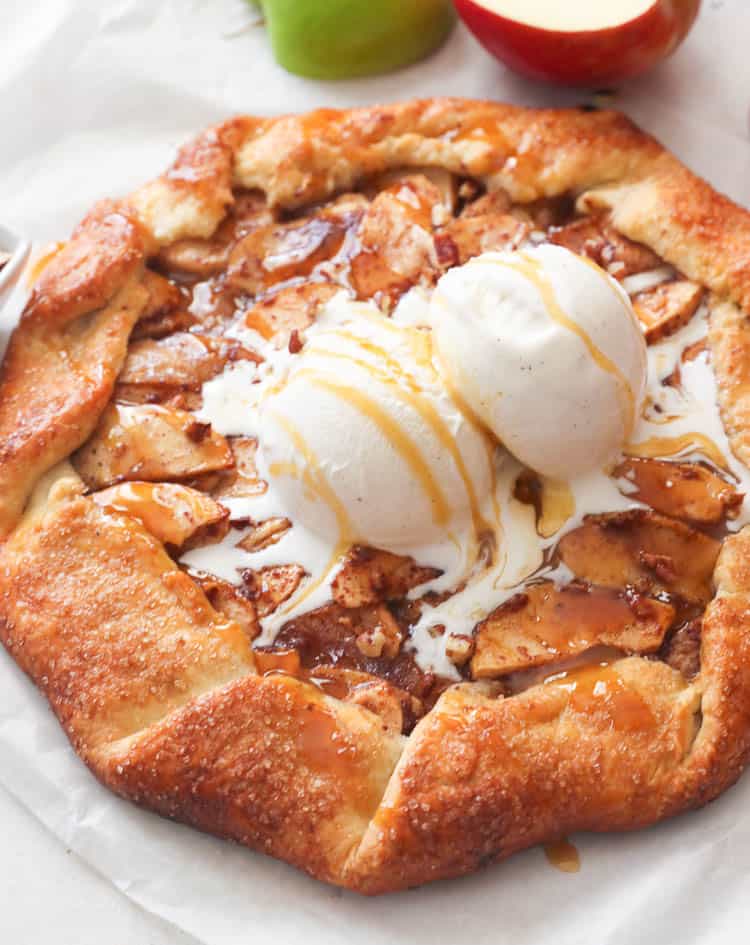 Apple galette is one of my all-time favorite apple desserts. It's flaky, stuffed with juicy apples, and absolutely beautiful. It's so pretty, in fact, that it might just earn you unofficial chef status among your friends and family. 😉
Apple galette is best served as dessert after a cozy fall meal like lentil soup. Dress it up with a generous scoop of vanilla ice cream and some homemade caramel sauce, and you'll wish you'd skipped straight to dessert every time.
Store apple galette by covering it at room temperature. It will stay fresh for 1-2 days. You can also freeze baked apple galette in an airtight freezer bag for a month. For reheating, thaw it to room temperature and then bake at 350℉/177℃ for about 10 minutes.
Apple Galette
Easy, scrumptious, and crusty APPLE GALETTE makes the fall season even cozier with just a few simple ingredients. You'll definitely FALL in love with the flaky crust filled with REAL APPLES! This fancy centerpiece is a total head-turner, especially when served with a caramel sauce or tasty vanilla ice cream.
Check out this recipe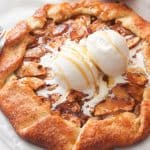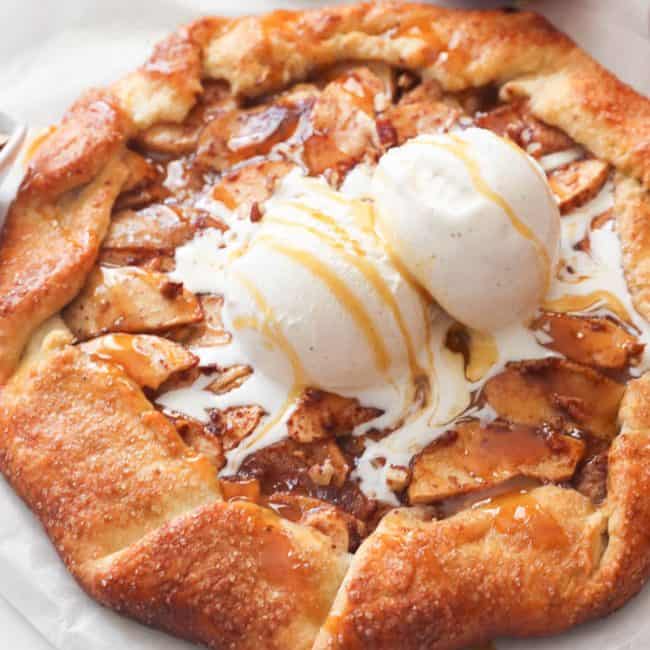 3. Cinnamon Apple Cake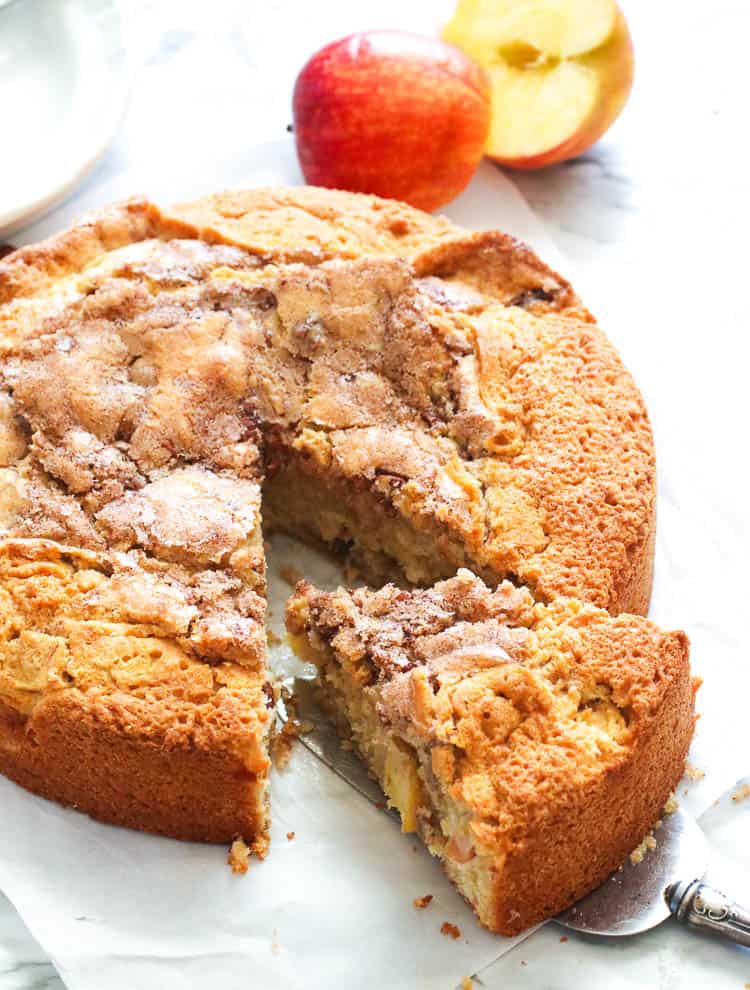 Warm, buttery, moist cake with crunchy pecan topping – this apple recipe is oh so good. Plenty of cinnamon makes for a classic combination that is just heavenly. Plus, you can use any apples you want for this fall favorite, which is always a crowd-pleaser.
Cinnamon apple cake goes fantastic with just about any style of coffee or tea like calming, flavorful ginger tea or my favorite chai tea latte.
Wrap leftover cinnamon apple cake in plastic wrap or aluminum foil and store it in an airtight container in the fridge. It will keep for about five days. Or you can freeze this cake for up to three months.
Cinnamon Apple Cake
Cinnamon Apple Cake – full of warm cozy flavor moist cake studded with crunchy diced apples and topped with a sweet butter cinnamon coated pecans. Perfect snack dessert or breakfast for this fall season. And you can use any apples you want!

Check out this recipe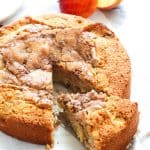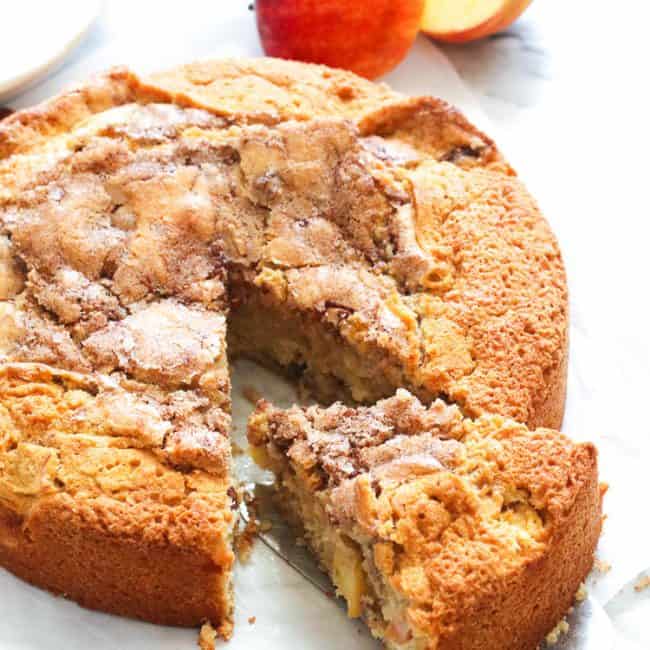 4. Apple Cobbler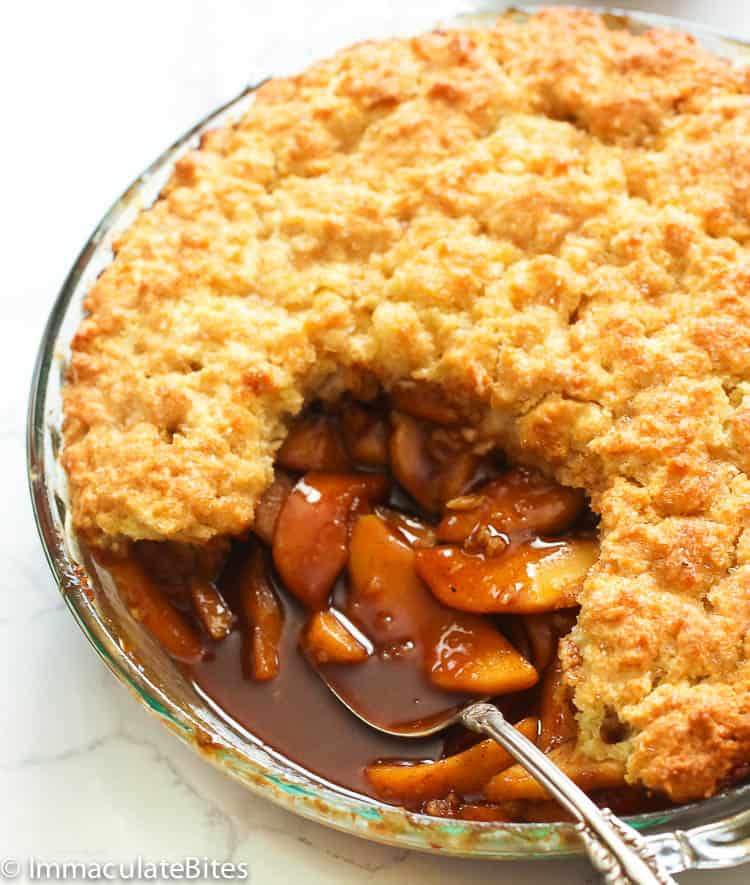 Apple cobbler is a dessert recipe you cannot skip once fall rolls around. With saucy, spiced, sweet apples and a crumbly biscuit-like top, what's not to love? It's great for dessert but even better for breakfast. And it's always a family favorite.
I love topping apple cobbler with homemade whipped cream or vanilla ice cream. Pair that deliciousness with a hot cup of coffee, and you can make it happily through the harshest of winters. It's also an excellent pick for family or holiday get-togethers, where you can serve it alongside other fun desserts like pecan pie and rum cake.
Store leftovers, if you actually have any 😜, in the fridge for up to three days. Be sure to keep it in an airtight container. You can also freeze baked apple cobbler for up to two months.
Apple Cobbler
This popular fall dessert made from juicy fresh apples and cozy spices, then baked with a golden brown, crumbly, biscuit-like top, is pure heaven. And nothing beats that sweet cinnamon apple smell wafting through the air on a crisp fall day – except maybe digging into a bowl of warm apple cobbler.
Check out this recipe
5. Apple Dumplings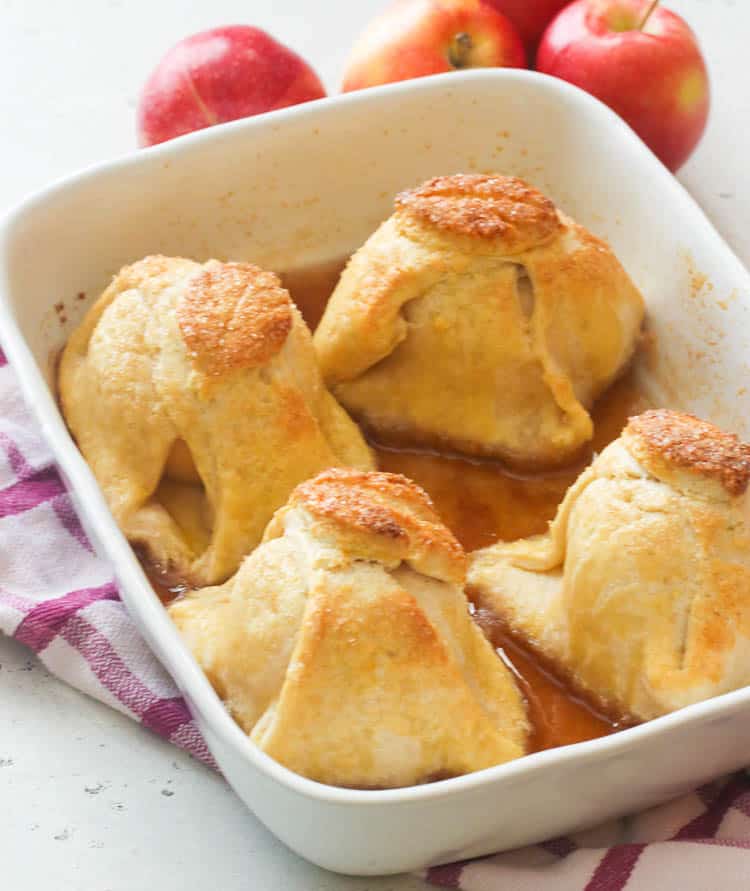 First of all, apple dumplings are adorable. Crispy apples and crunchy pecans wrapped in a buttery pastry and drizzled with a delightful syrup make for an amazing treat for any social gathering. And while they might sound complex, these babies are super easy to make from scratch. So get ready to impress your friends and family.
Apple dumplings are already decadent as is, but there's no such thing as too much of a good thing, right? Try topping them with homemade caramel sauce or homemade whipped cream to take them to the next level.
Keep leftover dumplings wrapped in cling wrap or in a container with a lid. You can store them in the fridge for 4-5 days.
Apple Dumplings
Sweet, sugary, and simply adorable APPLE DUMPLINGS make a lovely holiday treat for kids and adults alike. An amazing ensemble of sweet crisp apple filled with nutty pecans then wrapped in a buttery pastry, and luscious syrup. Ease up in the kitchen with this delightfully easy treat all made from scratch!
Check out this recipe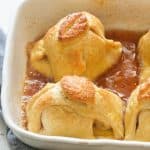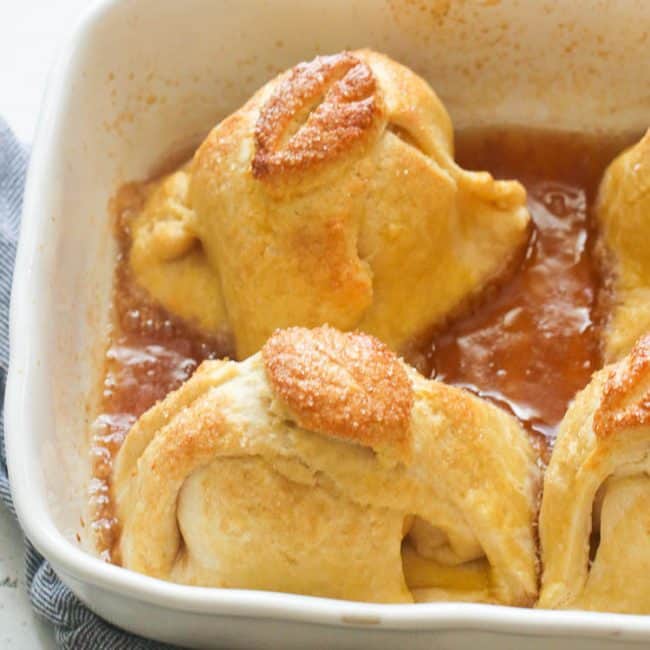 6. Apple Fritters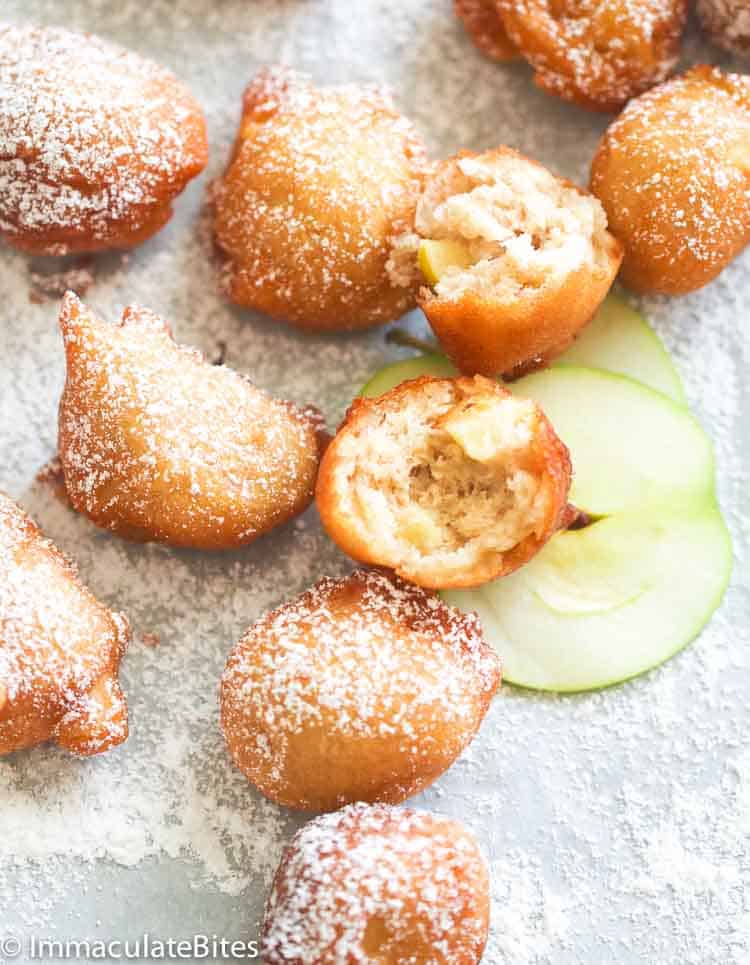 Crispy, crunchy bits of diced apples wrapped in a cinnamon batter and fried – I'm telling you, apple fritters are the ultimate recipe in addictive apple desserts. Best of all, apple fritters are so easy to make, you'll be whipping them up every weekend during apple season.
My favorite way to serve this special apple dessert recipe is to dust the fritters with powdered sugar – it's super easy and looks pretty too. Alternatively, you could make your own glaze to coat them. It's a little more work, but the result is doubly delicious.
Keep extra fritters in an airtight container in the fridge for a day or two. When you're ready to eat them, reheat them in the oven at 350℉/177℃ for 8-10 minutes for the best results.
Apple Fritters
Apple Fritters – super easy dessert or snack treats with crisp bits of diced apples throughout in a flavorful cinnamon batter using just a handful of ingredients. Delicious, easy and highly addictive fried treats!

Check out this recipe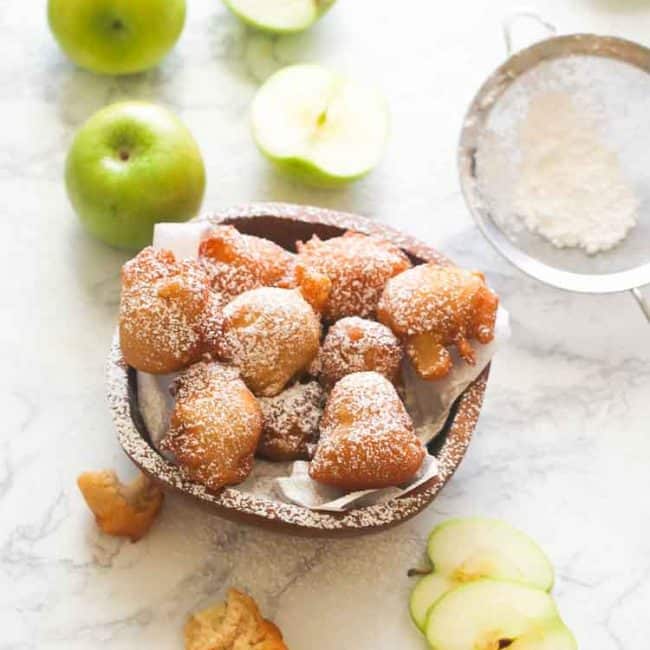 7. Apple Pie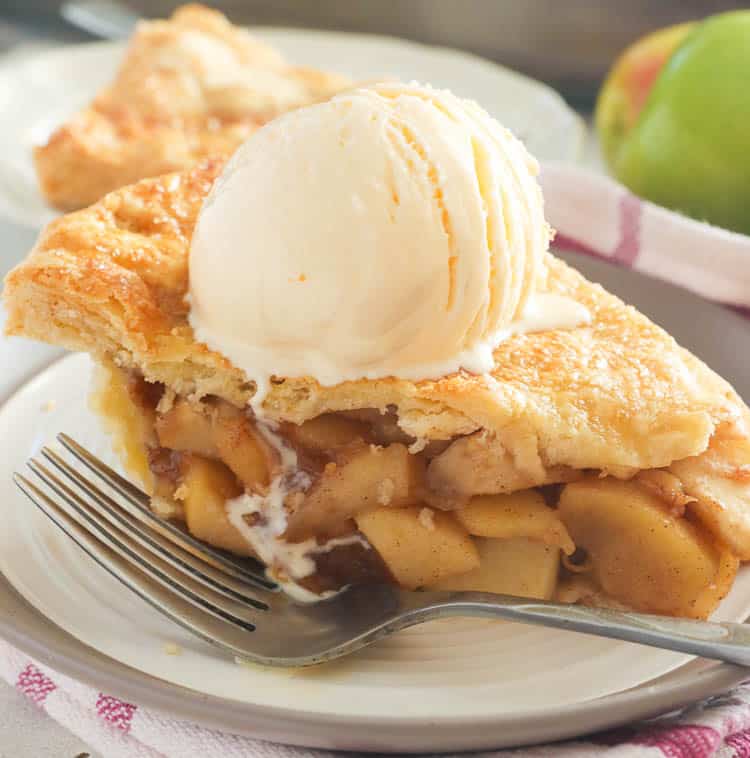 What dessert makes you feel more loved, at home, and cozy than apple pie? Lightly spiced apple filling wrapped in a flaky, buttery crust is what every family occasion needs.
A store-bought pie crust will work fine for this recipe, but I highly recommend homemade pie crust for the win on this apple recipe. It is easier than you think and totally doable. Don't forget to top your apple pie with a healthy portion of vanilla ice cream. And if you're in the mood for a little extra, give it a drizzle of some homemade caramel sauce too! 😋
Cover leftover apple pie with plastic wrap or foil and keep it on the counter at room temperature for 1-2 days. Or you can keep the pie in the fridge so it will last 3-4 days.
Apple Pie
Made with lightly spiced apple filling, this APPLE PIE made with the best buttery-flaky homemade pie crust is a must-have on any family occasion! Use a mix of different kinds of apples to make the best homemade pie!
Check out this recipe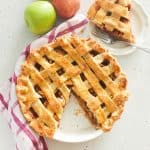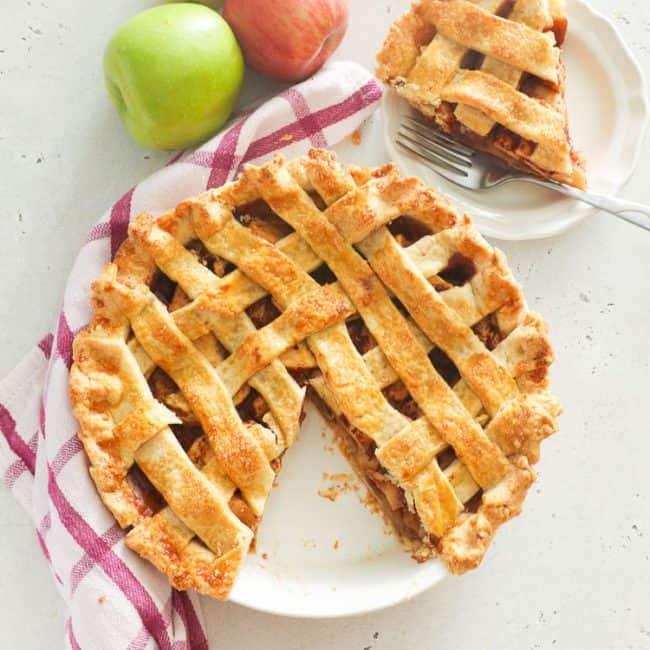 8. Homemade Apple Cider
If the apples are piling up and you've had your fill of desserts (like that could ever happen 😂), it's time to turn them into cider! This apple cider recipe is one of my all-time favorite fall drinks, with plenty of spices, apples galore, and a hint of orange too. It's not hard to make, and it's the perfect way to warm up on a cold winter night.
Apple cider is super cozy as a stand-alone drink, but I also love to pair it with desserts. Two of my favorite desserts to serve with apple cider are coffee cake and bourbon pecan pie. Double yum!!!
Store apple cider in a BPA-free plastic bottle with a sealable lid and use it within a week. If you have more than you can drink in a week, pop it in the freezer (don't freeze it in glass, or it may explode) and thaw it out when you're ready to use it.
Homemade Apple Cider
One of my favorite things about fall is fresh apples and homemade apple cider. However, the store-bought stuff is no match for this recipe! It's sweet, delicious, and healthy! This comforting drink made with apples and spices will warm you from the inside out.
Check out this recipe