This Caribbean Coleslaw is a mayo-free coleslaw that is light, fruity, sweet, and refreshingly good! Makes a perfect no-cook side dish for this summer. Or add your favorite protein and make it a meal!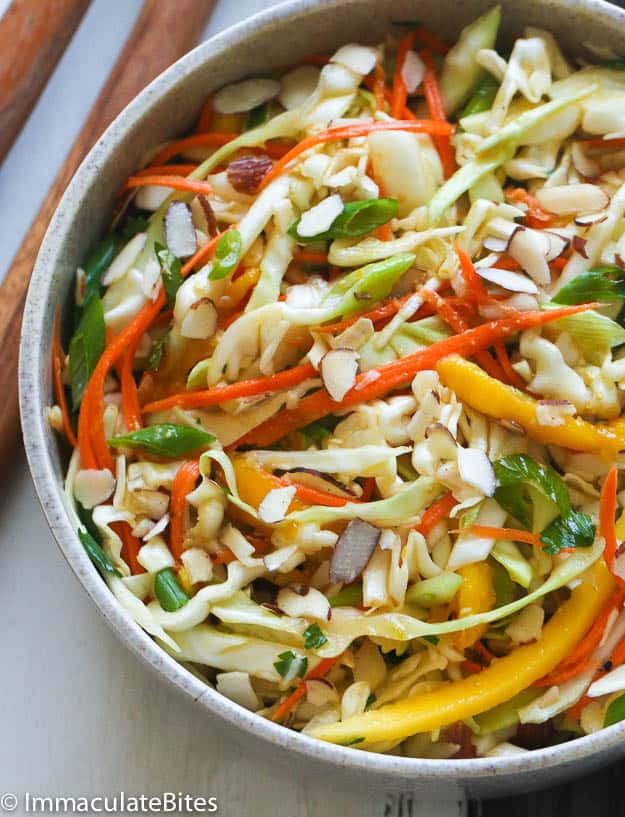 I'm giving you an option to switch things up with your coleslaw. And it's going to be sweet, nutty, a little bit of spice added with a whole lot of tropical vibe to it.
This would be a great side dish when you have something like this Grill Jerk Chicken and for BBQ parties!
This Caribbean Coleslaw is crisp and refreshing with some mangos, jalapenos, and Caribbean sauce threw into the mix.
And for my sweet peeps – honey. A perfect balance of tangy and sweet. It was hard to stop eating the whole thing!
Caribbean vs Regular Coleslaw
You are not going to miss the mayonnaise-laden kind. I promise. And you can eat as much as you want without a care in the world. Easy on your waistline compared to the usual variety.
Immaculatebites' Caribbean Coleslaw is a variety of classic cabbage salad that features tangy, spicy, and sweet flavors.
You will notice that I used some ingredients like peppers, mangoes, and almonds, which are common additions to food and cooking in the Caribbean Cuisine.
I think what separates this recipe from the regular slaw is its touch of Caribbean flavors and the fact that it has no mayo in it.
How's this for your coleslaw? You can also adjust with more or fewer ingredients to suit your taste buds!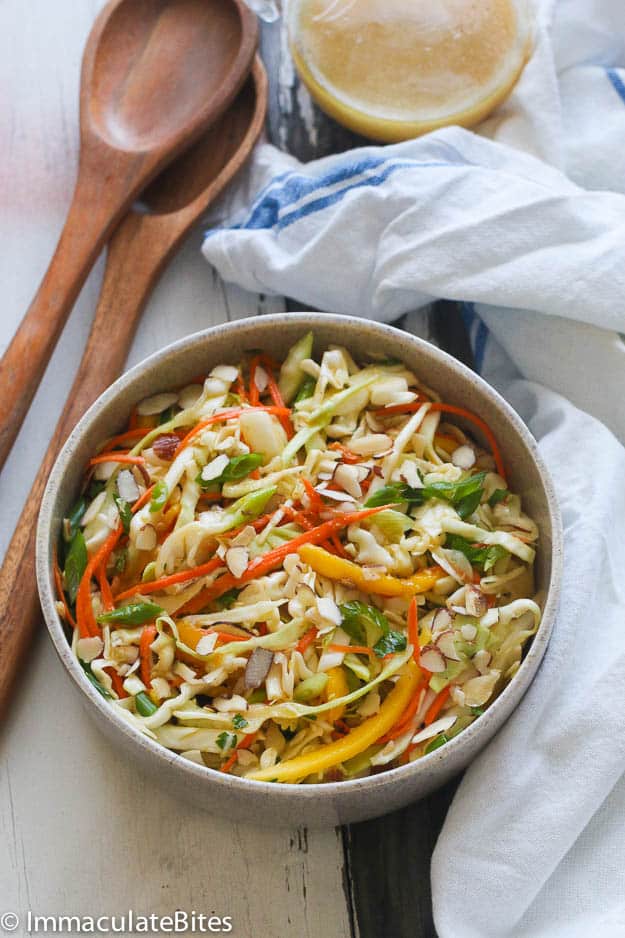 Recipe Ingredients
Coleslaw Dressing
Honey – its natural sweet flavors go really well with the red wine vinegar taste.
Caribbean Hot Sauce – adjust it according to your taste or if you're not a fan then you can leave it out.
Dijon Mustard – is good with making vinaigrettes for its pungent flavor that matches the acidity of the dressing.
White Pepper – to taste
Garlic – make sure that it's minced so that it will be easier for you to emulsify it with the other ingredients.
Red Wine Vinegar –  I just love how this gives a vibrant fruity flavor to the dressing. Simple as that!😋
Lemon Juice -freshly squeeze it for a more citrusy and fruity flavor. 
Jalapenos Pepper – well, this one is for additional heat in the recipe (you know how  I love spicy foods, right?)
Extra-Virgin Olive Oil – healthy vegetable oil which is by the way, not that pocket-friendly. But, of course, you can use simpler olive oil if you want.
Caribbean Coleslaw Veggies
Cabbage – You can use other kinds of cabbage, but I used Napa cabbage in this one 
Carrots – is a versatile vegetable that also has a nice crunchy texture.
Scallion – tastes sweet and savory but its flavors are milder than onions.
Ripe Mango – a yellow-fleshed and sweet tropical fruit, and one of my favorite fruits to eat.
Parsley – to enhance the flavors of the Caribbean Coleslaw and for garnishing as well.
Nuts – I used almonds, sunflower seeds, which you may add more or less nut to the mango slaw for a more crunchy texture.
Salt –  just to taste and also to help enhance the flavors of Caribbean Coleslaw.
Alternative Ingredients
Mayo-based Dressing – or heavy dressing also tastes great with coleslaw salad. The tangy and rich mayonnaise plus seasoning and a little drizzle of lemon juice are very delicious! You can check my Creamy Coleslaw Dressing HERE.
Brown Sugar – can be used as a substitute for honey to add sweetness to the dressing. It also can slightly add brown color to it, too.
Apple – this fruit has a really nice sweet and crunchy texture, and it won't get dark easily because of the vinaigrette dressing.
Celery Sticks – it has a strong flavor but really works well with cabbage salad. Even on both vinaigrette and mayo dressings, its earthy and savory taste blends well with the salad.
Red Onion – if you don't have scallions available, then just use red onions. Thinly slice it and add to your coleslaw for a savory, sweet, and pungent flavor.
Pineapple – use this to replace mangoes or add it to the slaw for a more fruity sweetness and refreshing flavor.
Broccoli Slaw -don't throw those broccoli stalks just yet! Coz you can use it for coleslaw, just trim and peel the hard outer layer and julienne, then you're good to go.
Fennel – can give a really nice flavor and crisp texture. Substitute or add it to the cabbage salad. Enjoy!
Turnip – have a white flesh that's sweet and crunchy. Even a simple julienned turnip can be a good snack along with vinegar dip, how much more if you use it for the mango coleslaw? Yummy!
Tips and Tricks
Julienned vegetables. Have you noticed that slaw salads usually have uniform cuts of vegetables? Because it makes salad easier to mix, season, and eat.  
Use a food processor to shred the vegetables. Well, this makes cutting the vegetables easier, coz you know, manually doing it can be time-consuming and tiring too.
Add bacon bits. For additional crunch and smokey flavor, easily top the coleslaw with bacon bits. Simple as that and you'll have a new dimension of coleslaw experience.😋
Use vinaigrette instead of mayo-based dressing. Aside from its healthier, the vegetable can actually benefit from pickling, which extends the coleslaw's shelf life. 
Serving And Storage
Make it fresh. If possible just mix the dressing with the salad 10 minutes before serving. This is to ensure the best quality of coleslaw such as its crisp flavor and crunchy texture.
Refrigerator: Transfer it to an airtight container and keep refrigerated for 5 days.
Note: I know that this coleslaw can be refrigerated but its delicate ingredients like mangoes and cabbage can become watery and may show discoloration. It is because of the dressing that creates a chemical reaction that draws out the liquid from the salad and later on gives you a watery coleslaw.
FAQs
Would this work on a pasta salad?
Yes, it definitely would work with a pasta salad. It'll surely bring great flavor, texture, and color. You can also omit the sugar to adjust the sweetness of the dressing.
What does Caribbean Coleslaw suppose to taste like?
It should taste tangy, sweet, and spicy. That is because of the vinaigrette dressing with Caribbean hot sauce, peppers, and sweet mango added to the salad ingredients which gives the coleslaw the Caribbean flavors.
Where did coleslaw come from?
The earliest information about a coleslaw-similar recipe that includes vinegar, cabbage, spices, and other ingredients, was said to have started from Ancient Rome. Mayonnaise hasn't been invented during those times, as to why vinegar was the only known ingredient for the cabbage salad.
What Do You Eat with Coleslaw?
Coleslaw is usually eaten along with fried, crispy, and savory-sweet foods. That's because the tangy flavor of the slaw balances the other flavors of dishes that it's served with.
More Easy Sides to Try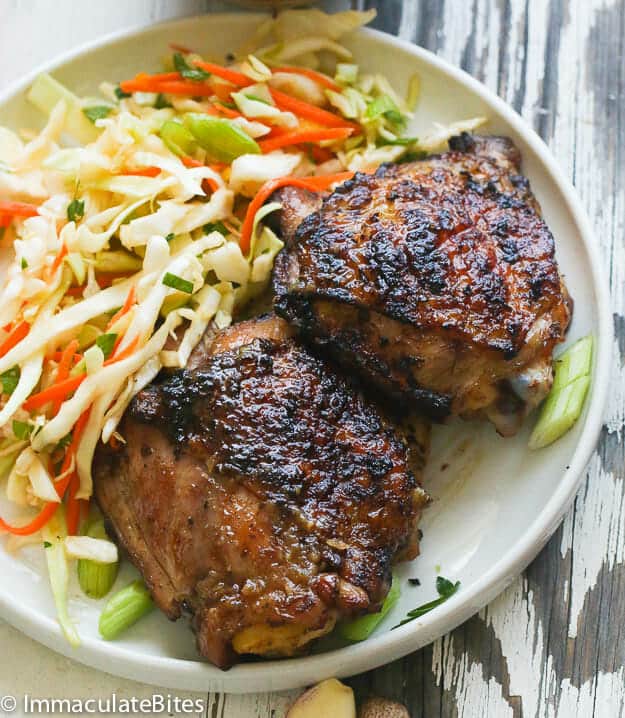 How To Make Caribbean Coleslaw
Make the vinaigrette. Combine all the dressing ingredients in a jar or bowl;  honey, the hot sauce, mustard, white pepper, garlic, vinegar, lemon, Jalapeños pepper, and olive oil: Shake like crazy -to emulsify for about 2 minutes. Set aside. Be sure to shake it before each use.
Coleslaw Veggies. Arrange cabbage, carrots, scallions and mangoes in a bowl.
Mix everything together and sprinkle with toppings. Add dressing to salad and toss to coat right before serving. Sprinkle with parsley and almonds.  You may chill at this point. Serve when ready.
Watch How To Make It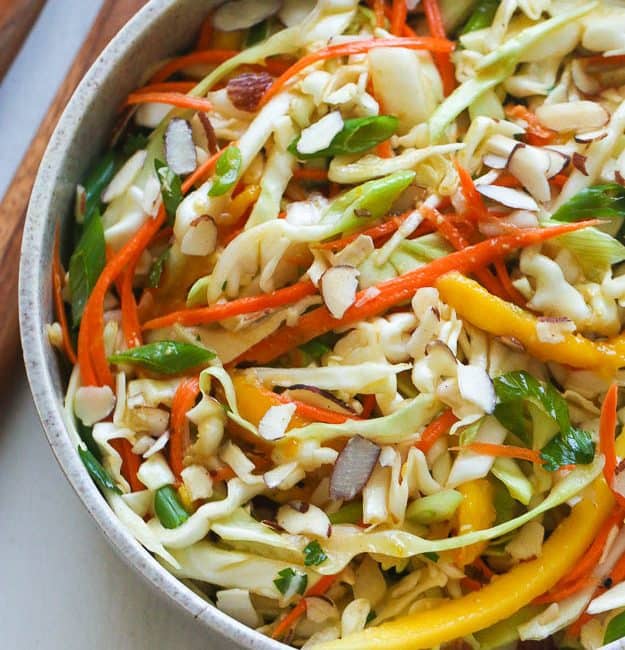 Print
Caribbean Coleslaw
Caribbean Cole Slaw-A Mayo-Free Coleslaw – Light, Fruity , Sweet and Refreshingly Good! Makes the perfect no-cook side dish. Add your favorite protein and make it a meal!
Ingredients
1-2

tablespoons

Dijon mustard

or to taste

2-4

Tablespoons

Combination Honey and/or Brown Sugar

½

Jalapenos pepper minced about 1 Tablespoons or more adjust to taste

2

tablespoons

red wine vinegar, or freshly squeezed lemon juice

1

teaspoon

minced garlic

1

teaspoon

Caribbean hot sauce

adjust to taste

2

Tablespoons

extra-virgin olive oil

6

cups

cored and shredded Napa

Savoy, green and/or red cabbage

1

Large Ripe Mango

peeled , sliced or Julienne

1

cup

shredded carrots

2-3

diced scallion

more or less

White pepper to taste

1/4

cup

minced parsley leaves

1/2

cup

nuts

almonds, sun flower seeds more or less nut

Salt to taste
Instructions
Dressing
Combine all the dressing ingredients in a jar or bowl; honey, the hot sauce, mustard, white pepper, garlic, vinegar, lemon, Jalapeños pepper, and olive oil : Shake like crazy -to emulsify for about 2 minutes. Set aside. Be sure to shake it before each use.

Arrange Cabbage, Coleslaw, Carrots, scallons, mago in a bowl.

Add dressing to salad and toss to coat right before serving.Sprinkle with parsley and almonds

You may chill at this point. Serve when ready
Nutrition Information:
Calories:
199
kcal
(10%)
|
Carbohydrates:
20
g
(7%)
|
Protein:
4
g
(8%)
|
Fat:
12
g
(18%)
|
Saturated Fat:
1
g
(6%)
|
Sodium:
79
mg
(3%)
|
Potassium:
251
mg
(7%)
|
Fiber:
2
g
(8%)
|
Sugar:
14
g
(16%)
|
Vitamin A:
950
IU
(19%)
|
Vitamin C:
25.7
mg
(31%)
|
Calcium:
39
mg
(4%)
|
Iron:
1.6
mg
(9%)
Nutrition Facts
Caribbean Coleslaw
Amount Per Serving
Calories 199
Calories from Fat 108
% Daily Value*
Fat 12g18%
Sodium 79mg3%
Potassium 251mg7%
Carbohydrates 20g7%
Protein 4g8%
Vitamin A 950IU19%
Vitamin C 25.7mg31%
Calcium 39mg4%
Iron 1.6mg9%
* Percent Daily Values are based on a 2000 calorie diet.