Dinner rolls round up any dining experience. There's nothing a few pillowy bread rolls can't do — they're just the perfect side dish! Well, it goes without saying there's more than one type of dinner roll, and they're all special in their own way. Here are 13 crave-worthy dinner roll recipes to make and share at the table.
Dinner roll recipes abound, and it's because bread is considered a staple in so many places by so many people! Let's just say everyone has their favorite dinner roll recipe, and they're all fantastic.
Why? Because the puffy two-bite-sized pieces of bread are designed to do one thing, complement dinner. And they do that like a pro.
The truth is, you can make any meal better just by serving dinner rolls with it, and if homemade, they're even better! Just imagine the lovely scent of freshly made bread filling your kitchen. What's not to love? Well, here are our favorite dinner roll recipes from all over the world. Which one sings to you?
FAQs
What are the characteristics of a dinner roll?
What makes dinner rolls great is their soft texture, puffiness, and, of course, their versatility on the table. Rolls should never steal the spotlight from the lead actor; they play the perfect supporting role but are never the star of the show!
Why are my dinner rolls hard?
After a day or so, it's normal for dinner rolls to harden. If they're hard straight out of the oven, you're not letting the dough rise long enough. The yeast needs time to kick in and create air bubbles to make your dinner rolls light and fluffy.
How do you know when dinner rolls are done?
Dinner rolls bake pretty fast. Make sure you preheat the oven to guarantee even results! You'll know when they're ready when they have a gorgeous golden color. They should sound hollow when you tap them. If in doubt, stick a toothpick into one of them — it should come out clean.
Dinner Roll Recipes
1. Easy Dinner Rolls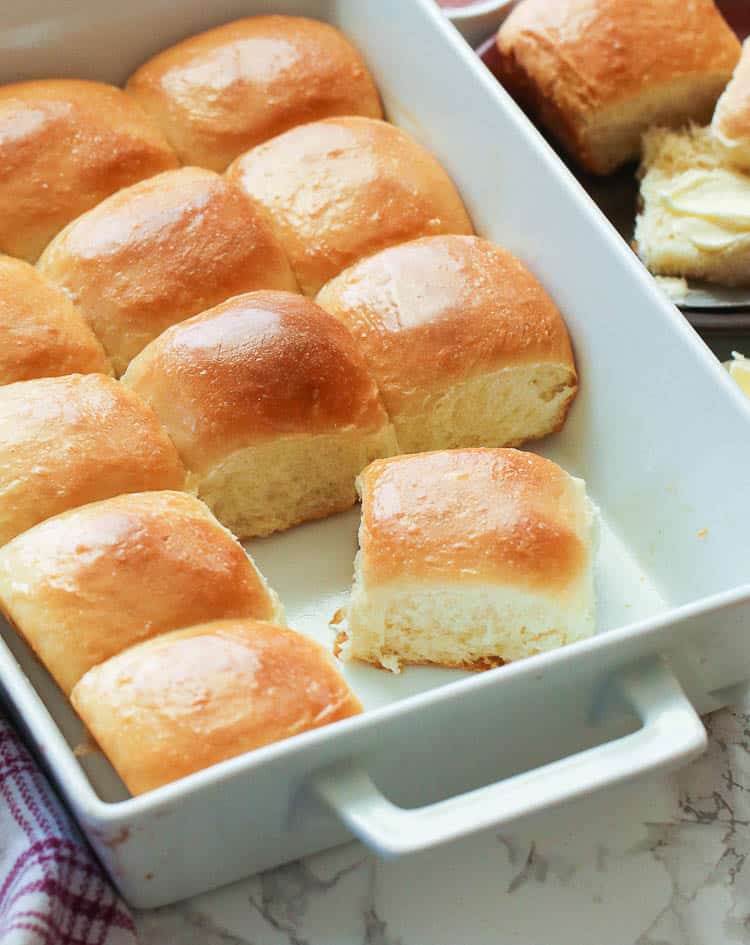 Let's start with an easy one. Dinner rolls should be effortless to make, and that's what you get from this traditional recipe.
These golden and puffy rolls are as easy to throw together as they are versatile. These are restaurant-quality rolls right here! Seven ingredients and less than an hour are all you need to make the dough, let it rise, and bake it. Don't we wish all recipes were as easy as this one?
Easy Dinner Rolls
Easy Dinner Rolls – soft, fluffy, tender – everything you want in a dinner roll is right here. Made in just an hour from start to finish. The fastest and tastiest dinner roll you'll ever have!
Check out this recipe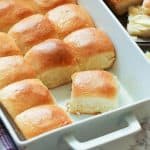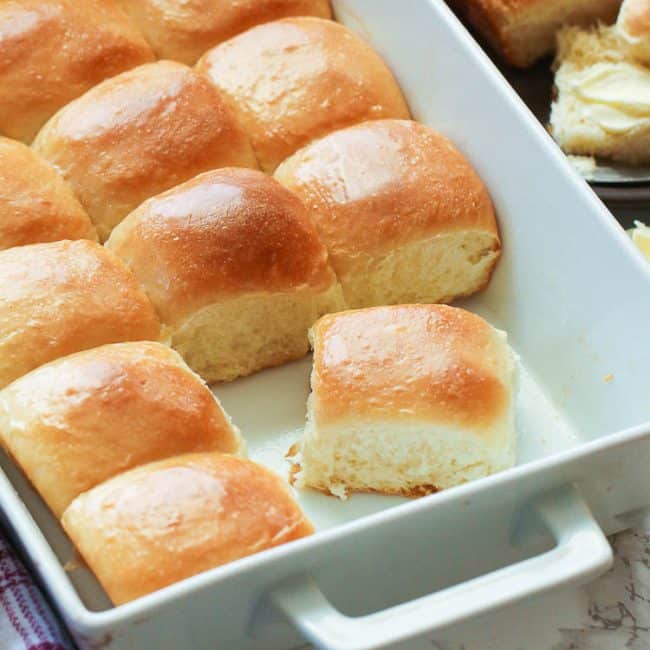 2. Samoan Coconut Bread Rolls (Pani Popo)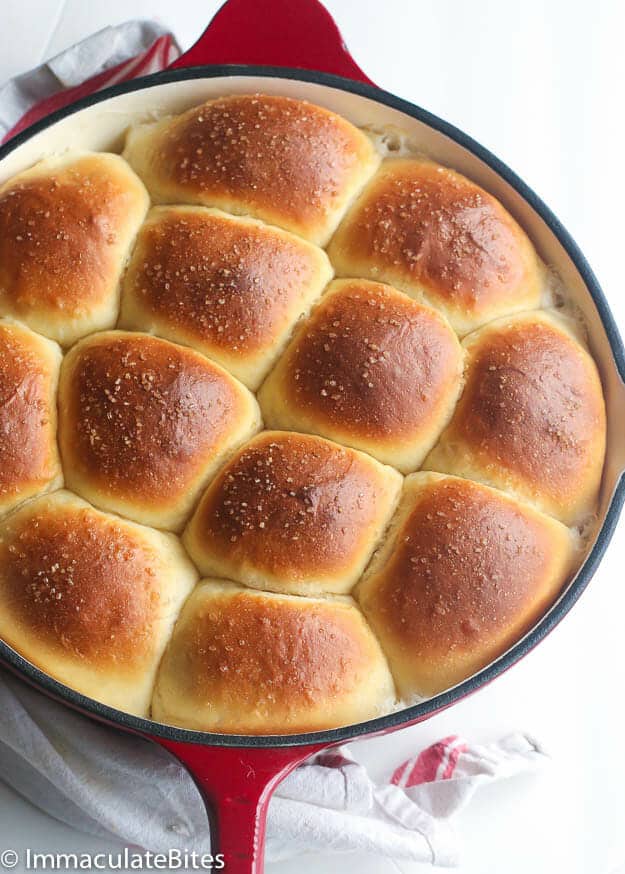 On the other side of the spectrum, these Samoan coconut bread rolls, also called pani popo, are so tropical and exciting!
These rolls are still bready but also pleasantly sweet and creamy! The secret is in the coconut milk amped up with a tablespoon of powdered milk.
It goes without saying that Samoan rolls are perfect for spicy food and tropical flavors. From hearty stews to seafood, there's nothing these authentic drool-worthy pillows can't do.
Samoan Coconut Bread Rolls( Pani Popo)
Samoan Coconut Bread Rolls, aka Pani Popo, are decadent sweet dinner rolls baked in coconut milk. Light, airy, and fluffy, they are unbelievably good! Pani Popo is baked in a delicious coconut sauce that makes it even better.
Check out this recipe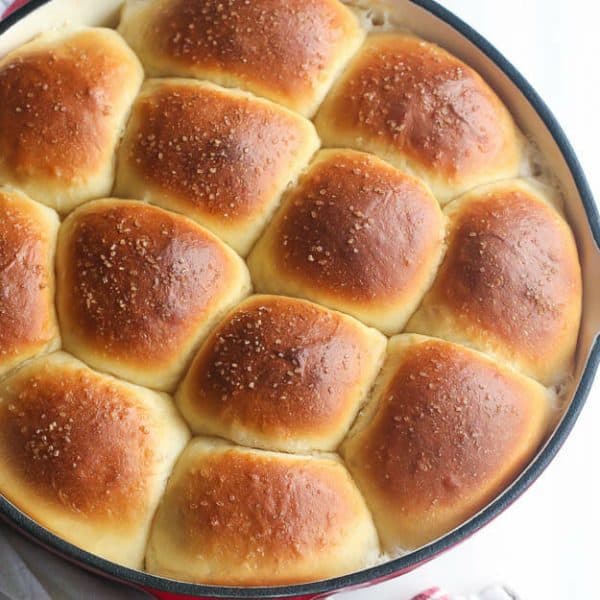 3. Potato Bread Rolls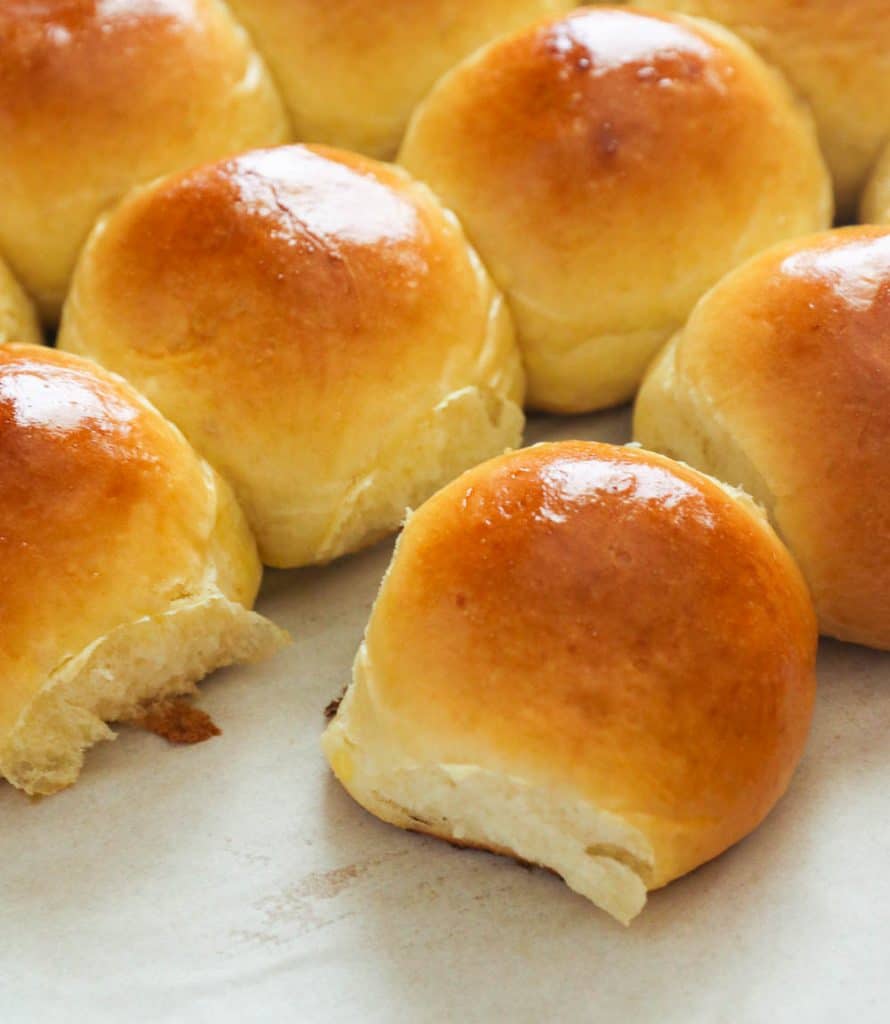 Everyone knows potato bread is the starchiest and most satisfying bread of all. If you haven't tried potato bread rolls, don't miss out. Another classic example of potatoes saving the day!
This dinner roll recipe is excellent for food with creamy sauces, as they'll soak up all those rich flavors.
This is one of my favorite dinner roll recipes! We'll be using Russet potatoes for this one. The recipe starts with mashed potatoes plus all-purpose flour, making these rolls feel naturally soft and decadent.
Potato Bread Rolls
Amazing dinner rolls ramped up with mashed potatoes. Soft, delicious, and oh so addictive, these super easy potato dinner rolls are an excellent way to make the entire family happy.
Check out this recipe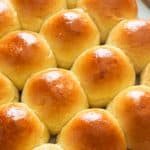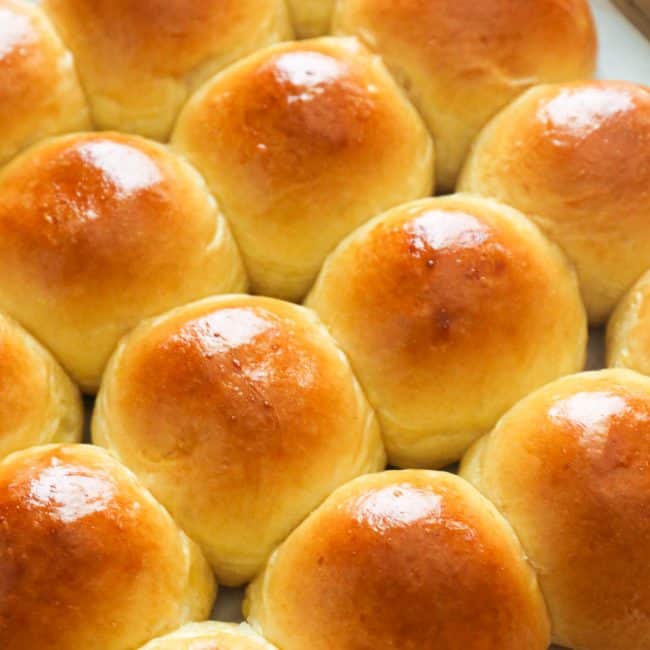 4. Honey Wheat Rolls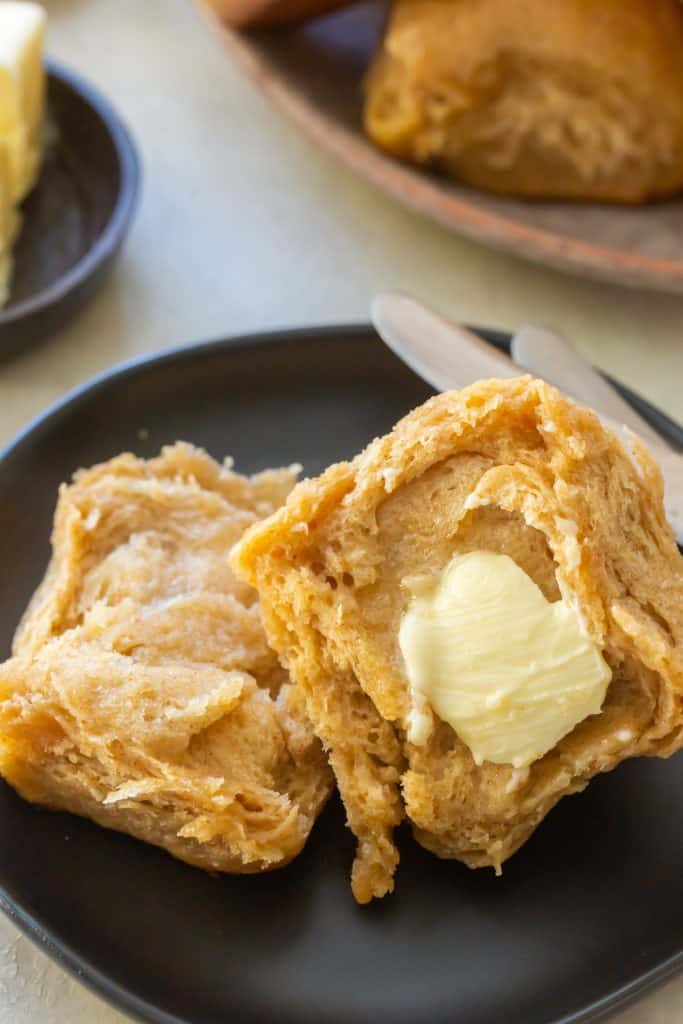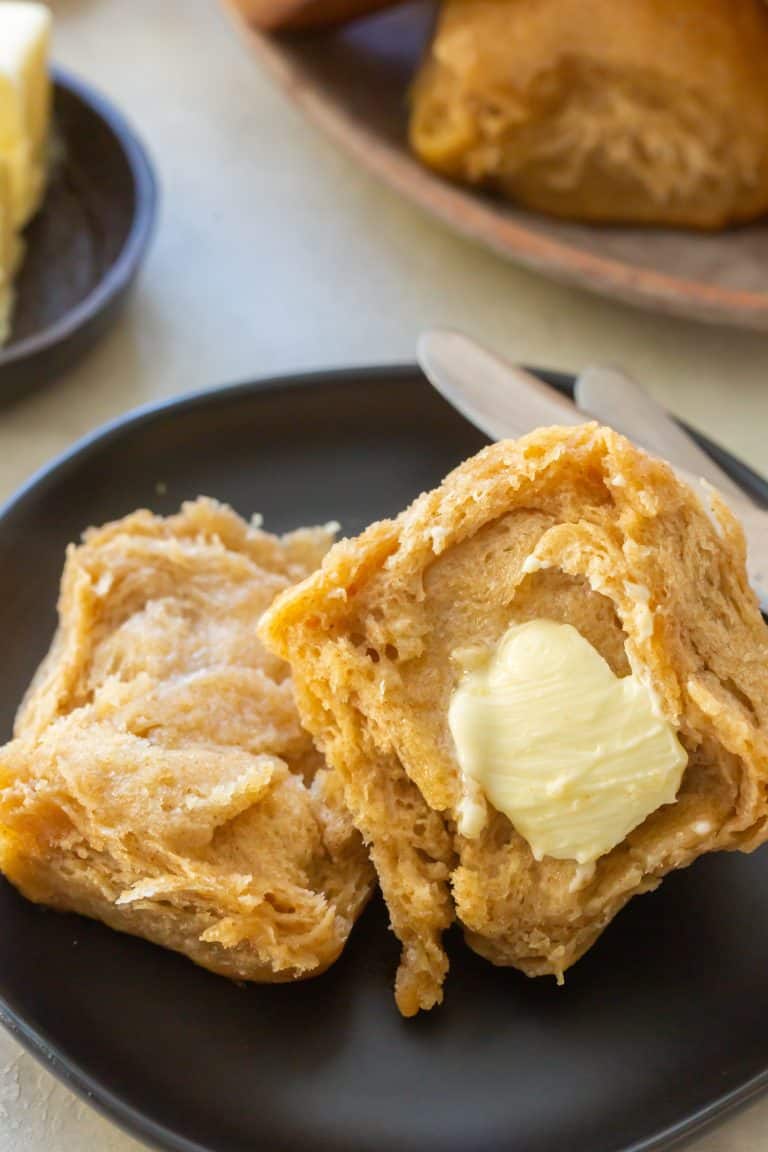 If you're over plain dinner rolls, you'll want to try these honey-flavored delights. They're just as puffy as regular rolls but buttery and subtly sweet.
I love serving these with roast chicken or fried chicken; it must be the honey that makes these rolls so compatible with Southern flavors!
The best part of this recipe is making the honey butter, which you can use in different baking projects. Nothing beats honey for bread rolls! Needless to say, this sweet recipe is one of my favorites.
Honey Wheat Rolls
Treat your palate to these buttery, healthy, and super easy rolls brushed with honey butter mixture and baked to perfection. These pillow-like soft buns will give you a euphoric experience in every bite. You'll definitely want this head-turning treat at your dinner table to impress.
Check out this recipe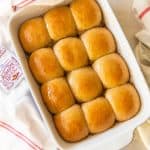 5. Homemade Crescent Rolls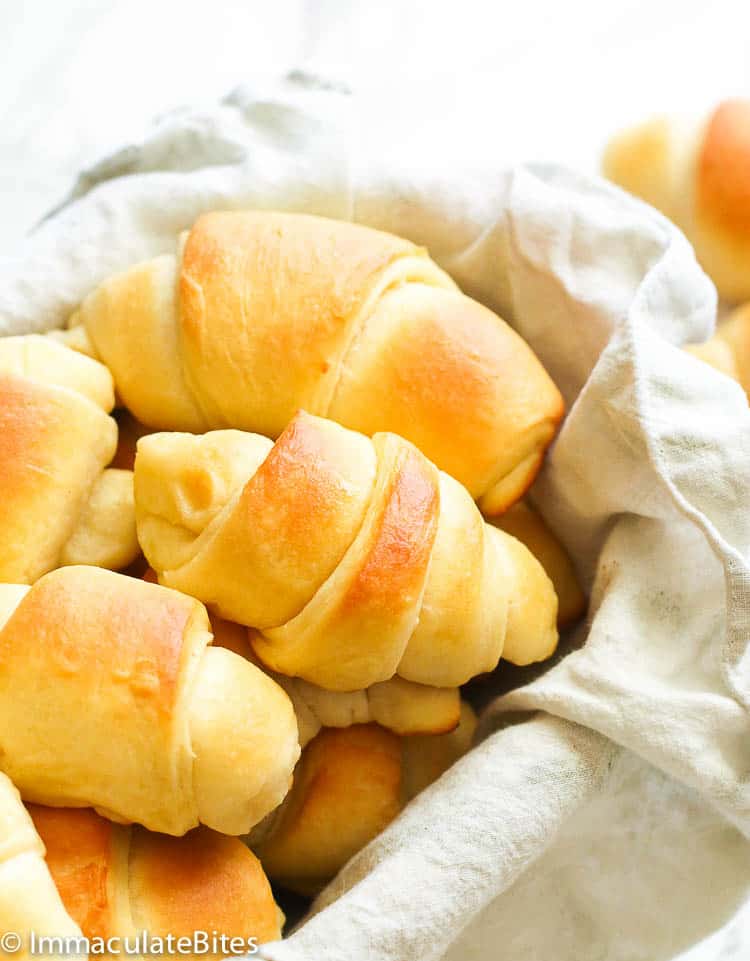 Not to be confused with croissants, crescent rolls are not as flaky as the French pastry. That means they're a better alternative to traditional bread to serve at the table.
This roll is still quite beautiful, though, and can elevate any dining experience with just its looks.
The best part about these rolls is that they're effortless to make. With minimal prep and cooking time, all you need to do is mix the ingredients together and let the dough rise for a while. It's that easy.
Homemade Crescent Rolls
Homemade Crescent Rolls – sweet and soft with a slight crust on the top and bottom and fluffy and buttery on the inside. A great make-ahead dinner rolls for your holiday meal!
Check out this recipe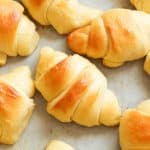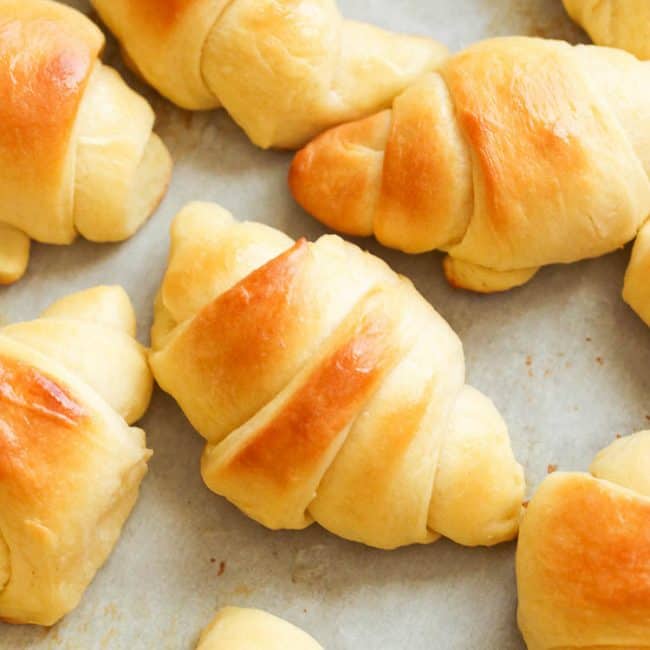 6. Cinnamon Bread Rolls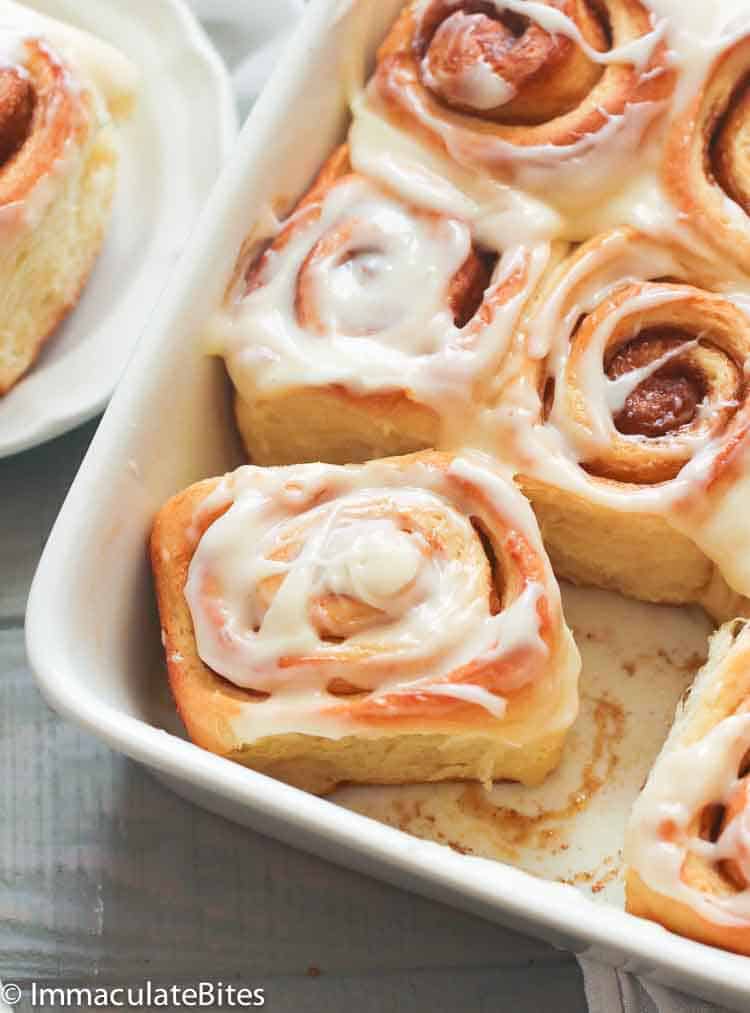 Close your eyes and let the most comforting cinnamon scents take you to your fondest memories. That's what these cinnamon bread rolls will do for you with every bite.
A fantastic breakfast, a lovely partner for a cup of tea, or a light midnight snack. These are one of those bread rolls!
To make cinnamon bread rolls, you only need a few baking staples that I know you already have, so why not make them today?
Cinnamon Bread Rolls
Cinnamon Bread Rolls – fluffy, soft, doughy oozing with buttery sweet cinnamon flavor that's going to take you head over heels. Better than store-bought cinnamon rolls and rolls in general. Perfect for breakfast, brunch and holidays!

Check out this recipe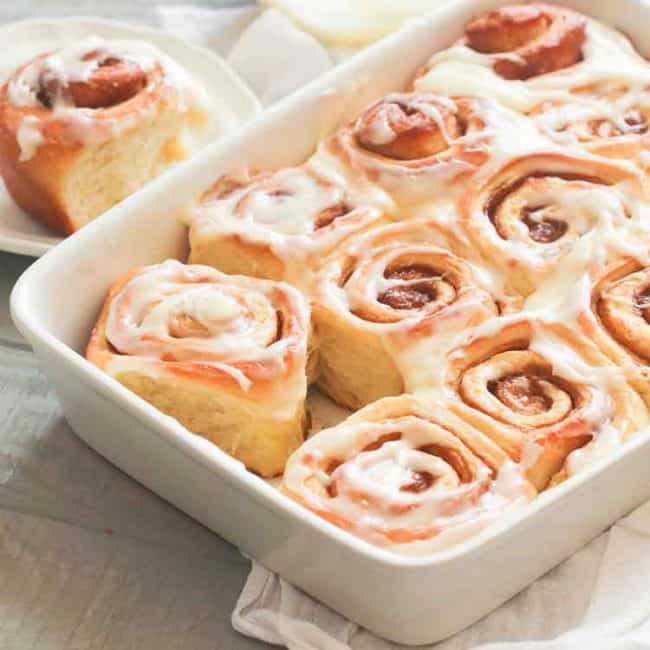 7. Texas Roadhouse Rolls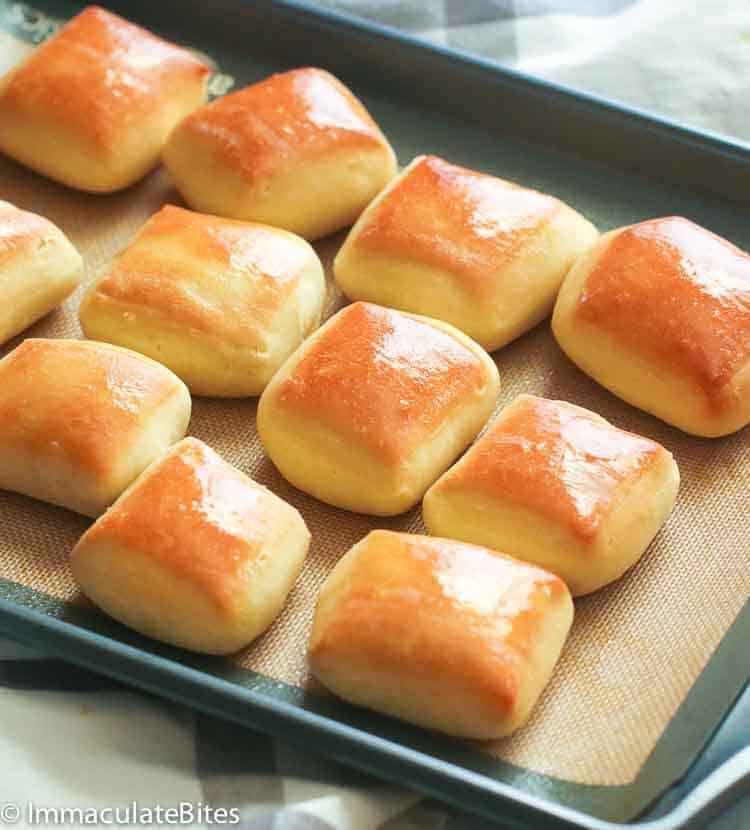 This is our version of the famous Texas Roadhouse Rolls. Let's just say these are some of the nicest looking rolls out there, and they're addictively buttery.
Compared to other rolls on this list, they are also pretty easy to make. These fabulous rolls scoop away the last drop of barbecue sauce or flavorful meat juices. Waste not, want not!😉
After brushing these beauties with honey butter, you'll have the nicest, most evenly shaped one-bite rolls ever. That's the Roadhouse way and a great dinner roll recipe.
Texas Roadhouse Rolls
Sweet, fluffy and buttery copycat Texas Roadhouse Rolls generously slathered with homemade melted honey cinnamon butter. All you need is just one bite and you'll be in bread heaven!
Check out this recipe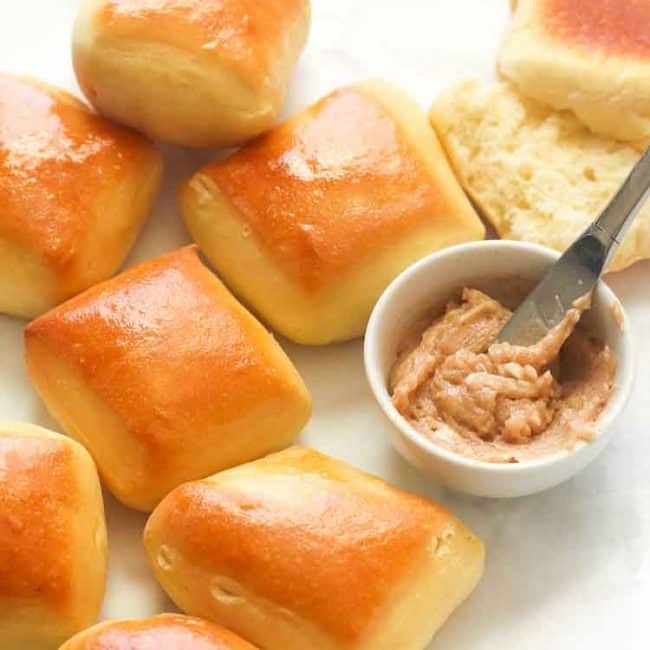 8. Hawaiian Sweet Rolls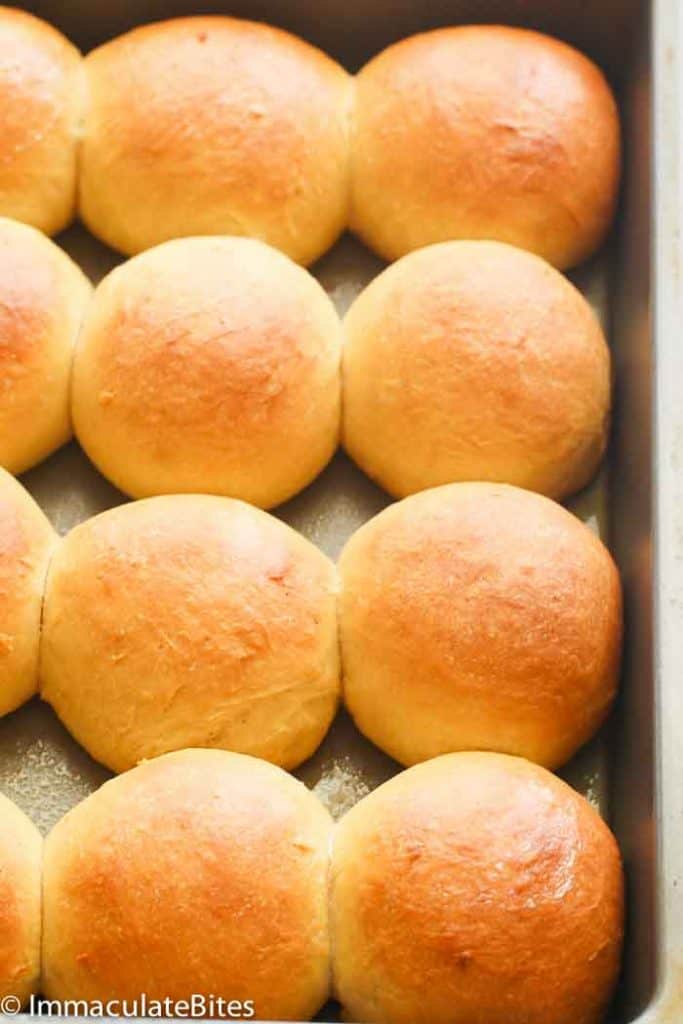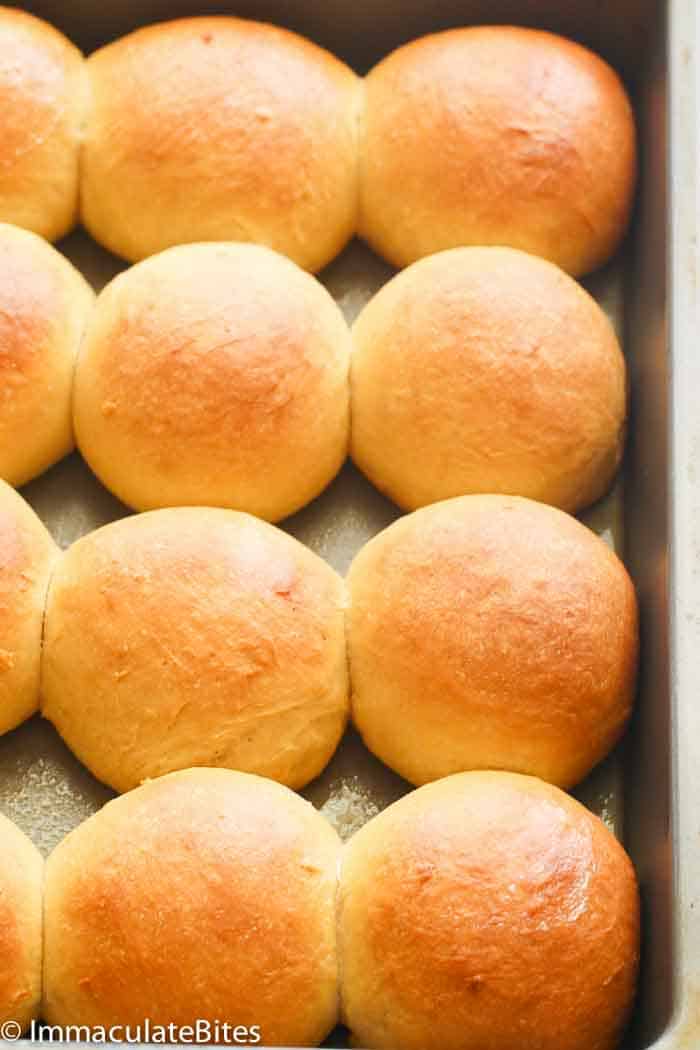 Who would have guessed adding pineapples to dinner rolls would result in such a luscious tropical treat?
Well, it's true, pineapples are the secret here, and that spiny fruit really gives this puffy bread the most exciting Hawaiian flavor. These are like brioche buns, but better.
The sweet kick in these rolls is almost addictive, yes, and it makes them nicely compatible with roasted suckling pig and other Hawaiian specialties. Anything kissed by smoke and fire, really.
Hawaiian Sweet Rolls
Hawaiian Sweet Rolls – Fresh and warm Hawaiian rolls; buns that have a kick of sweetness from the pineapple juice, brushed with butter and baked to perfection. You are never going to buy store bought version again.
Check out this recipe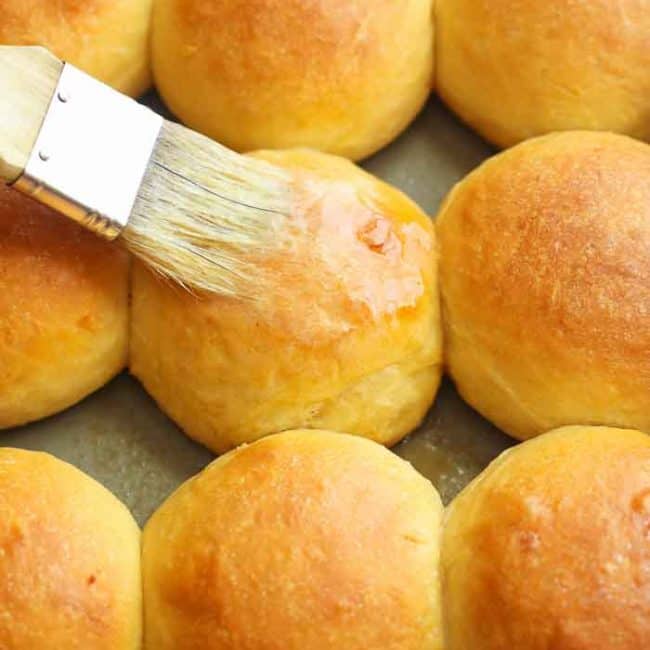 9. Mallorca Bread (Pan de Mallorca)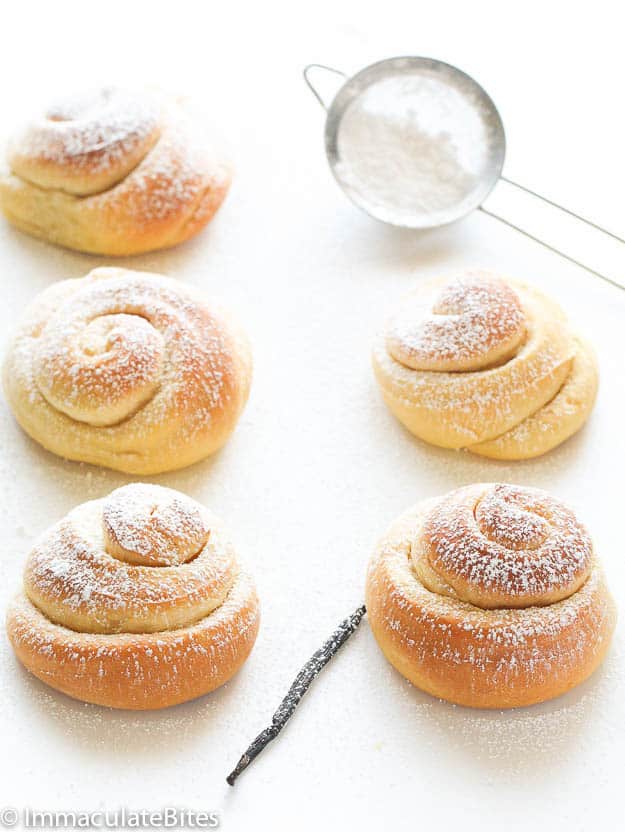 More than dinner rolls, Mallorca bread is a superb midnight craving-satisfier. It's a treat you can enjoy at any hour, and it also goes great with dinner.
These rolls loaded with eggs and butter have a high-end mouthfeel, putting them in a category of their own.
Fluffy with attractive crunchy edges, these versatile rolls are best enjoyed with a confectioner's sugar dusting. You'll love these for tea time or coffee break.
Mallorca Bread
Homemade Sweet Rolls with very little kneading required – Soft, fluffy, buttery, and utterly delicious!!! The perfect dinner or breakfast roll for entertaining.
Check out this recipe
10. Hawaiian Coconut Bread Roll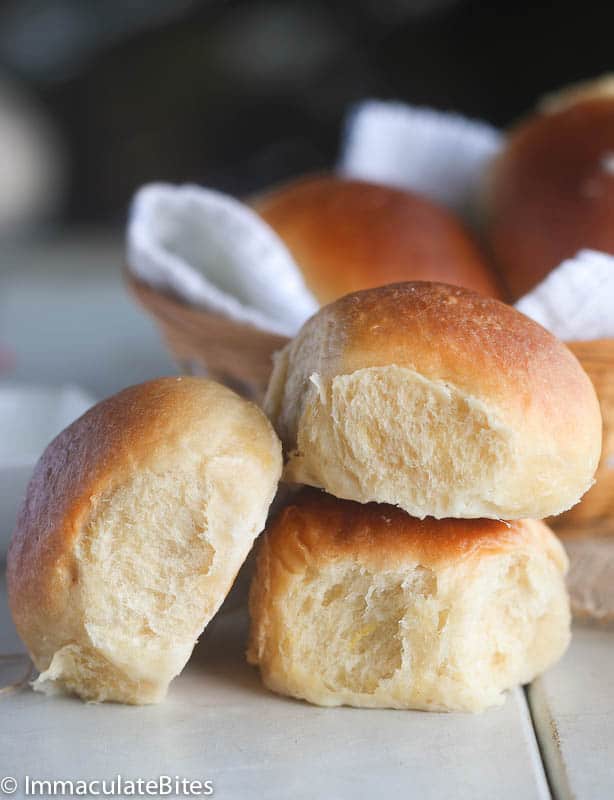 You had me at coconut. Tropical, subtly sweet, and deliciously coconutty, these bread rolls are incomparable — just like Hawaii. You can almost taste the awe-inspiring Hawaiian scenery in each glorious bite!
Try something new! This one is for adventurous bakers. But it's perfect for lazy bakers as well.
You'll have a lovely batch of bread rolls in an hour, and the dough for these comes together in minutes. Enjoy roast turkey and cranberry sauce or other sweet dinner ideas with these incredible rolls.
Hawaiian Coconut Bread Roll
Hawaiian Coconut Bread Roll – the only bread roll you need! Make now and eat on Christmas Day!
Check out this recipe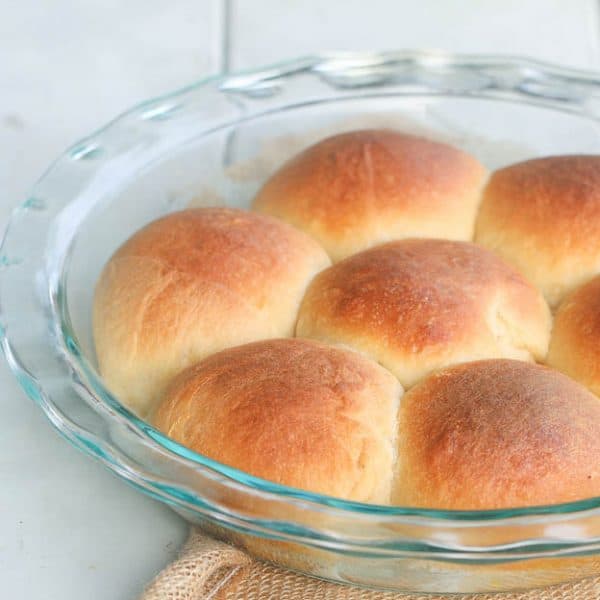 11. Garlic Knots Bread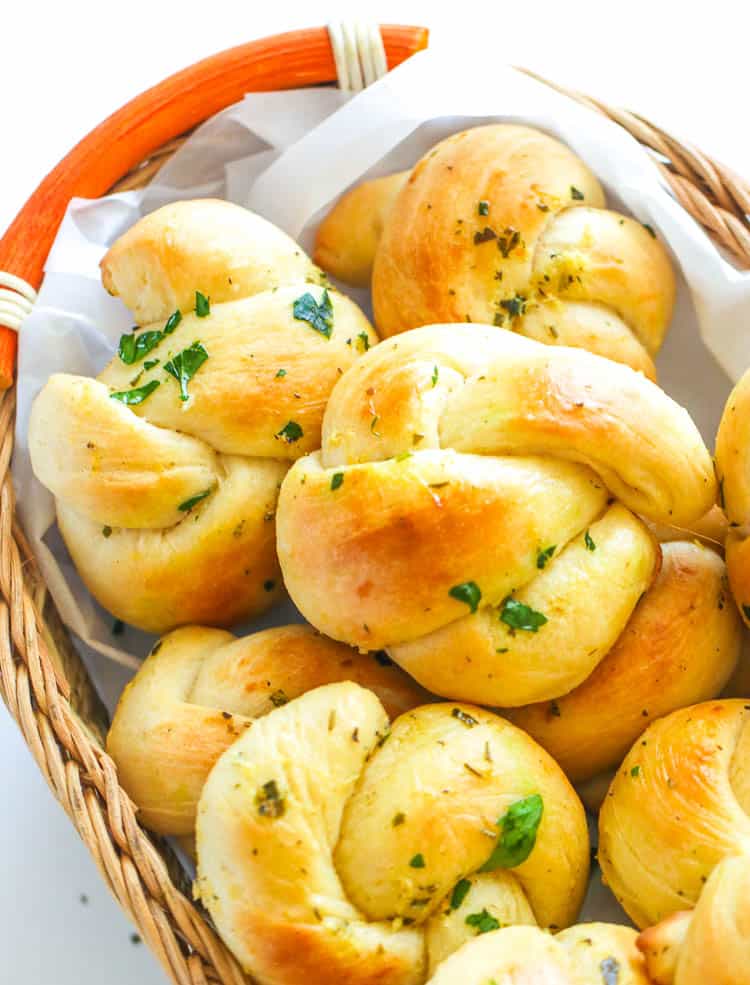 Have you ever wanted to make those pretty garlic-flavored rolls they serve at fancy Italian restaurants? Well, now you can. Make your dough and tie it into knots. You'll want to try these with pizza sauce because, well, why not?
For this recipe, you'll make the knot bread dough and the garlic butter separately. Get creative with this one and give these pretty knots your own distinctive touch.
Garlic Knots Bread
Garlic Knots Bread – a classic pizzeria snack made from scratch that's soft, fluffy with a nice little chew in between. Smothered in garlic, butter and herbs mixture then baked to golden perfection. Great as a snack, appetizer or as a side dish, too.
Check out this recipe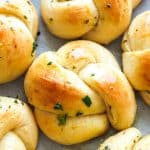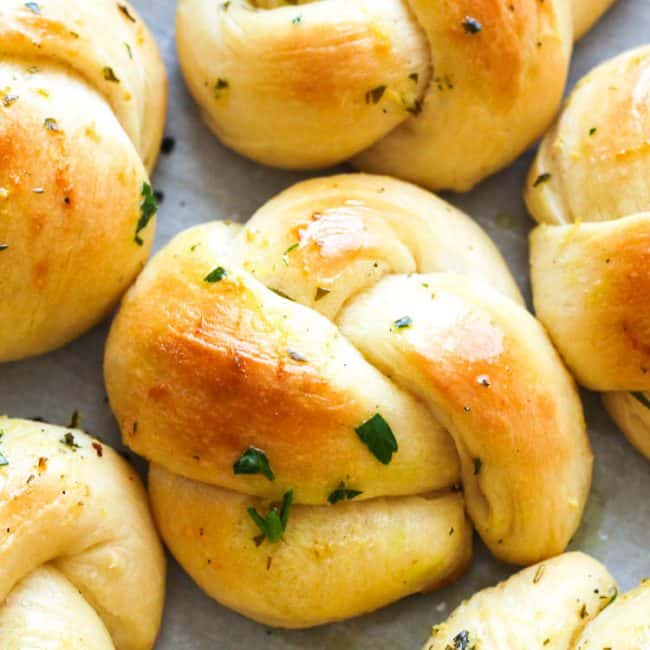 12. Sweet Bread Rolls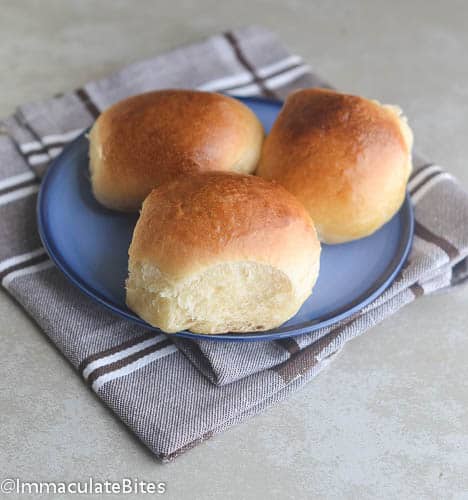 Although some of the bread rolls in this list are super exotic and sophisticated, there's nothing like a good-old sweet bread roll to balance a savory meal.
These taste like grandma's, which means comfort food at its greatest expression, at least for me. Sugar and honey give bread rolls a subtle sweetness that's never overwhelming; it's just right. Enjoy these rolls with any type of meal; they're excellent with both sweet and savory dishes.
Sweet Bread Rolls
Sweet Bread Rolls – pillowy soft and modestly sweet rolls that are slightly-crusted with golden crumbs. You can even make this without any mixers and it'll still turn out great!
Check out this recipe
13. Brioche Buns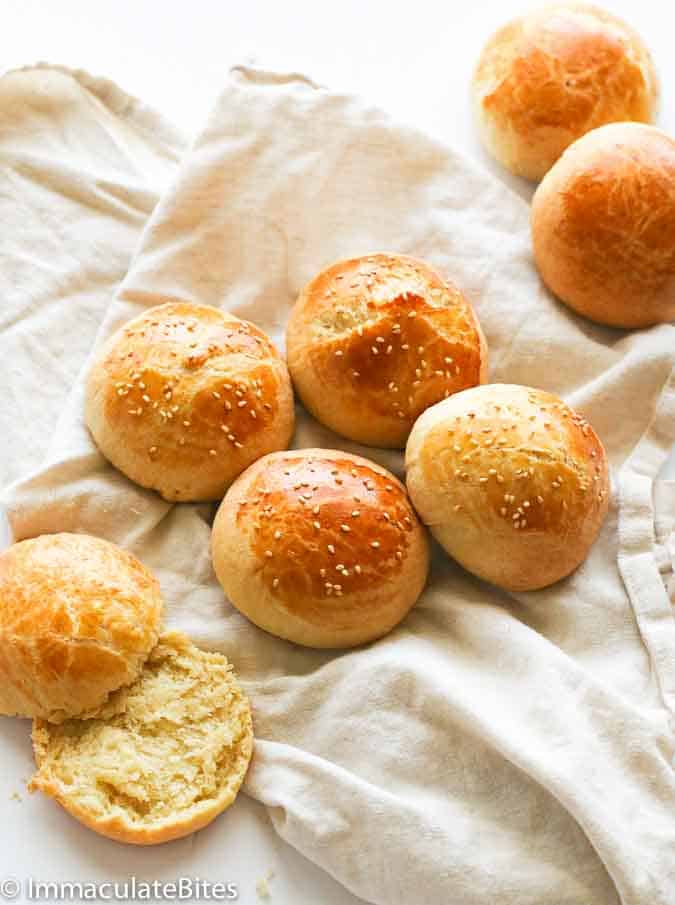 Let's end this list on a high note. No other bread is as silky and buttery as brioche. Sure, the French specialty might be intimidating. However, you'll soon discover making brioche buns is as easy and fast as getting them from the supermarket — and yours will obviously be tastier! That's guaranteed.
These are my favorite buns to make sliders and mini hamburgers. They're the type of bun that invites you to step out of the box.
Brioche Buns
Brioche Buns – rich, buttery and soft buns with crisp and tender crumbs. Perfect for breakfast and even during snacks time. So pillowy and tasty!
Check out this recipe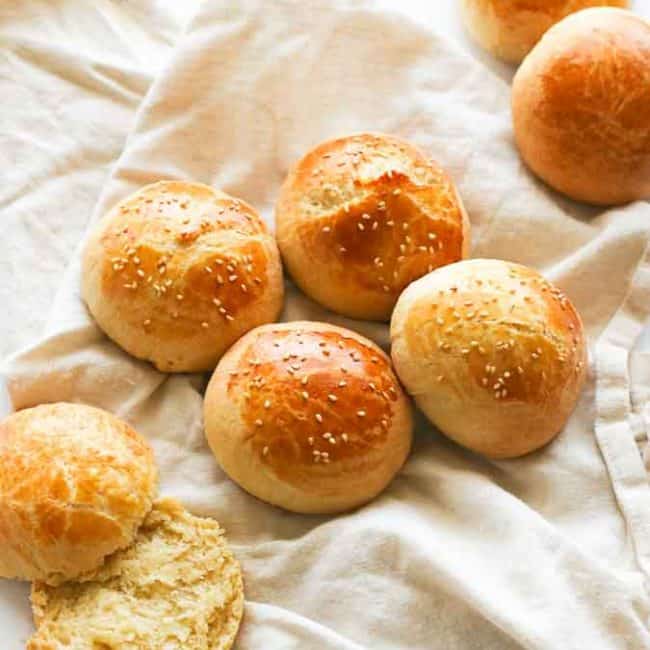 Pairing Suggestions