Easy Crepe Recipe – Light, tender and slightly sweet crepes that make for a fancy breakfast filled with your favorite fresh fruit, Nutella, or dusted off with powdered sugar and whipped cream on the side. Simply, easy, tasty and fancy! PERFECT for Mother's Day breakfast in bed.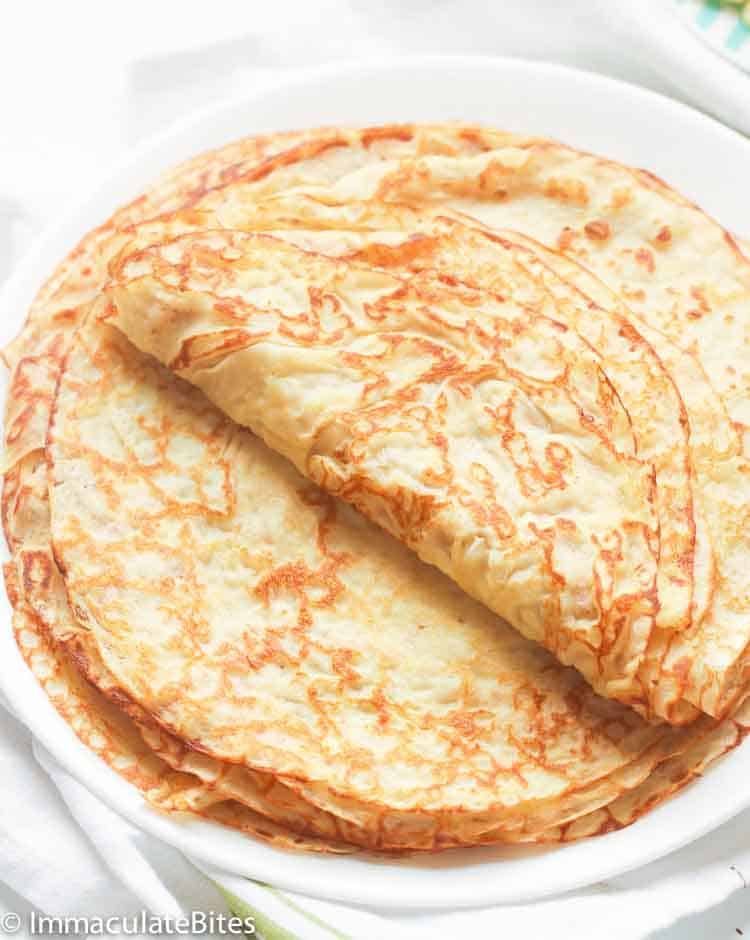 Bonjours Mes Amis!!! How about some crepes? Oui ? 
There's something really comforting about pancakes and/or crepes. Here in our house, we never skip a week without some sort of pancakes; they are my son's favorite. I alternatively serve him with these African Style Pancakes or these thick and Fluffy Pancakes. Not a tiny trace of pancake will be left on his plate. He's obviously obsessed with it!
But this time, I'm going to do it MY WAY! Oh yes! Mother's Day is fast approaching. Annnd it so happens to be my birth month. Je suis tres contente!!! (So happy )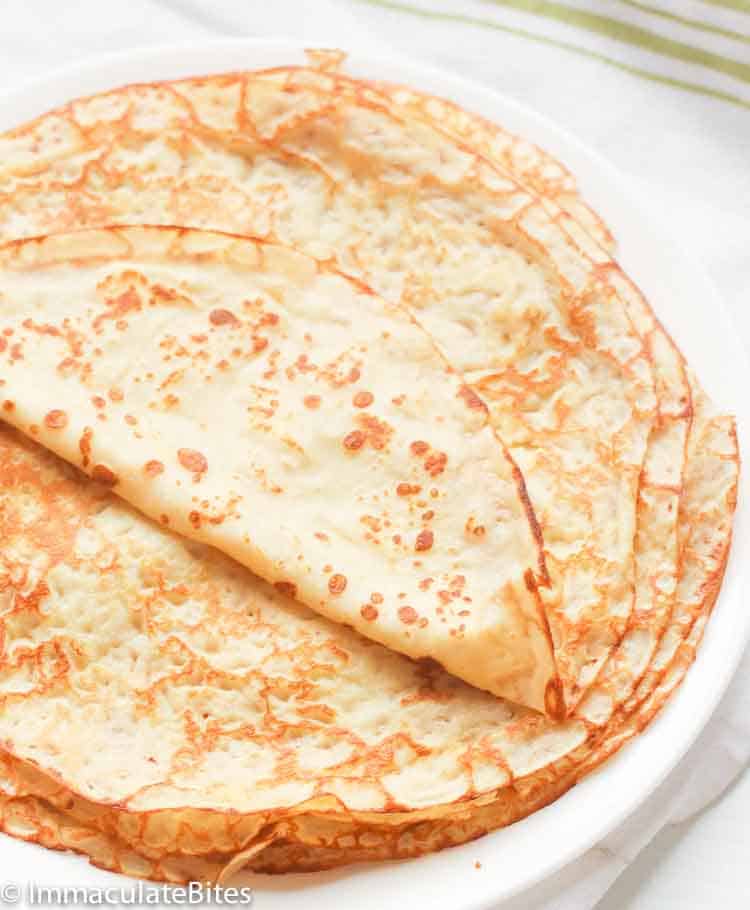 This French version of pancakes are thin and delicate. Crepes bring so many memories while growing up. I was raised in a French colonized country, hence the love of crepes. It wasn't like a breakfast thing …. more of an afternoon snack or dessert.
 If you are throwing a Mother's Day brunch, this should be on your menu.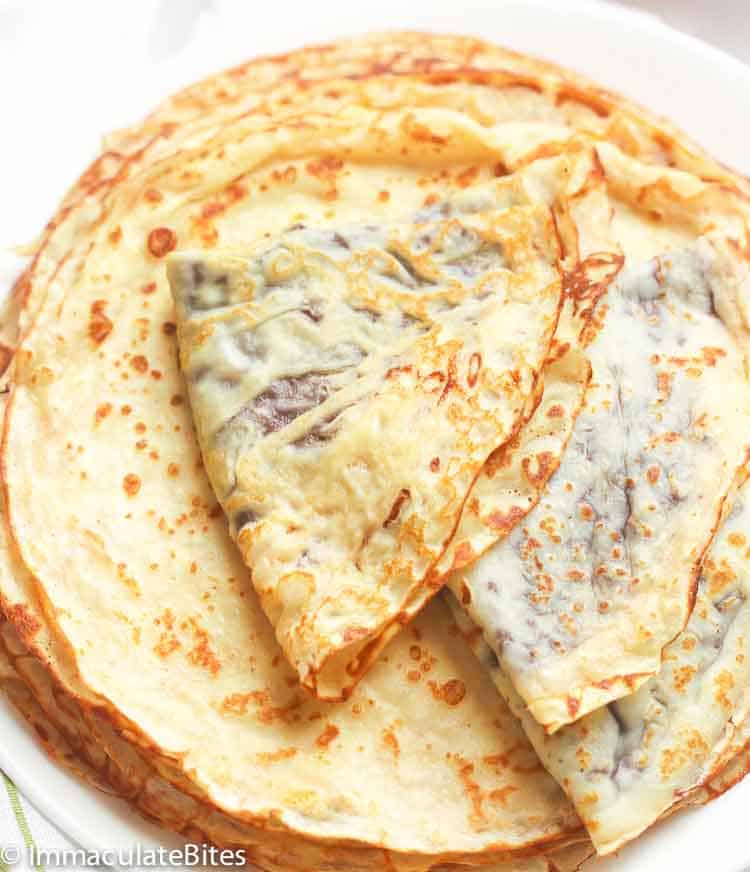 It's easier to fill them up and fold. You can choose whatever you want to go with it. You can make them savory, fill it with a sunny-side up egg, spinach, ham, cheese and even bacon. Or if you have a sweet tooth craving like me, you can fill it with nutella, jam, strawberries, bananas, whipped cream- your call. The possibilities are ENDLESS!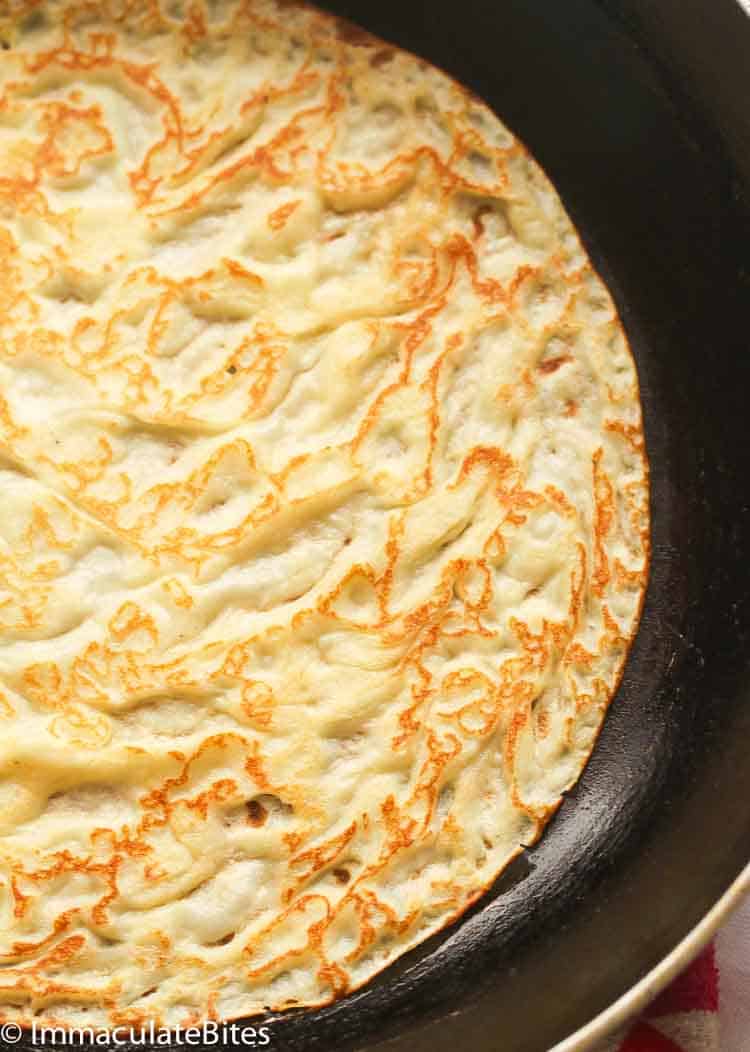 The chocolate filled ones I made in my hometown Yaounde, Cameroon. Oh yes, everyone wants me to make these for them, even when I travel. Couldn't find strawberries so I made it with chocolate and pineapple on the side. I'm a tropical girl and love pineapples.
The ones with strawberries and whipped cream came out of my Los Angeles kitchen. All are quite tasty. Perfect for Mother's Day in bed.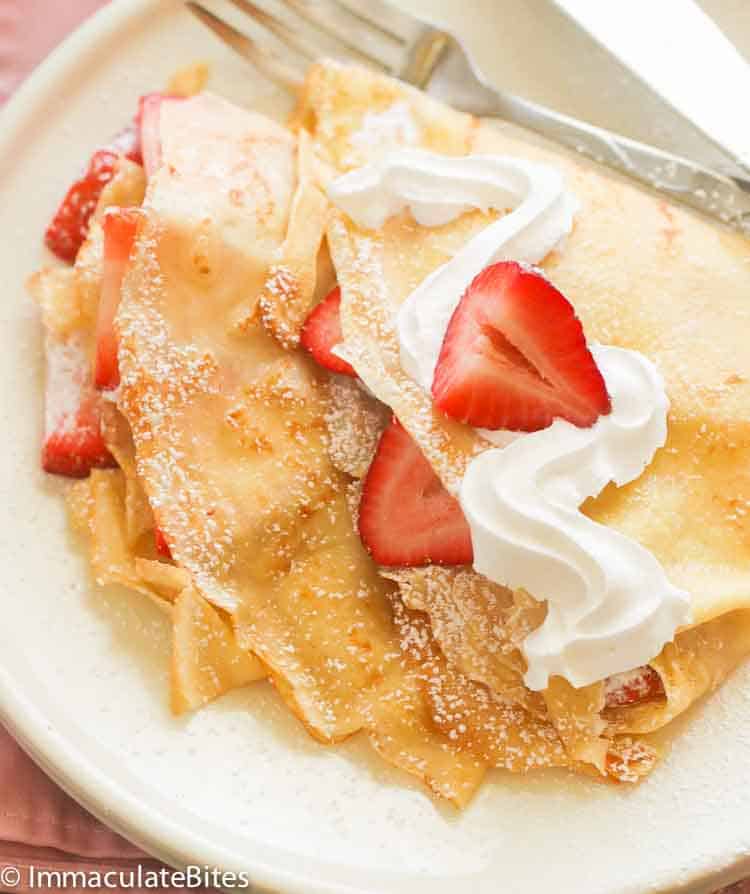 While pancake batter is a little thicker and richer, crepe batter is thin and smooth. A blender does a good job of making it smooth. It also doubles as a storage for the batter while keeping in the fridge. 
No blender? No worries!
 Whisk all the ingredients vigorously in a bowl for a lump-free batter.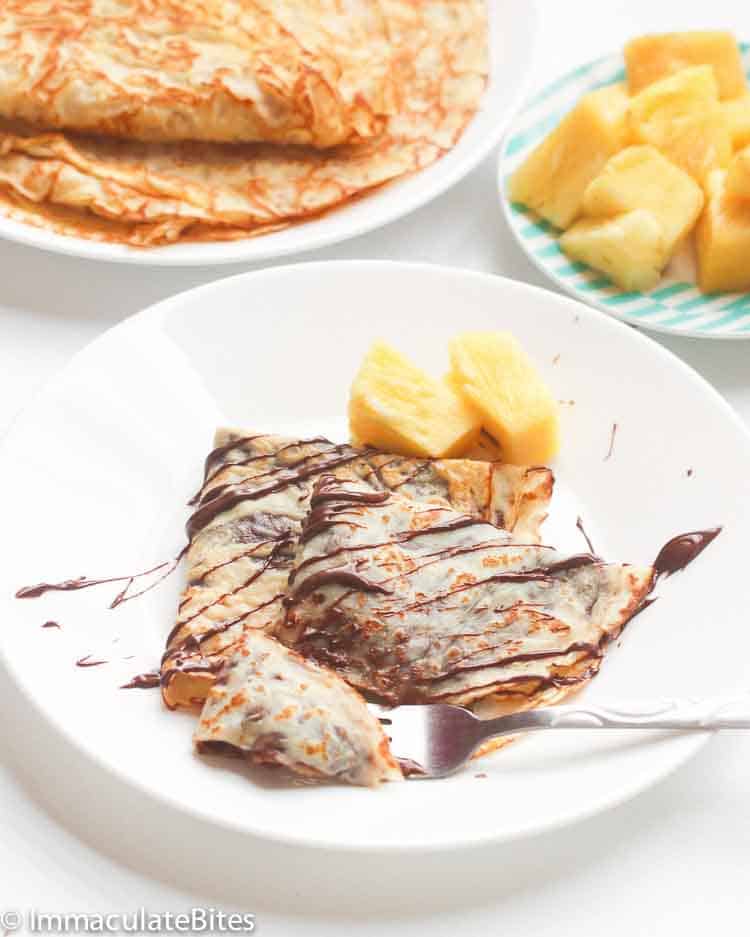 Letting the batter rest for an hour or overnight in the fridge helps to achieve a light and airy crepe that won't tear off easily when cooked and folded. This tip will be helpful if you are cooking for a crowd. I make it the night of the event, let it rest in the fridge and fry the next day. For the most part, I fry immediately after mixing. 
So if you are just like me , you can skip the resting stage-
Tilting the pan so the batter can spread easily across the hot pan also creates a paper-thin smooth consistency that crepes are known for. Make sure to cook them using a hot pan with a cooking oil or spray, but I prefer melted butter 'cause it adds a hint of buttery flavor.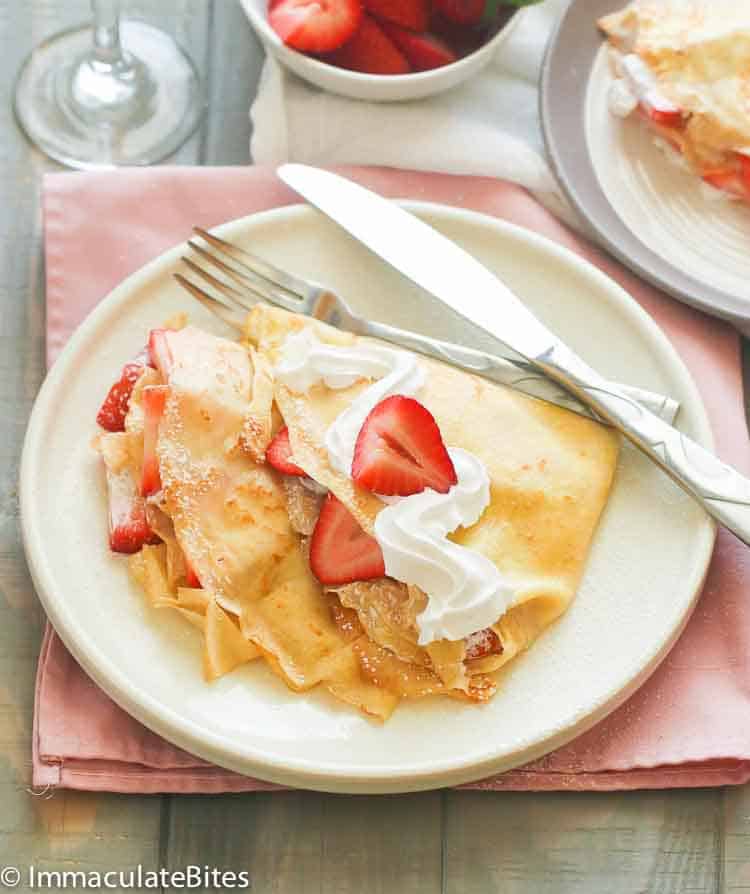 Now you know how to whip up a batch of crepes, all you have to decide is what to fill them with. I guess that's the hardest part. But hey, why not serve them up with a variety of filling. That'll do the trick. 😉 Go ahead and channel the inner French cook in you.
Happy crepe-ing!
Watch How to Make It
Tips and Notes:
This crepe here is the sweet version. If you want to have a savory crepe, omit sugar and vanilla and add 1/4 teaspoon of salt to the batter, depending on your preference.
Let the crepe batter sit in the fridge for an hour or overnight to relax the gluten which ensures smooth, light and airy crepes.
Make sure to use a pan with thick bottom so it'll heat evenly. Start by slowly heating the pan to the desired temp. Before pouring the batter, make sure the pan is hot enough, otherwise your crepe will end up sticking to the pan.
Don't flip the crepe too early. Wait til the bottom is light brown and the edges are starting to brown.
This recipes makes around 6-8 crepes depending on what size of pan you use.
For sweet crepes, you can fill it with Nutella, fresh fruit, jam and top it with whipped cream or powdered sugar.
For savory crepes (see note 1), you may fill it with ham, cheese, bacon, egg, spinach or whatever suites you.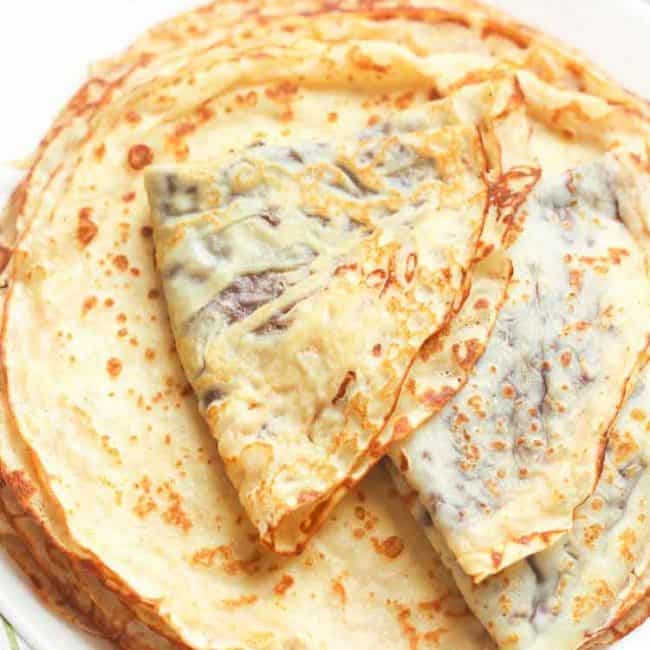 Print
Easy Crepe Recipe
Light, tender and slightly sweet crepes that make for a fancy breakfast filled with your favorite fresh fruit, Nutella, or dusted off with powdered sugar and whipped cream on the side. Simply, easy, tasty and fancy!
Ingredients
4

large eggs

2

cups

(480ml) milk

1-2

teaspoon

(4.2g-8.4g) vanilla

3

tablespoon

(37.5g) sugar

½

teaspoon

(2.5g) salt

1/2

cup

(118.5ml) water

2

cups

(250g) flour

6

tablespoons

(84g) melted butter
Instructions
In a blender, mix in eggs, milk, vanilla, sugar ,salt , water , flour and butter .


Let the batter rest for about an hour or more in the refrigerator or overnight.


Heat a skillet over medium high heat, then lightly coat the hot pan with vegetable oil, cooking spray, or clarified butter.


Pour about a ⅓ cup of batter, depending on your fry pan or skillet. Tilt pan so the batter spreads across the bottom of the pan. Cook the crepe for about 1 ½ minute, until the bottom is light brown.


Lift with a spatula, turn and cook the other side. Serve crêpes warm with fresh fruit, whipped cream and powdered sugar.

Nutrition Information:
Calories:
368
kcal
(18%)
|
Carbohydrates:
42
g
(14%)
|
Protein:
10
g
(20%)
|
Fat:
17
g
(26%)
|
Saturated Fat:
9
g
(56%)
|
Cholesterol:
147
mg
(49%)
|
Sodium:
372
mg
(16%)
|
Potassium:
192
mg
(5%)
|
Fiber:
1
g
(4%)
|
Sugar:
10
g
(11%)
|
Vitamin A:
640
IU
(13%)
|
Calcium:
118
mg
(12%)
|
Iron:
2.4
mg
(13%)
Nutrition Facts
Easy Crepe Recipe
Amount Per Serving
Calories 368
Calories from Fat 153
% Daily Value*
Fat 17g26%
Cholesterol 147mg49%
Sodium 372mg16%
Potassium 192mg5%
Carbohydrates 42g14%
Protein 10g20%
Vitamin A 640IU13%
Calcium 118mg12%
Iron 2.4mg13%
* Percent Daily Values are based on a 2000 calorie diet.