When a seafood craving hits you, you have two choices. You can go to a fancy restaurant and kill your budget for the entire month, or you can take advantage of these 10 Easy Crab Recipes. Spicy, flavorful, and versatile, these crab recipes will save the day! I don't know about you, but I like the second choice.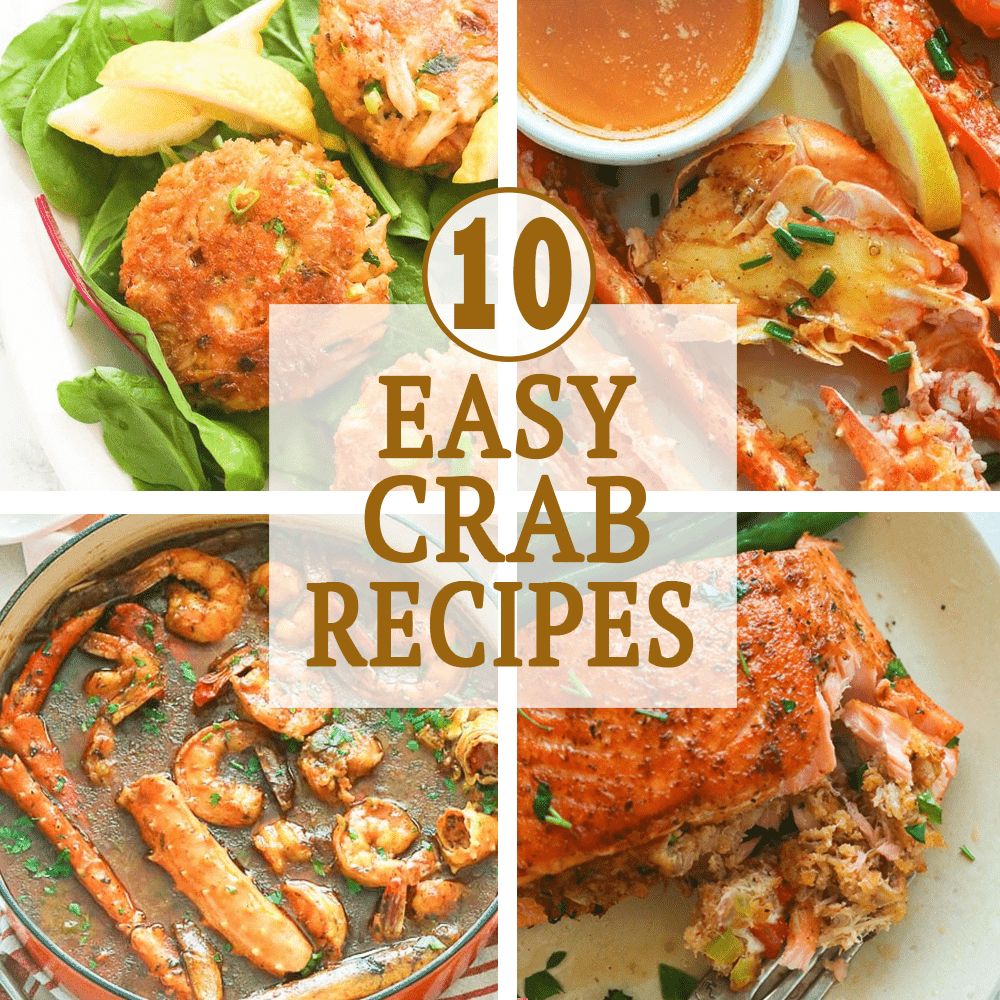 I absolutely love seafood. And if you're reading this, I know you do too. Crab is one of the more economical seafood choices. And if your budget is tight, you can even use imitation crab meat. That's our secret, ok?
FAQs
What's the best way to cook crab?
It really depends upon what you like. You can easily boil crab, though steaming is better as it maintains the flavor of the meat. Once the water is boiling, it takes about five to ten minutes for them to cook.

You can grill or bake crab too – clean and steam them for about five minutes, then roast or grill them according to your favorite recipe.
How long do you cook crab?
Boiling crab takes ten to fifteen minutes once the water is boiling, though the exact time depends upon their size. You'll know crab when it is done because it will turn orange, and the meat will easily flake with a fork.
Do you clean crab before cooking?
If you're using fresh crab, then yes, you do need to clean it before cooking it, especially if baking or grilling. It's actually pretty easy! First, you remove the unwanted parts and guts. At that point, you can rinse the crab with clean water, and it will be clean and ready for whatever way you want to cook it.
Incredibly Easy Crab Recipes
1. Seafood Gumbo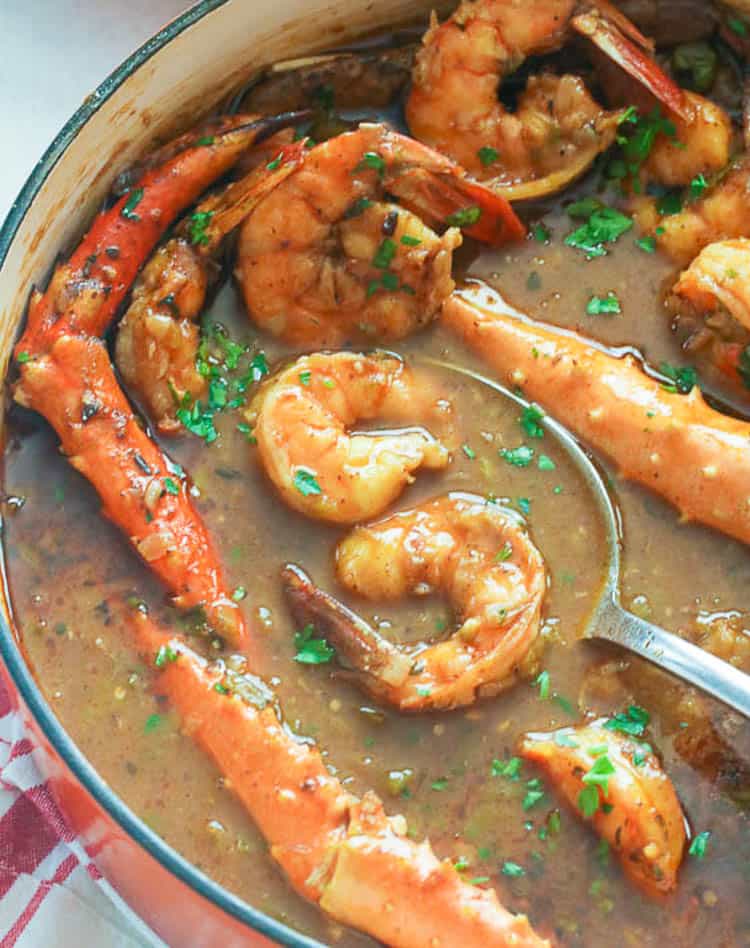 This hearty recipe is soul-satisfying. The Creole seasoning, seafood, and okra offer an amazing explosion of delicious flavor. A bowl of this deliciousness on a cold day is authentic comfort food.
Deliciously soft homemade bread, fluffy biscuits, or delicious cornbread are perfect with gumbo. Since this delightful crab recipe is a one-pot meal, you really don't need much more.
Seafood gumbo will last up to three days in an airtight container in the fridge. Or you can freeze it for three months.
2. Baked Crab Legs in Butter Sauce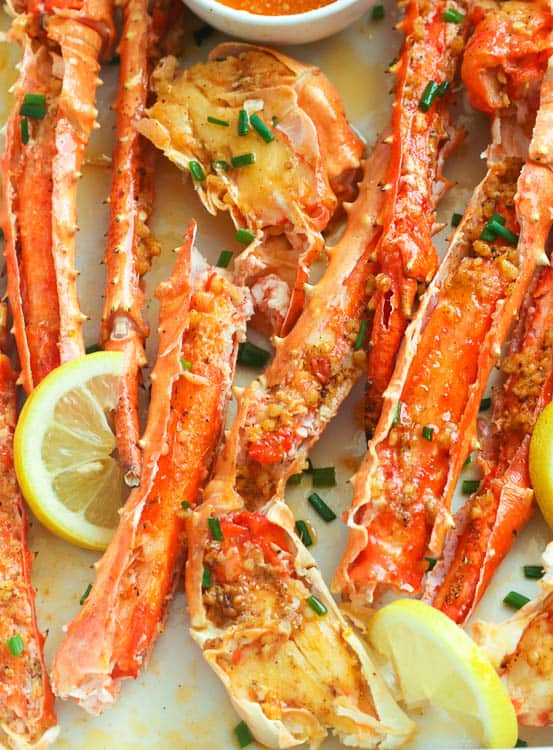 This super easy crab recipe is wonderfully indulgent and luxurious. Garlic, butter, lemon, and spicy Creole seasoning make a finger-licking-good sauce, which is a good thing because it will get all over your hands. But that's what makes eating this delicacy so fun!
This stuff goes great with roasted potatoes or homemade garlic knots. You could take advantage of the oven already on and roast Bacon-Wrapped Asparagus. Yum!
I'd be surprised if you have any of these legs left, but if you do, you can keep them in the fridge for up to three days in an airtight container. Make sure to reheat them until they're steaming hot before eating.
3. Crab Salad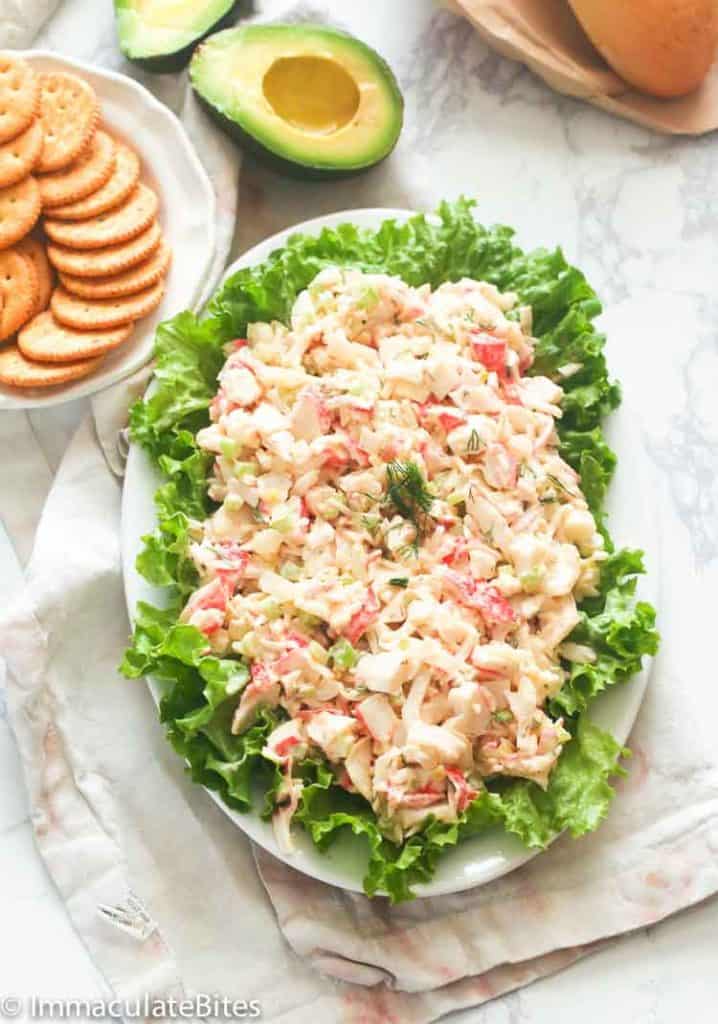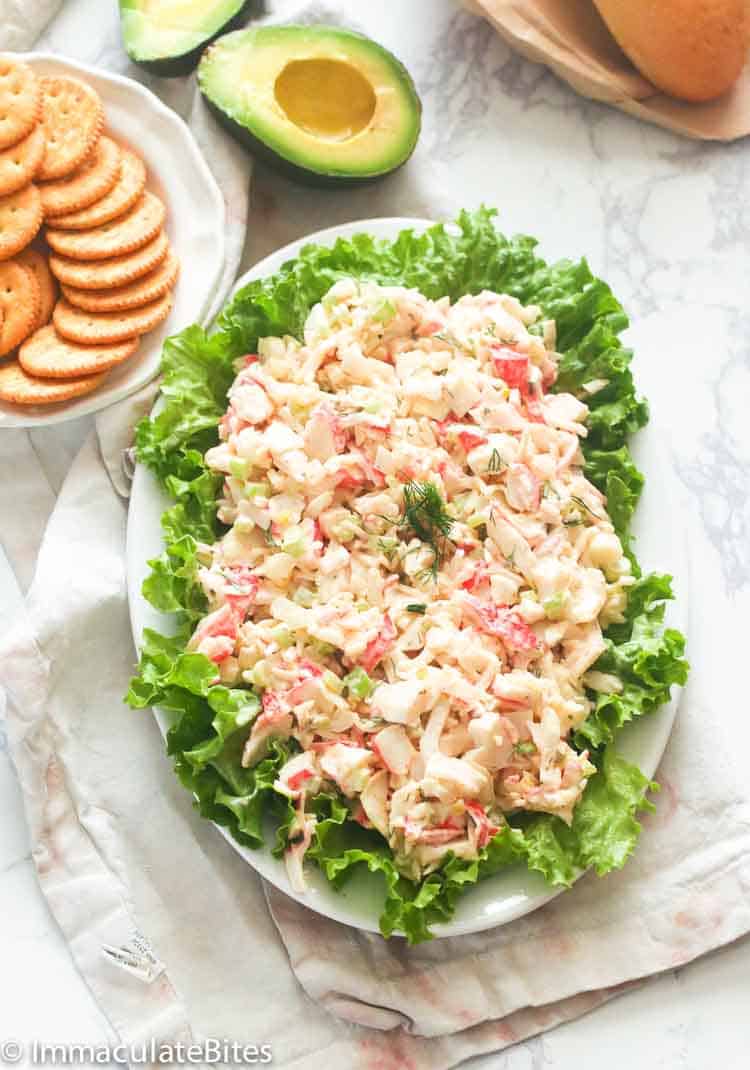 This simple, refreshing salad is utterly amazing because of the incredible Cajun-spiced salad dressing. This salad makes a great sandwich when loaded on a croissant. You can use real crab meat or imitation. I won't tell.🤫
Crab salad makes a great topping on a simple tossed salad for a delicious whole-meal salad. Another thing I love to do with this fabulous recipe is bruschetta. Just replace the tomato-basil mix with this crab salad, and you have a fantastic appetizer.
To store this crab salad, keep it in an airtight container in the coldest part of the fridge for up to three days.
4. Crab Rangoon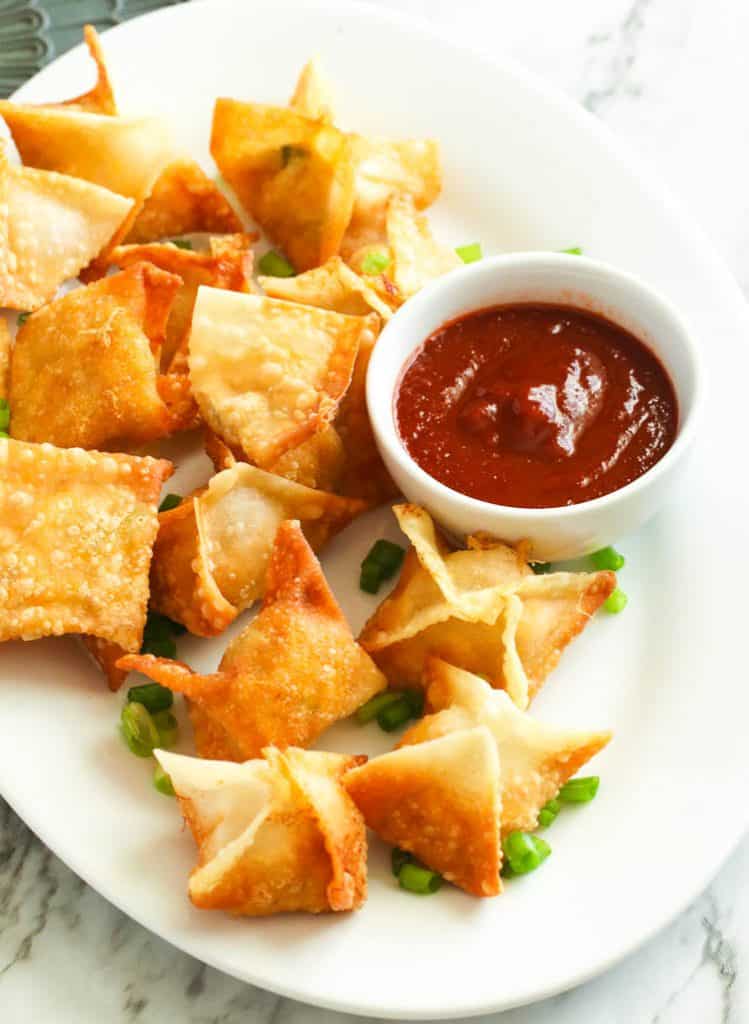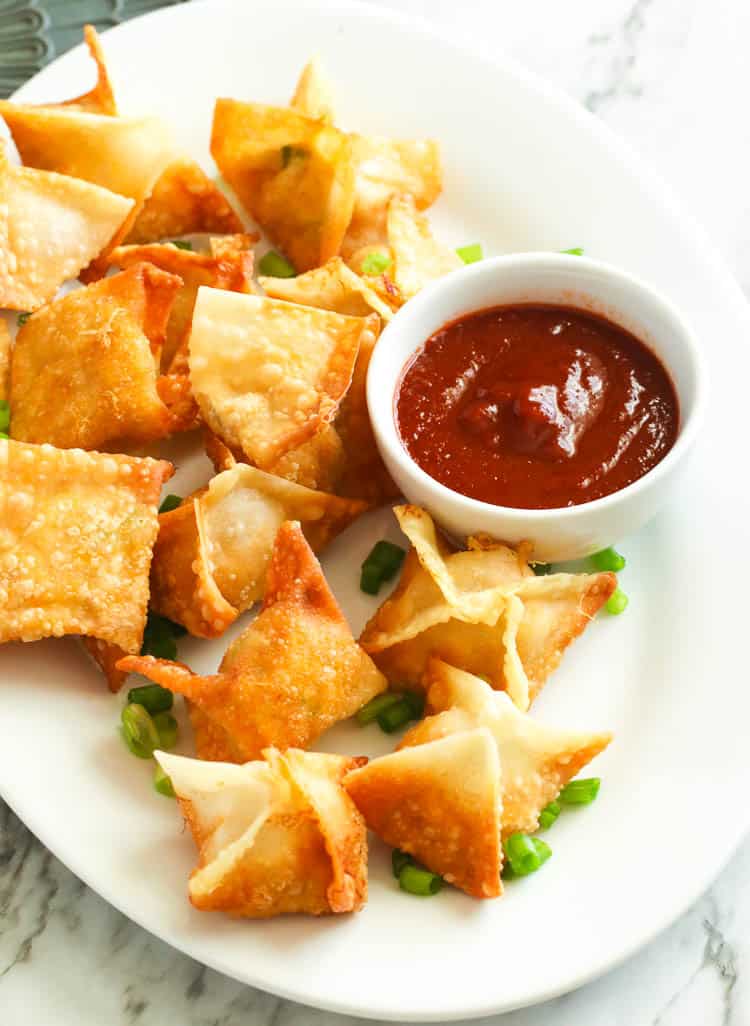 What's the first thing you go for on a Chinese buffet? I go for these babies. Real crab meat and spicy cream cheese wrapped in a crispy wonton. Drooling! Now you can make them at home. Yay!
Try these fantastic appetizers for your next Super Bowl party, along with chicken wings, steak tips, and beer-battered onion rings.
To store crab rangoon, keep them in an airtight container in the fridge for up to three days. I would recommend eating them while fresh, though, because they lose their crispiness quite quickly.
5. Maryland Crab Cakes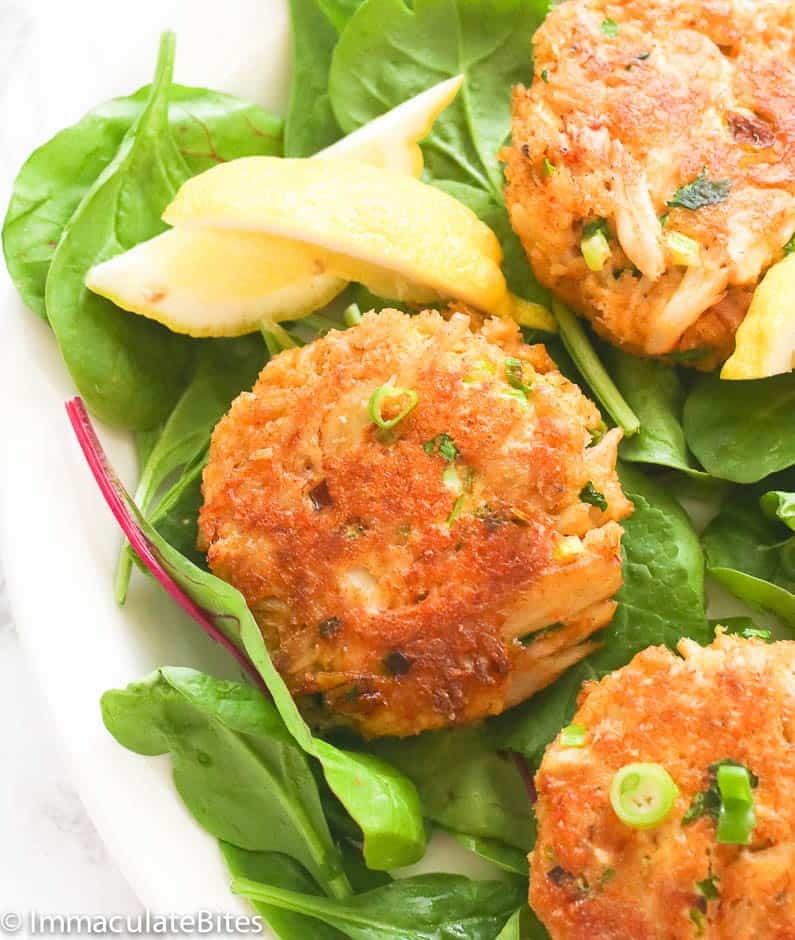 Another excellent appetizer, this crab cake recipe, is so simple and satisfying. Spicy mayo makes these babies mouthwateringly moist and delicious. They're even better with a generous hit of lemon juice!
Having a variety of sauces on the table ensures they'll be gobbled up in a heartbeat.
Remoulade is one of my favorites, but you will love tartar sauce or cocktail sauce, too. A side of garlic mashed potatoes and cucumber tomato salad is also fantastic.
To store these crab cakes, you can put them in the fridge in an airtight container for up to three days. Conversely, you can freeze them for up to three months before cooking.
6. Crab-Stuffed Mushrooms
Crab and mushrooms together, oh my! Spicy, cheesy, and altogether super addictive, this recipe is a must-have. You can't have enough appetizer recipes in MHO.
These bites of deliciousness go great as an appetizer or side dish.
Sloppy joes, salmon croquettes, and hush puppies are perfect appetizer friends. Mac and cheese goes great with these guys if you want a complete meal. Oh yeah, and salad; we can't forget the veggies. 😉
These mushrooms will last in an airtight container in the fridge for up to three days. Or you can freeze them before baking; just pop them out of the freezer, set them on the countertop for about 10 minutes while the oven is preheating, and proceed with the recipe.
7. Crab-Stuffed Salmon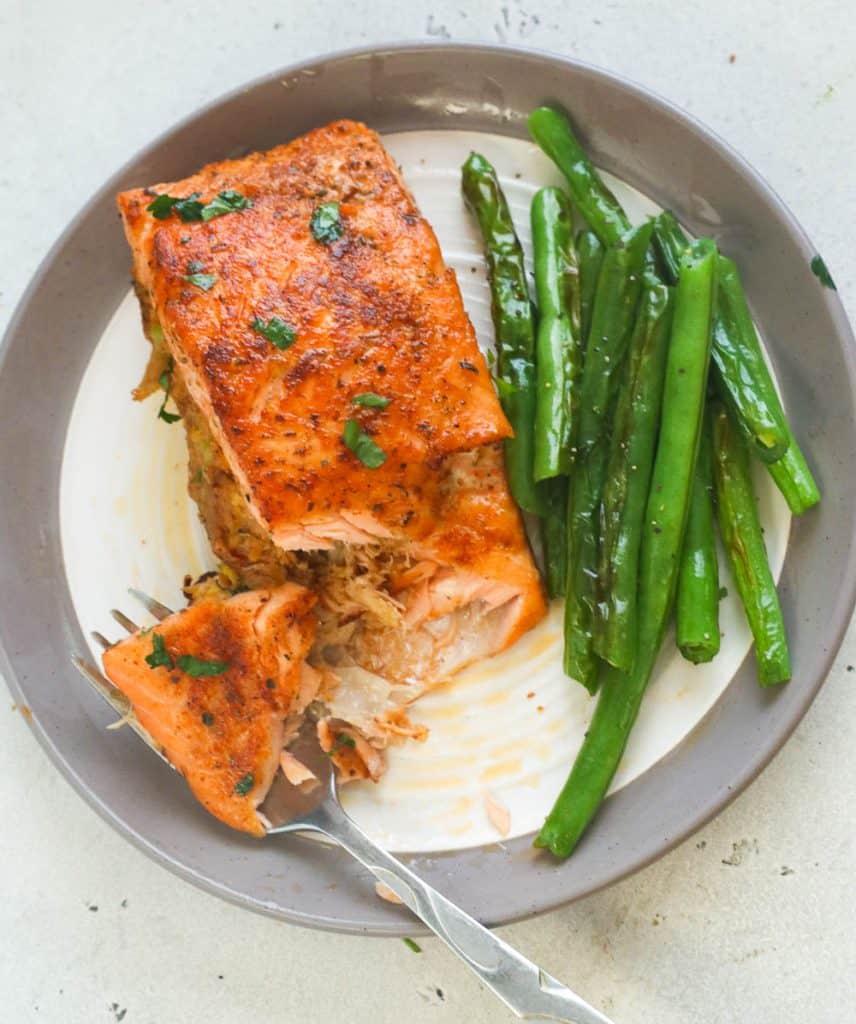 This spicy, creamy, cheesy seafood delight is so much easier to make than it looks. It's perfect for that special occasion that you want to impress your guests or have a cozy date night relaxing at home.
This crab recipe is absolutely divine with an easy Greek salad, breadsticks, and roasted Brussels sprouts. Your family will be talking about it for years!
This dish is best reheated in the oven. Bake it in a preheated 300℉/150℃ oven for about 15 minutes or until the internal temperature reaches around 130℉/55℃. Leftovers will last for up three or four days in an airtight container in the fridge.
8. Slow Cooker or Instant Pot Seafood Cioppino
You can have your crab and eat it too, even if you're on a diet. This drool-worthy seafood stew in a tomato-based sauce is low-carb, paleo, and even whole30-compliant. Even better, you can save time by using your slow cooker or Instant Pot.
Crusty No-Knead Bread is always happy with stew. You can balance it with a Panzanella Salad and sweeten up the deal with Zeppole for dessert if you want an Italian-themed dinner.
Leftovers will last refrigerated in an airtight container for up to three days. You can also freeze it for up to three months!
Slow Cooker Seafood Cioppino
Seafood cioppino is a seafood stew with a tomato based sauce. Make this low-carb, paleo, whole30 version in your slow cooker or Instant Pot.


Check out this recipe
9. Air Fryer Crab Legs
Got an air fryer? This recipe gives you the excuse you wanted to break it out. Simple crab legs done in a flash make an ideal appetizer or main meal.
Corn on the cob goes perfectly with these guys. After all, you're already getting your fingers messy with the crab legs; why not go all out. Seasoned Rice or Roasted Potatoes and Carrots are a good choice, too.
You can store the little bit that might be left in an airtight container in the refrigerator for up to three days. Or you could take out the crab meat from the legs and make crab salad.
Air Fryer Crab Legs
It's so quick and easy to cook the most perfect crab legs in an air fryer! Ready to serve in less than 15 minutes, and seasoned with old bay.
Check out this recipe
10. The Ultimate Seafood Dressing
Do you want dressing with a twist for the holidays? Forget about store-bought stuffing mixes. This crab recipe will spice average cornbread dressing up and turn it into the star of the show.
This recipe will make Baked Spatchcocked Turkey and Green Bean Casserole grin with envy. With a little homemade Cranberry Sauce on the side, and you'll have a memorable holiday meal.
Any leftovers will keep in the fridge for up to three days. You could also freeze them for a couple of months. I prefer reheating this recipe in the oven because a microwave doesn't always heat food enough to kill the bad guys.
Seafood Dressing
Seafood Dressing is the ultimate twist on a Classic Thanksgiving stuffing side dish. Rich tender cornbread mixes with fresh shrimp, lump crab, fresh herbs, spices and a homemade seafood stock to create the ultimate decadent side. If you love this dressing, you will love this Classic Southern Cornbread Dressing.
Check out this recipe