Fish is healthy, nutritious, and tasty, and it's a superb alternative for other meats and poultry. And you can bake it, steam it, fry it, or grill it. But baking is probably the easiest method with the least amount of cleanup. Win-win! So here are 10 healthy baked fish recipes, authentic main courses that make the most out of the sea's bounties.
The wonderful thing about fish is that it cooks quickly, so a few minutes in the oven is all you need to end with a deliciously flaky filet. Baking fish is also an excellent opportunity to infuse fish with many delectable flavors. See my best healthy baked fish recipes and have a guilt-free feast.
FAQs
Is fish healthy?

Fish is healthier than red meat, as it has less saturated fat. Oily fish like salmon and tuna are even more nutritious, as they contain good fats.
What's the healthiest type of fish?

Salmon, tuna, mackerel, trout, sardines, and swordfish are just a few species in the oily fish category. These are the healthiest by far because they have more heart-healthy Omega-3 fatty acids. Yay!
The Healthy Baked Fish Recipe Lineup
1. Oven-Baked Salmon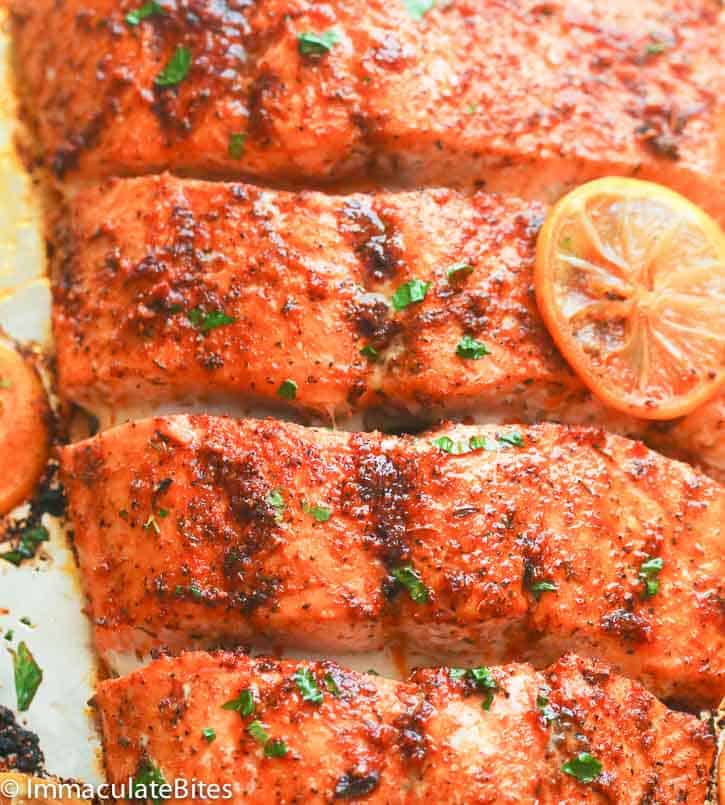 Salmon is such a remarkable fish. Flaky, smooth, and so beautifully pink, it's fish royalty. And cooking it right is essential to making the most of this delectable taste of the sea. So bring these baked salmon fillets to life with garlic, onion, paprika, and a pinch of cayenne pepper. And all you'll need are salmon fillets, butter, a few herbs, and parsley as a garnish. Oh, and also a splash of lemon juice!
Oven Baked Salmon
Oven Baked Salmon – moist and flaky highly seasoned salmon fillets with a lemony and spicy kick. A perfect easy weeknight meal for busy folks or as a low-carb go-to Lenten meal. Spicy, lemony, and moist – everything you want a salmon dinner to be!

Check out this recipe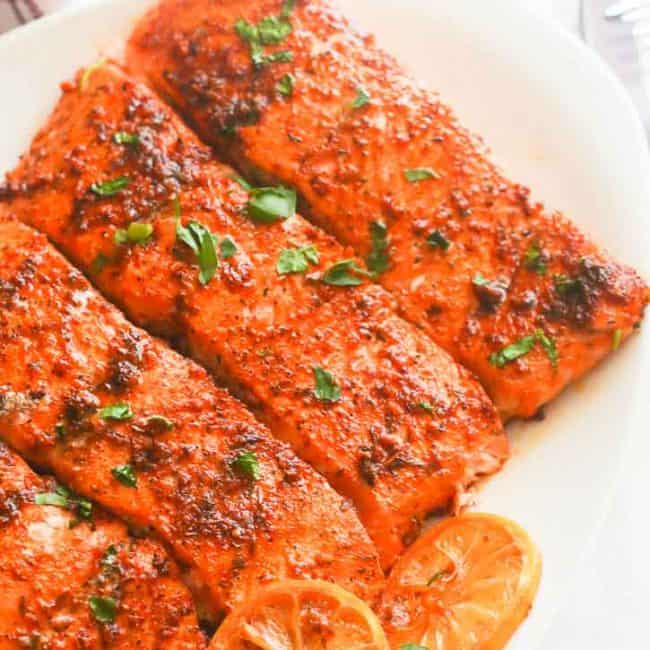 2. Whole Baked Sea Bass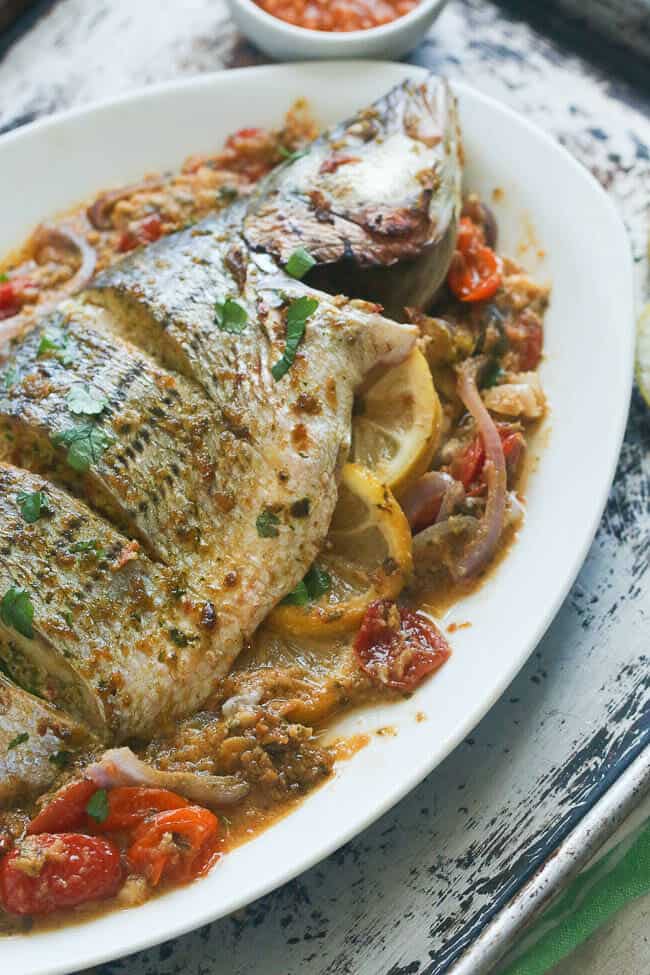 Flaky and pearly white, sea bass is a fantastic fish for baked fish recipes. The secret here is marinating the fish to give it lots of flavors. Then, just let the oven do its job. It's ready in minutes, seriously. We bake this tender, flaky fish in aluminum foil so it stays moist and in one piece. For this recipe, you'll need a whole sea bass, a lemon or two, parsley, onion, basil, tomatoes, and chicken bouillon for a more intense flavor. I can taste it already.
Whole Baked Sea Bass
Whole Baked Sea Bass fish marinated in a simple yet flavorful mixture of lemon, tomato, garlic, herbs, and other spices. It's simple, easy, healthy, and incredibly flavorful!
Check out this recipe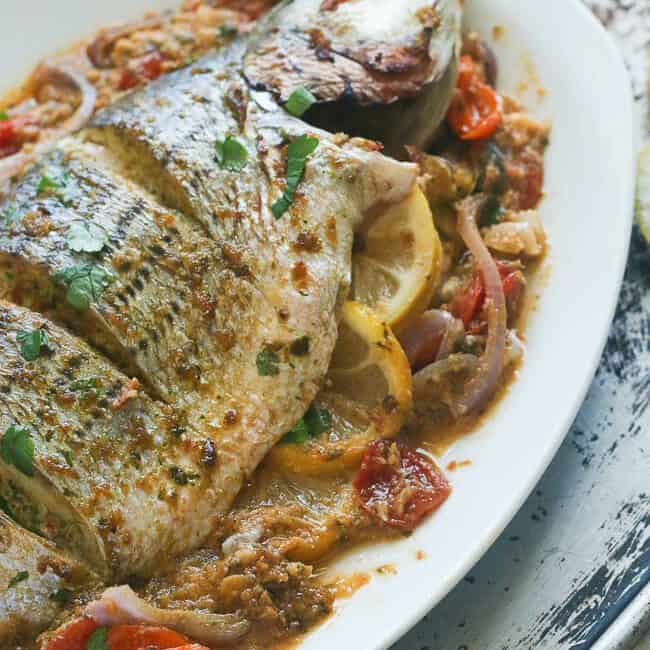 3. Baked Halibut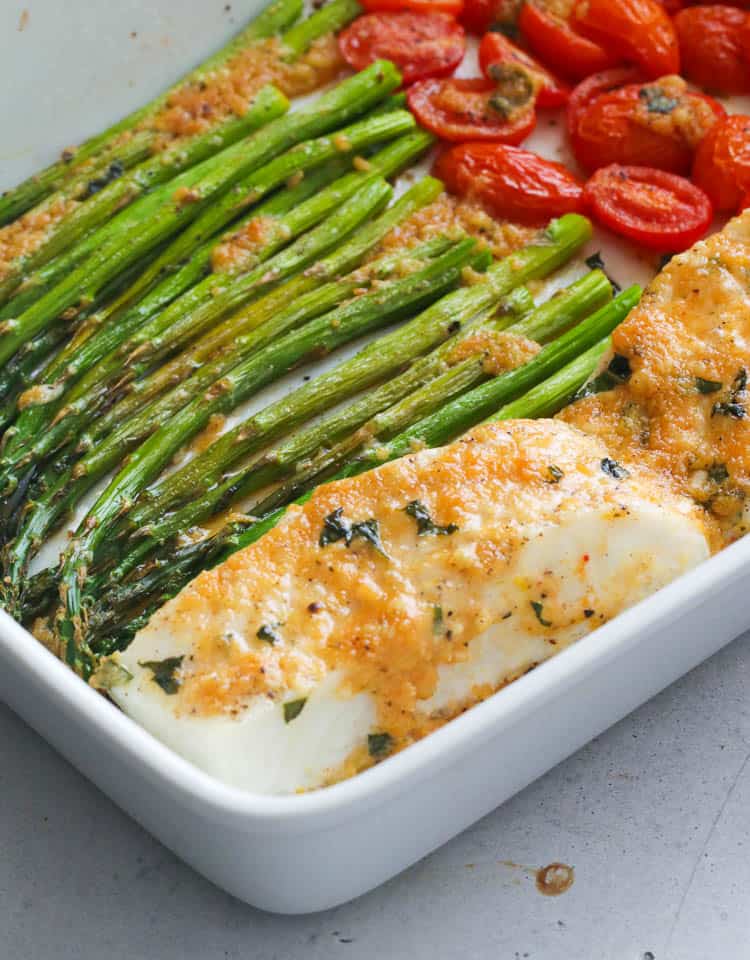 I know you'll love this one. Halibut is a unique fish — it's flaky but firm and much more flavorful than most other white fish. When baked, it's tender but meaty — perfect for a side of asparagus and cherry tomatoes.
The best part? You can bake your fish and sides on the same baking pan, saving tons of time. For this so deliciously baked fish recipe, you'll need halibut fillets, asparagus, cherry tomatoes, butter, mayo, parmesan, and a pinch of Creole seasonings. You'll also love what the lemon zest does for it.
Baked Halibut
Baked Halibut – light and healthy halibut fish fillet and vegetables rubbed with a slightly bright, tangy, cheesy, and a bit garlicky mixture. Guilt-free and delicious baked dinner ready in just 20 minutes from start to finish!
Check out this recipe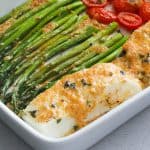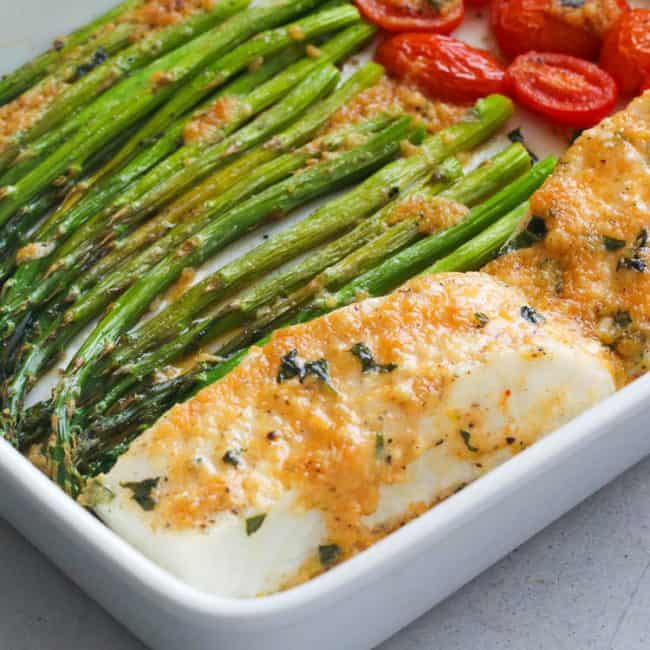 4. Garlic Butter Salmon in Foil Paper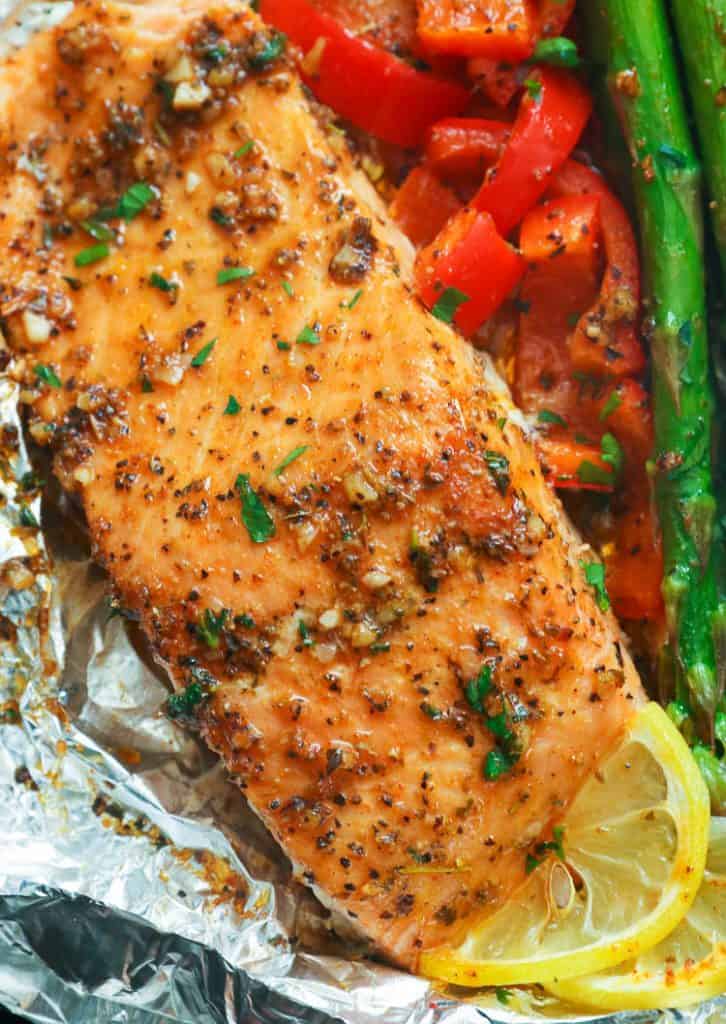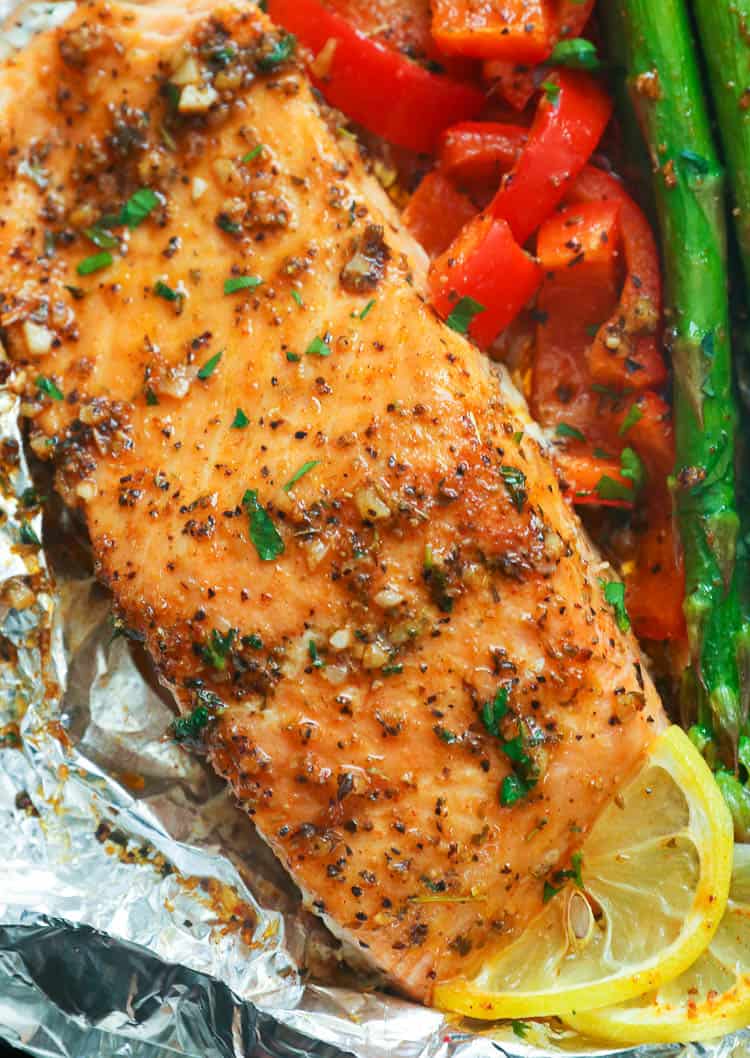 There's more than one way to cook salmon, especially if you're baking it. We're wrapping a few pink fillets in aluminum foil for this recipe to guarantee moist fish packed with flavor.
Using foil allows you to infuse the salmon with butter, garlic, thyme, paprika, and bright lemon juice, making it so satisfying! For this recipe, pick a few fresh salmon fillets, your favorite veggies, garlic, thyme, oregano, parsley, paprika, lemon juice, and my secret, chicken stock.
Garlic Butter Salmon in Foil Paper
This wholesome Garlic Butter Salmon in foil paper is not only incredibly healthy and guilt-free, but it's also a perfect dinner choice for busy weeknights. You'll love it more because it's a cinch to make with an easy clean-up, too! Incredibly light and effortlessly delicious low-carb dinner that you can easily make in less than 20 minutes from start to finish. Oh yes!
Check out this recipe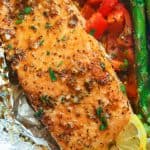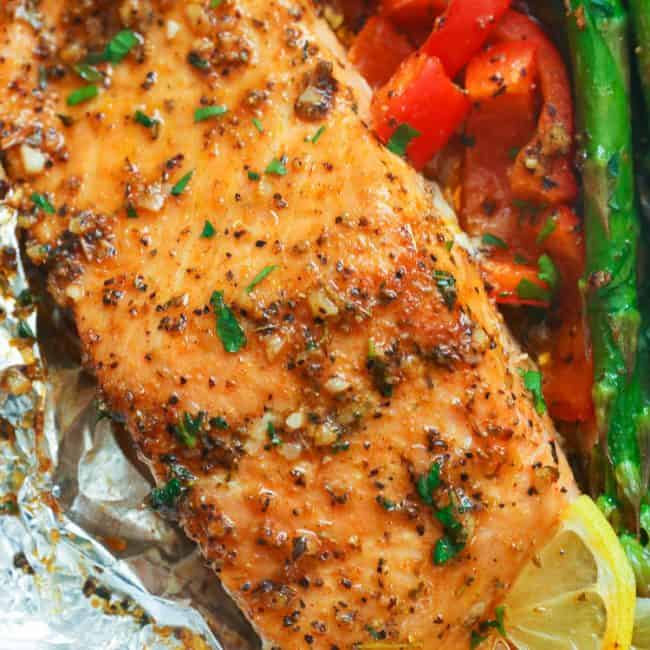 5. Baked Cod Recipe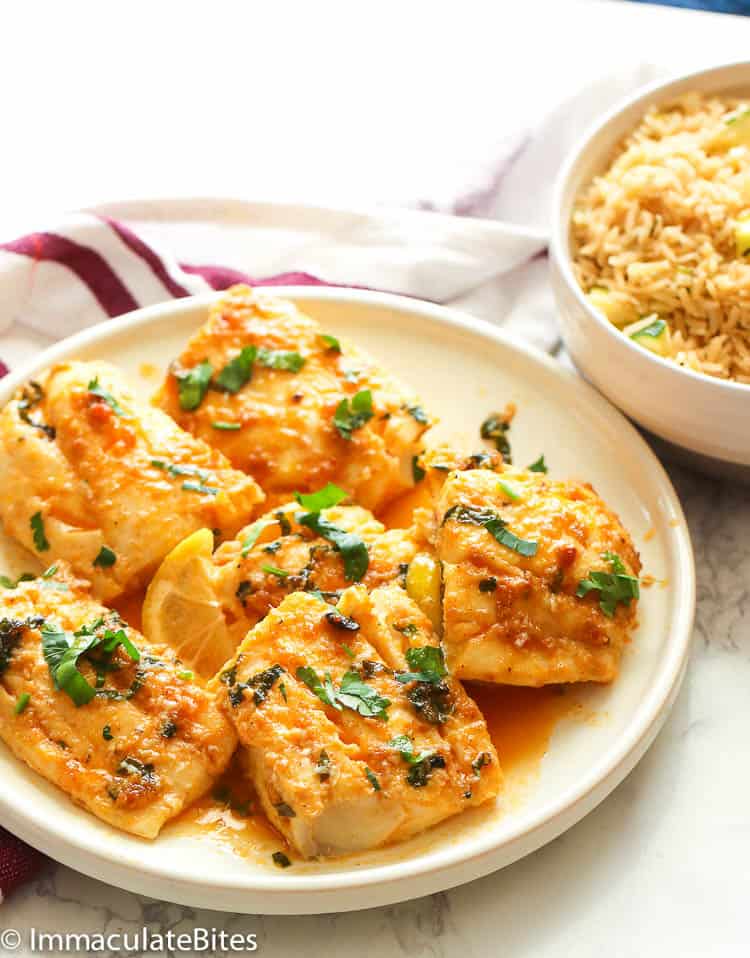 Cod is flaky and salty, and it's so easy to infuse with a wide range of flavors. That's likely why I love it so much. Baking cod is easy and only takes a few minutes, especially if cooked on high. Tuck it tightly in a baking tray, then drizzle it with lemon juice and butter to prevent it from drying. You don't need to do much to cod to make it super tasty. Garlic, paprika, onion powder, cayenne, basil, and lemon juice do the trick for this easy, baked fish recipe.
Baked Cod
Oven Baked Cod – tender and flaky cod fillets smothered in a lemon garlic sauce with a kiss of heat. A super tasty low-carb dinner in just 20 minutes!
Check out this recipe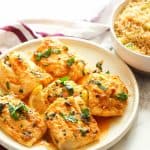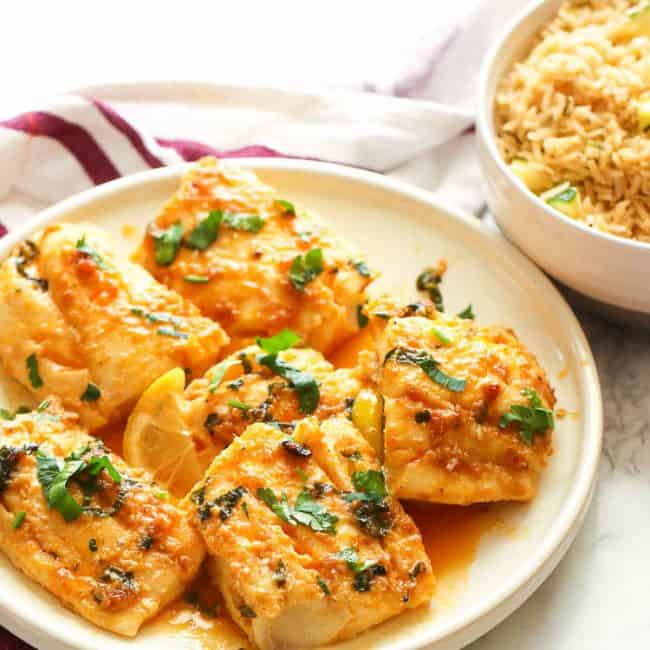 6. Cajun Salmon One-Sheet Pan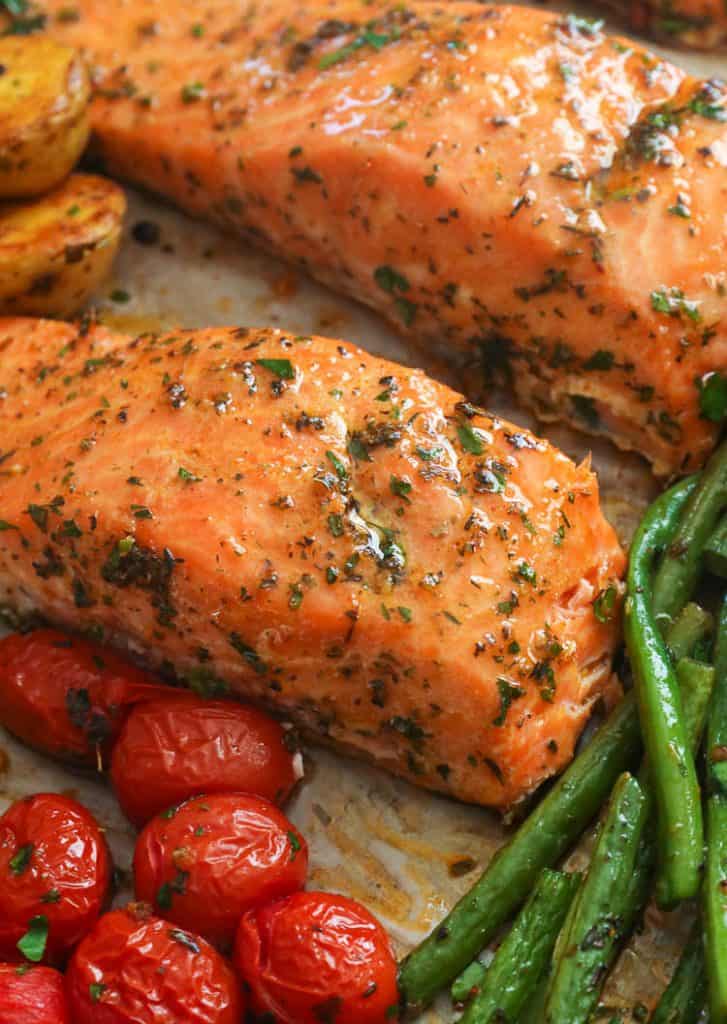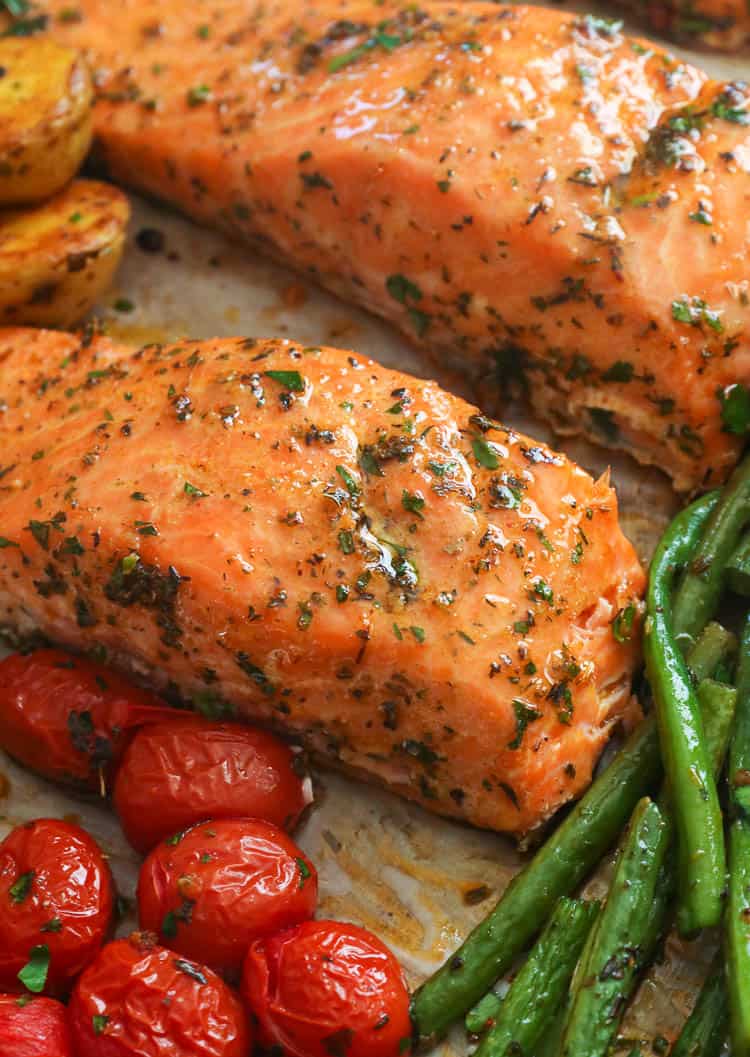 If you thought you knew every way to bake salmon, well, you're in for a pleasant surprise. Because here's a third way of dressing up this marvelous fish. How? With Cajun spices. Everything tastes delectable when herbs and spices come together harmoniously, especially salmon. Rub those salmon fillets with minced garlic, fresh herbs, Creole seasoning, and cooking oil, then bake them to tender perfection — not too much, just until flaky. Baby potatoes and cherry tomatoes are also perfect sides for this spicy dish.
Cajun Salmon One Sheet Pan
Cajun Salmon One Sheet Pan – An easy no-fuss weeknight meal featuring moist and flaky salmon, green beans, baby potatoes, and cherry tomatoes. All of these are seasoned with exceptional flavors from herbs and spices and cooked on a single sheet pan. A fantastic low carb and keto-approved meal baked in a single pan ready in just 25 minutes!
Check out this recipe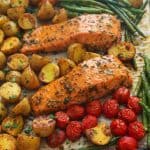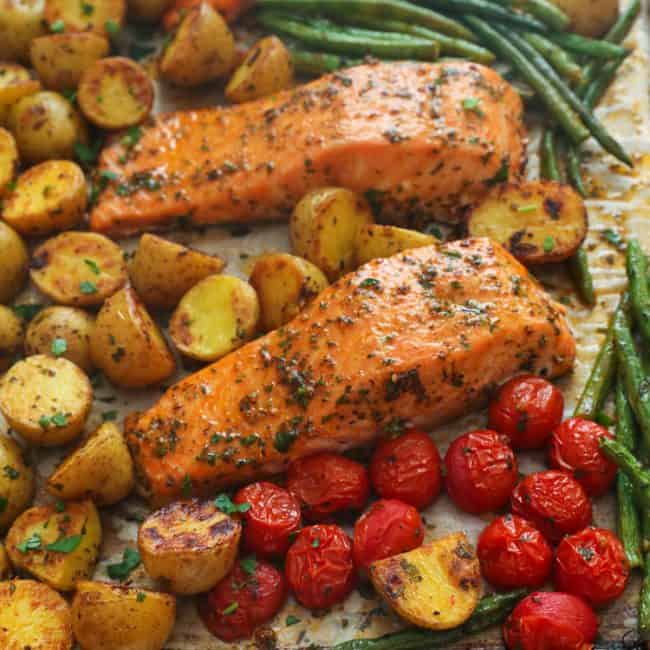 7. Baked Tilapia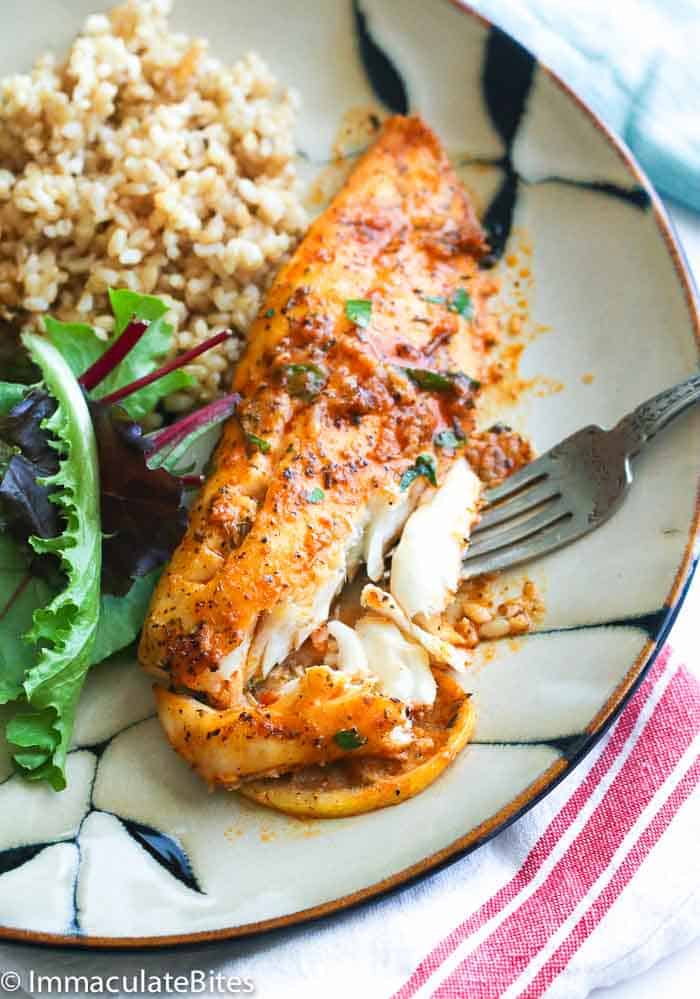 Tilapia is inexpensive, and it's everywhere, so it's an easy find. That makes it perfect for weeknights. And if tilapia isn't on your weekly rotation, then this baked fish recipe will convince you to put it there. This colorful dish boasts a flavor explosion. It's smothered in butter and spiced with garlic, paprika, thyme, oregano, pepper, lemon, and parsley because when it comes to flavors, the more, the merrier.
Oven-Baked Tilapia
Oven-Baked Tilapia offers a super easy low-carb dish in less than 20 minutes from start to finish. Flaky, melt-in-your-mouth tilapia so mild that even the pickiest eater will fall in love. This easy yet flavorful dish is perfect for your weekly rotation!
Check out this recipe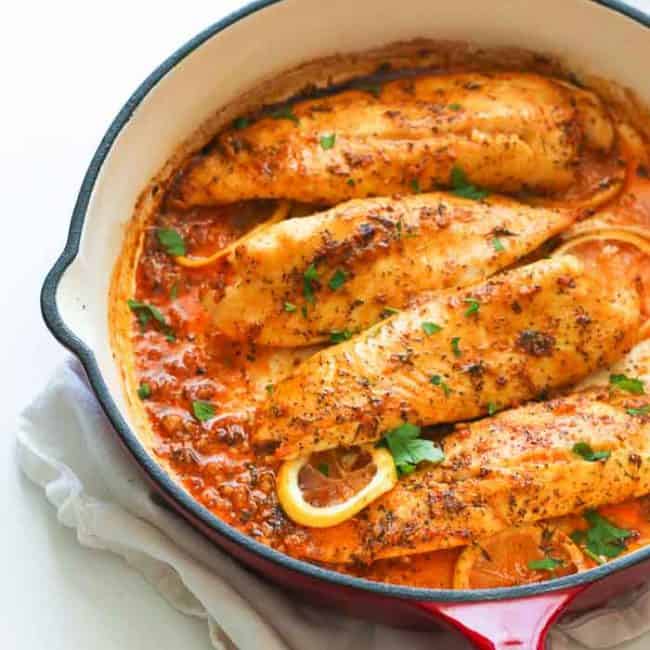 8. Crab-Stuffed Salmon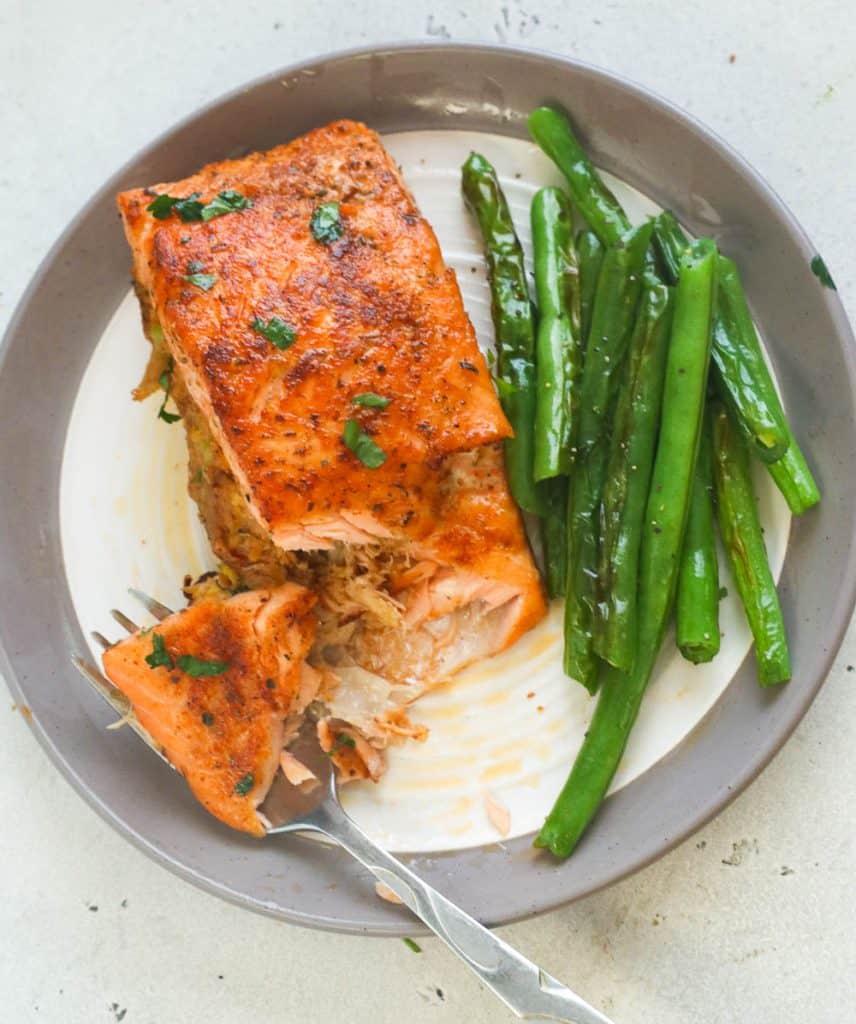 You can have crab-stuffed salmon on the table in thirty minutes, but it tastes like you spend the entire day in the kitchen! Mouthwatering spices and silky cream cheese give this unique salmon dish its unequaled personality. The best part about this recipe is the crab meat because it tastes like the sea! If you've never stuffed fish before, you're in for a treat. You'll also need the usual suspects, garlic, celery, red peppers, onion, and parsley for this recipe. We're also adding Creole seasoning, panko, and cream cheese. Oh yeah!
Crab Stuffed Salmon
Crab Stuffed Salmon ready in 30 minutes or less makes an excellent weeknight meal. Heart-healthy salmon stuffed with crab, cream cheese, and delicious spices make a gorgeous entre that will make the whole family happy. This ridiculously mouthwatering dish makes healthy eating a cinch.
Check out this recipe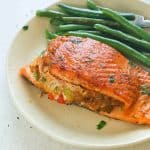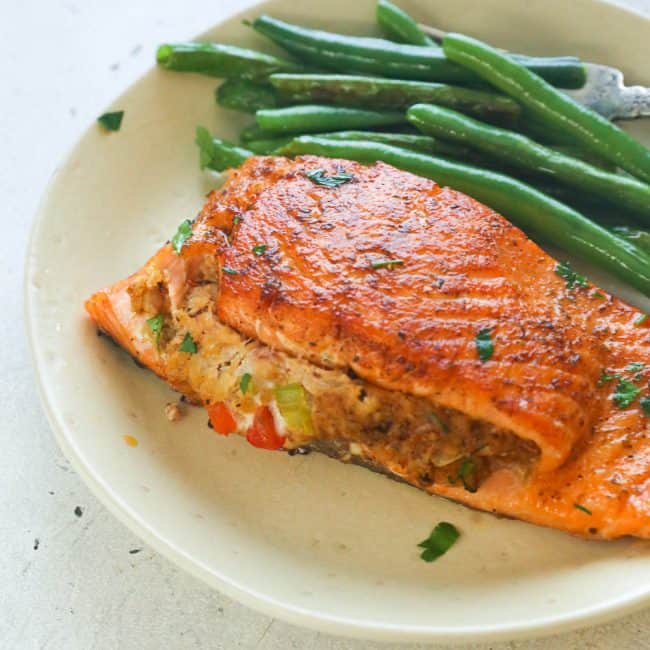 9. Teriyaki Salmon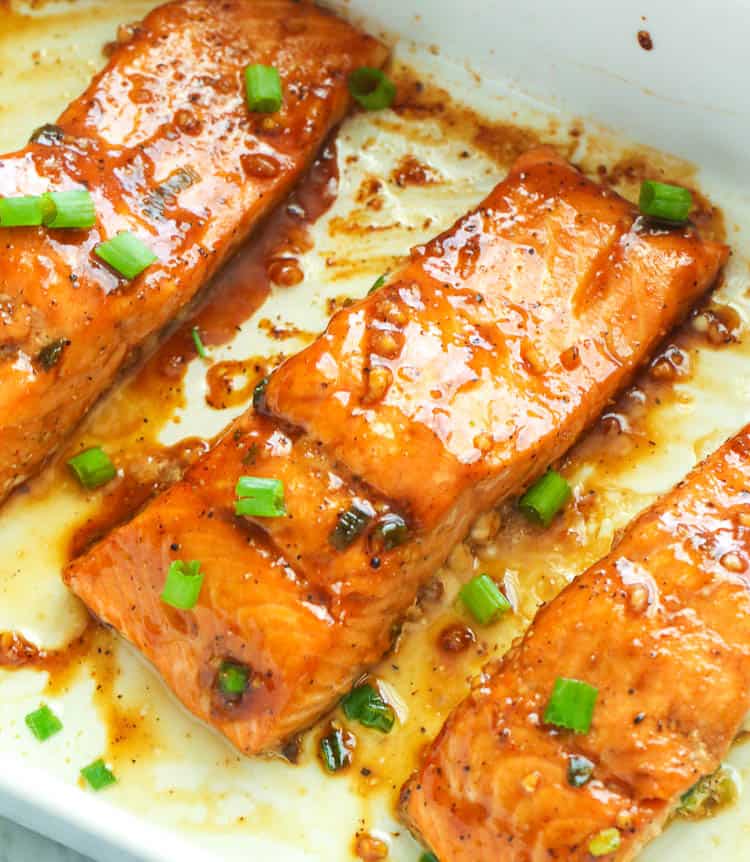 A delightfully sticky, umami-rich teriyaki glaze elevates salmon to new heights. The glaze also seals the salmon's juiciness — this means this one has the flavor AND the texture you want. The Asian flair goes so great with oily fish like salmon. Few fish can handle such an intensely flavorful sauce like this one can, sweet, savory, and a bit salty. You'll fall so in love with this baked salmon. The glaze's base includes garlic, ginger, soy sauce, and brown sugar. Sriracha also adds a warm spicy note to it. What a beauty!
Teriyaki Salmon
Teriyaki Salmon – easy and lip-smacking good salmon fillets marinated in a sweet and tangy homemade teriyaki sauce and baked to perfection. Serve it with teriyaki glaze, veggies and rice and you'll have one amazing meal in under an hour. And it's a great meal-prep dinner, too!
Check out this recipe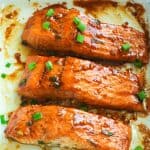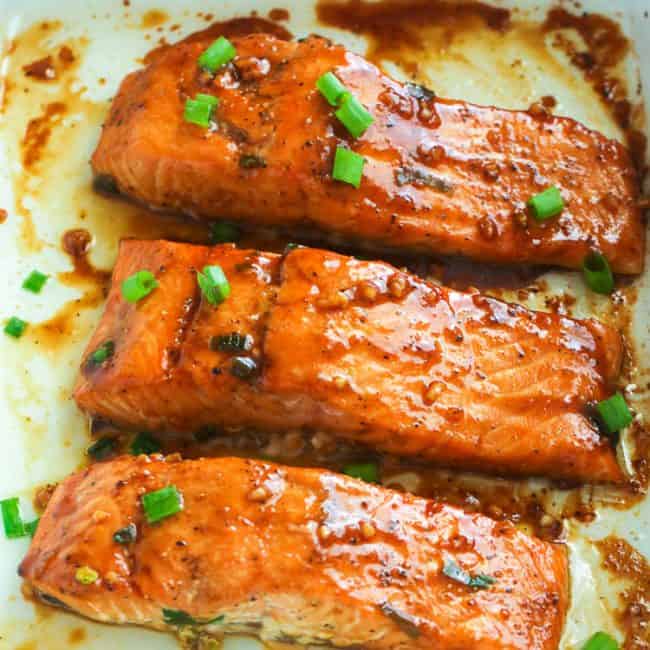 10. Parmesan-Crusted Tilapia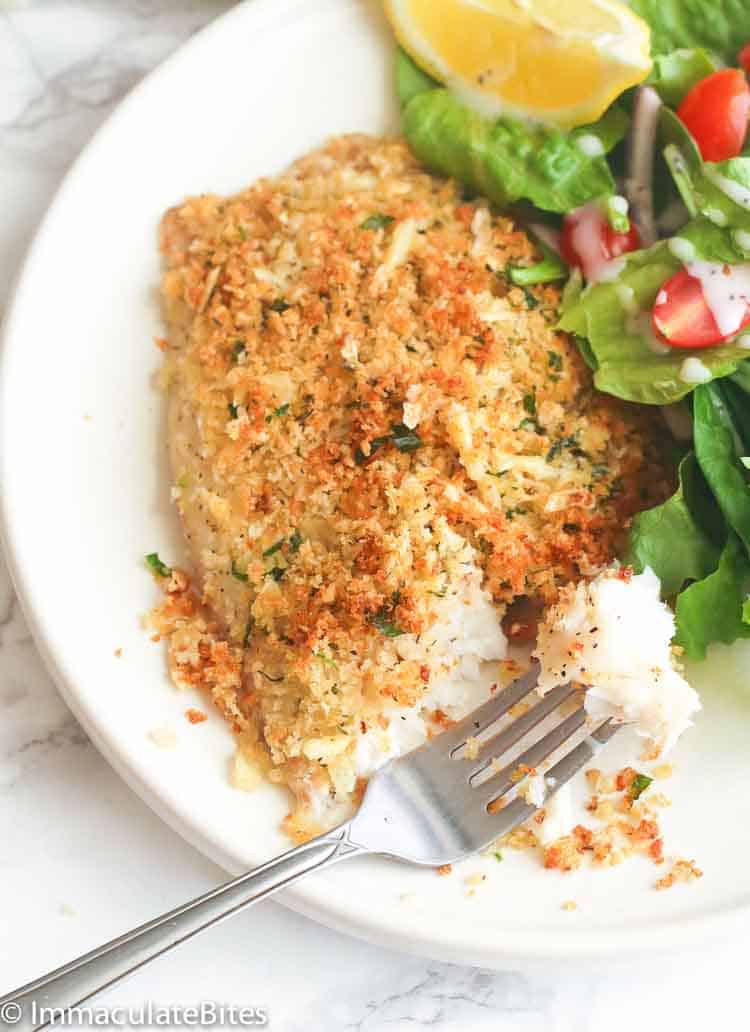 Let's seal the deal with one of my favorite baked fish recipes. Think of a crispy breadcrumb and parmesan crust protecting a fork-tender tilapia filet — that's what I call a meal for special occasions. Coat these bad boys thoroughly and bake them until beautifully golden. The secret, though, is in the herbs — they make all the difference. Panko breadcrumbs create a light and flaky crust. Then mix them with Italian herbs, basil, garlic, and onions, and you have true decadence. Oh, and grating fresh parmesan on top makes it so tasty.
Parmesan-Crusted Tilapia
Perfectly tender fish enveloped in crispy, cheesy goodness makes a lightning-fast dinner entree. Bursting with delectable flavors, it's an incredibly family-friendly meal ready in 20 minutes. And for those crazy busy weeknights, you can even make it ahead!
Check out this recipe