Get your way around any leafy vegetable by learning how to cut cabbage in an easy-to-do style. Once you get the hang of this skill, you'll be chopping veggies like a pro. So whether it's for your coleslaw or soup, knowing the right cuts will surely help you make the most out of your dish.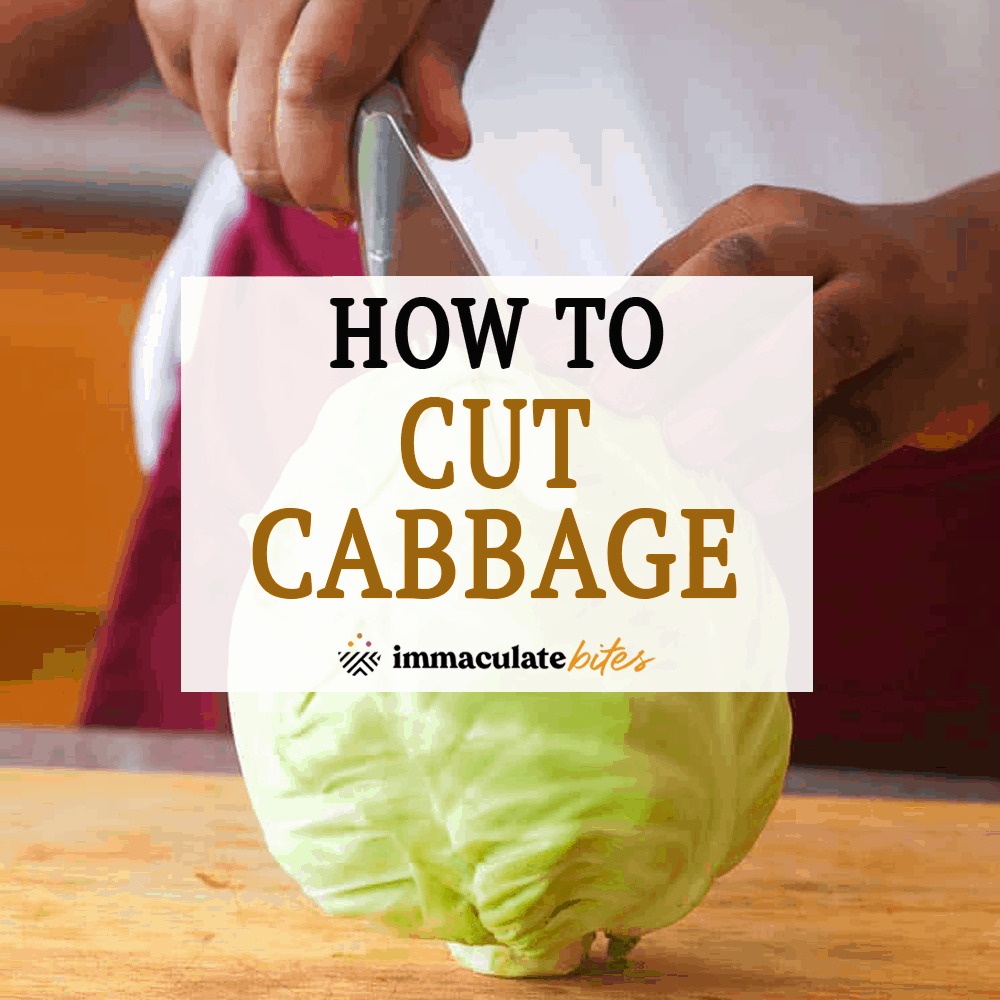 One of the first knife skills I've learned is how to cut leafy vegetables. I wanted to know this because I love salad and the satisfaction I get when I eat a bowl of greens is mainly because of the veggie cuts.
Not only does it release the flavors of your ingredients, but it also makes every bite enjoyable and fun to eat. So why cabbage you ask? Well, this vegetable is one of the most affordable you can find in the grocery store so practicing your knife skills with this would be guilt-free.
It's also a great ingredient for soups and side dishes which means that you can serve whatever cut you've made from your practice so that nothing is wasted.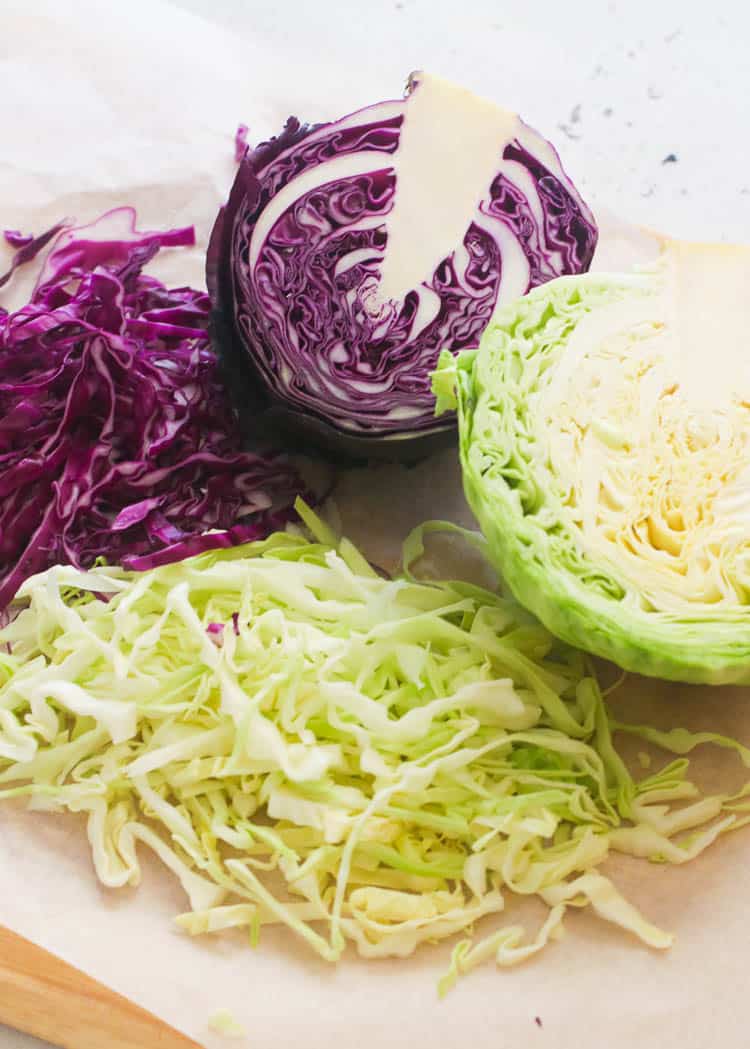 Cabbage Facts
Aside from being a crunchy and tasty green, this vegetable offers a lot of wonderful benefits. From cabbage nutrition to techniques on how to cut it, I'll tell you why this leafy vegetable is so important.
There are pieces of evidence that cabbage was already cultivated as early as 4,000 years ago. Fast forward to 600 BC, when the Celts brought cabbages to Europe from their trips to Asia. And speaking of Asia, the ancient Chinese thought that cabbages were a cure for balding men.
This belief might have been caused by the fact that cabbages offer high nutritional value with their low levels of saturated fat, high dietary fiber, and multiple vitamins and minerals.
Culturally, cabbage also had an impact on different places around the world, take Russia for example. The Russians enjoy the vegetable so much that they consider it as their national food.
Types of Cabbage
Just like us, cabbages come in many different varieties. Each type has a different use and would require a different cooking technique.
Green Cabbage
The most common type known around the world. It looks like a cannonball and has a nice green color. If you have this in your fridge, you can try out this Stuffed Cabbage Rolls recipe.
Red Cabbage
This variant is somehow similar to the ones you see in this post. The only difference is that this has a purple to a deep red shade. Try mixing shreds of this cabbage into your salad to give it an extra crunch and a pop of color.
Savoy Cabbage
This one bears a close resemblance to kale which is also in the cabbage family and is more often used for wraps after steaming.
Bok Choy
Asia has many uses for this variant, from being cooked in a fish stew to a hearty noodle soup. The crunch and the flavor go perfectly along with other ingredients. You'll surely have a mouthful with this watery variant.
Napa Cabbage
Since we're already in the Asian topic, the Korean food trend has risen rapidly which leads us to the exotic food, Kimchi for example. Napa Cabbages are often used for this as it ferments well in proper conditions.
January King Cabbage
A less popular type of cabbage but still a tasty wrap. It has a specific harvest season which elevates its rarity. You can have this served stir-fried over melted butter, or have it as a wrap.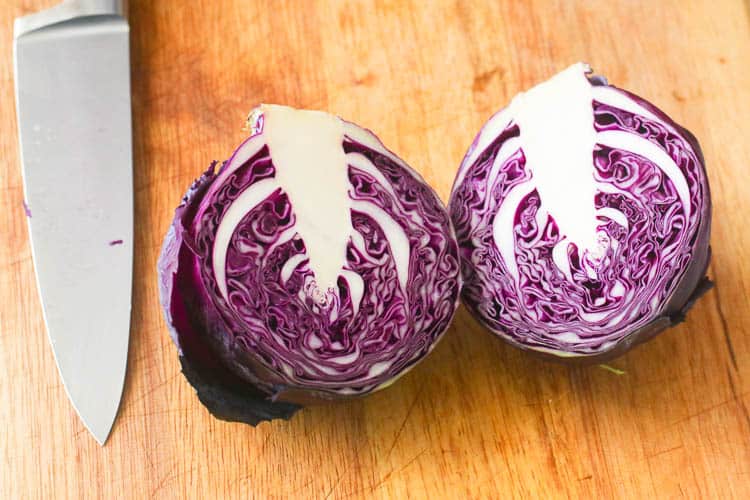 Different Cabbage Cuts
Let's start first by cleaning out the vegetable.
Pull out the outer leaf of cabbage from the top side down. These layers of the cabbage could already be rubbery and fibrous and it would be hard to digest.

The next step is to cut the cabbage head in half. By doing this, you'll expose the inner parts of the veggie which is good because we will then wash the whole thing thoroughly.

The last step is taking out the core.
How do you get the core out of cabbage? To do this, get half of the cabbage head and identify the core. It's the hard-central part with a pale to white color. Using the tip of your knife, trace out the core and make a V-cut. The core should come out as a triangle.
Sliced cabbage is one of the simplest cuts for this vegetable. All you have to do is to lay half of the head flat side down and chop it in thin slices – either lengthwise and crosswise. This cut is good for stir-frying for your noodles, fried rice, corned beef, or omelets. This is also the same cut used for coleslaws.
Easier Way
You may skip using your knife for the above steps. Simply use a mandoline and set the desired thickness for your shredded cabbage. Place the quartered cabbages flat-side down and swipe up and down to quickly shred the cabbage. IMPORTANT: Be very careful not to cut your fingers as you get closer to the end of the wedge.
Another easy cabbage cut that you can use in your everyday cooking is cutting it into chunks. Simply lay flat half of the cabbage and cut it lengthwise (about 1-inch thick). Turn it around, then cut them altogether crosswise. And there you have it, chunk-size cabbages perfect for soups or braising.
How to Properly Store Them
Like other veggies, cabbages can go bad if not stored properly. Although you only need a few ounces of cabbages in your dish, it's also important to know the proper way to keep them. So here are my recommendations on how to store cabbages:
Make sure to minimize the bruising which you have to inspect the cabbage before you pick one from the grocery. From there you'll have to take extra care on handling the vegetable to avoid dark spots.
Cut only the part that you will use and do not wash the part that you will store. This is because external moisture helps the cabbage go by faster. I suggest that you still wash the part that you will use but keep the rest dry.
Cover it with plastic so that it could sustain its natural moisture and retain that iconic crunch. Refrigerate the cabbage for longer shelf life.

If stored properly, the cabbage could last for about three weeks to about two months.
Cabbage Recipes To Try
So you already have those cabbage cuts, now what? I got your back. I've narrowed down popular cabbage dishes you could try.