Malva Pudding Chocolate – A decadent traditional South African dessert that you just have to try! Rich, moist, chocolatey and oh so easy!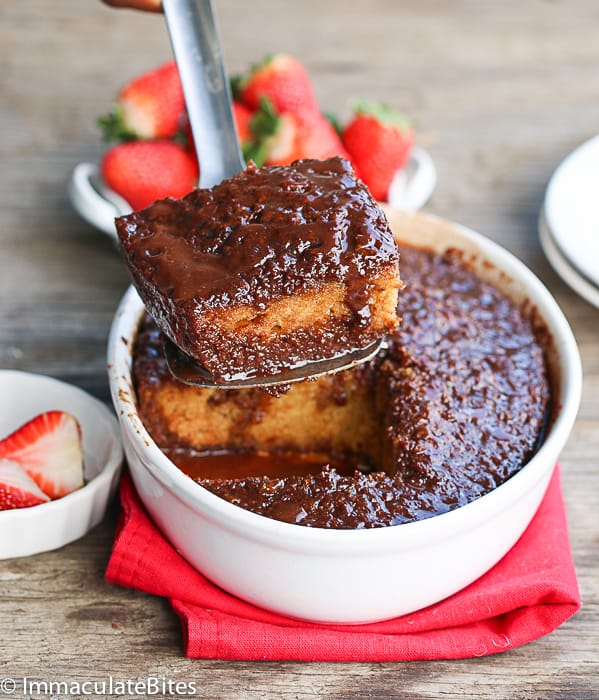 Oh my, I can't believe Valentine's Day is around the corner. Can you even remember what happened in January? It looks like my life drove through January and straight into February.
Ooh, I'm always excited about love season. Well, not really about Valentine's Day (overrated in my opinion) Really! I feel that love should be celebrated throughout the year, not just one day of the year. Don't you agree? 
Anyways, it's all about chocolate for me; I can't seem to get enough of. Yes, that's what gets me pretty happy!
This valentine's season I'm going to take two or three of my favorite African desserts/snacks and give it a chocolate makeover. Now give me some thumbs up!!!
My first pick is malva pudding, if you haven't tried this decadent malva pudding then you should. So what is malva pudding? It is a sweet pudding that originates in South Africa. What sets it apart is it's caramelized exterior and spongy interior when baked. Then it is soaked in a warm butter sauce and served with whipped cream or ice cream.
Here, instead of drenching this cake with plain warm butter sauce, I added some chocolate to it, to make it even more decadent.
What I love most about this recipe besides the taste and texture is how easy it is to make. Just a few simple, standard ingredients mixed together, coupled with an easy chocolate sauce and you're ready to dig in.
Enjoy!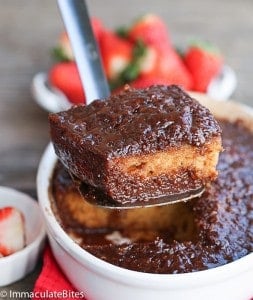 Print
Malva pudding (Chocolate)
Malva Pudding Chocolate -A Decadent traditional South African Dessert that you just have to try! Rich, Moist, Chocolaty and Oh so easy!
Prep: 10 mins
Cook: 30 mins
Total: 40 mins
African
Ingredients
2 large eggs
1 tablespoon un-salted butter room temperature
1 1/2 teaspoon grated orange zest
4 tablespoon Apricot jam
6 1/2 ounces sugar 3/4 cup, 200 ml, or 180 g
1 teaspoon vinegar
¾ cup milk
1 cup or 5 ounces all-purpose flour
1 teaspoon baking soda
1/2 teaspoon salt
Chocolate Sauce
1 cup evaporated milk
1/4 -1/3 cup brown sugar
6 tablespoons / 3 ounce. / 88 grams butter.
2 ounce milk/ semi sweet chocolate
½ teaspoon almond extract
1 1/2 teaspoons vanilla extract
Instructions
Pre-heat the oven to 180°C/350°F. Grease an 8 inch pan generously with cooking spray and set aside.

In a large bowl beat eggs, orange zest, sugar, butter and apricot jam, until light and fluffy. Then add the vinegar and milk to the eggs mixture

In another bowl, sift together the flour, baking soda, and salt

Gradually, fold the flour mixture into the egg mixture. The mixture might be runny that's ok.

Pour batter into a greased cake pan. Bake at 350 until a tester inserted into the center comes out clean, 25–30minutes

While the cake is baking, heat the evaporated milk, chocolate, butter, sugar, almond and vanilla extract, in a saucepan over medium heat until the sugar has dissolved and the butter has melted. Remove from heat

Using a skewer poke holes in the cake extending all the way to the bottom of the cake.

Pour the chocolate butter sauce on the cake. Serve immediately or set aside in the fridge until ready to use
Nutrition Information:
Calories: 535kcal (27%)| Carbohydrates: 75g (25%)| Protein: 8g (16%)| Fat: 22g (34%)| Saturated Fat: 13g (81%)| Cholesterol: 105mg (35%)| Sodium: 565mg (25%)| Potassium: 288mg (8%)| Fiber: 1g (4%)| Sugar: 54g (60%)| Vitamin A: 665IU (13%)| Vitamin C: 2.6mg (3%)| Calcium: 177mg (18%)| Iron: 2mg (11%)
Nutrition Facts
Malva pudding (Chocolate)
Amount Per Serving
Calories 535 Calories from Fat 198
% Daily Value*
Fat 22g34%
Saturated Fat 13g81%
Cholesterol 105mg35%
Sodium 565mg25%
Potassium 288mg8%
Carbohydrates 75g25%
Fiber 1g4%
Sugar 54g60%
Protein 8g16%
Vitamin A 665IU13%
Vitamin C 2.6mg3%
Calcium 177mg18%
Iron 2mg11%
* Percent Daily Values are based on a 2000 calorie diet.