Easy Mandazi- East African Beignet made easier and quicker with self-rising flour or baking powder.
If do not know already.  Let me tell you something about me.  Am obsessed with Mandazi, hopeless in love with them.  I get so excited whenever it is on the menu and it is not very often, for obvious reasons. It is not figure friendly. But when I do have it I make sure I indulge. I go overboard, I make them for breakfast, snack on them during the day and then have them for dessert. I tell myself, if I were to die today – I would die happy.
One of the things that excites me about these Mandazi is the custom of adding freshly grated coconut, cardamom and nutmeg spice into the dough. A concept alien to me but one I have come to love. I did not care much for cardamom seeds until I started making mandazi's and then it is now a staple in my pantry.
I have a total of 3 different variety of Mandazi on this blog. The Original Mandazi, the Soft Mini Mandazi and the baked Mandazi.
This is the super quick version, yeast free, made with self rising flour or baking powder and ready in less than no time. Can I get thumbs up?  Thank you.
Now, I need for you to make it. Start with this and then try the rest.   If you want to take it over the top. Serve it with caramel sauce.
Enjoy.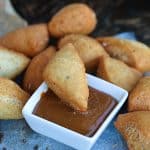 Ingredients
2 1/2

teaspoon

baking powder

 ¼ -1/3

cup

cup sugar

1/2

teaspoon

teaspoon salt

2

cups

all purpose flour plus more

2-3

Tablespoons

grated coconut or coconut flakes

1/2

teaspoon

crushed cardamom spice

1/2

teaspoon

grated nutmeg or cinnamon

1/2

cup

evaporated milk /coconut milk

1

large egg

3

tablespoons

melted butter

warm water

as needed

Powdered sugar or cinnamon sugar to sprinkle

 Caramel sauce

Vegetable oil for deep-frying
Instructions
In a large bowl combine all the dry ingredients, flour, sugar, baking salt, sugar, cardamom spice and nutmeg. Whisk together

Gently add all the liquid ingredients, eggs, butter and milk. Combine until mixture comes together and dough is smooth. If it is too sticky add a little bit of flour. If too hard add a little bit of water. Dough should not be too sticky, when touched, err on the side of less flour than more flour.

Roll out dough in to 1 inch thick. Cut in bite size    pieces or triangles like in the picture.

In a large sauce pan pour vegetable oil, until it is at least 3 inches (or about 5 centimeters) high (too little will result in flatter mandazi and place on medium heat until oil is 350 degrees.

Fry until golden brown about 3-5 minutes depending on size. Remove with a slotted spoon and drain on paper napkin. Serve warm