Nigerian Buns — tasty snack treats that are richer in flavor with crunchy outside and pillowy soft inside.
Most of the time, I get asked questions about recipes and sometimes it a request for a particular recipe – like this Nigerian bun.
This one I happily obliged…no arm-twisting required.
Now what's not to love about these Nigerian buns? They are super easy to make and dangerously good. They come together in only a few minutes and with two batch of frying you are done.
This is my take on these buns and for an additional twist on them; I added coconut flakes to the mixture. You can successfully make them without coconut.
So what is the difference between puff-puff and this mouthful of joy buns?
Puff-puff for the most part is made with yeast and has a somewhat chewy interior with very few ingredients.
On the other hand, Nigerian buns are richer in flavor with the addition of eggs, butter and milk -crunchy on the outside pillowy soft on the inside. Just like these African doughnuts featured here, quite frankly there is very little difference between the two.
Why don't you try both and see which one you like best – they both qualify as buns in my book. Enjoy these Nigerian buns anytime you want, any way you like it with or without coconut.
Watch How to Make It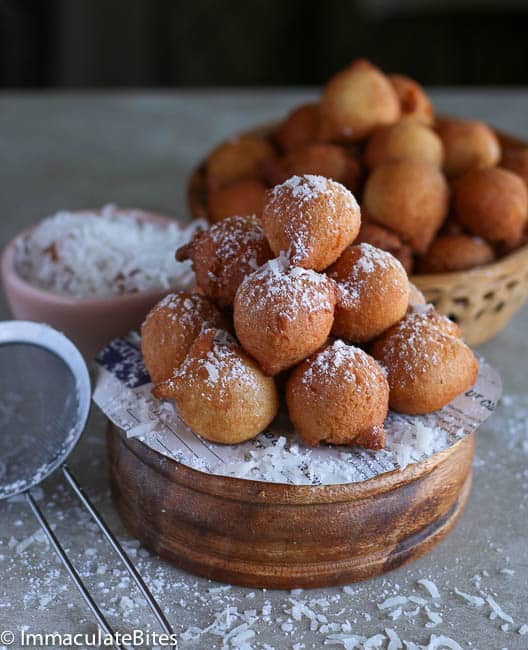 Print
Nigerian Buns
Nigerian Buns -- tasty snack treats that are richer in flavor with crunchy outside and pillowy soft inside.
Prep: 5 mins
Cook: 10 mins
Total: 15 mins
African
Ingredients
3 cups All-purpose flour
2 1/2 teaspoon baking powder
3/4 cup granulated sugar
1/2 teaspoon salt
1 teaspoon grated lime
1 teaspoon grated nutmeg
3/4 cup milk whole or 2%
4 large eggs
2- teaspoon vanilla
1/4 cup melted butter or vegetable oil
Oil for deep-frying
1/2-3/4 cup coconut flakes optional
Instructions
In a medium bowl mix all the dry ingredients, flour baking powder, salt, sugar, grated orange, and nutmeg.

Stir in the milk, eggs, vanilla, and coconut flakes and oil; mix well until everything has been fully incorporated. The batter should be smooth, thick and spoon able.

In a large, sauce pan pour vegetable oil, until it is at least 3 inches (or about 5 centimeters) high (too little will result in flatter balls), and place on medium heat until oil is 375 degrees.

I use my hands to scoop up the batter; you can do the same or use 2 spoons - one to scoop up the batter, and another spoon or spatula to drop it in the oil- in the shape of a ball. Do not overcrowd the pan. Do so in batches

Fry for a few minutes until the bottom side is golden brown.

Turn the ball over and fry for a few more minutes until the other side is golden brown.

Use a large spoon or something like that to take it out of the oil. I usually place them on napkins right away to soak up some of the excess oil.

If desired, you can roll the finished product in table sugar or powdered sugar to make it sweeter
Nutrition Information:
Calories: 139kcal (7%)| Carbohydrates: 20g (7%)| Protein: 3g (6%)| Fat: 4g (6%)| Saturated Fat: 3g (19%)| Cholesterol: 31mg (10%)| Sodium: 92mg (4%)| Potassium: 99mg (3%)| Sugar: 6g (7%)| Vitamin A: 115IU (2%)| Calcium: 36mg (4%)| Iron: 1.1mg (6%)
Nutrition Facts
Nigerian Buns
Amount Per Serving
Calories 139 Calories from Fat 36
% Daily Value*
Fat 4g6%
Saturated Fat 3g19%
Cholesterol 31mg10%
Sodium 92mg4%
Potassium 99mg3%
Carbohydrates 20g7%
Sugar 6g7%
Protein 3g6%
Vitamin A 115IU2%
Calcium 36mg4%
Iron 1.1mg6%
* Percent Daily Values are based on a 2000 calorie diet.