Make the best and most unforgettable feast this year starting off with these easy Thanksgiving meat dinner recipes that taste even better than it looks. You're definitely going to rake in all the compliments! Check out each recipe's make-ahead tips, recipe notes, and perfect mix and match suggestions. Believe it or not, even newbie home cooks can nail any of these and so can you!
Since last year, I've decided to compile holiday recipes to help home cooks navigate through the pain-staking and mind-boggling task of coming up with a holiday menu. 'Cause let's be honest, it's never that easy to come up with a list of recipes that would please everyone's palate.
I've even compiled a list of pretty cakes for your dessert table right here Easy Holiday Cake Recipes.
Now since we've already taken care of the dessert part, let's get down to the highlight of any dinner – the main course!
In this list below, I've selected scrumptious and showstopper meaty dinner recipes that you can choose from. They're hands-down few of the amazing meat recipes that would make your holiday dinner complete! Now dig in!
Pineapple Honey Glazed Ham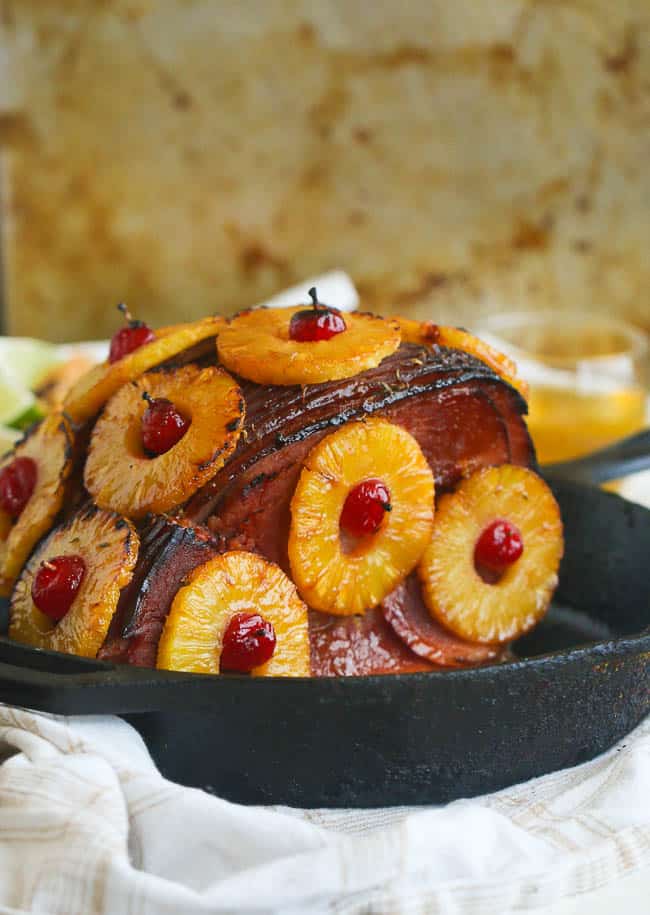 Another popular alternative to Thanksgiving turkey is HAM. Aside from the fact that they're as appetizing as turkeys, hams are pretty customizable too when it comes to their glaze.
This one here is a tender, juicy ham bathed with a pineapple honey rum glaze and spiced up with Caribbean flavors like nutmeg, cloves, and thyme. If your ham comes with a glaze, replace it with this one and your taste buds are going to thank you. Top it with pineapple slices and cherries for a pretty presentation. Sweet, spicy, and lip-smacking!
Pineapple Honey Baked Ham
Honey Baked Ham – unbelievably juicy, succulent, baked ham bursting with flavors from pineapple and spiced rum honey glaze. The smokey and salty flavor from ham complements well with the sweet, warm, and sticky glaze. Truly a showstopper holiday main dish!
Check out this recipe

Prime Rib Roast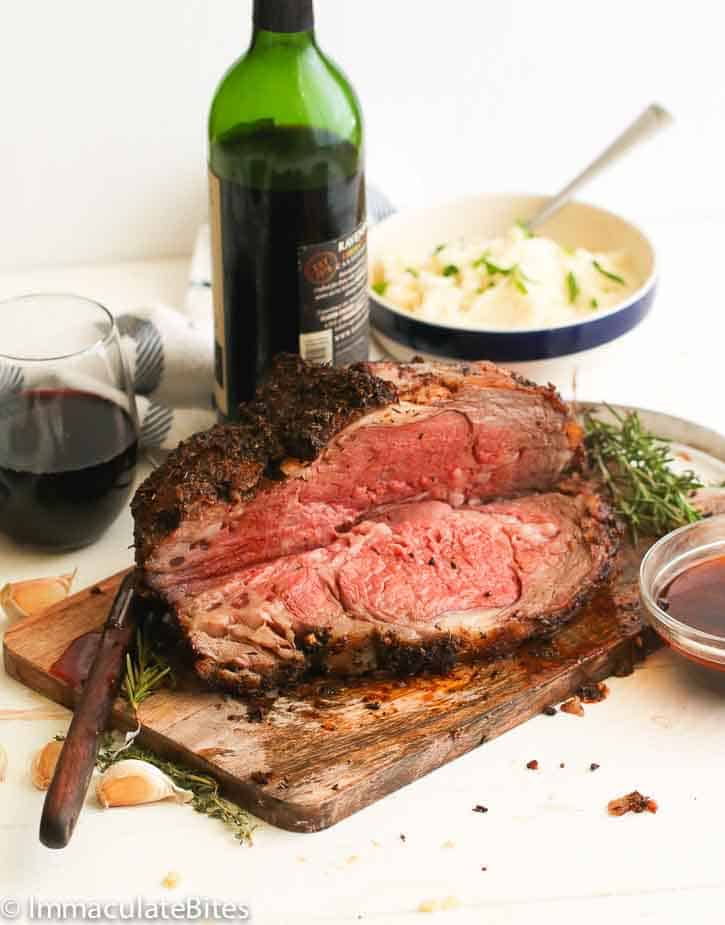 I have never met someone who would pass up a good slice of a prime rib roast. It definitely is a showstopper and crowd-pleaser main dish!
This Prime Rib Roast is one of the easy dinner recipes for the holidays or even on special occasions seasoned primarily with rosemary, thyme, garlic, paprika, and cayenne. Perfectly juicy, moist medium-rare meat with a gorgeous brown crackly crust on the outside.
Best paired with mashed potato or green beans. And hey, let's not forget the wine!
Prime Rib Roast
Prime Rib Roast – a holiday showstopper meal that is perfectly medium rare with a gorgeous brown crackly crust on the outside. A mouth-watering, crowd-pleasing holiday dish!
Check out this recipe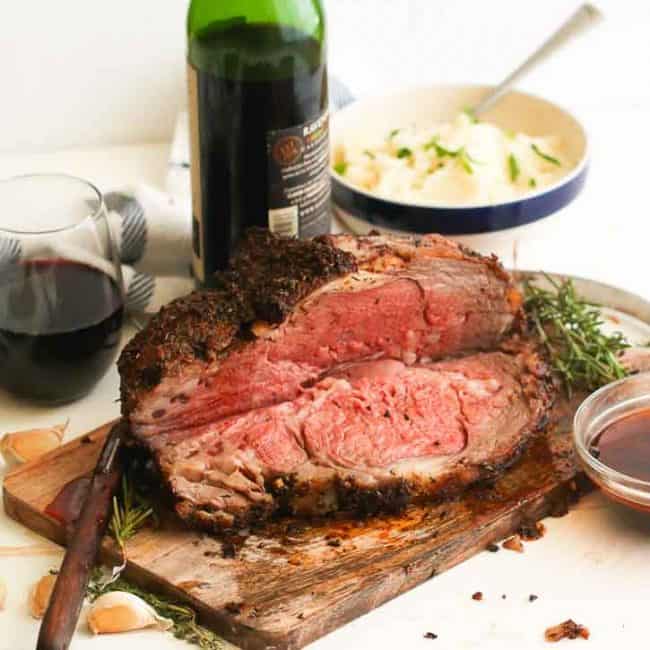 Spiced Roast Turkey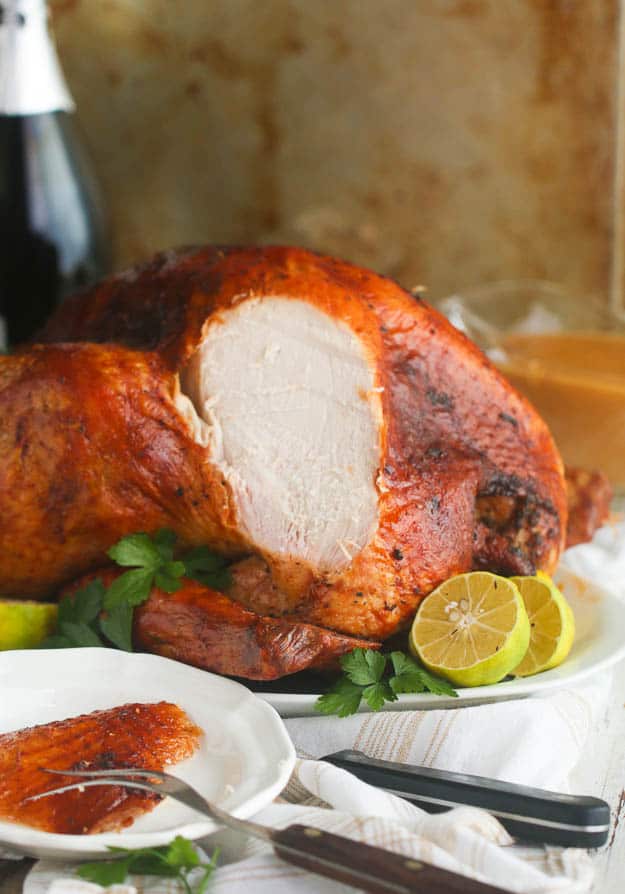 What's a Thanksgiving dinner menu without this good ole favorite turkey? Now, are you tired of bland turkeys?
This dry-brined Whole Roasted Turkey here is overflowing with flavors from herbs, garlic, ginger, and aromatic spices and roasted to perfection!
The entire process of roasting delivers a juicy and delicious bird every time. And don't forget to baste the turkey with extra spice rub as it cooks to give it that golden rich color. Don't worry, I got you covered with some helpful tips, too, to get you going. 😉
Spiced Herb Roast Turkey
Tired of bland turkey? This dry-brined Whole Roasted Turkey is overflowing with flavors from herbs, garlic, ginger and aromatic spices. Roasted to perfection! Plus tips.
Check out this recipe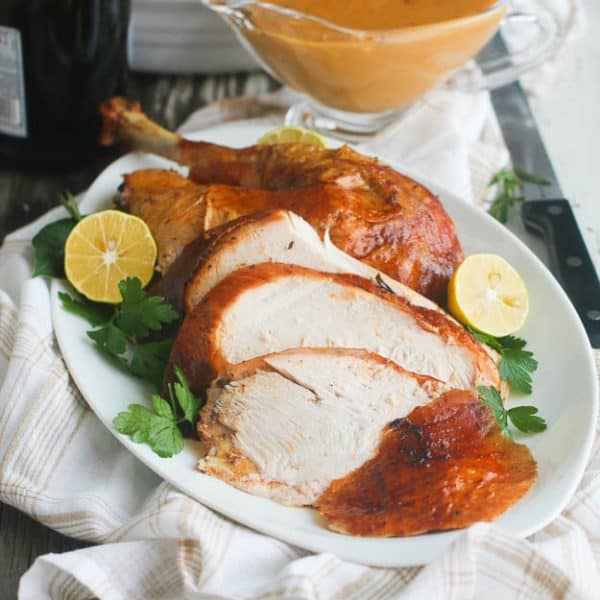 Pernil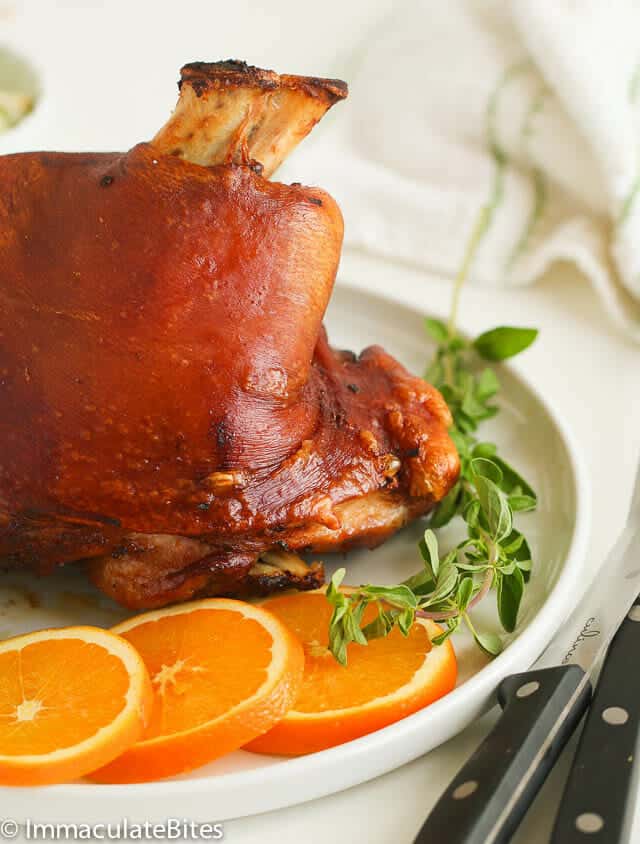 Crispy, crackling, and sensational! Words are not enough to describe this outrageously delicious pork dinner recipe. It's a Puerto Rican herb and spice marinated pork shoulder slowly roasted in the oven until tender and fall-of-the-bone delicious with an amazing crisp and crackling skin.
You don't have to do some heavy work for this easy Thanksgiving dinner menu. The spice blend does all the heavy lifting work for you once you rub it onto the pork. No need for searing! Super easy and insanely good!
Pernil
Puerto Rican Roast Pork is fork-tender, fall-off-the-bone pork shoulder or leg marinated in savory herbs and spices, then roasted to perfection. Underneath its irresistible, crispy, crunchy skin is tender, juicy meat oozing with mouthwatering deliciousness. Such a perfect addition to your holiday spread!
Check out this recipe

Slow Cooker Pork Loin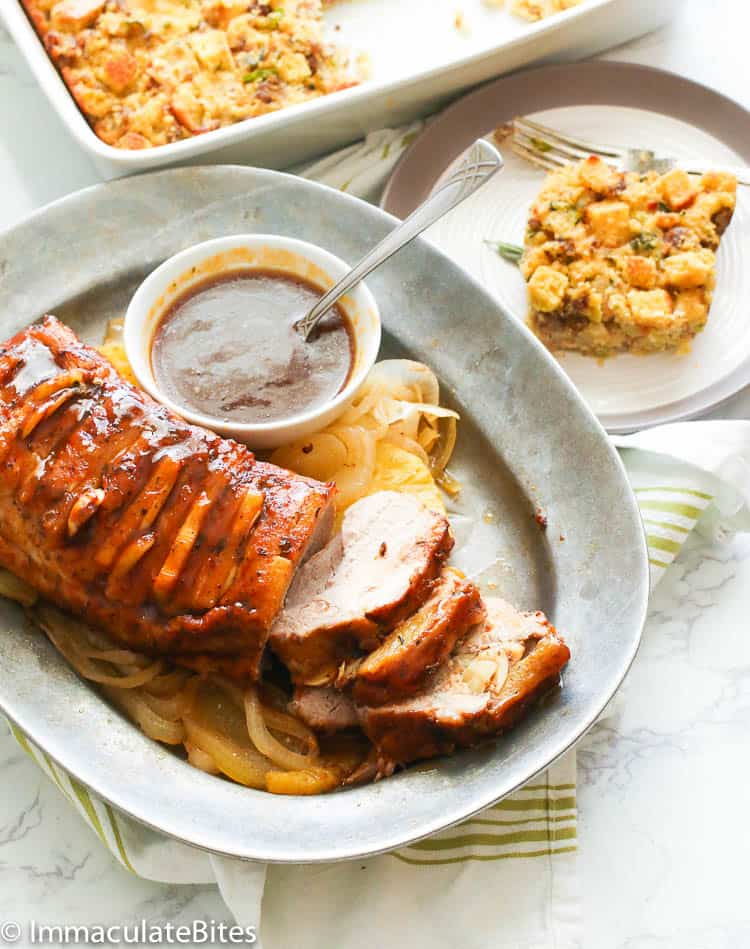 If you want to get a little more adventurous and fun with your Thanksgiving dinner recipes, you can start off with this slow cooker pork loin.
It's an amazingly tender pork loin stuffed with pineapples and garlic, then slowly cooked on a bed of pineapples and onions topped with a balsamic brown sugar glaze.
You'll love the perfect balance of savory, tart, and sweetness in every bite. Pair it with this Thanksgiving-favorite cornbread dressing.
Slow Cooker Pork Loin
This pork loin is like no other you've ever tried in your life! It's stuffed with pineapples and garlic, cooked slowly to tender perfection on a bed of pineapples and onions, and topped with a balsamic brown sugar glaze. It's easy enough for a midweek meal yet fancy enough for the holidays.
Check out this recipe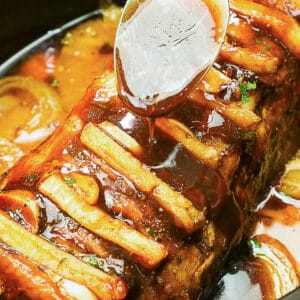 Ashanti Chicken (Whole Stuffed Deboned Roast)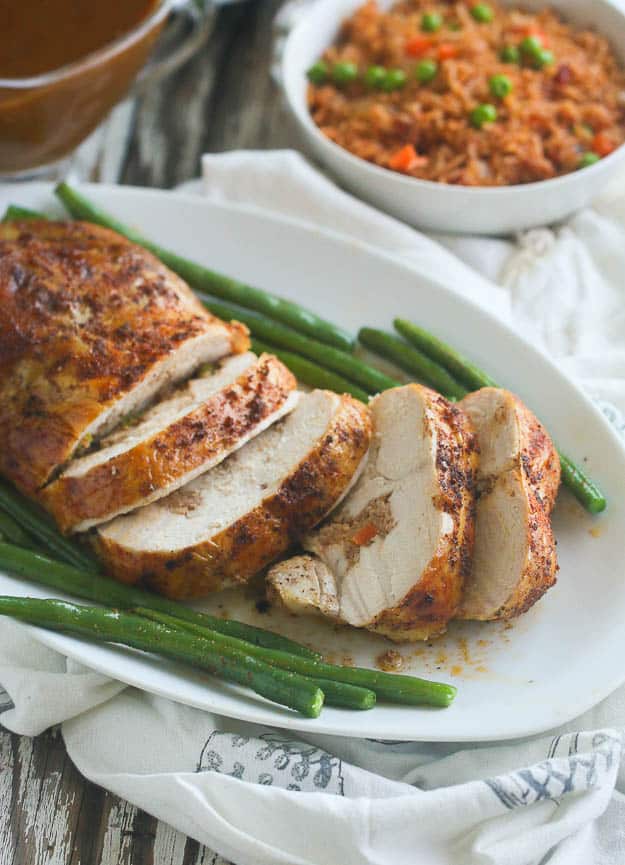 Although turkey is well-praised here at home, I can't deny the fact that I'd still prefer chicken as the main dish.
In fact, during the holidays, I sometimes have to prepare turkey and chicken. One of my favorite holiday chicken recipes is this Ghanian-inspired whole and deboned Ashanti Chicken.
You don't want to miss this whole deboned roasted chicken stuffed with jollof rice with a rich and flavorful gravy from chicken broth and the drippings. Truly one-of-a-kind chicken and rice Thanksgiving dinner recipe!
Ashanti Chicken( Whole Deboned Chicken With rice)
Ashanti Chicken- Whole Stuffed Deboned Roast Chicken- stuffed with Jollof rice paired with gravy from drippings
Check out this recipe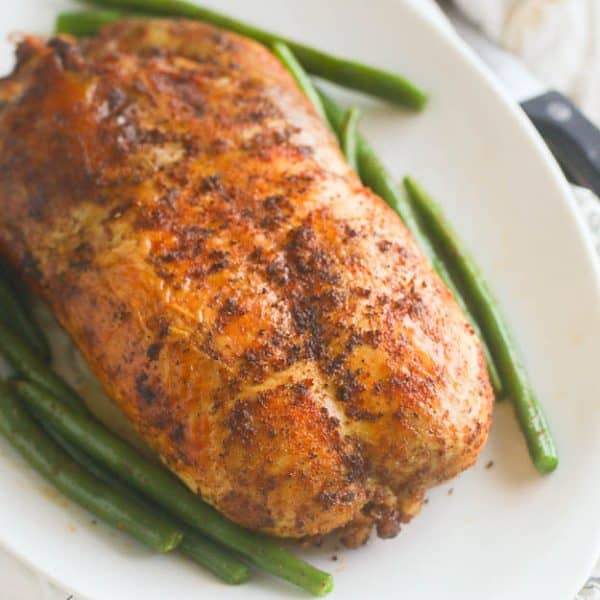 Italian Seasoning Chicken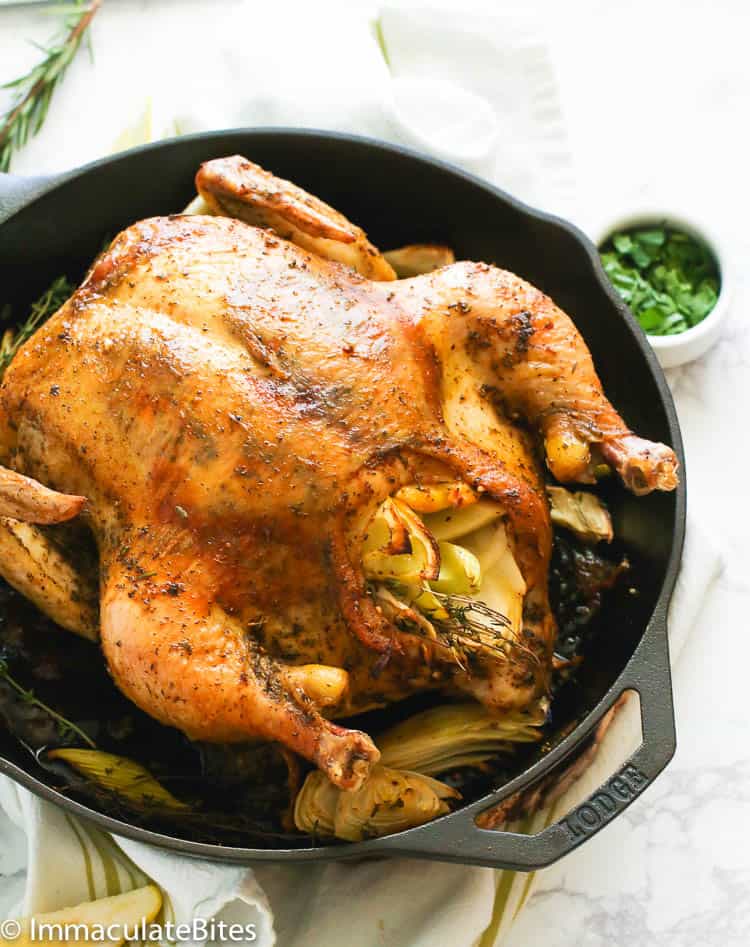 Another Thanksgiving meat dinner recipe that you can easily whip up is this Italian Seasoning Chicken flavored with my easy homemade blend of Italian Seasoning, garlic, paprika, lemon, and fresh herbs.
It's as easy as rubbing the whole chicken with the spice blend inside and out and stuffing the inside with lemon wedges, celery, and fresh herbs.
Just imagine those mouth-watering flavors that permeate every inch of it and that wonderful fresh and herby smell. You'd probably forget that this dish is home-cooked. Don't forget to pair it with these balsamic baked brussel sprouts. It's a restaurant-quality main dish!
Italian Seasoning
Italian Seasoning – super easy blend of homemade Italian seasoning made from pantry-staple ingredients and all ready to use in just 10 minutes. Perfect for your holiday or regular weeknight chicken meal!

Check out this recipe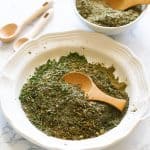 Check out each recipe link for a full printable recipe and cooking tips. Stay tuned for more scrumptious holiday recipes that your family and guests would enjoy! Happy Thanksgiving, everyone!