Oven Baked Mexican Rice the easiest and tastiest rice you will ever make with just 5 minutes prep –Great for entertaining!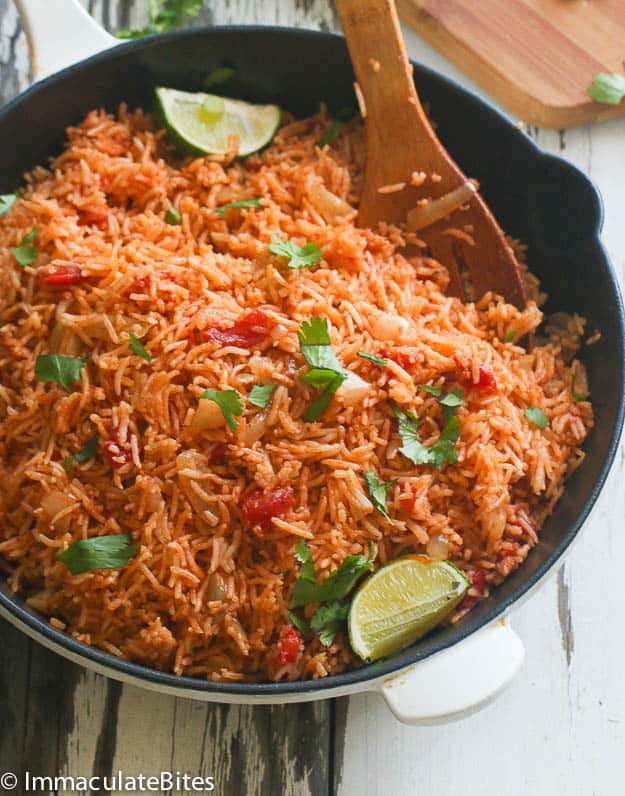 Ever since I discovered how to make rice in the oven my life could not be any better. I can whip up rice for 100 in a heartbeat without any worries- the perfect entertainment food.
I was ecstatic when my son picked Mexican rice for Cinco de Mayo celebration. I have made Mexican rice several times using the stovetop method and I would not have been too please if I did not have this recipe.
There are two ways of making this you can start by sautéing the onion, garlic, rice and jalapenos on the stove before placing them in the baking pan. Or you can go the easiest route by throwing everything in the baking pan and bake for about 55-60 minutes.
There is however, slight difference in taste between the two. Most people don't notice it at all. The negligible difference is overshadowed by the ease and convenience of the latter. Minimal prep work is always appreciated, especially for weekdays in my neck of woods.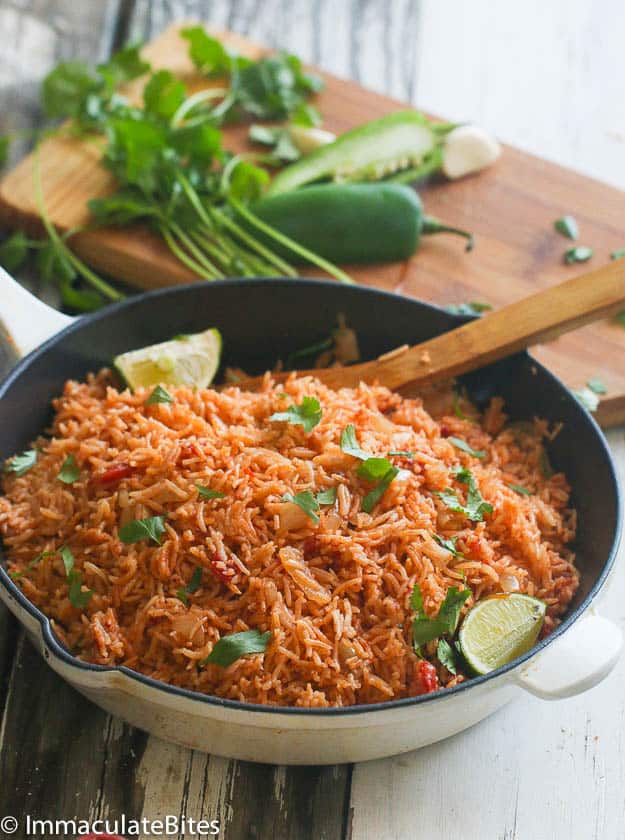 I throw everything together, set time and by the time I am ready for work it is too! No dishes to deal with. I fluff the rice and it is ready to go.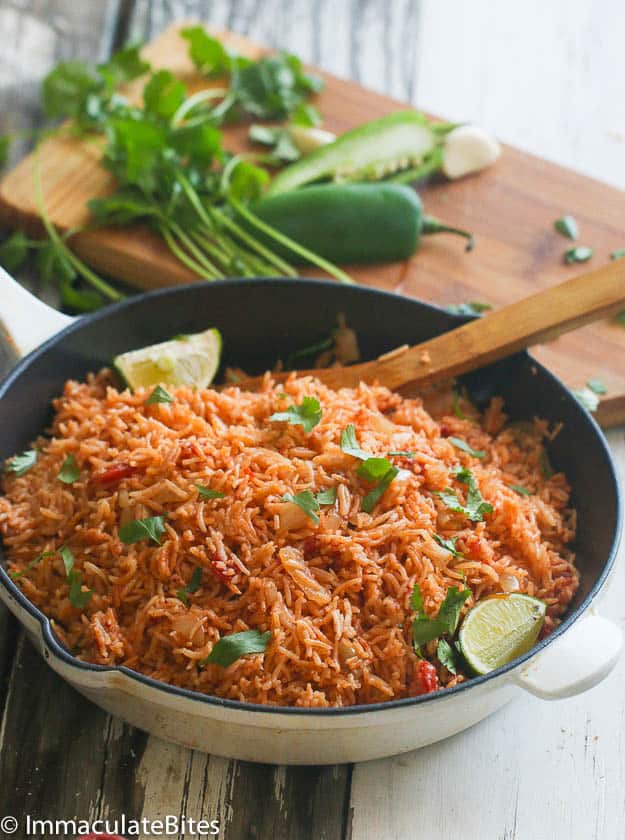 Make sure you use a tight fitting lid to cover the rice. Based on my experience of using aluminum paper and lid. The best one is the one that you comes with the pan (a  matching set) or just use strong aluminum paper. You may have to double it. To ensure it is perfectly cooked.
Enjoy

Oven Baked Mexican Rice
Ingredients
1 medium onion chopped
1 14-ounce Can tomatoes sauce
½ cup cooking oil
3 cups rice(I used Basmati)
2-teaspoon Chicken bouillon
2-teaspoon salt
1-tablespoon paprika
1-tablespoon garlic powder
4 cups chicken broth or water
1-teaspoon white or black pepper
1½ teaspoon cumin spice
¾ teaspoon chili spice or 1 minced jalapeño pepper(omit if cooking for kids)
Instructions
Preheat oven to 350 degrees. Rinse rice through water. In a half sheet baking pan
In a half sheet pan (12-13/16" l. x 10-7/16" w. x 2-1/2") combine all ingredients and stir so that everything is fully combined
Cover tightly with aluminum foil paper.
Gently place in oven and let it cook for about an hour.
Remove carefully from oven and let it rest for about 5 minutes. Then carefully remove aluminum paper. Fluff rice with a fork and mix evenly. Serve warm