Honey is a super versatile ingredient. It adds a special touch to both sweet and savory recipes, including desserts, sides, and main courses.
I think it's fascinating how honey's flavor depends on the flowers that the bees visit. Clover is the most common, but orange blossom honey is also pretty popular. I have to admit; wild pepper honey has been my favorite so far. And no, it wasn't hot; it's from the flower, not the pepper. 😉
When I started looking for all my recipes that include honey, I was surprised at how many I have. I'm sure you'll enjoy a honey garlic chicken recipe or my favorite, Orange Honey Glazed Salmon! So let's get to it. 😉
FAQs
Bread and Bun Recipes with Honey
1. Honey Wheat Rolls
These fluffy and buttery rolls are so beautiful and super versatile. Brushing this recipe with a honey butter mixture makes the perfect finish. They also pair well with roasted turkey thighs for a festive dinner! The simple ingredient list for these honey-glazed buns includes flour, eggs, salt, milk, and butter. They're so easy to make, and few buns are as fluffy as these beauties.
2. Honey Bun Cake
Now, to satisfy your sweet tooth, this golden honey bun cake recipe is the cure. Honey's pure sweetness will elevate your dinner party desserts. Honey-glazed and addictively moist, you'll want to make this one-pan cake often. Oh, the classic streusel topping and a lovely sugar glaze also take it over the top!
3. Cinnamon Raisin Bread
This beautiful honey-sweetened bread is soft and flaky with a colorful layer of sweet raisins and cinnamon. You'll find this recipe the perfect partner for a cup of ginger tea, but it's also the perfect ending to a savory meal. Brioche makes this recipe totally decadent with its buttery flakiness, and the cinnamon filling is also essential here. Together, they're absolutely delicious.
Savory Recipes with Honey
4. Honey Mustard Dressing
You know what? Good honey mustard can be expensive. So why not make your own? You only need a few ingredients to make a fabulous honey mustard dressing for your favorite salads. This one takes lemon juice, vinegar, ground mustard, honey, and olive oil. A dollop of mayo gives the dressing body as well!
5. Honey Mustard Chicken
Now that you have honey mustard, it's time to put it to good use in making a honey chicken. The mustard and honey glaze gives the chicken a fantastic flavor. Chicken thighs are best for this one; just cook them together with garlic, thyme, Creole seasonings, mustard, and honey, of course.
6. Honey-Glazed Carrots
A wonderful side dish for your every home-cooked meal, these honey-glazed carrots are colorful and vibrant — they just make every meal better. Get your hands on a few baby carrots and coat them with butter, garlic, thyme, honey, salt, and pepper. Oh yeah!
7. Pineapple Honey Baked Ham
A classic among classics, nothing says a special occasion dinner with the family like a baked ham. And when you add pineapples and a honey glaze, you get the ultimate festive main course. To make this honey-glazed ham recipe, you'll need a ham, brown sugar, mustard, pineapple juice, honey, herbs, and spices. Oh, and a dash of rum really spikes things up!
8. Honey Garlic Chicken
This honey-glazed garlic chicken is hard to beat for comfort food at its finest. Tender and juicy on the inside with a beautifully sweet and crunchy outside! And it's so easy. All you need are chicken thighs, Creole seasoning, garlic, ginger, honey, soy sauce, and a touch of lemon juice. That's it!
9. Orange Honey Glazed Salmon
Salmon and honey? Really? You bet. Thanks to its honey glaze, this flavorful seafood meal makes the most of this healthy fish. You'll never look at salmon the same way. Combine orange and lemon juice with olive oil, minced garlic, a few spices, and honey for the loveliest glaze that will elevate the tasty flavor in salmon.
10. Sweet Potato Salad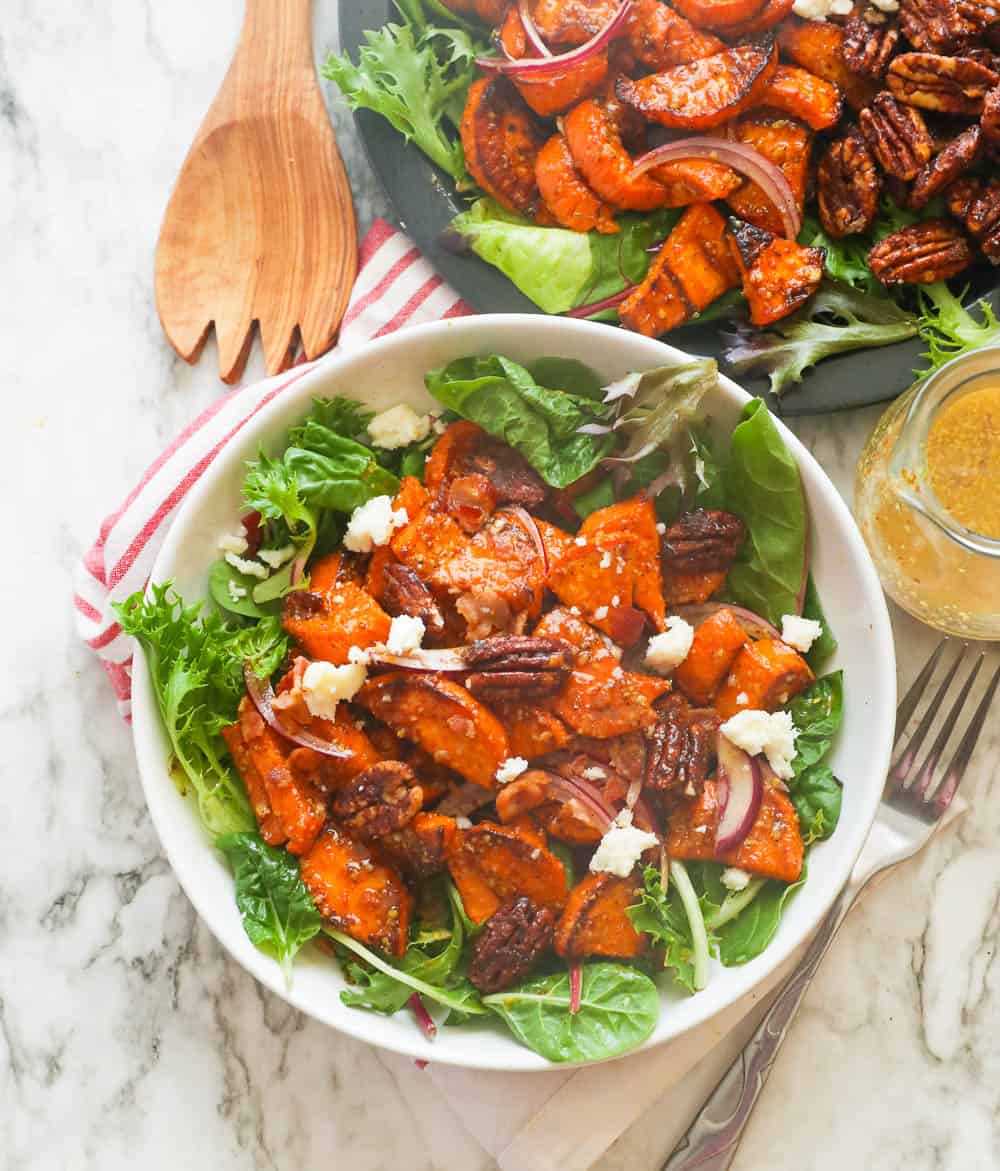 Sweet potatoes and honey were born to be together; they make this salad more than a side dish — this is the main event, and you'll love it! Toss diced sweet potatoes with Creole seasoning, olive oil, red onion, feta, and spinach. Then the honey mustard dressing recipe adds the perfect zing to this salad. Roasted pecans are also a lovely touch!
Now you know the many ways you can use honey on a dish, which one are you making first? I'd say keep a bottle of Honey Mustard Dressing handy in your fridge, and then make this Honey Mustard Chicken. Oh yum!