Chicken is a healthy, economical, and fast way to get dinner on the table. Having a stash of delicious and super easy chicken recipes is a must-have. I would love to share my favorites with you.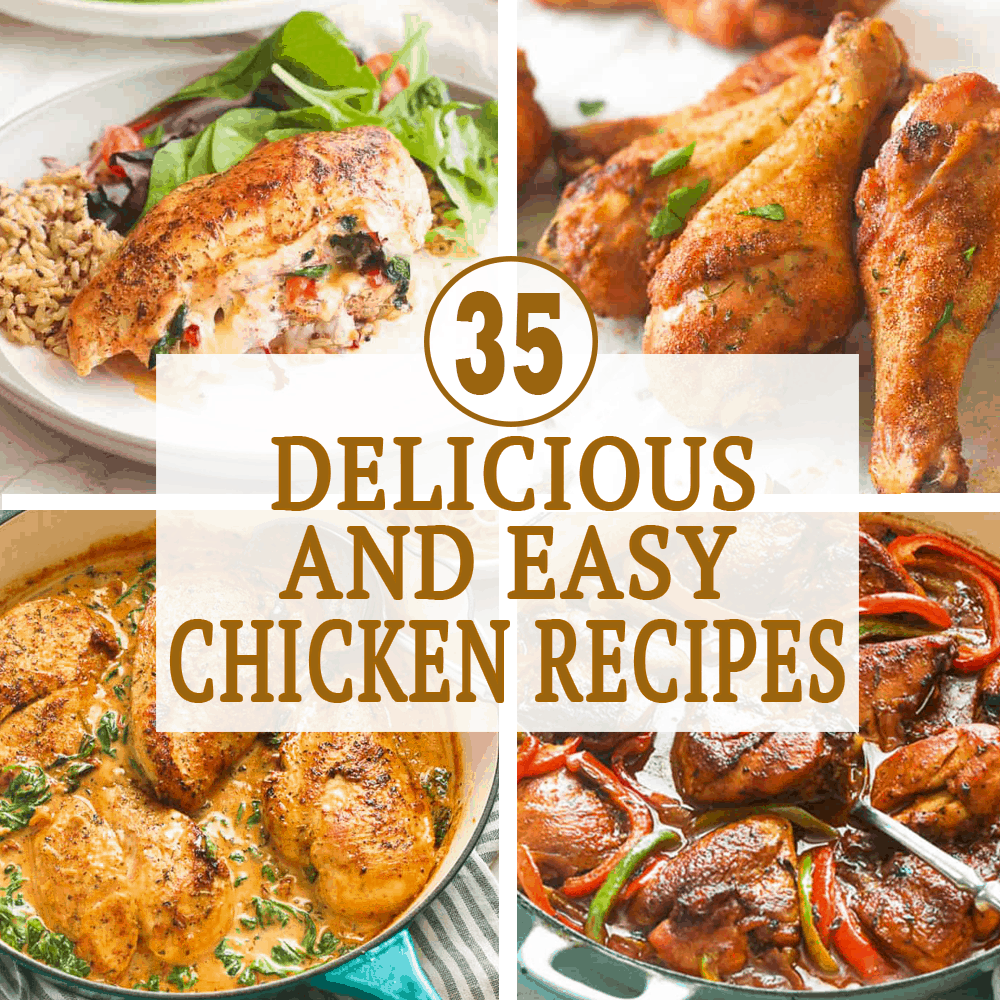 Stews and baked chicken are by far the easiest way to make chicken. They practically take care of themselves. All you need to do is season the dish and let it go. Bon Appetit!
Below are just some of my go-to easy chicken recipes that I'm sure you'll want to have on a weekly rotation.
Delicious & Easy Chicken Recipes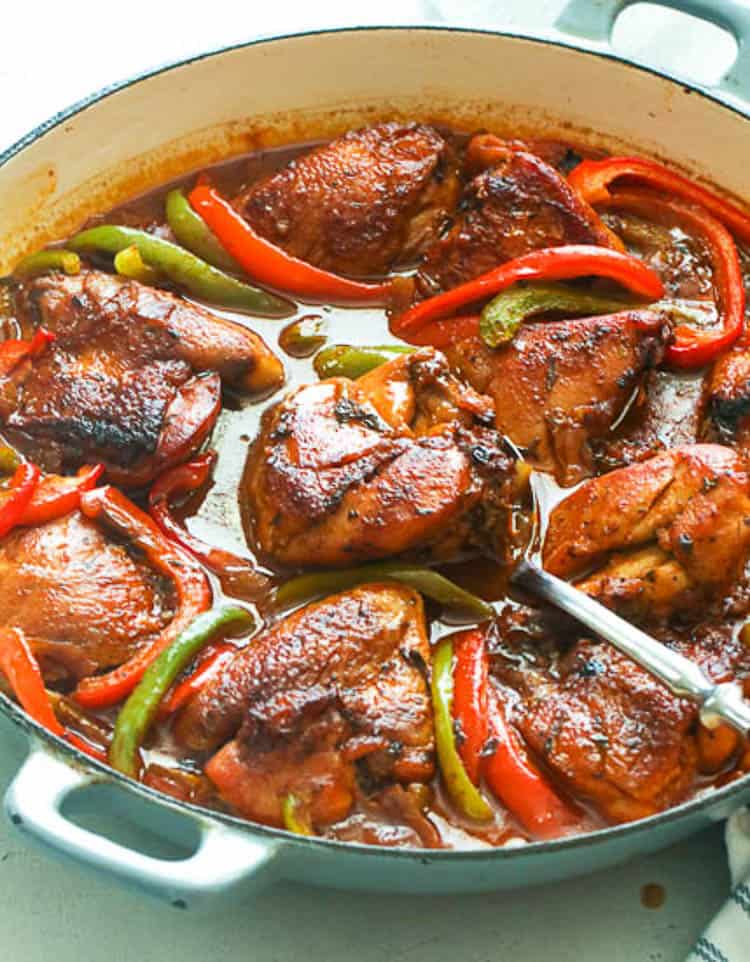 Jamaican food is spicy, similar to my own country's food. An interesting fact about spices used in African food is that they make everything taste better, act as a preservative, and offer numerous health benefits.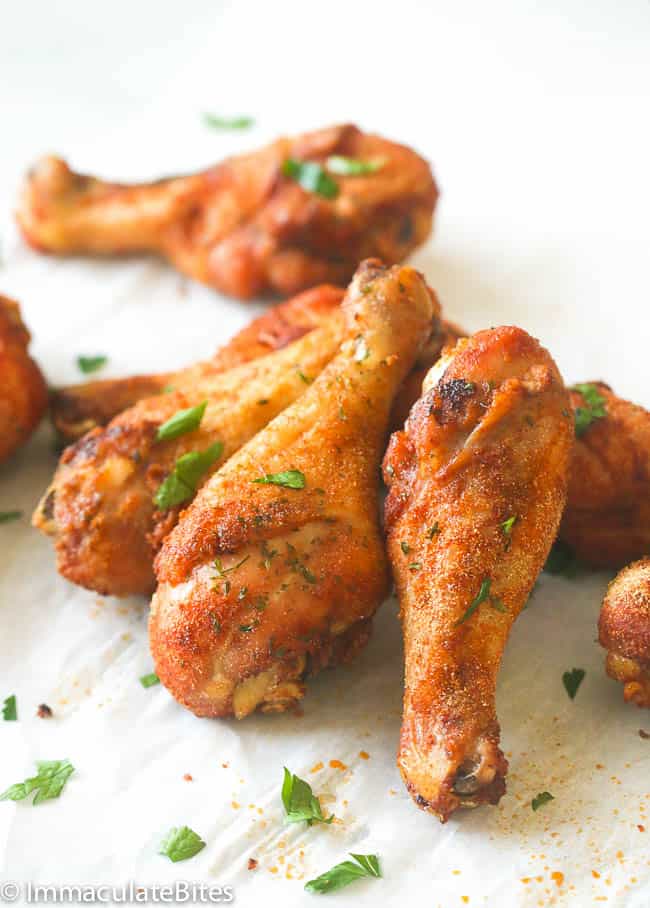 I'm sorry, guys, but the skin is my favorite part of the chicken, as long as it's crispy. Usually, you would have to fry these babies to get good crispy skin. However, I've been able to get the crisp I so love with this healthier recipe.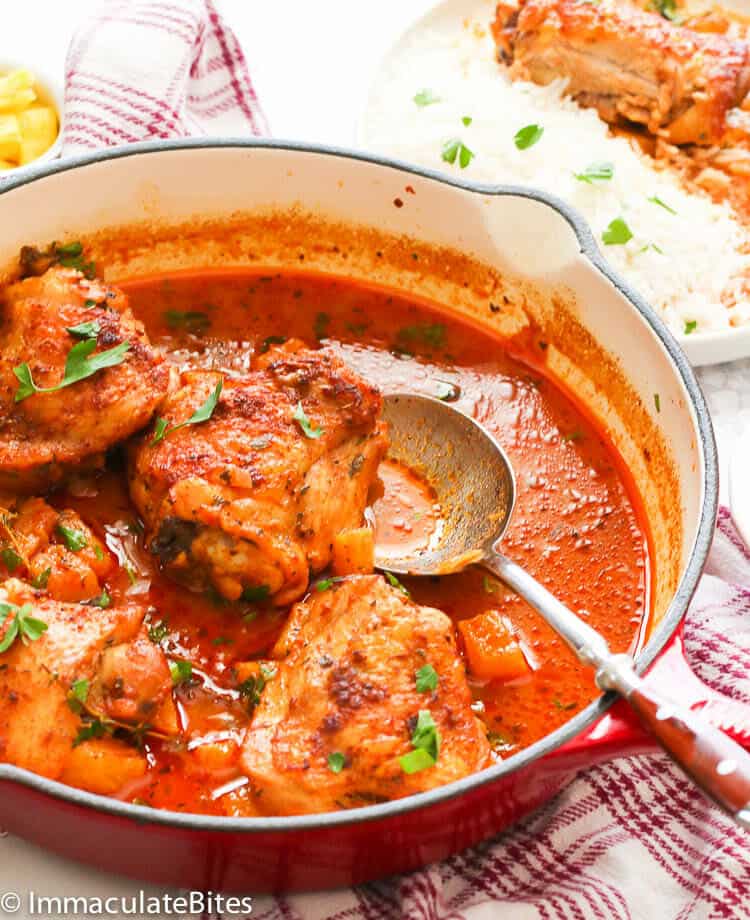 Sweet and sour chicken, move over! Fresh pineapple is wonderful, but there's something about roasting pineapple that brings out a unique flavor. This super easy chicken recipe rocks with the sweet tartness of pineapple with honey, spices, and garlic.
4. Jerk Chicken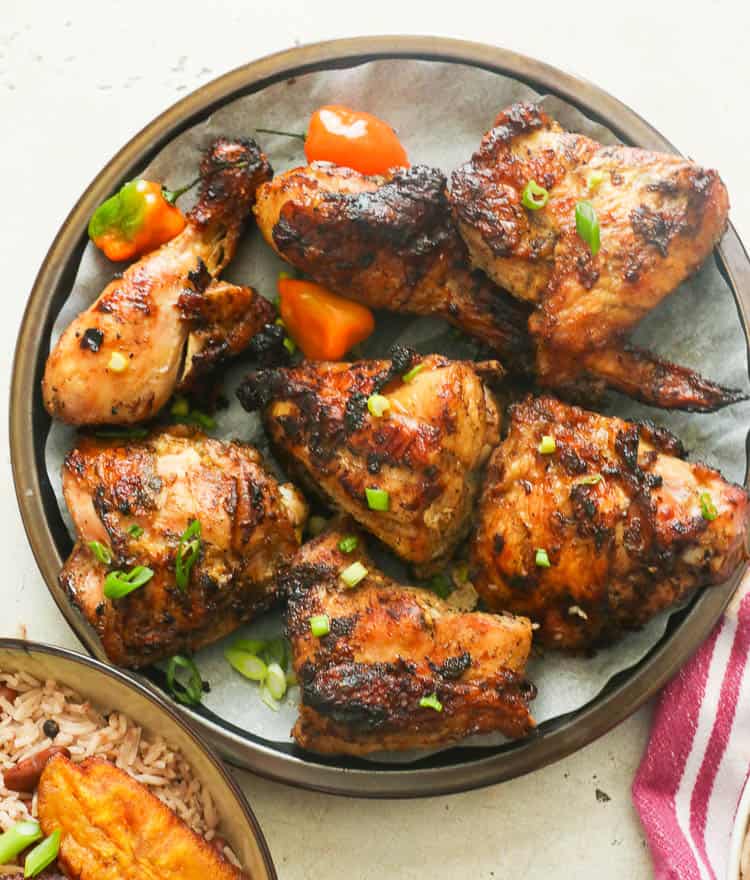 When I'm hungry and in a hurry, my homemade jerk spice mix is one of my go-to spices. And chicken is always in the freezer for those days I don't have time to go shopping. Easy to thaw in the microwave or bowl of warm water if I forgot to take it out of the freezer and put it in the fridge the night before.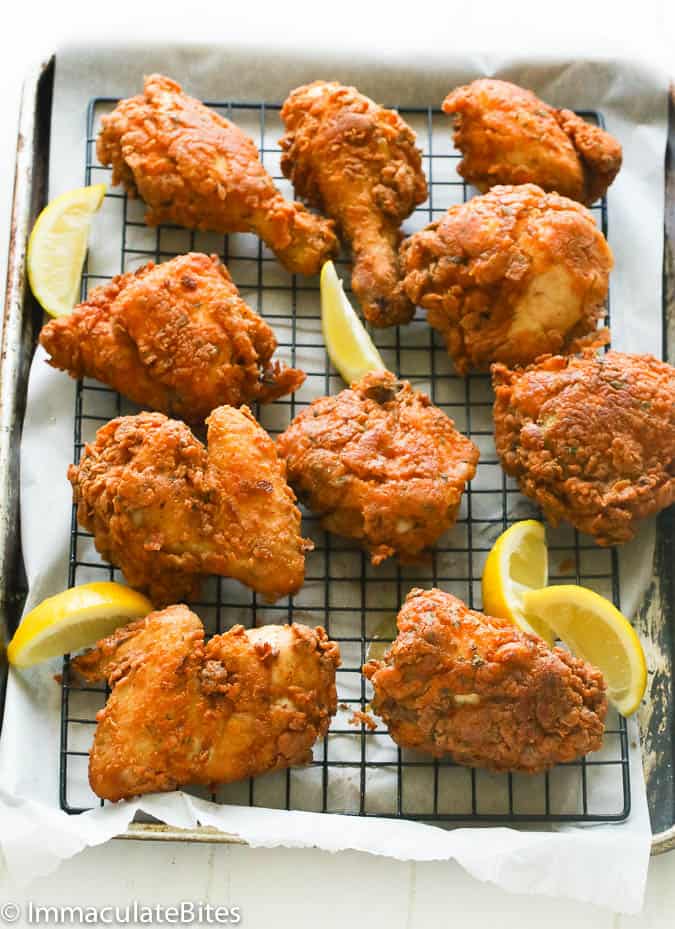 Fried chicken may not be the healthiest, but it's definitely on my list of favorite comfort foods. This crunchy, juicy, spicy, and delicious chicken is super easy.

6. Chicken Stew (African Style)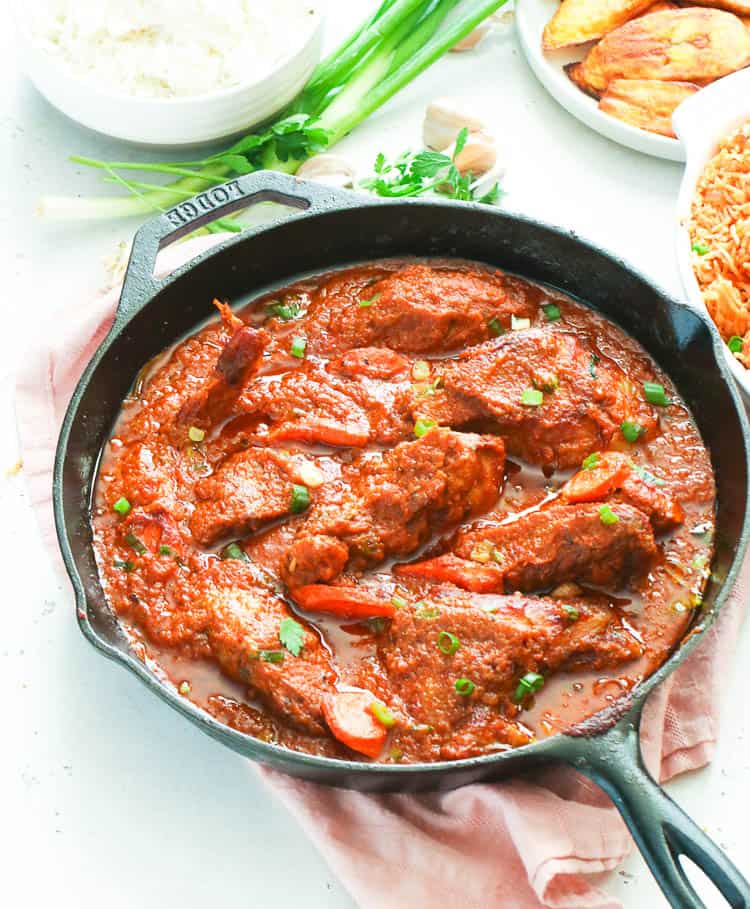 The rich tomato base seasoned with African-influenced Creole spices is the perfect chicken stew for those evenings you want to throw everything in the pot and relax while it simmers on the stove.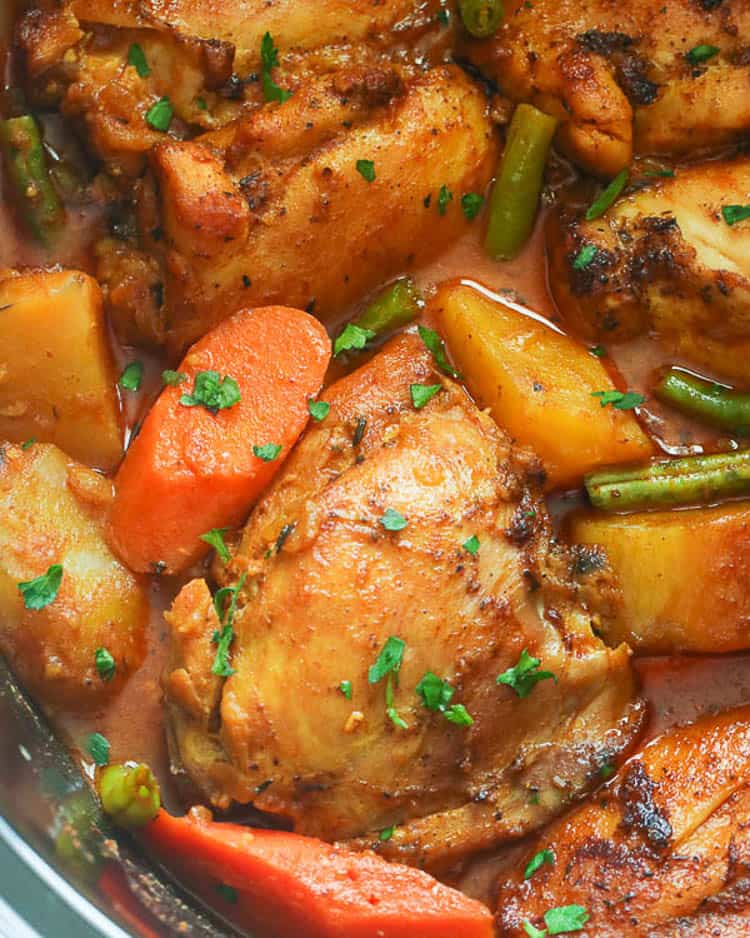 The incredible flavors of Jamaican curry slow-cooked all day (or overnight) in a wonderful chicken stew only need a little bit of your time. In 15 quick minutes, you can have everything in the pot and get on to more important things in life. Like dessert!
8. Baked Crispy Chicken Thighs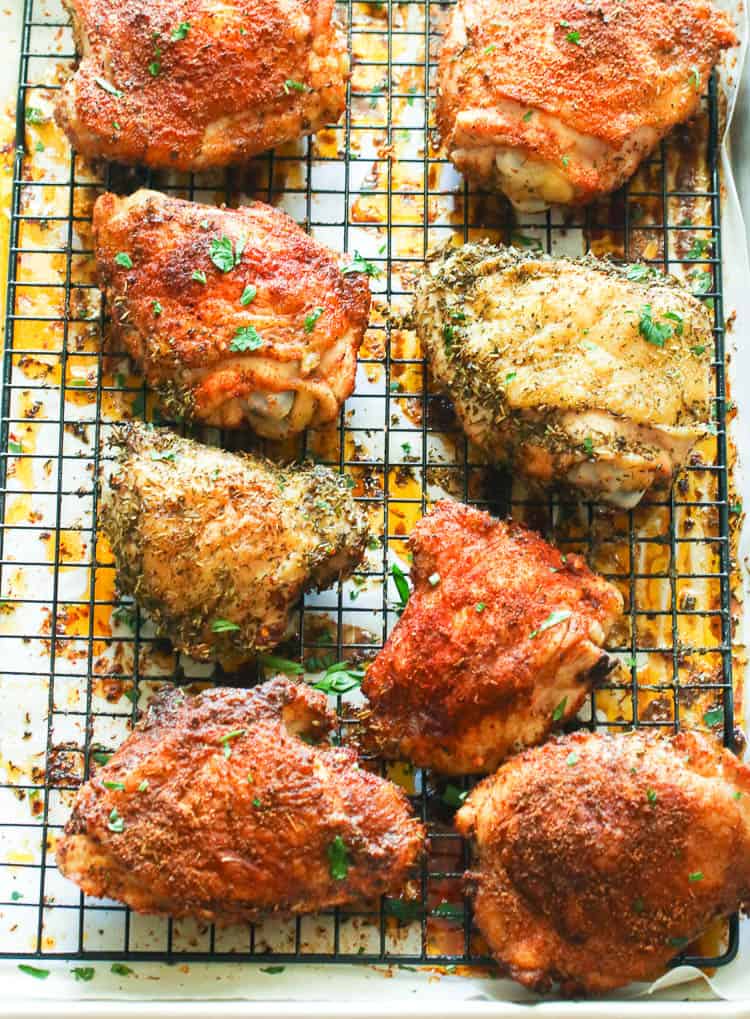 Chicken thighs are almost always on some kind of sale. It's not only cheaper than the breast, but it's also juicier. And when I only have 10 minutes to throw things together, this is the recipe I go to.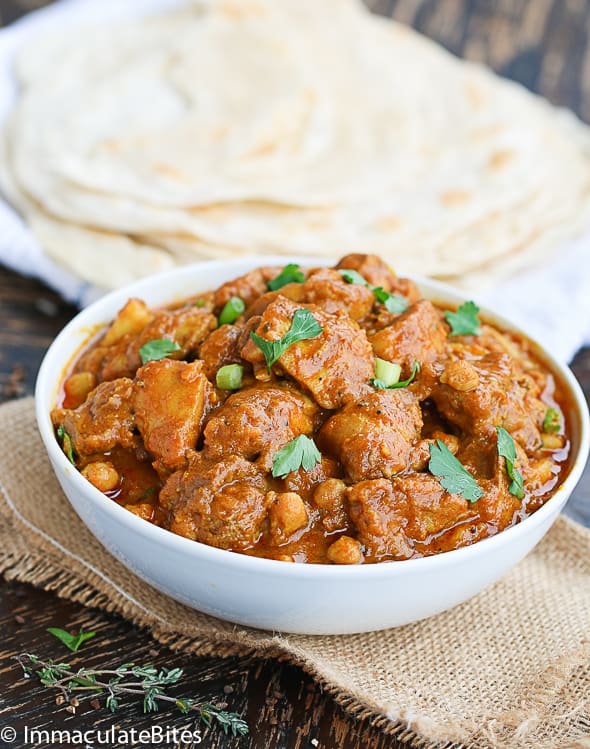 An intense curry chicken dish that is the perfect filling for buss up shut, a Trinidad burrito with paratha (a melt-in-your-mouth flatbread) and chicken roti. I love the name; it's Trinidadian for "busted-up shirt" because the flatbread looks like a torn-up T-shirt.
10. One-Pot Puerto Rican Chicken & Rice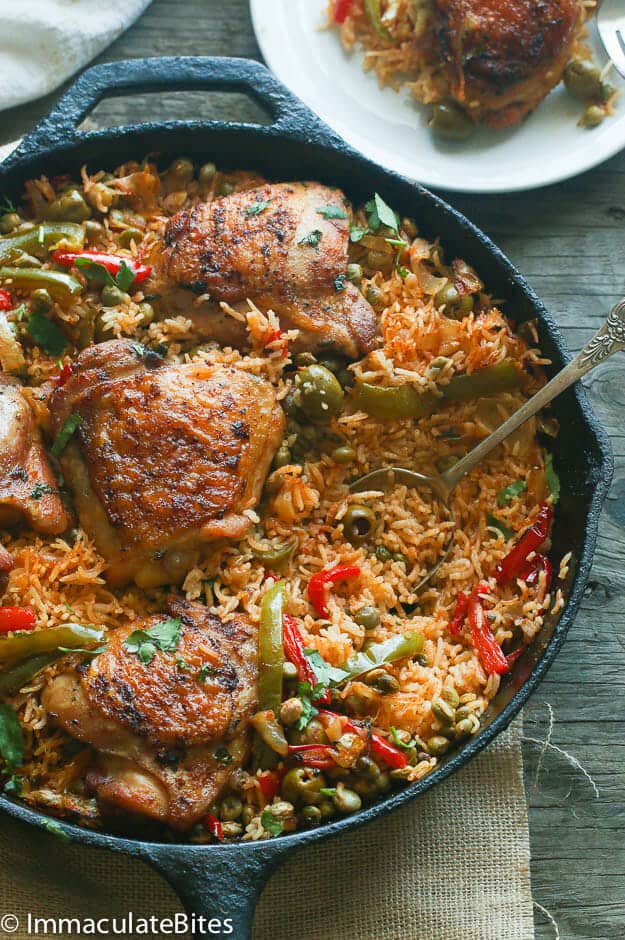 Outside of my native food from Cameroon, Caribbean food is my favorite ethnic cuisine. That may be because the African influence is so obvious that it reminds me of home. This super easy one-pot meal is one of them and it's so drool-worthy.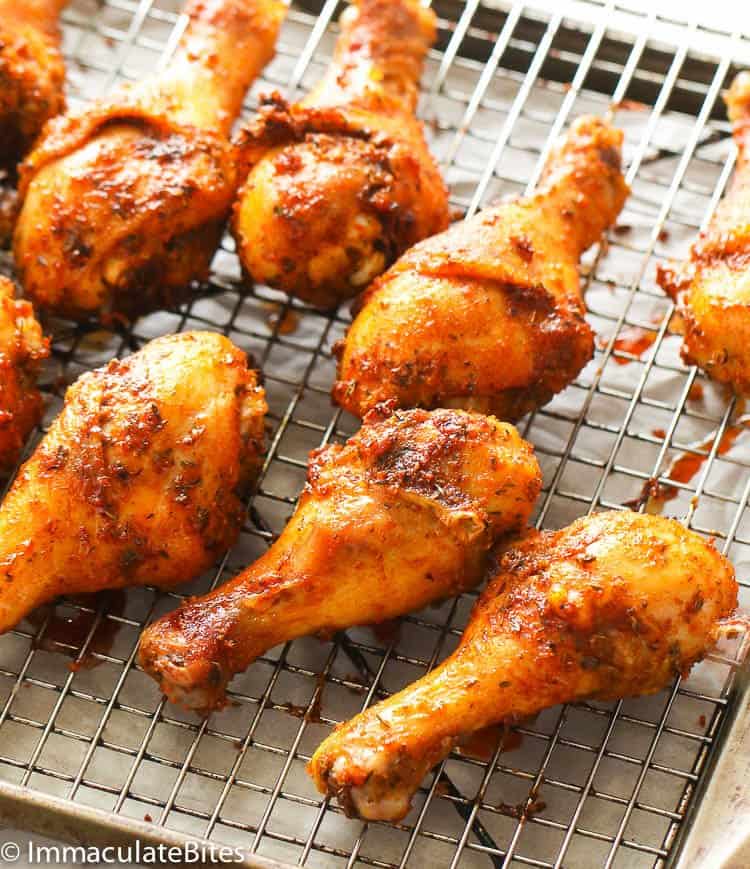 Baking food uses less time than the stovetop. Maybe not total time, but my time. Chicken legs, like the thighs, are almost always on sale. That makes it the perfect meal anytime. Paprika adds a beautiful color and subtle flavor that has my family licking their lips.
12. Chicken Alfredo
Italian food is always welcome at my house. My hubby and son love the creamy, cheesy Alfredo sauce with chicken over fettucini noodles. The best part is being able to have everything, including a tossed salad, on the table in just over half an hour.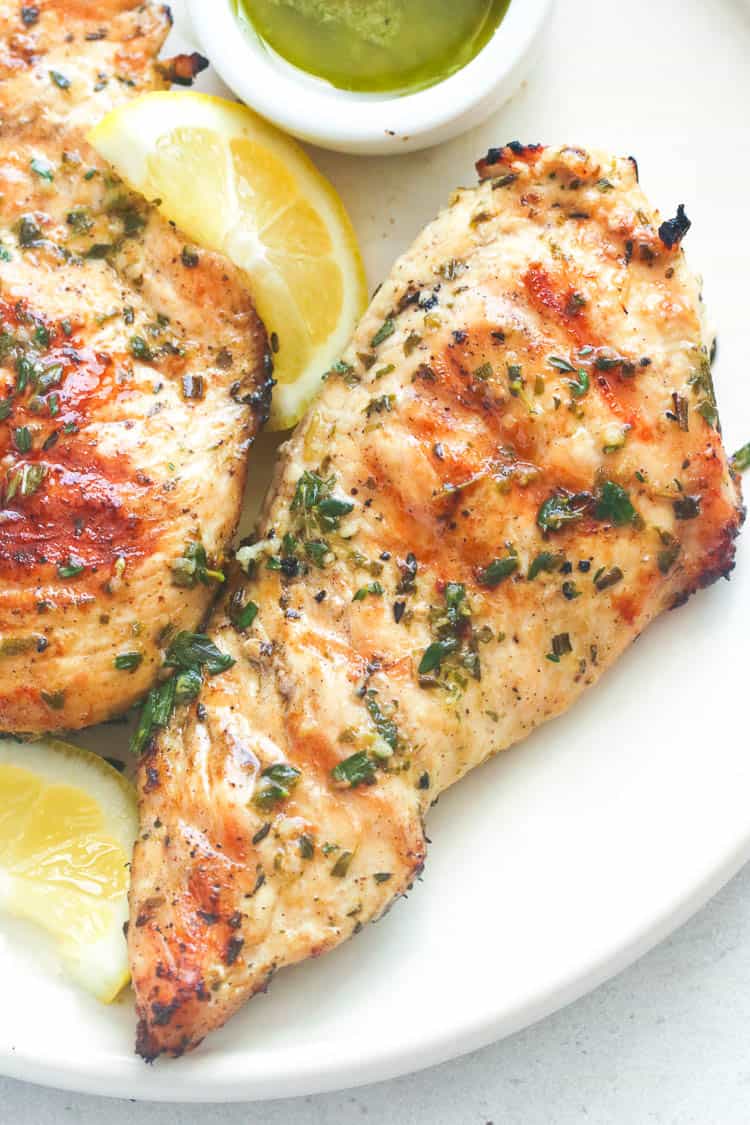 This marinade with wonderful herbs is perfect for adding flavor to plain chicken breasts. Like I said before, chicken breasts tend to dry out and lack flavor. A quick and easy fix is to have a good marinade ready in the fridge. This is the one I usually have on hand.
14. Stir Fry Chicken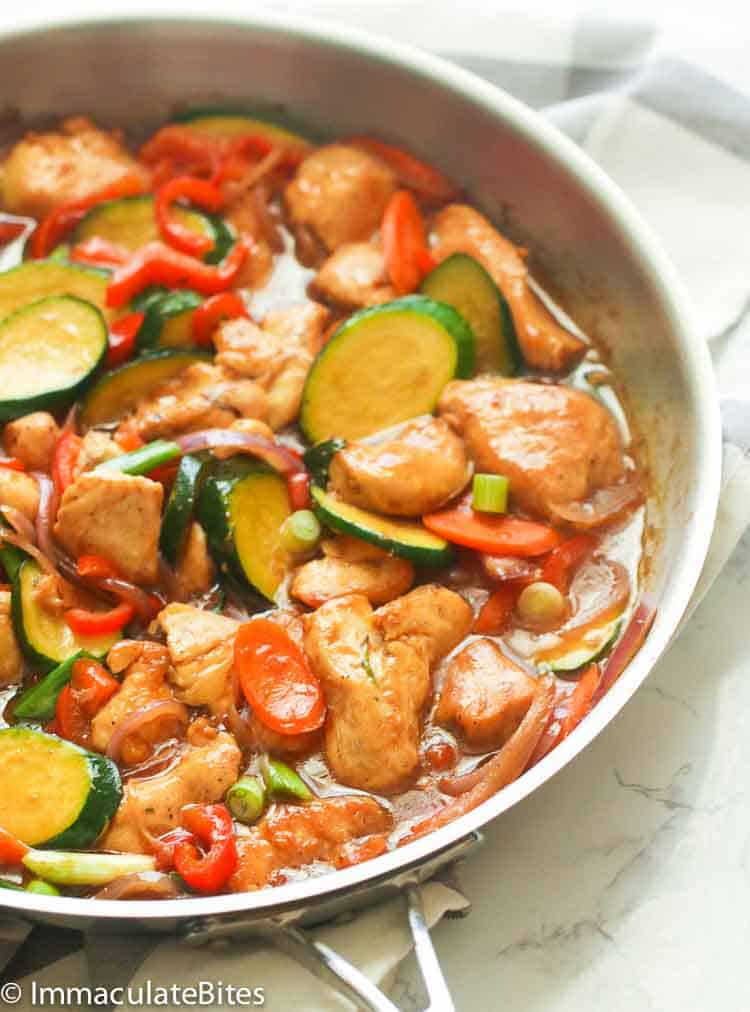 I don't think it gets better than this one when it comes to easy chicken recipes. Stir-frying has been one of the fastest ways I've found to get dinner on the table in less than 30 minutes. The delicious Asian spices and crunchy vegetables are as healthy as they are mouthwatering.
15. Creamy & Spicy Baked Chicken Legs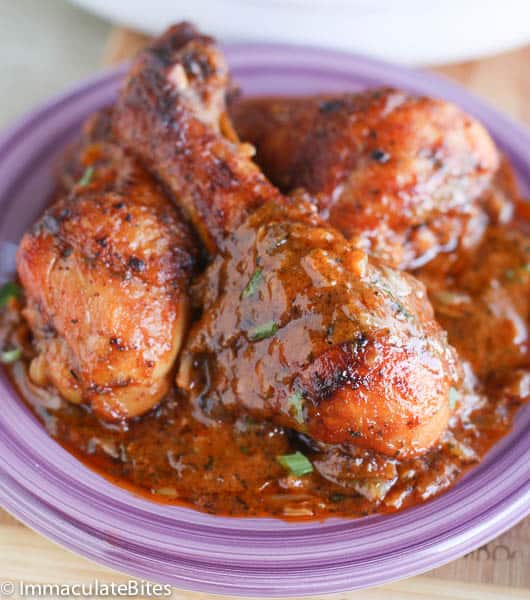 Juicy chicken legs in a rich cream sauce make a super-fast dinner with only 10 minutes of prep time, then relax while the oven does the rest of the work.
16. Hawaiian Grilled Chicken Thighs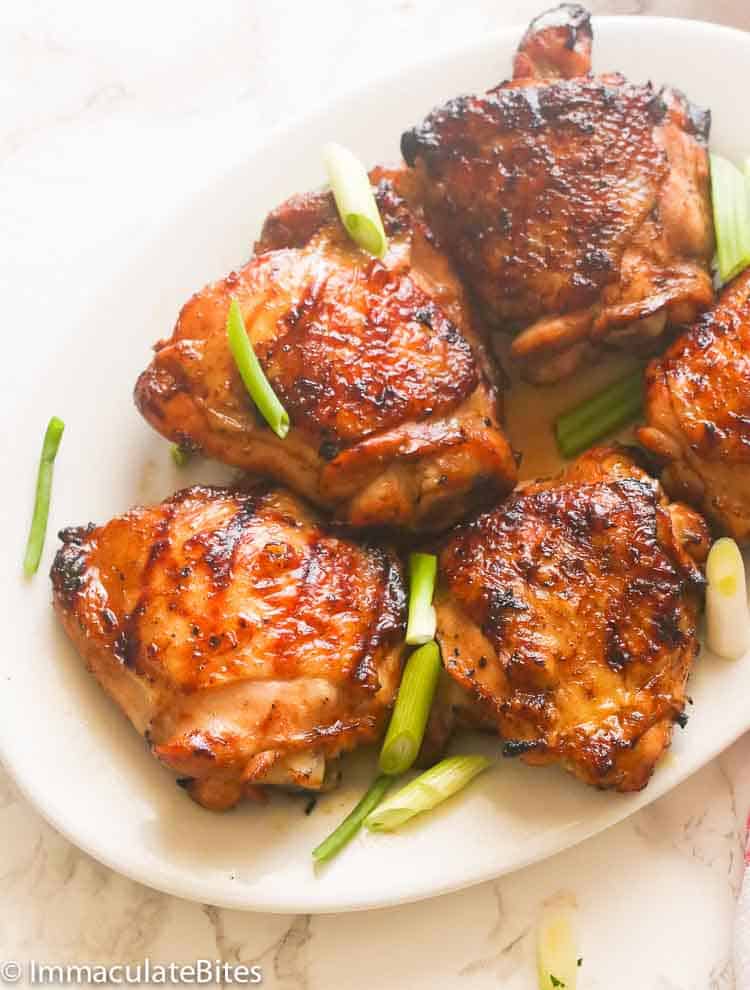 Pineapple (or passionfruit juice) with ginger creates an exquisite sweet and sour chicken. I like to throw in a little cumin to give it a Caribbean twist. Yum!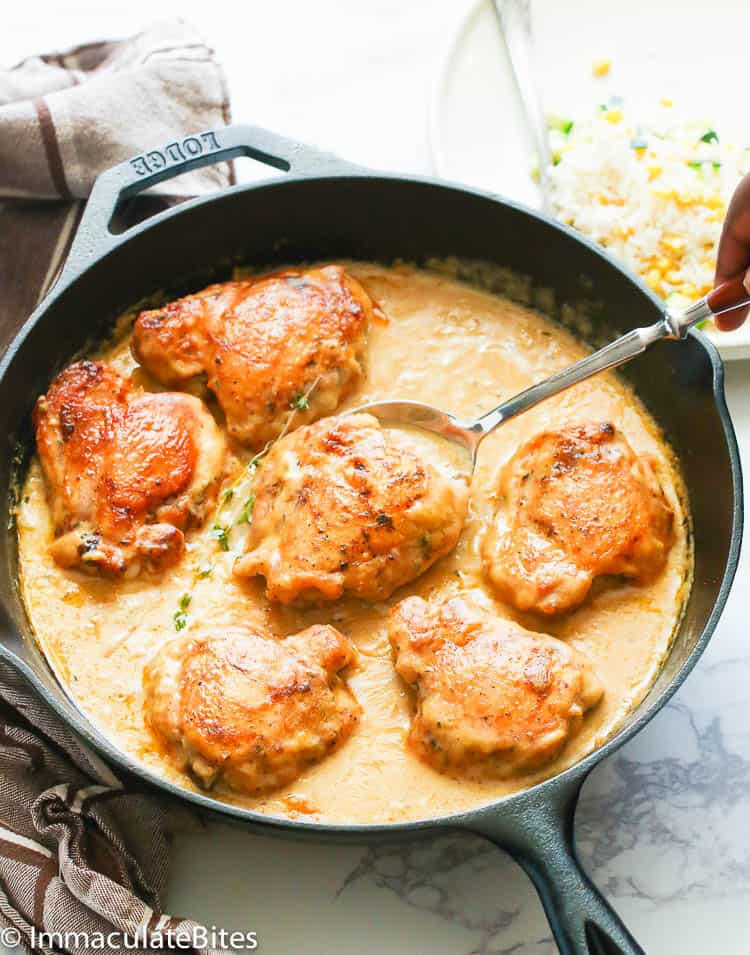 No one would ever guess that this easy chicken recipe has less fat than my typical comfort food recipe. Skinless thighs and milk instead of cream make a healthy and tasty chicken main course. I won't tell if you don't.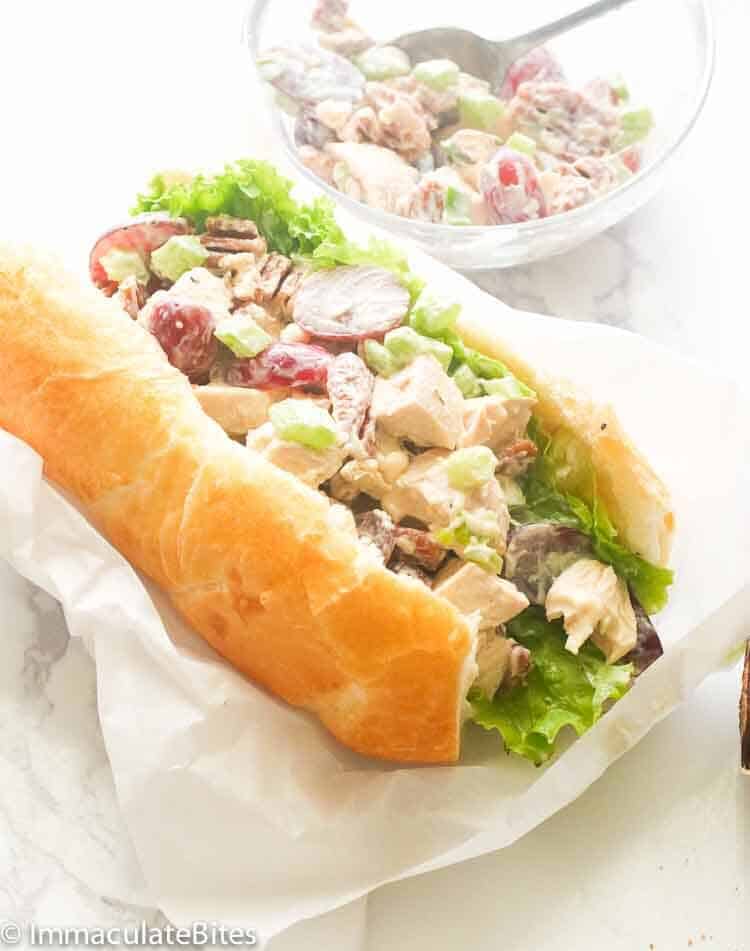 What do you do with leftover chicken? I deliberately make extra chicken so I can make chicken salad the next day. My family loves taking this for lunch the next day. And it saves me a ton of time when I plan for leftovers.
19. Creamy Lemon Garlic Boneless Chicken Breast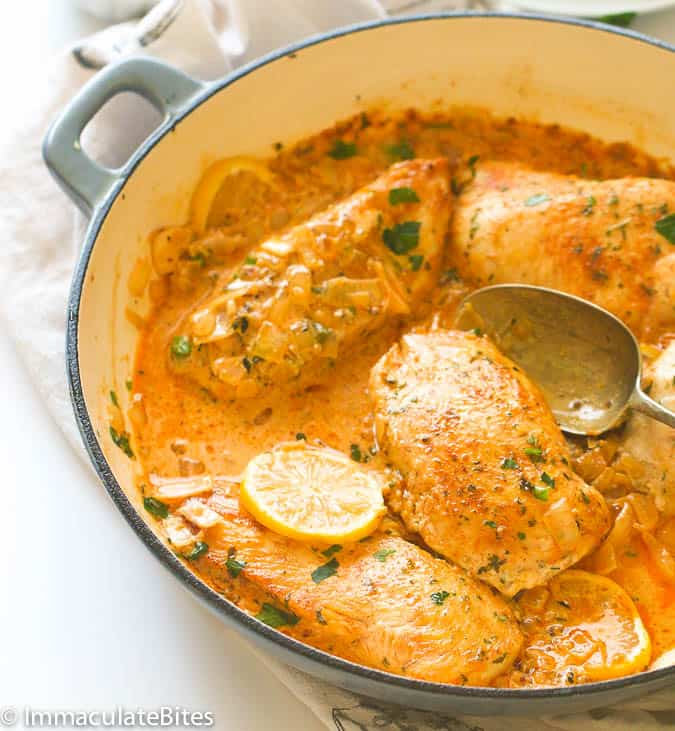 Whenever you want something different, this is the one. Cream, lemon, and garlic create a mouthwatering chicken recipe ready in less than 45 minutes and elegant enough for surprise guests.
20. Tuscan Chicken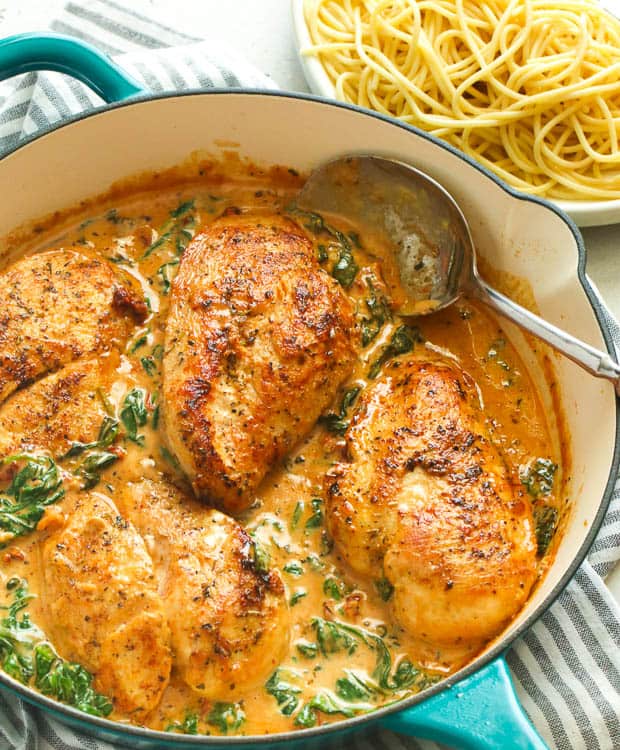 Another one of my Italian food favorites is the answer when I have less than an hour to get dinner ready. Heavy cream, Italian spices, and spinach make it a nice change from the usual chicken dinner. Garlic bread and spaghetti make it a complete meal.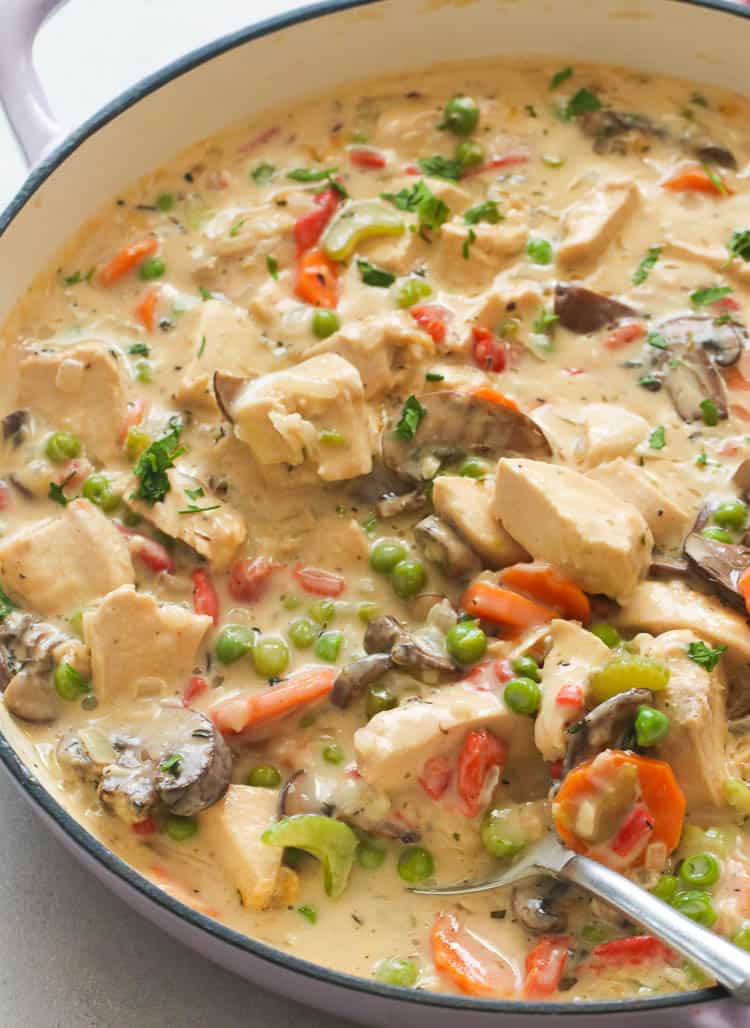 Chicken fit for a king and on the table in less than 45 minutes is my idea of a fantastic meal. The peas and carrots turn it into a healthy one-pot meal, and this easy chicken recipe is one of my go-to's when I'm short on time.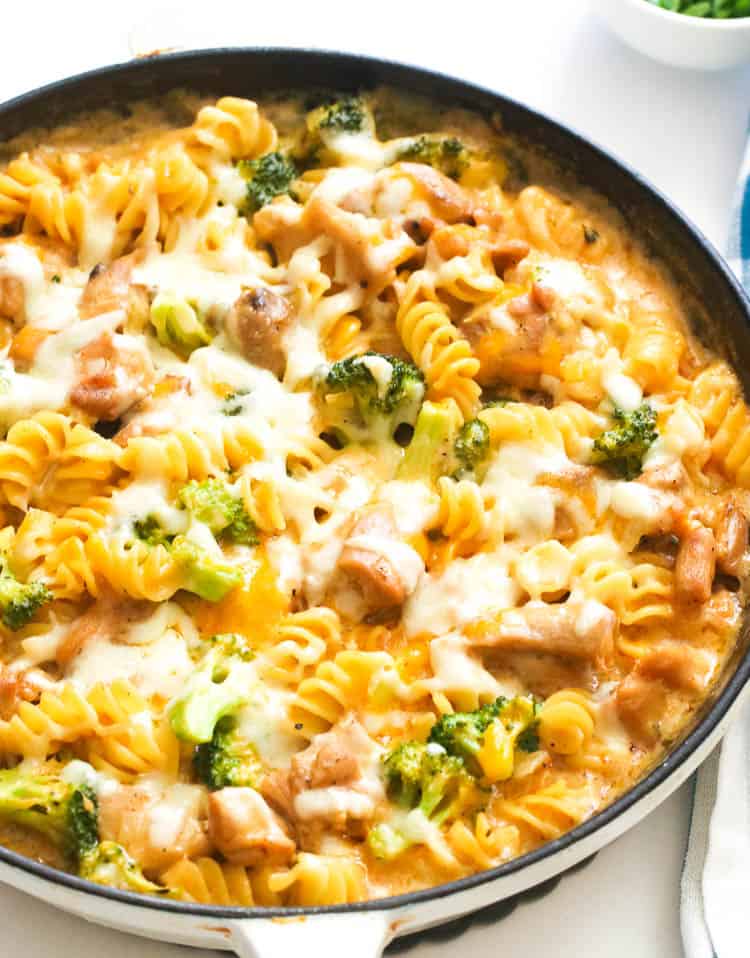 Did I ever tell you that cheese makes everything better? This recipe is a perfect example. Veggies, pasta, chicken, and cheese baked into a drool-worthy dish that will have your family asking for seconds.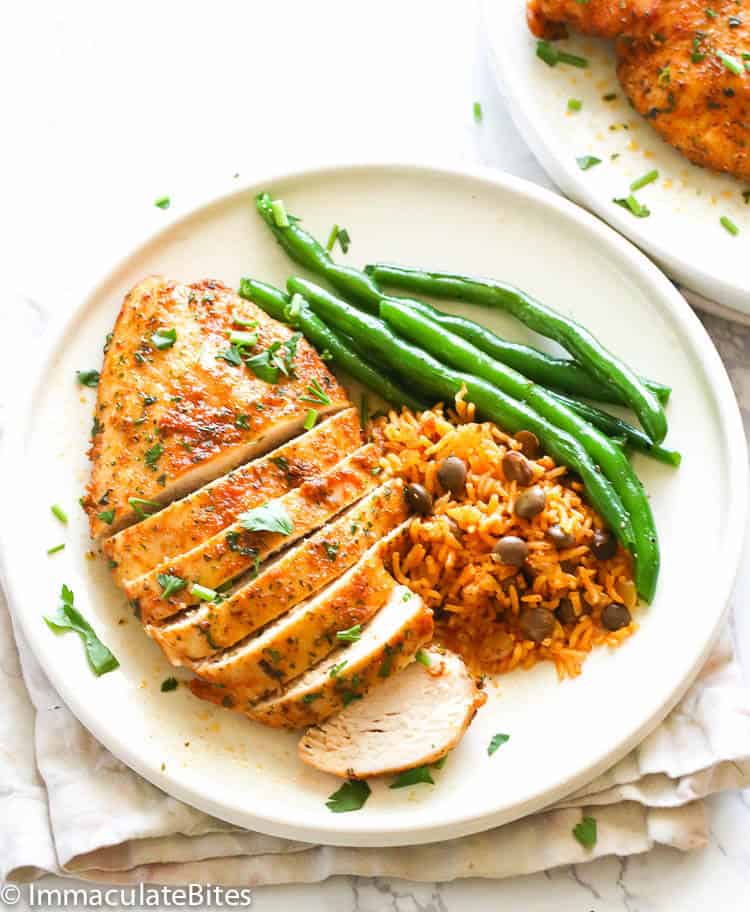 Once in a while, chicken breasts go on sale. This is the recipe I use when I have that luxury. Did you know you can buy the whole chicken cheaper than you can a boneless skinless breast? When the whole chicken is on sale, I stock up, cut them up, and fill the freezer with chicken ready to go.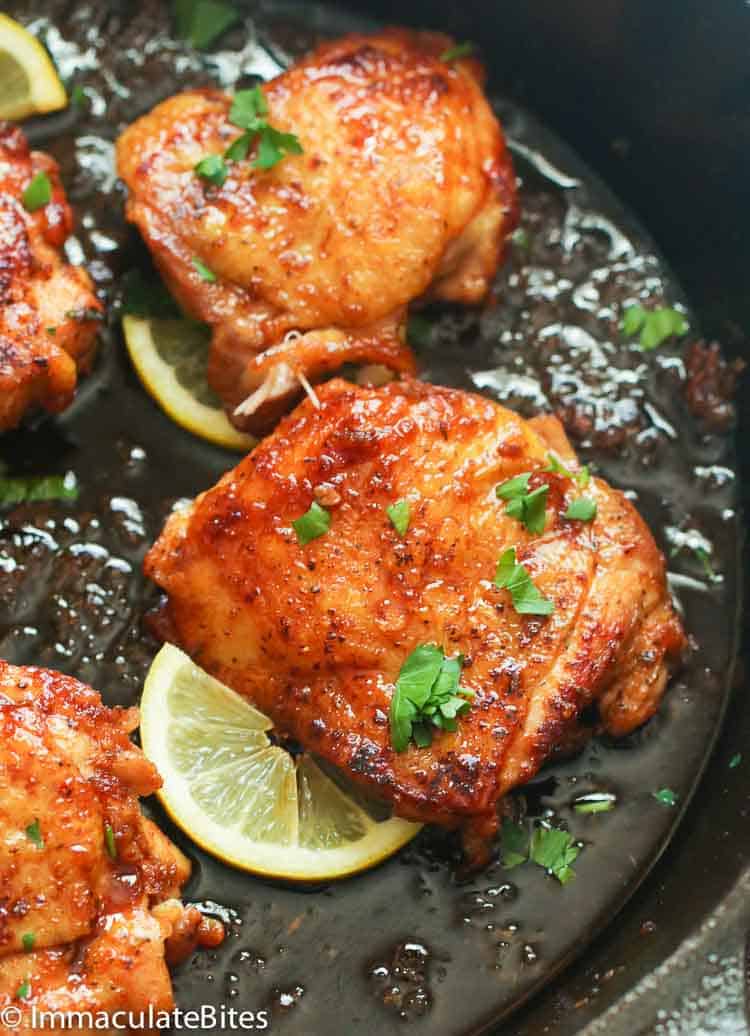 Crispy, sweet, garlicky, and mouthwatering chicken is one of my family's favorite meals. I really love that it's one of the quickest recipes I have because it only takes about 20-30 minutes to make.

25. Blackened Spatchcock Chicken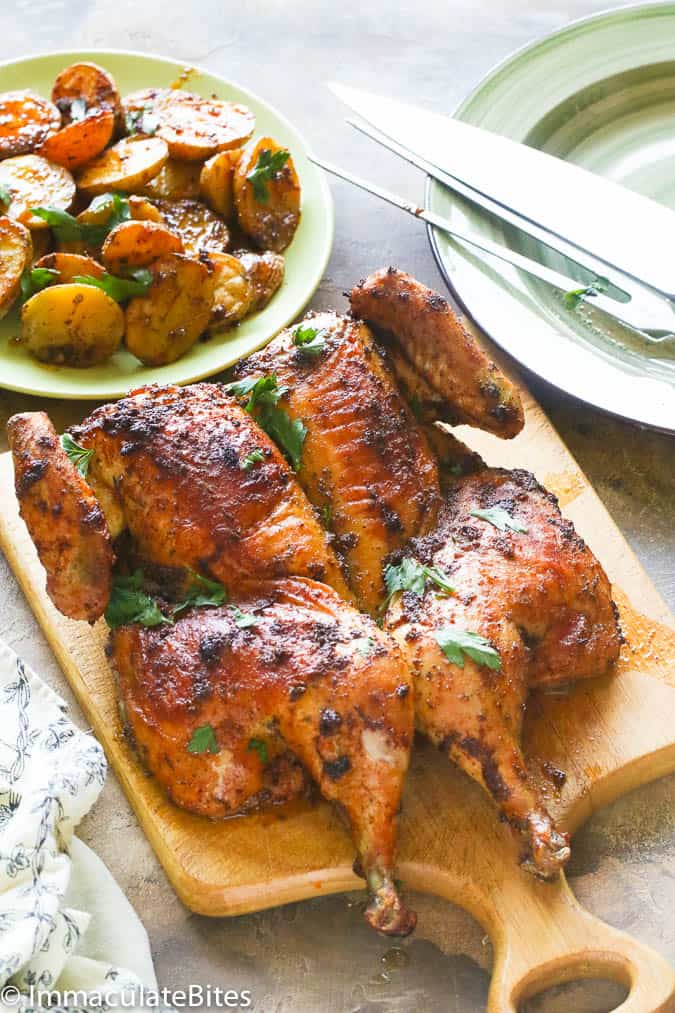 Blackened spices are a delicious way to spice up any meal. Spatchcocking (I just love that word) a chicken gets it to cook in half the time and keep all the juices. And that's always a good thing, am I right?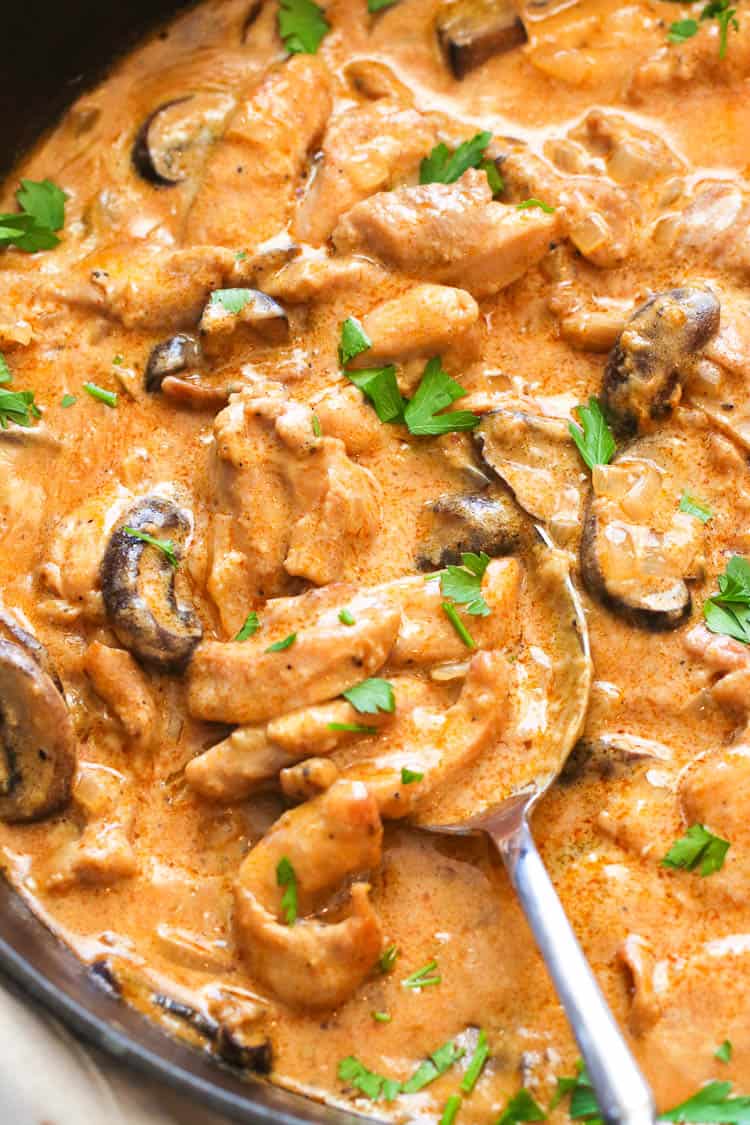 This quick and easy spinoff of the Russian version of Beef Stroganoff is always welcome on the table at my house. The creamy mushroom sauce smothering juicy chicken thighs is ready for a delicious meal in less than 45 minutes.
27. Shredded Chicken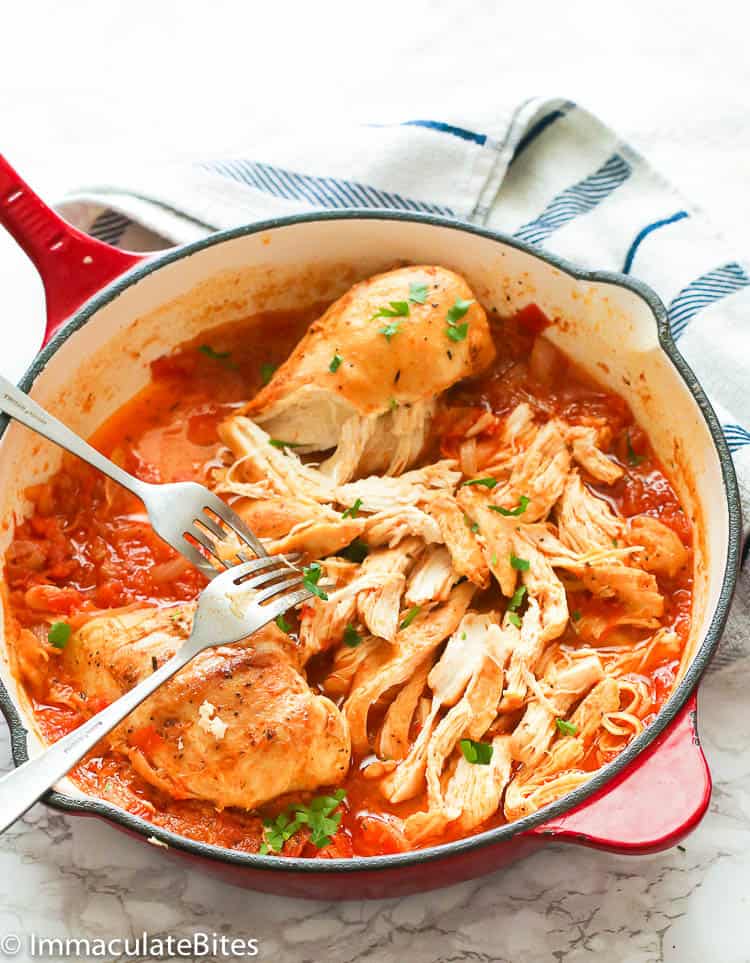 Many recipes call for pre-cooked and shredded chicken. Most of the time, the chicken breast is poached with barely enough salt and nothing else. Not my shredded chicken. It has enough flavor that even it's mouthwatering all by itself. Now imagine it in chicken quesadillas. Double yum!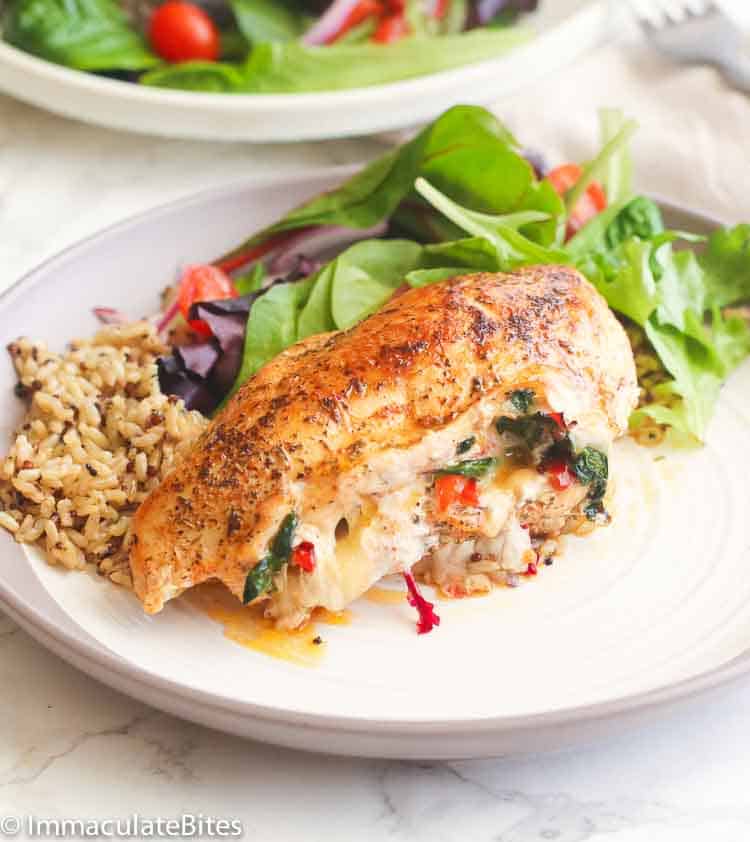 Would you like a fast and easy chicken recipe that is elegant, too? Then this is the one you're looking for. Combine the veggies you have available, cheese, and chicken breasts, and 45 minutes later, an attractive dinner is served.
29. Chicken Pot Pie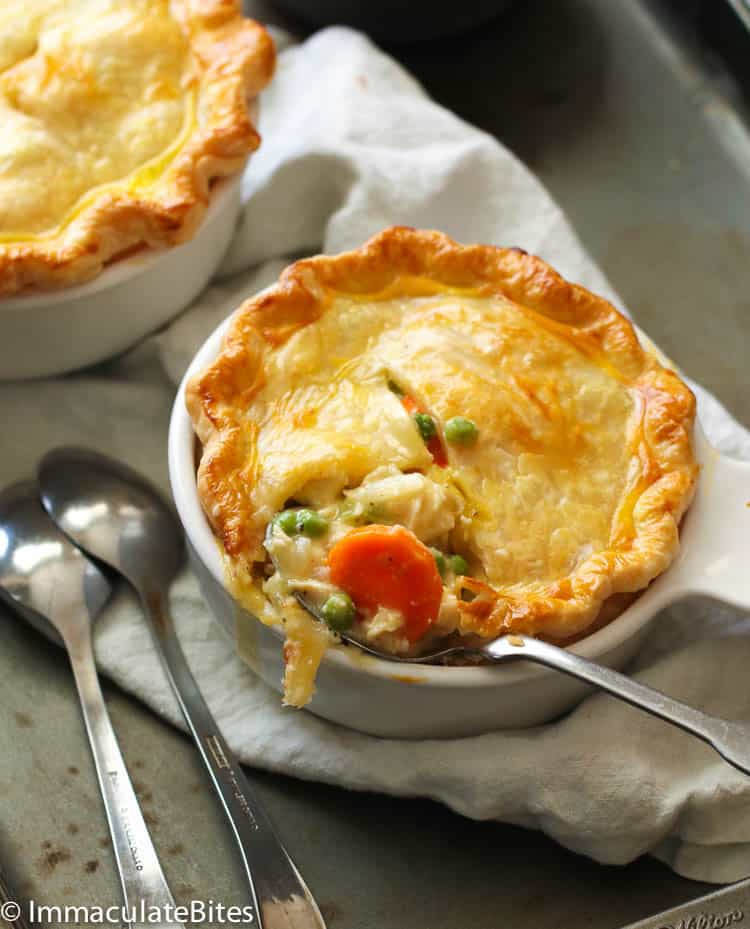 This dish has been around for thousands of years, starting with the Greeks and perfected by the Romans. That says a lot about this recipe. Carrots, peas, and chicken smothered in a cream sauce and hugged by a pie crust is my idea of comfort food.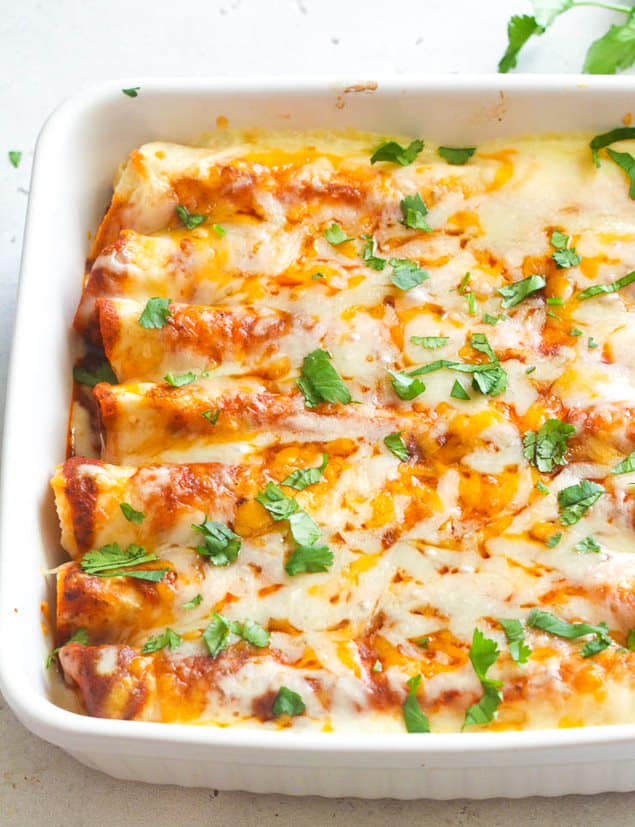 I love Mexican food. Who am I kidding? I love food, period. Homemade tortillas wrapped around spicy chicken and topped with cheese and a spicy tomato sauce, and I'm happy. Especially since it only takes 35 minutes to put it all together.
31. Creamy Chicken Pasta Salad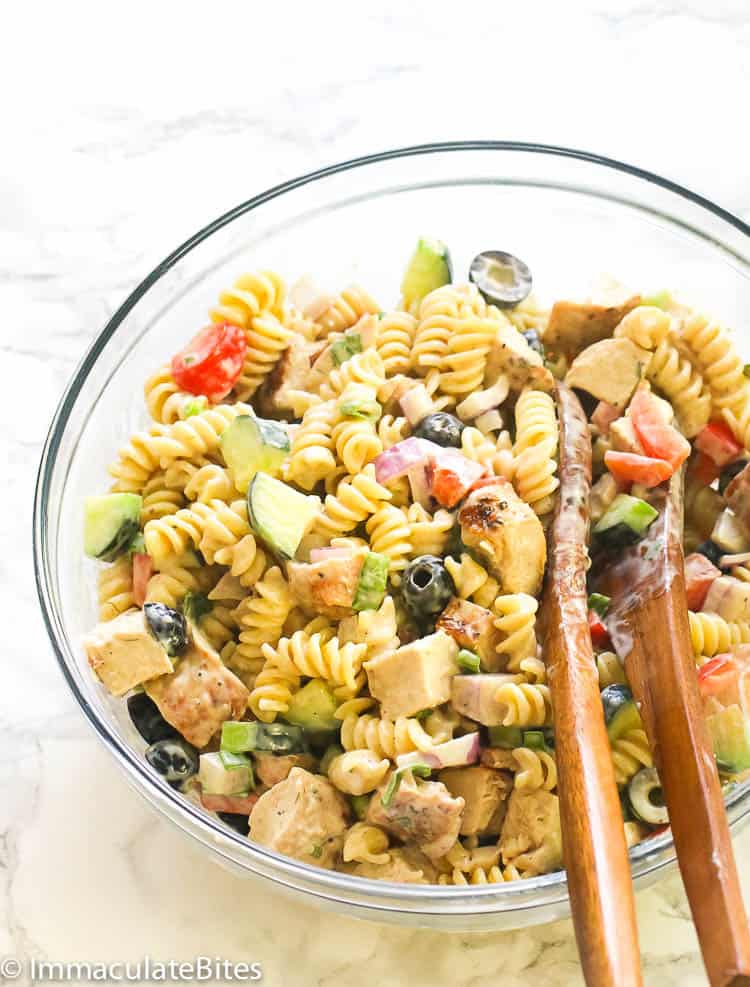 Do you need an easy chicken salad recipe you can take to the company picnic or family cookout? Then this is it. I love this salad as the whole meal. It has veggies, pasta, and chicken in a fantastic ranch dressing. What more could I ask for?
32. Chicken Shawarma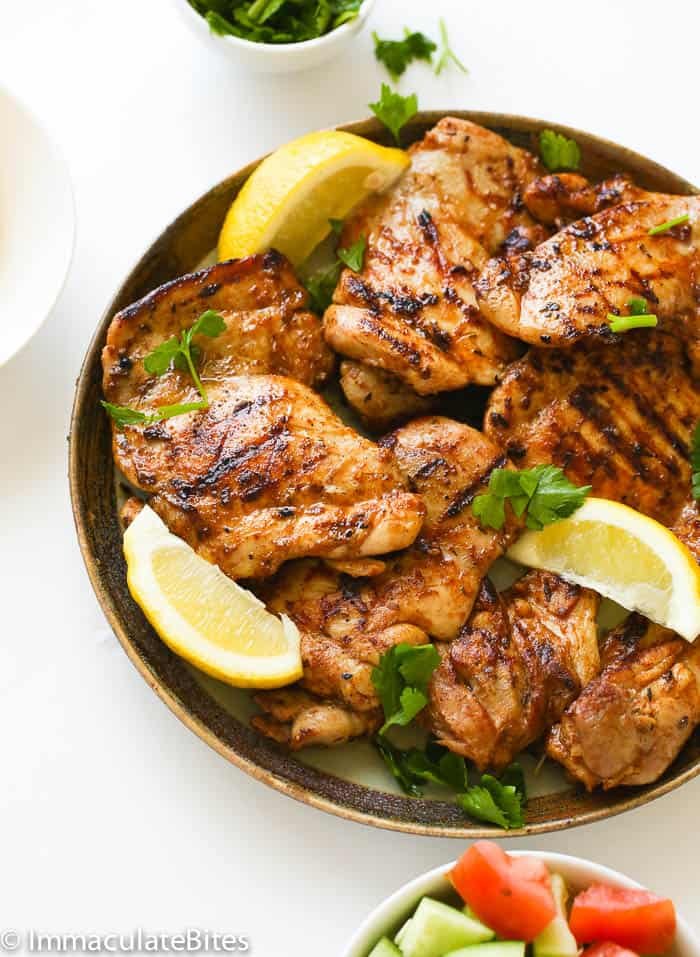 Whether it's called shawarma, gyro, or souvlaki, it's all good. Actually, more than good, it's drool-worthy. This version is with yogurt and mayo and chapati or African flatbread.
33. Chicken Gyros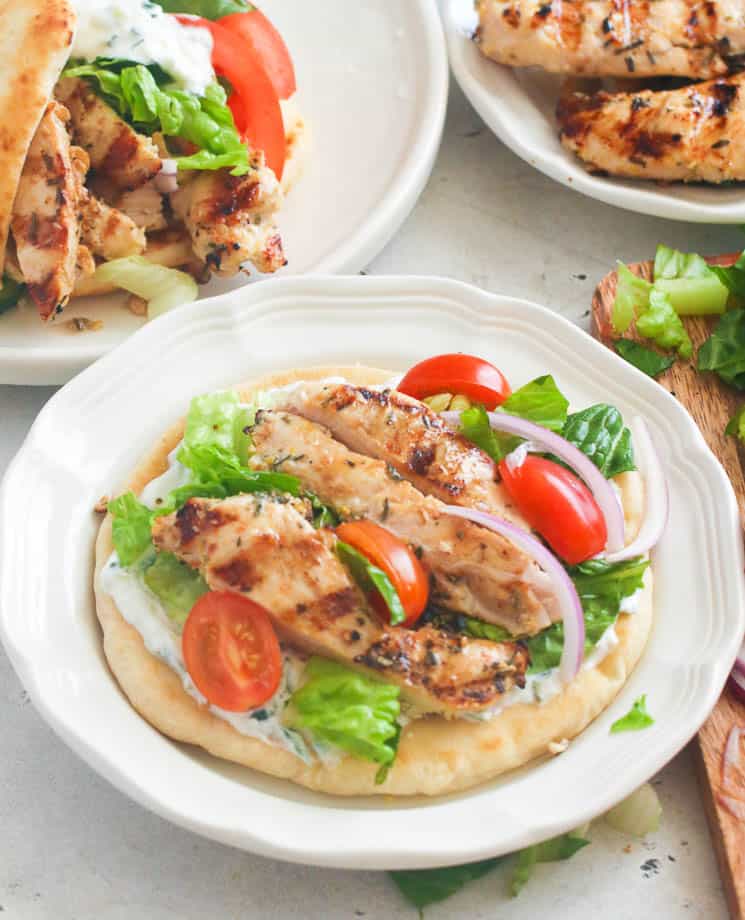 It reminds me of a Greek taco. Homemade pita bread and tzatziki sauce take this over the top. Oh yeah, the chicken marinated in Mediterranean herbs is awesome, too.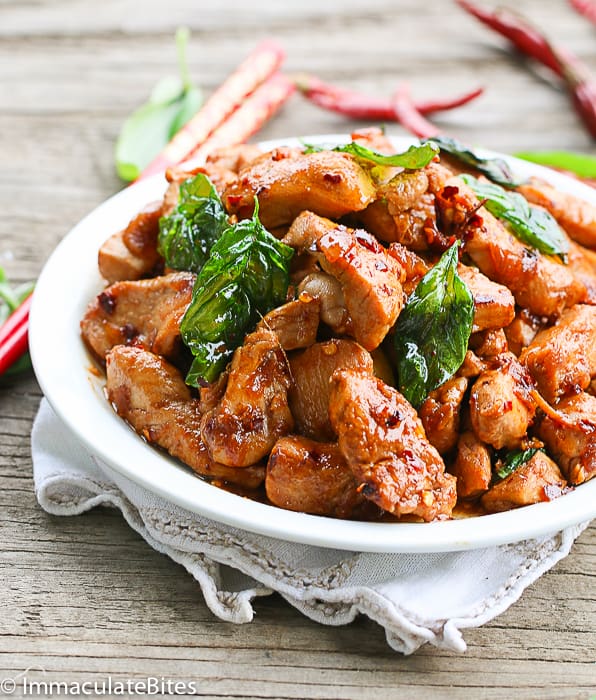 When you're in the mood for Asian food, this easy chicken recipe is a perfect choice. The sweet and spicy sauce ramps up the flavor, and the whole thing can be on the table in 20 minutes or less.
35. Teriyaki Chicken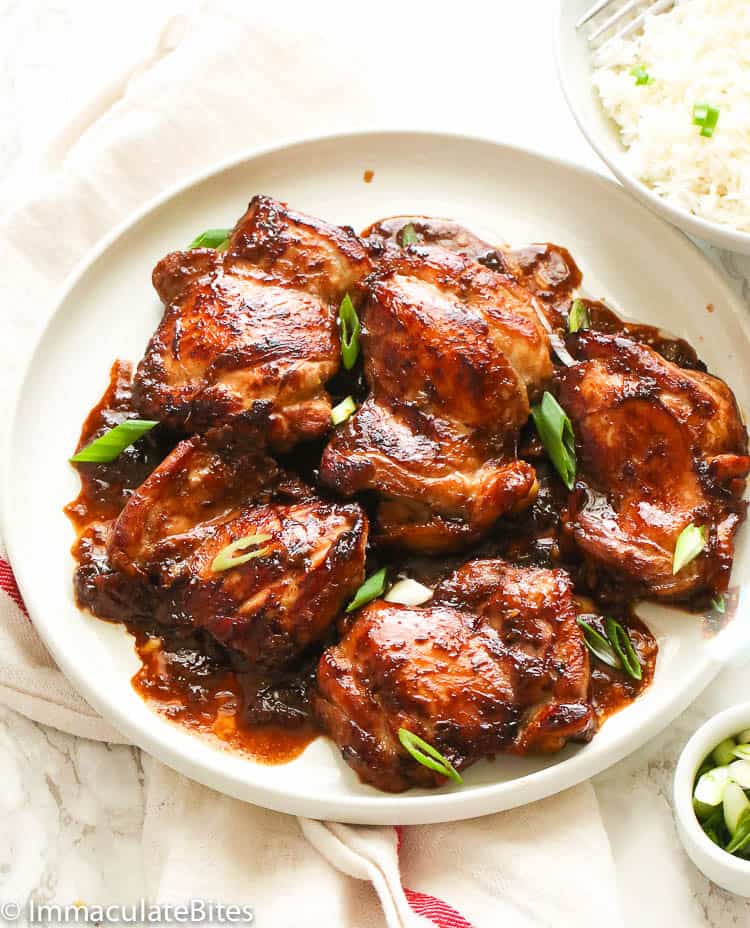 The sauce makes the dish. Soy sauce, ginger, garlic, and onion go so well together. If you marinate it before you leave in the morning, you can have it ready by the time the rice is done.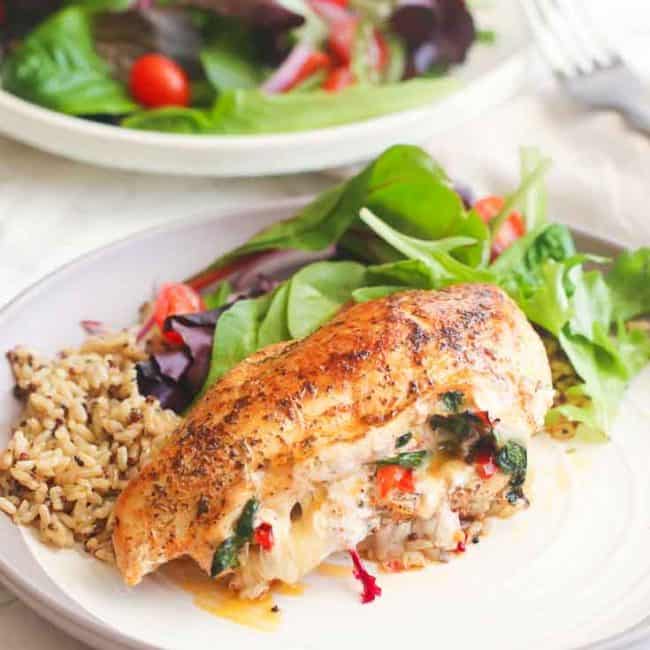 Print
Easy Chicken Recipes
What's for dinner is a question that is easily answered with this delicious collection of easy chicken recipes.