Are you looking for some mouthwatering smoker recipes that are flavor-packed and very filling? Then you came to the right place! We have something for all the meat lovers. From Smoked Pork Belly to flavor-packed Easy Smoked Salmon, I've got you covered. Savory and juicy, these recipes will definitely motivate you to break out your smoker grill to try them out.
Smoked meat is not only absolutely delish, but it's also better for you. A smoker grill cooks meat at a lower temperature, therefore, preserving the nutrition and enhancing the flavors like no other.
Super-tender flavorful meat will give you an unforgettable experience.
I'm a huge fan of any smoked meat, and I guarantee you that these super-easy recipes will tantalize your taste buds and please your tummy, making you feel full and satisfied.
So, let's get right into our 12 mouthwatering smoker recipes that will peak your tastebuds!
FAQs
What Can I Smoke Besides Meat?
You don't have to limit your smoker grill to meat only. You can grill many other foods, like tomatoes, nuts, eggplant, zucchini, cheese, fruits, and more.
Do You Wrap Meat in Foil When Smoking?
It's definitely up to you to use the foil or not. However, the foil will limit the smoke that reaches the meat, affecting the flavor, color, and texture. On the other hand, wrapping meat retains moisture and speeds up cooking time.
Is Smoked Food Bad For You?
Smoked foods are absolutely safe, given that you started with fresh, safe meat. It also depends on how you store your smoker grill. Cleaning it before smoking with warm soapy water and a bristle brush will make it safe to use for cooking.
The Smoker Recipe Lineup
1. Mouthwatering Smoked Chicken Legs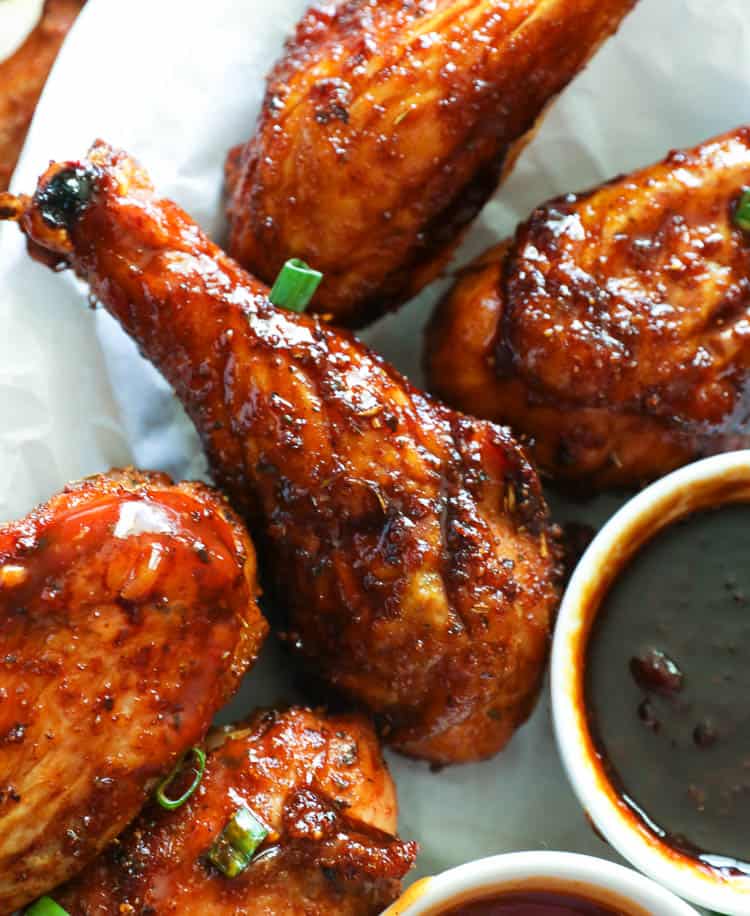 Smoked Chicken Legs are undoubtedly an all-time favorite smoker recipe. You can't miss the fabulous smoky aroma that intensifies the chicken legs' flavor—adding flavorful spices like smoked paprika and tantalizing cayenne pepper perfects this effortless dish.
Even more delicious, you can enjoy them with just the dry rub or slather your favorite BBQ sauce on them.
Smoked Chicken Legs
It's not surprising that smoked chicken legs are a fan-favorite comfort food for smoking enthusiasts almost everywhere. Today, I'll show you a super easy way to prepare your favorite poultry part without the messy splatters. The juicy meats and the crispy skin simply spell out deliciousness with aroma you simply couldn't resist.
Check out this recipe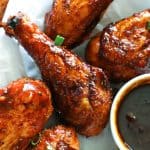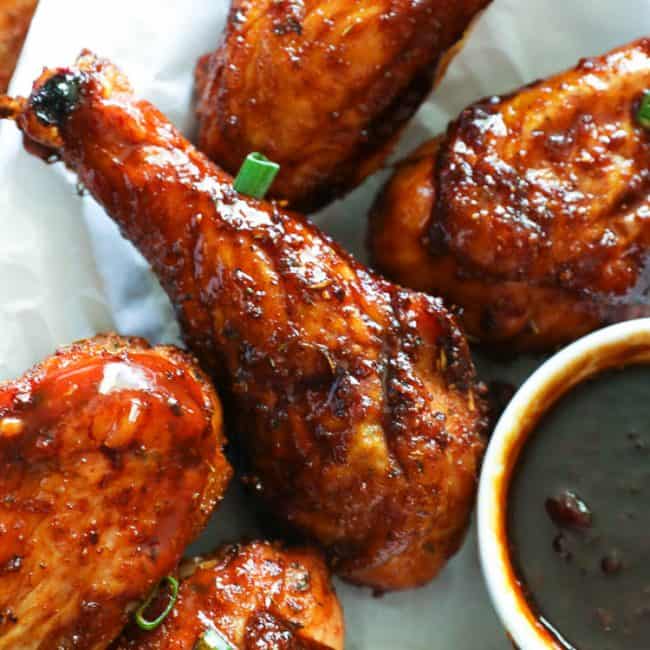 2. Smoked Pork Belly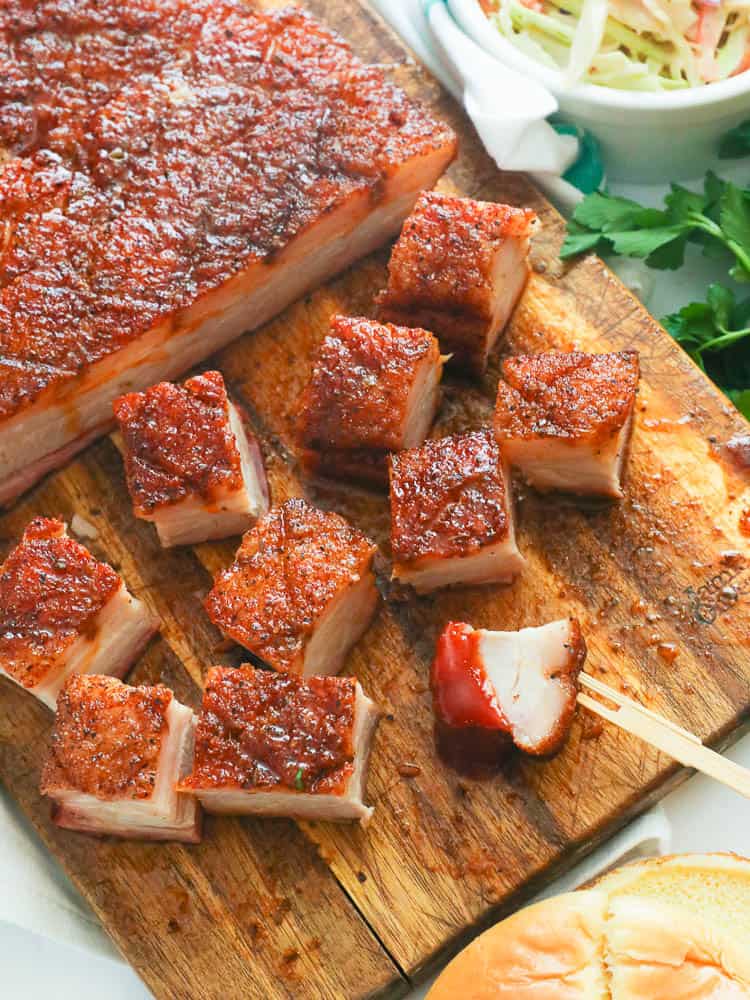 If you love bacon, this recipe is a dream come true! This tender smoked pork belly will just melt in your mouth. The flavorful smoky meat would be falling off the bone if it had bones, so you definitely won't have any leftovers on this one.
Smoked Pork Belly
Juicy, chunky, and tender Smoked Pork Belly in all Its glorious natural flavors infused with the delicious smokiness of wood. A melt-in-your-mouth meaty dish you can easily prepare at home without the hassle of a hectic kitchen. You'll surely love this fatty comfort food for your next cheat day.
Check out this recipe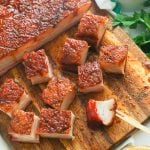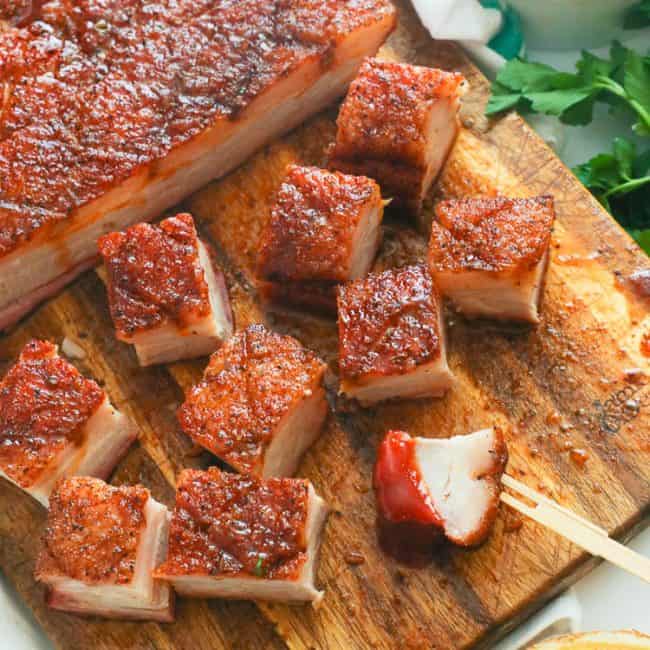 3. Smoked Prime Rib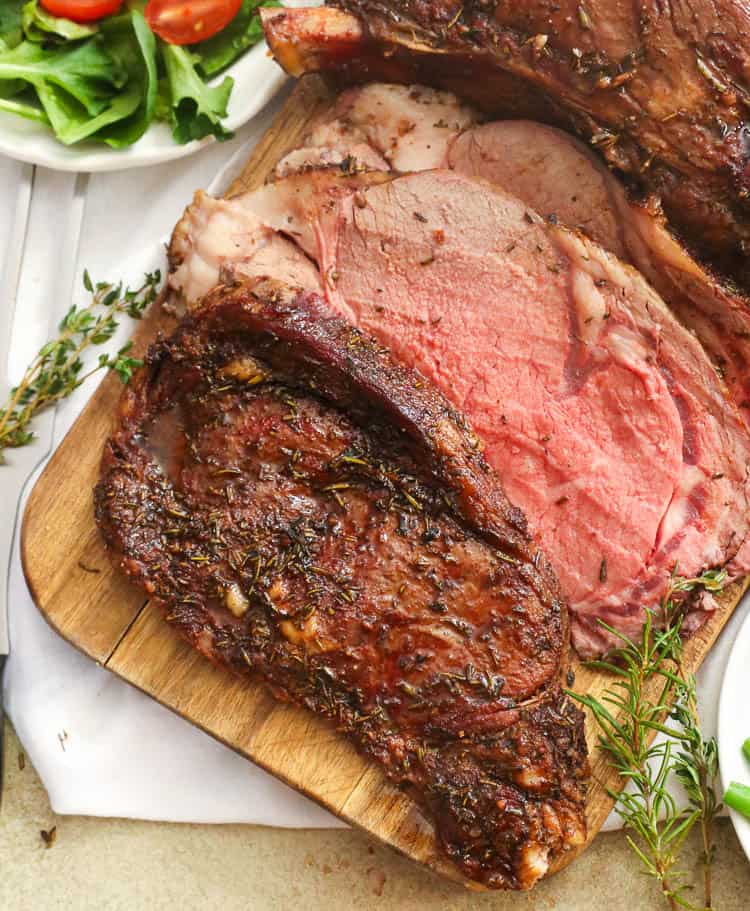 Smoked Prime Rib is the ultimate holiday dish with an irresistible smoky aroma, and it's perfect for impressing your family and friends at your next barbecue. This premium restaurant-quality meal will make you feel like a million bucks without spending that much. I adore my pellet smoker for this one, but you can use what you have.
Smoked Prime Ribs
Juicy, and irresistibly flavorful Smoked Prime Ribs with an enticing smoky aroma and beautifully cooked meat infused with the woody smoky taste. A fall-of-the-bone dish that's so insanely delicious, you'll feel the meaty goodness in every bite.
Check out this recipe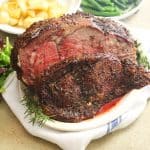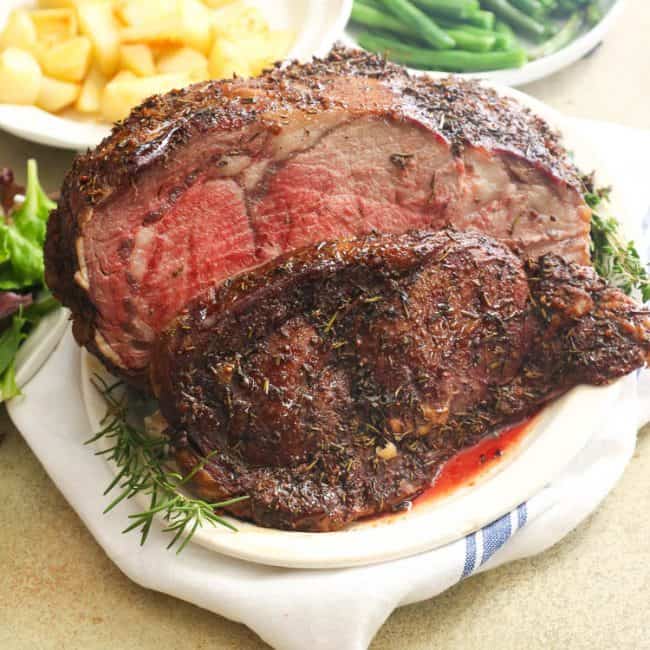 4. Smoked Beef Brisket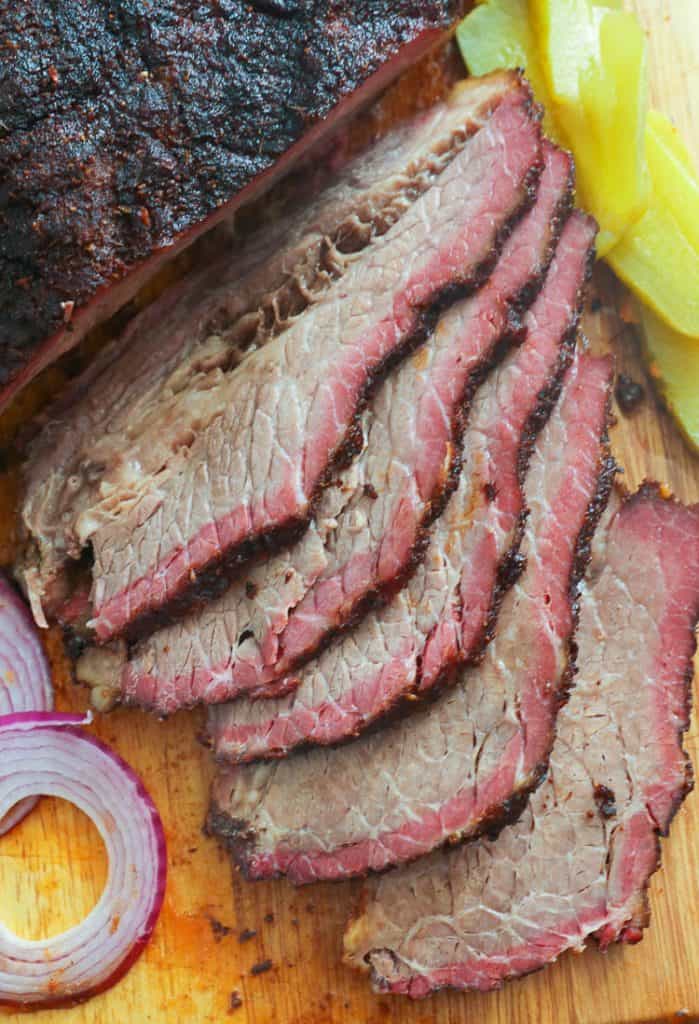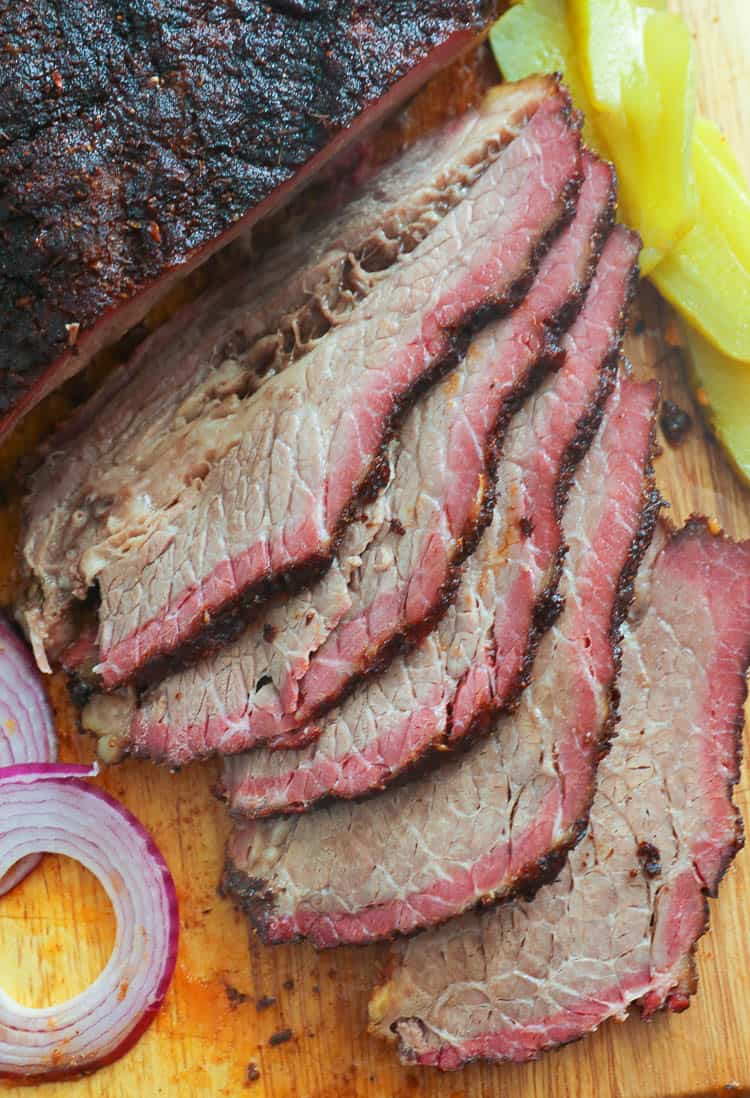 Smoked Beef Brisket requires only a handful of ingredients and is extremely easy to make. It's so easy that whether you are looking for a lazy weekend meal or a stress-free dinner on a hectic weeknight, this Smoked Beef Brisket will save the day. And don't forget some Homemade BBQ Sauce to slather all over it.
Smoked Beef Brisket
Tender, flavorful, and super easy Smoked Beef Brisket makes a filling flavor-packed meal with aniconic melt-in-your-mouth sensation. You'll only need a handful of ingredients to achieve a juicy and meaty dinner that's totally worth the wait. The best part about this recipe is that it's such a simple recipe you can totally follow today!
Check out this recipe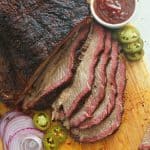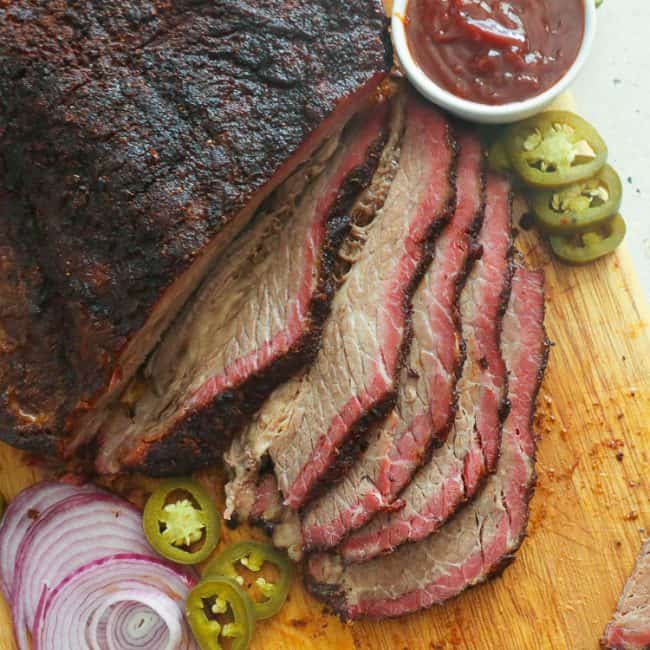 5. Juicy Smoked Tri-Tip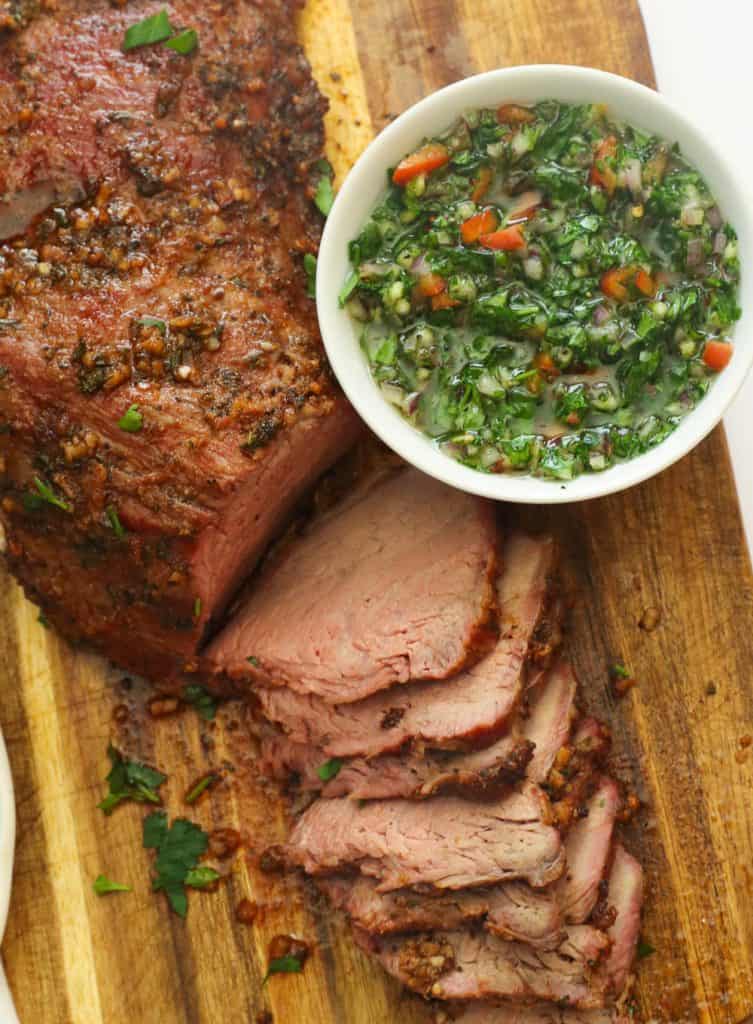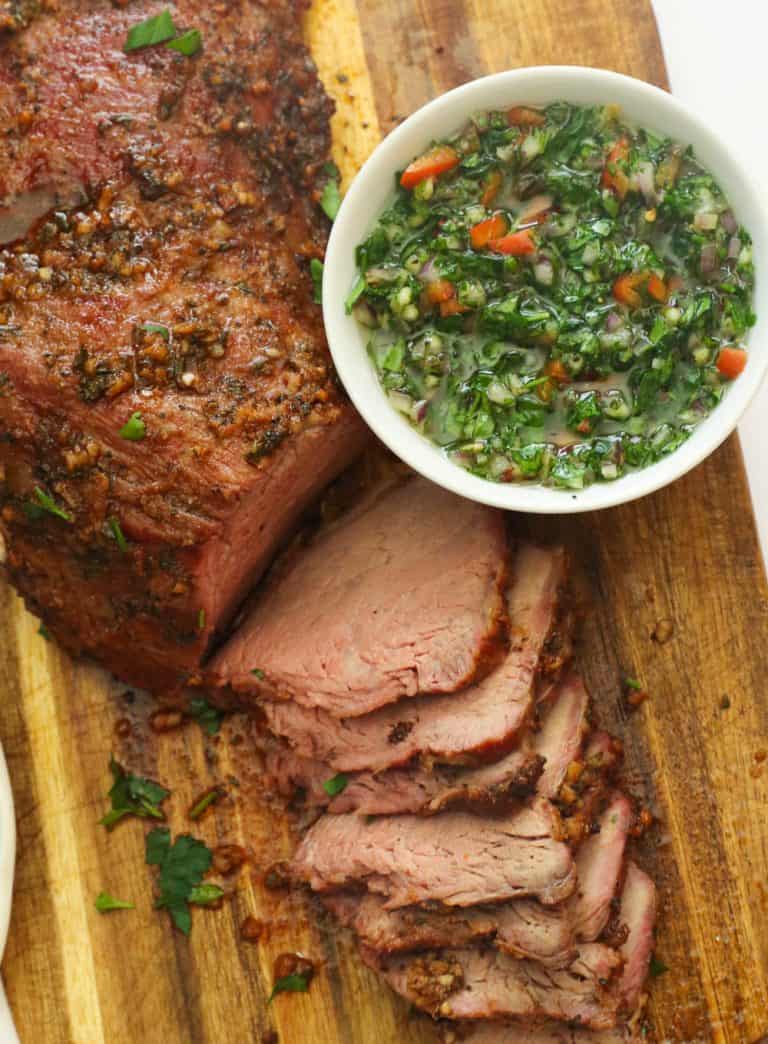 Do you want a fabulicious cut of meat that won't break your budget? Then this tri-tip will give you the same drool-worthy experience as a smoked brisket. Talk about fork-tender beef; this steak is so tender that you may or may not need a knife.
Smoked Tri Tip
Reserve your weekend dinner for the meaty, juicy, and tasty flavors of smoked tri tip cooked low and slow. A tender beefy dish perfectly smoked to let the woody flavors seep in to the meat's core. You'll enjoy cooking this dish as much as slicing each tender, fragrant, and flavorful piece.
Check out this recipe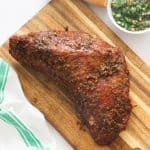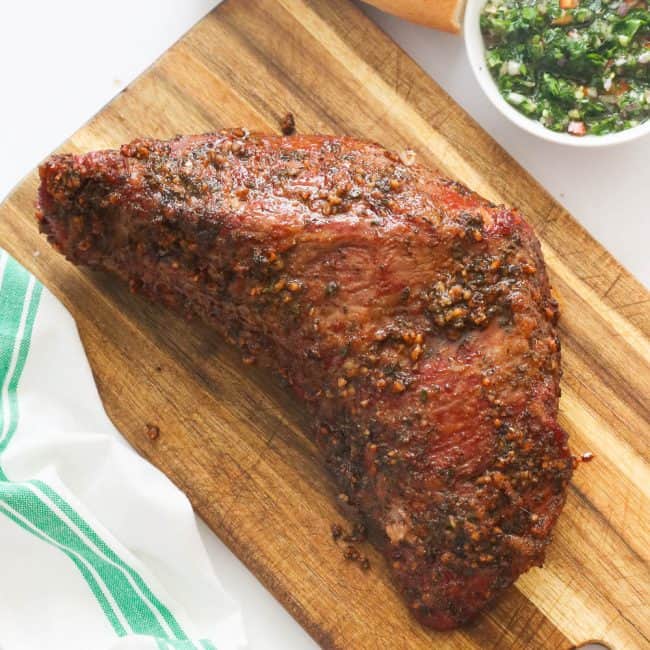 6. Smoked Pork Chops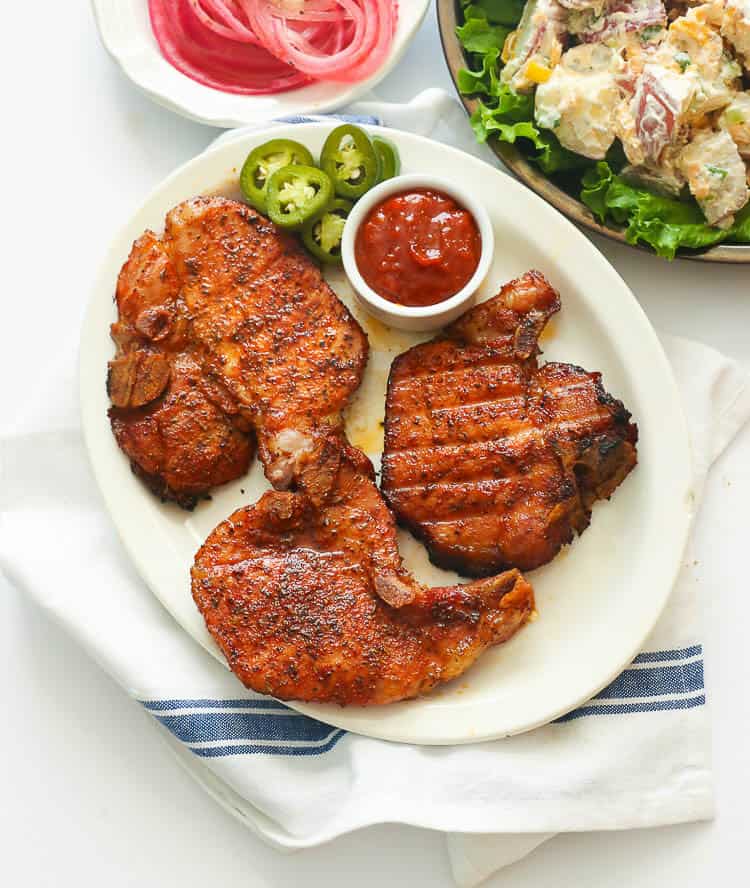 Smoked Pork Chops is one of those fuss-free smoker recipes that require minimal prep time. Amp up your weekday meals with these tender and soul-satisfying pork chops. This recipe will have friends and family singing your praises. Yay!!!
Smoked Pork Chops
Moist, tasty, and deliciously tender smoked pork chops quickly satisfies your cravings with glorious combinations of mouthwatering flavor. Preparing this dish takes no time at all and cooks perfectly to the core. Make this amazing meaty dish for any special occasion or just to satisfy your weeknight cravings.
Check out this recipe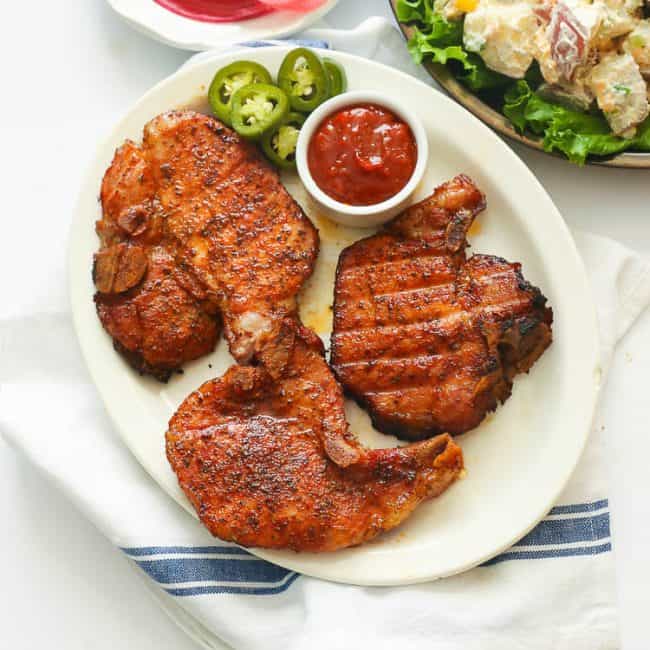 7. Smoked Turkey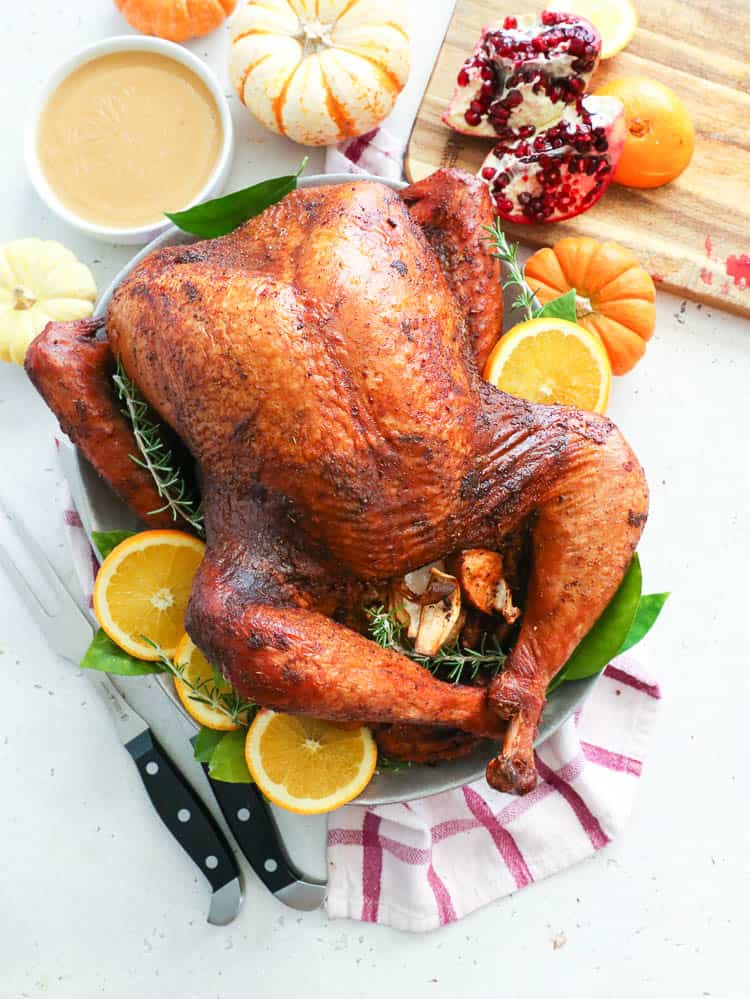 Have a traditional Thanksgiving dinner with an untraditionally Smoked Turkey. Not only is it perfectly seasoned, but it's also tender and juicy, guaranteed to satisfy your cravings. Serve this beauty with Garlic Mashed Potatoes and Green Bean Casserole for an unforgettable meal.
Want a quick and easy version? Check out my Smoked Spatchcock Turkey HERE.
Smoked Turkey
This smoked turkey makes the best holiday main course without taking up any oven space. It's wet brined in a flavorful mixture of spices and seasonings and then slow-smoked to juicy perfection. You'll love that added smokiness that you don't get from your regular roast turkey.
Check out this recipe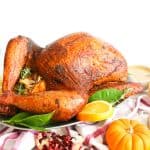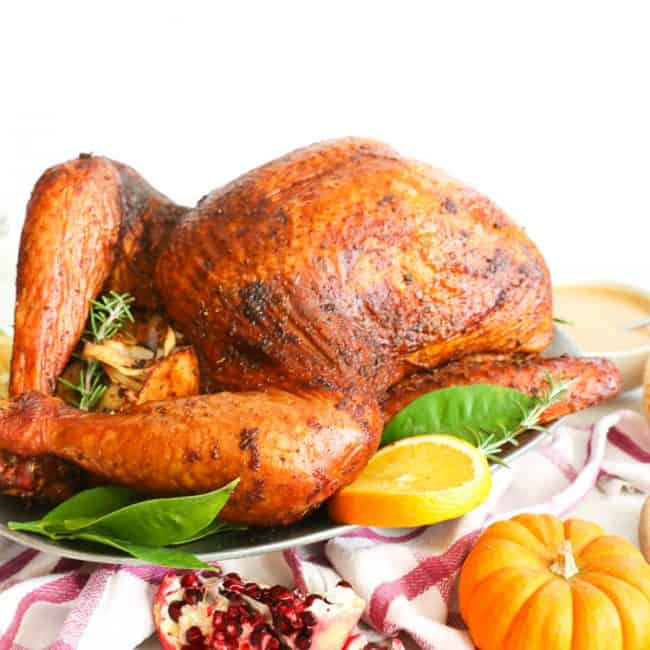 8. Smoked Turkey Legs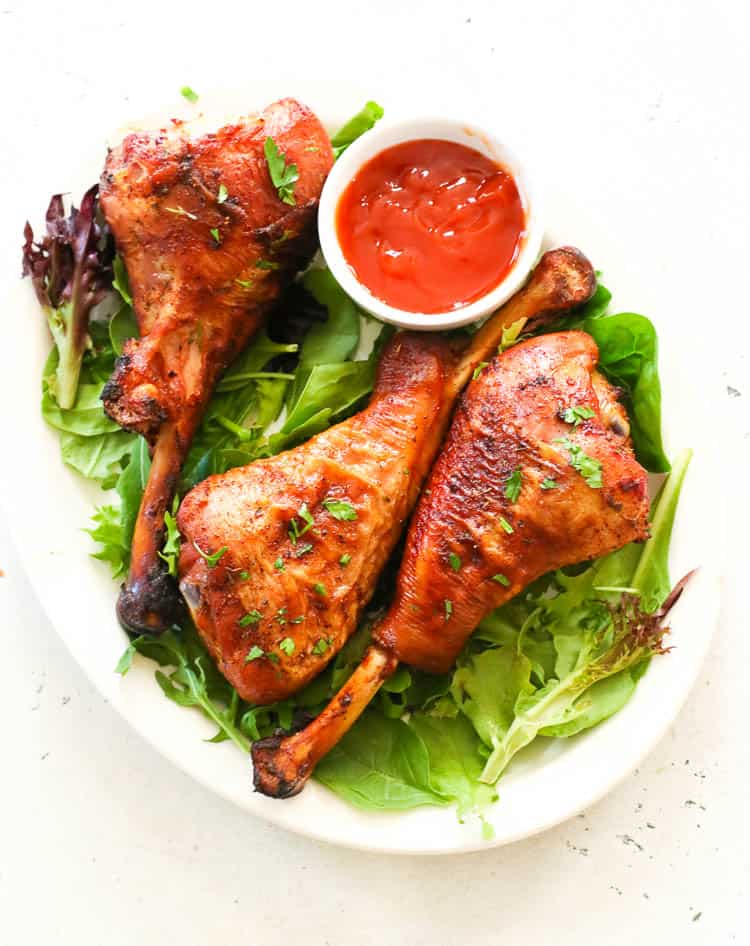 So you don't want to cook a whole turkey? I hear ya! Besides, the legs are my favorite part, and they're even better smoked. These guys are so incredibly delicious and easy that you don't need to wait for the holidays. Even better, they're easy on the budget. If you've ever had Disneyland's smoked turkey legs, this deliciousness will bring back memories.
Smoked Turkey Legs
Tender, juicy, and flavor-packed Smoked Turkey Leg is an easy dish you can prepare even if it isn't the holidays. Easily pair this dish with any side or simply enjoy it as it is. You don't have to wait for the holidays to taste the best turkey drumsticks.
Check out this recipe
9. Smoked Chicken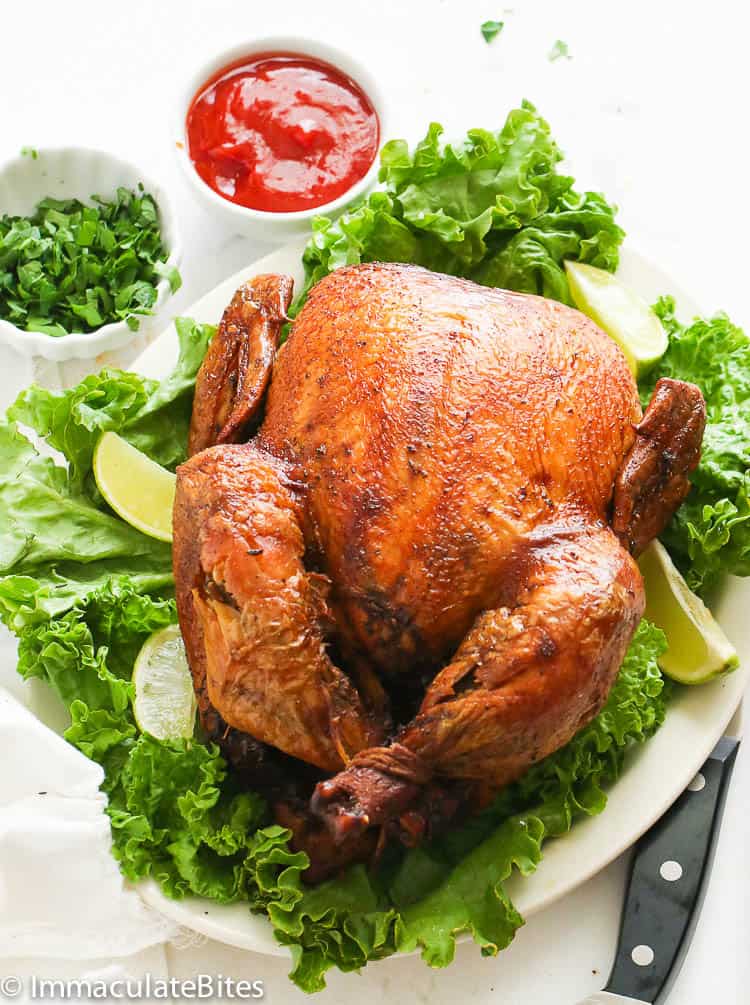 This recipe is another basic smoker recipe that somehow finds its way into the rotation at my house. A simple yet elegant dish with only five ingredients (counting the chicken) will give you an unforgettable experience. And Caribbean Potato Salad and Easy Coleslaw will complete this incredible meal.
Smoked Chicken
Smoked Chicken – tender juicy and delightfully flavorful whole chicken coated in a 4-ingredient homemade rub and slow smoked to perfection. The easiest yet most flavorful whole chicken you could ever have!


Check out this recipe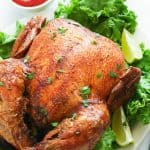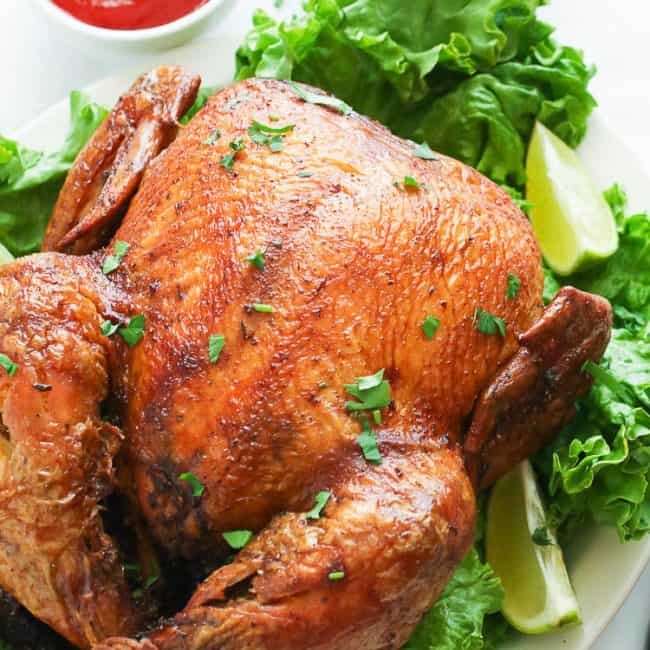 10. Delicious Smoked Chicken Quarters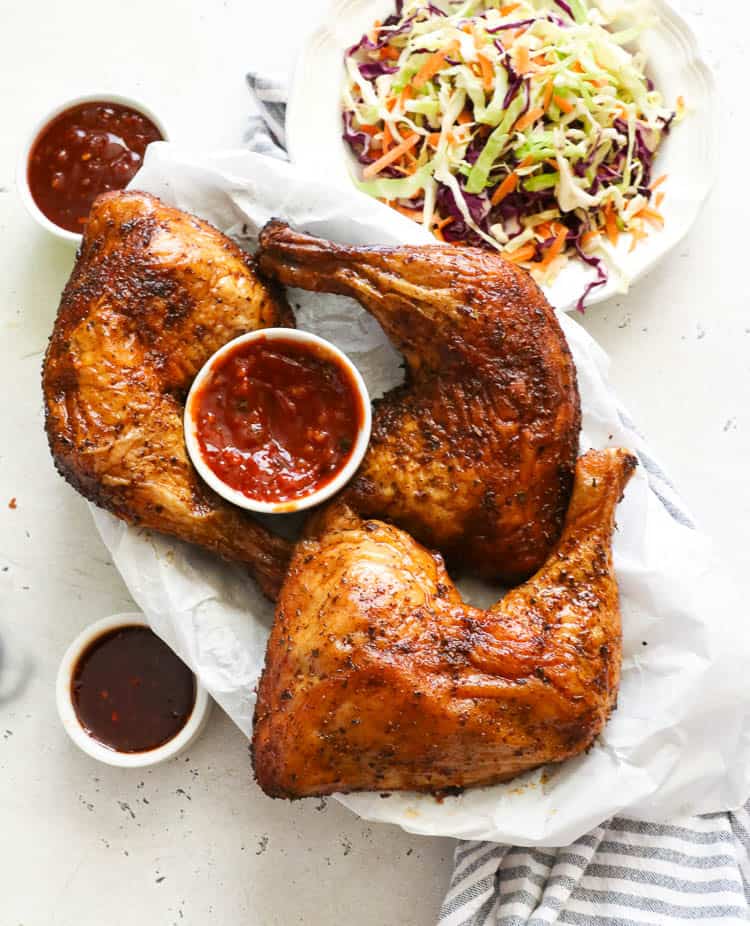 Juicy tender chicken quarters smoked to crispy perfection are simply mouthwatering. The Cajun spices make them even better. Roasted potatoes and a Greek Salad make a deliciously praiseworthy meal. This one really shines in my pellet smoker.
Smoked Chicken Leg Quarters
Mouthwatering smoked chicken quarters are all you need to satisfy your soul food craving. It's super easy and convenient, even if you don't have a smoker. I'll show you how to smoke chicken quarters perfectly so you'll be the smoking hot chef on your next barbecue!
Check out this recipe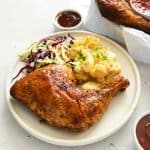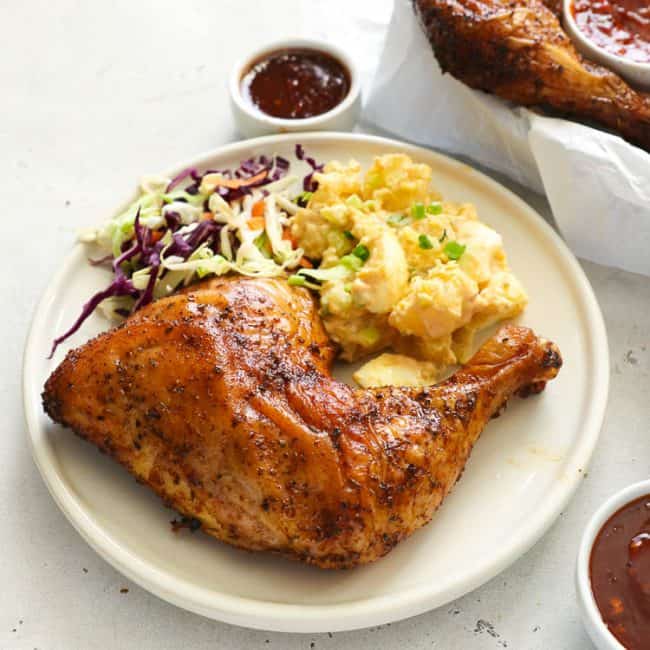 11. Smoked Beer Can Chicken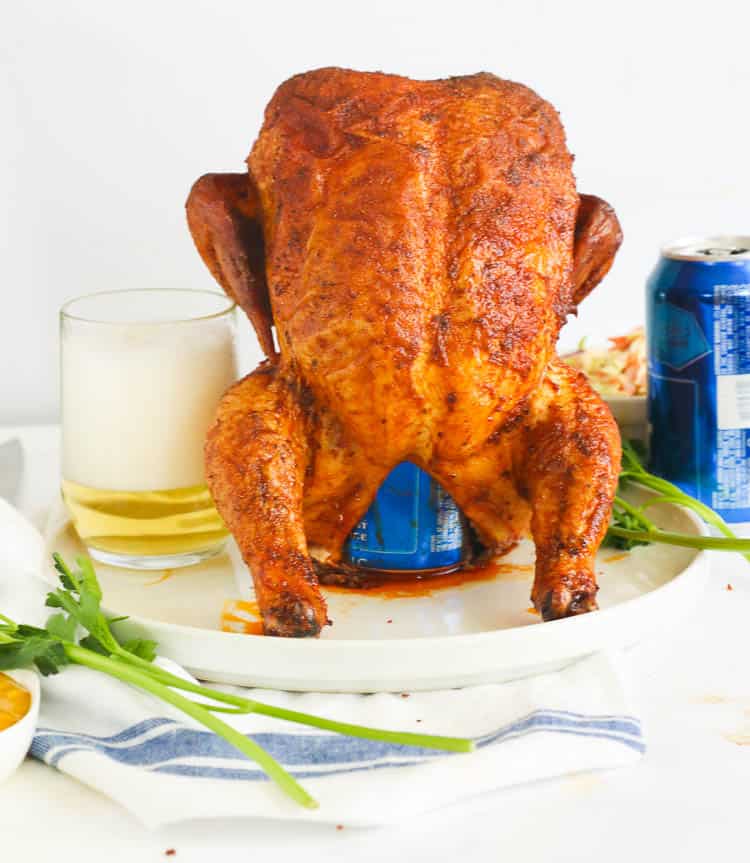 Chicken smoked using a beer can will be the conversation piece for any party you throw. It's not just a load of fun, but it's also genuinely delicious. Think of rotisserie chicken Southern style. Add some Yuca Fries or Sweet Potato Fries, and you're good to go!
Smoked Beer Can Chicken
Perfectly seasoned Smoked Beer Can Chicken is set to give your taste buds an experience of a lifetime. This super easy whole chicken recipe serves as a great party center piece even if it's not the holidays. Just a slice of this amazing dish packs a great deal of flavor that goes well with many side dishes.
Check out this recipe