Pineapple Carrot Raisin Salad- Light and healthy Salad with just the right amount of sweetness and flavored with coconut oil.
We are a couple of days ahead of the holiday season  so too are my plans for dinner. I really do try my best to prep , although I can't guarantee it will make an appearance on the table.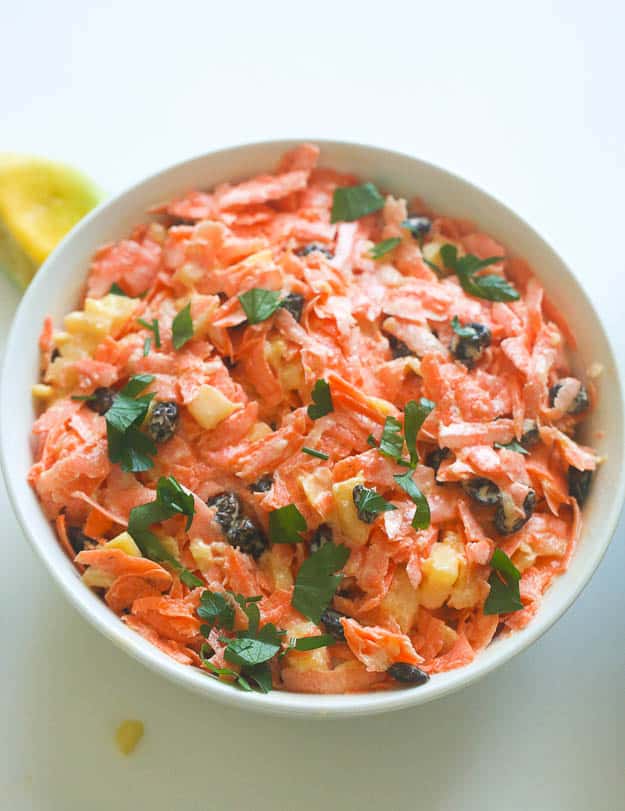 This pineapple Carrot Raisin Salad is definitely going on the menu. This year I am trying to recreate some of my childhood memories of  the holiday season, "trying" being the operative word. As much as I look back and even create a better version of some of the meals served during the Christmas. For some reason, it still doesn't fall quite in place. And I think I know why, Sometimes, it is more about the memories than anything else. So instead of delving in the past am going to be fully present and maybe, who knows? – let my son create his own memories.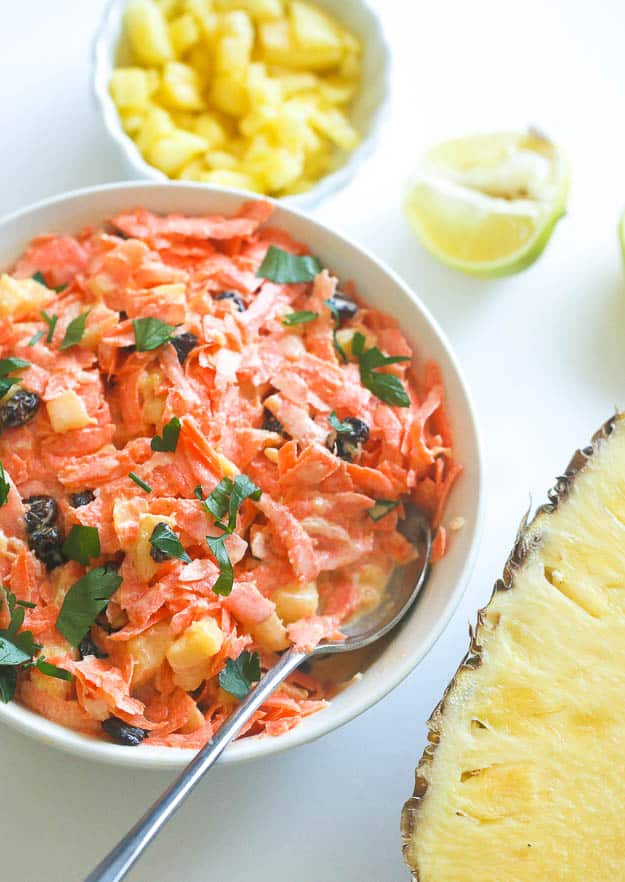 He always recalls stories, about the time he was 2 years old- he is 7, and a chatter box. I don't remember a thing and I don't believe he does-just a figment of his imagination. Lets hope he remembers this holiday season.
There are several ways of making this Carrot pineapple raisin salad. We used to make it with carrots, pineapple, tons of salad cream, mayonnaise and sugar.
Here, I cut the salad cream and mayonnaise in half. Added about 1 tablespoon of coconut oil and added Greek yogurt(to cut calories )then threw in some raisins. The coconut oil really adds another layer of flavor to the salad.
I have made this several times with canned and fresh pineapple- I would give a slight edge to fresh pineapple it really does add sweetness and freshness to it- especially when you use sweet pineapple. Plus you have the added bonus of serving the salad in a pineapple bowl.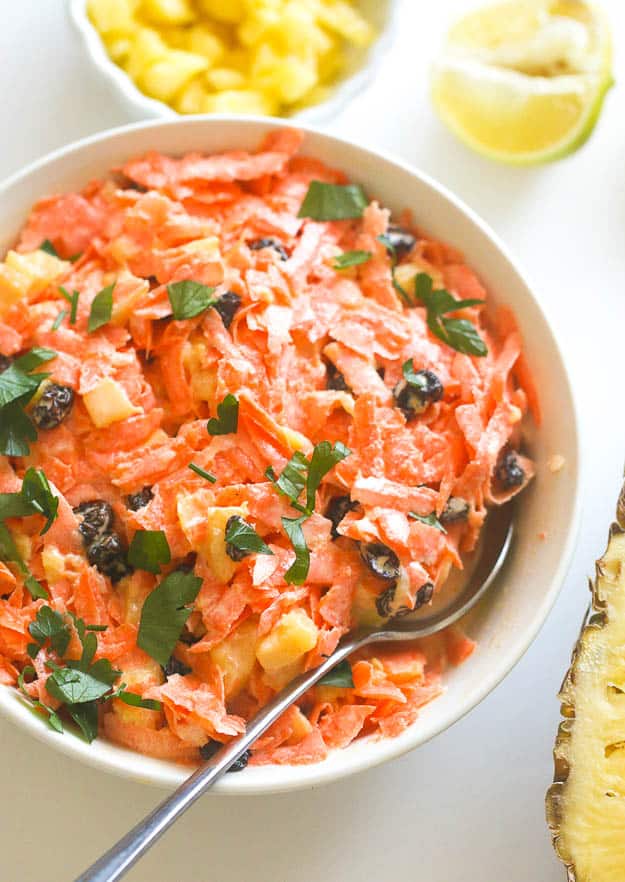 I had to refrain myself from adding a whole bunch of ingredients to this mix. Probably some other time.
You can also throw in a few nuts in the mix or even use coconut flakes. For a really quick salad pick up shredded carrot from the supermarket.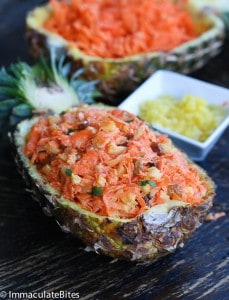 Print
Carrot Pineapple Raisin Salad
Pineapple Carrot Raisin Salad- Light and healthy Salad with just the right amount of sweetness and flavored with coconut oil.
Prep: 30 mins
Total: 30 mins
African
Ingredients
1-2 tablespoon lemon juice
¼ cup salad dressing I used Heinz salad dressing
¼ cup nonfat Greek yogurt replace with salad cream
¼ cup mayonnaise
1 tablespoon grated onion
1 tablespoon sugar optional, adjust to taste
1 tablespoon coconut oil
4-5 cup shredded carrots
1 cup pineapple crushed or chopped
½ - I cup raisins
1 tablespoon chopped parsley
salt and pepper to taste
Instructions
In a large bowl mix carrots, pineapple and raisins

Whisk together the mayonnaise, Greek yogurt, onion, lemon juice, salt, coconut oil and pepper then add to the carrot mixture. Mix well to combine and adjust for seasoning. Let in rest in the fridge so the flavors can come together . Finally sprinkle with parsley and serve.
Nutrition Information:
Calories: 254kcal (13%)| Carbohydrates: 23g (8%)| Protein: 2g (4%)| Fat: 17g (26%)| Saturated Fat: 5g (31%)| Cholesterol: 6mg (2%)| Sodium: 328mg (14%)| Potassium: 484mg (14%)| Fiber: 4g (17%)| Sugar: 15g (17%)| Vitamin A: 21490IU (430%)| Vitamin C: 30mg (36%)| Calcium: 61mg (6%)| Iron: 0.6mg (3%)
Nutrition Facts
Carrot Pineapple Raisin Salad
Amount Per Serving
Calories 254 Calories from Fat 153
% Daily Value*
Fat 17g26%
Saturated Fat 5g31%
Cholesterol 6mg2%
Sodium 328mg14%
Potassium 484mg14%
Carbohydrates 23g8%
Fiber 4g17%
Sugar 15g17%
Protein 2g4%
Vitamin A 21490IU430%
Vitamin C 30mg36%
Calcium 61mg6%
Iron 0.6mg3%
* Percent Daily Values are based on a 2000 calorie diet.