If you're looking forward to celebrating Cinco de Mayo, then I have the perfect collection of recipes to help you celebrate it in style. This Mexican celebration, with its tantalizing aromas and spicy flavors, is even more popular in the United States than it is in Mexico! And, it's a fantastic excuse to get together and enjoy their delicious cuisine with family and friends.
Spicy Mexican food is a huge hit anywhere you go. While many people believe that Cinco de Mayo celebrates Mexican Independence, it actually commemorates winning the war against the French in the Battle of Puebla. But that's ok; we'll take any excuse to party, right? So, what recipes can we come up with so you can enjoy a drool-worthy Cinco de Mayo menu. I am here to help!
Plan your fiesta with these easy and quick Mexican recipes for your Cinco de Mayo menu so that you can enjoy it instead of slaving in the kitchen.
Menu Ideas
Exploding with flavor and easy to make ahead, Slow Cooker Carnitas make the perfect appetizer topping, taco filling, or even the main course served with Mexican Rice and my favorite salsa, Pico de Gallo. My son's favorite Cinco de Mayo food is the popular Cuatro Leches Cake. Dessert is always my favorite part of the meal, too!
Carne Asada is always the perfect party food. Our recipe here is as good as you can get at those restaurants at a fraction of the price. It has full of authentic Mexican flavors, very juicy, and tender grilled meat. And you know it's DELICIOUS when your guests want more!
To Get Started
The basics to get you started include tortillas, tortilla chips, and your favorite salsas. Here are some fast and easy recipes to get you on a roll.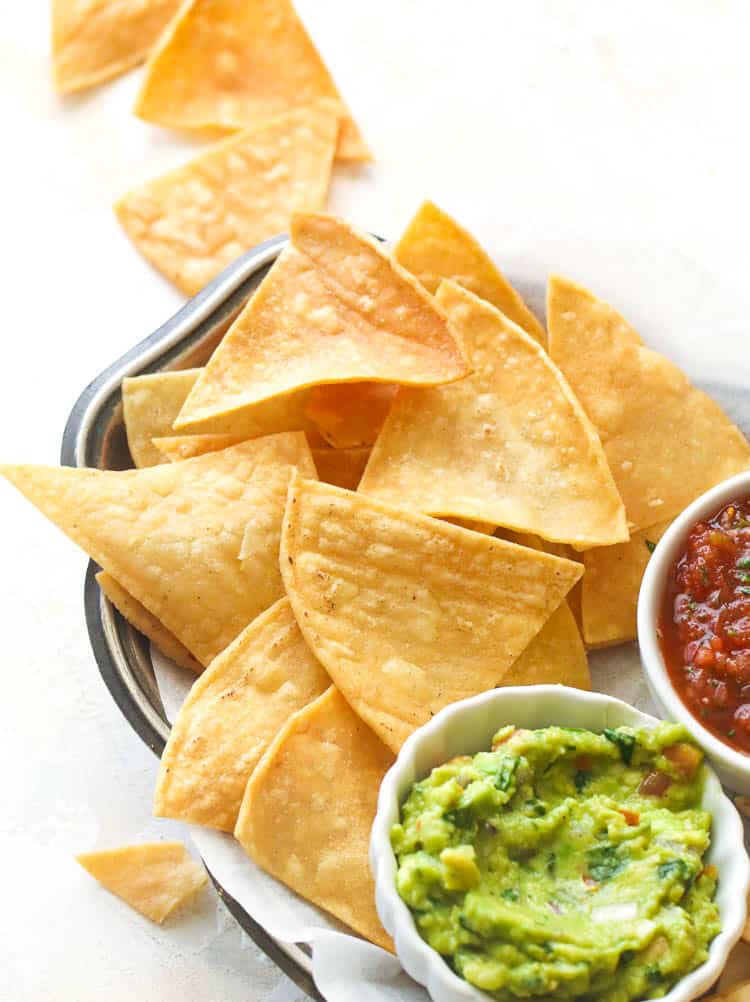 Homemade Tortilla Chips for the perfect crunch; they can be fried, baked, or air-fried. Just 3 ingredients and 15 minutes to enjoy this super quick and easy guilt-free snack! These fresh, warm, crispy chips go well with guacamole or your favorite salsa (or both). And they can be combined with any of the following tips, not to mention nachos topped with Carne Asada or carnitas, jalapeños, and your favorite cheese sauce.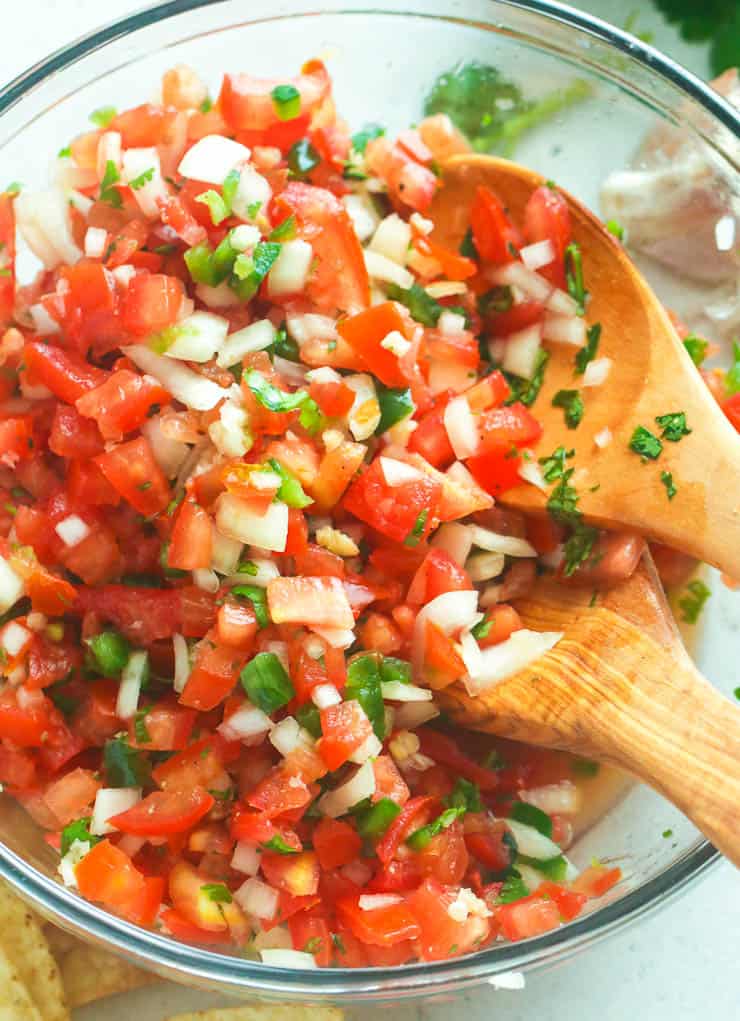 What is Cinco de Mayo without Pico de Gallo? Give your menu a wonderfully fresh and healthy chunky salsa loaded with juicy tomatoes, onion, cilantro, and jalapeños for a little kick. With a few ingredients and 10 minutes, and you can have the best topping for all of your favorite Mexican food!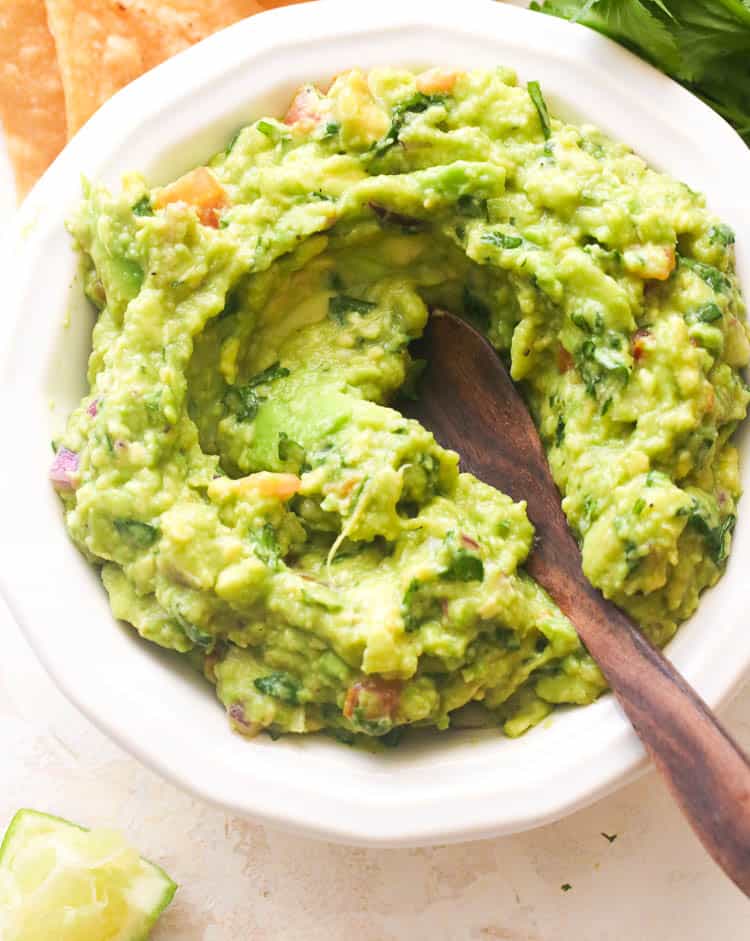 Make your own Guacamole using fresh high-quality ingredients for a fool-proof, irresistible, creamy guac that doesn't contain any fillers or added preservatives. Plus, my recipe has great tips on how to keep it from turning brown! Don't forget that this awesome sauce is a great replacement for sour cream on a taco if you're sensitive to dairy.
Appetizers and Snacks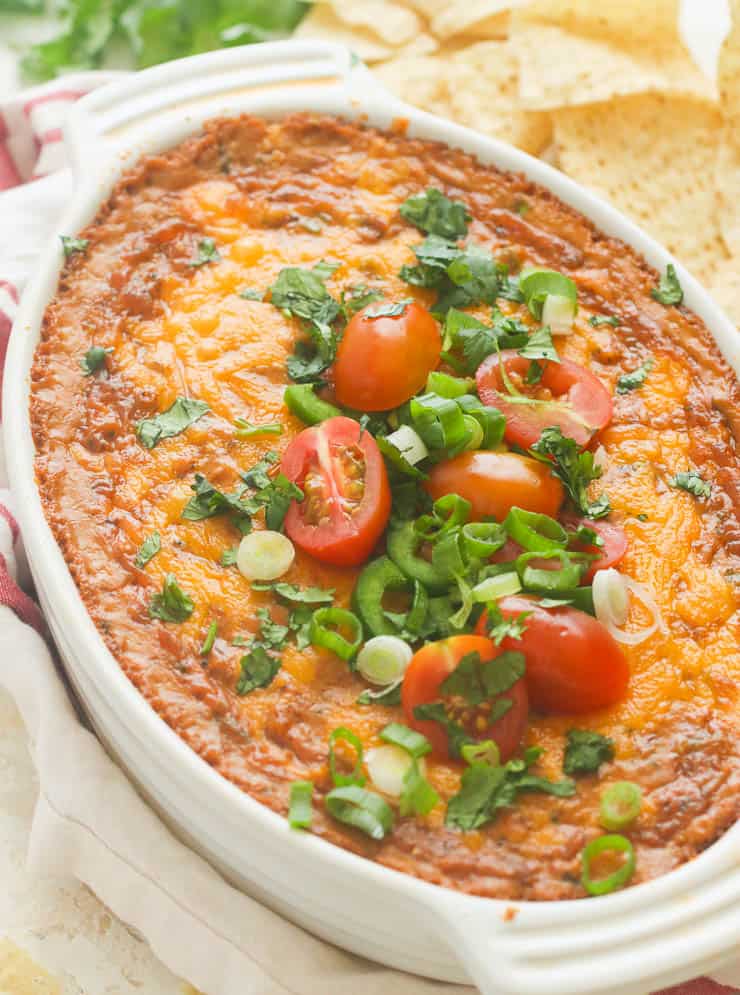 While this Bean Dip may be more TexMex than Mexican, it is still a great addition to your fiesta. We'll just call it refried beans kicked up more than a notch. You can throw this cheesy loaded-with-flavor bean dip together in only 30 minutes. The secret ingredient that makes it so smooth and creamy is cream cheese, and before you know it, your fancy baked dip with refried beans will be the star of the show. It pairs perfectly with homemade tortilla chips.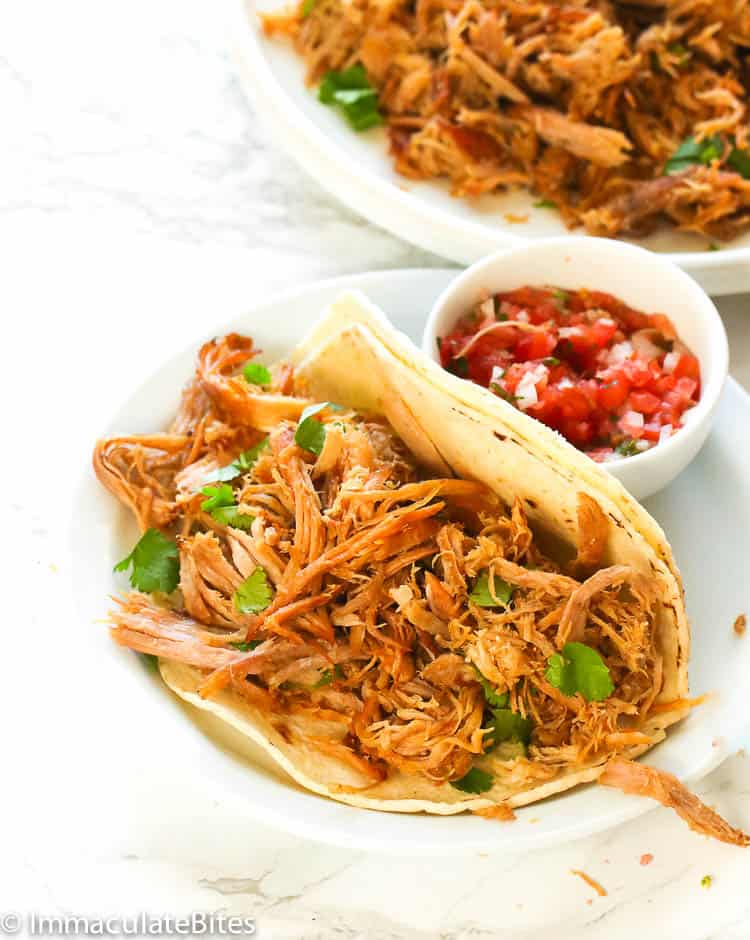 Slow Cooker Carnitas are juicy and highly-seasoned pork slow-cooked until tender enough to pull apart with forks then broiled slightly for crisp, delicious edges. This has to be the most delicious, easiest, and healthiest version of carnitas! Fantastic filling for tacos, burritos, or in my Easy Tostada Bowl.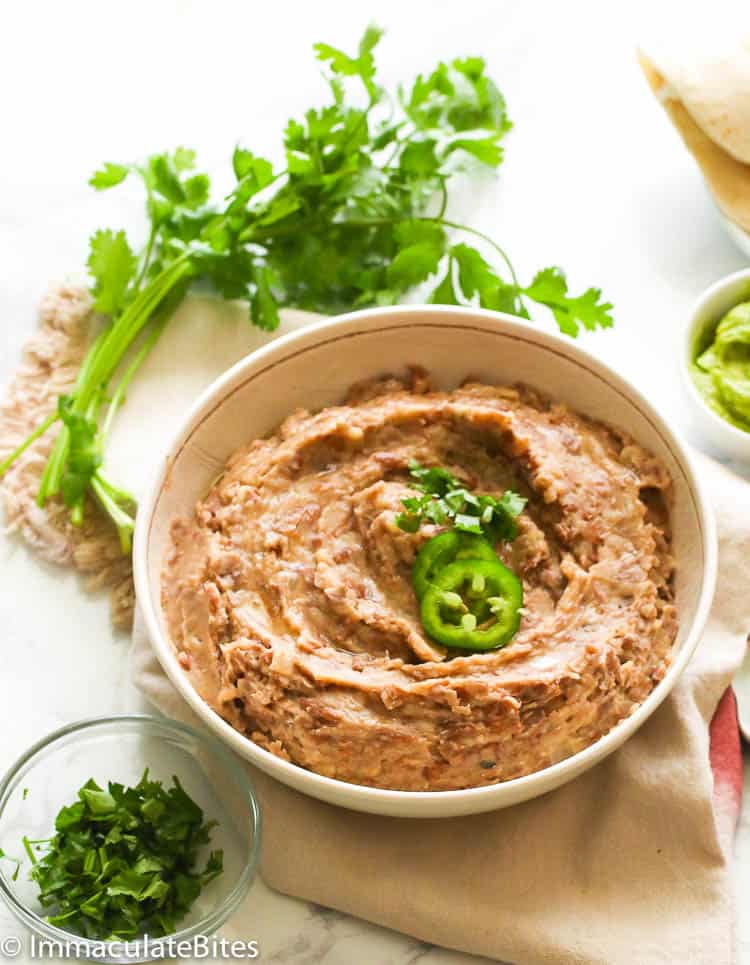 Refried Beans – chunky, smooth, and delicious bean dish cooked, then mashed and served as a delightful side dish to tacos, enchiladas, burritos, and even as a dip. You can't go wrong with these refried beans!
Dinner Recipes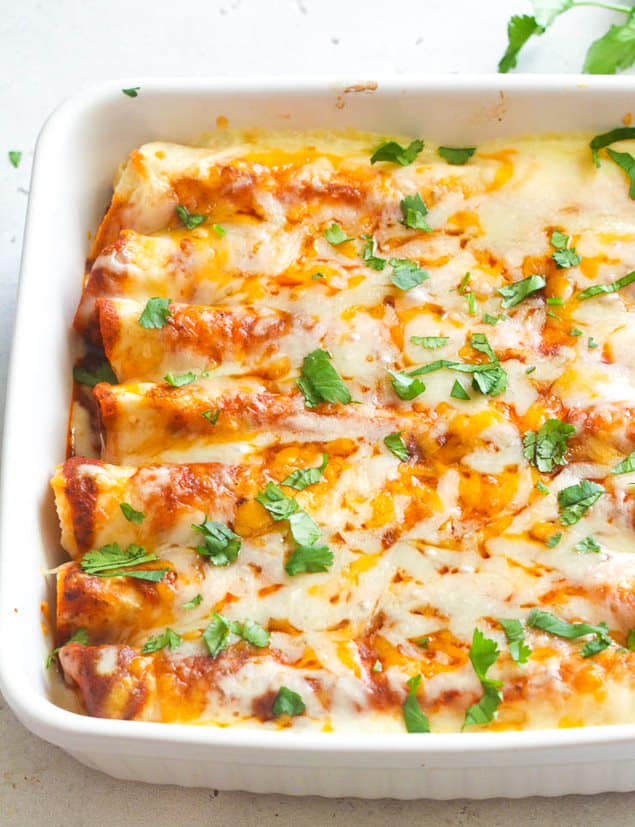 The rich, cheesy, and super saucy Chicken Enchiladas are perfect to adorn your dinner table with the ultimate blast of color and flavor. This quick and easy-to-bake recipe will delight you with your very own favorite Mexican delight. No good dinner menu is complete without these cheesy enchiladas on it, so give them a try!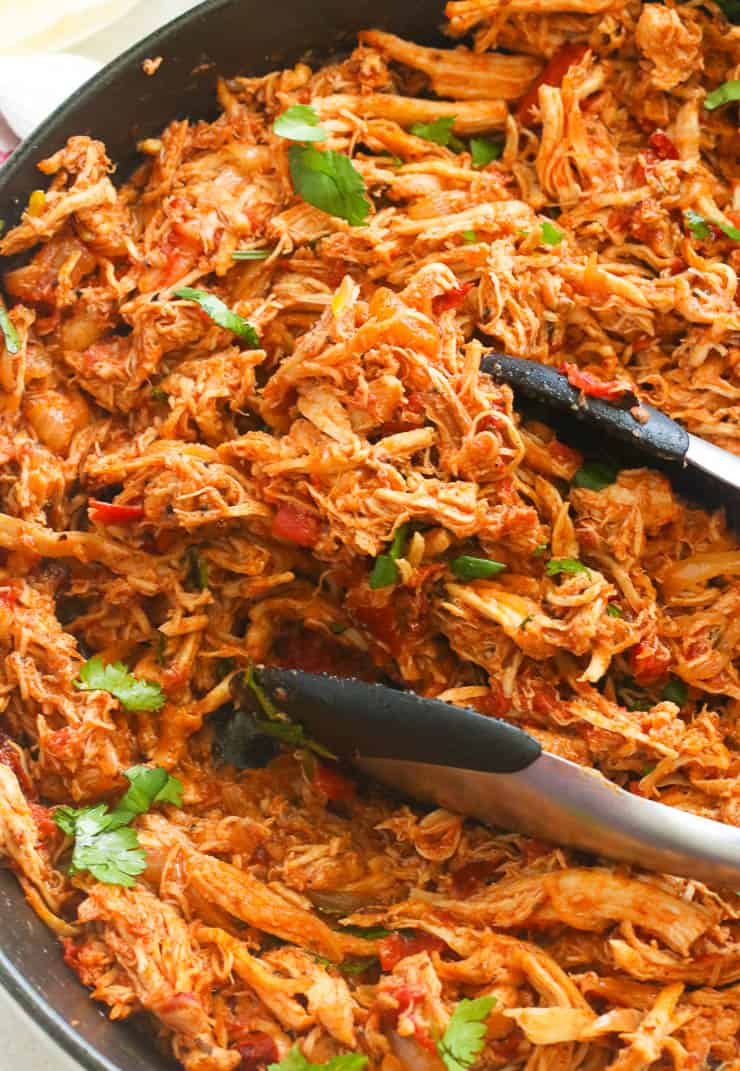 Chicken Tinga is a deliciously easy and spicy way to prepare chicken. Check out this recipe for an even easier version of the classic Mexican shredded chicken in a flavorful smokey, sweet, tomato-chipotle sauce. It's the perfect make-ahead when entertaining and so versatile. It is absolutely yummy over tortillas, in salads, over rice, on pizza, or with sautéed veggies. It also makes a great burrito filling.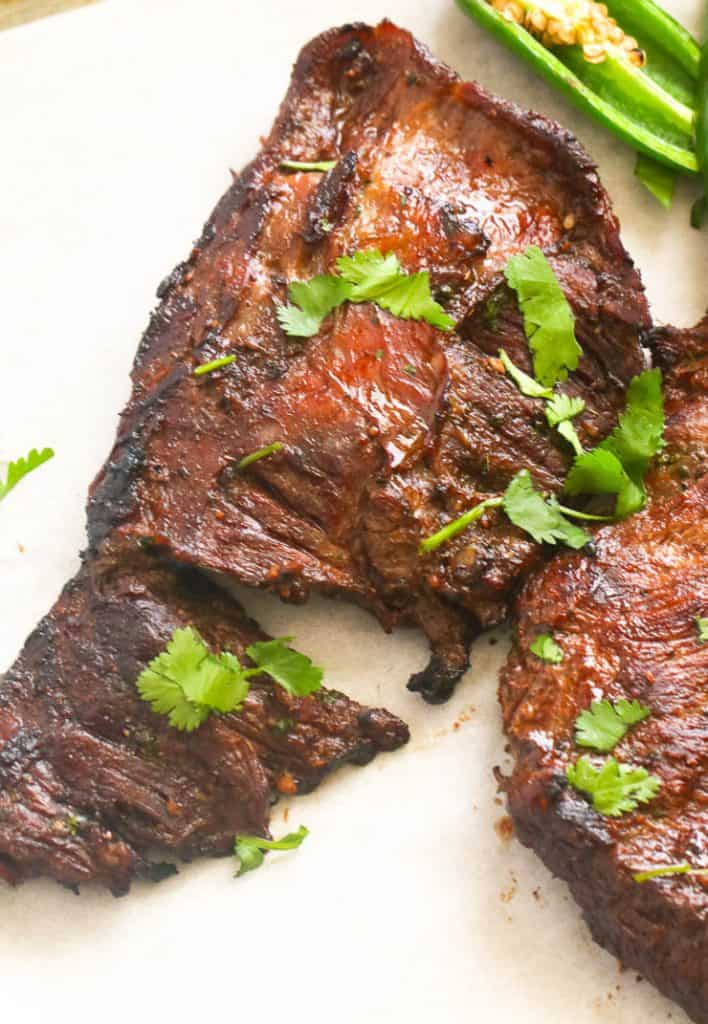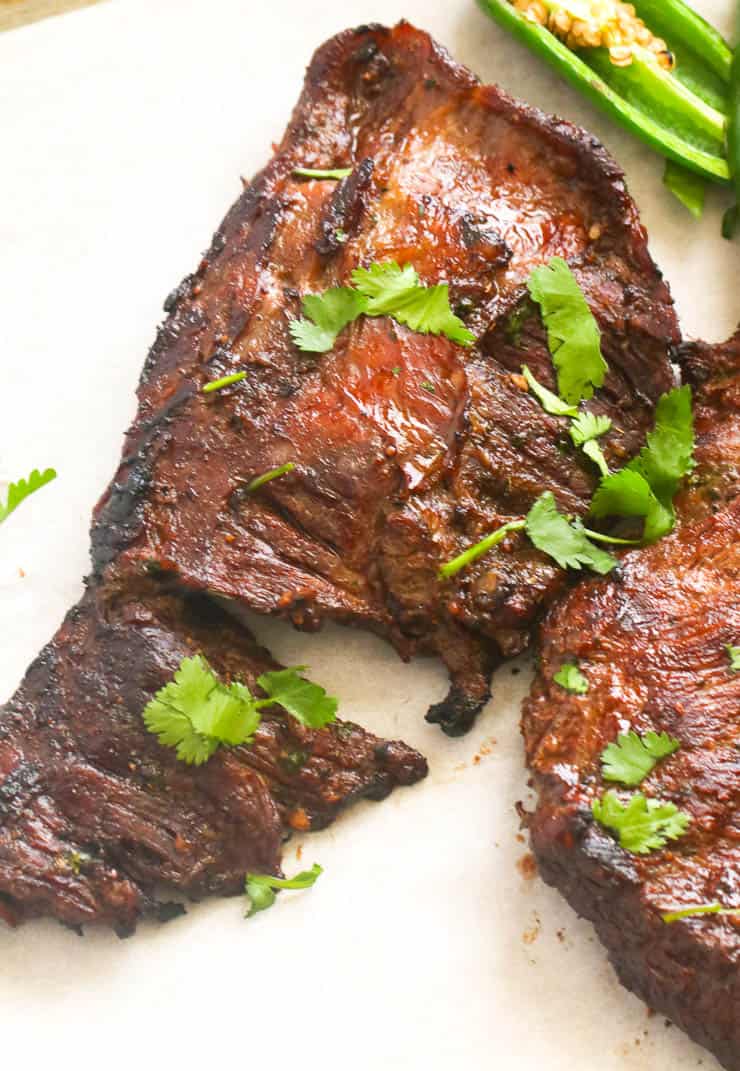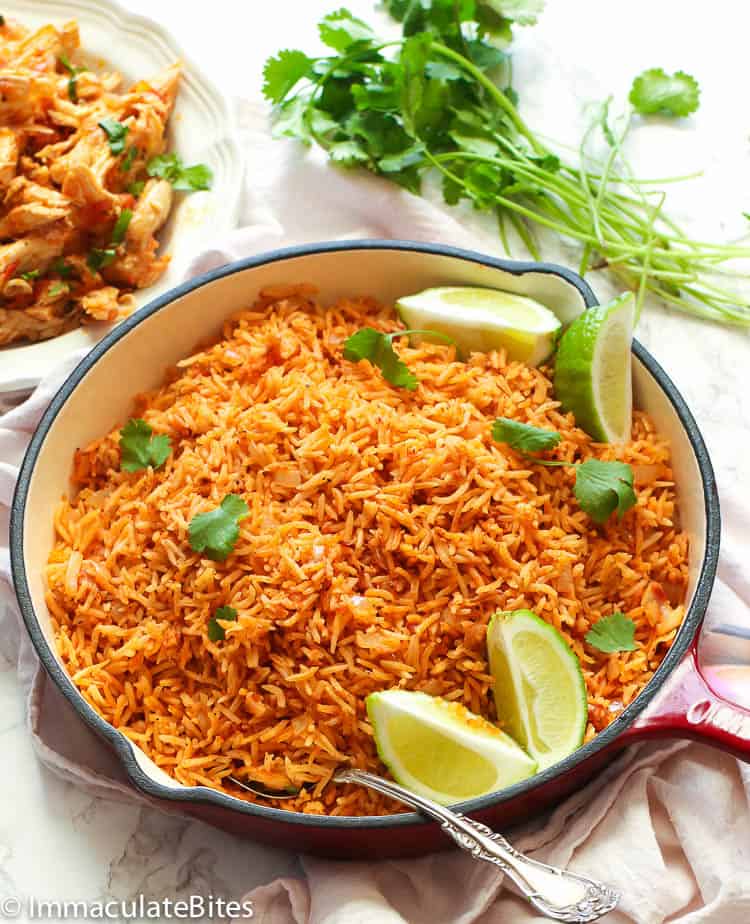 No meal is truly complete without rice. And Mexican Rice has an extra kick that will have you yelling ¡Olé! Choose between two convenient methods, baked or stovetop, for a tender and amazingly delicious rice recipe that's perfect for entertaining. It tastes even better than those you pay for at restaurants. The leftover rice goes great in a chicken soup the next day, that is, if there are any leftovers.
Desserts
I don't know about you, but dessert always has been and always will be my favorite part of the meal. And Cinco de Mayo desserts are so incredibly mouthwatering that I enjoy them all year long. The following drool-worthy recipes are quick and easy, in addition to being downright delicious.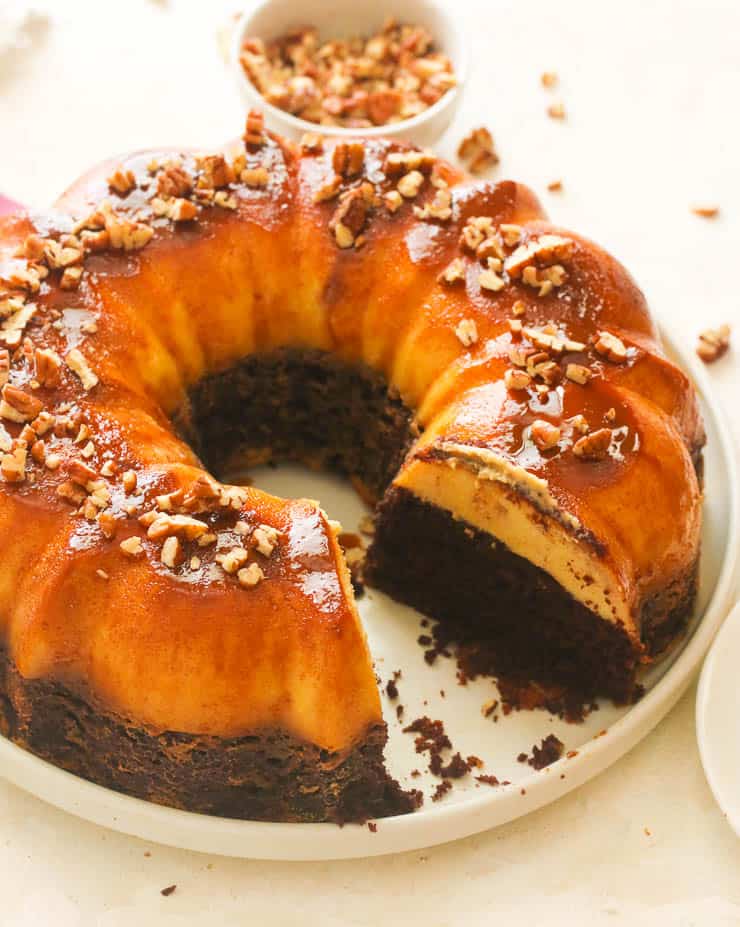 This incredible Mexican creation is amazing defiance of logic and an incredible mix of my two favorite desserts – Chocolate Cake and Flan. The moist, decadent chocolate cake is layered with a luxurious silky smooth flan and topped with the Mexican caramel sauce Cajeta. This Chocoflan is one of the most magical cakes you'll ever have. Who says we can't eat dessert first?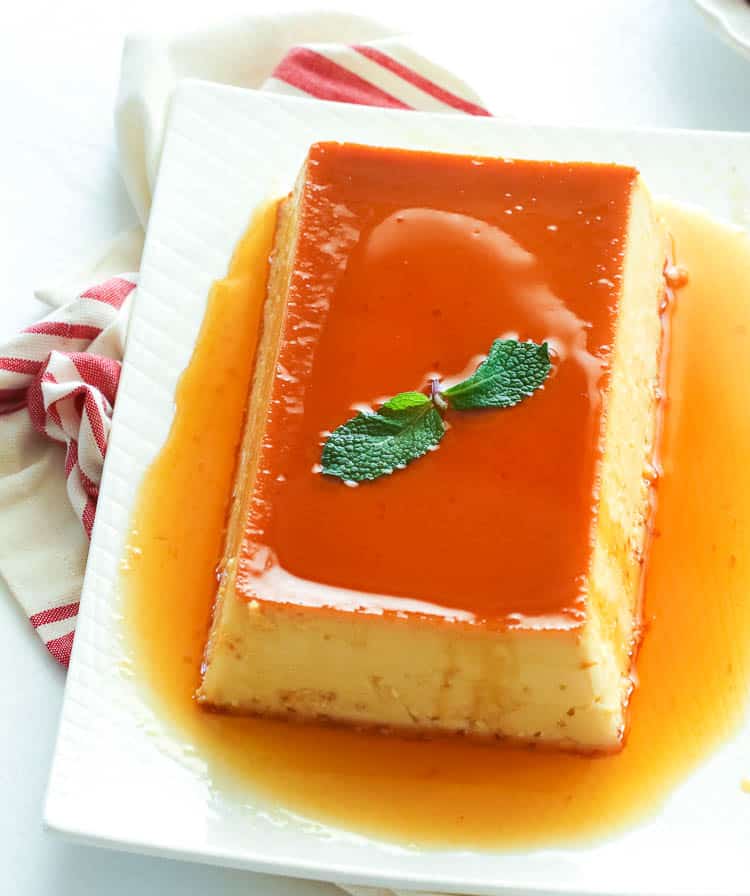 Flan is a fancy, yet simple-to-make dessert with a dense, yet sturdy, creamy sweet custard topped with a made from scratch caramel sauce. Caramelly, sweet, custardy indulgence that melts in your mouth. An incredible make-ahead dessert for all occasions, and of course, it's perfect for Cinco de Mayo.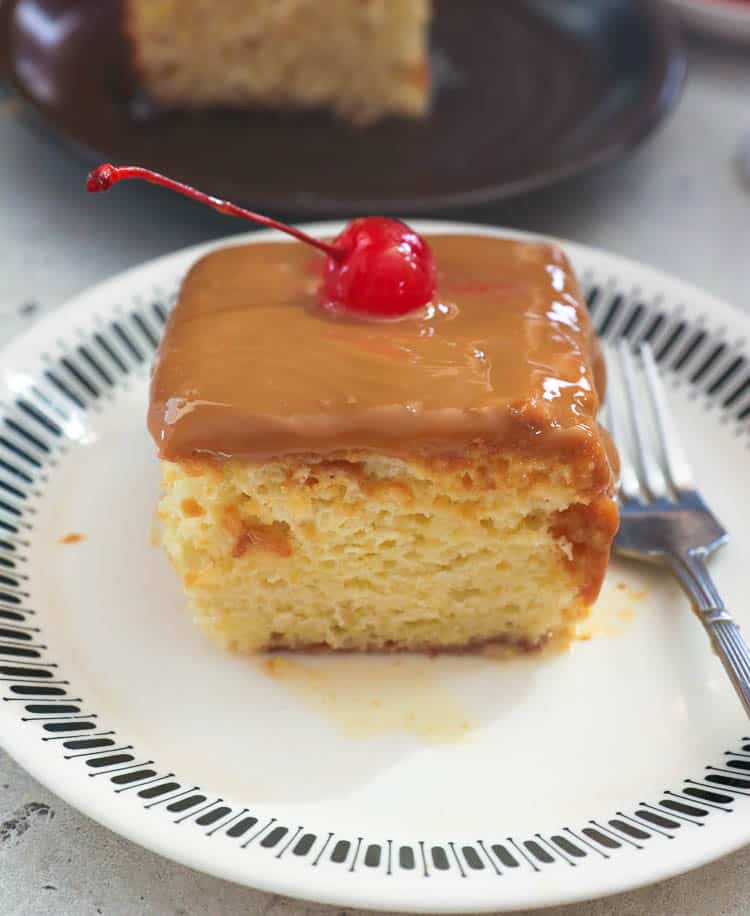 Just when we thought no one could surpass a good Tres Leches Cake, someone decided to create the Cuatro Leches Cake. It is a soft, tender, moist, and sweet cake soaked in four different types of milk. This a great choice if you'd like to save some time by making dessert ahead because it's best served the following day.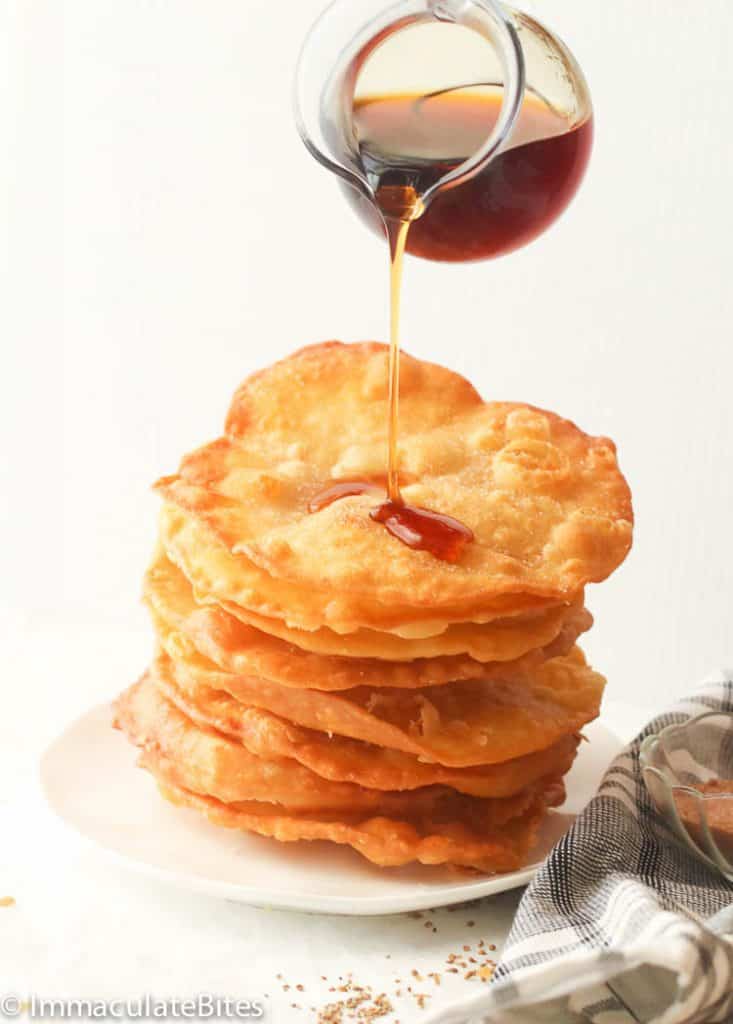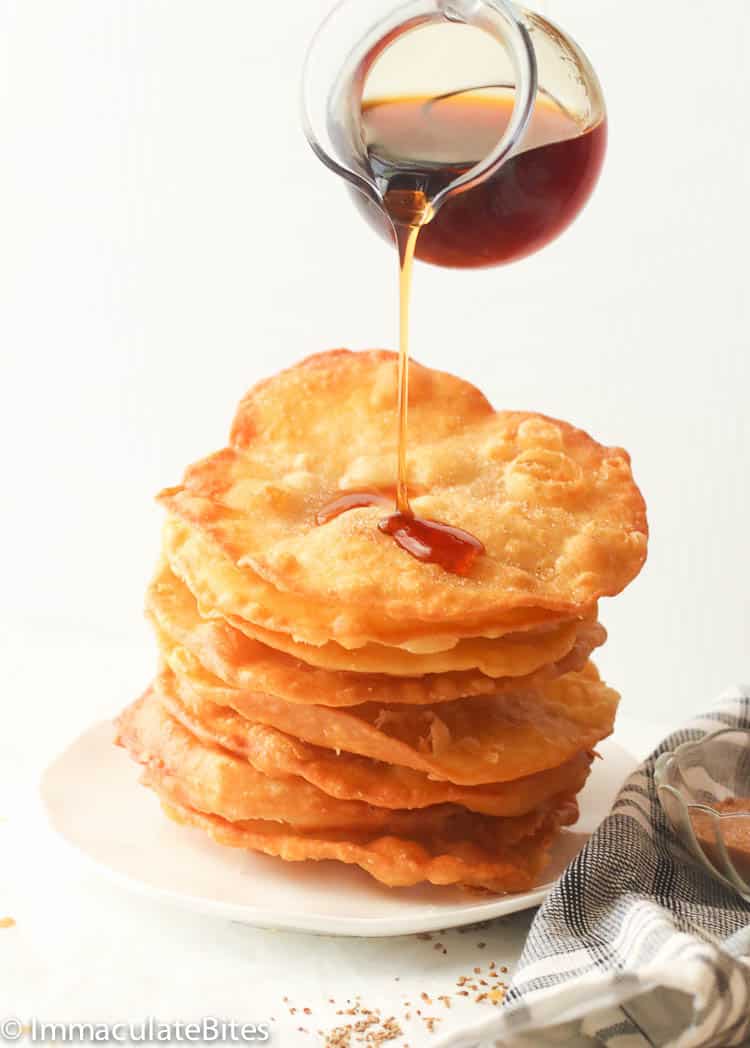 Buñuelos are light, crispy, sweet, flat disk fritters fried to golden perfection and drizzled with a homemade Piloncillo syrup and/or dusted with cinnamon sugar. This Mexican delicacy is a holiday staple that is not only perfect for Cinco de Mayo but can also be enjoyed year-round as a dessert or snack!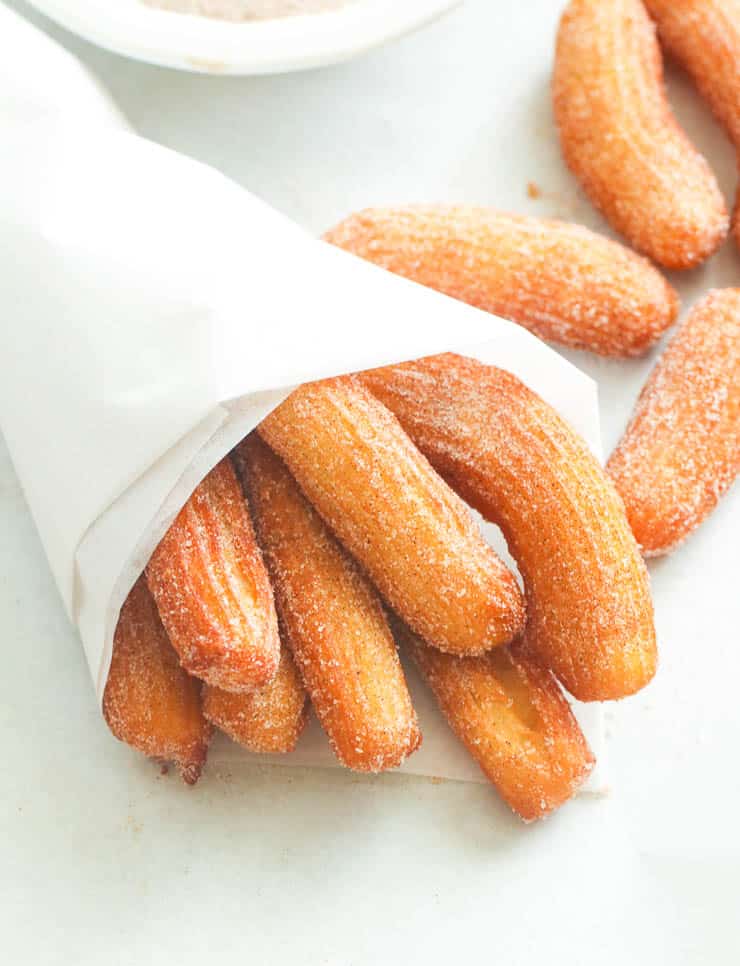 Ah, the aroma of fresh churros sold by the street vendors! This easy Churros Recipe is a classic Mexican snack or dessert treat made by piping dough straight into the frier for a warm flaky dessert that screams perfection. Crispy on the outside, light and soft on the inside, lightly coated in cinnamon sugar, then dipped in chocolate sauce, and now you have irresistible snack bites!
Drinks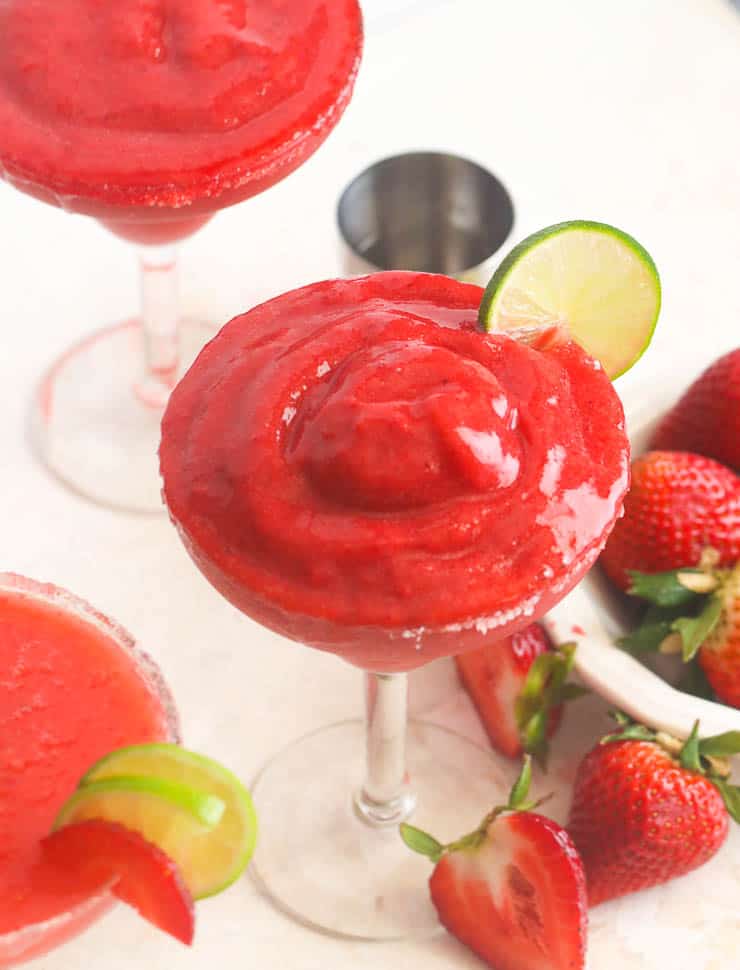 This super-easy to make Strawberry Margarita is a perfectly balanced cocktail made with fresh or frozen strawberries, tequila, and a few other easy-to-find ingredients. Depending on how you feel, you can serve it on the rocks or frozen and rimmed (in white or pink). A refreshing drink for warmer days to go with all your chips and salsa!
And of course, if you want a virgin strawberry margarita, just replace the alcohol with refreshing sparkling water or soda (lemon soda goes really well with strawberries). Bottoms up!
Armed with these delightful and appetizing recipes, you are guaranteed to have a Happy Cinco de Mayo. Not only that, these recipes are so quick and easy they will add an extraordinary spark to liven up everyday meals. Please be safe for your celebrations and have a great time with your family.
Print
Easy Cinco de Mayo Recipes
If you're looking forward to celebrating Cinco de Mayo, then I have the perfect collection of recipes to help you celebrate it in style. This Mexican celebration, with its tantalizing aromas and spicy flavors, is even more popular in the United States than it is in Mexico! And, it's a fantastic excuse to get together and enjoy their delicious cuisine with family and friends.