Homemade Pita Chips – honestly, is there anything more addictive than a batch of crispy, mouthwatering pita chips fresh out of the oven? I didn't think so. 😜 These homemade pita chips are super easy to make and just so good, they've quickly become my new favorite snack.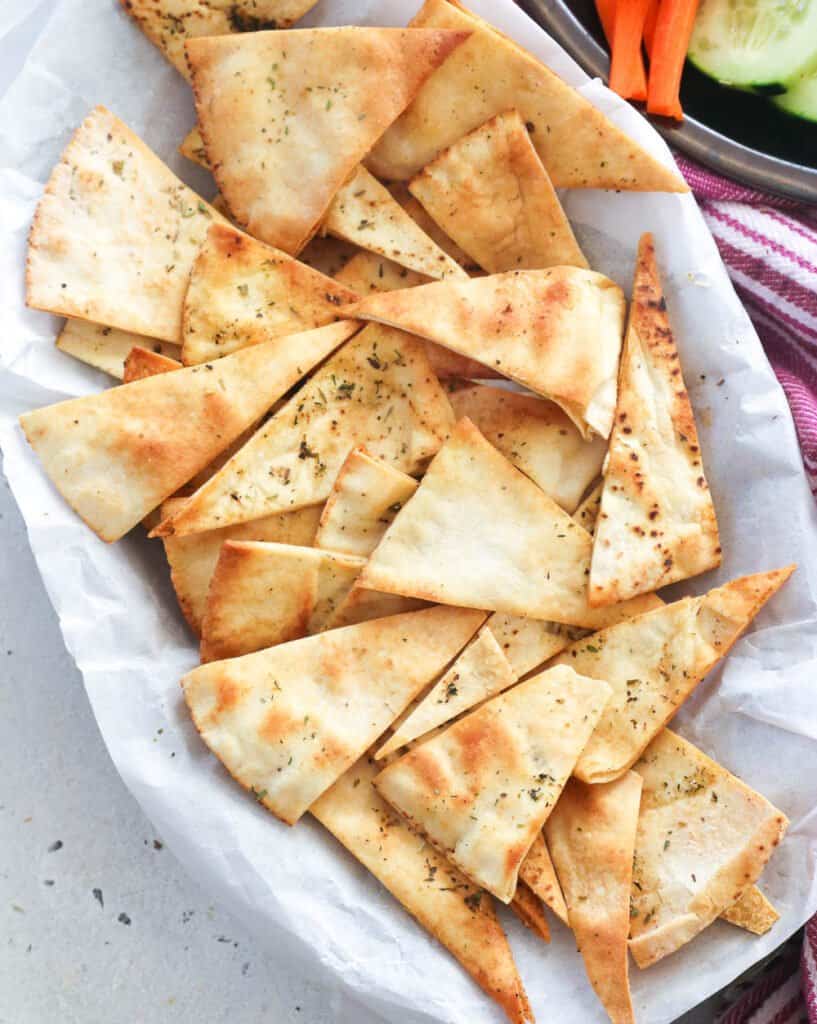 When bags of pita chips showed up at every major grocery store, I admit I was the first to jump on board. I loved a good bag of Stacey's Pita chips. No denying it. That is until I started playing around in my kitchen and came up with this recipe.
Seriously, there is nothing better than any form of bread coming out of your own oven, and pita chips are no exception. These homemade, toasty warm, crunchy chips ready for dipping in your favorite sauce, salsa, or hummus are out of this world. 💫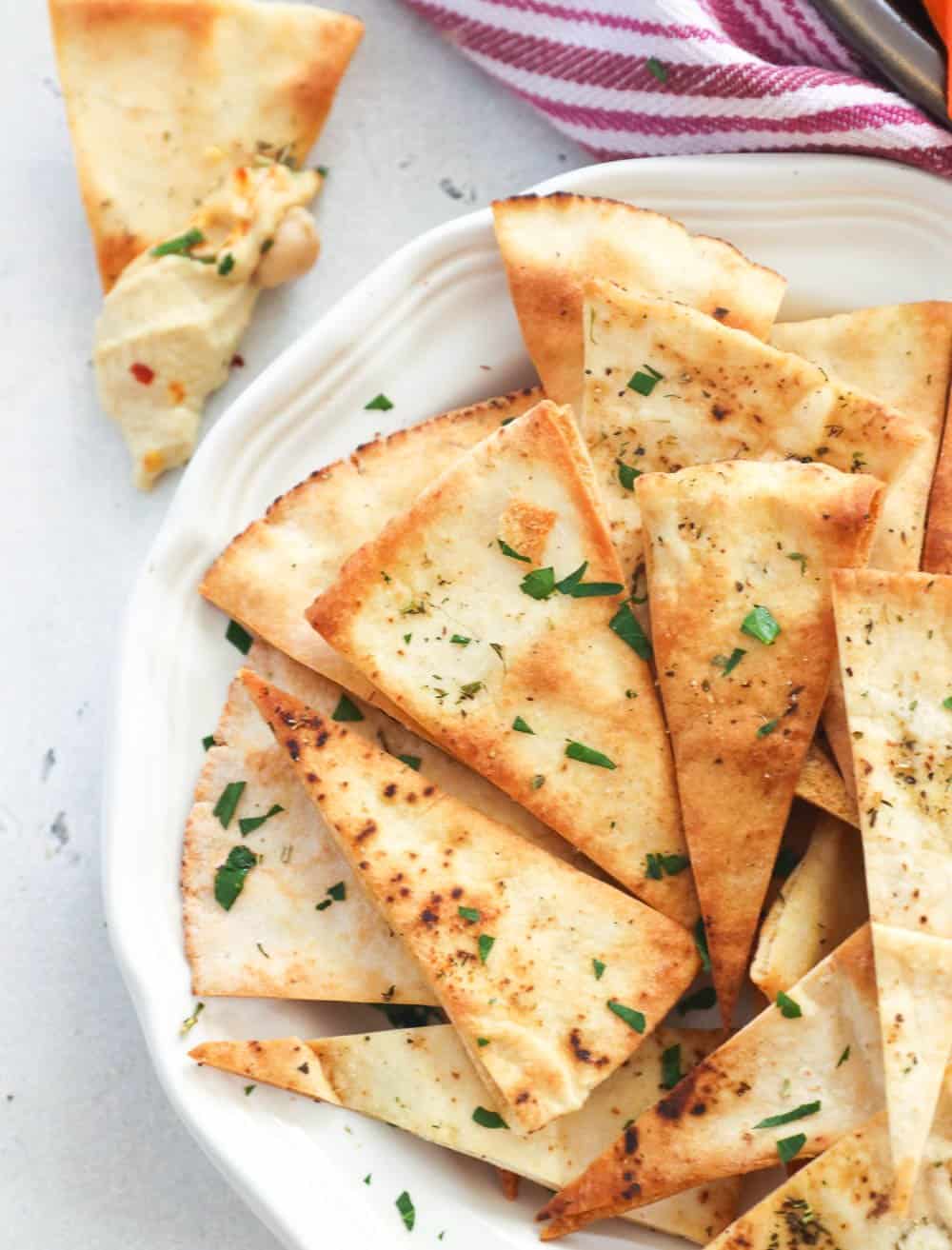 The Decadance of Pita Chips
Pita chips are a cracker-like snack made from delicately baked pieces of pita bread. You know how tortilla chips come from fried pieces of tortillas, right? Pita chips are the same concept. These crunchy beauties are perfect for dipping and often paired with Hummus or fresh salsas.
Recipe Ingredients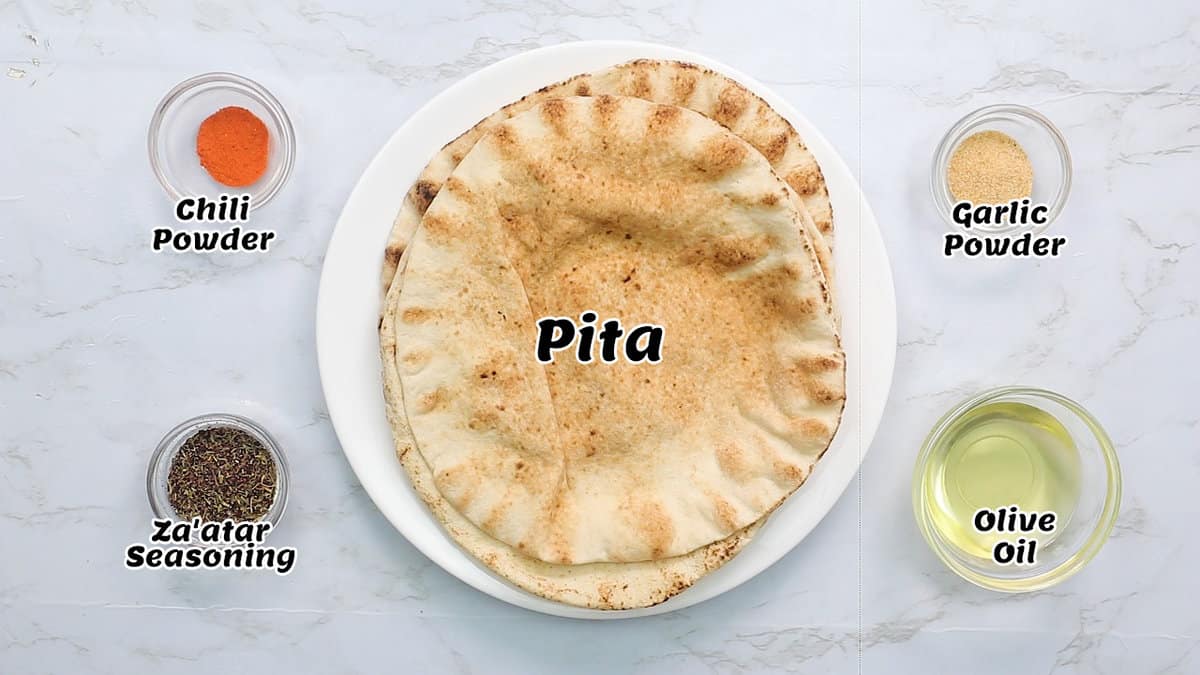 Pita Bread – Leftover, day-old pita bread is perfect for this recipe, so don't toss any extra pita sitting on your kitchen counter, even if four or five days have gone by.
Spices – Garlic powder, chili powder, and za'atar seasoning are what I use for pita chips, but this part of the recipe is totally customizable. Use any herb or spice you enjoy to season your chips.
Olive Oil – This ingredient is indispensable if you want to get that classic pita chip crunch. 😋
How to Make Pita Chips

Pita Chip Prep
Combine the spices and olive oil in a small bowl and set aside. (Photo 1)
Prep the Pan – Line a baking sheet with parchment paper and set it aside.
Cut the Pieces – Cut your pita pockets or pita bread into triangle-shaped pieces and arrange the pieces on the baking sheet in a single layer. (Photo 2-3)
Season the chips with the oil and spice mixture using a kitchen brush. (Photo 4)
Bake and Serve the Chips
Bake the pita chips at 400℉/205℃ for 7-15 minutes or until golden brown and crispy. Cooking times will vary depending on the size and thickness of pita chips. (Photo 5)
Cool – Let the chips cool and serve with your favorite dip or this hummus. Enjoy! 😁 (Photo 6)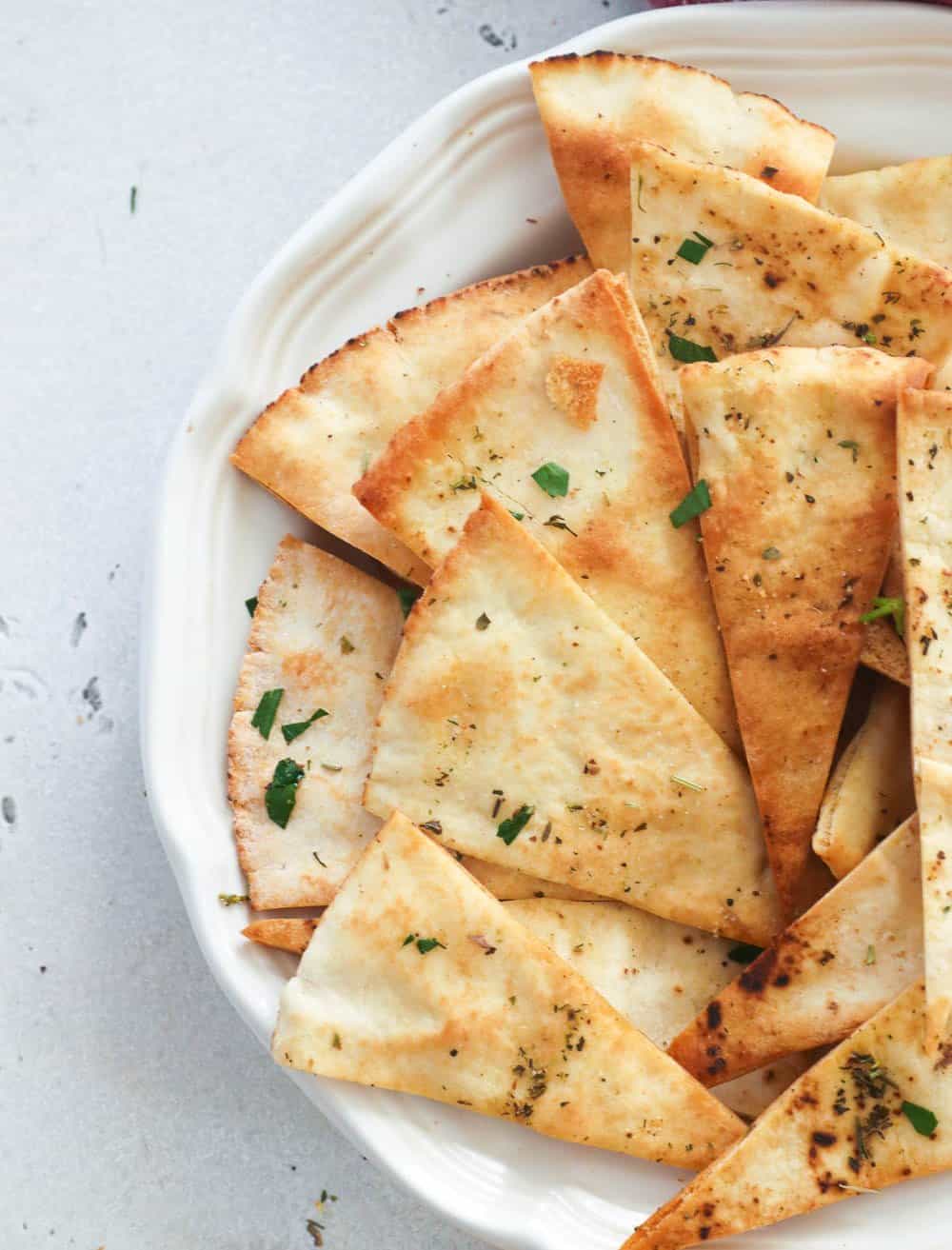 Recipe Variations
Make Italian herb pita chips by seasoning them with oregano, basil, and thyme. For an exciting Southern flavor, try sprinkling them with a BBQ rub.
Sprinkle pita chips with cinnamon and sugar for a sweet twist on a usually savory snack. Pair with a dessert hummus if you really want to indulge.
Toss the chips with parmesan and garlic powder for a cheesy take on pita chips because bread with cheese is always a good idea.
Tips and Tricks
Since cooking times can vary with this recipe, keep a close eye on your chips as they bake to avoid burning them.
Want to make cutting the pita bread a little quicker? Rollover them with a pizza cutter. It's super fast and easy and surprisingly fun too. 😆
Don't store the pita chips until they are completely cooled. If you seal them in a container while still warm, condensation will build up and rob them of that tasty crunch.
Make-Ahead Instructions
You can prepare your spice mixture and cut up your pita bread ahead of time. When ready to enjoy them, simply arrange the bread on the baking pan, brush with your premade oil and herb mixture, and bake!
Serving and Storage Instructions
I love to enjoy these pita chips while they are still a little warm and fresh out of the oven, but truth be told, they are equally delicious once they cool. Definitely serve with something yummy to dip them in.
Store completely cooled pita chips in an airtight container. I usually use a ziplock bag, and they stay good for about five days.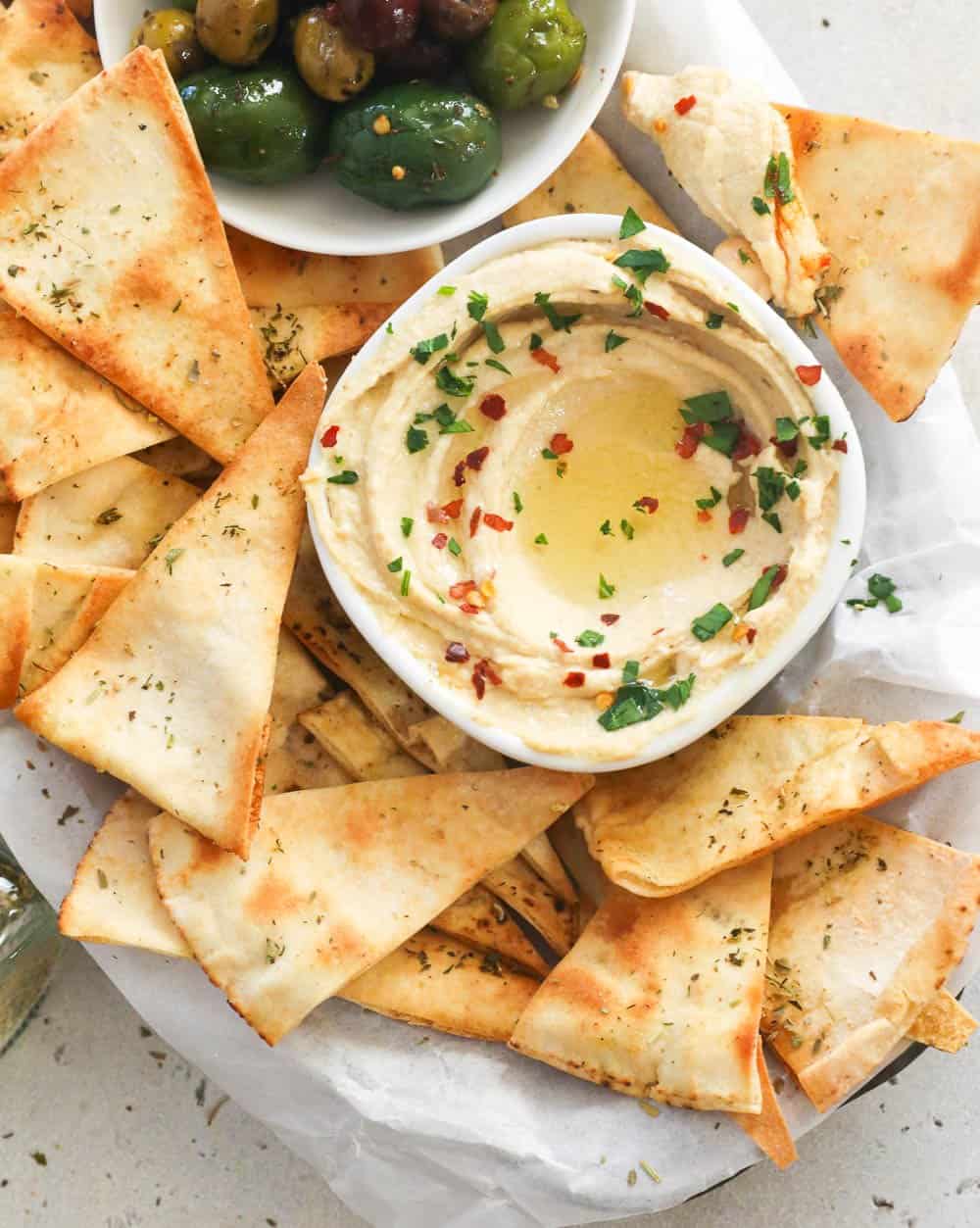 FAQs
Are pita chips healthier than potato chips?
The jury is still out on this one. Pita chips are essentially a form of toasted bread with oil and spices, which means they don't have a ton of nutritional value as far as vitamins and minerals go. Potato chips are usually fried, which some would argue is less healthy than these baked chips, but they are a vegetable, so there's that. I'll let you be the judge. 😅
How do I use leftover pita chips?
Ran out of dip? Break up any extra pita chips and use them as a crunchy topping for your favorite soup or salad. Think croutons, but better!
Can you fry pita chips?
You sure can! Now, you know I'm a fan of fried foods, but I actually enjoy the baked version better with this particular recipe. Surprise, surprise! Still, if you are a fried foods fanatic, feel free to deep fry your pita chips instead of baking them.
What Goes With Pita Chips
So many things go with pita chips! But let me start with my favorite dips. Definitely try pita chips with bean dip, spinach artichoke dip, or pico de gallo. All three are amazing. Another favorite of mine for pairing with pita chips is Hummus with roasted garlic. Make it homemade, and forget all about your favorite store-bought hummus. 😋
More Marvelous Mediterranean Recipes to Try
Conclusion
This is one of my favorite snacks, and I think it will be one of yours too! Give it a try, and don't forget to get creative with your dips and salsas. What are you going to dip your homemade pita chips in? I can't wait to hear! 😁
Watch How to Make It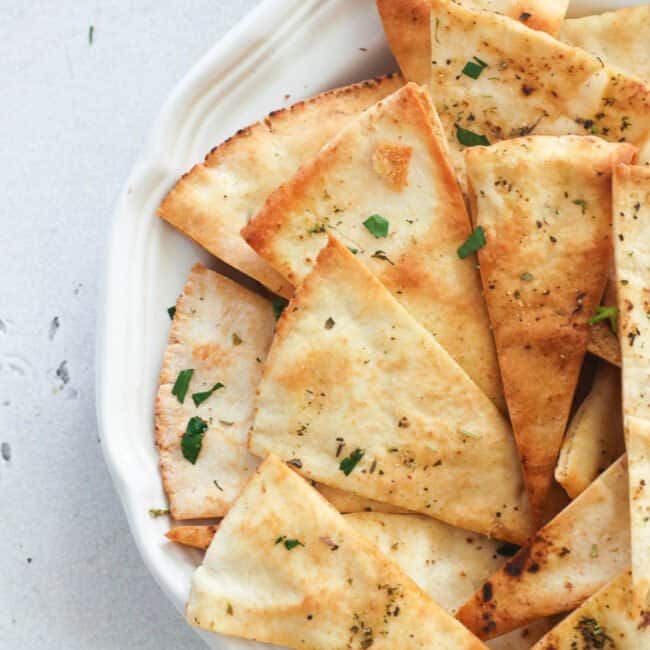 Print
Homemade Pita Chips
Addictively crispy, mouthwatering pita chips fresh out of the oven are super easy to make and just so good, that they've quickly become my new favorite snack.
Ingredients
4-5

pita bread,

day old and cut into small pieces

1

teaspoon

garlic powder

½

teaspoon

chili powder

3

teaspoons

zaatar seasoning

2-3

tablespoon

olive oil
Instructions
Combine spices and oil in a small bowl. Set aside.

Line a cookie or sheet pan with parchment paper, and set aside.

Cut the pita pockets or bread into triangular-size pieces and place them in the prepared cookie sheet pan.

Season the pita pieces with spice mixture (you can use a brush to brush the chips).

Bake them at 400°F/205℃ for 7-15 minutes or until slightly brown and crispy. Cooking time varies depending on the size and thickness of pita chips.

Let them cool, and serve them with your favorite dip or hummus.
Nutrition Information:
Serving:
60
g
|
Calories:
219
kcal
(11%)
|
Carbohydrates:
32
g
(11%)
|
Protein:
5
g
(10%)
|
Fat:
8
g
(12%)
|
Saturated Fat:
1
g
(6%)
|
Polyunsaturated Fat:
1
g
|
Monounsaturated Fat:
5
g
|
Sodium:
305
mg
(13%)
|
Potassium:
81
mg
(2%)
|
Fiber:
1
g
(4%)
|
Sugar:
1
g
(1%)
|
Vitamin A:
74
IU
(1%)
|
Vitamin C:
1
mg
(1%)
|
Calcium:
50
mg
(5%)
|
Iron:
1
mg
(6%)