There's something about hot peppers that I find so exciting. You all know I'm a fan of super spicy food, and jalapeños are right on that list.
Stuffed jalapeño poppers are more than just spicy heat; they're creamy and inviting.
And they're called poppers because all you have to do is pop them in your mouth. So here's my recipe for jalapeño poppers. I'm sure you'll make these often. Oh yeah!
Why Make Jalapeno Poppers?
Let me know if this sounds familiar. You're having friends over, but you're tired of offering them chips from a bag and heating premade frozen snacks.
What you need are a few recipes for homemade but super easy snacks, and there's nothing more exciting than jalapeño poppers.
My guests can never get enough when I serve these deliciously spicy snacks.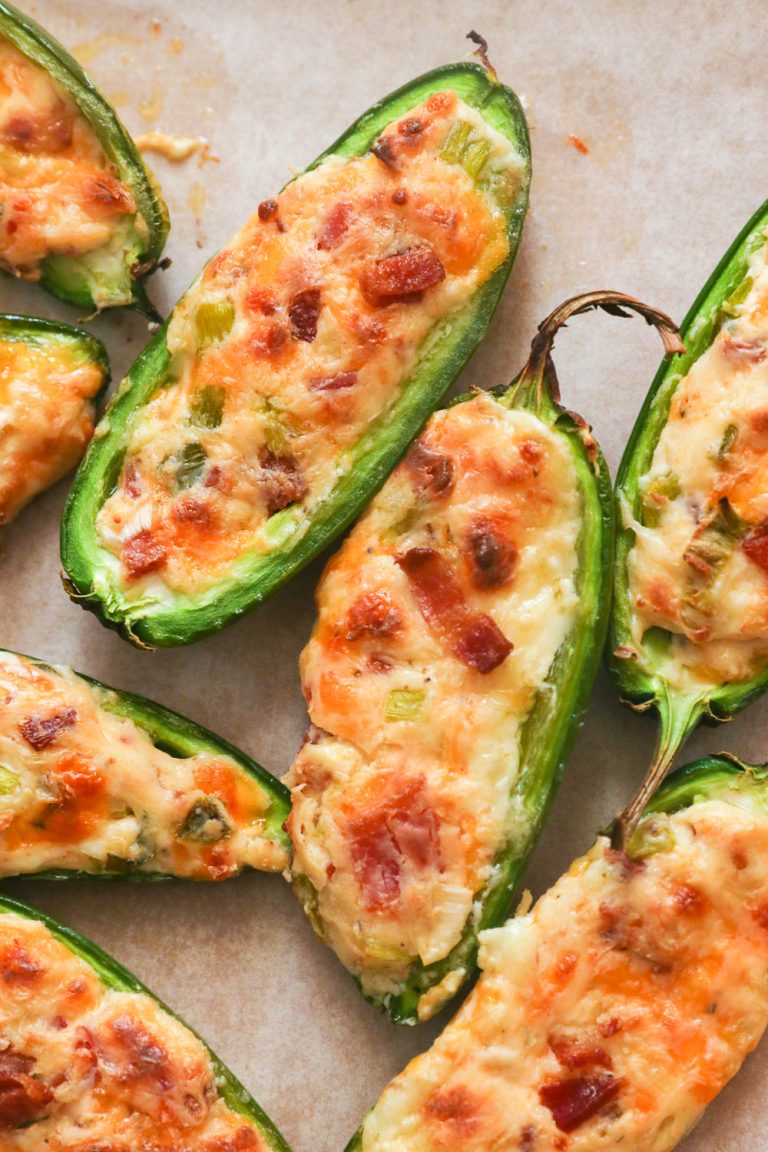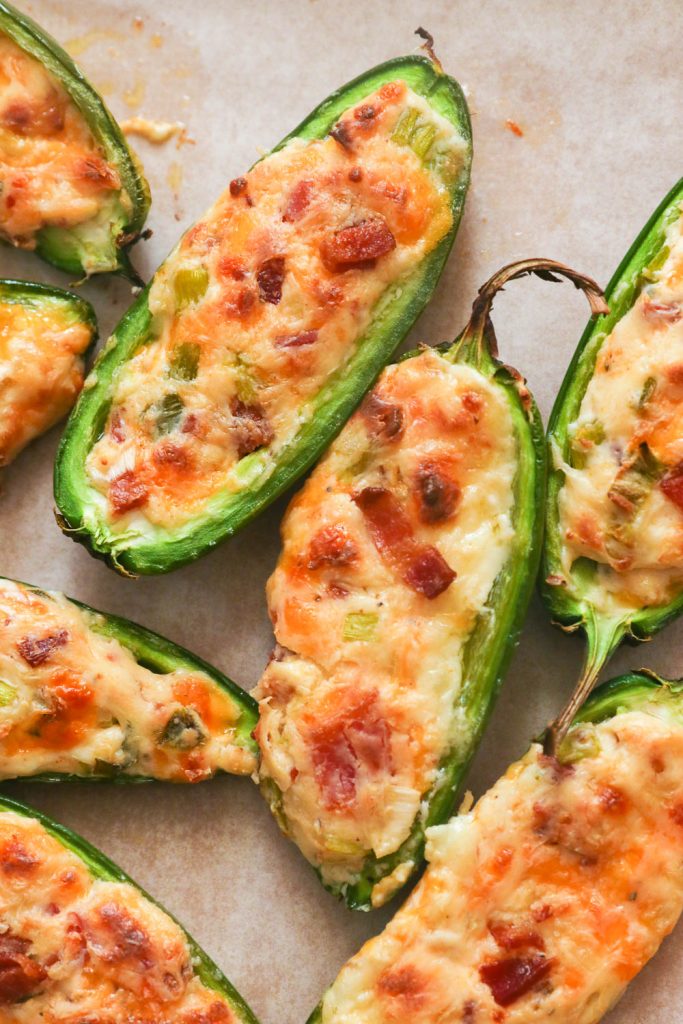 Jalapeno Popper Ingredients
Bacon – Bacon bits give a flavor punch and crunchiness to these jalapeño poppers filling.
Garlic – A little goes a long way and adds flavorful and complex flavor combinations. And it's super easy to mince garlic.
Onions – Green onion's color and lovely taste make our poppers taste fresher. And the addition of regular onions also offers natural sweetness to balance the popper filling's flavor.
Jalapeños – The perfect package for an extraordinary one-biter. Make sure your fresh, green jalapeños are nice and firm.
Cream Cheese – This popper filling ingredient is creamy and perfectly combines with the crispy breadcrumbs and flavorful garlic and onion.

Sharp Cheddar

– Cheddar is a delectably flavorful cheese perfect for our recipe because it melts beautifully.

Panko Breadcrumbs

– The delicate crunch this type of breadcrumb gives your jalapeño poppers is so mouthwatering.
Butter – Sauté your garlic and breadcrumbs in butter gives your filling a crumbly, crunchy texture.
Alternative Ingredients
Sharp Cheddar – Gouda cheese, Manchego, and other semi-hard cheeses are perfect popper fillers. Use what you have in hand.
Jalapeños – Bite-sized serrano peppers are the perfect substitute for jalapeños. And they're so similar that your guests may not even notice you pulled a switch.
Bacon – You can substitute prosciutto or any other dry-cured meat for a more Mediterranean feel. I've even used pepperoni in a pinch, and it came out great.

Breadcrumbs

– Feel free to stuffed your jalapeno with breadcrumbs before baking them. Simply toss the breadcrumbs in a heated saucepan with melted butter and minced garlic.

Bacon Wrapped

– Want to go all out? Then wrap these babies here with bacon!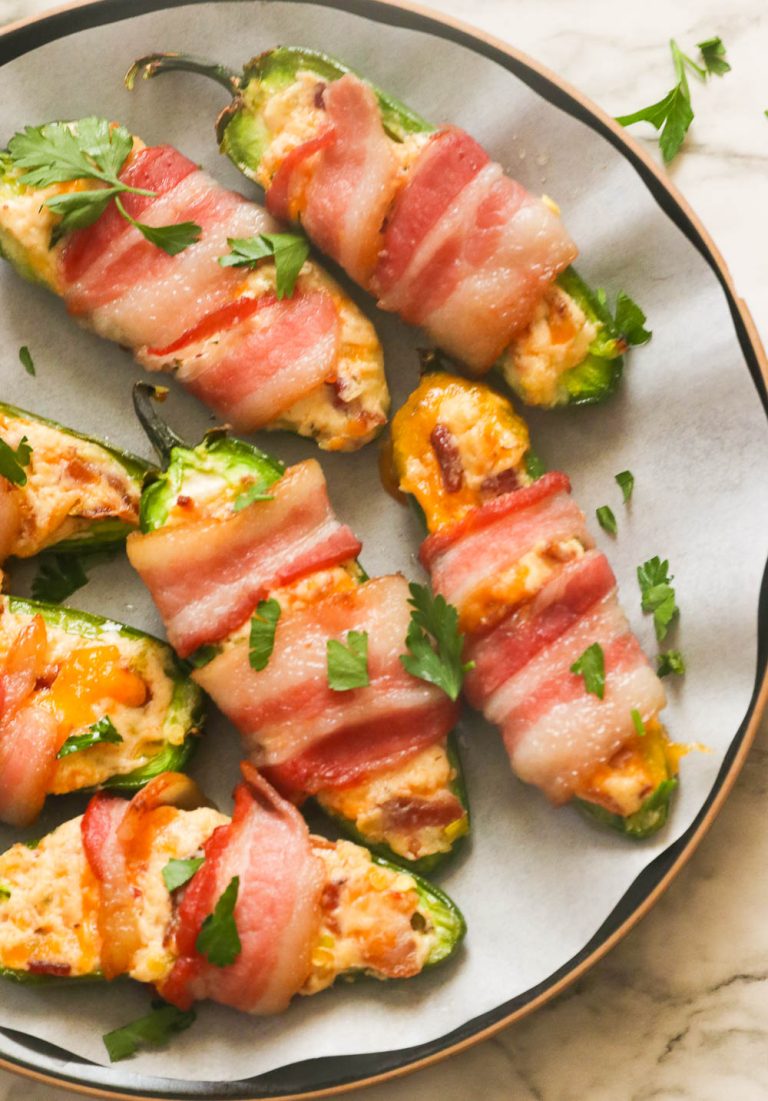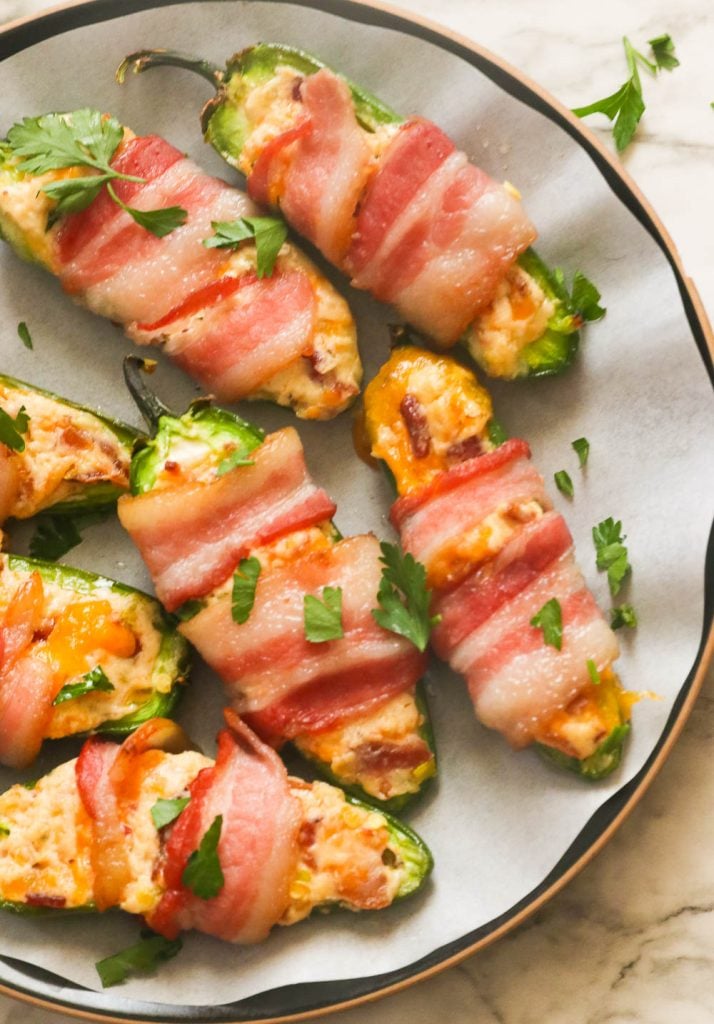 Tips and Tricks
Wear gloves because the jalapeños' capsaicin can irritate your skin. If you forget, as I sometimes do, vinegar helps. And whatever you do, don't rub your eyes!
If you get capsaicin in your eyes, blink really fast to get the tears going. Then use saline solution to wash your eyes. (Sorry guys, but contact lenses should go in the trash after removing them from your eyes with clean hands.)
Leave some of the jalapeno's veins and seeds if you want hotter snacks. Some people enjoy their jalapeno poppers flame-throwing hot!
Serving and Storage Instructions
Serve jalapeño poppers still warm on a platter, so the cheese is still gooey.
Store jalapeño poppers in an airtight BPA-free plastic container with a lid in the fridge for up to three days.
Reheat jalapeño poppers under the broiler or in the microwave. You can also add a bit more butter to bring them back to life.
FAQs
Are red jalapeno peppers hotter than the green ones?
Yes, they are! So if you're looking to ramp up the Scoville scale in your poppers, definitely use the red ones. But if you're more interested in flavor, the greens ones are better.

What can I do with jalapeno peppers?
The sky's the limit. Aside from these incredible poppers, you can slice them into a bowl of chili, top your nachos, throw them on a homemade pizza, or spice up an ordinary salad. You can eat jalapeños raw or cooked.

Do jalapeños get spicier when cooked?
Jalapeños actually lose some of their heat when cooked, but when you eat them hot (temperature hot, that is), they might feel spicier than they really are. It's the same effect as eating them with a cup of hot coffee. Ouch!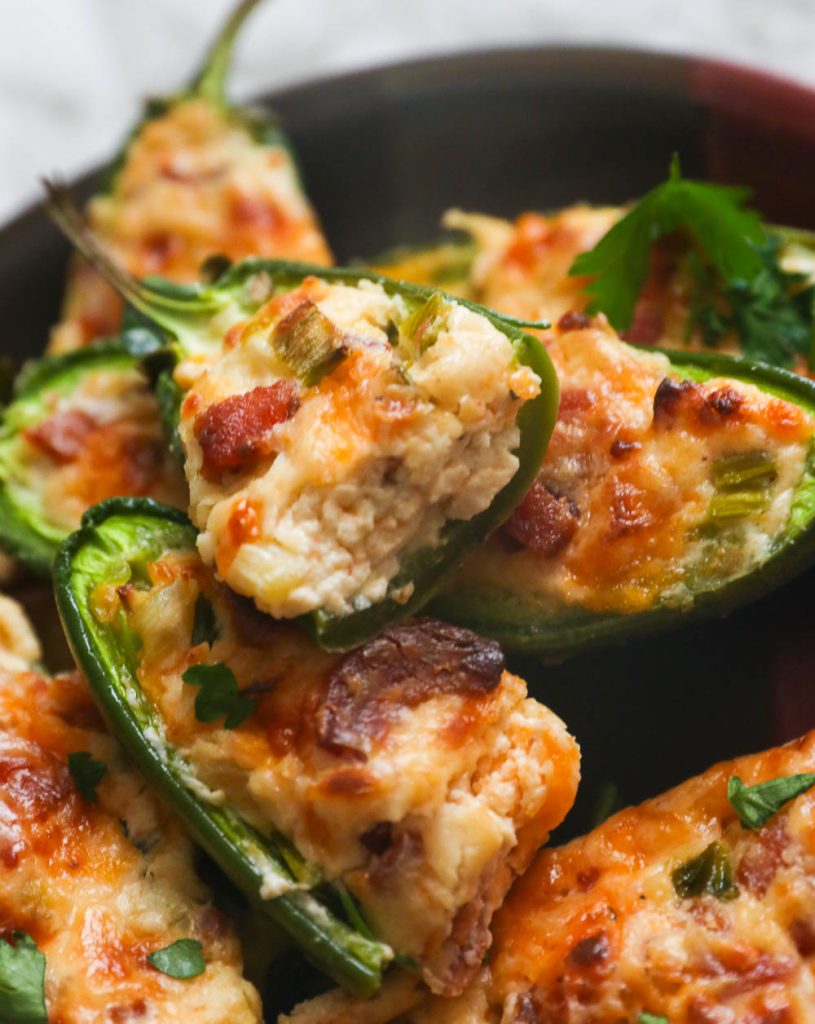 What Goes with Jalapeño Poppers?
This fun little snack is great on its own, but you might want to serve it with non-spicy snacks since not everyone can take the heat.
Chicken wings, pigs in a blanket, and your favorite snacks go great with these amazing bites of spice.
More Jalapeno Recipes to Try
How to Make Jalapeno Poppers
Prep the Ingredients
Cook the Bacon – Heat a frying pan over medium, add bacon. Cook for 5-7 minutes, or until the bacon is browned and crispy. Drain the grease, leaving just a tablespoon. (Photos 1-3)
Sauté Onion and Garlic – Add the garlic, green onion, and onion, and stir for about a minute. Don't let it burn. Remove the veggies from the pan into a large mixing bowl and let them cool. (Photo 4)
Prepare the Oven – Preheat the oven to 375℉/190℃. Line a sheet pan with parchment or foil, then spray with cooking oil.
Clean the Peppers – Wearing gloves😉, cut jalapenos in half lengthwise, then scoop out the seeds and ribs with a spoon to create a vessel. Set aside while you prepare the filling. (Photos 5-6)
The Final Stretch
Prepare the Filling – Add cream cheese and cheddar to the bowl with the garlic and onion mixture and mix until thoroughly combined. Crumble the bacon slices into bits and stir them into the mix. Add salt and pepper to taste. (Photos 7-8)
Fill the Jalapeños – Fill each half jalapeno with the cheese and bacon mixture. (See instructions below if topping with breadcrumbs.) (Photo 9)
Bake – Arrange the poppers on the baking sheet about one inch apart and bake for 20-25 minutes until tender and the tops brown to a beautiful golden. Let them cool 10-15 minutes before serving. (Photo 10)
The Optional Breadcrumb Topping
Melt butter in a small saucepan over medium-high heat, add the breadcrumbs and garlic, then stir until lightly toasted. Add parsley, if desired. Top the filled jalapeno poppers with the flavored breadcrumbs before baking.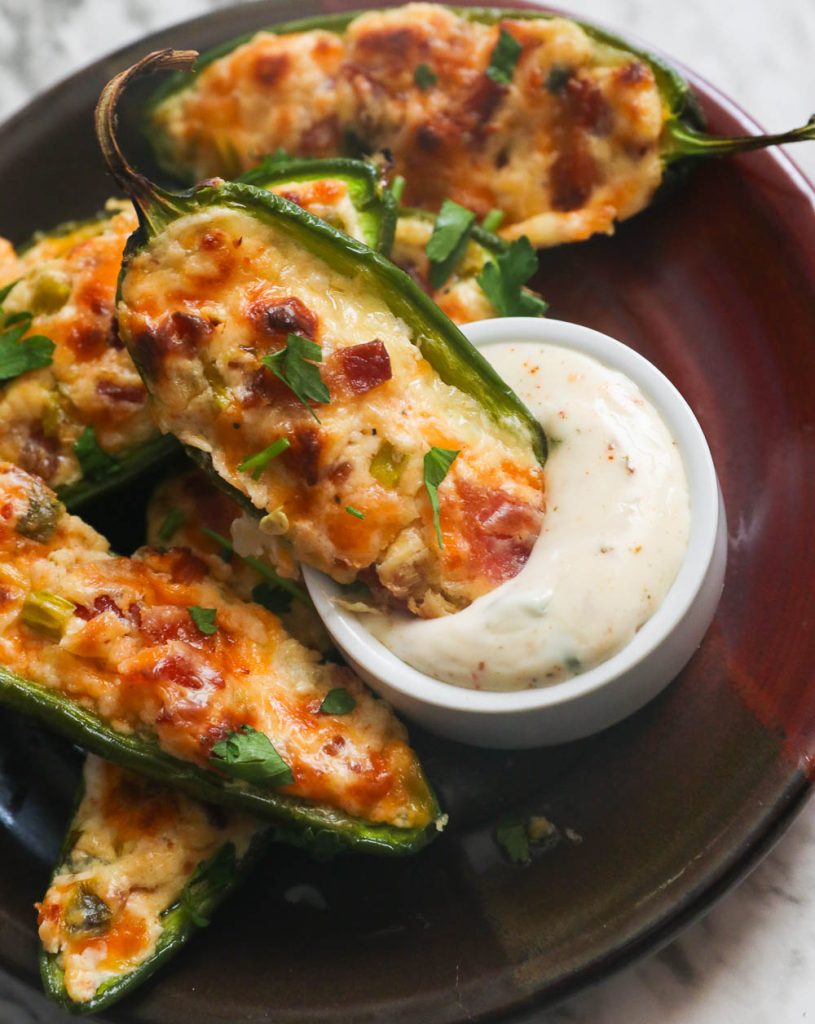 Print
Jalapeno Poppers
Jalapeno Poppers – fresh and plump jalapenos sliced in half and filled with a a rich, creamy and cheesy filling. These Jalapeno Poppers are BAKED and can be wrapped around with bacon or topped with crispy Panko breadcrumbs. A fantastic party appetizer or game day food!
Ingredients
5

strips regular bacon

, chopped (see notes 3)

¼

cup

onions

, finely diced

1

teaspoon

(5 g) minced garlic

1

small green onion

, finely chopped

5-6

plump jalapeno peppers

4

ounces

cream cheese

, softened

2

ounces

sharp cheddar or gouda cheese

1

tablespoon

butter

, melted

¼

cup

Panko breadcrumbs
Instructions
In a medium saucepan, add bacon over medium. Cook for about 5-7 minutes, until bacon is brown and crisp. Drain oil and leave a tablespoon spoon.

Add onions, garlic, and green onions, and stir for about a minute. Do not let it burn. Remove from the pan and place in a large mixing bowl to cool.

Preheat the oven to 375 degrees F. Line a sheet pan with parchment or foil paper then grease with a cooking spray.

Wear gloves and cut jalapenos in half lengthwise. Use a spoon to scoop out the seeds and ribs – to create a vessel. Set aside while you prepare the filling.

Add cream cheese, and cheddar cheese to the bowl of onion mixture. Mix until fully combined. Add in bacon. Fill each jalapeno half with the cheese mixture.

Arrange the poppers on the baking sheet about 1 inch apart and bake for 20-25 minutes until tender and top browns up.

Let it cool about 10-15 minutes before serving.
If topping with bread crumbs
Melt butter in a small saucepan over medium-high heat, add in the breadcrumbs and garlic toss together until slightly brown. Add in parsley, if desired. Use the breadcrumbs to top poppers before baking, optional.
Tips & Notes:
Try to use gloves (latex or any type of protective gloves) when cutting and gutting the peppers. very spicy peppers can cause your fingers to burn, it won't be horrible but a bit uncomfortable.

Poppers topped with breadcrumbs will take about 5 minutes less cooking time in the oven.

If you are cooking for people who cannot tolerate any spice you can also make these using baby bell peppers.

Some people test jalapenos for heat before buying, some are extremely hot while others have so little heat. If there is little or no heat, they will not be hot because physical heat such as baking or frying kills most of the peppers' spiciness.

Please keep in mind that nutritional information is a rough estimate and can vary greatly based on products used.
Nutrition Information:
Serving:
1
popper
|
Calories:
156
kcal
(8%)
|
Carbohydrates:
2
g
(1%)
|
Protein:
6
g
(12%)
|
Fat:
13
g
(20%)
|
Saturated Fat:
7
g
(44%)
|
Cholesterol:
40
mg
(13%)
|
Sodium:
244
mg
(11%)
|
Potassium:
75
mg
(2%)
|
Sugar:
1
g
(1%)
|
Vitamin A:
370
IU
(7%)
|
Vitamin C:
8.6
mg
(10%)
|
Calcium:
116
mg
(12%)
|
Iron:
0.2
mg
(1%)
Nutrition Facts
Jalapeno Poppers
Amount Per Serving (1 popper)
Calories 156
Calories from Fat 117
% Daily Value*
Fat 13g20%
Cholesterol 40mg13%
Sodium 244mg11%
Potassium 75mg2%
Carbohydrates 2g1%
Protein 6g12%
Vitamin A 370IU7%
Vitamin C 8.6mg10%
Calcium 116mg12%
Iron 0.2mg1%
* Percent Daily Values are based on a 2000 calorie diet.