Salmon is popular in many recipes due to its health benefits, extraordinary texture, and mild flavor. Moreover, salmon recipes are quick and simple. These 20 incredibly tasty salmon recipes will make you a believer and spice up your weekly rotation.
You can count on salmon for a nutritious meal with highly touted Omega 3 fatty acids, vitamin B12, niacin, potassium, magnesium, phosphorus, and zinc. However, you don't have to settle for just healthy and nutritious because it's also mouthwateringly fabulous.
So if you're looking for salmon recipes for special occasions, like Thanksgiving, Christmas, birthday parties, or even a Sunday dinner, I've got you covered. Your taste buds will love you, so let's get started!
These 20 easy-to-make salmon recipes are guaranteed to surprise your guests and family.
FAQs
Baked Salmon Recipes
1. Oven-Baked Salmon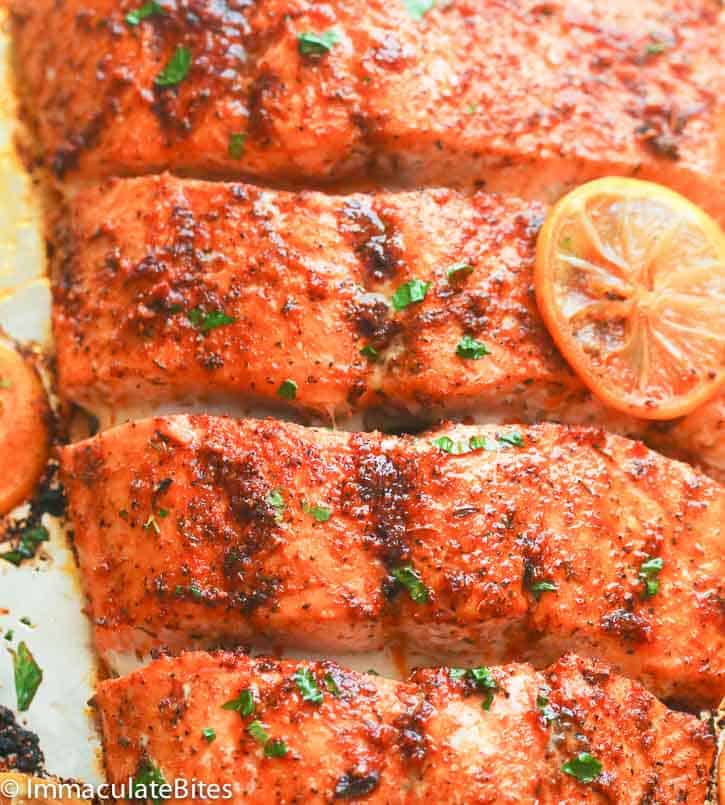 Juicy, lemony, and spicy, this salmon recipe is sure to turn out delicious every time. Additionally, the butter gives it a beautiful melt-in-your-mouth texture. Also, fresh parsley and lemon juice give it a fantastic flavor. It's super simple and only takes 20-25 minutes to reach your dining table. Finally, to complete the meal, you can take advantage of the oven's heat with Brussels sprouts and Roasted Red Potatoes.
2. Jerk Salmon and Potatoes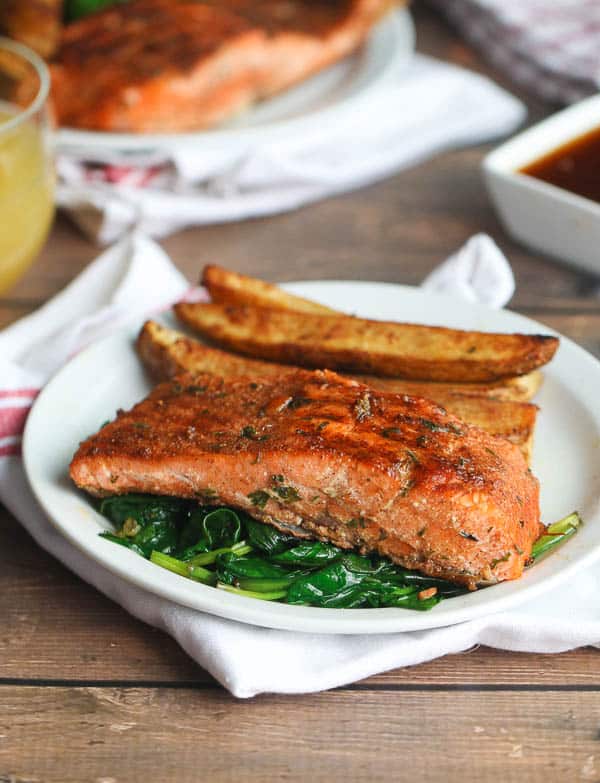 Salmon and potatoes together are bound to excite your taste buds. However, if you don't have regular potatoes, you can use sweet potatoes, no problem. Oh, and pineapple rum sauce is the icing on the cake, or in this case, the sauce on the salmon. The wilted spinach included with this recipe makes it a complete meal. Yum!
3. Garlic Butter Salmon in Foil Paper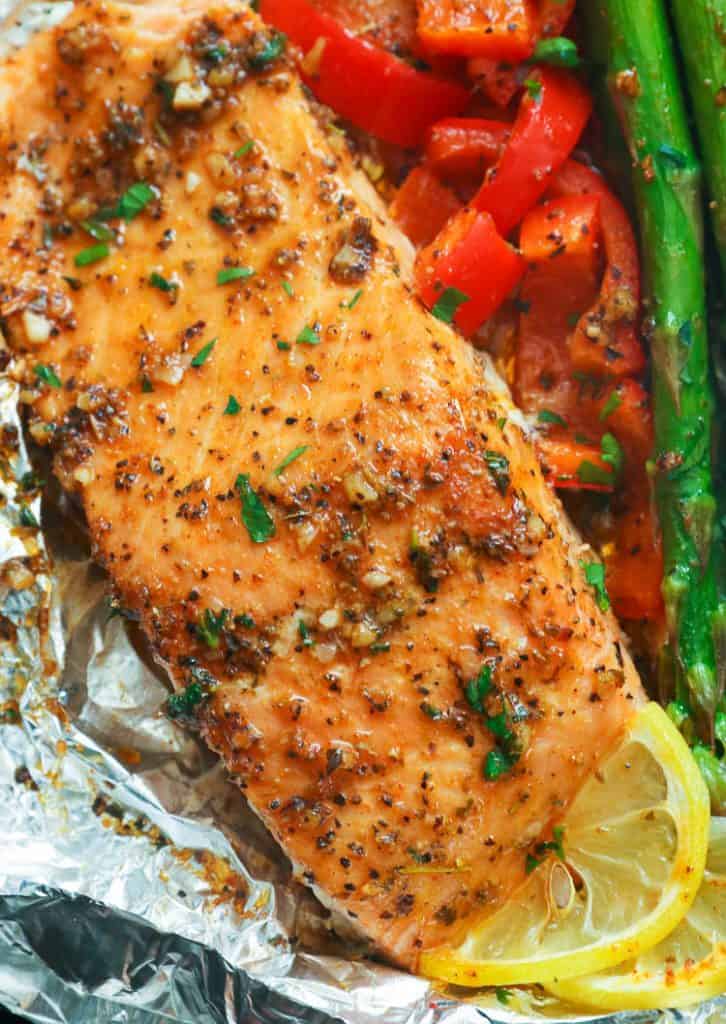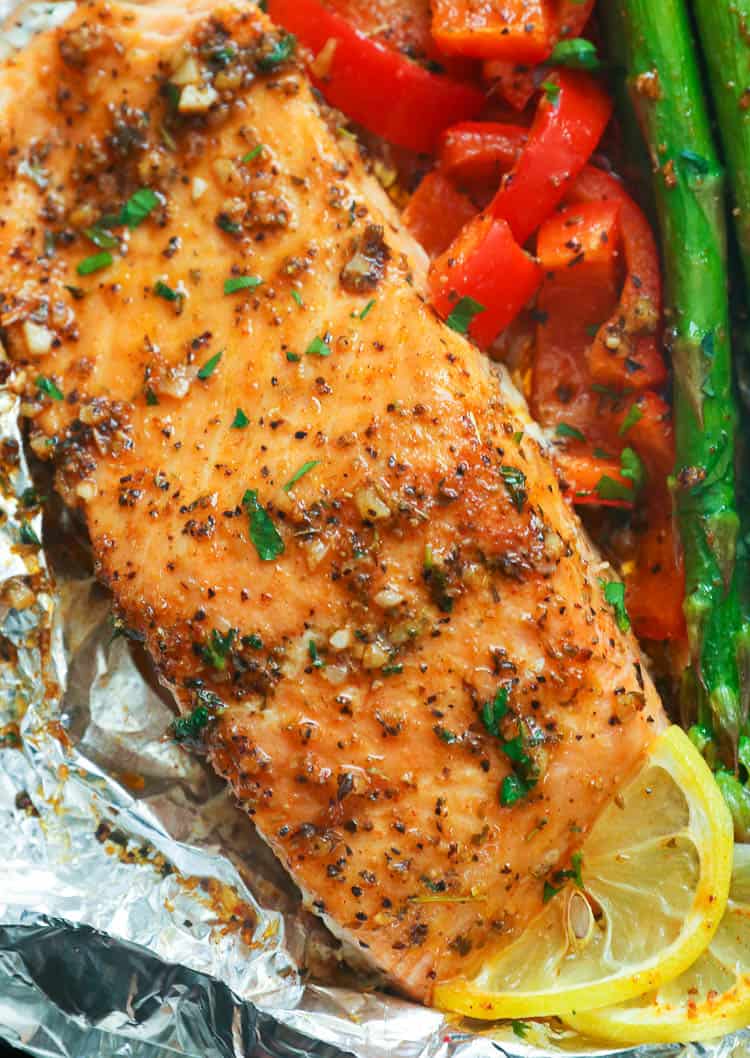 Last but not least, this recipe is perfect for romantic dinners, special occasions, or just lunch with a friend. It takes less than 20 minutes to prepare and serve. And, of course, butter makes everything better. Roast Garlic Mashed Potatoes perfectly balance the salmon and veggies.

4. Crab-Stuffed Salmon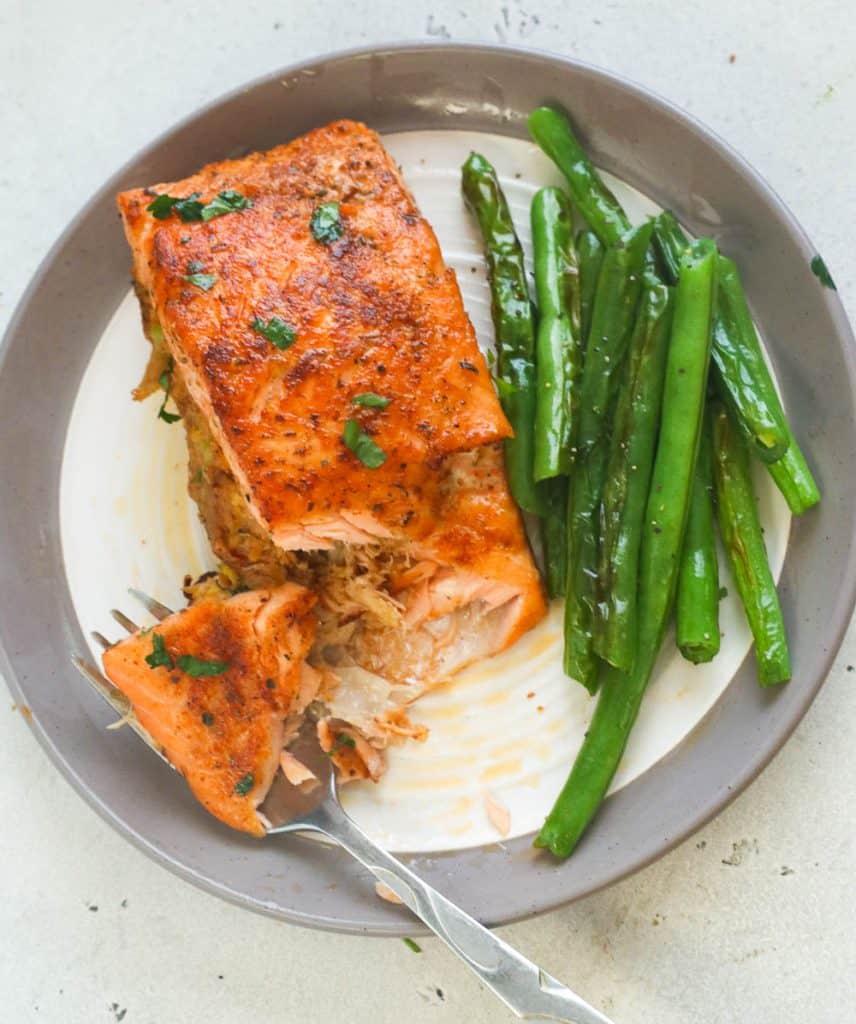 This recipe offers the perfect combination of flavor and freshness. Crab and Salmon are a match made in heaven. It only takes 30 minutes to prepare. Cream cheese, buttery cracker crumbs, and parmesan cheese make it so much better. A Tossed Salad and Potato Wedges make a fantastic dinner perfect for special occasions.
5. Cajun Salmon and Green Beans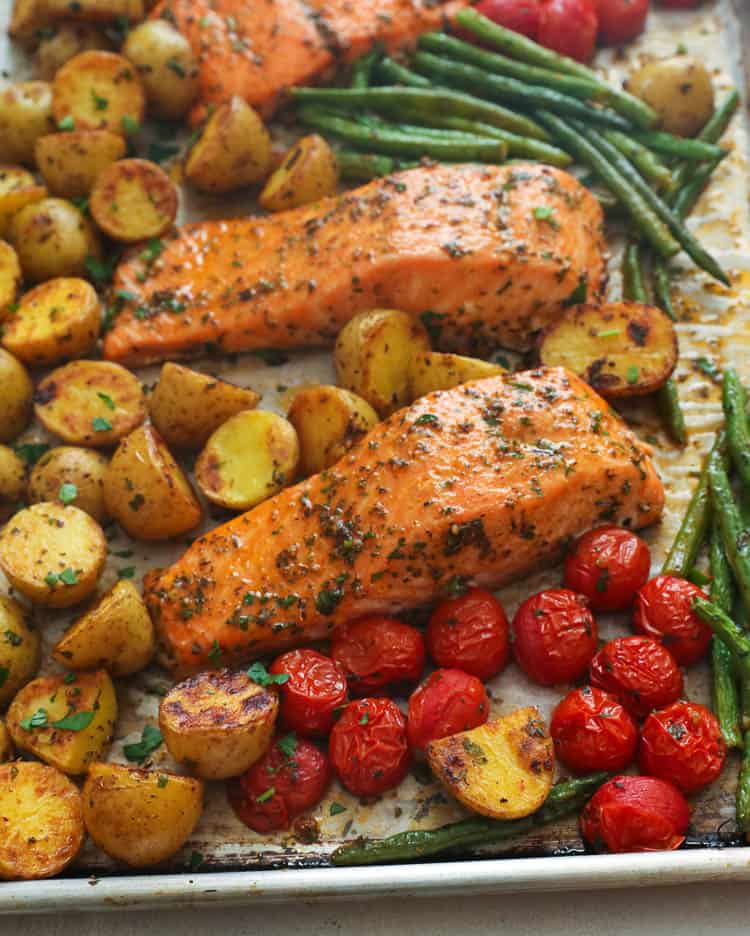 This salmon recipe is straightforward and tasty. And, of course, it's light, delicious, quick to make, and incredibly nutritious. Season your salmon fillets with salt, pepper, paprika powder, olive oil, and cook them for about 15-20 minutes in a medium-sized pan with no lid. Then add green beans and cook for ten more minutes until the green beans are tender. Garlic mashed potatoes and a Wedge Salad go so well with this recipe.
6. Salmon Wellington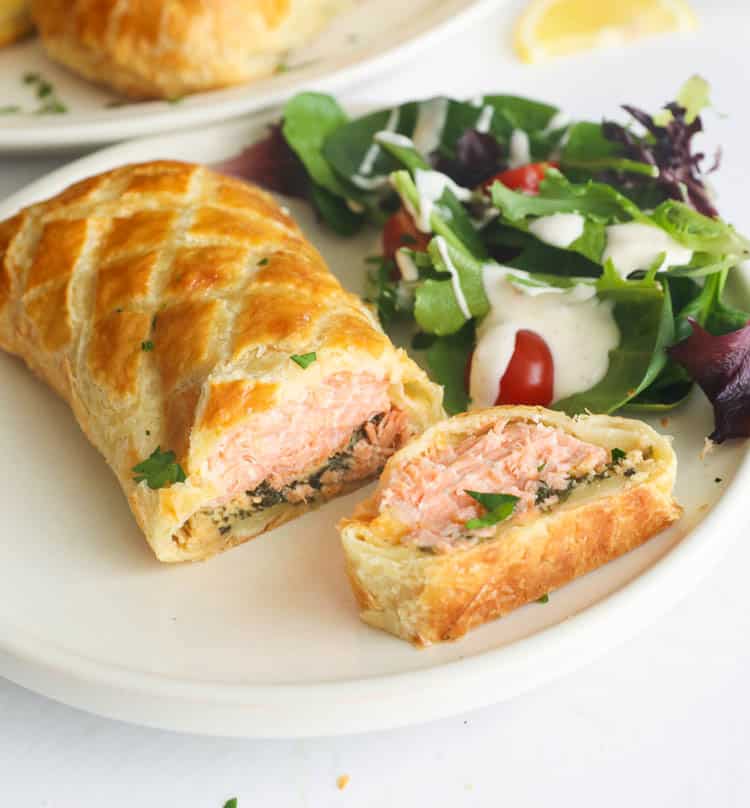 This recipe is so attractive that it makes the perfect special occasion dinner. The spinach and cheese filling and gorgeous puff pastry make these salmon fillets the star of any show. The only thing left to turn this into a complete meal is a Tossed Salad or Roasted Asparagus.
7. Teriyaki Salmon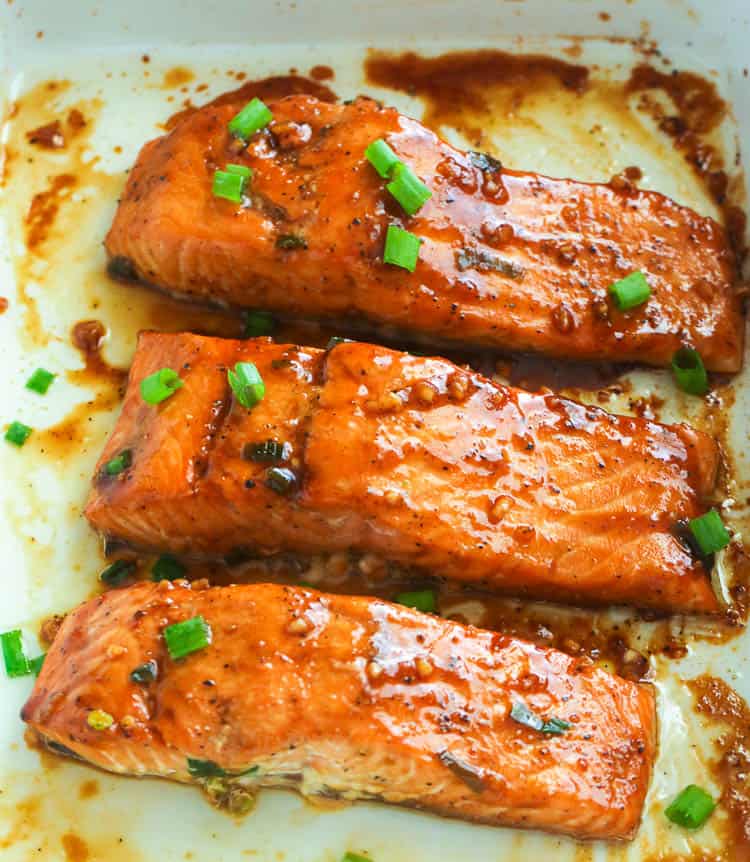 Salmon fillets marinated in teriyaki sauce provide a mouthwatering dinner. Moreover, you can have this decadent salmon on the table in 30 minutes or less. Of course, the easy marinade with soy sauce, brown sugar, garlic, ginger, and apple cider vinegar give this recipe its signature flavor. Complete this healthy and delicious meal with Rice Pilaf and Sauteed Brussels Sprouts.
Pan-Fried Salmon Recipes
8. Pan-Seared Salmon with Spice Rub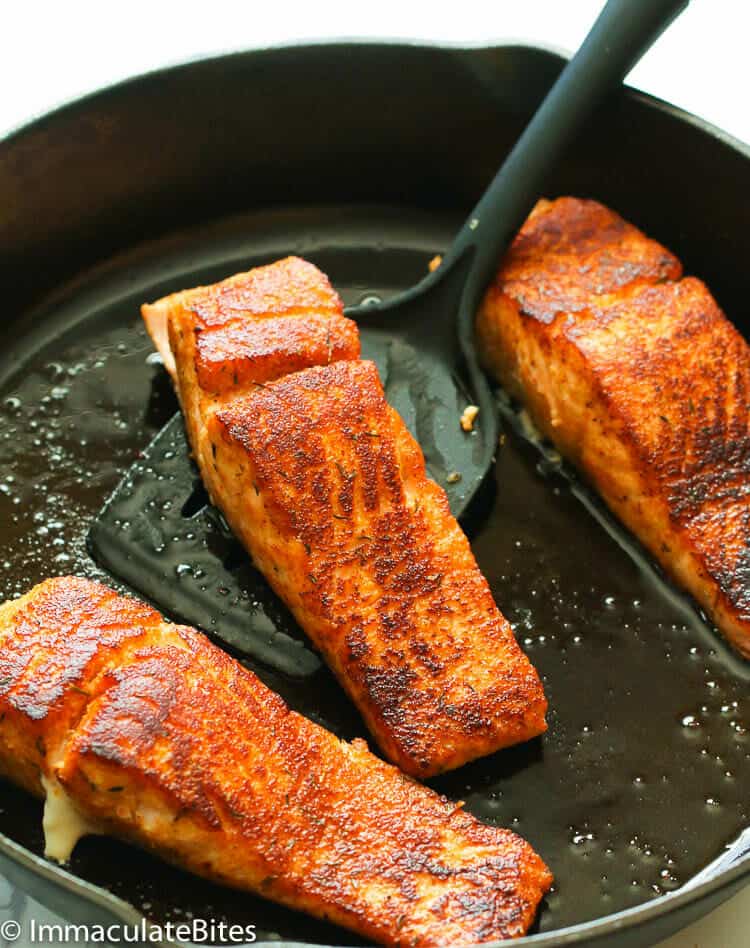 This quick and easy recipe will start a flavor party on your taste buds. Additionally, it doesn't take more than 20 minutes from start to finish. The spice rub is a fabulicious mix of onion powder, garlic powder, paprika, thyme, and bouillon. Just season and pan-fry until both sides are brown. Also, you will love it with spinach, seasoned rice, and a Greek salad.
9. Blackened Salmon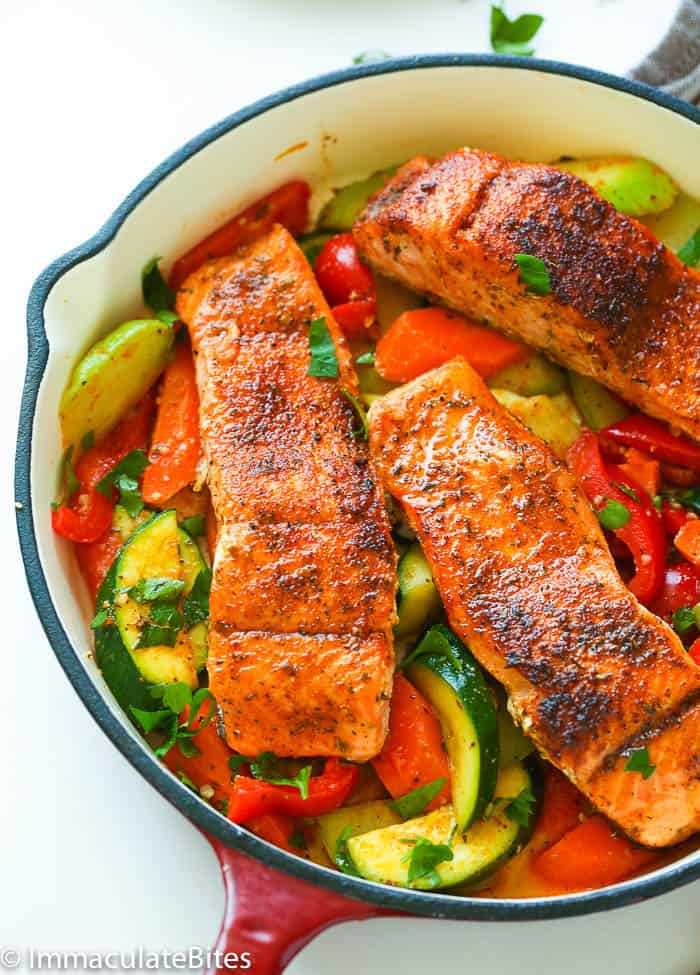 This salmon recipe is ideal for family get-togethers or small dinner parties. It is super easy and takes less than an hour. Butter and sauteed veggies give it a lovely flavor. Cajun rice completes this Southern meal.
10. Orange Honey Glazed Salmon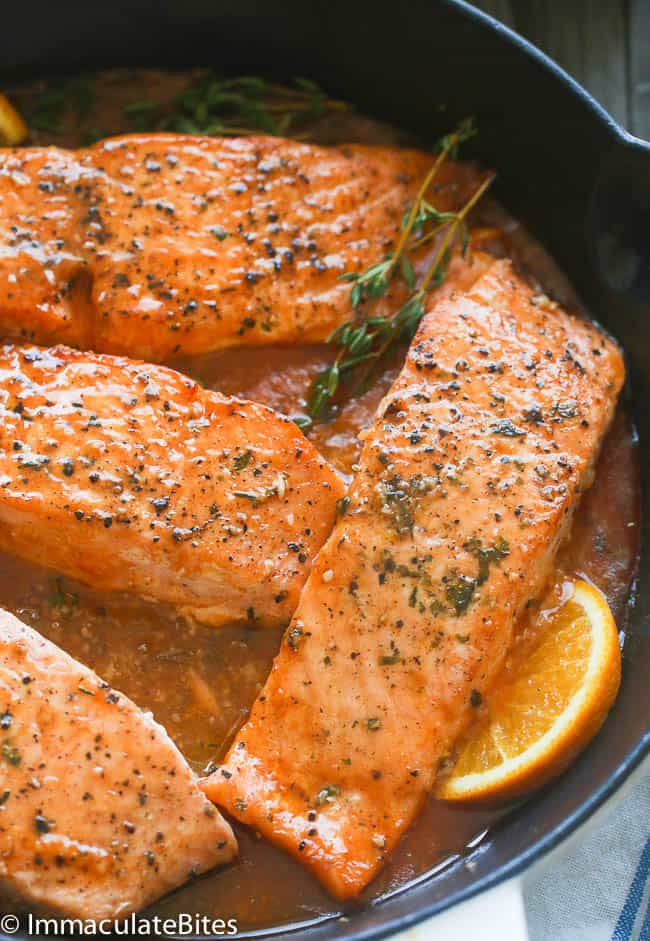 This classic is incredibly delicious, and it takes less than 30 minutes to prepare. Honey, orange juice, paprika, cayenne pepper, fresh thyme, and cumin all add to the experience. It's fabulicious with whole-grain couscous and steamed broccoli.
11. Salmon Salad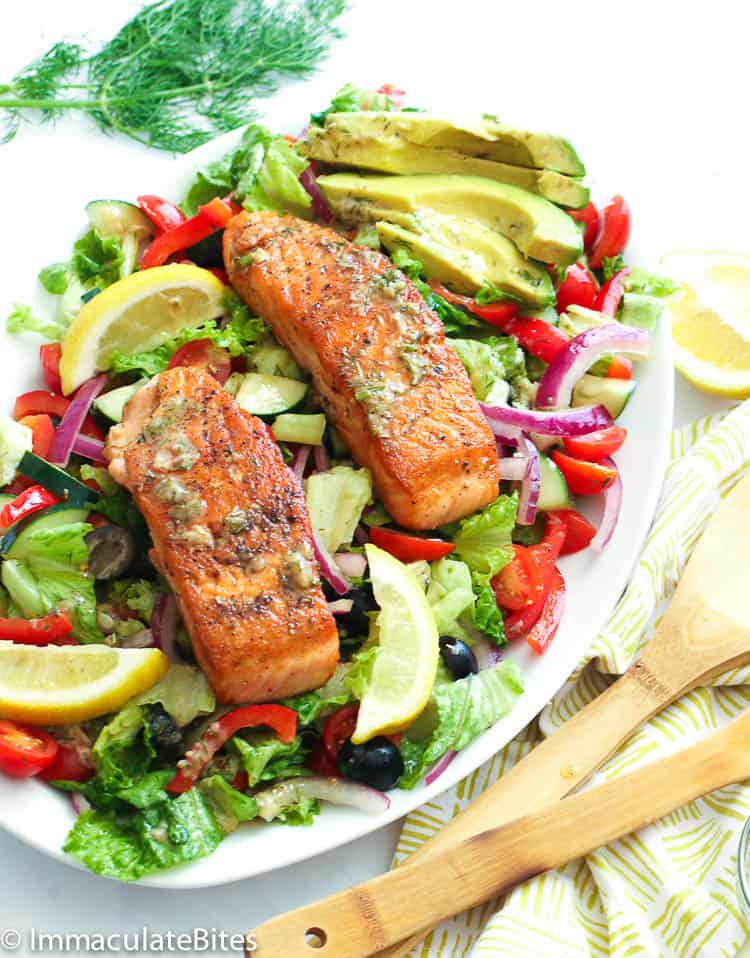 Are you looking for something on the lighter side? Then Salmon Salad is a must-have on your salmon recipe list. Italian seasonings and fresh lime juice give the salmon an intense flavor. Then serve it on a bed of crisp Romaine lettuce, cucumbers, cherry tomatoes to take it over the top! For an incredible flavor party, pair it with Tomato Basil Soup and Homemade Garlic Bread. Drooling!
12. Salmon in Spicy Tomato Sauce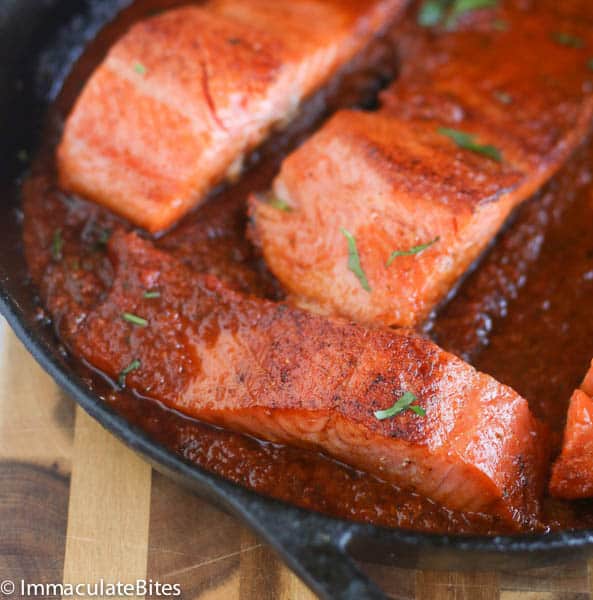 This salmon in a soul-satisfying tomato sauce is quick, easy, and healthy. Win-win! The garlic, curry powder, ginger, and onion give it a comforting flavor, while Scotch bonnet pepper or cayenne pepper kicks it up a few notches on the spicy scale. Crusty homemade French bread, seasoned rice, and Spicy Roast Garlic Broccoli make it a complete meal.
Grilled and Broiled Salmon Recipes
13. Broiled Salmon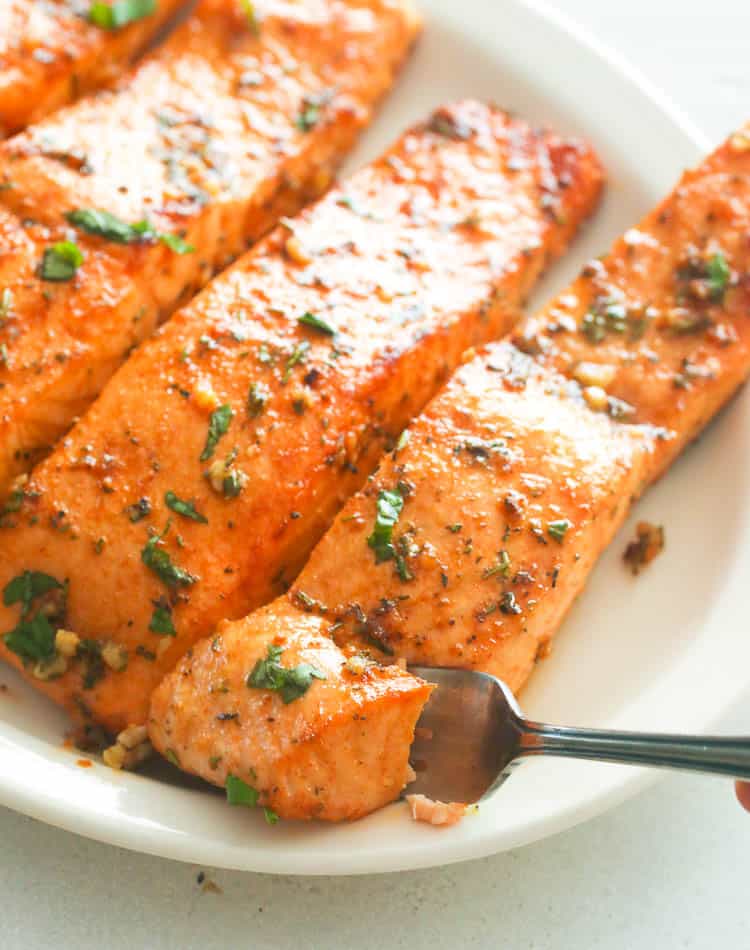 If you want melt-in-your-mouth salmon, then broil it. And seasoning it with melted butter, minced thyme, rosemary, lemon juice, salt, and pepper amps it up for an incredible meal. It takes less than 25 minutes to prepare, and Coconut Rice and Green Beans and Bacon perfectly complete the meal.
14. Grilled Salmon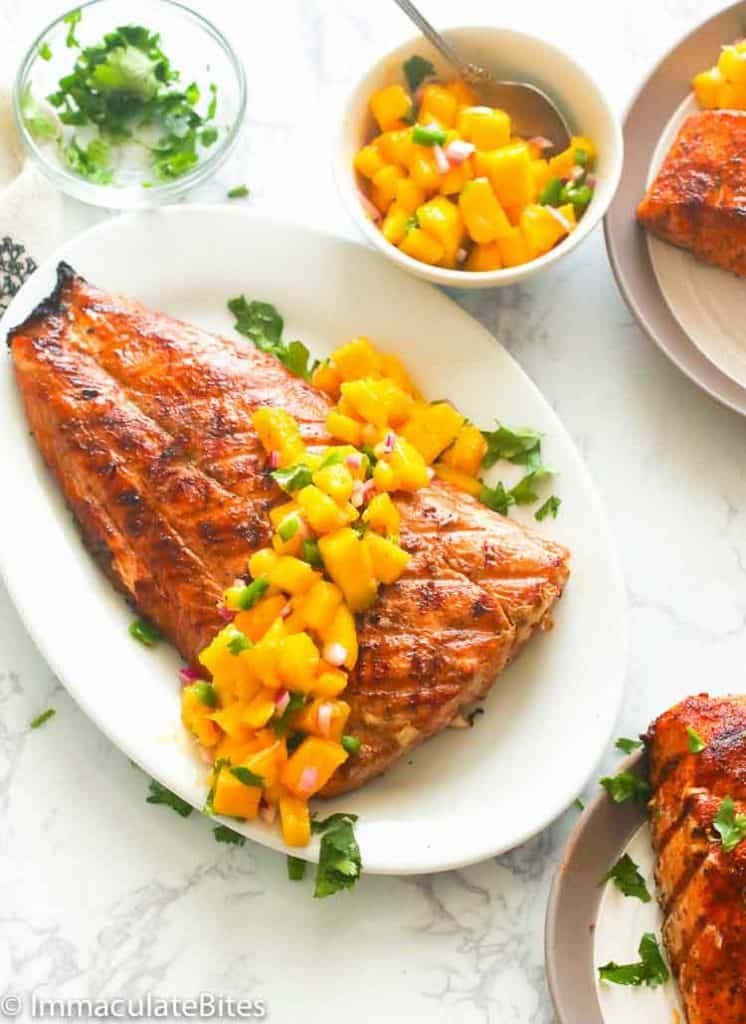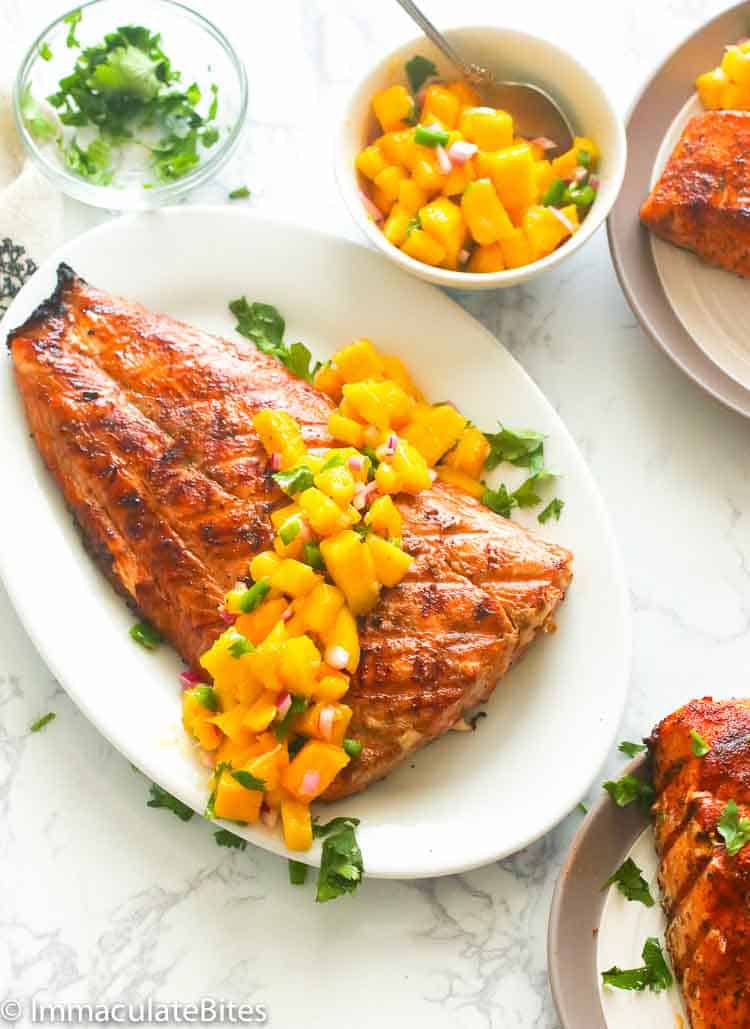 Grilled Salmon spiced up with Creole seasoning gives this dish a unique flavor. Soy sauce, garlic powder, onion powder, brown sugar, hot sauce, and white pepper play their role perfectly in this superstar show. I love it with Mango Salsa and Baked Sweet Potato Fries. Yum!
Other Recipes
15. Salmon Patties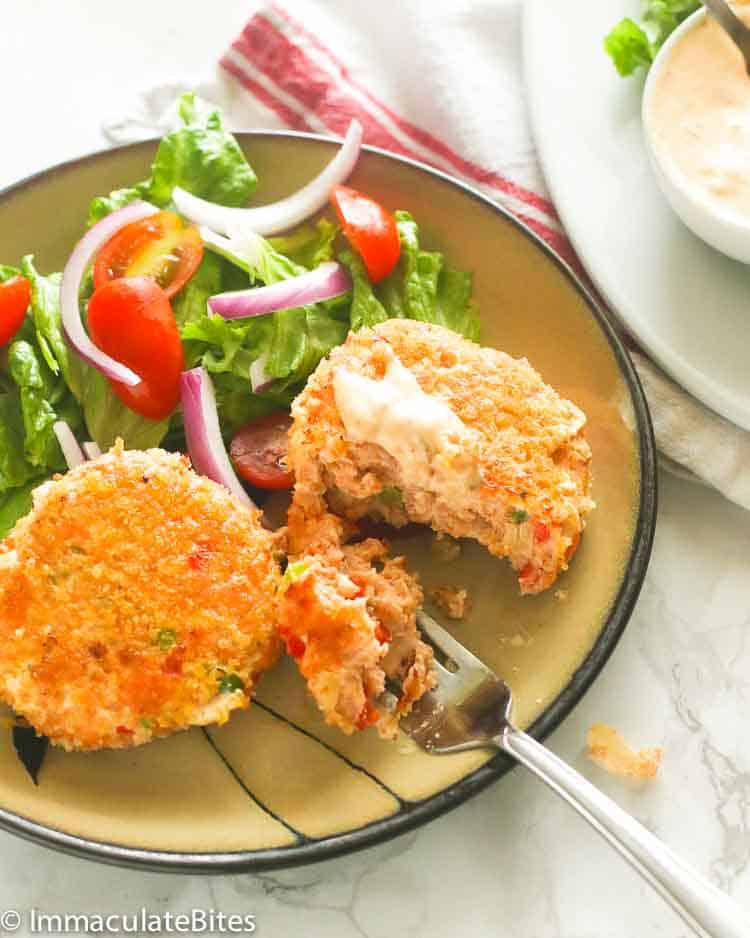 It is easy to make, full of flavor, healthy, and everything we need for a perfect meal. These babies have it all! While it takes about an hour and a half to make, it is so worth it. The secret behind this delicious Salmon Patty is onion, celery, garlic, and Cajun seasonings. I usually serve it with Remoulade Sauce as an appetizer. However, it also goes great with French Onion Soup and Sweet Potato Salad.
16. Salmon Croquettes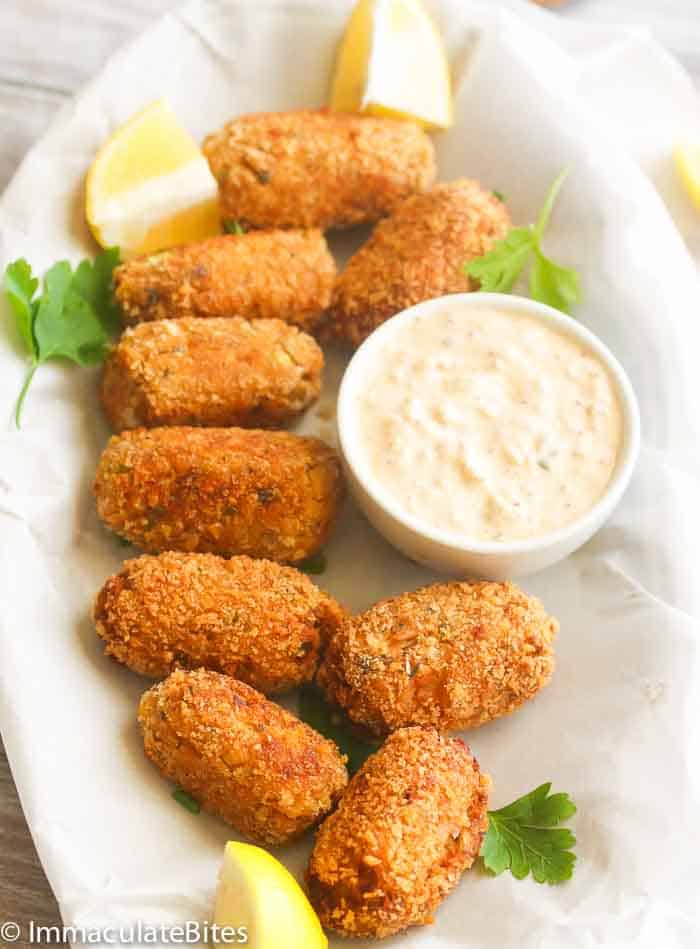 These babies are a super easy appetizer or snack. Additionally, minced garlic gives this deliciousness a unique flavor and enhances the salmon's taste. Oh, and the hot sauce really makes these Salmon Croquettes extraordinary! In fact, it only takes 30-35 minutes to prepare this delicious dish. You can include Chicken Wings and Fondant Potatoes for a fantastic appetizer plate or serve it with Remoulade sauce all on its own.
17. Smoked Salmon Dip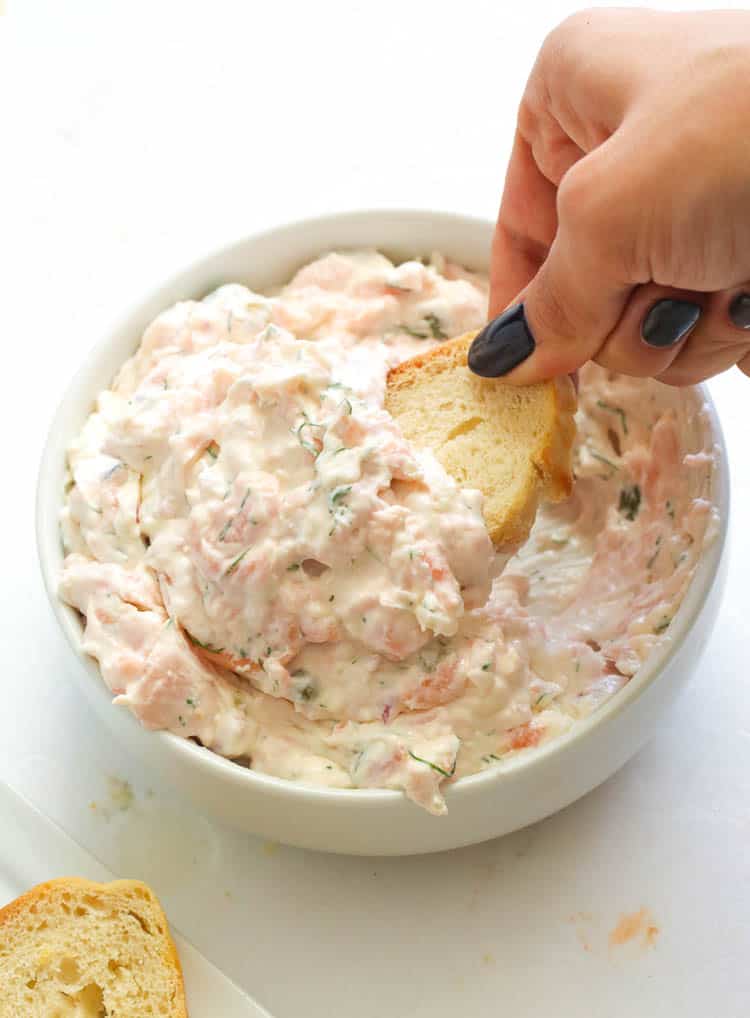 Smoked Salmon Dip is perfect for special events like parties, birthdays, or just family gatherings. Indeed, its simple ingredients include cream cheese, mayonnaise, sour cream, Worcestershire sauce, lemon juice, and minced garlic for a fantastic flavor explosion. Yum! And you can also add extra fresh green chilies to spice it up. It's heavenly with crackers, breadsticks, crostini, bagels, or baked vegetable chips.
18. Cured Salmon Gravlax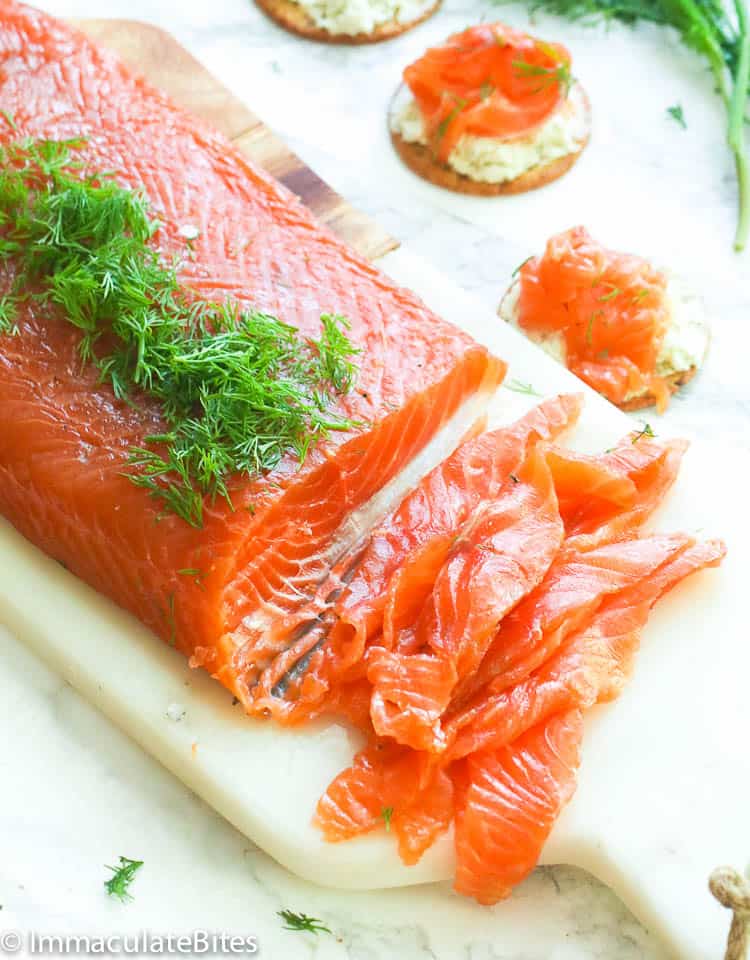 Are you looking for the perfect spread for Lox and Bagels? Then you have to make this gravlax. It may take two days to prepare, but it's totally worth it. And you only need salmon, sugar, salt, black pepper, and dill for an easy appetizer. And it's so much cheaper than store-bought. Topping crackers, toasted baguette, or toast makes a super-easy way to impress your guests.
19. Salmon Burger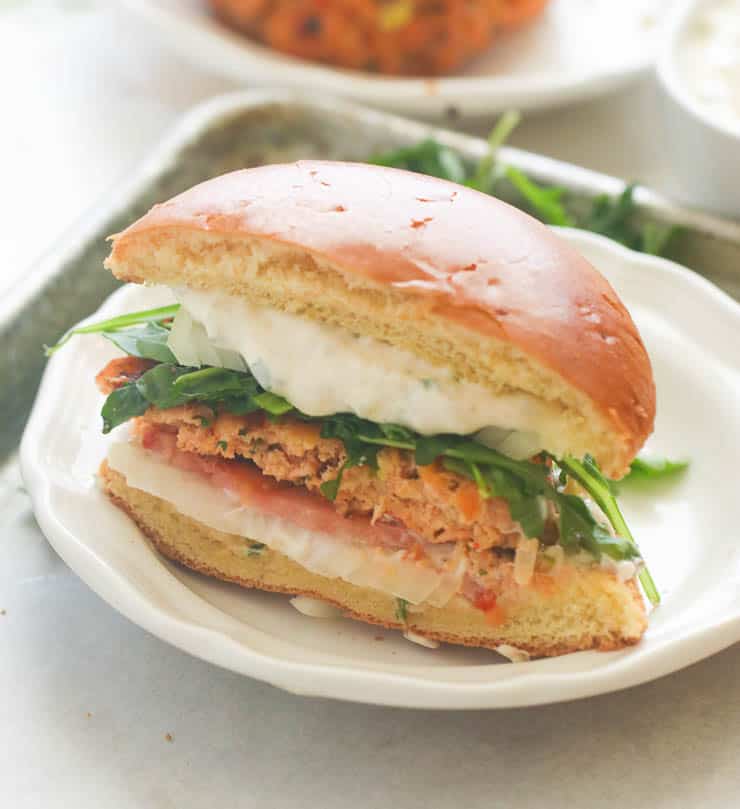 Are you looking for a healthier alternative to regular burgers? Then try this Salmon Burger. It is simple, easy to make, and the most challenging part is waiting for the salmon mix to firm up before cooking. Build an incredible burger with arugula, brioche buns, and tomatoes. You can use ketchup, mayonnaise, or anything else you usually put on your burger to make this one more delicious.
20. Cucumber Salmon Cream Cheese Appetizer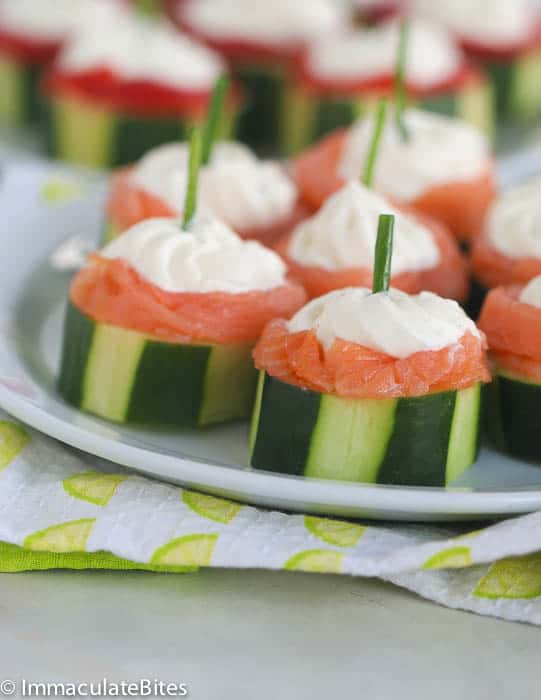 Wanna try a new appetizer recipe? Then this is the one for you! Cream cheese always makes food better. The crunchy cucumbers are the perfect balancing act. And you can have it ready in just 20 minutes. You can spread the filling on crackers or bruschetta if you don't have cucumbers.