These 17 Incredible Thanksgiving Potato Dishes will surely give you a satisfying and unforgettable holiday bliss. These are guaranteed quick and easy recipes to take off all the pressure of the Thanksgiving rush using only simple herbs, spices, and a dash of holiday magic!
Oh, how I love potatoes! Whether it's mashed, boiled, roasted, or fried… I think they're the best-tasting and the most versatile food ever! Not to mention loved by many, even the pickiest-eater you know!
And since we're a few days away till Thanksgiving day, how about serving your family with something new instead of the usual mashed potatoes and salad? YES, please! We're talking about simple recipes that will always remind you of home and give you nothing but comforting goodness in every bite.
Mashed Thanksgiving Potato Dishes
1. Roast Garlic Mashed Potatoes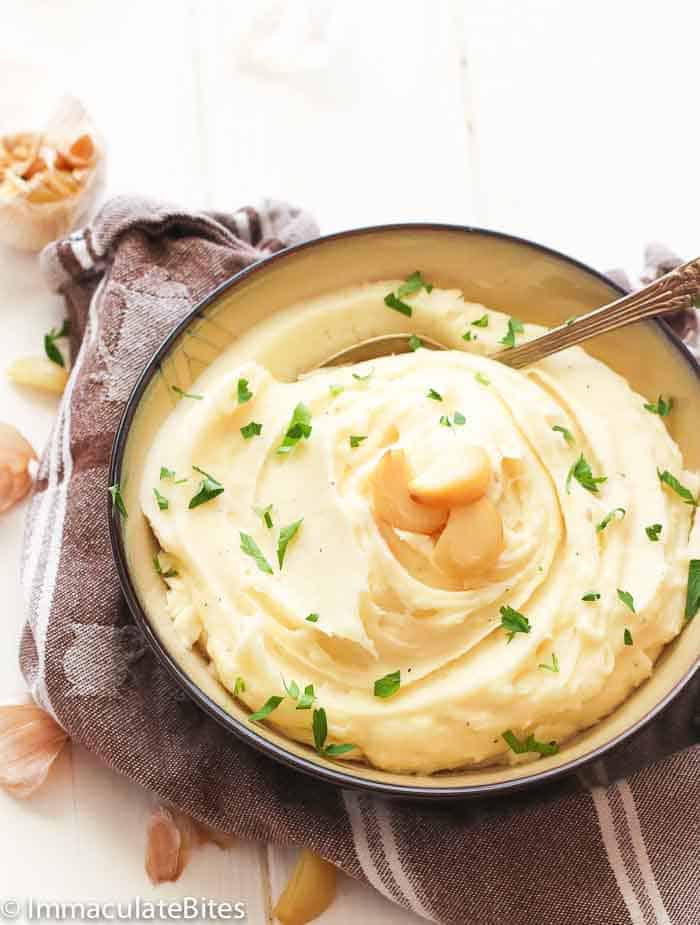 This one deserves the top spot on the list of the best thanksgiving mashed potatoes recipes. I mean, why not? Mashed potato is delicious enough and adding savory and aromatic roasted garlic flavor really takes it on a higher level of deliciousness. Definitely a must-have side dish for every occasion.
2. Garlic Mashed Red Potatoes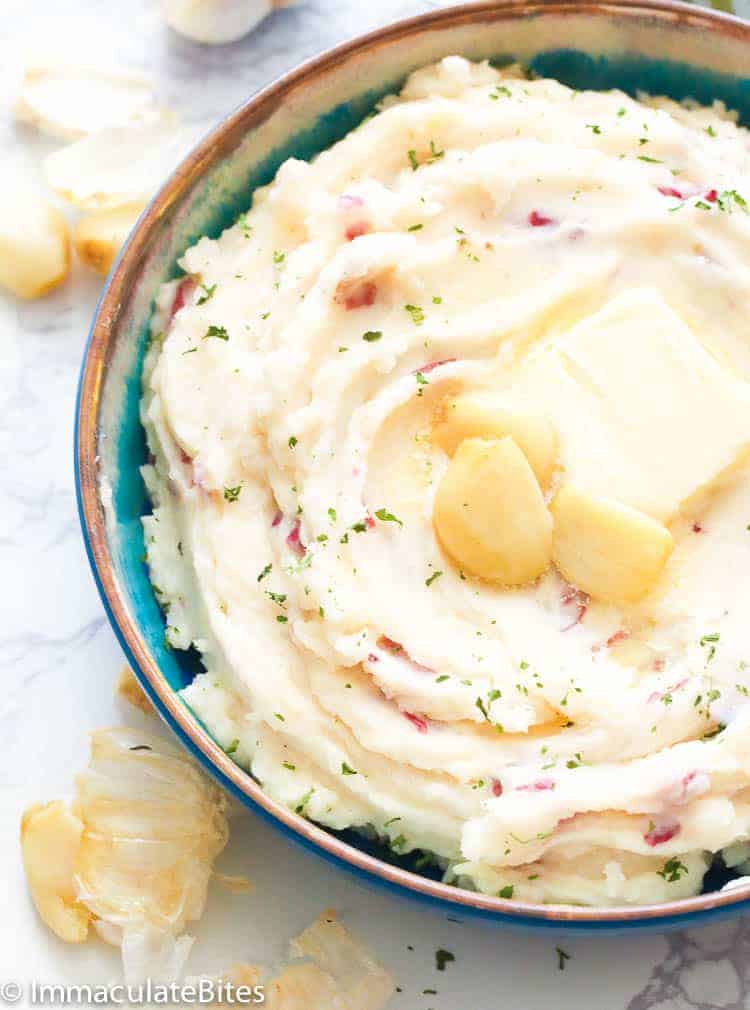 This one here is like a sister version of the basic mashed potato recipe. It's made with red potatoes infused with herbs and rich flavors from roasted garlic. Aah! Truly mouthwatering with its lovely garlicky aroma. Plus, it's creamy and buttery, truly crave-worthy and indulging! 😉
3. Duchess Potatoes
They are basically reconstructed cheesy mashed potatoes then baked to perfection. Just look how stunning and gorgeous these potatoes are. Admit it, mashed potatoes got fancier, huh? And on top of that, you're also gonna love its crunchy crust and the fluffy-soft center. Hmmm-mmmm!
4. Cream Cheese Mashed Potatoes
Do you agree that cream cheese can make any dish 100x better? I know for sure that this mashed potato recipe can prove it. The cream cheese blended well with the mashed potatoes and makes it incredibly richer and creamier. The taste certainly didn't disappoint. Truly divine and sinfully addicting.
Fried Thanksgiving Potato Dishes
5. Southern Style Fried Potatoes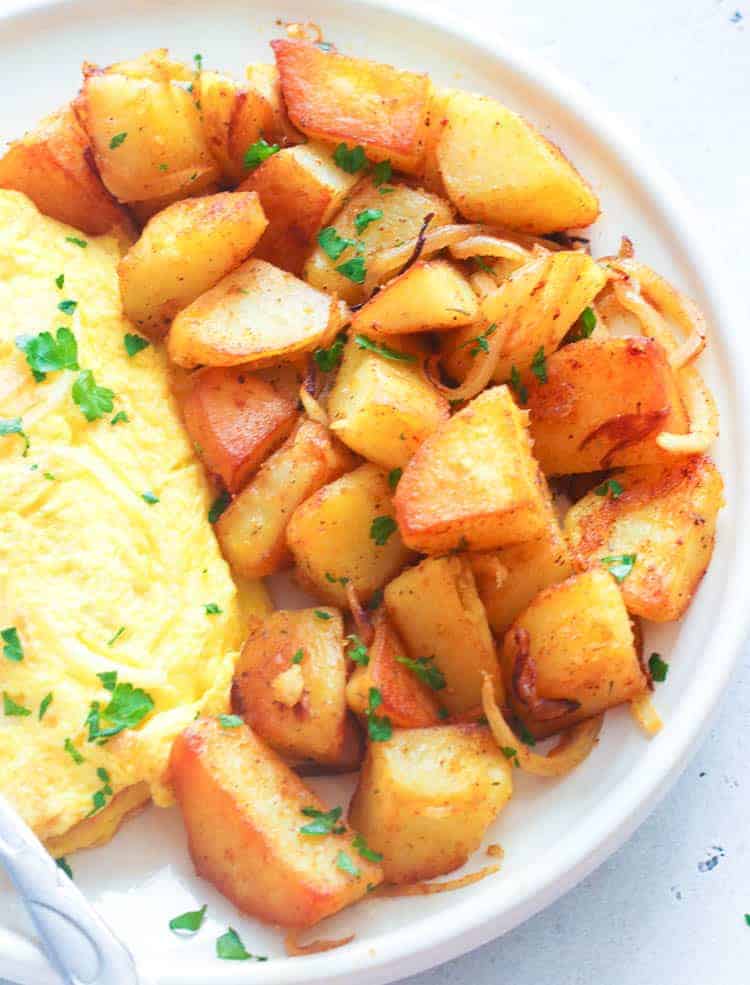 As basic as the name sounds, this fried potato recipe is actually made with just 5 ingredients! Yesss! It's made interesting with the addition of Creole Seasoning and caramelized onion. A perfect side dish to any of your favorite entrees such as Pan Seared Oven Roasted Steak and Chicken and Waffles. 😉
6. Potato Croquettes
Don't you just want to take a bite of these fried cylindrical-shaped mashed potatoes loaded with cheese and ham? These babies here are fried to perfection until golden and crispy. Truly crispy-licious in every bite! Serve it with your favorite dips like Garlic Aioli Dipping Sauce or Remoulade Sauce for an amazing comfort food combo.
Roasted Thanksgiving Potato Dishes
7. Rosemary Roasted Potatoes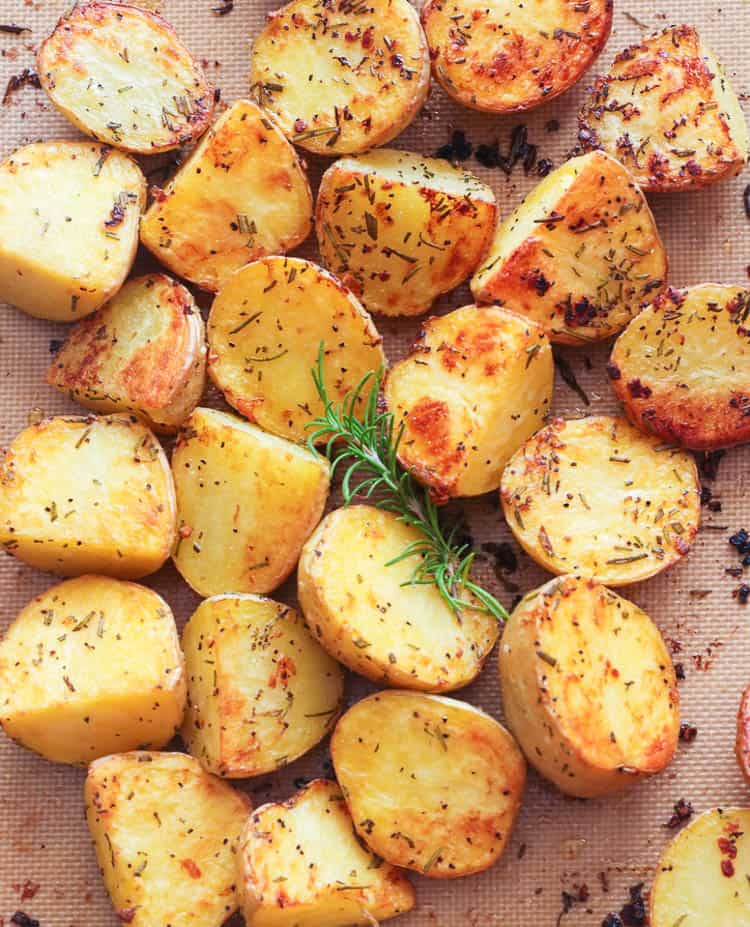 Fall in love instantly with the alluring aroma of fresh rosemary in this roasted potato dish. Flavored with olive oil and garlic, this simple dish will turn into a fancy thanksgiving side dish. Truly mouthwatering and divine, especially when served with equally scrumptious mains like Roast Turkey Breast.
8. Oven Roasted Red Potatoes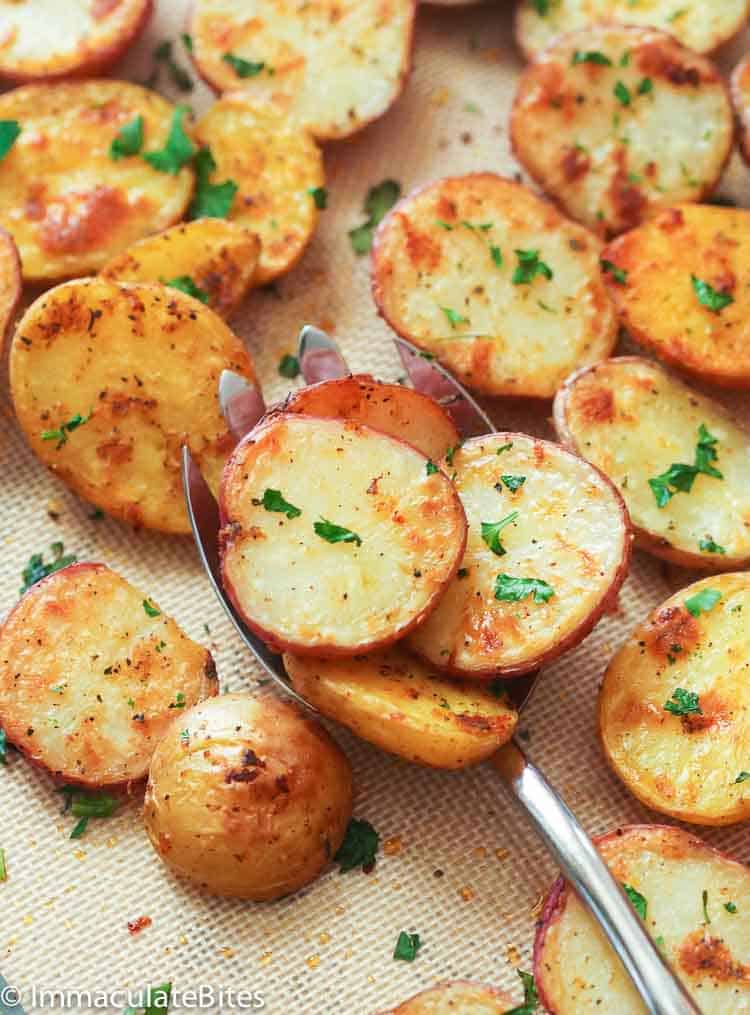 What makes these roasted red potatoes extraordinary is the added heat and savory flavors from Creole Seasoning and minced garlic. So easy to make with a few simple ingredients that require very minimal effort. Truly a simple potato dish that will surely impress everyone at the table. 😉
9. Roasted Fingerling Potatoes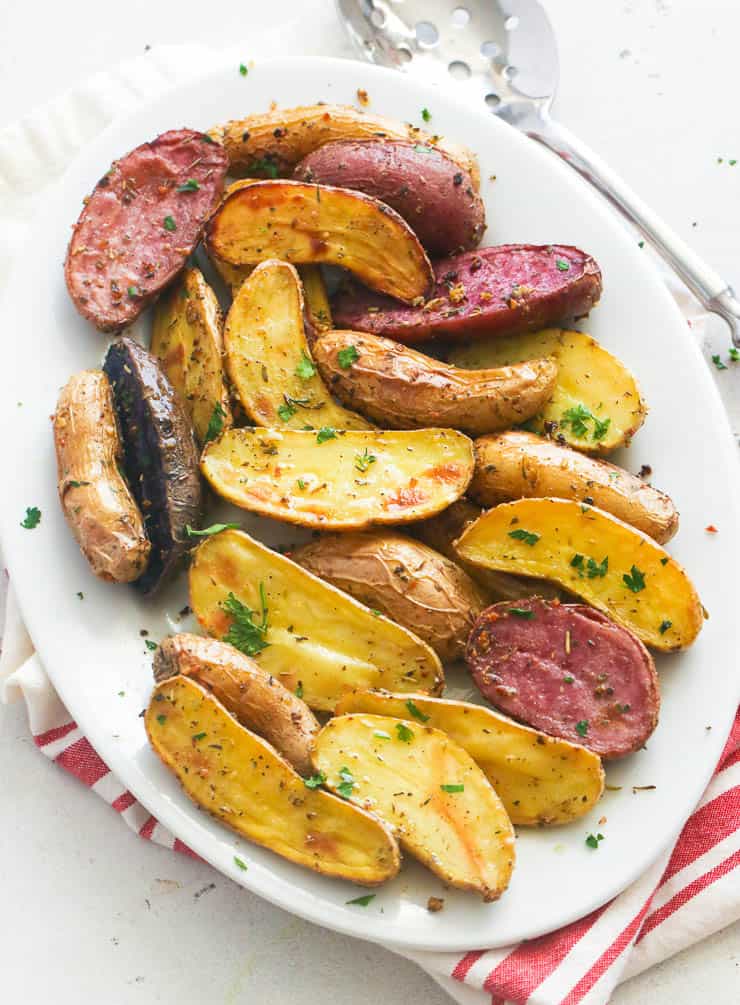 Crispy and fluffy Roasted Fingerling Potatoes bursting with comforting flavors from Italian seasoning, thyme, and rosemary. Amp it up with the mouthwatering goodness from the aromatic and rich garlic butter. Then roast it to perfection for a satisfying potato side dish that can be served any day of the week!
Baked Thanksgiving Potato Dishes
10. Fondant Potatoes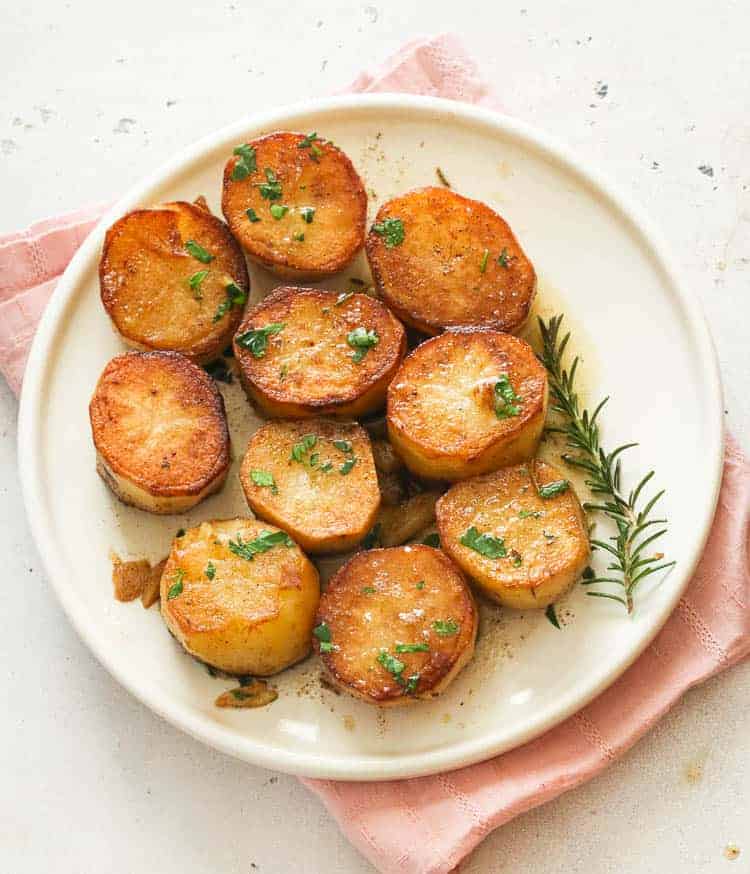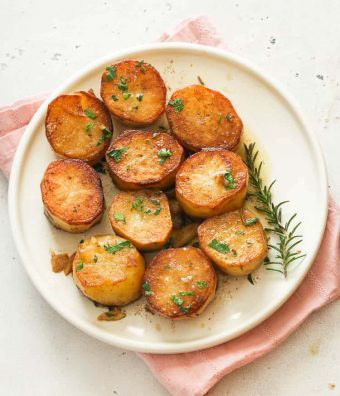 I bet you'll love this amazing Immaculatebites Thanksgiving potato dish that is crispy on the outside and soft and creamy on the inside. This one here is pan-fried and baked to perfection with herb-infused butter and chicken stock. Experience melt-in-your-mouth goodness in every spoon.
11. Cheesy Potatoes au Gratin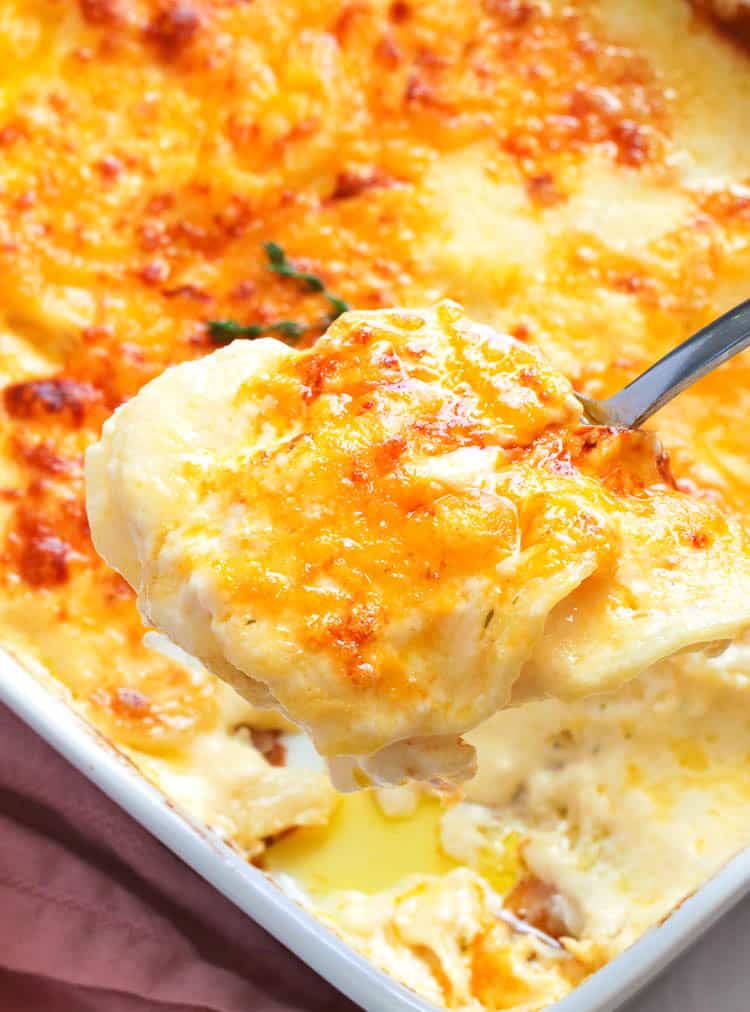 I don't know about you but anything French is fancy to me. Like this ultimate comfort food, Cheesy Potatoes au Gratin. Layers of hearty potatoes smothered in a creamy and cheesy sauce. Aah! So perfect in every way! Certainly, a dish that will surely warm your soul and bellies!
12. Hasselback Potatoes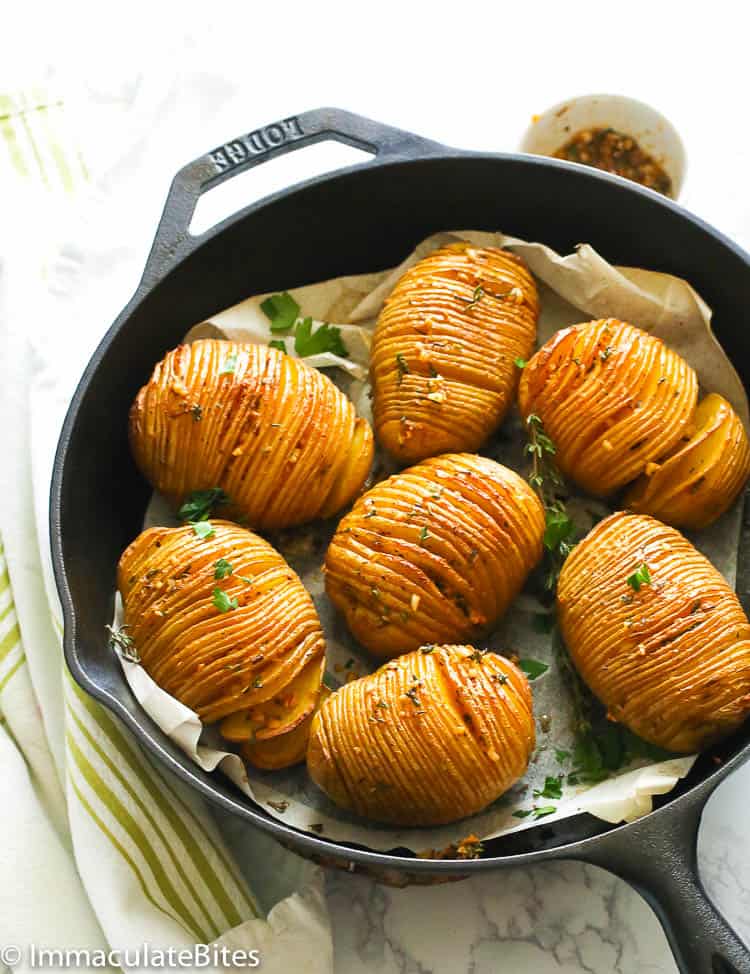 I'll gladly indulge myself with these festive Hasselback potatoes any day! Its crispy edges and buttery interior have definitely won me over. I also love how the exciting flavors from herbs and Creole Seasoning complement the whole dish. Truly a magnificent dish best served warm along with Spiced Roast Turkey. Ooooh!
13. Twice Baked Potatoes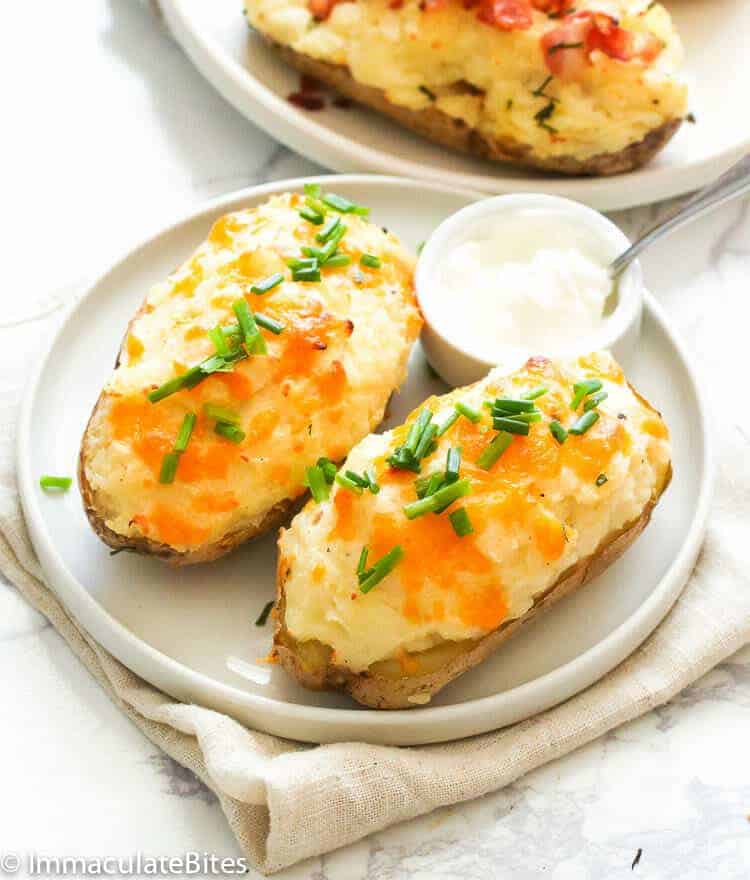 These creamy and cheesy potatoes are screaming nothing but pure Holiday pleasure. Loaded with cheese and bacon bits for the ultimate soul food experience. What more can I ask for? It's already perfect on its own. And oh, a drizzle of hot sauce or a sprinkle of pepper flakes on top will surely take this dish up a notch!
14. Scalloped Potatoes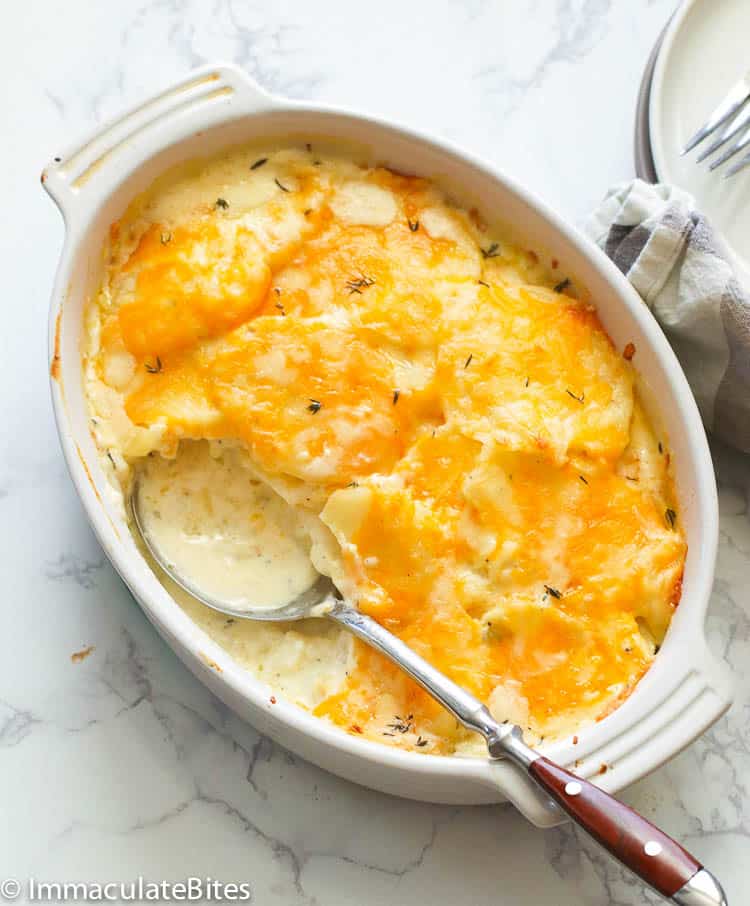 This recipe will surely give you the perfect Holiday delight with its lovely slices of potatoes simmered in a cheesy and creamy sauce. Incredibly luscious and saucy with the addition of heavy cream and milk. Don't forget to top it off with your favorite cheese for a fantastic finish. 😉
Other Thanksgiving Potato Dishes
15. Potato Bread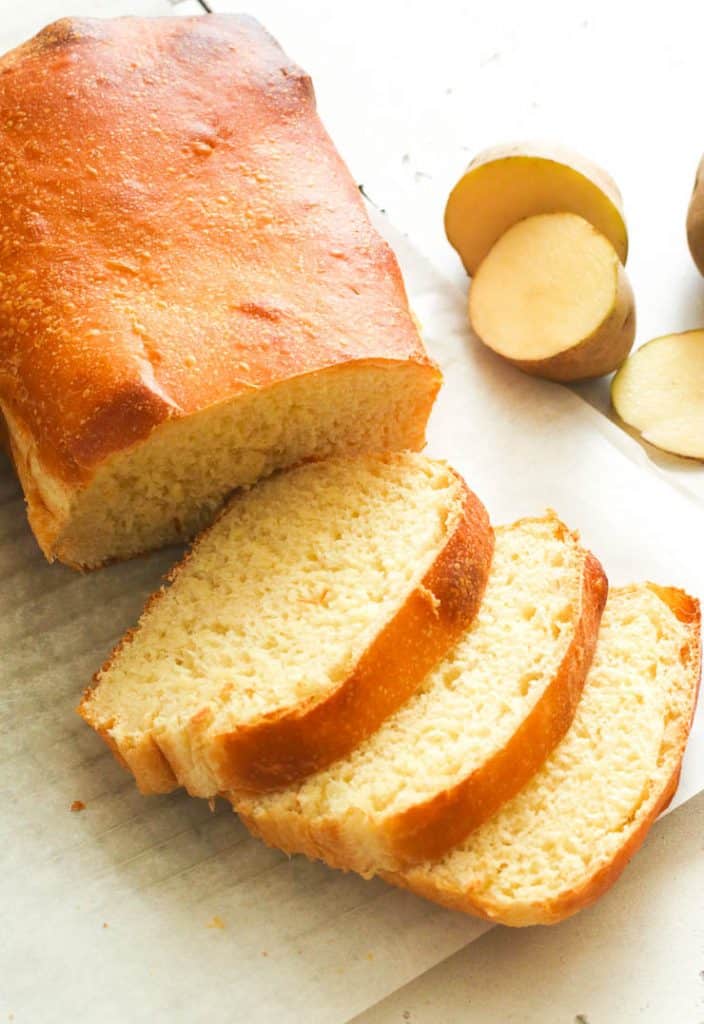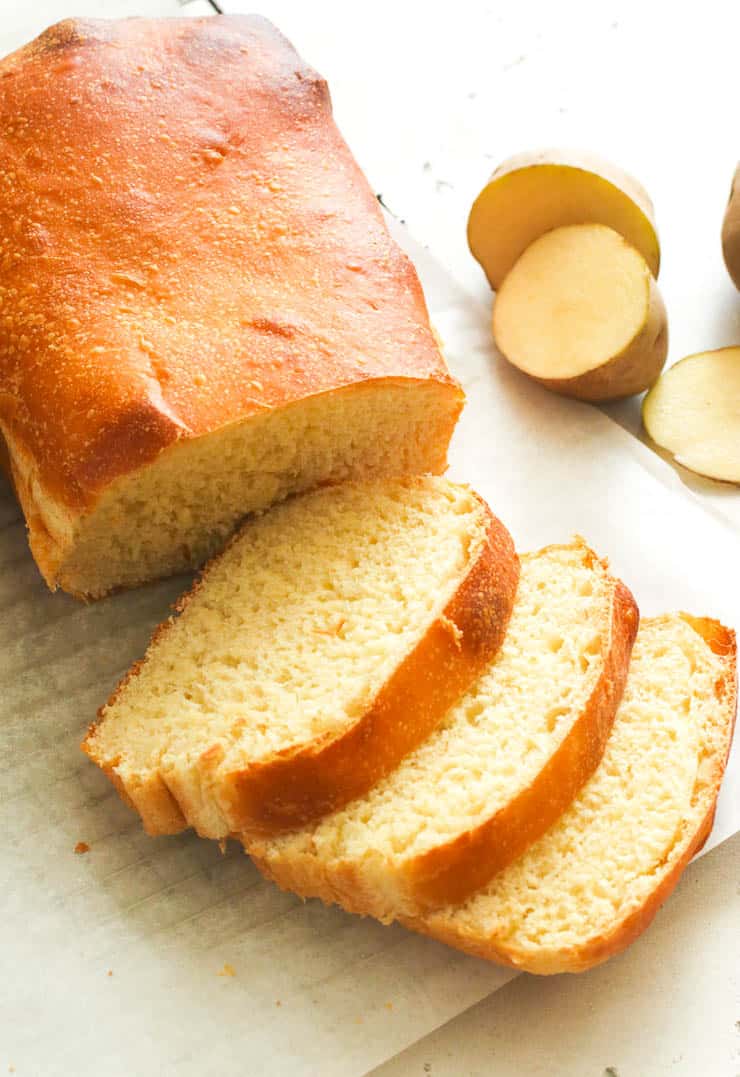 And who would have thought that you can make bread out of these potatoes? Versatility at its finest! Enjoy your breakfast with bread made from potatoes, milk, butter, egg, flour, and yeast. A slice or two of this fluffy and fully loaded potato bread is enough to kickstart your day. 😉
16. Potato Bread Rolls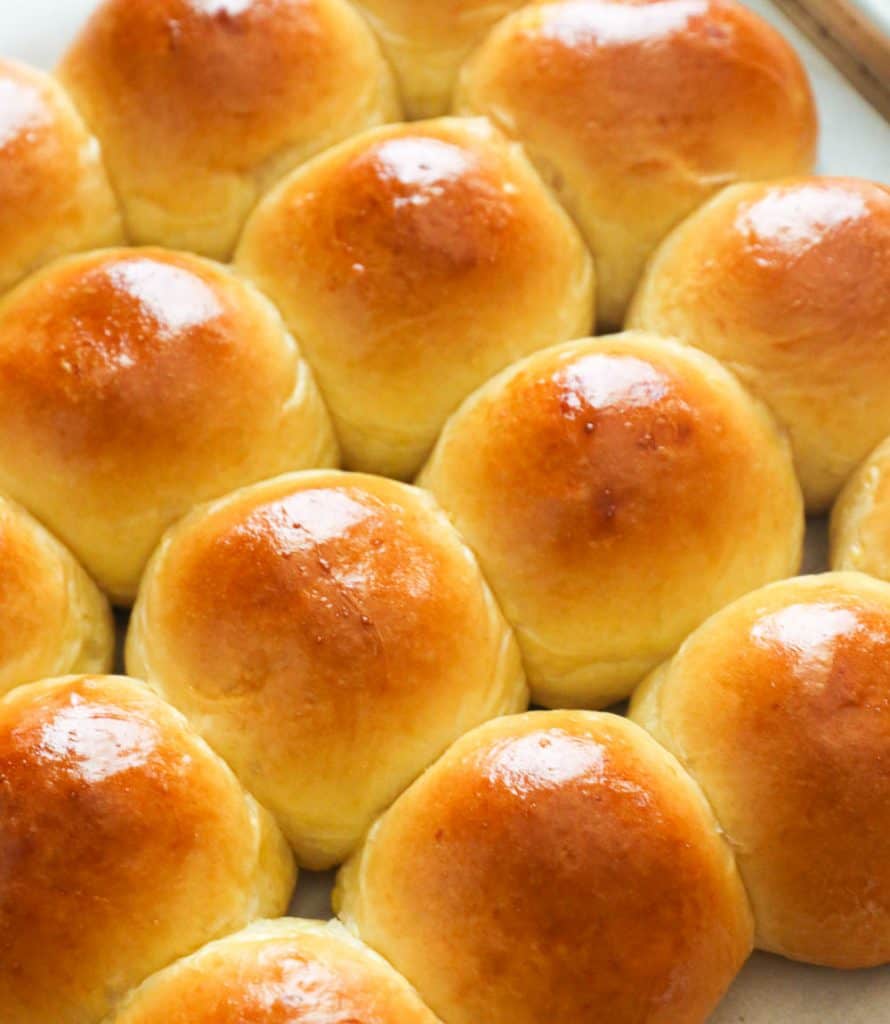 A healthier option to your regular dinner rolls with the same softness and fluffiness but richer and creamier because it's fortified with potatoes. A wonderful pairing to Spiced Roast Turkey and Instant Pot Whole Chicken this coming Thanksgiving.
17. Southern Potato Salad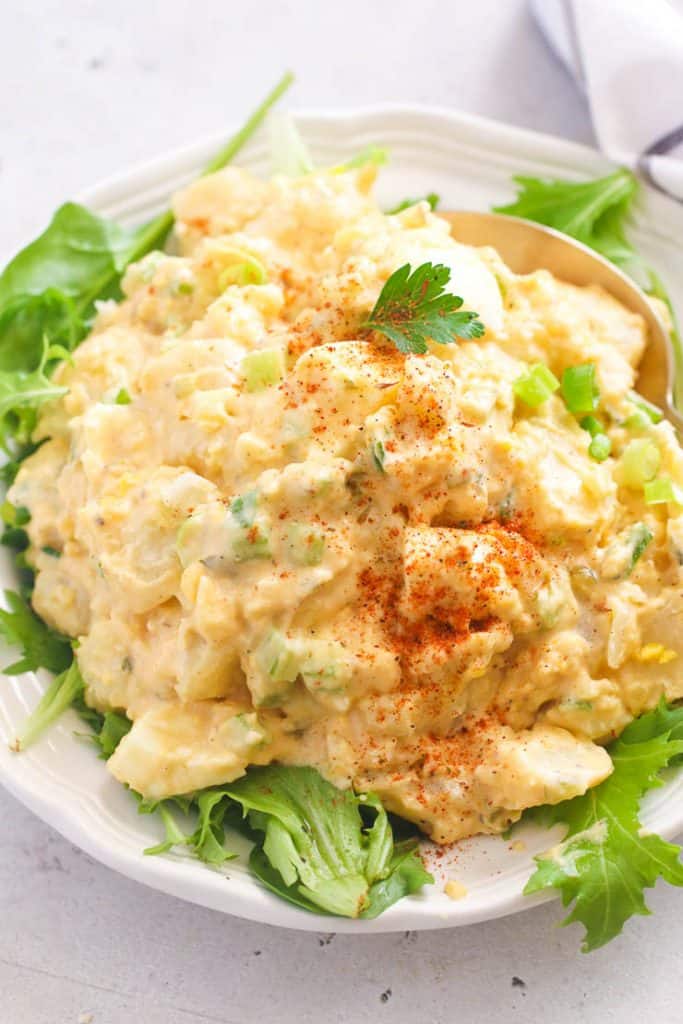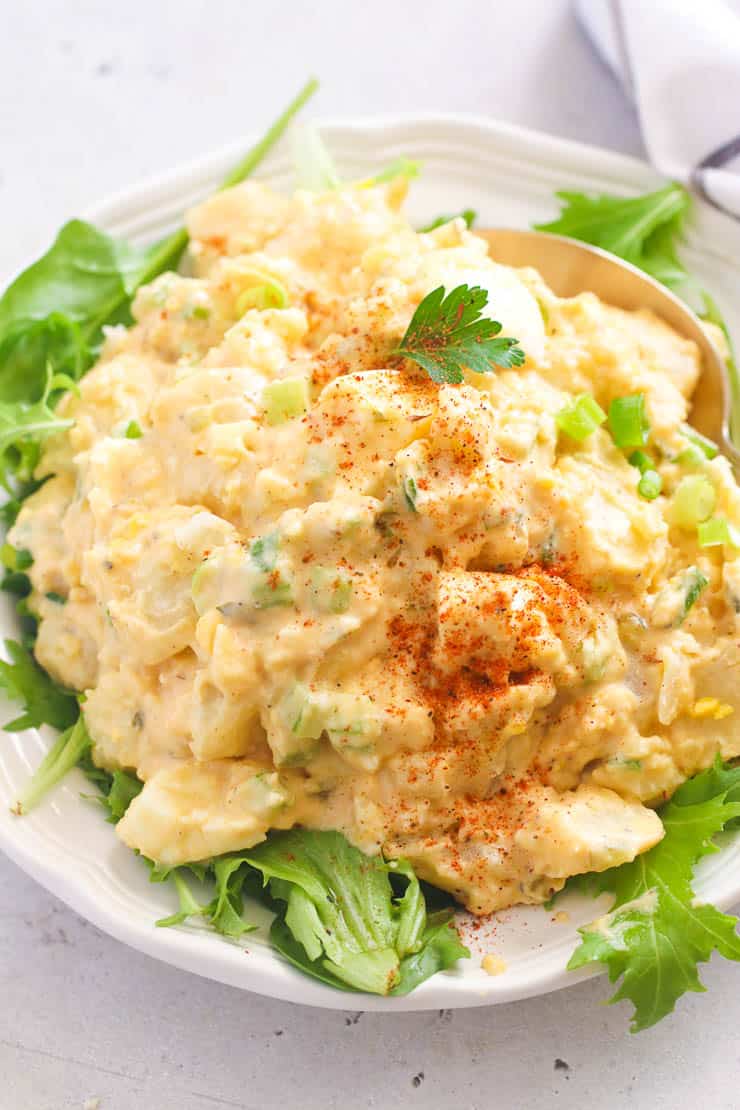 And finally, to complete Immaculatebites Thanksgiving potato dish recipes, don't forget to try this Southern Potato Salad. You're totally gonna love the flavor combinations of sweet and tangy with a touch of heat. Feel free to add some cheese and crispy bacon bits for the ultimate comfort food experience. 😉
And if you enjoyed these potato dishes as much as I do, then you'll definitely gonna love my Sweet Potato Recipes as well.