Sweet potatoes are a starchy and versatile root veggie, and they add a heartwarming sweetness and earthy notes. It is the main ingredient in some of my favorite recipes, from baked sweet potatoes to sweet potato casserole. Yum! Here is a list of 7 Soul Satisfying Sweet Potato Recipes.
Many people confuse yams and sweet potatoes. That's because you can get them canned, and the label says yams. Just to set the record straight, sweet potatoes are a mouthwatering root veggie from the morning glory family. True yams (also known as ñame) are from a totally different family and are closer in flavor to Irish potatoes. Why not try yams in my African Yam Soup. Yum!
FAQs
What are the benefits of sweet potatoes?
Sweet potatoes are highly nutritious with a whole lot of vitamin A, C, and B6. Making sweet potato recipes can even support your immune system! The sweet veggie is also great for your gut health and can take care of your eyesight. Yay!
How do I tell if sweet potato is spoiled?
If sweet potatoes are mushy, have dark spots, or are bruised, there's something wrong with them. Avoid these. Look for firm, bright, and even sweet potatoes.
What is the healthiest method to make sweet potatoes?
The healthiest way of cooking sweet potatoes is by baking or steaming them. Diced and boiled in a soup or stew is a great idea and pretty healthy as well!
1. Sweet Potato Casserole with Pecans
This classic Southern comfort food ramped up with warm spices, milk, and heavy cream has the loveliest mouthfeel. And it's the perfect dessert for a large crowd!
If casseroles are your thing, try my Green Bean Casserole and my Cabbage Roll Casserole. They're wonderful!
The best way to keep this casserole is by letting it cool to room temperature and covering it with plastic wrap. You can keep it in the fridge for a few days or freeze it for a few months.
Sweet Potato Casserole with Pecans
Sweet Potato Casserole with Pecans – Grace your table with this holiday delight filled with creamy sweet potatoes and warm spices – ginger, cinnamon, and nutmeg. Topped with irresistible sweet and buttery pecan streusel for a fantastic finish. A family-friendly side dish that doubles as a dessert, too!
Check out this recipe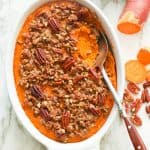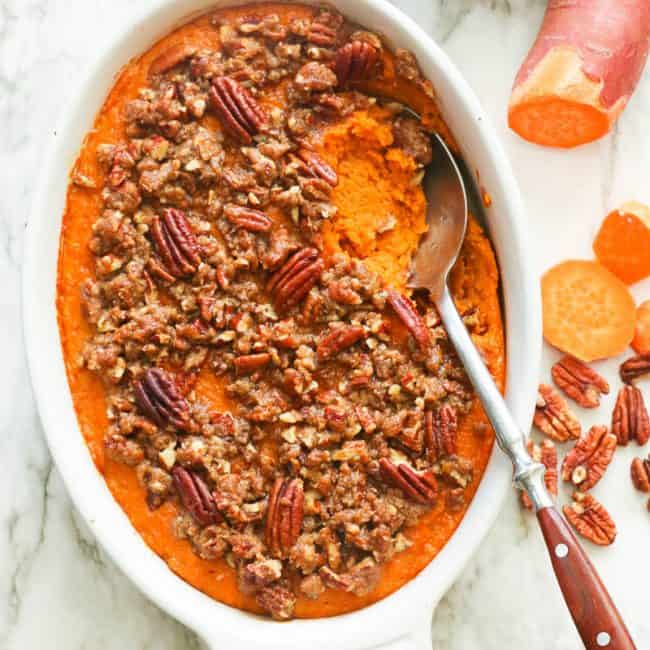 2. Sweet Potato Pie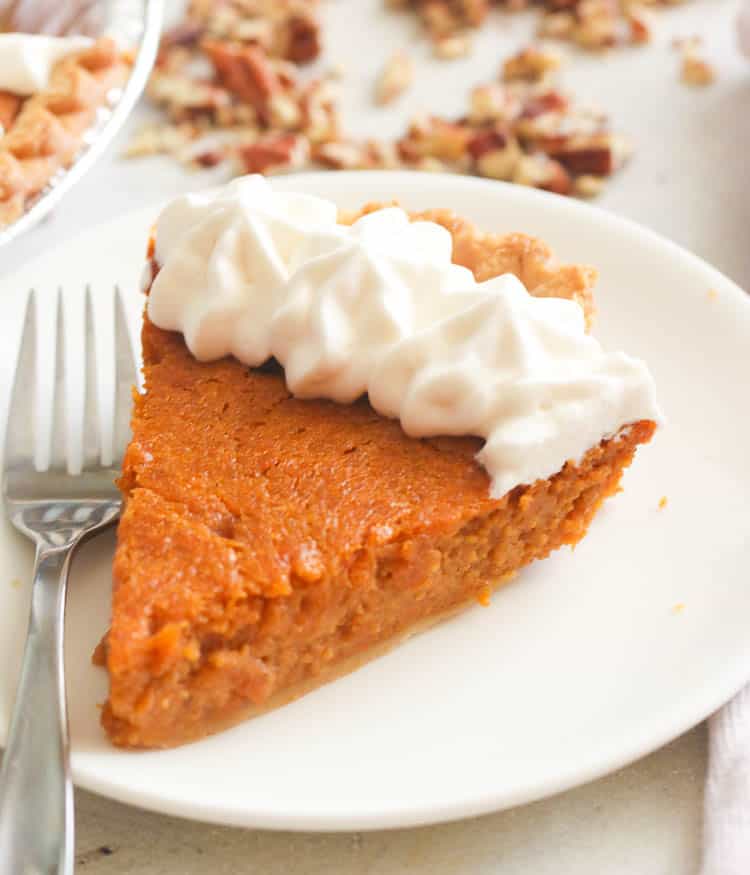 Sweet potatoes become one with brown sugar and butter for a creamy pie with a holiday spirit! The secret is baking them.
This pie is the perfect ending to a holiday meal with Baked Turkey, Green Bean Casserole, and Cream Cheese Mashed Potatoes. Drooling! Check out my Chocolate Pecan Pie Recipe and my classic French Chocolate Silk Pie for other pie recipes!
Store your pie in its pie tin without unmolding. Make sure it has cooled down and protect it with plastic wrap. Store it in the fridge. However, leftovers for this one are rare!
Sweet Potato Pie
Creamy, tasty, and insanely delicious SWEET POTATO PIE makes the holidays a lot better. This traditional southern masterpiece made from real sweet potatoes and an indulgent homemade pie crust take "desserts" to another level. Truly a crowd-pleasing comfort food you can easily make at home.
Check out this recipe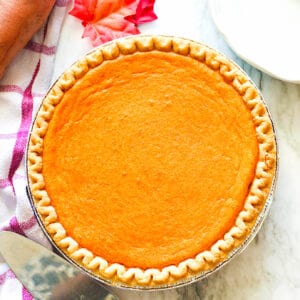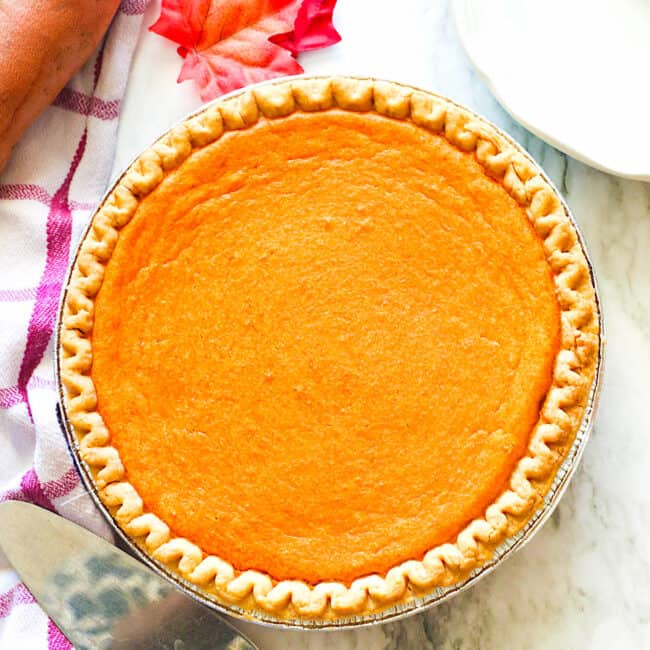 3. Sweet Potato Bread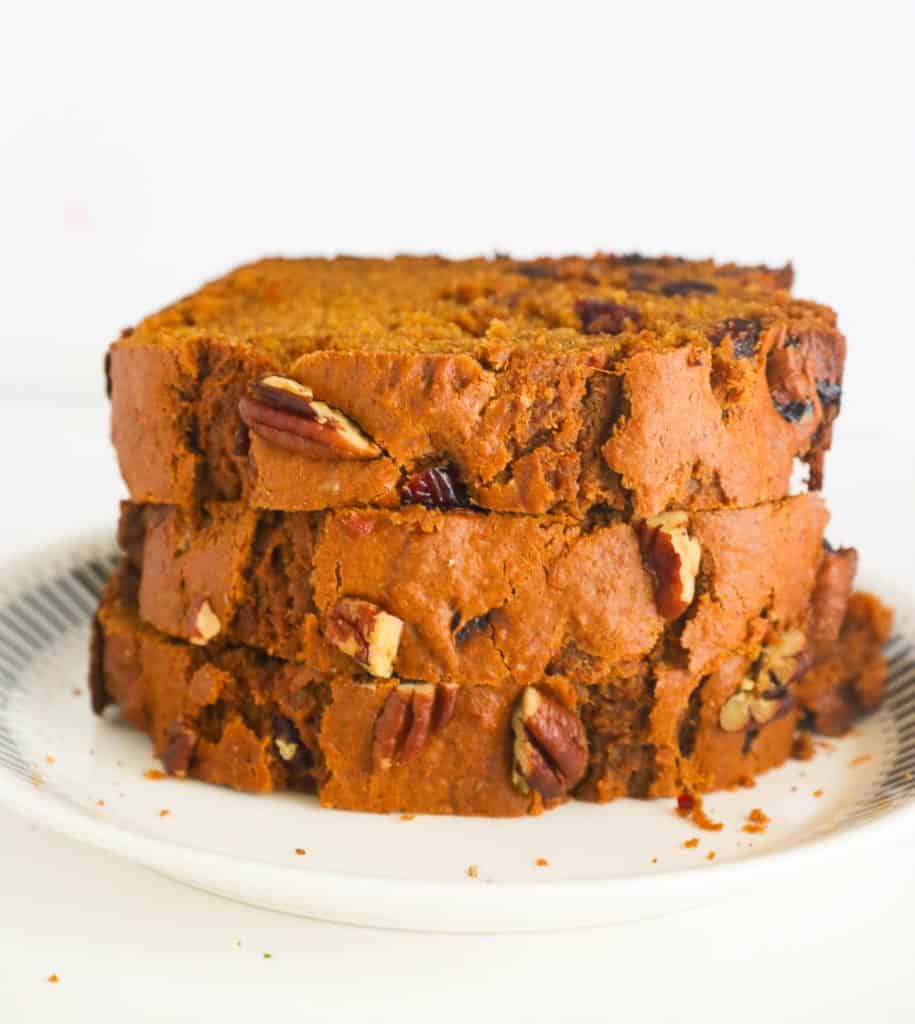 I love this recipe. It's moist and sweet and reminds me of falling leaves. The puree comes together with eggs, sour cream, dark brown sugar, and winter spices. What a seasonal treat!
For more delectable bread recipes, try my Pumpkin Banana Bread and my Strawberry Banana Bread.
You can store this bread on the counter or in a bread box for 2-3 days. Cover it with plastic wrap for a great protective layer. You can keep it in the fridge if you need to keep it for a week. You can also freeze this bread for up to two months!
Sweet Potato Bread
Sweet Potato Bread is traditional Southern comfort food, but it's often overlooked. Not only do sweet potatoes make excellent quick bread, but they're also a pretty healthy choice. Whether you make them fresh or use leftovers from a holiday dinner, sweet potatoes make rich, moist bread.
Check out this recipe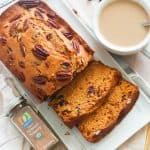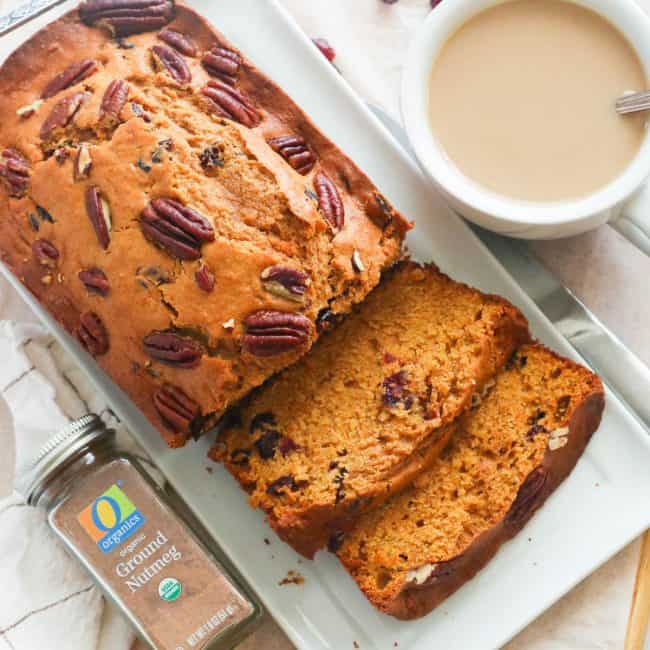 4. Curry Chickpeas Stuffed Sweet Potatoes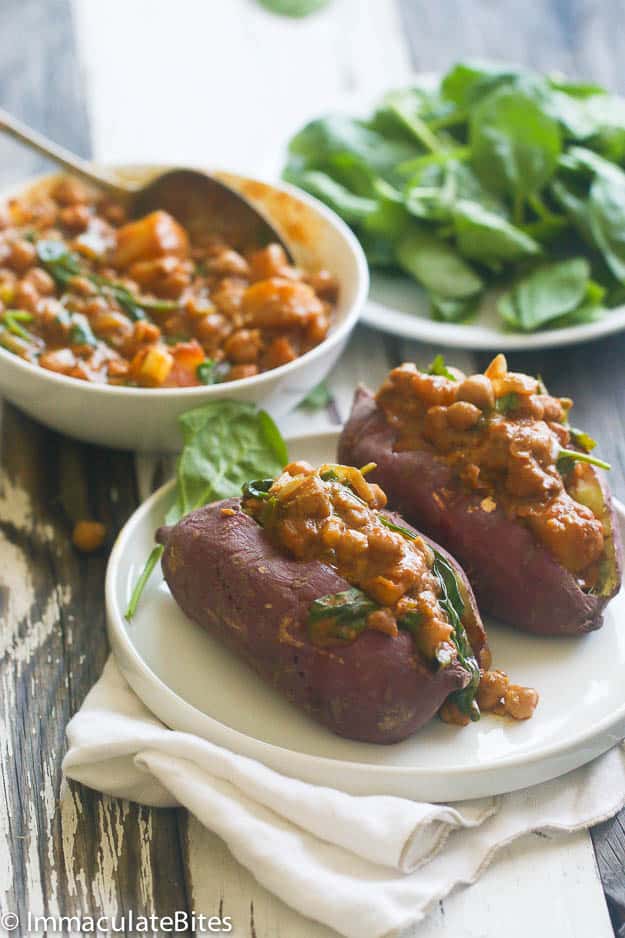 If you like curry, you'll love these stuffed sweet potatoes. Chickpeas are the stars in this baby, making it one of my favorite recipes! Chickpeas, cubed potatoes, spinach, and lots of parsley give this recipe depth of flavor, thanks to authentic curry powder—the ideal filling for this tasty tuber.
For other stuffed goodies, try my Stuffed Green Bell Peppers and my Crab-Stuffed Mushrooms! This deliciousness is a meal on its own, but it goes great with a Pea Salad.
Store stuffed potatoes in a container with an airtight lid. Place the container in the back of the fridge. It's best to store the filling separately if you want to make them ahead.
Stuffed Sweet Potatoes with Curry Chickpeas
A solid and simple dish that has so much to offer when it comes to flavor. Chickpeas simmered in an aromatic curry coconut sauce. Vegan Comfort food at it's best!
Check out this recipe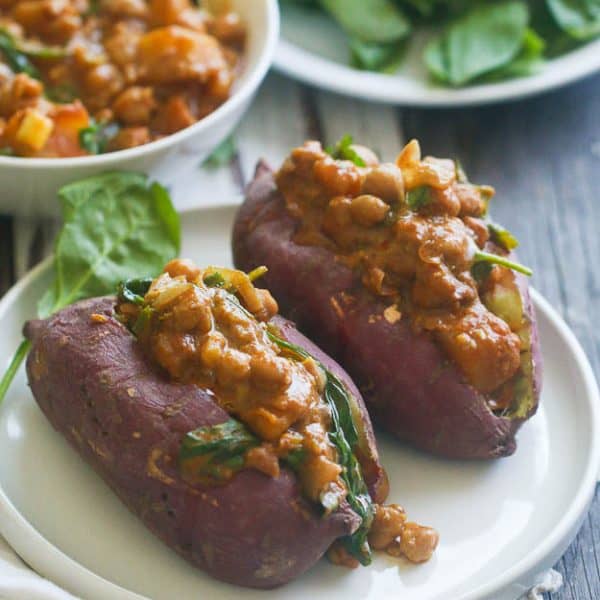 5. Sweet Potato Casserole with Marshmallows
A fluffy marshmallow layer makes this casserole a unique dessert. The aromas coming from the kitchen are thrilling! This one adds milk, heavy cream, and butter.
It's the perfect side or dessert for your next holiday meal. Try it with Baked Chicken Leg Quarters and Rosemary Roasted Potatoes. Yum! See other fun desserts, like my Pumpkin Pie recipe and the lovely Texas Sheet Cake.
Store this delicious casserole in the fridge covered with plastic wrap. You could freeze it, but marshmallows don't handle freezing temperatures well.
Sweet Potato Casserole with Marshmallows
This Sweet Potato Casserole with Marshmallows is such a festive sight and equally delicious, too! Exceptionally creamy with the right amount of sweetness, topped with toasted mini marshmallows for a heavenly gooey delight. The perfect comfort food that will make all your carb fantasies come true. Aaah! Pure happiness in every bite!
Check out this recipe
6. Mashed Sweet Potatoes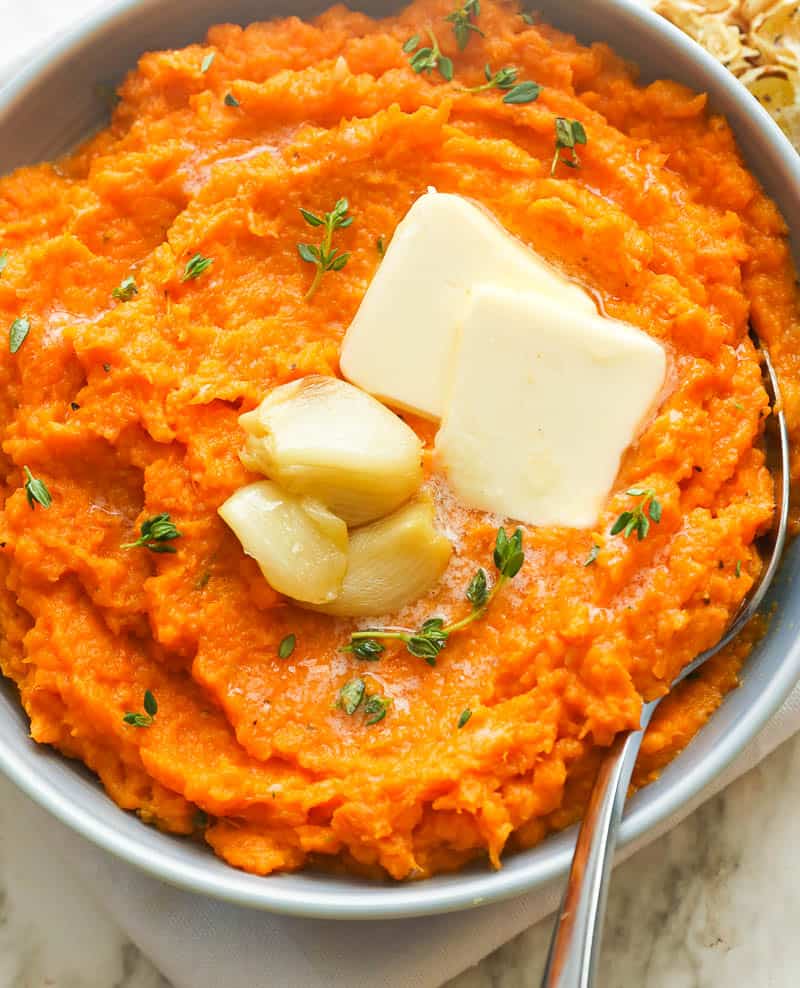 This recipe is the perfect side dish for a holiday dinner party. For this recipe, I made sure to give you options by making both savory and sweet Mashed Sweet Potatoes. This easy recipe will surely steal the show!
Try my Garlic Mashed Red Potatoes or the colorful Mashed Sweet Potatoes with Peas and Corn for other mashed goodies.
The easiest way to store leftovers is in an airtight BPA-free plastic container. You can freeze it too! You can store them in a freezer bag to save some space.
Mashed Sweet Potatoes
This tasty mashed sweet potato recipe is more than a recipe; it's two recipes! Let me show you how to make both sweet and savory mashed sweet potatoes. These are fantastic, seasonal side dishes that will surely steal the show. And, they're perfect for the holidays.
Check out this recipe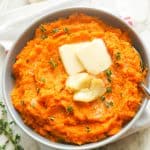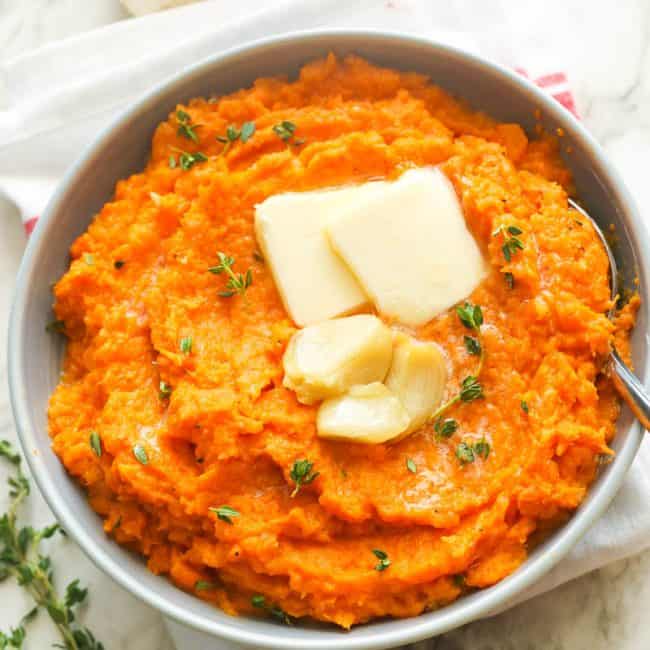 7. Japanese Sweet Potato Fries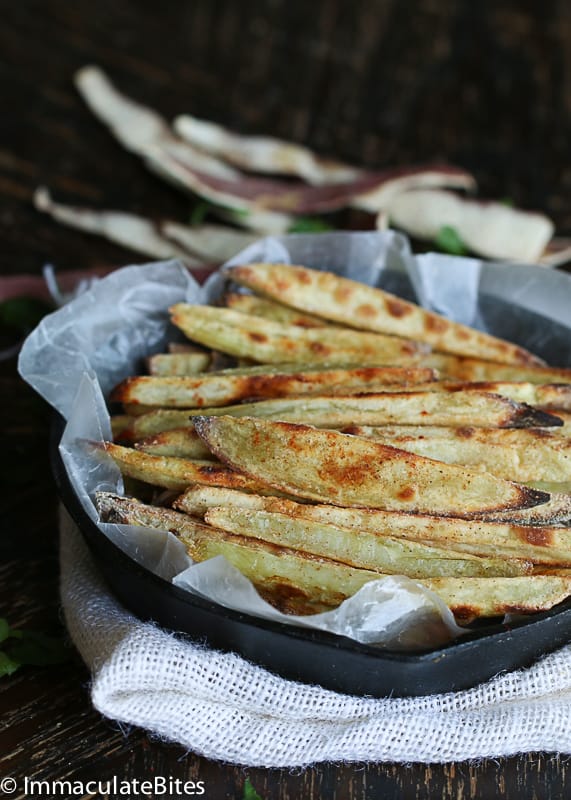 These baked Japanese sweet potatoes fries seasoned with heartwarming nutmeg and cinnamon are even better for you because they're baked. And they're deliciously tender! Additionally, the coconut oil gives them a tropical taste hard not to love.
If you like these fries, try making Yuca Fries as well! This deliciousness is the perfect side to spicy Buffalo Wings.
You can store them in an airtight container in the fridge for up to a week. Or you can freeze them for up to two months! Just crips them back up in the oven.
Japanese Sweet Potato Fries
Crispy Spiced Japanese Baked Sweet Potato fries baked in the oven, tossed with spices and coconut oil. Light, healthy and sweet. You'll forget they're good FOR you!
Check out this recipe