Corn Jalapeño Dip – fresh corn dip with some heat from the jalapeno, garlic and of course, that cheesy goodness.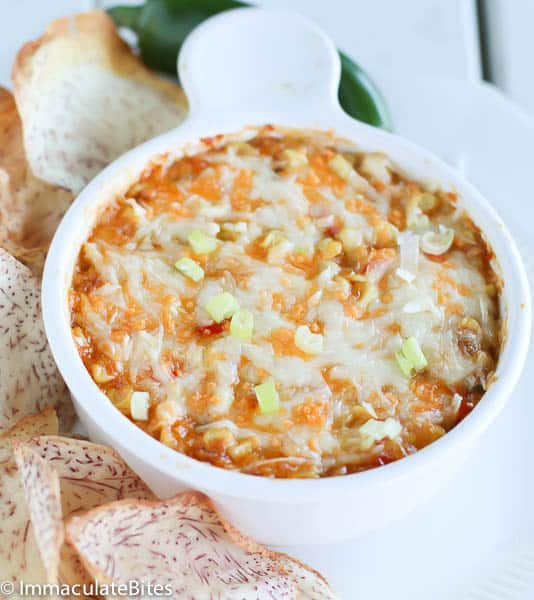 So I wanted a dip to go with this taro chips here and could not think of a better dip than corn dip. You know why? Cause it is corn season and they are dirt-cheap at the supermarket or farmer markets right now. So better make good use of it while it last.
This Fresh corn dip is one that I got from the food network and down sized it because I know what am capable of. No self-control with comes to anything cheesy. You see, I am the only dip lover at home right now- no partner in crime. By the time you know it I would have finished the whole thing. If you are entertaining feel free to double the recipe.
Here fresh corn is the star of the dip with some heat from the jalapeno, garlic and of course, that cheesy goodness that makes this dip- oh so delicious. Fresh corn is best here, however sub with can corn.
I know removing corn from the husk can be a messy job so here is an easy way to make sure the kernels don't mess up your whole kitchen. Place corn in the center of the Bundt pan with large side down. Using a small, sharp knife, slice the corn off the cob, turning the ear as you go.
Enjoy!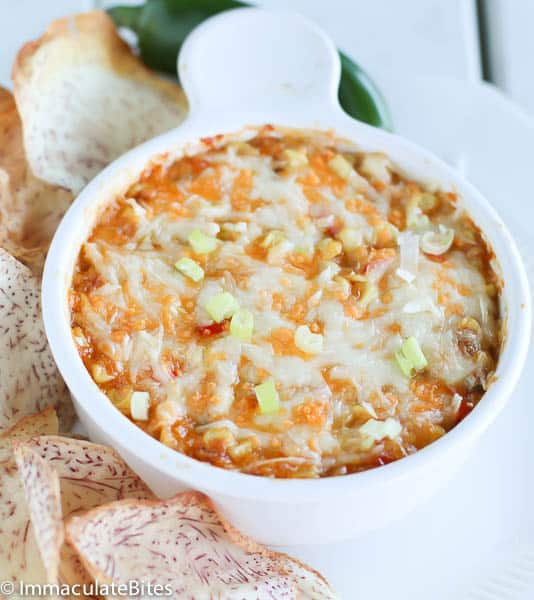 Print
Corn Dip
Ingredients
1

tablespoon

unsalted butter

2

ears fresh corn

1 ¾ cups corn kernels

¼

Cajun salt or salt

1/8

teaspoon

freshly ground black pepper

1/3

cup

finely chopped yellow onions

¼

cup

finely chopped red bell peppers

1/2

jalapeno pepper

¼

cup

chopped green onions

green and white parts

1

teaspoon

minced garlic

1/2 to 1

cup

mayonnaise

2

ounces

Monterey jack cheese shredded

2

ounces

sharp cheddar

shredded

¼

teaspoon

smoked paprika

Taro chips

for dipping
Instructions
Directions

Preheat the oven to 350 degrees F.

Place a large heavy skillet over medium-high heat. Then add ½ tablespoon butter. Let it melt

Add the corn, salt, and pepper. Sauté the corn, stirring occasionally, until the corn turn deep golden brown, approximately 5 minutes.

Remove from heat and place corn in bowl. If there are any burns lightly wipe with a paper towel.

Melt the remaining ½ tablespoon of butter in the same skillet. Followed by the onions, bell peppers, smoked paprika and garlic. Cook, stirring often, until the onions are translucent, about 2 minutes.

Finally add the green onions, continue cooking for about a minute or until tender.

Transfer to the bowl with the corn mixture. Add the mayonnaise, 1/2 of the Monterey jack and half of the cheddar, and thoroughly combine ingredients. Pour into 4 -inch square baking dish, then sprinkle sprinkle the remaining cheese on top. You may refrigerate at this point until ready to bake.

When ready bake for about 10 to 12 minutes or until bubbly and golden brown, 10 to 12 minutes. Serve hot with taro chips.