Nothing says cozy family dinner quite as well as a good roast beef does, am I right? Roast beef is filling, flavorful, pairs well with a variety of sides, and is excellent for a weeknight dinner or a special occasion. These 7 Roast Beef Recipes are always crowd-pleasers, and they are not at all difficult to make. You and your family will love them.
Oh, and another great thing about roast beef dinners! They are not a high-maintenance dish, meaning there's no slaving over them. You just season them up and pop them in the oven or slow cooker for a few hours, giving you plenty of time to focus on making some fantastic side dishes (or relaxing for a bit 😉).
FAQs
How long does it take to roast beef?
For perfectly tender roast beef, you'll need to plan on about 22-25 minutes per pound for a well-done roast, 17-19 minutes for medium, and 13-15 minutes per pound for rare. Since oven temps can vary, you can always check the roast to ensure it reached the appropriate internal temperature: 160℉/72℃ for a medium roast and 145℉/63℃ for a medium-rare roast.

Since this chunk of meat is quite large, it will continue cooking after you take it out of the oven as it rests, so you may want to take it out when it's about 5℉/15℃ below the desired temperature.
How do I cook roast beef so that it doesn't dry out?
Roast your beef until it's done to your satisfaction. Letting the meat rest for a minimum of 10 minutes is crucial! That resting time allows the juices to redistribute throughout the meat to keep it tender and juicy. It's super easy; just tent foil over the roast let it rest for 15 minutes before you cut and serve it.
Why does my roast beef turn out so tough?
It could be one of two problems: overcooking or undercooking. Undercooked pot roast is tough and chewy. If it hasn't been in longer than necessary and a taste test reveals it's still tough, give it another hour or so in the oven.

Overcooking can lead to tough meat, too, though. So keep an eye on your cooking time (the kitchen timer is my best friend for longer cooking dishes like these), and make sure your braising liquid doesn't go dry at any time during the roasting process.
The Roast Beef Recipes Rundown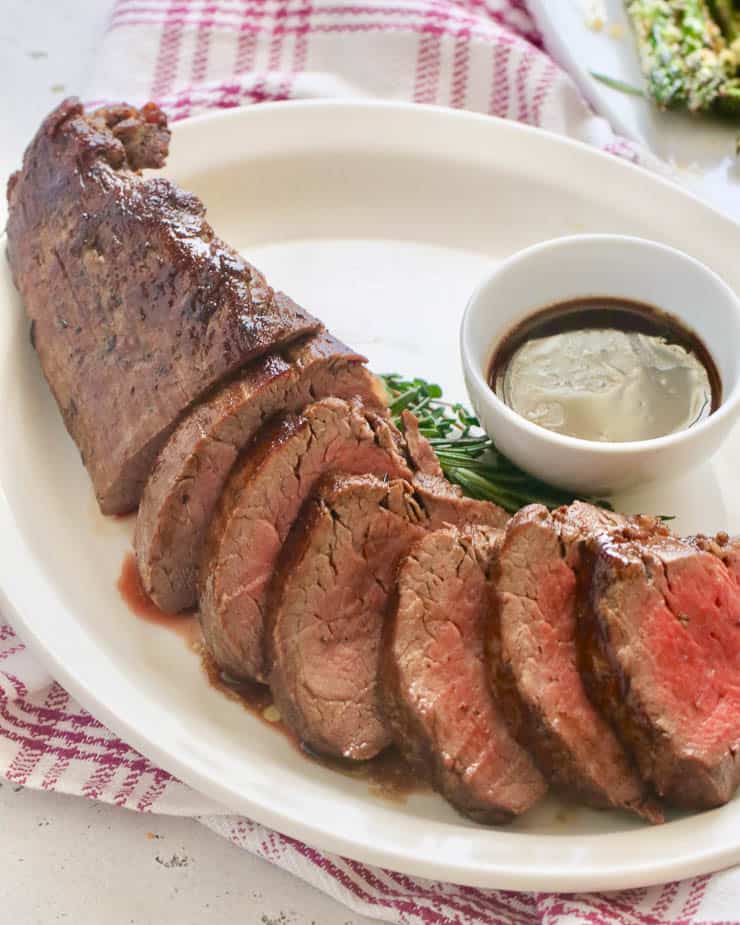 This roast beef tenderloin is the perfect meal for a cozy family dinner or even for a celebratory main course. Tender, succulent meat, roasted to perfection, and then drizzled with a tempting red wine pan sauce will get the compliments rolling in every time.
Best of all, it's not a dish that requires a lot of your attention – simply pan-sear and let the oven do the rest of the work while you focus on your sides.
Speaking of sides, this dish also goes beautifully with a side of potatoes and a vegetable. I love pairing it with roast garlic mashed potatoes or red potato salad and green beans and bacon or parmesan-crusted baked asparagus. Oh, and don't forget to drizzle the red wine pan sauce over all of the above. 😉
Your leftovers will be just as delicious the next day. Simply store the roast beef in an airtight container in the fridge for up to three days.
Beef Tenderloin Roast
Juicy BEEF TENDERLOIN ROAST served with a mouthwatering red wine pan sauce. A perfect celebratory main course or regular family dinner dish that is roasted to perfection!
Check out this recipe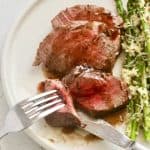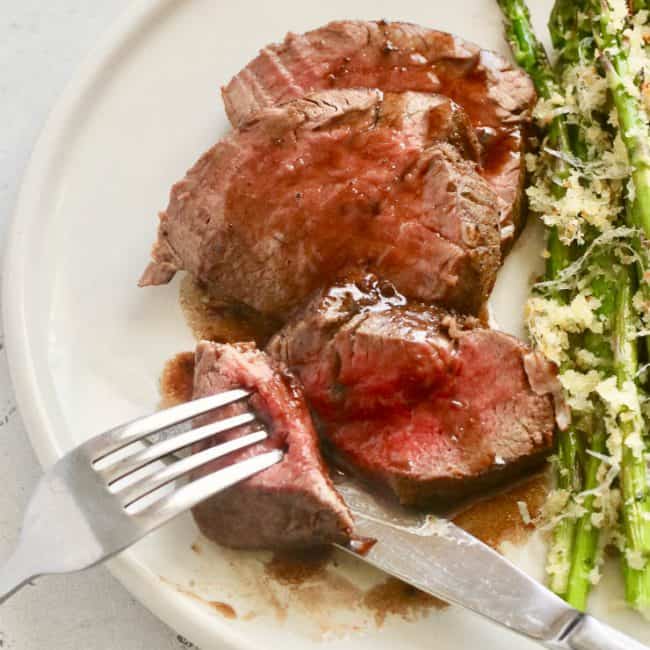 2. Eye of Round Roast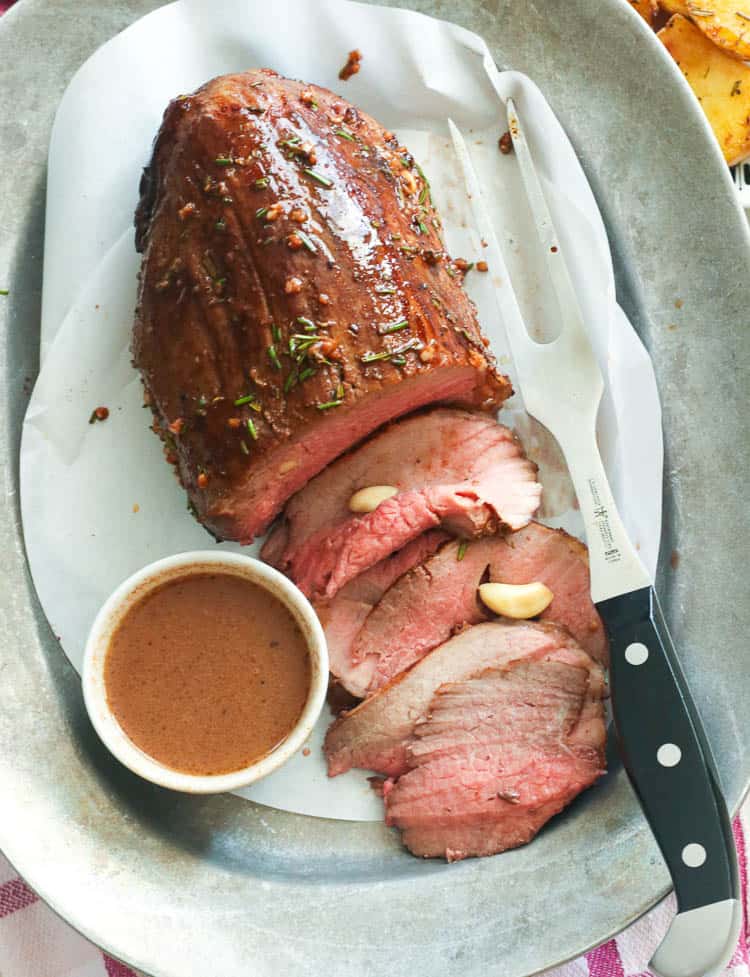 This roast looks just as juicy and beautiful as it tastes, making it the perfect choice for a special occasion, Sunday dinner with the fam, or even a decadent weeknight meal. Plus, the flavor will rival your favorite beef steak – at a fraction of the price. What's not to love?
Eye of round roast goes well with so many sides too. You really can't beat a roast served with a side of roast garlic mashed potatoes, especially if you drizzle it with some warm homemade gravy.
Personally, I love to add a side of balsamic baked Brussels sprouts or even simple sauteed Brussels sprouts, which complement the smoky flavors of the meat really well.
You can store any leftovers in an airtight container in the fridge. They'll last for three days, so you can feel free to repeat this delicious meal.
Eye of Round Roast
Easy, moist-tender and flavor-packed EYE OF ROUND ROAST makes a great crowd-pleasing dinner for regular nights or the holidays. Every slice of this beefy roast packs a huge amount of flavor without the hefty price tag. Go add this to your menu and impress everyone at the table!
Check out this recipe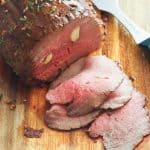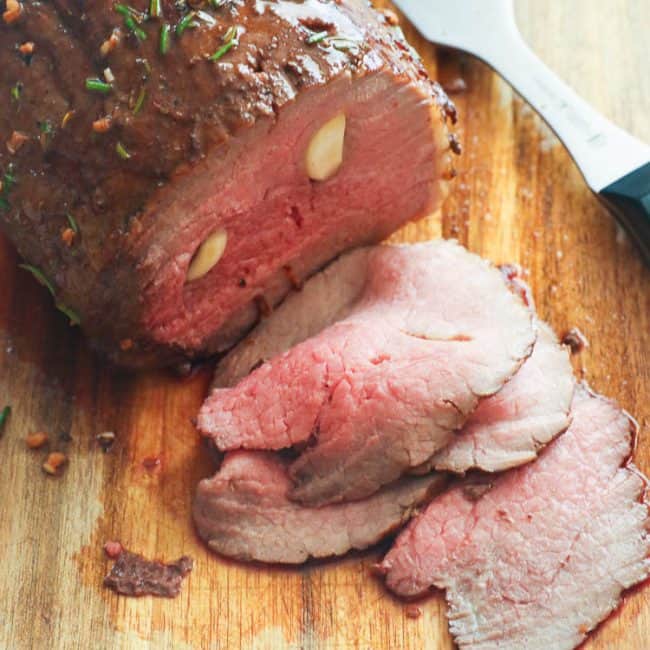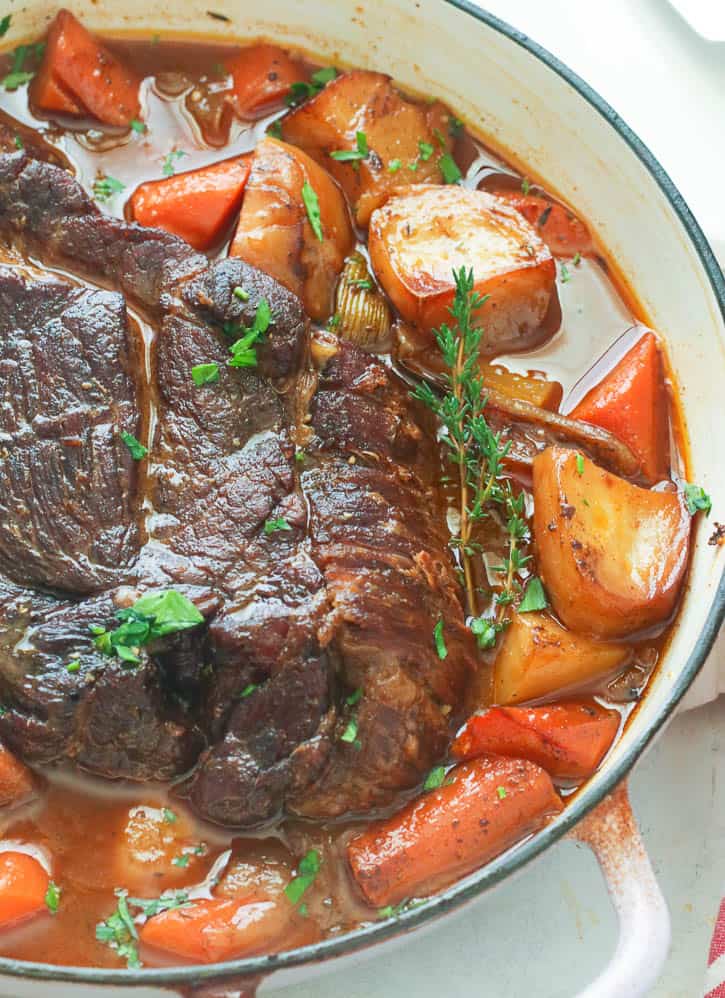 It's hard to beat the fall-apart tender bits of top-round roast beef in this list of classic roast beef recipes. Additionally, celery, carrots, gravy, and potatoes complete the satisfying dish, making it a forever family fave. Plus, one-pan meals are the best – easy to prepare and clean up!
You really can serve this dish up all by itself – veggies, meat, and potatoes are all already included. That said, I say no pot roast is complete without a side of homemade bread, like easy dinner rolls or southern buttermilk biscuits. I also like to serve it with green beans on occasion to give the meal a nice complementary crunch.
You can store any leftovers in an airtight container in the fridge. They'll last for three days, so you can feel free to repeat this delicious meal.
Oven Pot Roast
Oven Pot Roast – fall-apart tender and beefy pot roast in a deliciously amazing gravy with celery, carrots, and potatoes. This beef recipe always makes a lovely Sunday dinner or regular weeknight dinner for the whole family. Hearty, comforting and most satisfying oven roast recipe! It simply tastes like HOME!
Check out this recipe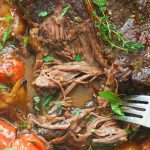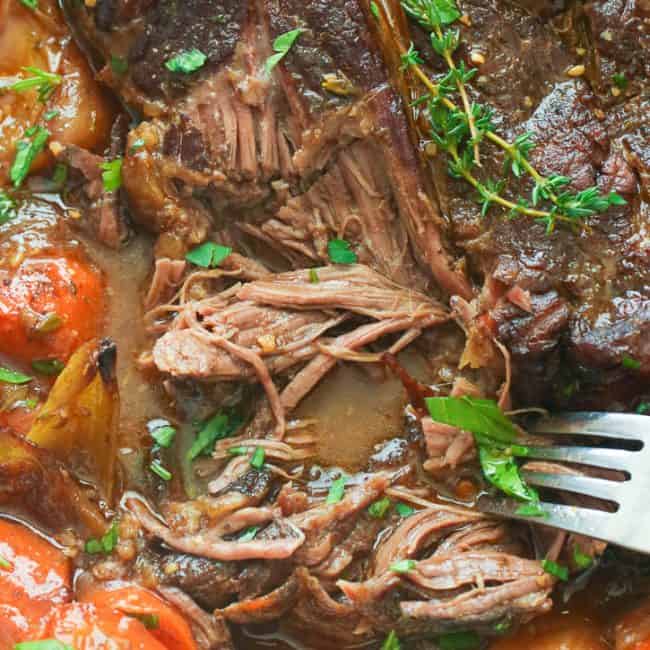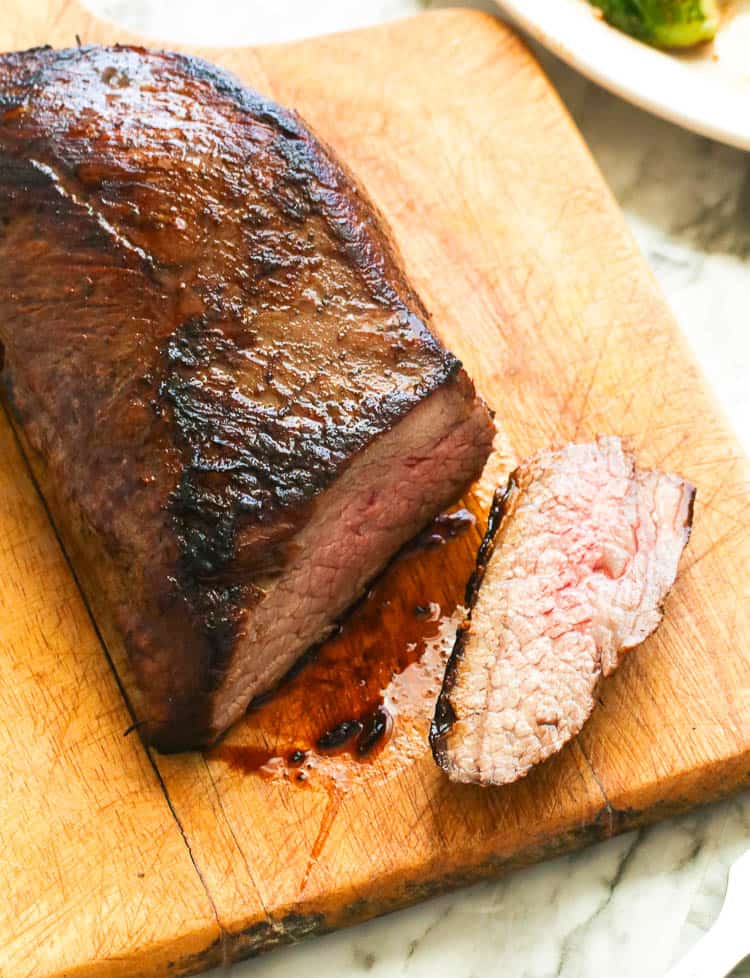 The tri-tip is a unique beef cut that is part roast and part steak. It's delicious roasted or grilled, but I recommend this roast beef recipe because it is so easy and incredibly tasty. Special occasion or not, this recipe is always a crowd favorite.
Serve it up with some simple yet flavorful sides, such as roast potatoes and carrots, cornbread dressing (Yes, please! 🤤), sauteed kale, or bacon-wrapped green beans. The more sides, the merrier, right?
Again, leftovers are easy peasy. Store them in an airtight container in your refrigerator for up to three days. Then reheat leftover roast on the stove, in the oven, microwave, grill, or any other way you please.
Oven Tri Tip Roast
Oven Tri Tip Roast – tender, juicy, rich beef roast soaked in a red wine-based aromatic marinade and roasted in the oven for scrumptious meat. This oven roasted tri tip steak makes an impressive holiday meal or family weekend dinner that won't break the bank!
Check out this recipe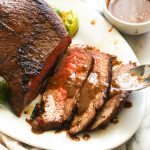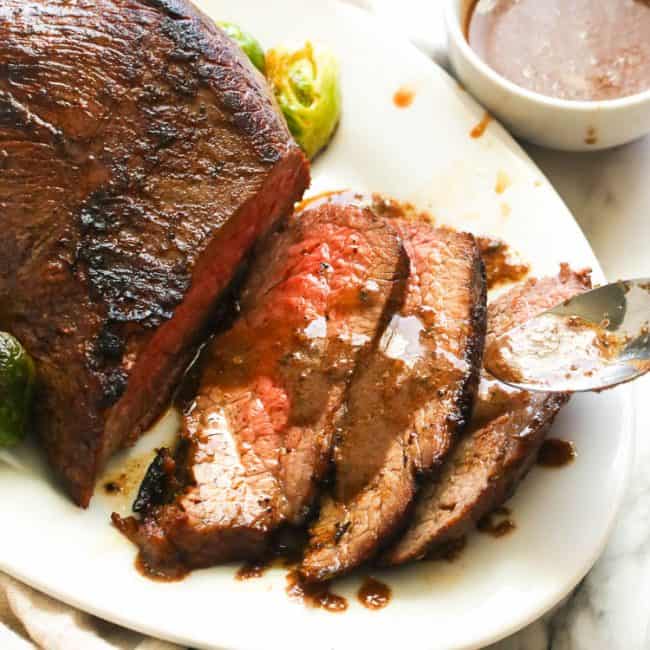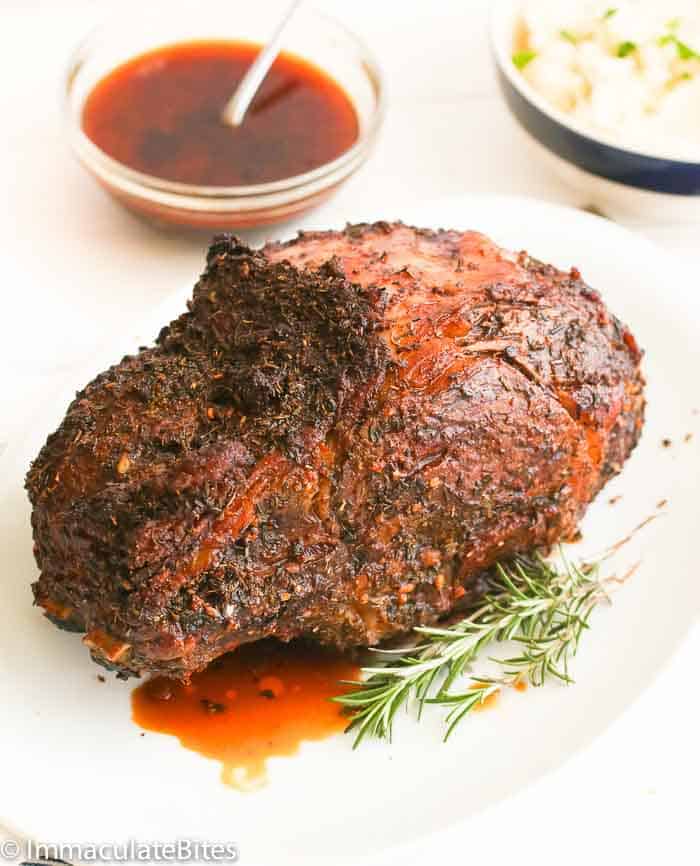 The next delicacy on our list of roast beef recipes is this medium-rare beef with a crackly brown crust on the outside – my mouth is watering already. It's almost impossible to have leftovers when you set this beauty on the table – even if it isn't a special occasion.
This prime rib recipe is indeed one of my family's all-time favorites, and that's saying something, folks!
Roast garlic mashed potatoes with warm homemade gravy is a must-make side for this dish. But don't forget the veggies – I find Southern-style collard greens are an exciting and delicious pairing or a slightly sweet carrot souffle. Yum!
Store your leftovers (if you have any) as per traditional roast beef standards. They'll keep for up to three days in an airtight container in the fridge.
Prime Rib Roast
Prime Rib Roast – a holiday showstopper meal that is perfectly medium rare with a gorgeous brown crackly crust on the outside. A mouth-watering, crowd-pleasing holiday dish!
Check out this recipe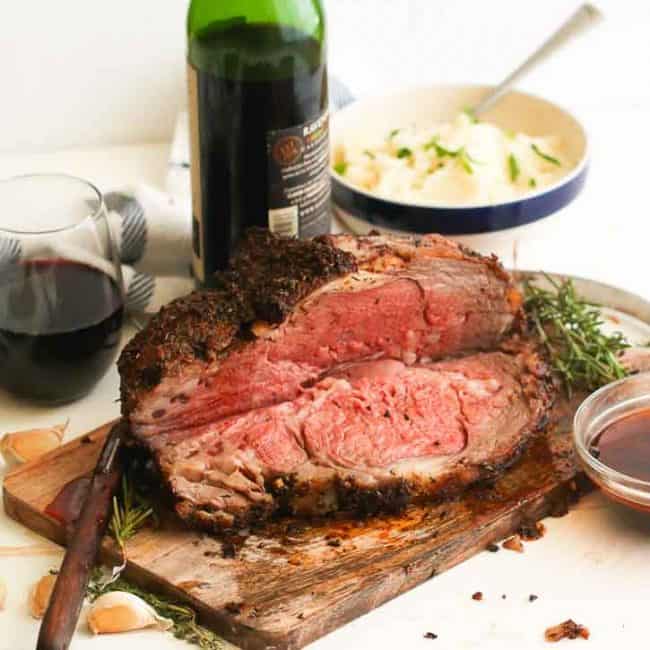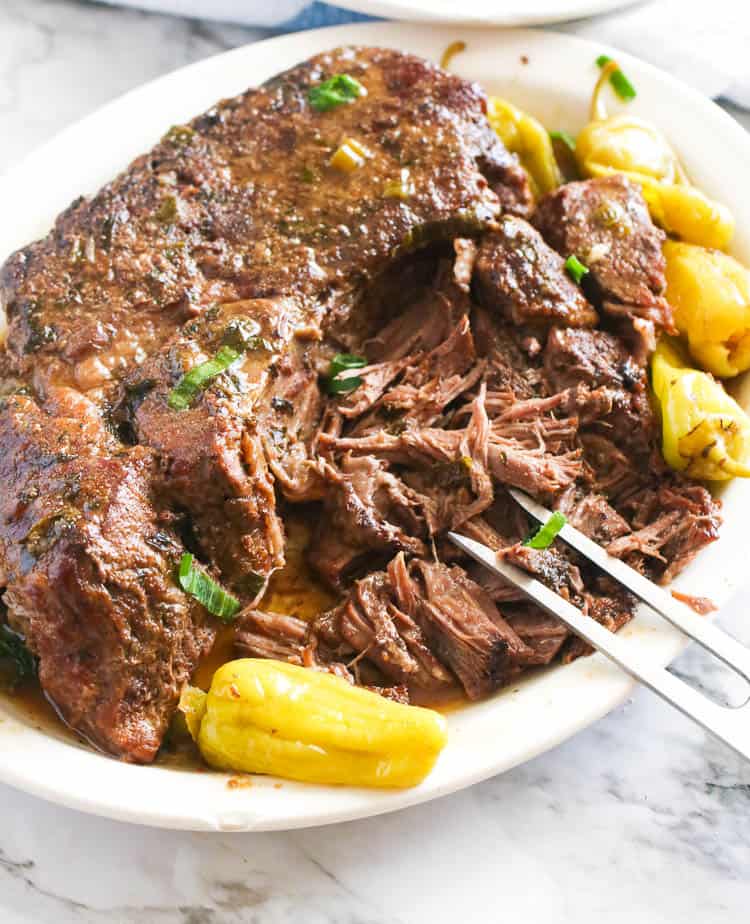 This beef chuck roast is melt-in-your-mouth tender and impossible not to adore. It plates up with homemade gravy and some tangy-sweet pepperoncini. Moreover, this recipe is one of THE MOST flavorful slow-cooker meals you'll ever make.
For an extra hearty Southern-style meal, serve this roast up with some mac and cheese and skillet cornbread. Other perfectly lovely complements to this dinner include easy dinner rolls and creamed corn.
Pop any leftovers in the fridge in an airtight container and enjoy them for up to three days.
Mississippi Pot Roast
Mississippi Pot Roast – melt-in-your-mouth, tender and super delicious pot roast with made-from-scratch gravy and tangy sweet pepperoncini. One of the easiest, juiciest and most flavorful slow cooker dinner you'll ever make!
Check out this recipe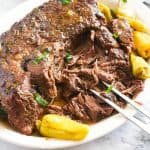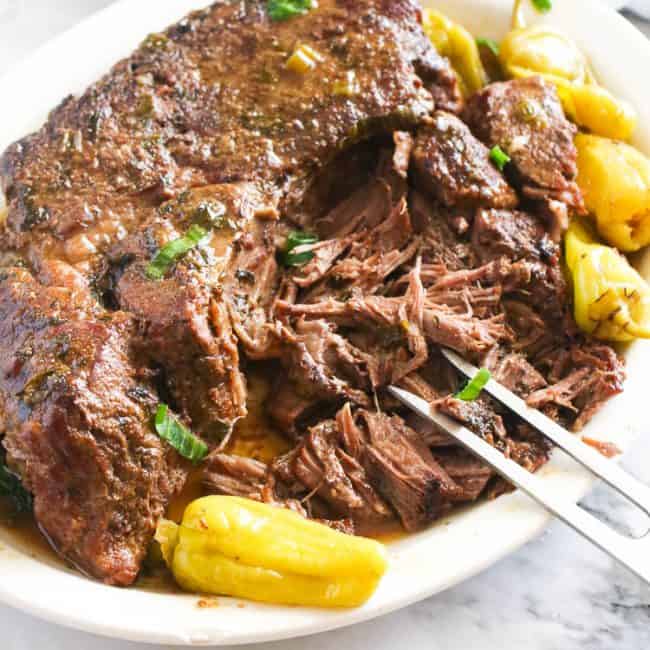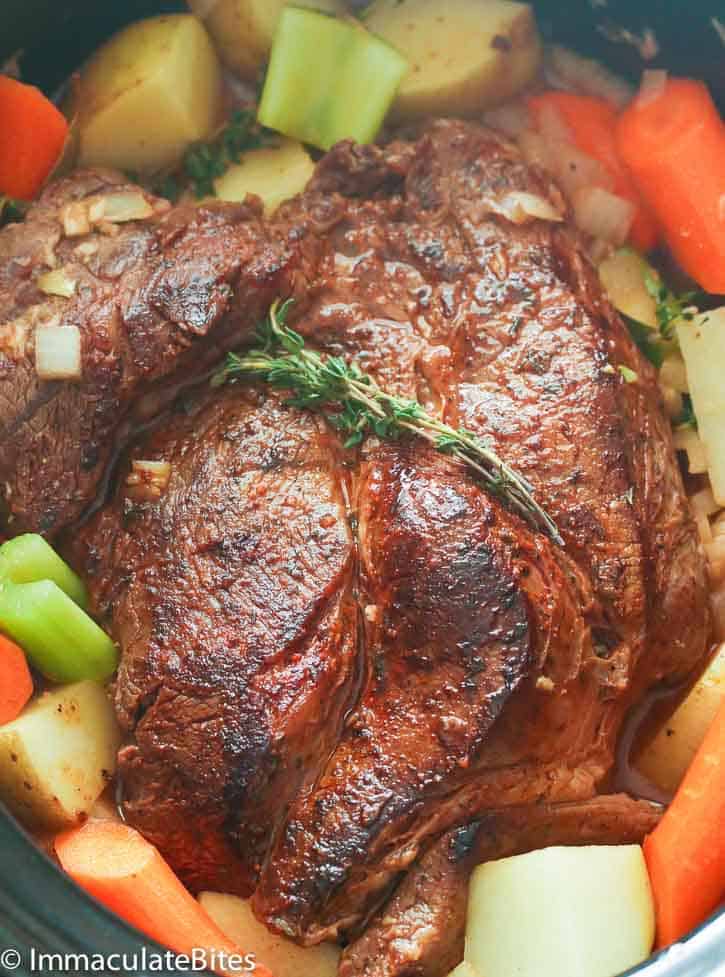 Who doesn't love a good slow-cooker meal? This crockpot roast beef is one of my favorites. It's ridiculously easy to make and oh-so-flavorful. Plus, it feeds a crowd, so it's excellent for large families.
This dish has it all, including potatoes and veggies, but I definitely recommend serving it up with some bread to sop up the delicious gravy. Try potato rolls, super-easy no-knead bread, garlic knots, or even southern-style cornbread. They are all winners!
As for leftovers, store them in an airtight container in your refrigerator. You can reheat and enjoy them for up to three days.
Slow Cooker Pot Roast
Slow Cooker Pot Roast – fall off the bones and incredibly flavorful chuck roast and vegetables smothered in a gravy-like broth. One of the easiest family meal you'll ever make!

Check out this recipe