There's no doubt these 20 easy Thanksgiving vegetable side dishes will elevate your holiday menu to delicious new heights. I'm sure you already have an idea for the main course, but what about the sides? So get some inspiration from this tasty list of veggie side dishes.
Here's the thing about Thanksgiving dinners. We all know what we want as the centerpiece, whether a golden roasted bird or a glossy ham. Still, when it comes to the vegetable sides, it's hard to choose.
I've put together a list of vegetable side dishes I've made through the years for friends and family with great success. From colorful carrots to creamy mashed potatoes, these Thanksgiving sides will make your special dinner more memorable! Indeed, I'm sure you'll find inspiration for your menu.
Frequently Asked Questions
Thanksgiving Potato Side Dishes
1. Oven Roasted Red Potatoes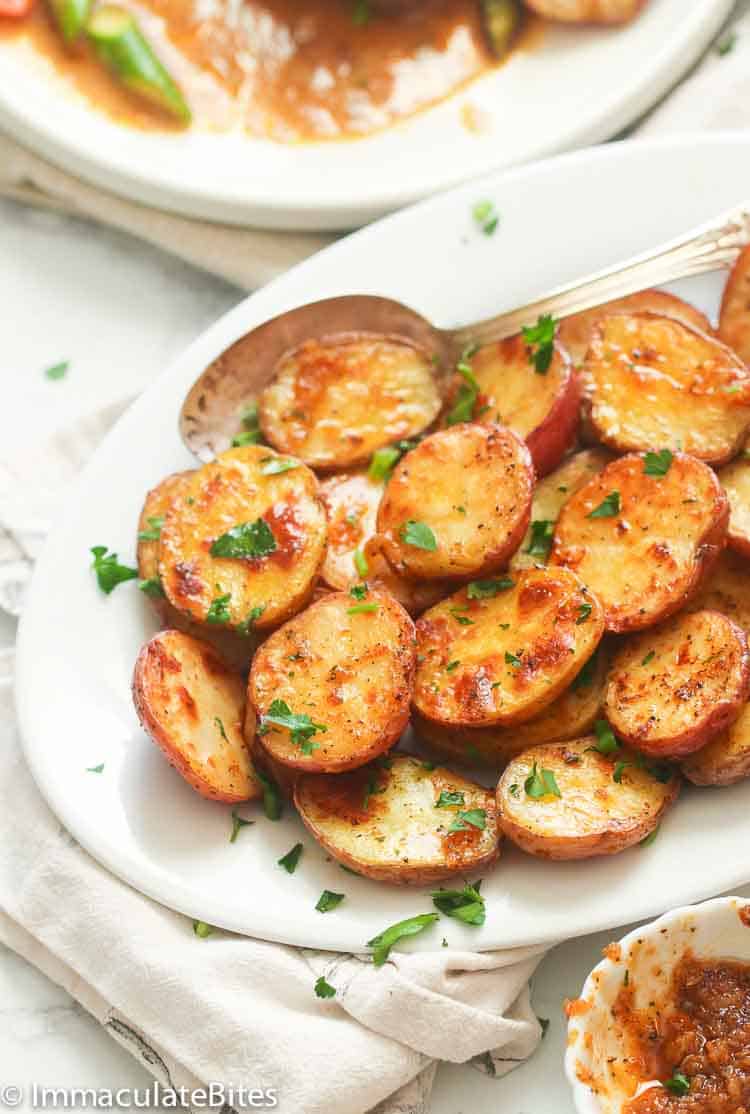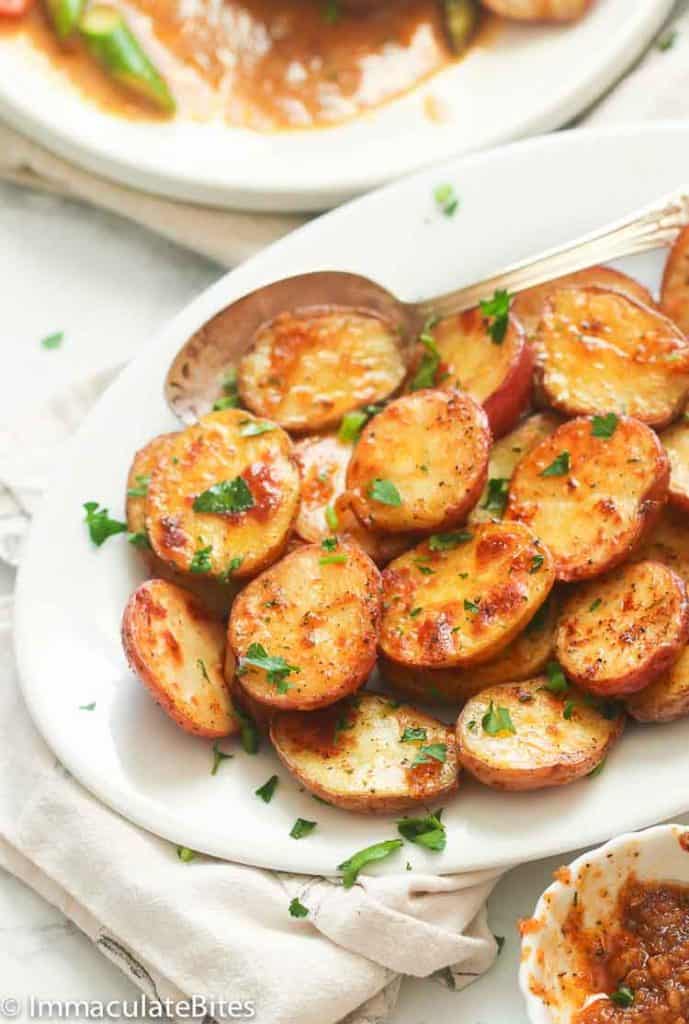 Roasted potatoes are one of everyone's favorite Thanksgiving vegetable side dishes. So starchy and filling, these oven-roasted red potatoes are a real treat for the most memorable meal of the year.
Creole seasonings and fresh parsley make these potatoes unique. Oven-roasted and fork-tender potatoes are a lovely complement for any hearty meal.
2. Scalloped Potatoes And Ham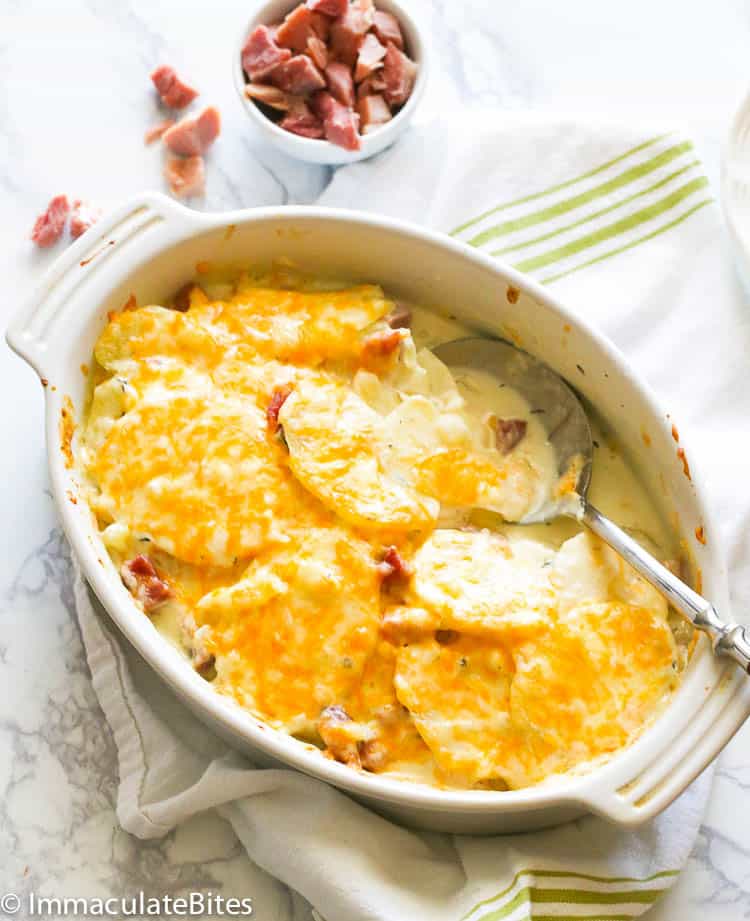 Scalloped potatoes are tender potato slices smothered in a creamy, cheesy sauce. Smooth and filling, this vegetable side dish steals the spotlight at Thanksgiving. And it's also super easy to put together!
Butter, heavy cream, and milk come together to form a thick, creamy sauce for our tender and delicious scalloped potatoes. Parmesan cheese and a pinch of nutmeg, though, really make this dish something memorable! Additionally, you can customize it with crispy bits of ham.
3. Garlic Mashed Red Potatoes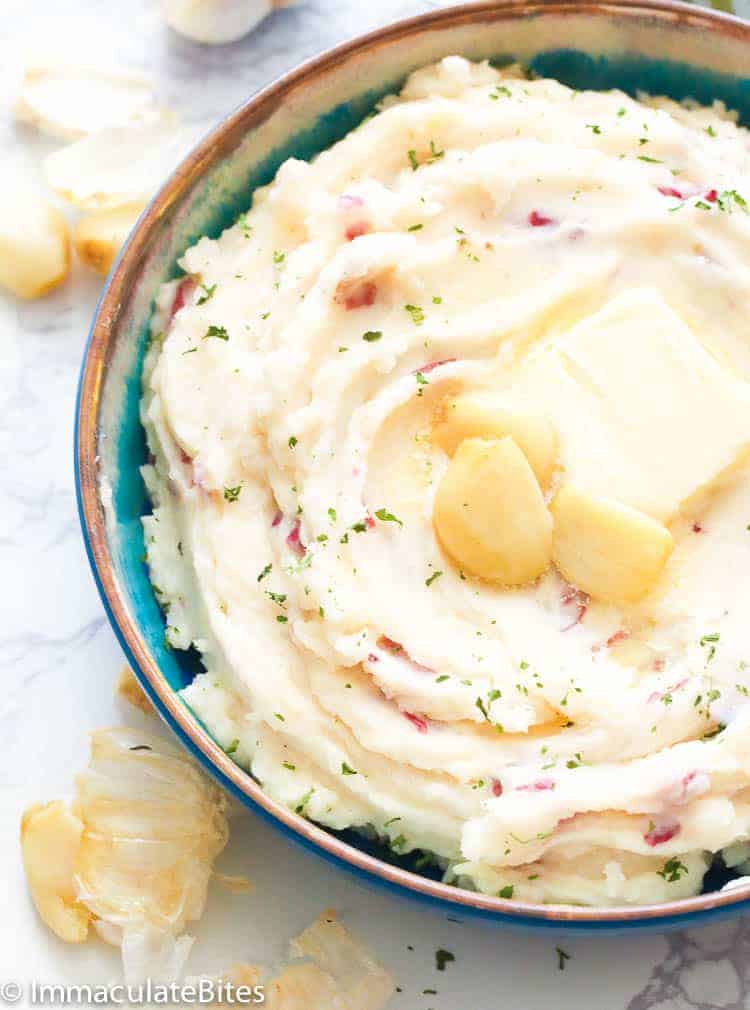 Mashed potatoes are a traditional Thanksgiving side, and it's because they're easy to make and feed a crowd. Mashed potatoes can be more than comfort food, though; they also can be exciting! And that's just what these garlic mashed red potatoes are; the most vibrant dish you'll try.
So to give this deliciousness a creamy texture, we're adding sour cream, milk, and butter to our red potatoes. Oh, and a thyme sprig and large garlic head are the secret ingredients.
4. Roasted Fingerling Potatoes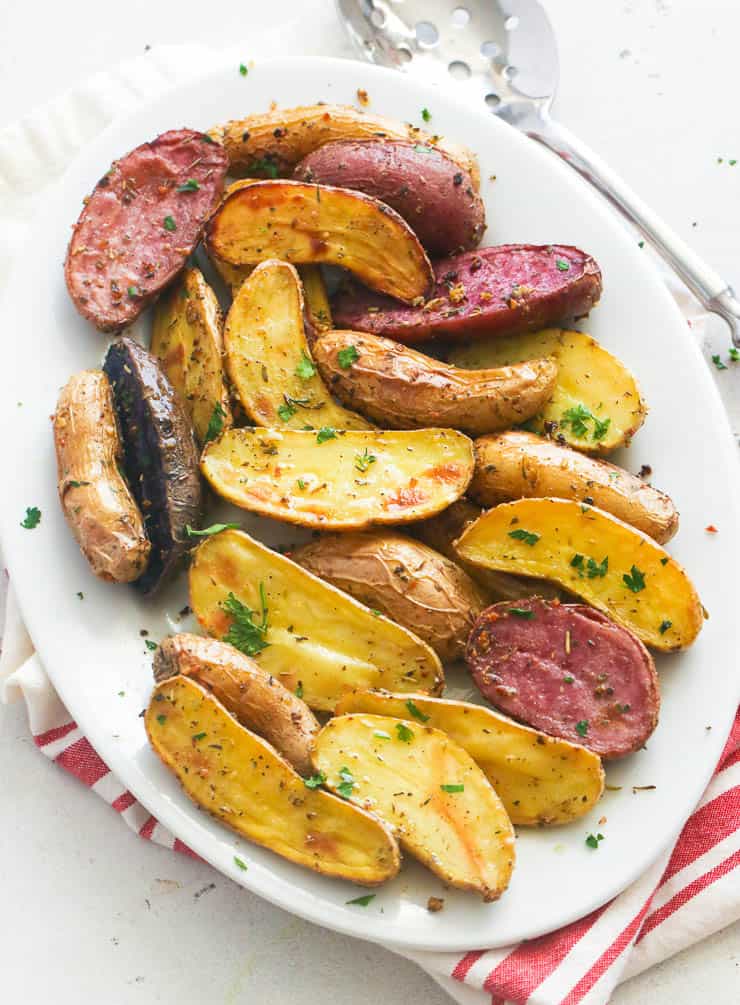 Fingerling potatoes really look like chubby fingers, and they give variety to your vegetable side dishes. These roast beautifully and are compatible with fall flavors. These are hands down one of my favorite Thanksgiving sides; they end up nice and moist.
Toss the potatoes with garlic, rosemary, thyme, and Italian seasonings before sticking them in the oven. Also, a fistful of fresh parsley is a beautiful garnish.
5. Cream Cheese Mashed Potatoes
If you think the best mashed potatoes are creamy, then these are for you. The name cream cheese mashed potatoes is self-explanatory. It adds body and a richer mouthfeel to the traditional side of mashed potatoes.
The secret behind these mashed potatoes is not just the cream cheese but also the roasted garlic that brings the whole thing together. These aren't only creamy; they're delicious!
6. Candied Sweet Potato or Yams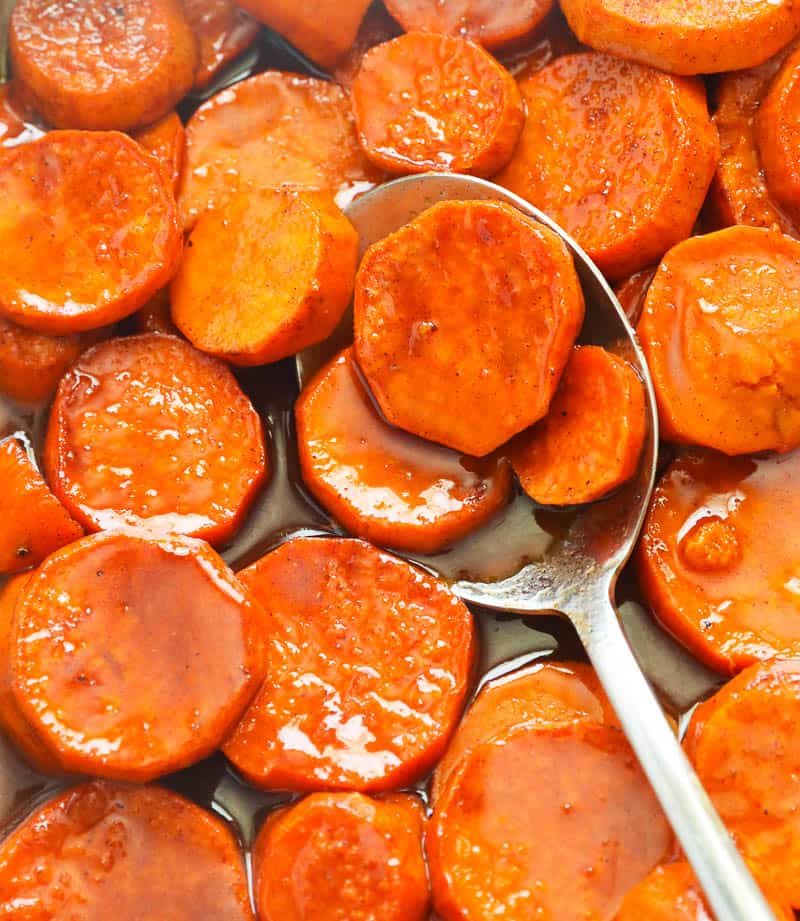 Candied yams or sweet potatoes are a must-have vegetable side on the Thanksgiving table. You're gonna need some sweetness to balance that roasted bird and other buttery Thanksgiving sides (👈see the complete list).
Sweet potatoes caramelize nicely, and they're especially good when flavored with holiday spices. This is both a sweet side dish and a lovely dessert! Butter, brown sugar, holiday spices, and chopped nuts shine when tossed with glazed yams or sweet potatoes. Even better, this Southern specialty is ready in about an hour.
7. Roast Potatoes and Carrots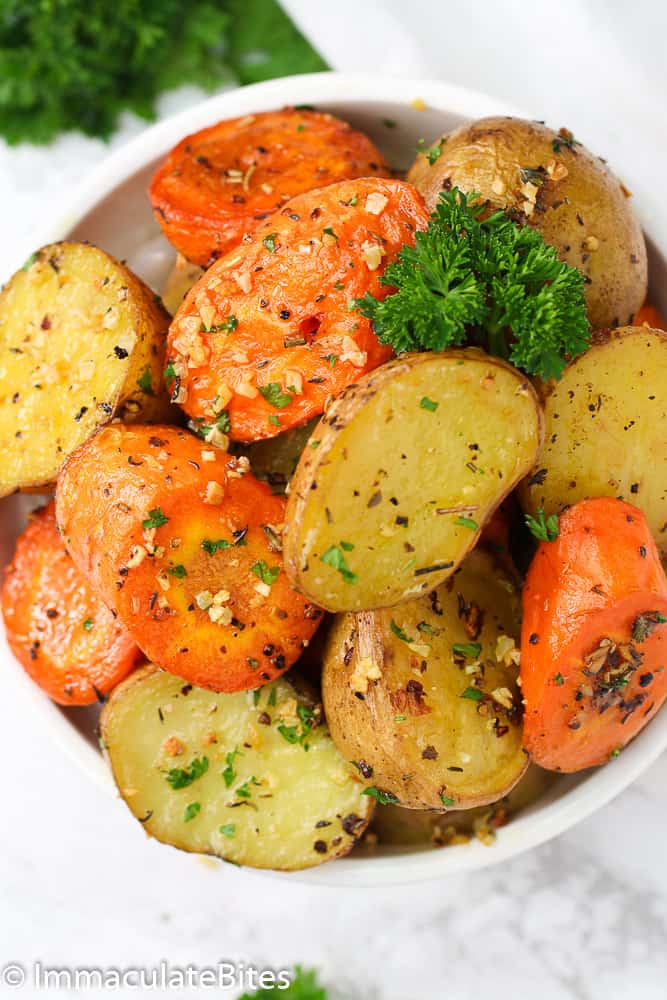 Potatoes and carrots are so meant for each other, and they both make lovely vegetable side dishes. All you have to do is toss them together in a mixing bowl with butter, garlic, rosemary, thyme, and Italian seasonings. Drooling! Combining them gives you a colorful side dish with an attractive, buttery dish with exciting herbal scents.
Thanksgiving Corn Side Dishes
8. Oven-Roasted Corn on the Cob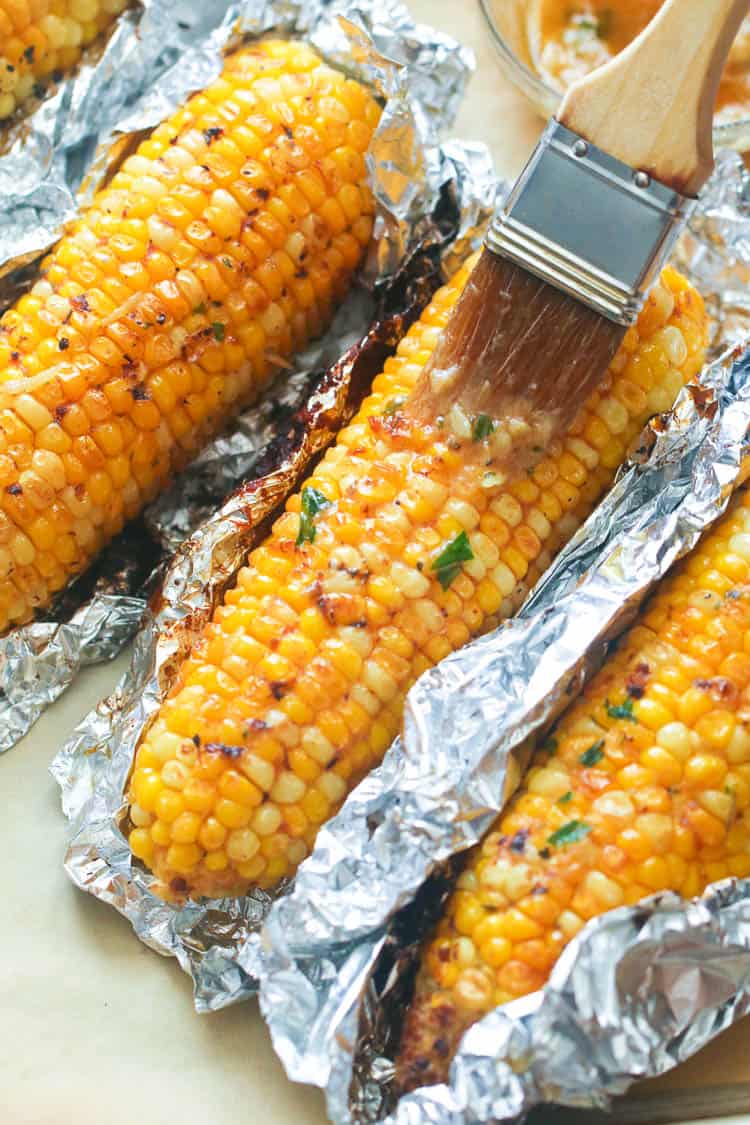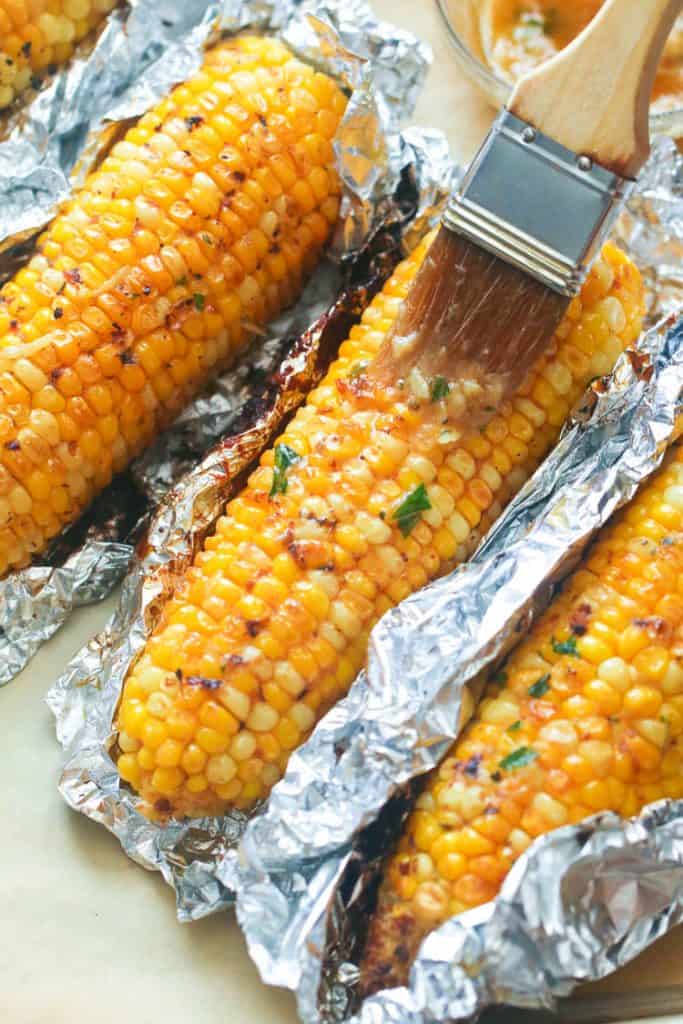 Corn on the cob not only adds color to the table, but it's also deliciously sweet and juicy. How do you cook corn on the cob? Roast it brushed with garlic butter. Oh my! Then just a touch of Creole seasoning does the job.
These beautiful ears of corn are one of the easiest vegetable side dishes I know of and one of the most popular. Make at least a couple for each guest. Trust me!
9. Scalloped Corn
This bubbly corn casserole ticks all the right boxes; it's beautiful, colorful, and delicious. Oh, and it's ready in less than an hour. It is simply perfect for a less-common side dish that will have everyone talking. To make this beauty, all you need are corn kernels, cheddar, butter, and a whole bunch of Ritz crackers! Oh yes! This one is as fun as it sounds.
10. Southern Fried Corn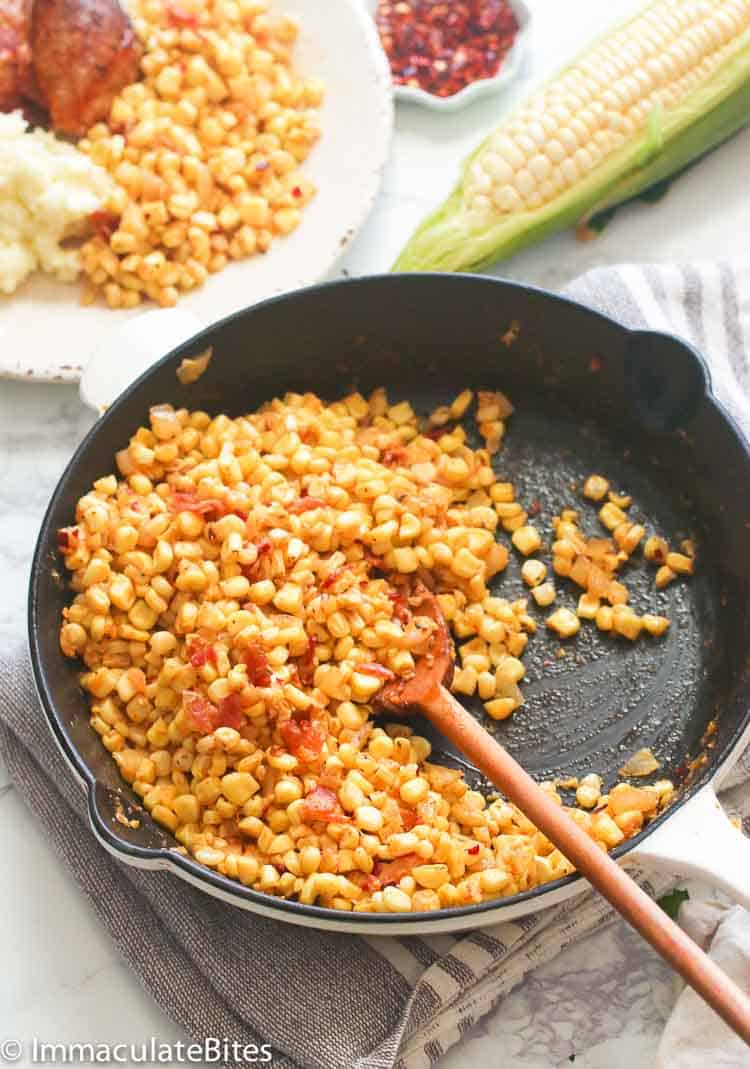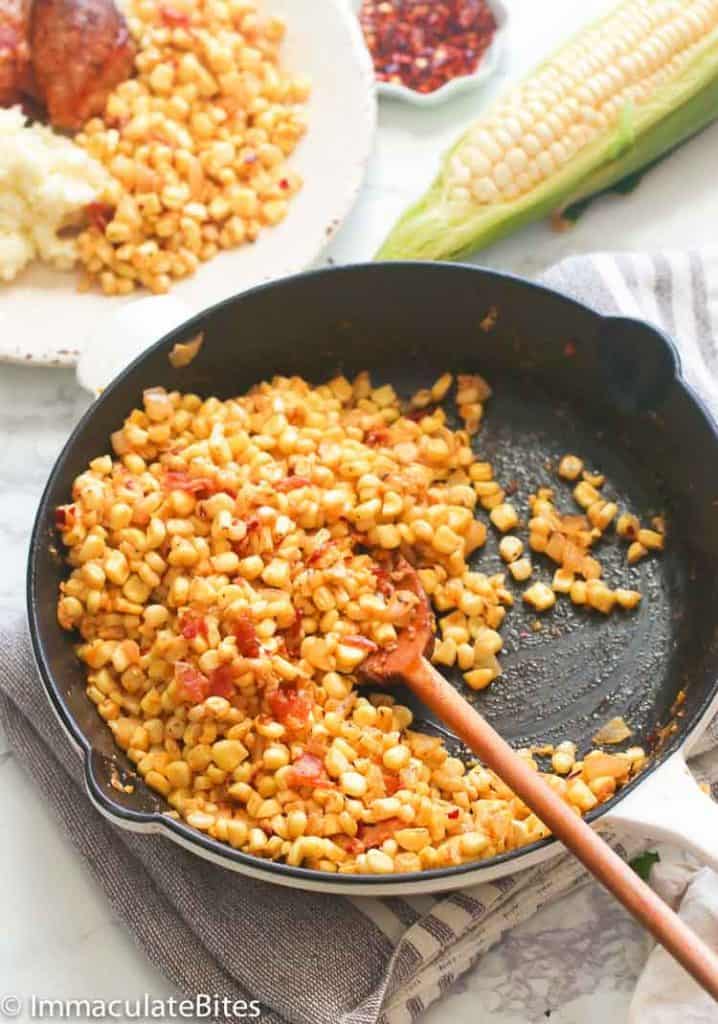 Soul food at its best, this crispy and attractively sweet side dish is a Southern classic. It goes so well with turkey (👈see my turkey roundup), ham, and even seafood dinners.
Corn, bacon, butter, onion, and garlic are the base ingredients here, and Creole seasonings with pepper flakes make this fried corn super fun! You only need nine ingredients to make this flashy side dish.
Thanksgiving Carrot Dishes
11. Honey-Glazed Carrots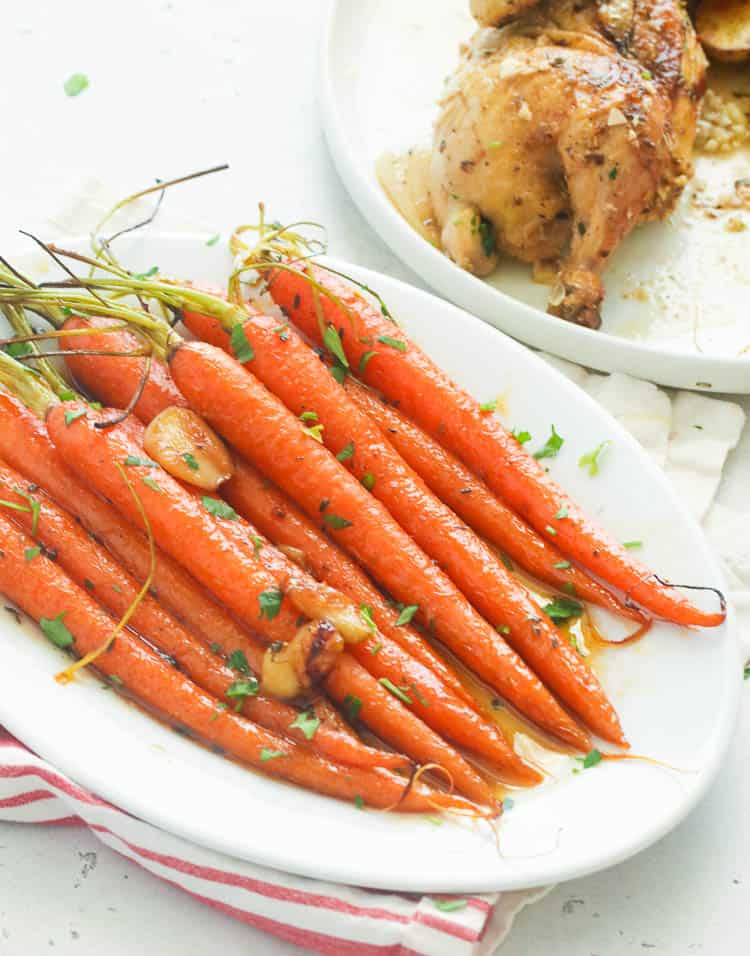 Aren't these carrots one of the prettiest Thanksgiving side dishes you've ever seen? And they're as tender and sweet as they look. Buttery and sweetened with just a hint of honey, this is the only way you'll want to make carrots this year.
These beauties are all about roasting them at high temperatures, then smothered in a seasoned butter glaze for a colorful vegetable side dish.
12. Pineapple Ginger Glazed Carrots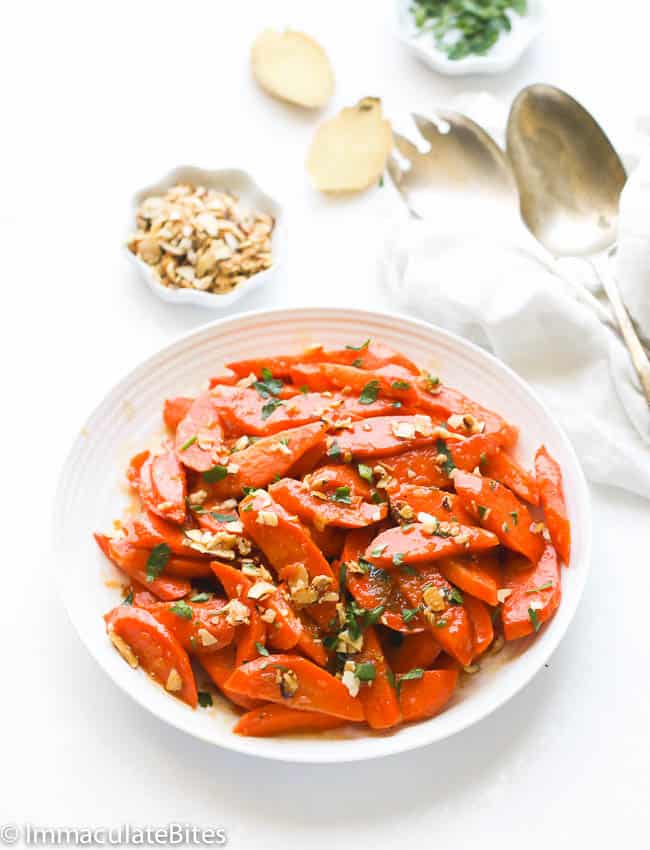 Now, for a sweeter side dish, this tropical twist on a Thanksgiving classic is something else. I love making these all year-round. But they're also very seasonal, so they're perfect for Thanksgiving and other holiday dinner parties.
Have you ever made candied almonds? Oh yeah! That's the perfect garnish for these pineapple-infused carrots. And the refreshing taste of ginger gives this side dish an exotic vibe.
Other Thanksgiving Vegetable Side Dishes
13. Easy Coleslaw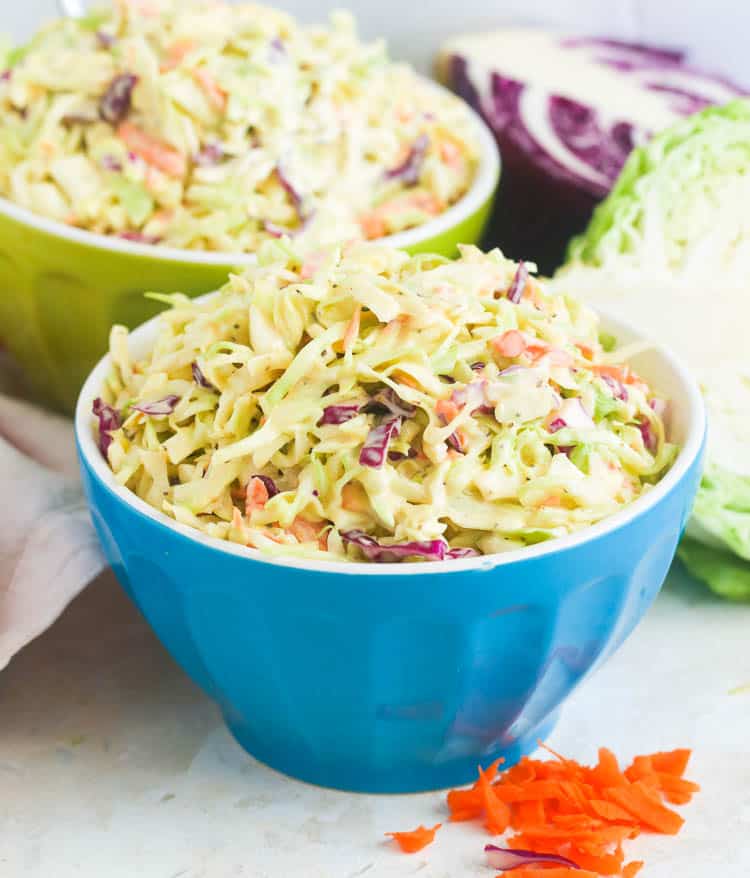 Here's another Thanksgiving classic that goes great with roasted turkey, glazed ham, and, of course, Soul Food. Coleslaw is fresh and light, the perfect side dish to balance any hearty meal.
Besides, making coleslaw is super easy. Just use your food processor to shred green and purple cabbage, then throw in a few grated carrots. It's the dressing, though, that makes it out of this world. Use both mayo and sour cream for best results.
14. Broccoli Salad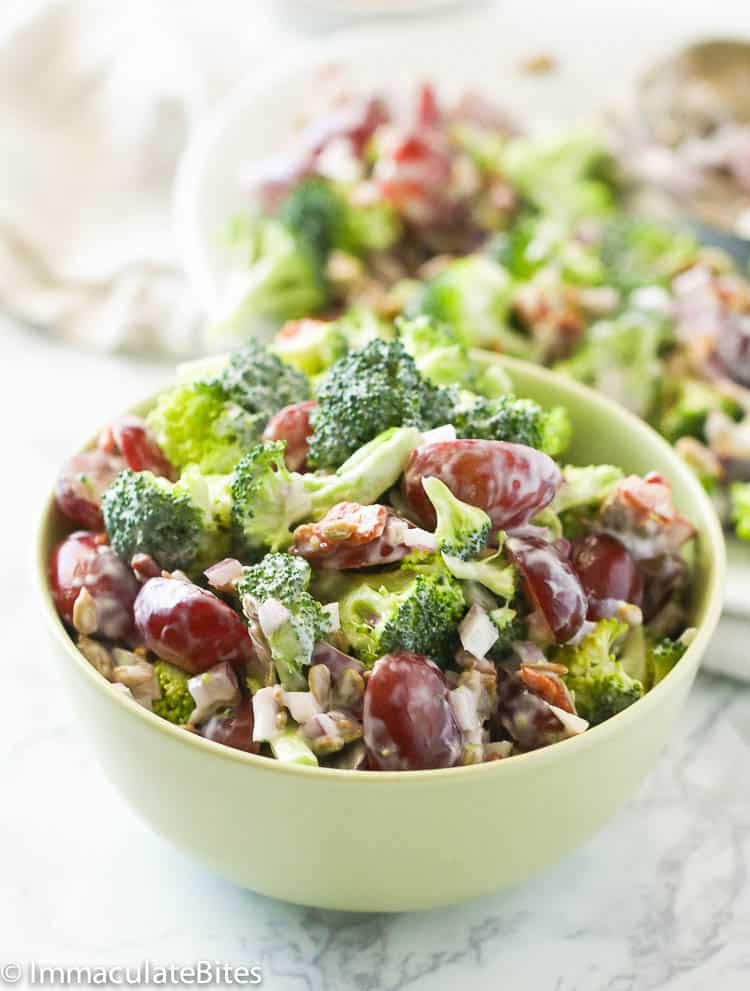 Thanksgiving is the one time of year when everyone shows love to the tiny green trees. There's something about broccoli that just tastes better during the holidays. And this easy salad recipe is the perfect complement for the heartiest Thanksgiving meals.
Indeed, bacon, broccoli, a few grapes, cranberries, onion, and sunflower seeds add color, texture, and flavor to this pretty vegetable side dish. Use your favorite dressing, but I like mine sweet and creamy.
15. Green Bean Casserole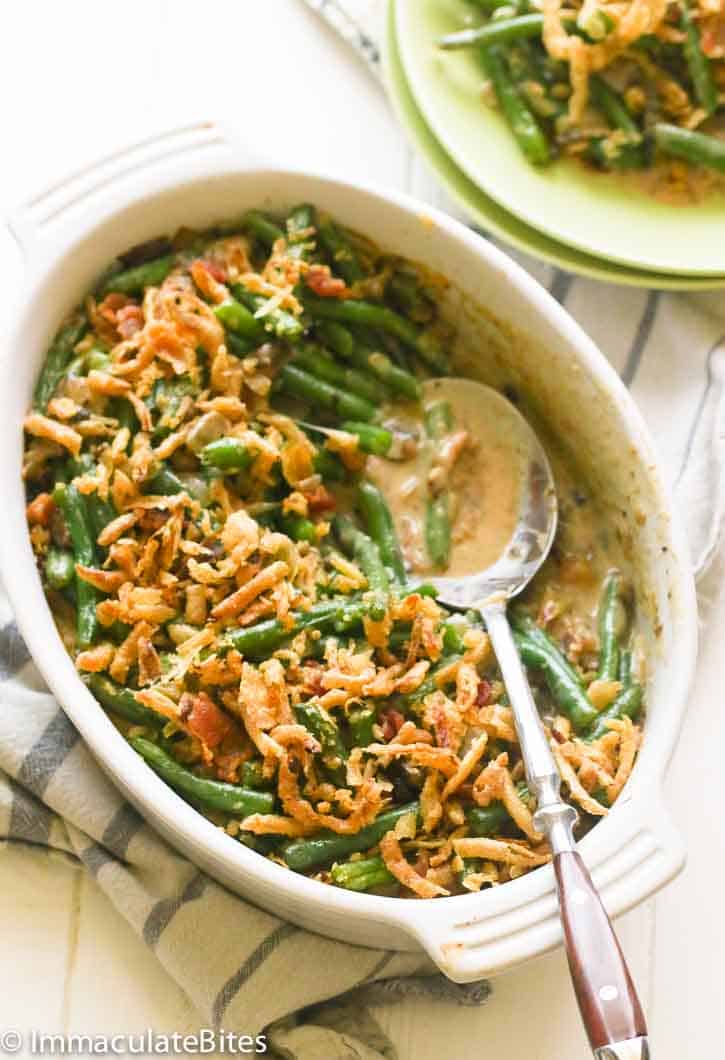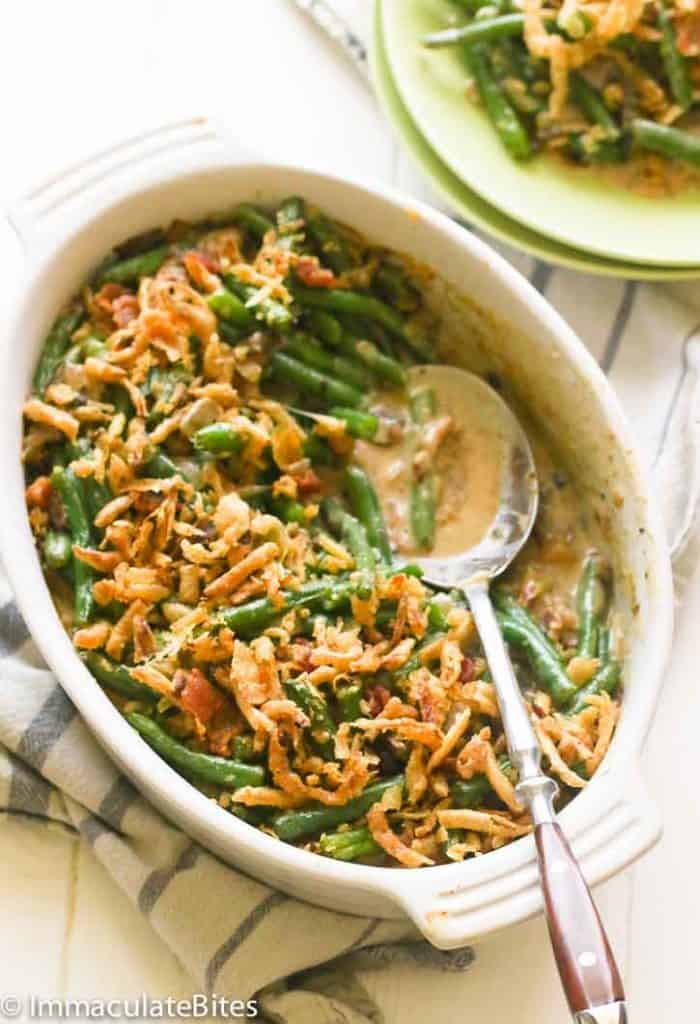 Learn how to make a mean green bean casserole from scratch with this easy Thanksgiving side dish recipe. Green beans never tasted so good, and it's thanks to a few fabulicious ingredients, including mushrooms, cheddar cheese, and fried onions. This over-the-top version of everyone's favorite green bean casserole has it all. It's creamy, savory, and rewards your senses with every forkful.
16. Bacon-Wrapped Green Beans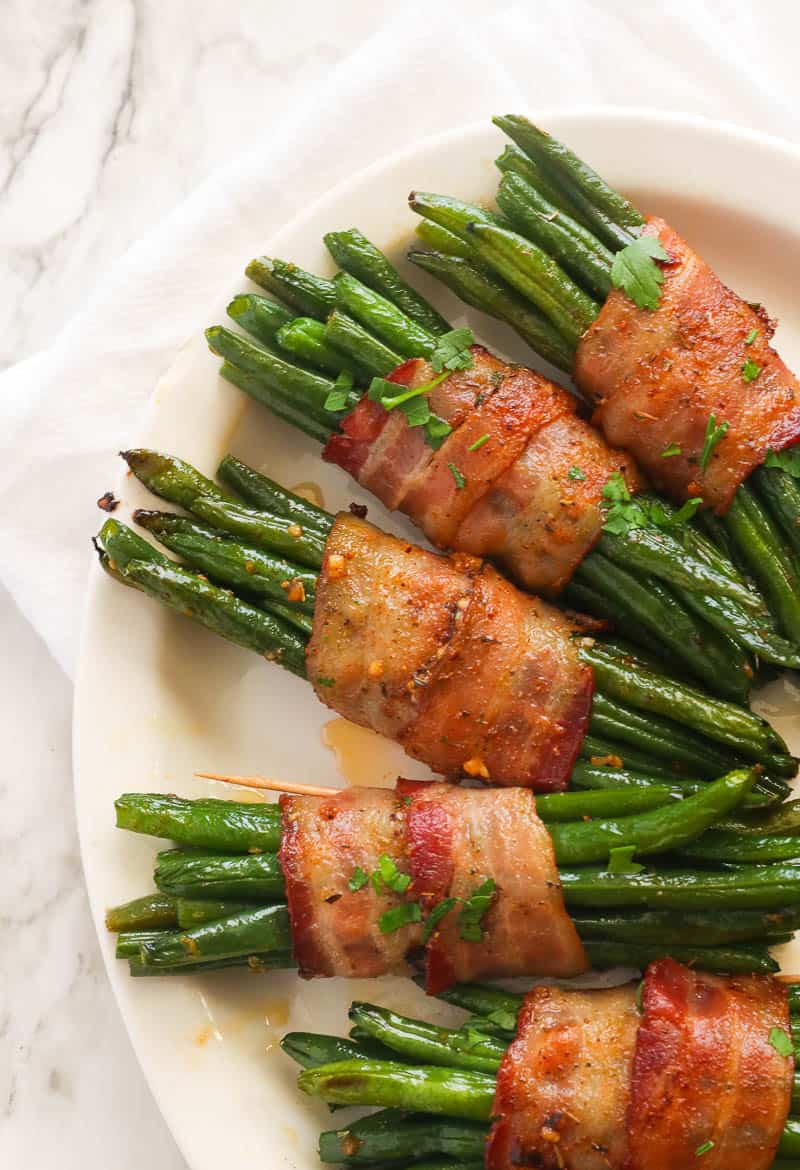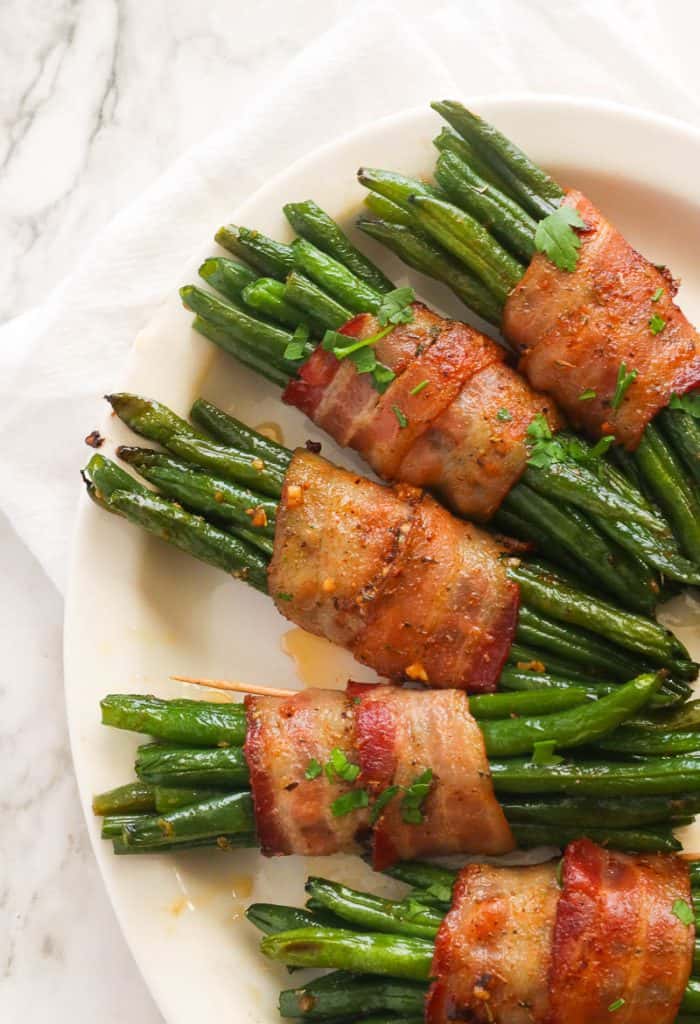 Green beans are fantastic, I know, and a Thanksgiving classic. However, when they're wrapped in bacon, they become more than a side dish; they're the stars of the show. They may be fancy, but they're super easy to make. You just need green beans, thick bacon, and a few spices to give these already tasty bundles some personality.
17. Sauteed Brussel Sprouts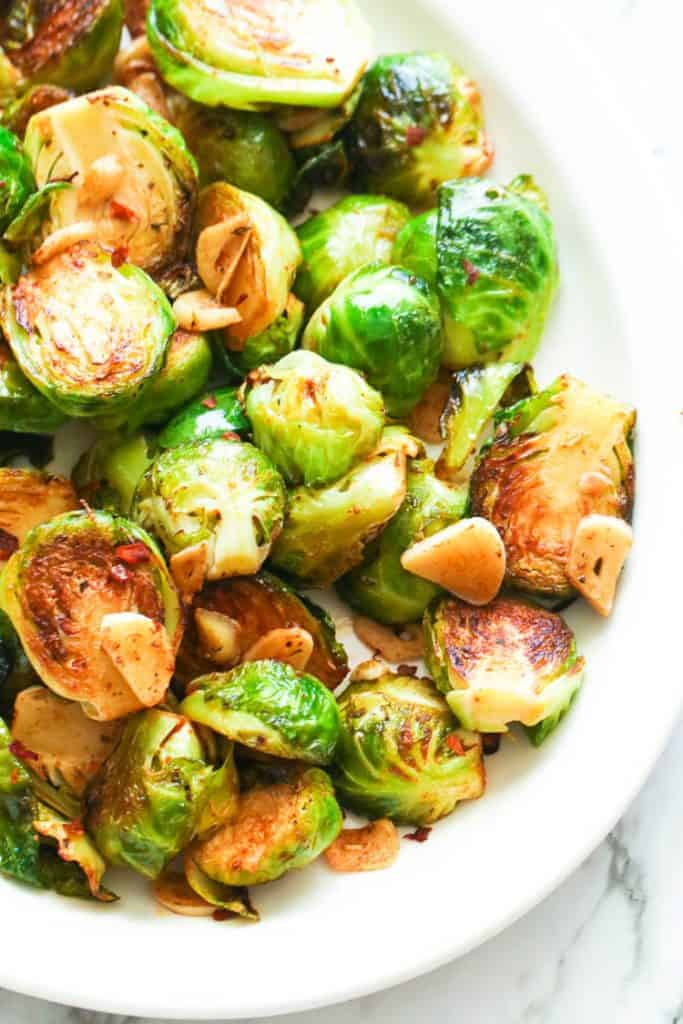 Now, for the Thanksgiving vegetable side dish that you have all been waiting for. Loved by all (well, almost all), Brussels sprouts are synonymous with Thanksgiving. Done right, these sprouts are utterly delicious and not sulphury at all. Toss these babies with butter and garlic, then season them with Creole spices. A splash of red wine vinegar adds the final touch, and that's it! Easy, right?
18. Pea Salad
Some vegetable side dishes just taste like home and are incredibly comforting. For me, that's pea salad. Creamy and tangy, this salad adds freshness to your holiday menu. Peas, bacon, cheddar, and red onion. That's it.
These four ingredients make the perfect pea salad, at least for me. A creamy sour cream- and mayo-based dressing gives body and richness to the composition.
19. Parmesan Crusted Asparagus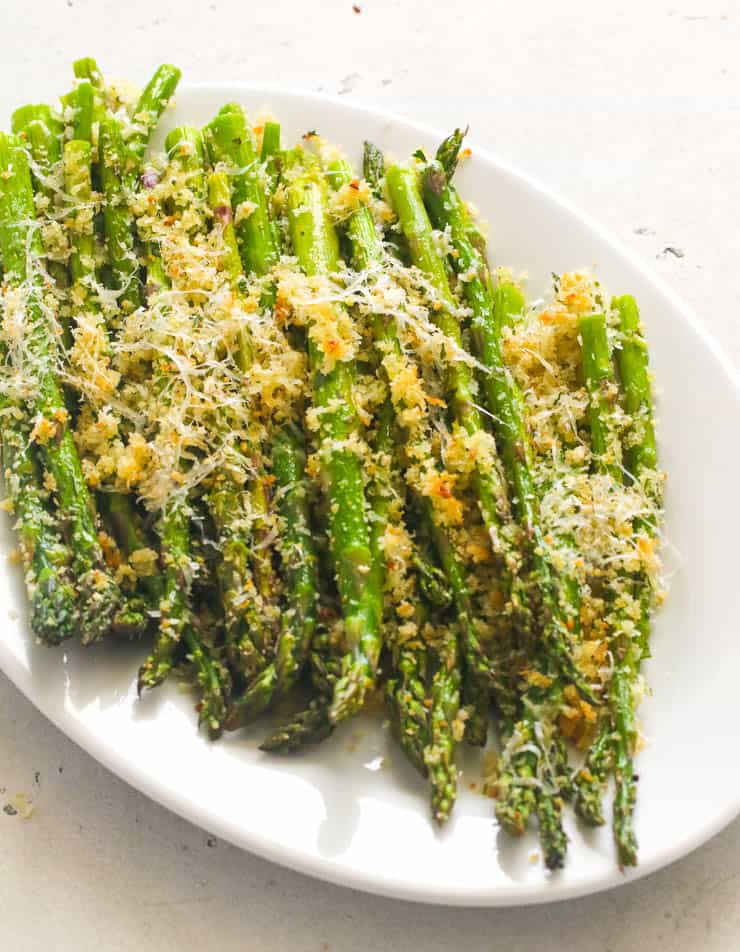 Asparagus is also a holiday staple, and they're crowd-pleasers too. Toss it in olive oil, and you're good to go. Of course, when crusted with Parmesan, asparagus become something else; an umami-rich finger food that is hard to beat.
Get yourself high-quality Parmesan for this one and shred it yourself if possible. Also, panko breadcrumbs are better than regular; they're crispier! Oh, double-yum!
20. Sauteed Mushrooms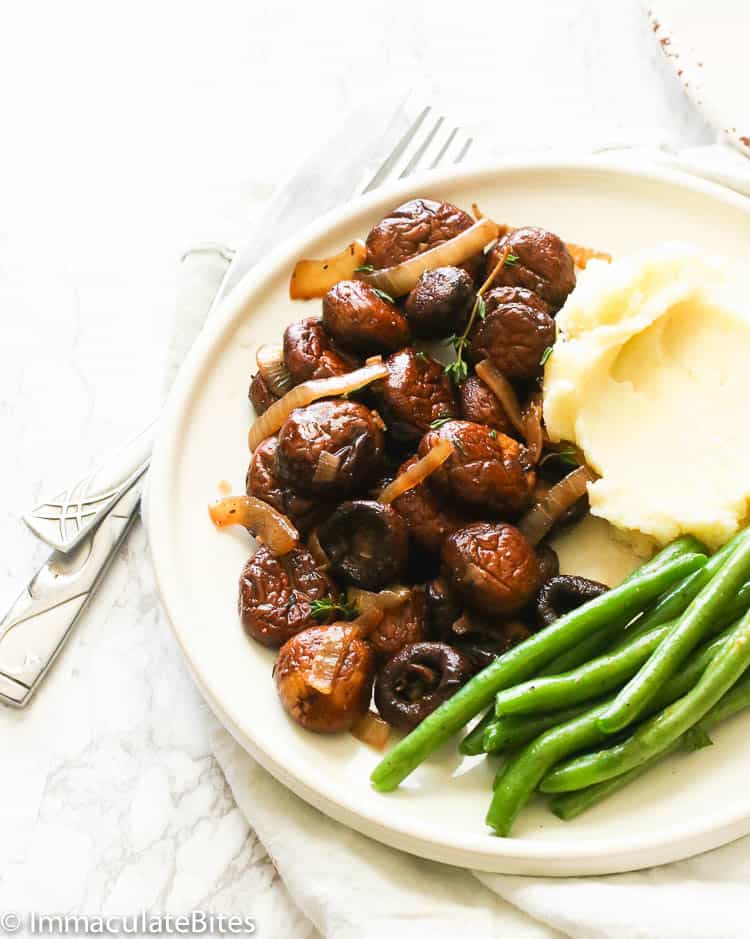 Let's end this tasty vegetable side dish list with an earthy side of sauteed mushrooms. Meaty and juicy mushrooms have much more flavor than you think, especially when tossed with a few special seasonings. Here's my recipe! Use white mushrooms (or baby Bellas) and season them with Creole spices, onion, thyme, Worcestershire, and chopped parsley leaves. Out of this world delicious.😍