Y'all know that my favorite foods have an African flair, and gumbo is no exception. This fabulous stew (I know, some people are offended by the word stew. But we'll use it for simplicity.) is a delicious fusion of African, French, Spanish, and Native American Choctaw cuisine. Hey, the more, the merrier, right?😉
FAQs
Does gumbo have a secret ingredient?

It does. Dried shrimp is the secret to an incredibly flavorful gumbo.
How does gumbo taste?

It is a rich stew that is full of flavor. Okra's distinctive taste and texture, along with the gumbo file, give this stew its uniqueness.
Does gumbo have tomatoes?

Honestly, that depends on your preference. Some have tomatoes, and some don't.
What is Gumbo?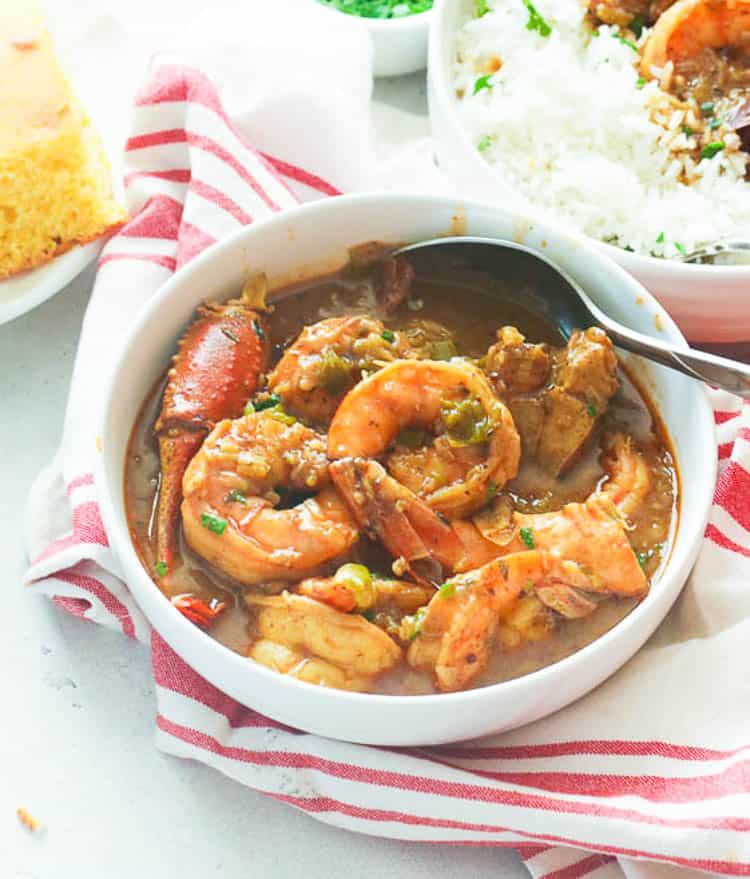 Can you believe this recipe (and many variations – Okra Gumbo, Seafood, and Gumbo Recipe are my go-tos) has been around for over 200 years? That tells you it has to be great.
The word gumbo is from the African word for okra, that wonderfully slimy and nutritious veggie. Combine that with a roux and gumbo file, and you have the three basic ingredients. Then throw in spices and your choice of meat and seafood, and you're good to go.
How to Make Gumbo
The most crucial step in making a fabulous gumbo is getting the roux right, so perfectly toast the butter and flour.
Add the holy trinity, onions, bell peppers, and celery. Of course, I can't resist throwing in a little garlic. Does that make it a holy quadrinity?
Then add the broth "stew" base, and whether it includes tomatoes is up to you.
Final touches include okra and your choice of sausage, meat, chicken, or seafood. My fave is crawfish. Oh yeah!😍
Essential Ingredients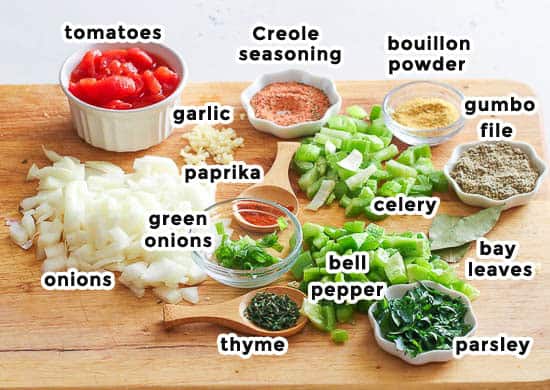 Butter

– Any good roux needs delicious fat. Butter is best, but you can replace it with lard or olive oil.

Flour

– Another essential ingredient for a good roux. And it thickens your gumbo recipe perfectly. White flour is best, but you can use whole wheat or a gluten-free alternative.

Holy trinity

– Onions, bell peppers, and celery give this recipe its unique flavor. Yum!

Garlic

– I prefer fresh, but powdered will do fine if that's what you have. And it's so aromatic and mouthwatering.

Creole Seasoning

– Making your own Creole Seasoning is so much better because you can personalize the salt and flavor. It adds that intense Cajun flavor, plus it's quick to throw together.
Chicken Bouillon – Concentrated chicken flavor intensifies any soup or stew.

Smoked Paprika

– Sweet red pepper with a delicious smoky flavor enhances your gumbo recipe.

Thyme

– I prefer fresh, but dried will work fine. The menthol flavor adds deliciousness to stews and soups, especially with chicken. I also have a list of substitutes if you don't have thyme.

Tomatoes

– This fantastic veggie adds the balancing effect of acidity and a beautiful red color to sauces, soups, and stews. Here's how to cut tomatoes.

Okra

– Not all gumbo recipes have okra, but it is still one of the more traditional ingredients.

Gumbo Filé

– A natural thickener that adds a distinctive tea-like flavor from sassafras leaves. Most chain supermarkets or grocery stores with an ethnic food section should have it.
What is Filé?
Filé powder, or gumbo filé, is from the dried and ground leaves of the North American sassafras tree. It thickens soups or stews when fresh okra isn't available.
Filé also has a distinctive rootbeerish flavor that amps up your gumbo recipe a couple of notches. You can replace it with okra and okra with filé, but you have to have at least one of them for it to be an authentic gumbo recipe.
The Perfect Roux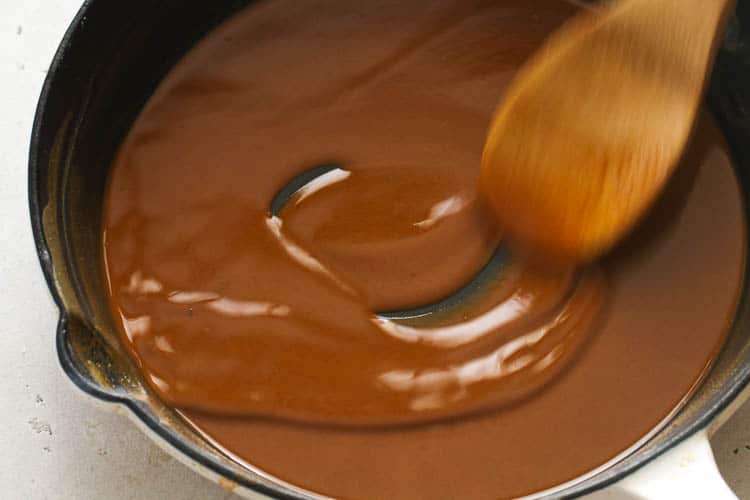 The right blend of fat and flour is a thickener and flavor enhancer for soups, stews, and sauces. Almost any fat or oil that you prefer will work, but remember that it will affect your roux's taste.
Also, the fat's smoke point will significantly affect your roux's quality.
Fat with a low smoke point oil may burn, not good for your roux. Peanut oil, refined coconut oil, virgin or extra light olive oil, and vegetable oil are great options.
Choose a fat with a 375°F/190℃ smoke point (or higher) if you want a dark roux.
Mix equal parts flour and fat, and you have the first step to the perfect roux. Stir constantly in a figure-8 motion until you have the desired color.
White Roux

– This subtle roux takes about 4-5 minutes, its color is similar to pancake batter, and it's perfect for creamy soups, milk-based sauces, and mac and cheese.

Blond Roux

– A slightly toastier roux with a beautiful toasted color takes 10-15 minutes. It's ideal for gravies (of course, over mashed potatoes), sauces, soups, and stews.

Brown Roux

– The darker the roux, the longer it takes. This one takes 18-25 minutes and enjoys a gorgeous peanut butter color, and the nutty flavor is excellent for stews and gumbos. Oh yeah!!!😍

Dark Roux

– Okay, we have come to the hardest one. Not that it's difficult to make, it just requires concentration and arm muscles. Don't get distracted during the 30-40 minutes it takes to get the perfect touch. But the results are so worth it. The smooth chocolate-looking roux is NOT a thickener, but it is oh so scrumptious in Cajun and Creole food.
Storing Instructions
The nice thing about roux is that it lasts a good while. So making a big batch is practical, and it freezes well. 😉
Before transferring to an airtight container, ziplock bag, or ice cube tray, let it cool at room temperature.
Oil-based thickeners usually stay fresh at room temperature for about 3-5 days. However, butter-based sauces should be refrigerated. It can last about a month in the fridge.
Roux freezes beautifully in small portions in ziplock bags or ice cube trays, and it can last for up to a year.
Gumbo vs. Jambalaya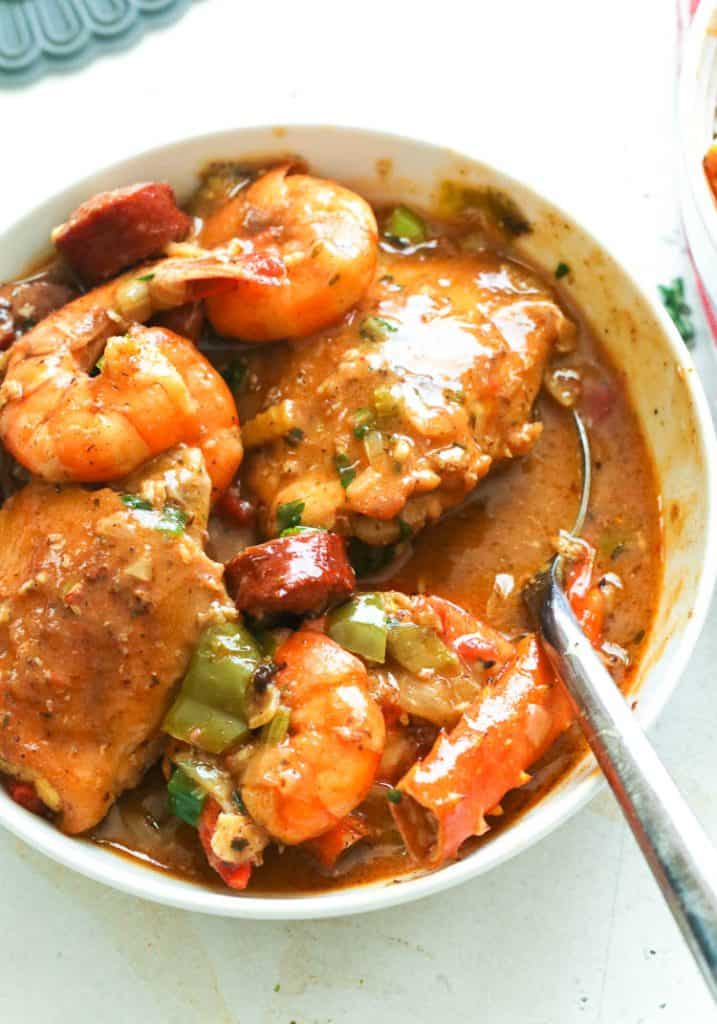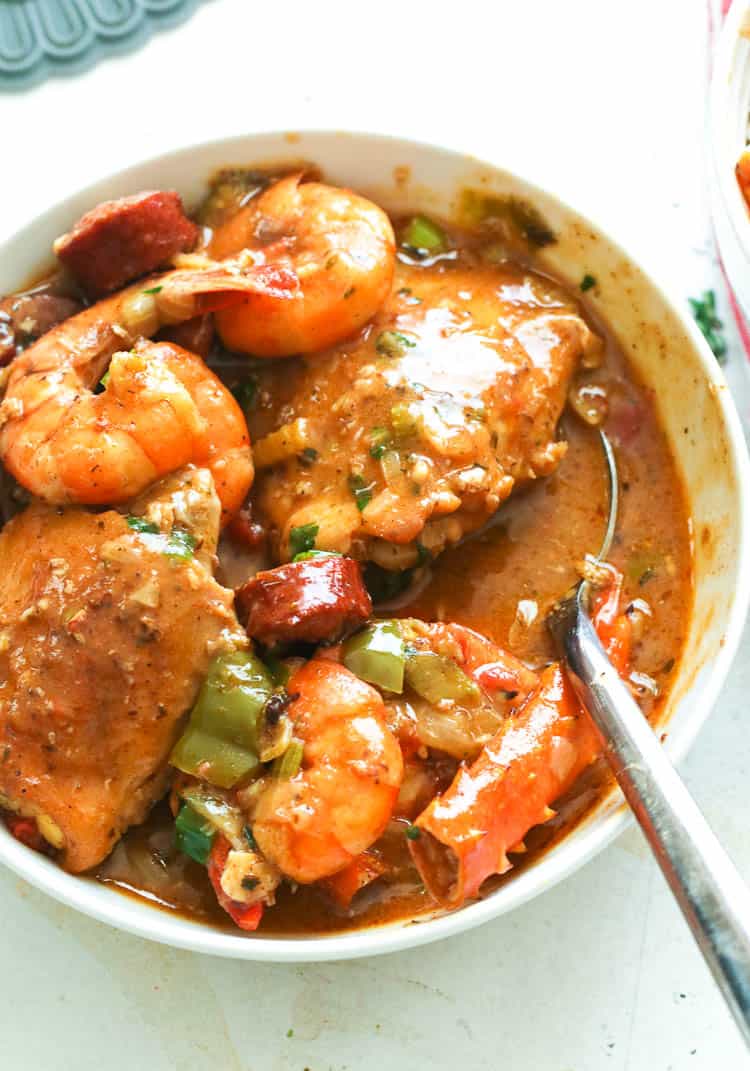 This raging debate is easily settled. It is so easy to tell the difference between gumbo and jambalaya. Gumbo is a rich, flavorful stew served over rice, while Jambalaya already has the rice, similar to paella or biryani.
Tips and Tricks
This deliciousness is even better if you make it the day before.
Brown your meats before putting them in to improve the flavor.
Simmer this baby low and slow for a more intense flavor.
What to Serve with Gumbo
Gumbo is traditionally served over a big bowl of steaming white rice. However, the following also go great with this recipe.
Does this pique your interest? Are you now ready to indulge yourself with a big bowl of gumbo? Then go ahead list the ingredients and choose you favorite gumbo recipe on the blog now. Happy cooking!