Easy Mashed Potato Recipes – These creamy, fluffy, and savory mashed potato recipes are the perfect side dish for the upcoming holiday. With lots of variations to choose from, savory or sweet, your tastebuds will surely enjoy the feast. These recipes are guaranteed fail-proof, family-friendly, and undoubtedly delicious.
I'm sure you'll agree that mashed potatoes are the mother of all side dishes. Not only because potatoes are affordable, but they're also effortless to make. They also pair well with almost anything, from baked chicken tenders and air-fried pork chops to saucy dishes like beef stew and Salisbury steak. They're always a winning combo. 👌
But, of course, making the same mashed potato recipe over and over can be a little boring. So I've created a list of recipes for easy mashed potatoes with a fantastic twist on your classic side. They're perfect for both your weekly meal rotation and the coming holiday season. 😉
FAQs
How to make mashed potatoes?
Making mashed potatoes is surprisingly easy. Just peel or wash the potatoes, then boil, drain, and mash them. Then add the cream, your preferred seasonings, and anything else you think would ramp up this deliciousness. And that's it! 😉
How long do you have to boil potatoes for mashed potatoes?
That depends on the size of the potatoes. For whole average-size potatoes, it takes about 30 minutes, 15-20 minutes for smaller-size whole potatoes, and 10-12 minutes if you cut them into cubes.
Can you freeze mashed potatoes?
Totally! Store mashed potatoes in an airtight container or freezer-safe resealable bag, and they will stay fresh in the freezer for two months. Reheat in a pan or microwave when ready to serve. That said, making a big batch of mashed potatoes isn't a bad idea, especially if you plan on serving a crowd.
Classic Mashed Potato Recipes
1. Cream Cheese Mashed Potatoes
Traditionally, mashed potatoes are made with milk and butter, but this one is made creamier and fluffier with cream cheese and sour cream. And thyme, parsley, and chives are sure to make a mouthful of glorious deliciousness with the added fantastic flavor twists. 😉
This recipe perfectly matches equally fancy mains such as smoked turkey breast and Steak Diane. Try it with giblet gravy, and you're in for an amazing dinner treat. ❤
Cream Cheese Mashed Potatoes
This classic comfort food has even more flavor with roasted garlic and cream cheese. Top them with some chives for the ultimate soul-satisfying food.
Check out this recipe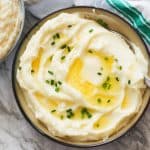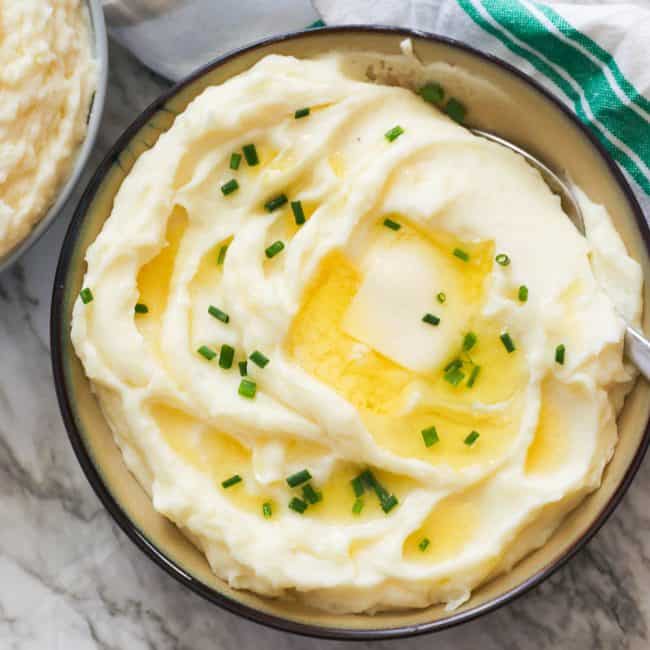 2. Roast Garlic Mashed Potatoes
Who knew adding roasted garlic would instantly level up a simple mashed potato recipe? The extra garlicky flavor is genuinely phenomenal. This recipe may be simple, but certainly for the books. 😉
Pair it with fried chicken wings or smothered pork chops, and you'll have the best family-friendly dinner combo. Make sure to make extra gravy for that. You're welcome! 🤤
Roast Garlic Mashed Potatoes
Roast Garlic Mashed Potatoes – Creamy, fluffy and Flavor-packed, super easy to make and full of savory, delicious roasted garlic flavor! A perfect side dish for any protein meal and a must have side dish for the holidays.
Check out this recipe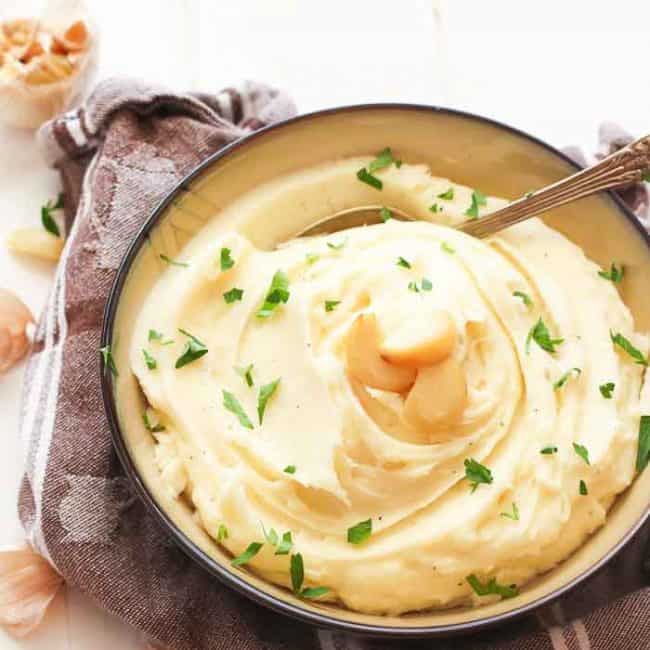 3. Garlic Mashed Red Potatoes
Let's load up with more fiber with mashed red potatoes. No need to peel the skin as most of the fiber content is there. And they add beautiful red streaks to the dish, making it more enticing. Oh yes!
I love pairing it with smoked bacon-wrapped pork tenderloin and chicken fried steak to satisfy my comfort food cravings. So delicious, indeed! 😉
Garlic Mashed Red Potatoes
Perfectly creamy, buttery, and easy Garlic Mashed Red Potatoes with roasted garlic, thyme, sour cream, and milk. Makes an easy and comforting side dish for your regular weeknight or holiday meat dish!
Check out this recipe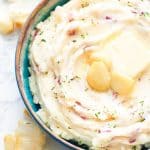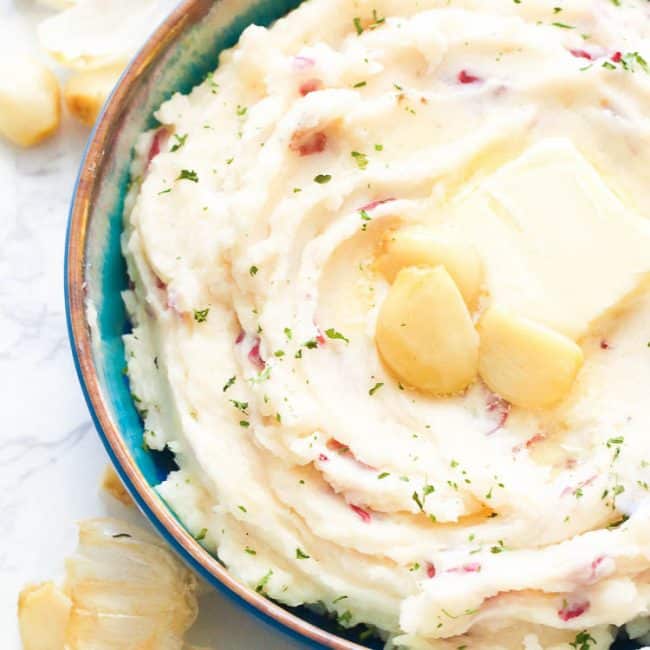 Baked Mashed Potato Recipes
4. Loaded Mashed Potato Casserole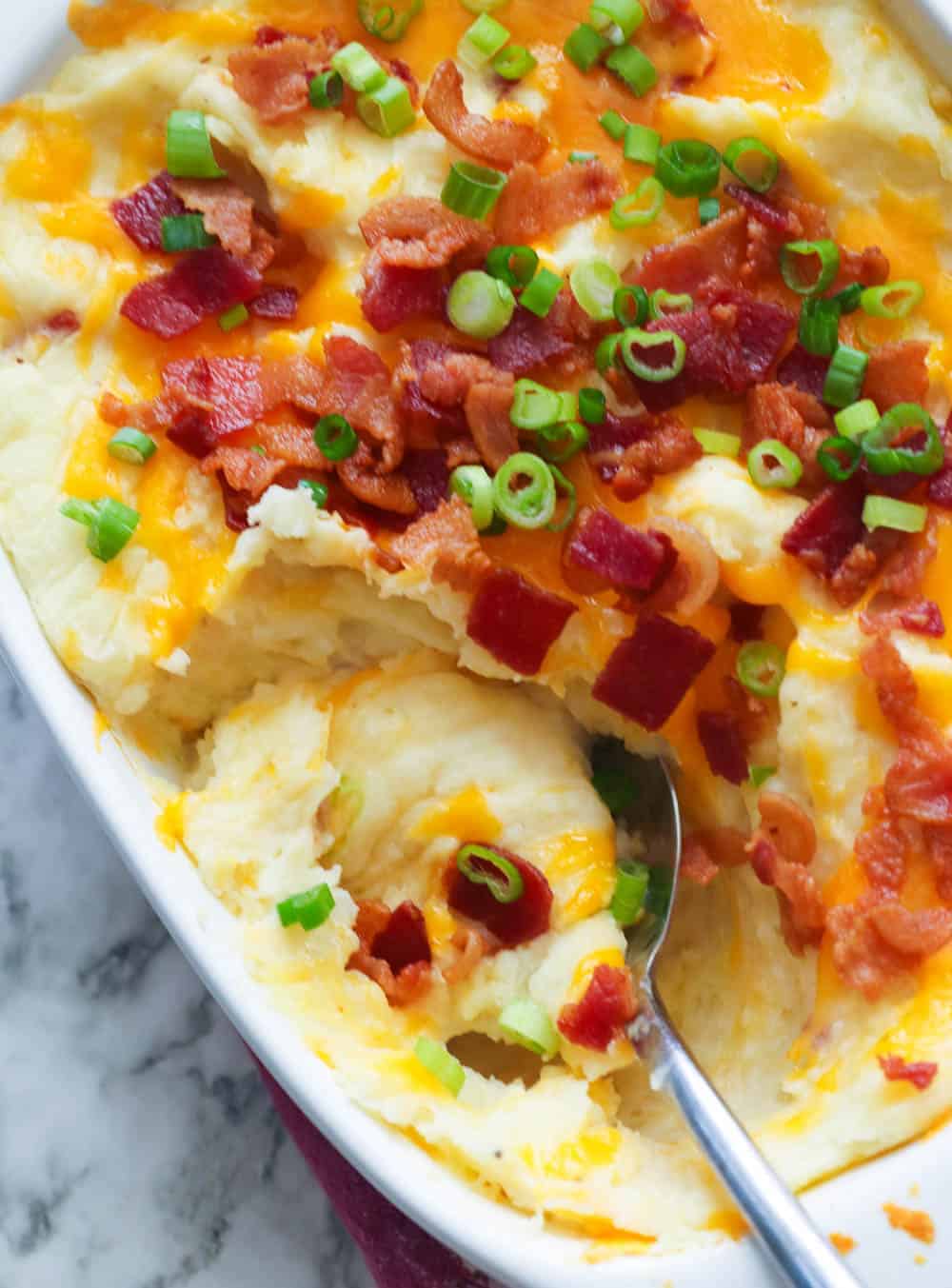 When you think mashed potatoes could get any better, think again; Because this fancy-schmancy mashed potato casserole here will surely dazzle you with its generous savory bacon and cheese toppings. Satisfaction guaranteed! 👌
It's the perfect side for smothered chicken and bacon-wrapped green beans. Sounds good for an intimate dinner date, too. ❤
Loaded Mashed Potato Casserole
This Loaded Mashed Potato Casserole enjoys fully loaded baked potato flavors in a ridiculously easy casserole dish. It has all the good stuff. Bacon, cheese, sour cream, and onions make regular mashed potatoes the life of the party.
Check out this recipe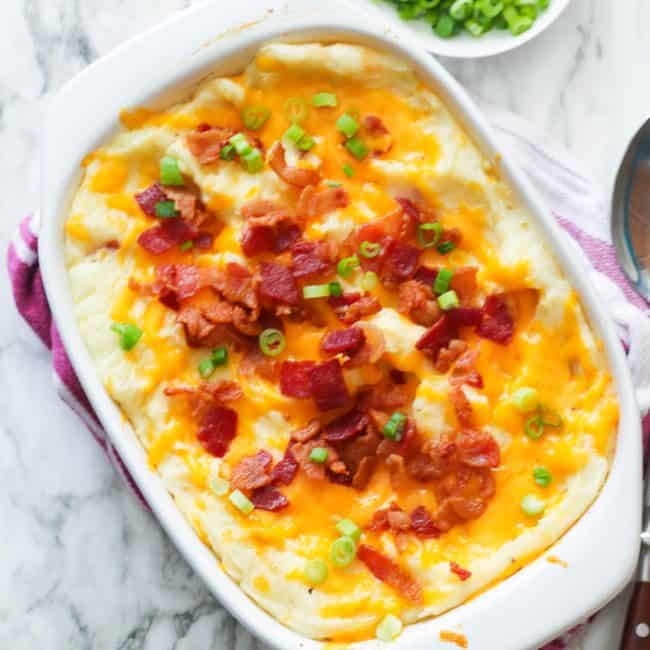 5. Duchess Potatoes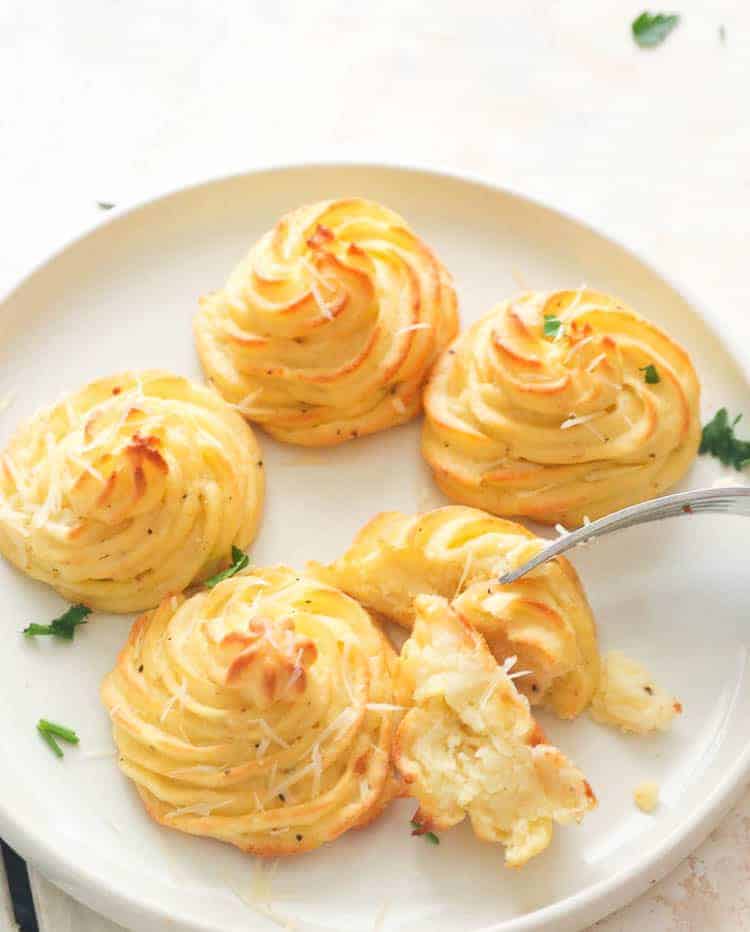 How about taking the usual mashed potatoes to a new level of deliciousness with an extra step – baking? See how pretty these babies turned out. And the taste? It also surely will satisfy. Their crusty exterior and soft and creamy interior are the real deal. 😉
They will surely make an elegant dinner, especially if you pair them with smoked turkey legs or pan-seared oven-roasted steak. Fancy yet so easy to make. Woohoo!
Duchess Potatoes
Duchess Potatoes are basically potatoes mashed until smooth and silky, with flavors of butter, nutmeg, and cream then beautifully piped, and baked until golden brown perfection!
Check out this recipe
Mashed Sweet Potato Recipes
6. Mashed Sweet Potatoes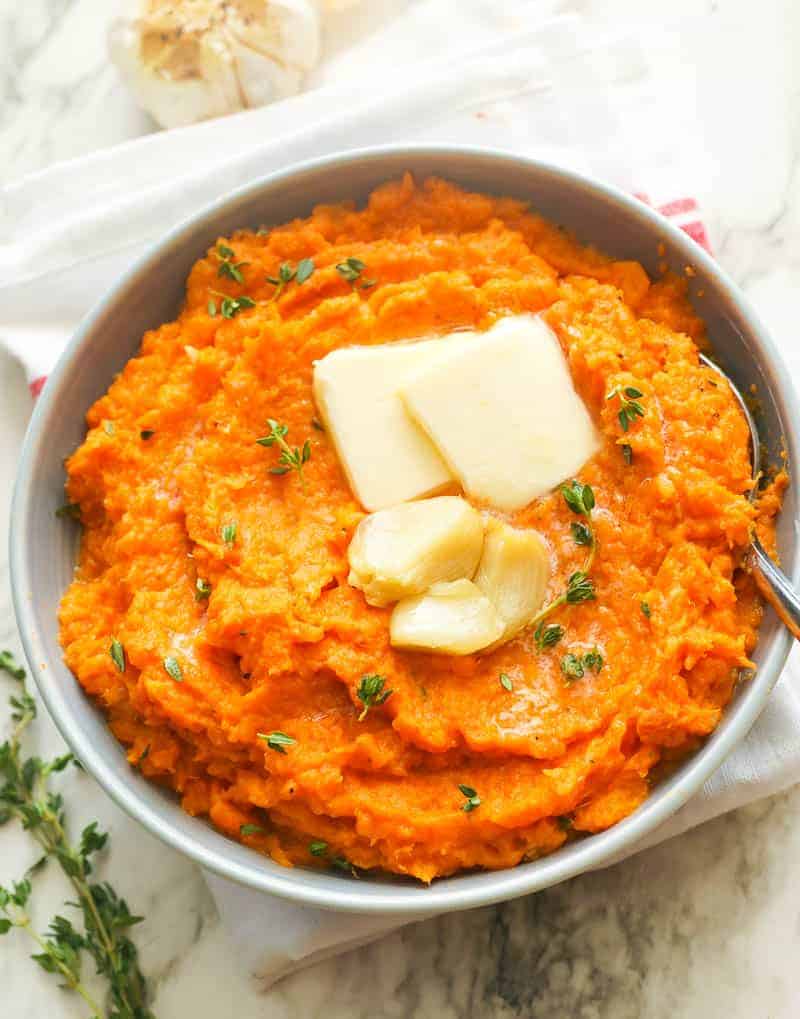 Would you like to swap sweet potatoes for potatoes? Why not? You'll get the same soft and creamy texture but with extra fiber and vitamin A, not to mention the added sweetness and vibrant color as a bonus.
And for more comforting goodness, I added maple syrup, nutmeg, and allspice to the mix. These flavors complement main entrees, like slow-cooker pork loin and baked chicken leg quarters. Yum!
Mashed Sweet Potatoes
This tasty mashed sweet potato recipe is more than a recipe; it's two recipes! Let me show you how to make both sweet and savory mashed sweet potatoes. These are fantastic, seasonal side dishes that will surely steal the show. And, they're perfect for the holidays.
Check out this recipe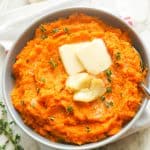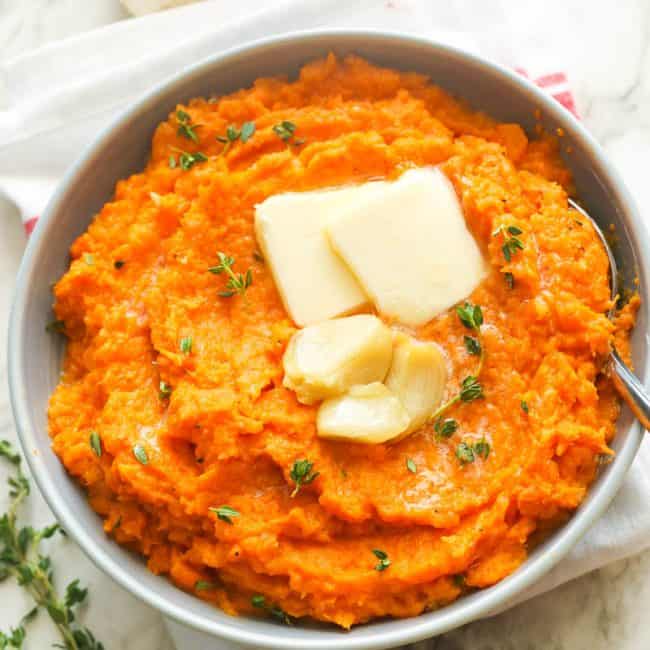 7. Mashed Sweet Potatoes with Avocado

Are you looking for a vegan option for mashed sweet potatoes? Then this one is perfect. I used avocado instead of butter to make this recipe healthier and dairy-free. Pretty cool, huh?
It's also packed with fabulicious garlic, herbs, and lemon juice flavors. Quite intriguing yet genuinely delectable. No wonder it pairs well with parmesan-crusted tilapia and peri-peri chicken.
Mashed Sweet Potatoes with Avocado
Simple, satisfying and makes for an extremely tasty meal, very suitable to your time-crunch food prep needs. Try this mashed sweet potato and avocado recipe , you will not regret it.
Check out this recipe

8. Irio (Mashed Sweet Potatoes with Peas and Corn)
Irio is a classic Kenyan dish that translates to "food" in the Kikuyu language. It is undeniably healthy and delicious, for it has tons of flavor and texture from green peas and corn. If you want, you can also customize it with any veggie you like, such as spinach and carrot. 😉
Traditionally, it's served with nyama na or grilled meat. That said, grilled flank steak and grilled rack of lamb will certainly make a perfect pairing to Irio. 👍
Irio (Mashed Sweet Potato Recipe with Peas and Corn)
Mashed Sweet Potato Recipe with Peas and Corn (Irio) — a classic Kenyan dish that is a hearty combination of mashed sweet potatoes, peas, corn and sometimes spinach.
Check out this recipe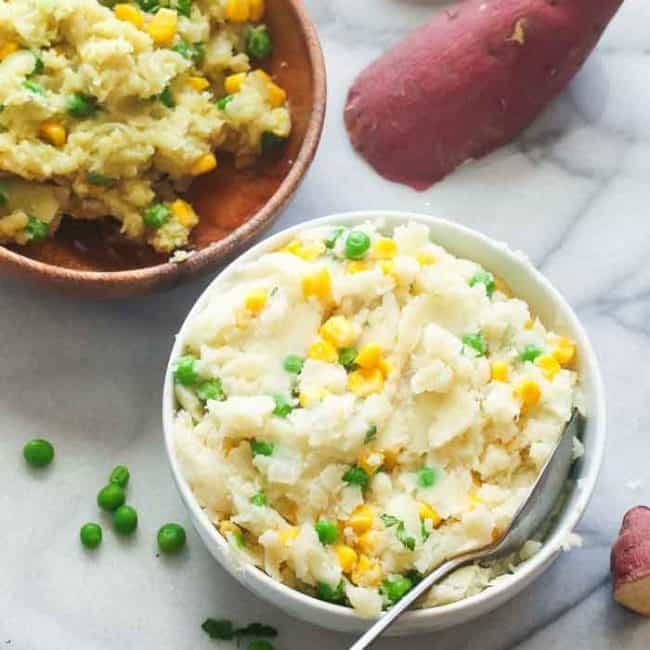 Conclusion
Mashed potatoes will make a great side dish, especially this coming holiday. My personal favorite is cream cheese mashed potatoes. What's yours? Let me know in the comments!