Give your boring chops a smoky, savory and crusty kick! You'll want to check out this super easy flavorful pork chop seasoning with this Smoked Pork Tenderloin. Either grilling or pan-searing this recipe will be a sure hit! I'm sure your friends will put you on top of the "grillmasters" list because of this.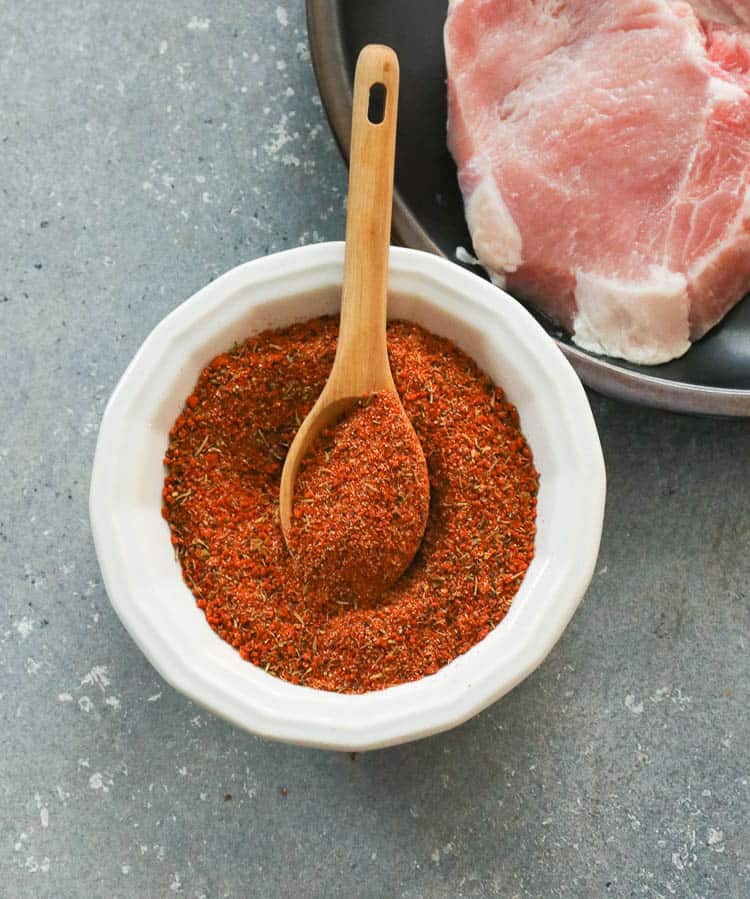 My favorite kind of pork chop is juicy, slightly crusted, and flavored with a little sweet-heat. If you want juicy pork chops my secret is to brine the meat first. (Check it out here). I GUARANTEE you after that, the cooked chops will always be moist and tender!
My next goal after that is – texture. I pulled this one off by coating the meat with my homemade pork chop seasoning then I cooked it on the HOT grill. Do you know what I got? Crusty Golden-Brown pork chops. It's a masterpiece!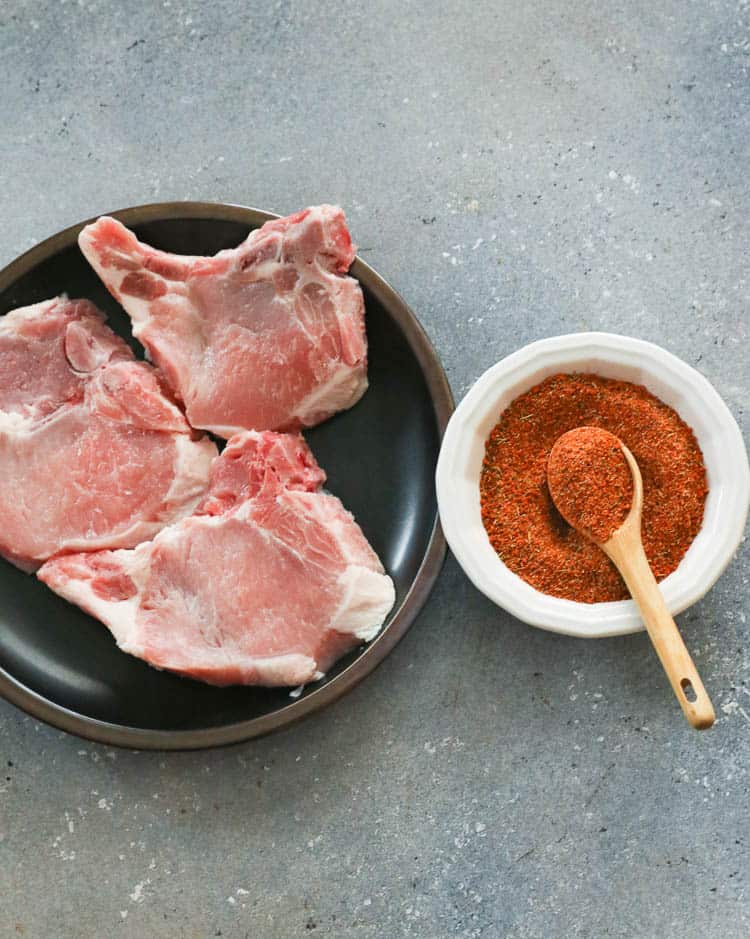 I thought from then on that I should just make my own simple-seasoned pork chops at home since my family really enjoys eating pork chops. Plus! Two bonuses. I can control the salt, sweetness, or heat in my seasoning. And I get to save money by using the ingredients that are readily available in my pantry (OR you can use your pantry staple herbs and spices).
Well, now I can't be bothered to go to the restaurant just to eat something this great because I can already do it at home anytime just the way I like it!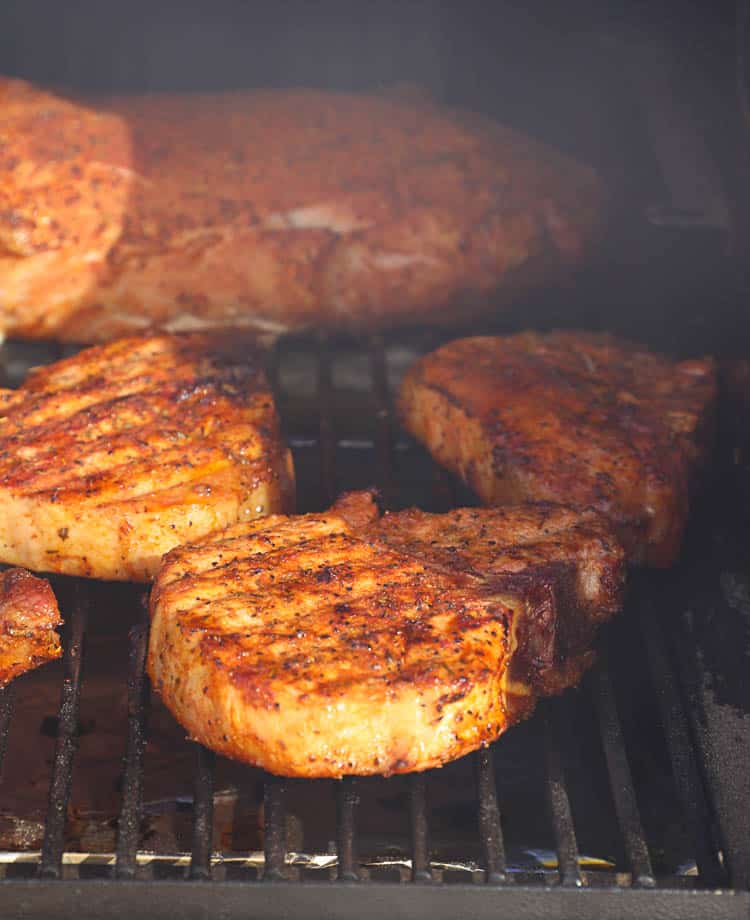 Let's change the bland and tough impression of this precious cut of meat by going through the blog for more tips to leveling up your delish pork chop game!
Best Pork Chop Seasoning
The best is the one that you can make without spending too much money on its ingredients and something that you can easily whip up. This seasoning is a simple blend of basic ingredients that goes well with pork. This blend is the perfect balance of savory, smoky, and sweet with a little kick of spice in it.
Seasoning Recipe Ingredients
Freshly Ground Black Pepper – adds an earthy kick and sharp aroma to the dish. Learn more about it here.
Garlic Powder – gives some umami, savory sweetness to the food.
Onion Powder – retains some of the pungency and flavor of fresh ones.
Dried Thyme – fragrant herb with thin, woody stems and small, pungent leaves. Learn more about this herb here.
Dried Oregano – It has an aromatic, warm, and slightly bitter taste, which can vary in intensity
Dark Brown Sugar – Its moistness and deep, rich molasses flavor make it ideal for savory recipes. (Add more if you like a sweeter seasoning)
Chili Powder – mild to moderately spicy, depending on how much cayenne pepper makes up the mixture. (or according to your heat level preference)
Cayenne Pepper – hot pepper, but its ground form can add a richness of flavor to a variety of dishes.
Smoked Paprika – It adds fruity notes and a toasty red color that doesn't overpower the dish flavor. Learn more about paprika here.
Cumin – gives a bright, lemony, earthy, and slightly spicy flavor.
Alternative Spices For Pork Chops
Substitute the ingredients with the other spices and seasonings that go well with pork such as:
Allspice – It adds a complex and savory flavor that includes notes of clove and black pepper which complement both fatty and lean pork cuts. Use allspice for both braised and open-flame cooking methods.

Caraway seeds

– Offer the sweetness of anise combined with earthy and nutty notes.
Ginger – The peppery and assertive nature of ginger can help to tame a strong pork flavor and will work well in combination with the other spices on this list. Fresh ginger may be grated or chopped and added into a braising liquid; use dried ginger for your rubs.

Celery seed

– Has the distinctive herbal flavor note that you would associate with the celery herb, but it is considerably more intense.

Whole celery seeds work better for braising; ground celery seeds or celery salt work best for rubs.

Juniper Berries – Bring a sharp pine note to pork along with a little bitterness and pepperiness. This is another flavor that can help to offset fattiness. Juniper berries work best when crushed and added to a marinade.
Rosemary – Greatly enhances the savory and meaty qualities of pork. It is aromatic and is a great way to enhance the complexity of a pork dish with sweet, minty and slightly piney flavor notes.
Best Way To Season Pork Chops
Flavor Absorption – Be sure to pat the meat dry with a paper towel.
After the Salt – Apply the salt to the surface of the meat (Be careful when using brined pork chops because there's already a lot of

salt in the brine

that is absorbed in the meat) then sprinkle the seasoning on all sides. Keep an even, single layer of seasoning all over the meat. All the meat juices are still inside the muscle fibers and searing at this stage will cleanly seal and crust the meat.
Rest it Overnight – Season your meat and rest overnight before cooking. By this time most of the liquid has been reabsorbed into the meat. A small degree of evaporation has also occurred, causing the meat to be ever so slightly more concentrated in flavor.
Wet Vs. Dry
Texture and Flavor – A

dry rub

enhances the flavor of the meat without adding moisture and also creates a tasty crust.
Tenderizing – A

wet rub

may contain the same ingredients as the dry rub but with the addition of liquid, like vinegar, lemon juice, and oil ( but not necessarily putting these together). Aside from adding flavor, a marinade also tenderizes the meat, while a dry rub does not.
When Should You Season Pork Chops?
To Bring Out Flavors – Seasoning with salt before cooking pork chops (a lean, bland cut of meat) is an important step in bringing out the meat's natural flavors.
An Hour Ahead – Apply your rub of choice at least an hour before cooking.

Massage the seasoning in before grilling, the more time it has to sit on the meat the more the flavors will sink in. If you want a savory, crispy crust make sure your cooking surface is really hot.

Tempering the meat – Take the pork chops out of the refrigerator before you plan to start cooking. Bringing the meat up to room temperature helps it cook more evenly throughout.
How To Season Porkchops?
Thaw and Dry the Meat – Start with thawed and pat dried pork chops and sprinkle the pork chop seasoning liberally on all sides. This allows the seasonings to distribute evenly.
Put Salt First – Because the pork chop seasoning is packed with flavorful spices but there's

no salt in the ingredients

. Plus in cooking, the job of salt is to bring out the flavor of the ingredients and food as a whole dish. Although of course, if you're looking for a low-sodium dish and still want to enjoy pork chops, you can leave this part out.
Rub in the Seasoning – Press or massage the seasoning into the meat with the palm of your hand.
Rest it for a While – Rest the meat for 15 minutes, then cook on a hot grill or pan.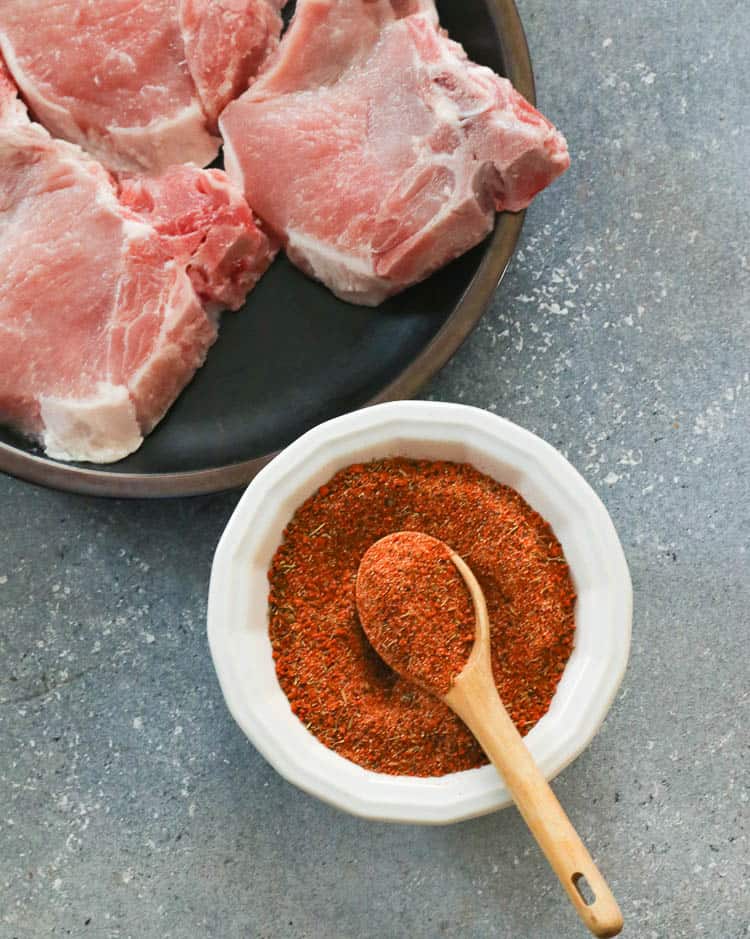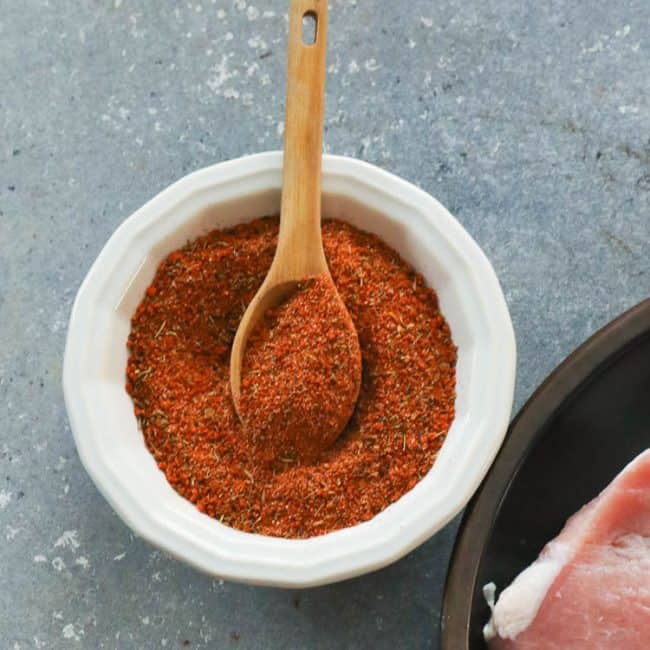 Print
Pork Chop Seasoning
Give your boring chops a smoky, savory and crusty kick! You'll want to check out this super easy flavorful pork chop seasoning
Ingredients
1

tablespoon (7 g)

freshly ground black pepper

1

tablespoon (9.84 g)

garlic powder

1

tablespoon (5.91 g)

onion powder

2

teaspoons (1.82 g)

dried thyme

2

teaspoons (2.02 g)

dried oregano

¼

cup (50 g)

dark brown sugar

, firmly packed

1

tablespoon (8.12 g)

chili powder

½- 1

teaspoon (0.855-1.71 g)

cayenne pepper

2

tablespoons (13.80 g)

smoked paprika

2

teaspoons (4 g)

ground cumin
Instructions
In a medium bowl or jar, add the ground black pepper, garlic and onion powder, thyme, oregano, brown sugar, chili & cayenne pepper, smoked paprika and cumin. Mix all together until fully combined.

Store in an airtight container (or zip lock bag) and use as needed.
Tips & Notes:
If using on smoked meats - apply a thin layer of mustard on the meat before coating it with Pork Chop Seasoning. (The mustard will help the seasoning stick to the meat.)
Nutrition Information:
Calories:
33
kcal
(2%)
|
Carbohydrates:
7
g
(2%)
|
Protein:
2
g
(4%)
|
Fat:
1
g
(2%)
|
Saturated Fat:
1
g
(6%)
|
Polyunsaturated Fat:
1
g
|
Monounsaturated Fat:
1
g
|
Sodium:
8
mg
|
Potassium:
225
mg
(6%)
|
Fiber:
4
g
(17%)
|
Sugar:
1
g
(1%)
|
Vitamin A:
3717
IU
(74%)
|
Vitamin C:
1
mg
(1%)
|
Calcium:
59
mg
(6%)
|
Iron:
3
mg
(17%)