What is nutmeg? Bring warm and comforting holiday flavors to your favorite desserts and mouthwatering dishes with this humble spice. A pinch is enough to remind you of home, bringing back wonderful nostalgic memories. Get to know more about this lovely spice and everything nice!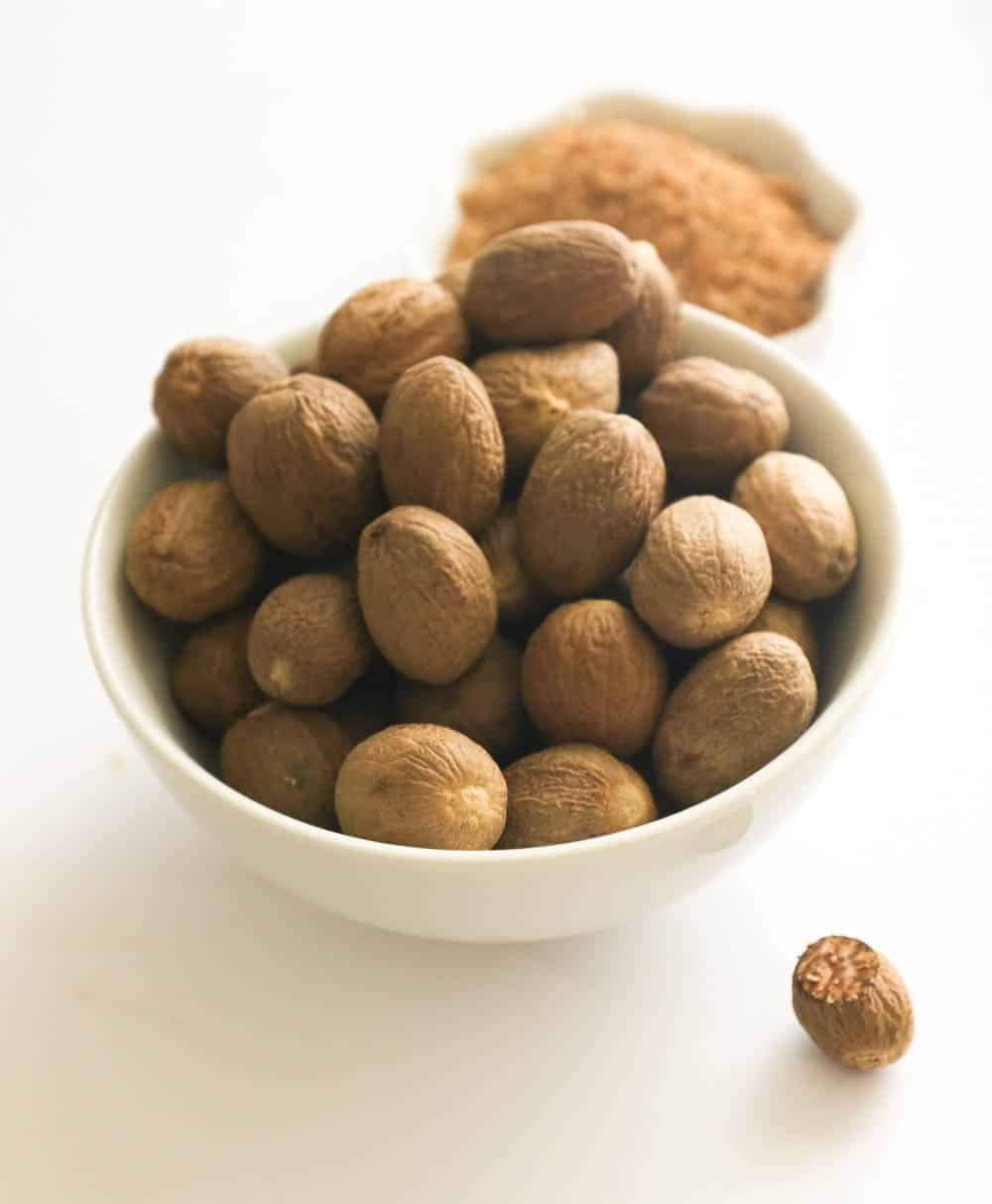 Nutmeg is undoubtedly one of my favorite spices, together with cinnamon and allspice. The bold flavor it adds to my favorite carrot cake and pumpkin banana bread is irreplaceable!
It's not just for desserts but also a great addition to savory dishes, like Chicken Kabobs and Salmon Wellington. It's undeniably a staple in African cooking, so I always have it in stock. Good thing it's easily accessible and affordable.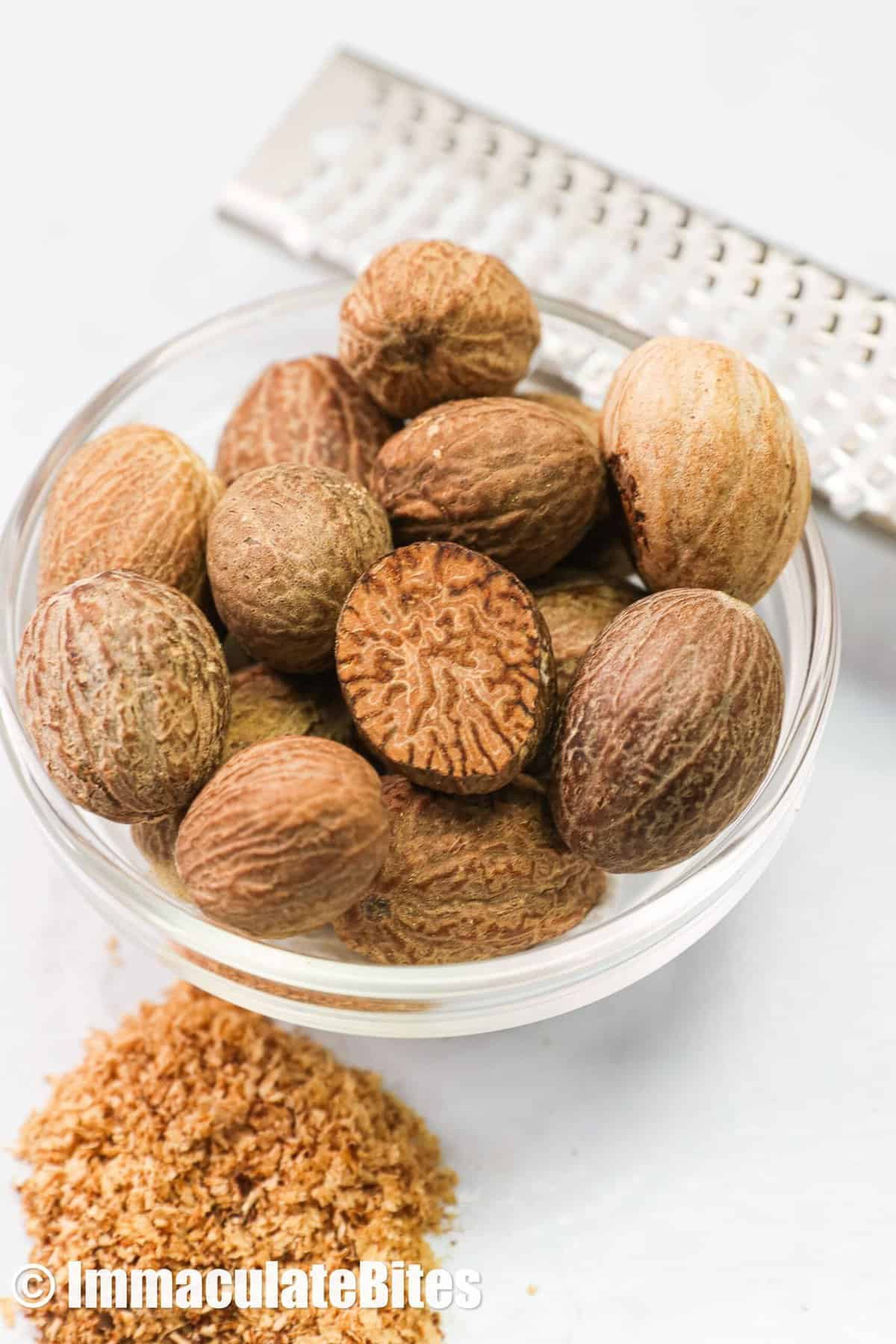 What Is Nutmeg?
It is a popular spice often used in desserts, savory dishes, and beverages. Who knew the seed from a tree called Myristica Fragrans could be so delicious?
The seed is sun-dried for about 6-8 weeks. During this time, the seed and its hard coating separate. Then the dried seed is sold whole or powdered as nutmeg. However, the hard coating is called mace.
What Does Nutmeg Taste Like?
I usually associate it with autumn flavors because of its exceptional aroma and nutty, sweet, and woody notes. It gives any dish, sweet or savory, warm and comforting vibes.
However, a little goes a long way, and too much of this intensely flavored spice may ruin the dish, making it bitter or soapy. It can also be overpowering for those with sensitive tastebuds. So I suggest starting with a small amount and working your way from there.
Nutmeg's Health Benefits
Besides adding fantastic flavors to both sweet and savory dishes, this spice is purported to offer health benefits.
Beautiful Skin – It may contain antioxidant, anti-inflammatory, and antimicrobial properties that help prevent cellular damage and improve complexion. You could add a little ground nutmeg to your face scrub and find out.
Pain Reliever – Nutmeg seems to be rich in anti-inflammatory compounds that reduce chronic inflammation, diabetes, arthritis, and heart disease. Essential oils are my friend. ❤️
Sleep Aid – Ayurvedic medicine uses a pinch of ground nutmeg in a glass of warm milk before bedtime. I like the sound of that.
Better Digestion – OK, I'm not into fancy words, but I love the sound of carminative. That's a technical way of saying this spice is really good for your tummy. You don't need to convince me nutmeg is awesome.
Disclaimer: I am not anywhere near being a doctor, and I'm not giving you medical advice. This is what I've read on an MD website, and I like it.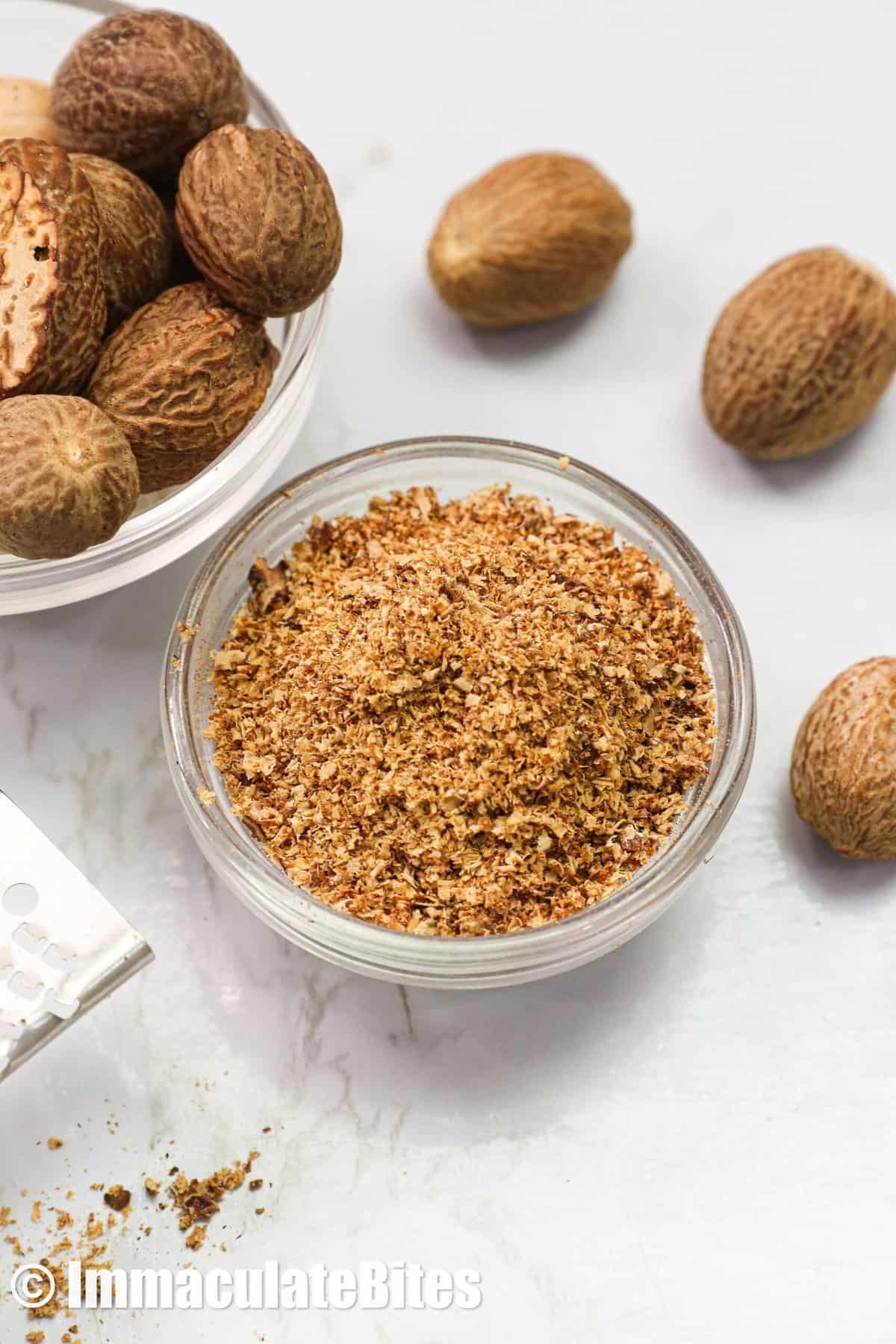 Nutmeg Substitutes
Mace is the number one substitute since it comes from the same seed and shares similar flavor profiles.
Allspice, cinnamon, ginger, and cloves are good substitutes if you find nutmeg a little overpowering.
Seasoning blends, such as garam masala, apple pie spice, and pumpkin pie spice, also work well. However, these alternatives will taste slightly different.
Storage
Like any other spice, it's best stored in an airtight container away from heat, light, and moisture to keep its flavor and freshness. The whole seed lasts up to four years if properly stored, while the ground spice can stay fresh for about six months. It's not hard to grind the whole spice, so that's what I usually have on hand because the flavor is generally better than already ground nutmeg.
Tip: Always label your spices with dates to keep track of their potency.
FAQs
Where to buy nutmeg?
You can easily find nutmeg in the spice section of your local grocery stores, along with other pantry staples such as cinnamon, allspice, and cloves. However, I usually find the freshest nutmeg in ethnic shops, like African and Middle-Eastern grocery stores.
Is nutmeg a nut?
No, nutmeg is not a nut. In fact, it is the seed from the Myristica fragrans fruit.
Should I use whole or ground nutmeg?
You can go for whole if you rarely use nutmeg since it stays fresh longer. Plus, freshly grated nutmeg tastes better. However, if you want to save yourself from the extra work (grating), it's better to use ground nutmeg instead.
Is nutmeg poisonous?
According to what I read, it's not poisonous in reasonable amounts, as a spice, for example. According to experts, too much can cause hallucinations and dizziness because of a chemical called myristicin. Don't worry, though, because most recipes only call for ½ to 1 teaspoon, well within safe levels. According to research, it would take over two teaspoons all by yourself, and, so far, the symptoms seem to disappear in about 10 hours.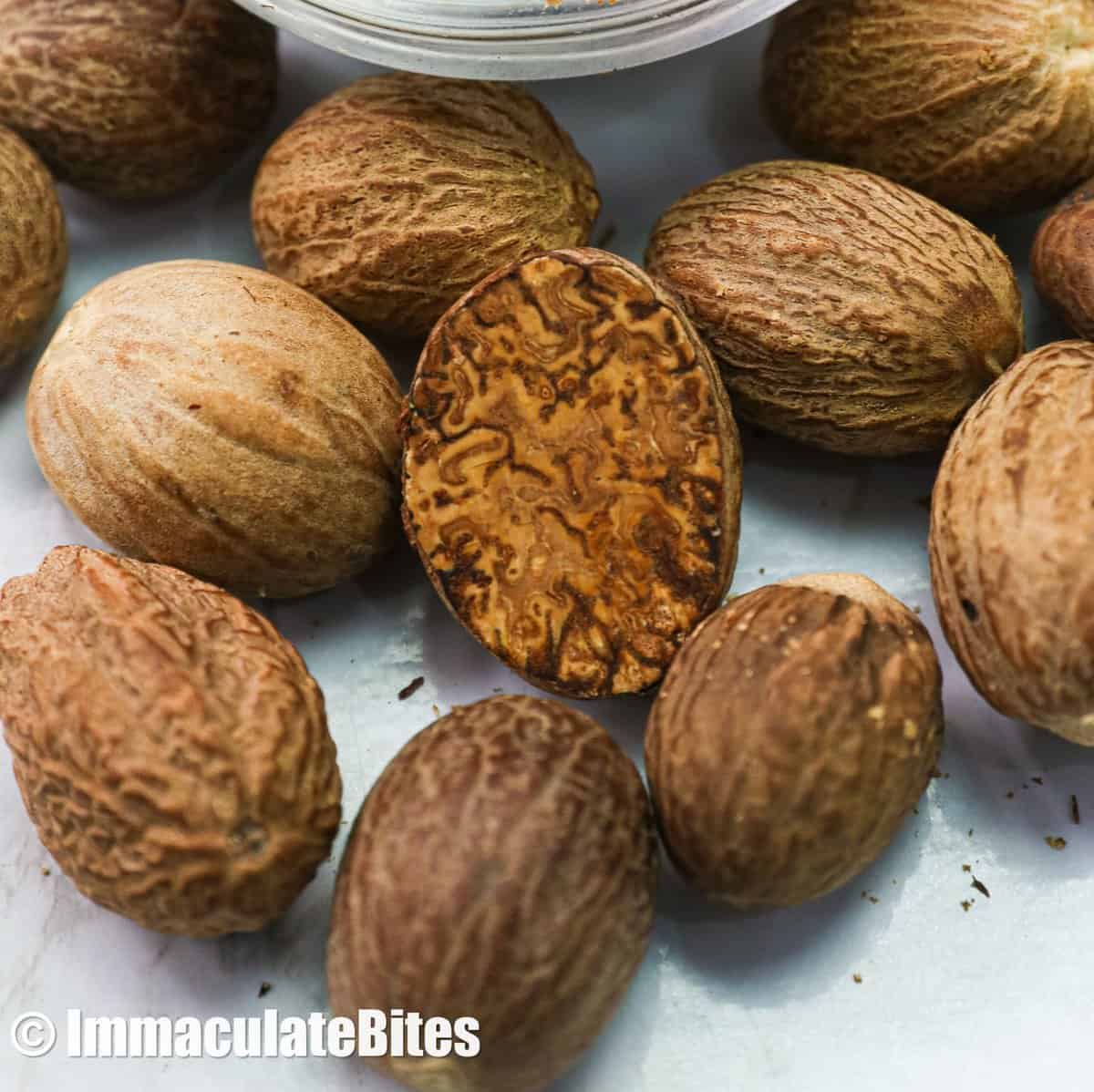 How to Use Nutmeg
This delightful spice is highly versatile and great for sweet or savory dishes, desserts, and beverages. I love putting a dash in my coffee or hot chocolate. You can also find them in several homemade spice blends, such as pumpkin pie spice, jerk sauce, and jerk seasoning.
Desserts
Beverages
Savory Dishes
Conclusion
Adding nutmeg to your sweet and savory dishes will make them extra warm and cozy, perfect for any weather. Which spice do you swear you can't live without? Let me know in the comments.