Carrots are great for your health, readily available all year round, and super affordable. With all those pros, I'd say we all need a few more tasty carrot recipes in our lives. I've put together a list of a few of my favorite easy carrot recipes here so you can turn carrots into the star of the show for just about any meal.
Carrots are one of the most versatile foods out there. They add freshness and crunch to summer salads, texture and taste to soups, and natural sweetness to baked goods. You can create dozens of dishes, both sweet and savory, with this highly nutritious vegetable. But just because carrots are good for you doesn't mean they can't taste amazing! In these 14 easy-to-make carrot recipes, you'll find some of my favorite ways to incorporate this cheap and delicious supermarket staple into your main entrees, side dishes, and even desserts.
FAQs
What is the healthiest way to cook carrots?
Heat brings out the best in carrots as far as nutritional value. Boiled, steamed, and roasted carrots all give you the biggest nutritional bang per bite. Cutting carrots before you cook them can reduce nutrients by 25%, though, so try cutting after cooking when a recipe allows for it.
Are cooked or raw carrots best?
Raw carrots are great for you, but interestingly enough, studies show that cooked carrots offer more health benefits. Cooked carrots have higher beta carotene levels, the nutrient that converts to vitamin A in your body after consumption. Three cheers for cooked carrot dishes!
Can carrots correct your vision?
Carrots won't correct any current vision problems you may have, but the vitamin A they contain definitely promotes overall eye health. The bottom line: eating plenty of carrots will support your eye health.
1. Jamaican Carrot Juice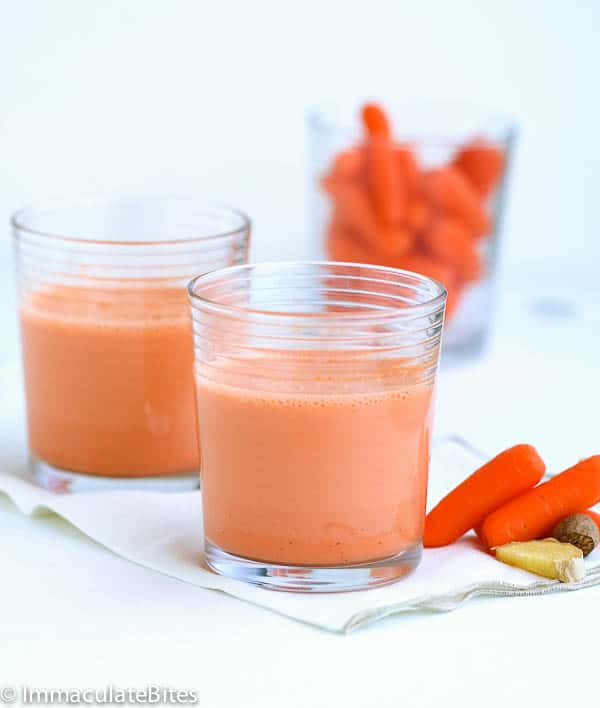 If you're thinking, "carrot juice, meh," you're in for a delectable surprise. While not necessarily a health drink (let's just say condensed milk is involved 😋), this carrot juice is creamy, sweet, and nothing short of a crowd-pleaser.
This recipe is easy to customize too, which makes it ideal for a variety of situations. You can enjoy Jamaican carrot juice along with your breakfast or add some rum, turning it into the perfect drink for cocktail hour. You can even make a vegan version with vegan condensed milk.
Jamaican Carrot Juice
Jamaican Carrot Juice- Not your ordinary Carrot Juice , this delightfully creamy and Sweet Carrot Juice that is sure to please- Enjoy for Breakfast or as Cocktail. Vegan Option
Check out this recipe
2. Carrot Souffle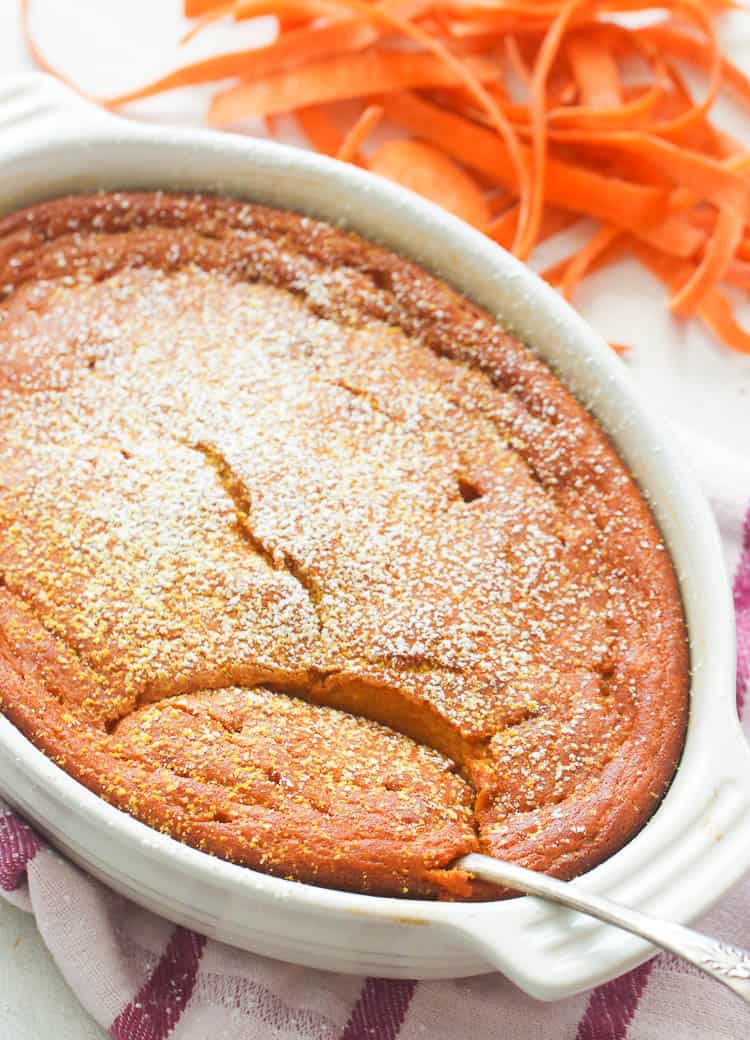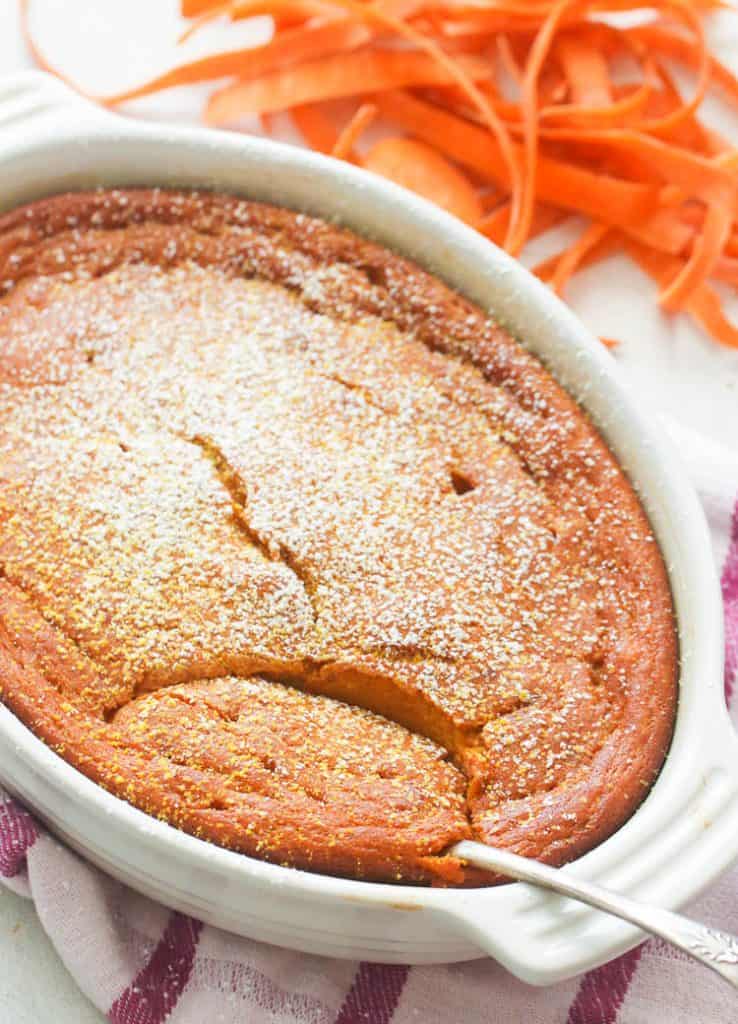 This is one of my most favorite carrot recipes! Carrot soufflé is rich, fluffy, and packed with flavor. If you aren't crazy about sweet potatoes but need a fitting side dish for a spiced roast turkey or a honey-glazed ham, carrot soufflé is an amazing alternative.
You can quickly turn this recipe into a dessert, too, by serving it up with some homemade whipped cream or caramel sauce.
Carrot soufflé may sound like a fancy dish, but it's surprisingly easy to make. Best of all, you can whip up the batter ahead of time, cover, and freeze until you're ready to use it! Simply thaw it out and then bake for a scrumptious side when you're in a pinch for time.
Carrot Souffle
Rich, fluffy, and oh-so-yummy CARROT SOUFFLE is an elegant crowd-pleasing side dish any time of the year. It literally melts in your mouth and is a perfect alternative to those who aren't fans of sweet potatoes as a side especially on Thanksgiving. You'll totally live for this simple indulgence!
Check out this recipe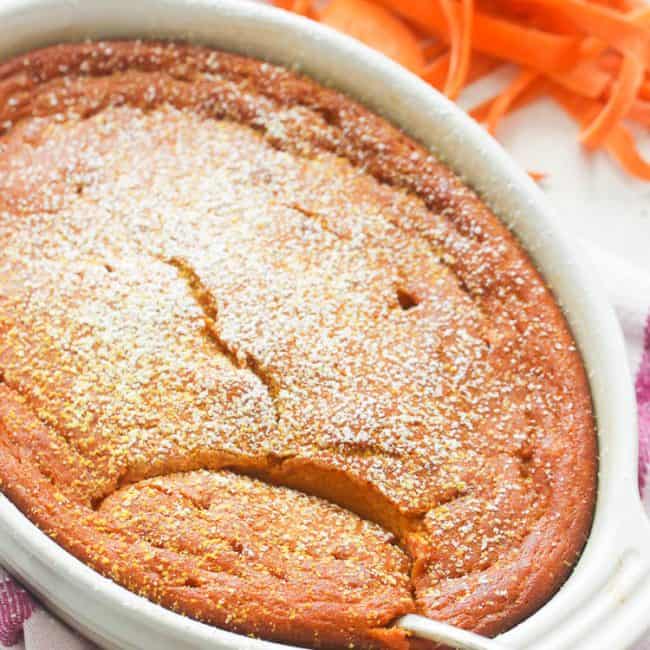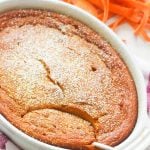 3. Roast Potatoes and Carrots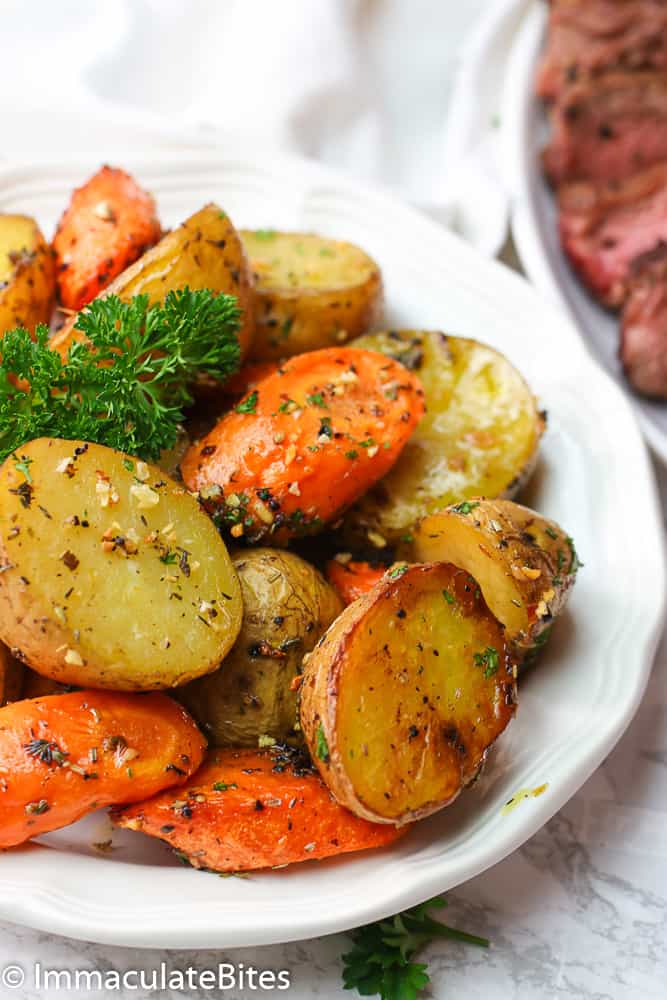 Roast potatoes and carrots are easy, affordable, and flavorful. This fuss-free side goes with just about any meal. Plus, this recipe is kid-friendly and super nutritious – just don't tell the kids that. 🤭
Coated with just the right amount of seasonings and tossed in melted butter, this carrot recipe delivers the perfect combination of a crispy outer crunch followed by a melt-in-your-mouth flavor bomb that is guaranteed to have you coming back for seconds.
Roasted Potatoes and Carrots
Roast Potatoes and Carrots – Most favorite, super easy, and a fuss-free side dish of all time! Take a bite on this crunchy goodness and soft melt-in-your-mouth potato and carrot recipe. Simply irresistible and flavorful infused with buttery herbs and spices.
Check out this recipe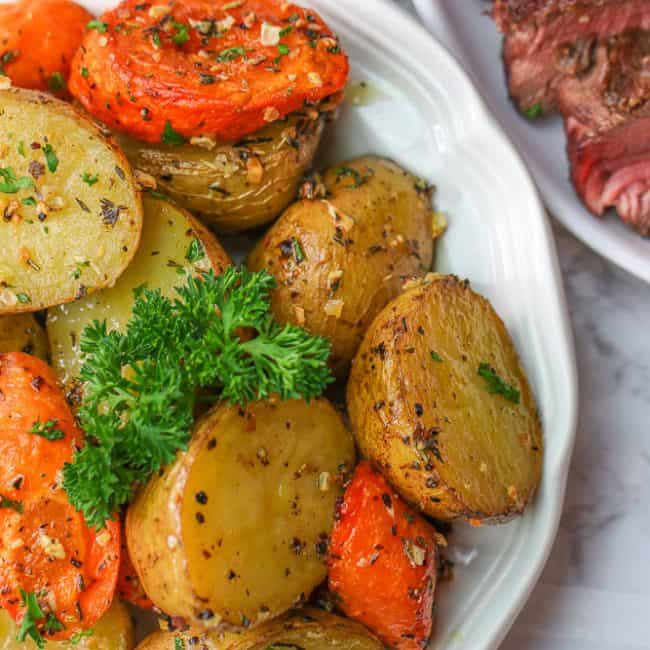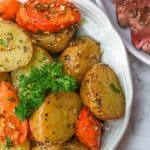 4. Carrot Cake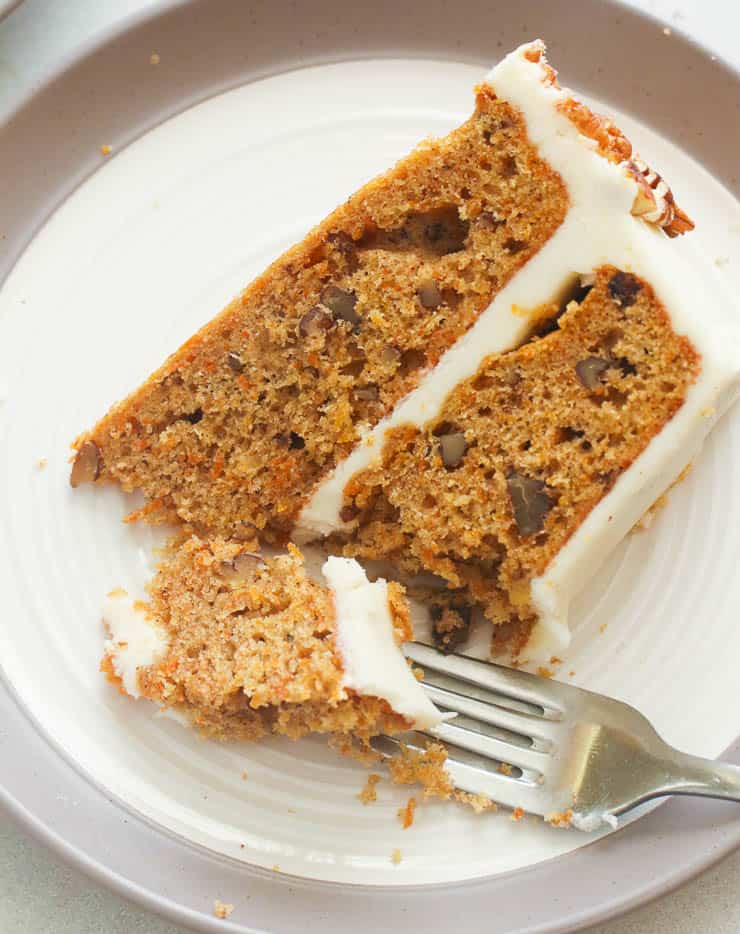 This carrot cake recipe takes a well-loved recipe to new heights with all those delicious fall flavors like applesauce, ginger, and vanilla. Let's be honest, though, carrot cake is the perfect dessert any time of year, am I right? It's light and moist, not overly oily, and the flavors will knock your socks off. Did I mention the cream cheese frosting?
Even if you aren't a pro baker, this carrot recipe is easy to tackle. It's also a great cake to bake a day ahead of time. Simply make and frost the cake, cover it, and pop it in the fridge for tomorrow. After a day, the flavors settle down and mingle perfectly together.
Carrot Cake
This sweet and flavorful carrot cake isn't your average carrot cake. Packed with flavors from applesauce, ginger and vanilla, this is sure to be your new favorite carrot cake recipe. 
Check out this recipe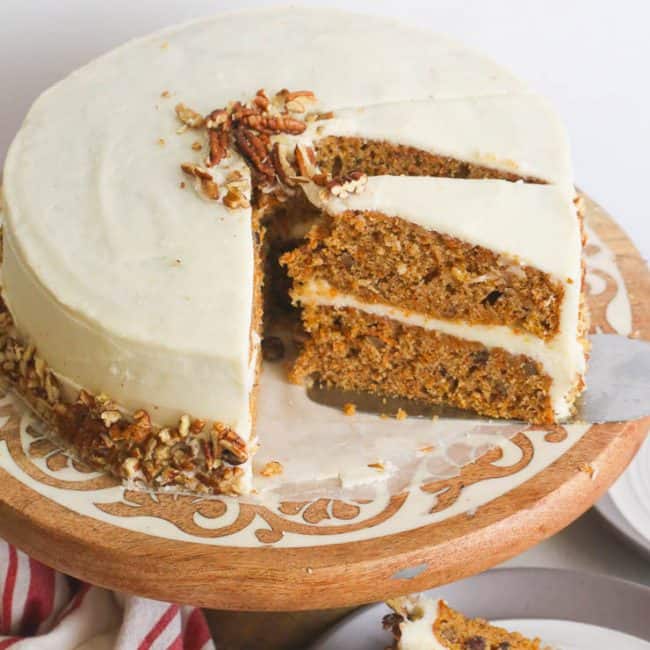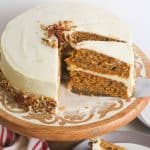 5. Carrot Raisin Salad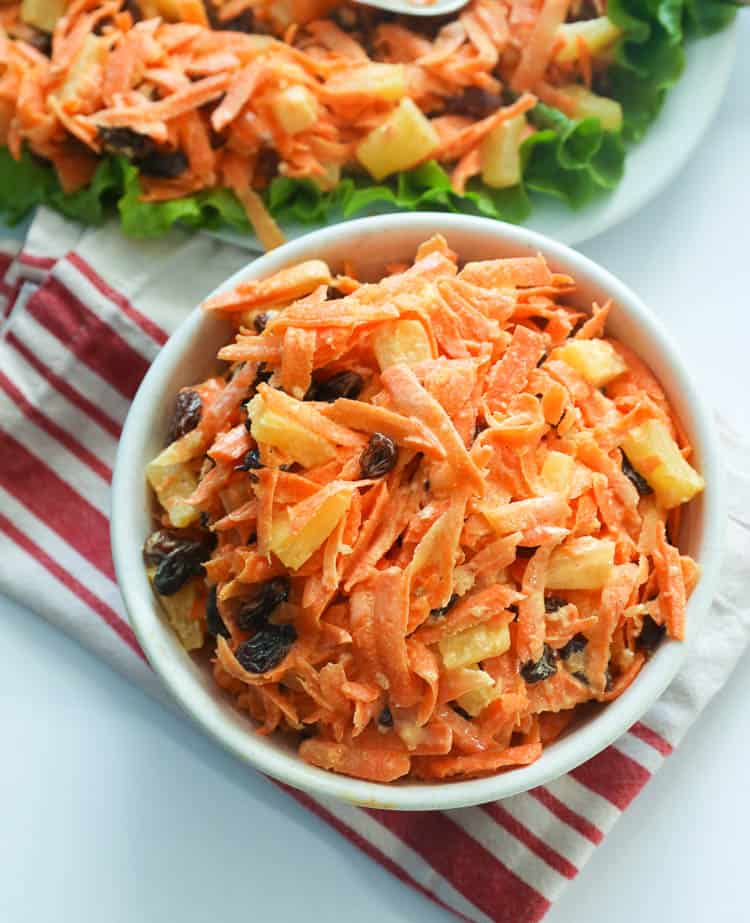 Healthy side dish and dessert all-in-one? Yes, please! This carrot recipe combines raisins and carrots in a tangy, creamy salad that you can make in less than 20 minutes. It's cheap to make, kids love it, and it pairs well with so many dishes.
What really makes this salad zing is pineapples and the irresistible dressing. If you somehow have leftovers, you can keep them in the fridge in an airtight container for about three days.
Carrot Raisin Salad
A unique pairing of carrots and raisins, overflowing with vitamins and nutrients turned into a healthy side dish and dessert in one. The perfect balance of creaminess, sweetness, and just the right amount of tanginess makes it unusually addicting and gratifying. An easy classic favorite you can make in less than 20 minutes!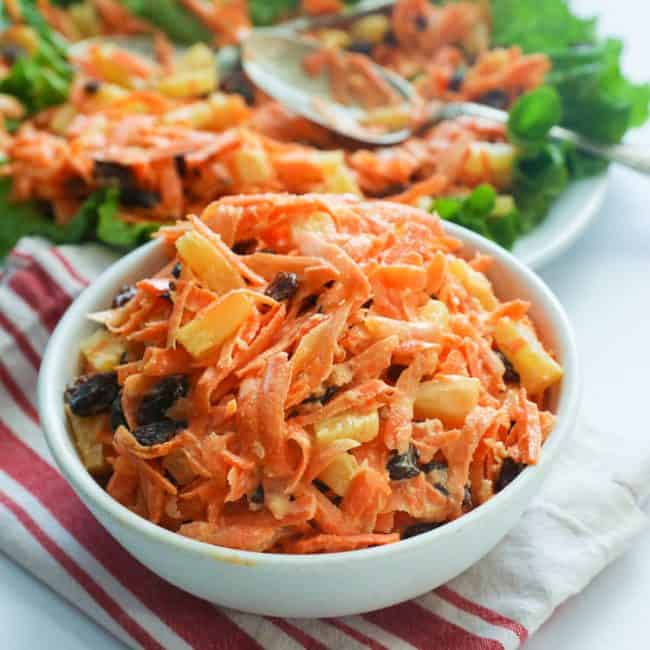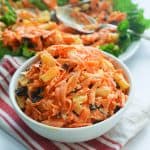 6. Carrot Pineapple Cake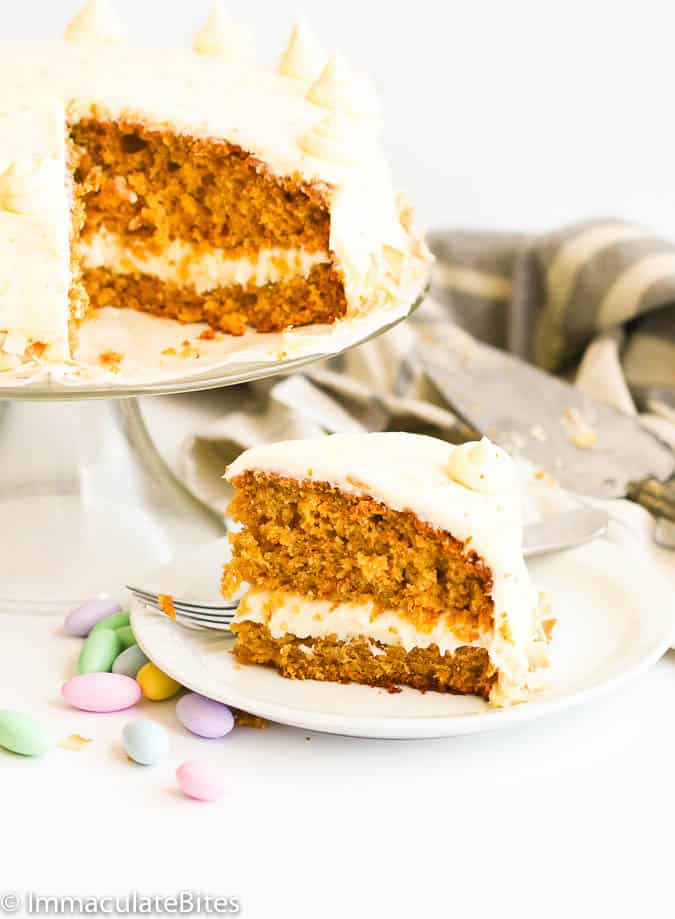 Carrots, pineapple, and coconut – oh my! A blast of tropical flavors topped off with silky cream cheese icing makes this cake the perfect finale for any meal.
For all you time-savers out there, you can make this cake 24 hours before frosting with no problem. Simply refrigerate the night before and frost right out of the fridge the next day.
Carrot Pineapple Cake
Carrot Pineapple Cake – A deliciously moist cake loaded with freshly grated carrots and crushed pineapple, all topped off with a silky smooth cream cheese icing and for some crunch toasted coconut flakes.
Check out this recipe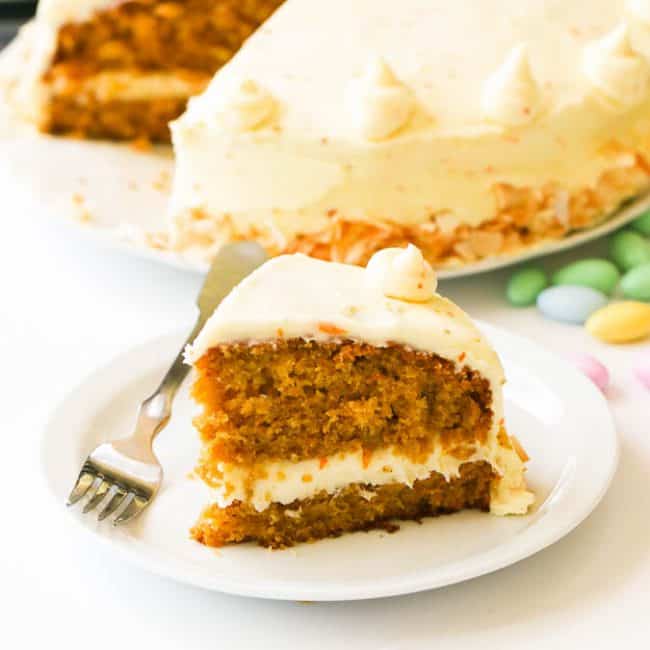 7. Honey-Glazed Baby Carrots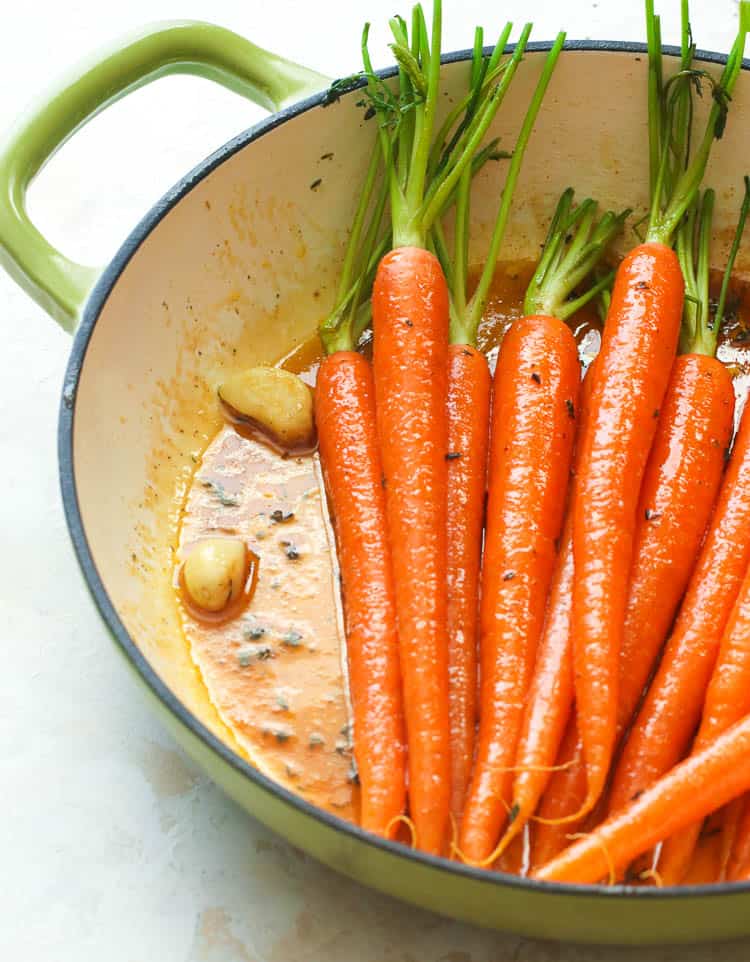 These honey-glazed carrots are naturally sweet, a little crunchy, and oh-so-easy to make. I love this healthy side dish because you can make it from start to finish in literally 15 minutes. It's the perfect carrot recipe for the after-work-dinner dash.
With ingredients you most likely have on hand and easy cooking techniques, this recipe is likely to be a staple in your weekly dinner plans.
Honey Glazed Carrots
Honey Roast Carrots – incredibly easy, quick, delicious and nutritious whole carrots bathed in honey, garlic and seasonings. A fuss-free side dish that is also elegant enough to serve for company!
Check out this recipe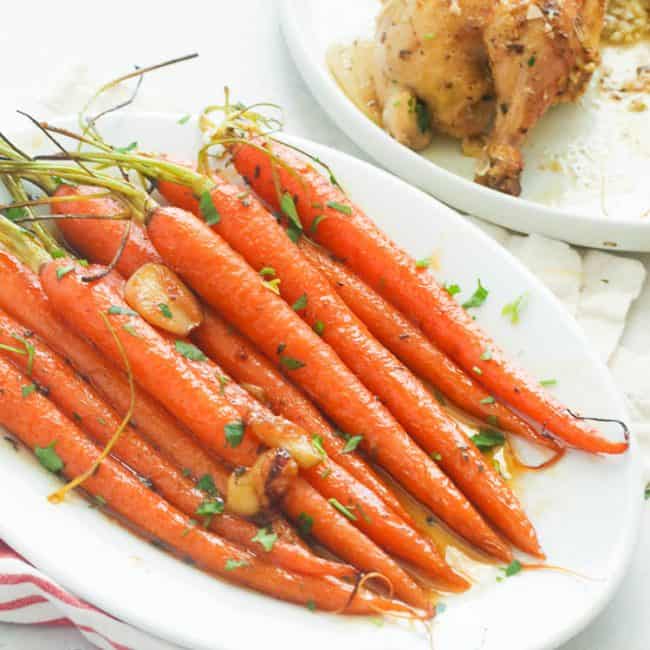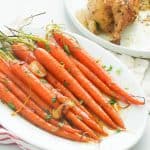 8. Pineapple Ginger-Glazed Carrots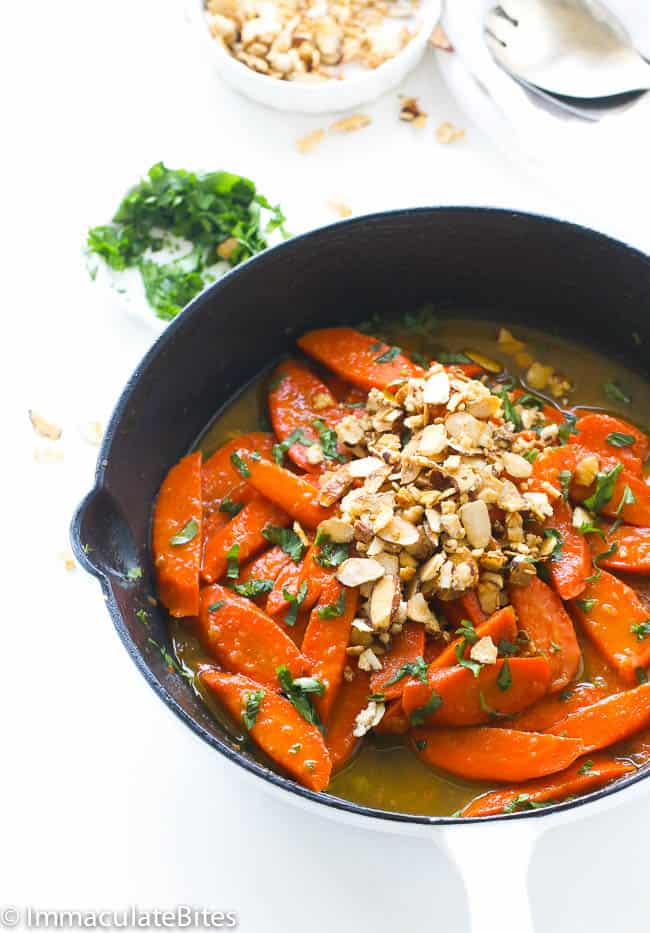 If you have a few extra minutes to spare, you can take the last recipe up a notch by making these mouth-watering pineapple ginger-glazed carrots. They are tender and sweet with all those tropical flavor notes I love so much.
This recipe makes for a great side dish and is ideal for special meals and family gatherings. It's super simple and quick to put together too!
Pineapple Ginger-Glazed Carrots
Pineapple Ginger-Glazed Carrots – Sweet, flavorful, and tender, with a tropical twist – nutmeg, coconut oil and topped with almonds…the perfect side dish for your holiday dinner!
Check out this recipe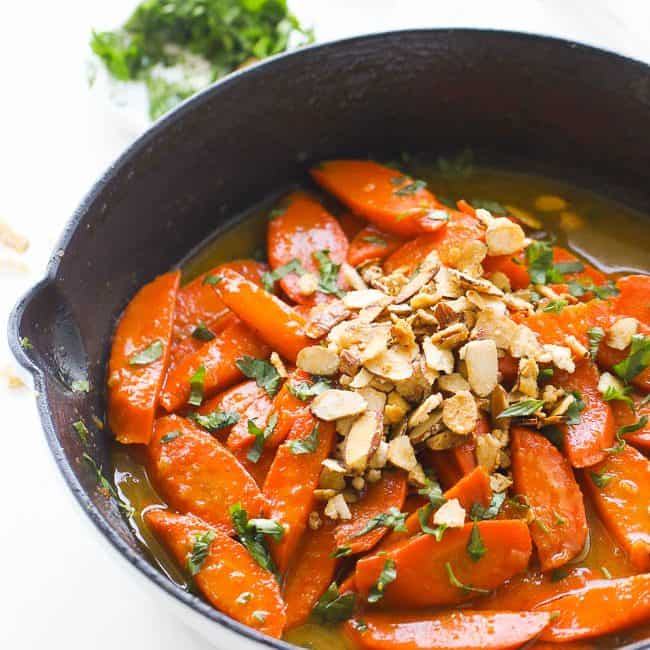 9. Carrot Ginger Soup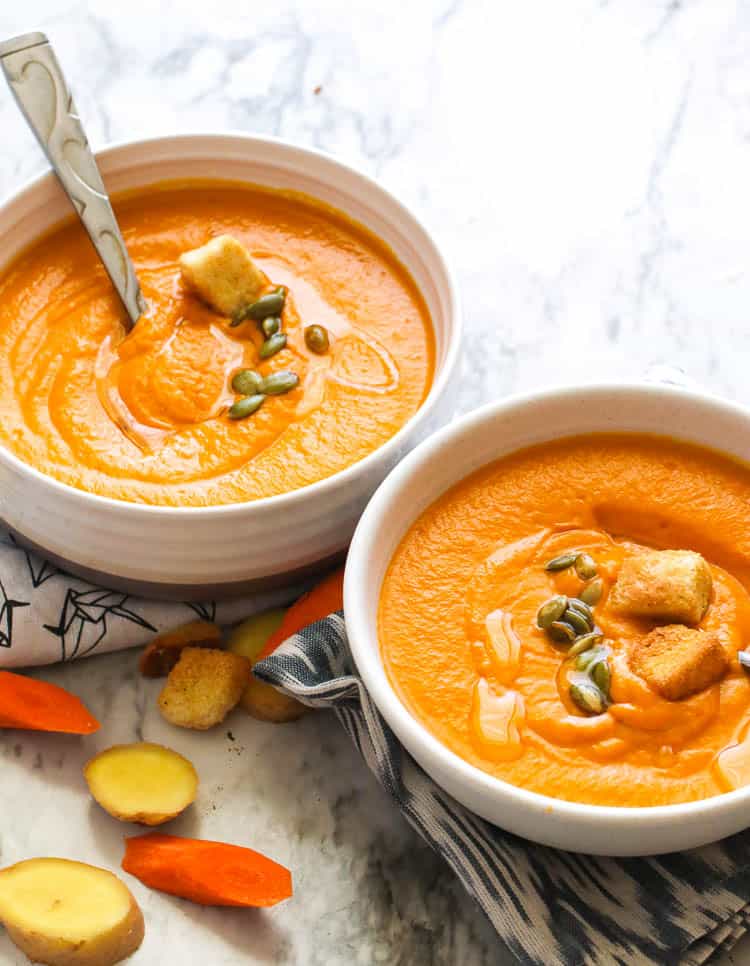 Perfect for cold weather, this carrot recipe takes all the flavors of sweet potatoes, carrots, onions, ginger, and coconut milk and whips them together into a comforting, creamy soup.
One of my family's favorites, this soup is both healthy and delicious. Pair it with some garlic knots or a Monte Cristo sandwich, and it will do wonders to brighten up those grey winter days.
You can store carrot ginger soup in the fridge for 3 to 4 days, and you can even freeze it in freezer-safe containers for 5-6 months.
Carrot Ginger Soup
Carrot Ginger Soup – healthy and refreshing soup made with roasted carrots and sweet potatoes blended together with coconut milk, vegetable broth, and sauteed onions and ginger. It can be made completely vegan by replacing butter with coconut oil. Such a flavorful and comforting soup for the cold days!
Check out this recipe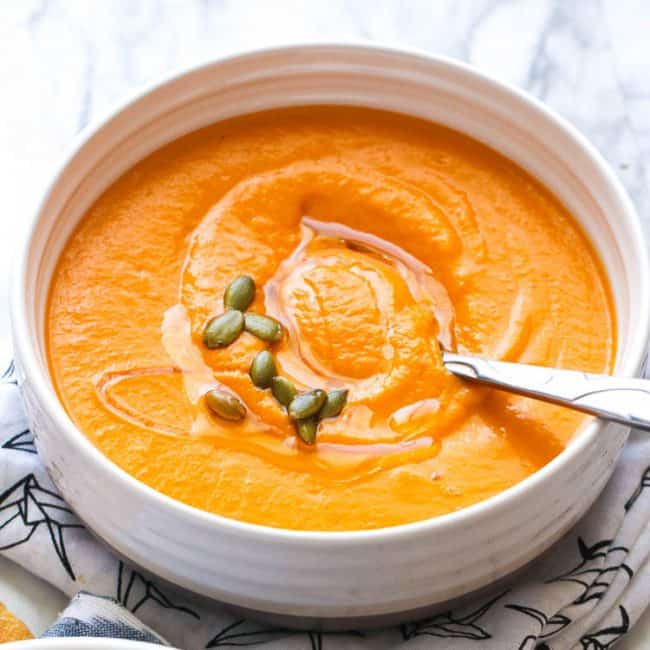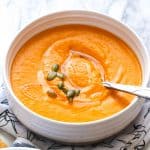 10. Coleslaw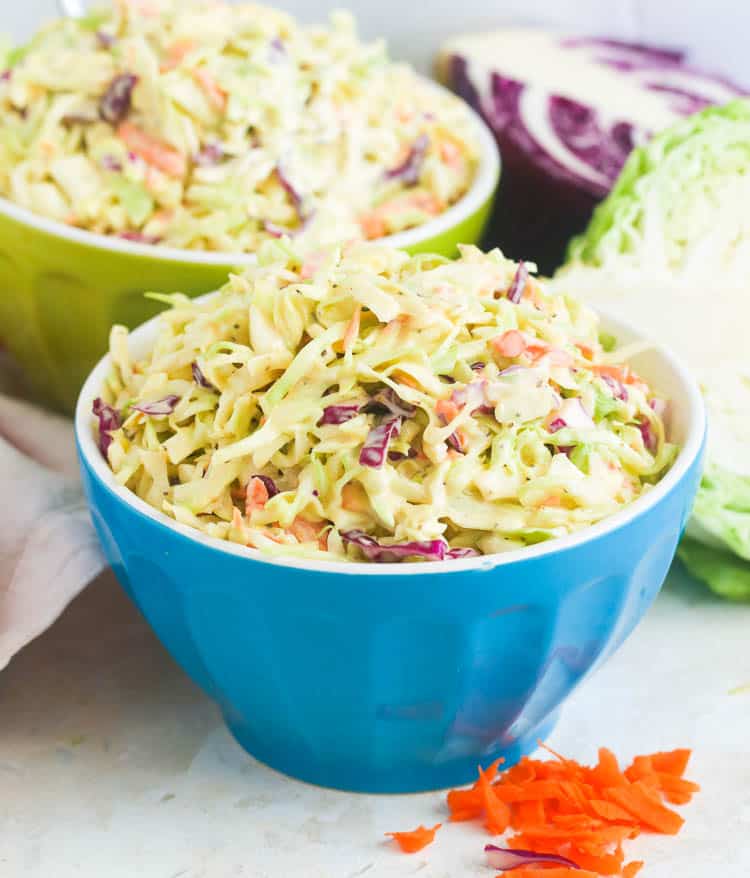 Coleslaw is another incredibly versatile carrot recipe. Coleslaw goes well with so many dishes – anything from baby back ribs to fried fish sandwiches. Plus, you can customize your coleslaw with a plethora of ingredients until it's just perfect for your family's palate.
Keep it in an airtight container in the refrigerator, and it will last for 3 to 5 days.
Easy Coleslaw
Thick, silky, and crunchy, this homemade EASY COLESLAW is more than just a sweet side dish. It's a bedazzling superstar when we talk about having a full meal as it elevates the flavor and texture of any simple meal. So give your next dish some sweet personality with the best coleslaw recipe in town.
Check out this recipe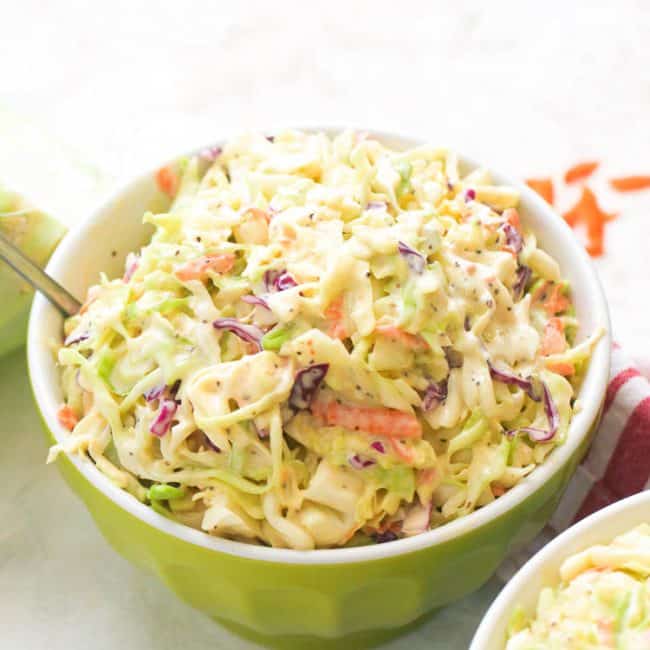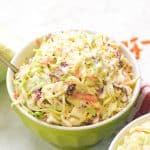 11. Instant Pot Lentil Soup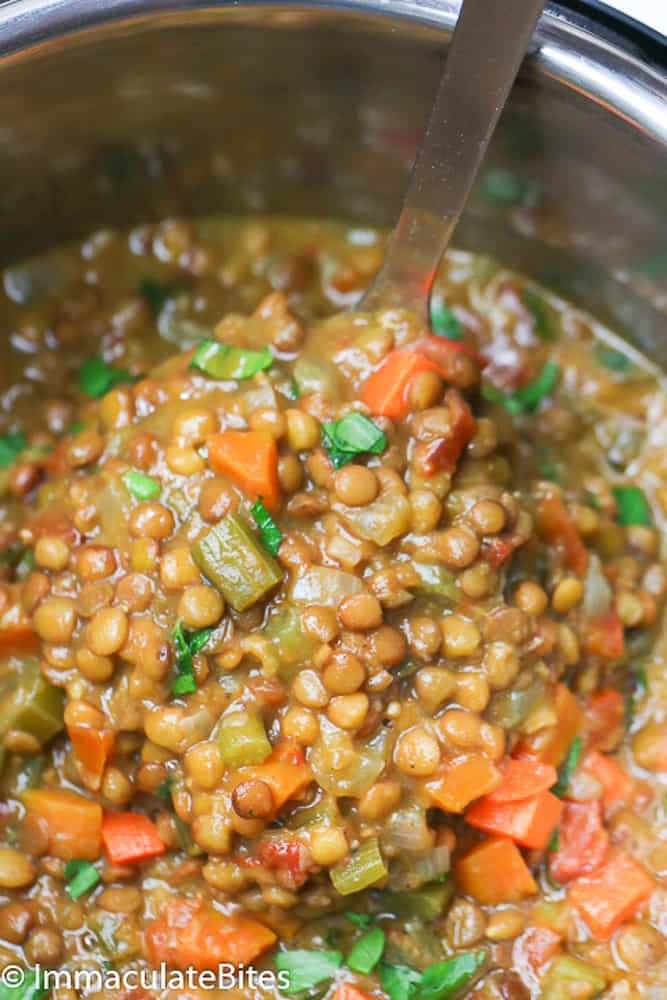 This lentil soup will satisfy you and keep you healthy with some highly nutritious spices and ingredients. It's an easy recipe to make vegan if you choose, and it comes together in just 30 quick minutes, thanks to your handy dandy Instant Pot.
Serve it up with some homemade focaccia bread, and you've got the perfect hearty meal, which tastes even better during those cold winter months.
Instant Pot Lentil Soup
Healthy and filling Instant Pot Lentil Soup packed with vegetables and flavors from cumin, paprika, and cayenne. Just pour in some vegetable stock instead of chicken broth and you'll have a delicious vegan meal. A cozy dish that comes together in just 30 minutes! 
Check out this recipe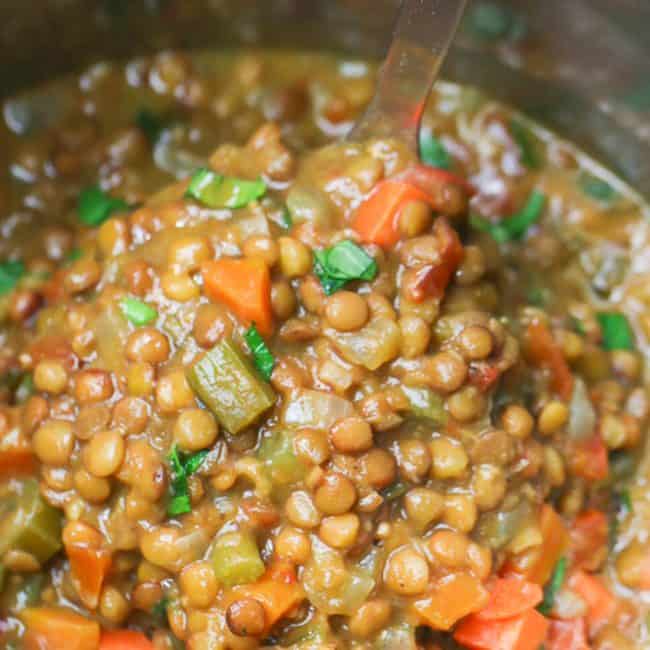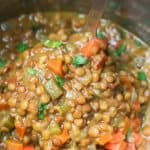 12. Homemade Chicken Pot Pie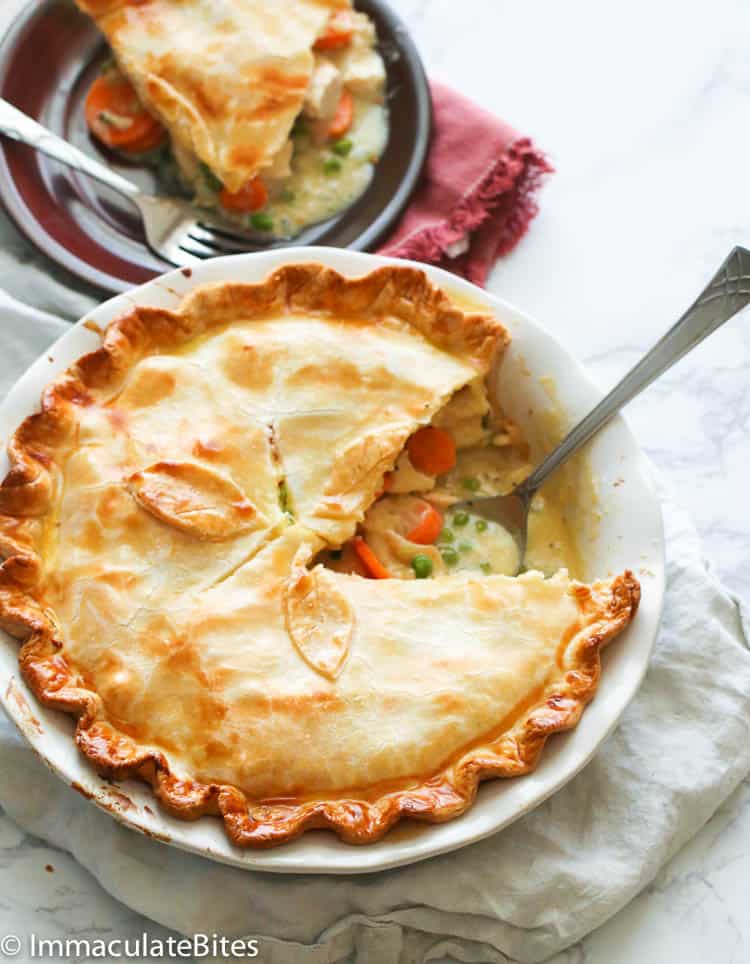 This is one of those classic recipes where carrots are a must. Creamy and hearty, homemade chicken pot pie is perfect for when you need some comfort food without too much work.
Whether you choose to make homemade pie crust (it's easier than you think, folks) or just go the frozen pastry crust route (still delicious), there's no substitute for that flaky crust with those steaming chunks of chicken, carrots, and peas hidden inside.
Chicken Pot Pie
Fresh-from-the-oven Homemade Chicken Pot Pie is a hearty and tasty pie filled with creamy chunks of diced chicken, carrots, and peas. Serve them in bigger pot pies for a family weeknight meal or in mini pot pies when entertaining. The ultimate Southern comfort food!
Check out this recipe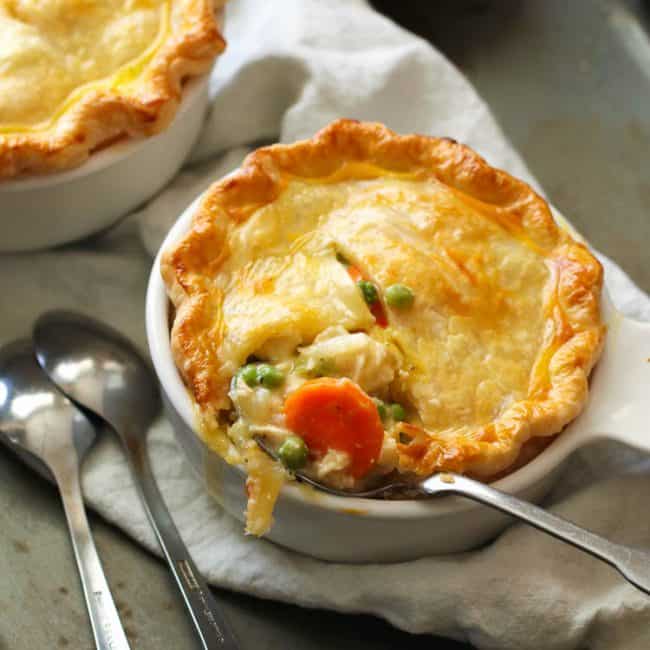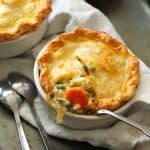 13. Instant Pot Chicken Curry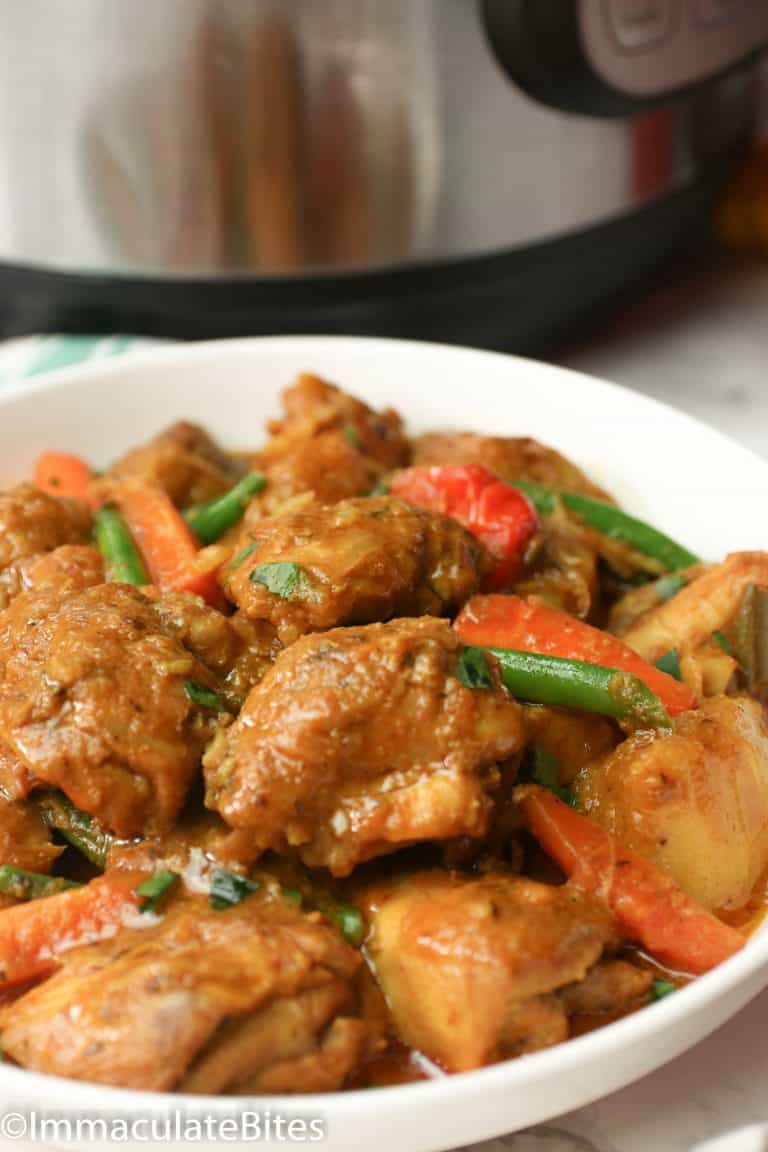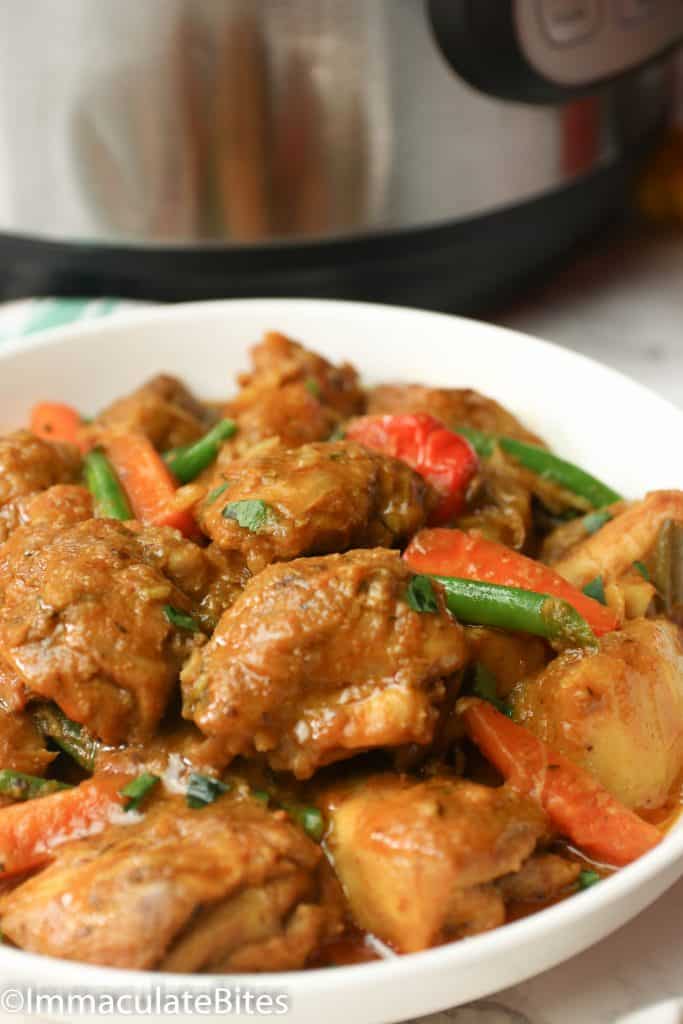 Chicken curry is one of my go-to meals, and this recipe is super easy to make in the Instant Pot. It comes together in less than an hour and is easy to store, too.
Keep it in an airtight container in the freezer, and it will keep for 2 to 3 months. This is the perfect dish for all the spice-lovers in your family, and the carrots add real depth to an iconic dish. Definitely serve up your curry with coconut rice for maximum flavor impact.
Instant Pot Chicken Curry
Tender, saucy, and sizzling spicy Instant Pot Chicken Curry quickly come together to give your cold nights a little warmth. This worry-free dish takes away the pain of closely watching your dish for the perfect consistency. Get the most out of your time with this simple yet amazingly flavorful dish!
Check out this recipe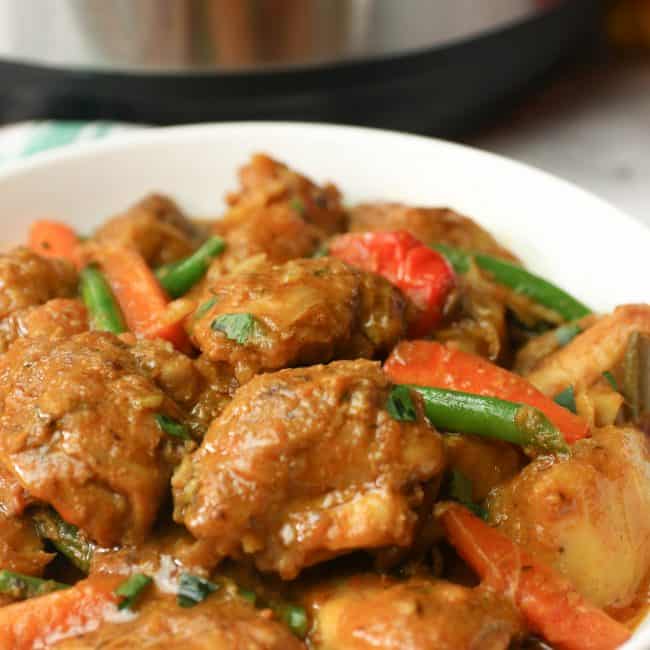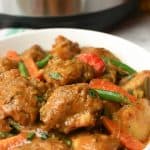 14. Mulligatawny Soup
This Southern Indian dish is so much more than your basic chicken and rice dish. Essentially, it's a curried soup that is spicy and incredibly flavorful, thanks in part to the chopped celery, carrots, and all those amazing spices.
You can freeze mulligatawny soup in an airtight container in the freezer for about 2 to 3 months. Serve it up with fried plantains whenever you're ready to bring something refreshingly unique into your weekly meal routine.
Mulligatawny Soup
Exquisitely flavorful MULLIGATAWNY SOUP is a melting pot of different spicy and rich taste profiles married in one fine dish. This Southern Indian dish radiates with vibrant colors matched with powerful ingredients balanced with the mildness of the stock. A one-pot chicken and rice soup that is definitely a gastronomical experience.
Check out this recipe