Cocoa powder can easily go overlooked in your pantry, brought out only when the weather turns cold, and you need a good cup of hot cocoa. But let me tell you, cocoa powder can do so 👏 much 👏 more 👏. Get ready to up the cocoa powder ante with these 14 delectable cocoa recipes.
FAQs
The Decadent Cocoa Powder Recipes Roundup
1. Texas Sheet Cake
Pecans and buttermilk make this sheet cake a "Texas" sheet cake, but you don't have to live in the Lone Star State to love this dessert. This cake is a simplified version of a German Chocolate Cake, and I love how easy it is to make. Plus, it's so good there's no way you'll only eat one piece.
This cake is a classic all on its own, so you really don't need to add anything to it. But just in case you need some added richness, go ahead and slap it with a dollop of homemade whipped cream and a drizzle of homemade caramel sauce.
Store leftover Texas sheet cake in the fridge for up to five days in an airtight container or wrapped in plastic wrap. You can also freeze this delicious cake for up to three months if you want to bake it ahead of time.
2. Chocolate Pound Cake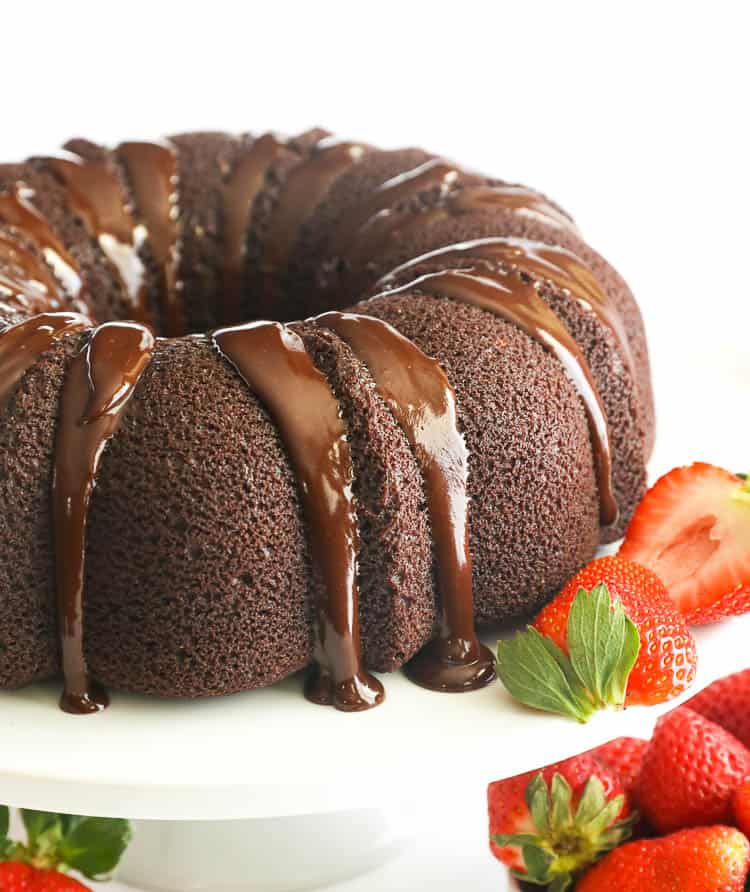 This cake is buttery, moist, soft, and indulgent. Every slice is a made-from-scratch piece of heaven. And best of all, you don't need a whole lot of ingredients to whip this delightful cake together. Just what the perfect cocoa powder recipes needs.
If you want to make this cake super fancy, add chocolate-covered strawberries and candied pecans for toppings.
Additionally, may I recommend having a slice of this cake with a blended Thai iced coffee or a chai tea latte? Both drinks really complement the chocolate flavor.
Store this luscious chocolate pound cake in an airtight container, Ziplock freezer bag, or foil or cling wrap in the fridge for up to a week. However, if you prefer your cake room temperature, it will stay fresh on the countertop for 2-3 days. Just make sure you cover it adequately.
3. Homemade Brownies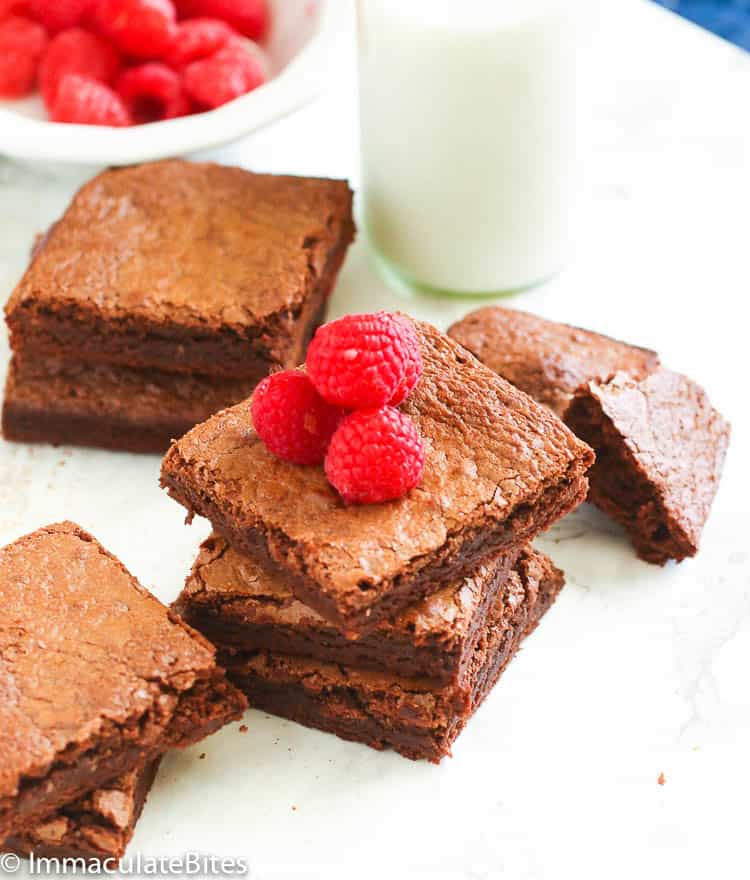 IMO, nothing beats a warm, chewy brownie fresh out of the oven when we're talking desserts. This recipe is my go-to for the perfect brownies from scratch. Seriously, armed with cocoa powder and this recipe, you'll never want to use a boxed brownie mix again.
Serve brownies with a dollop of vanilla ice cream, and definitely let it get a little melty before you dig in. You can also top brownies with whipped cream, caramel sauce, and fresh fruits like raspberries. A hot cup of coffee or pumpkin spice latte goes great with this recipe too.
You can store these brownies covered at room temperature for three days. If you refrigerate them, they'll last for up to five days. Though I doubt they'll be around that long.
4. Guinness Chocolate Cake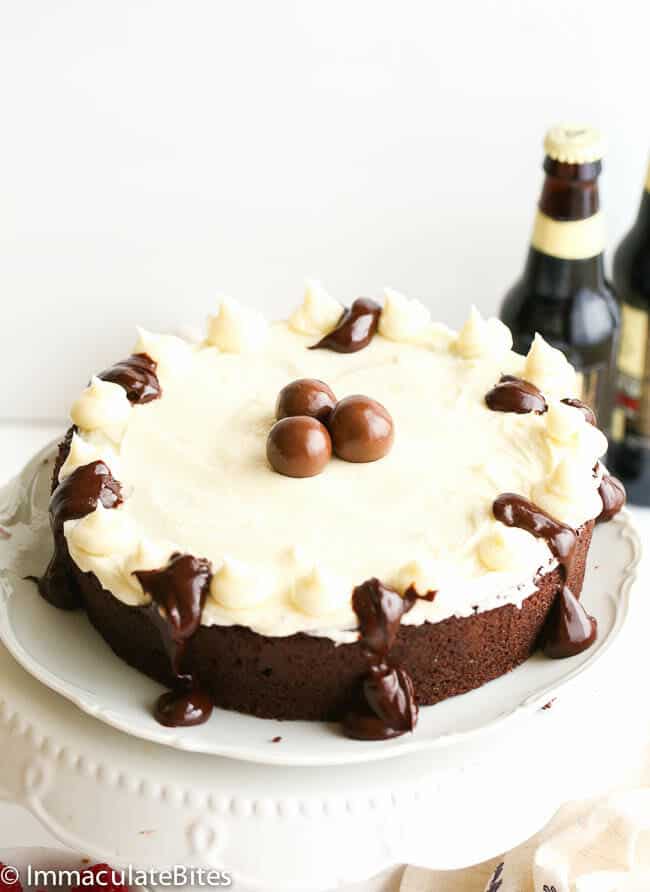 This one is for you, chocoholics! Guinness chocolate cake is moist, rich, and it literally melts in your mouth.
Did I also mention that you only need five minutes to prep this cake? 🤯 Talk about the perfect addition to our cocoa powder recipes!
This cake is also ideal for dessert bars! And if you need a few cakes for a special occasion, this one tastes and looks great set up beside carrot pineapple cake and rum cake with rum glaze. On another note, I love pairing a slice of this cake with a less sweet, hot drink, like this ginger tea.
Store leftover Guinness chocolate cake in an airtight container in the fridge. Then it will stay fresh easy for a couple of days.
5. Southern Chocolate Gravy and Biscuits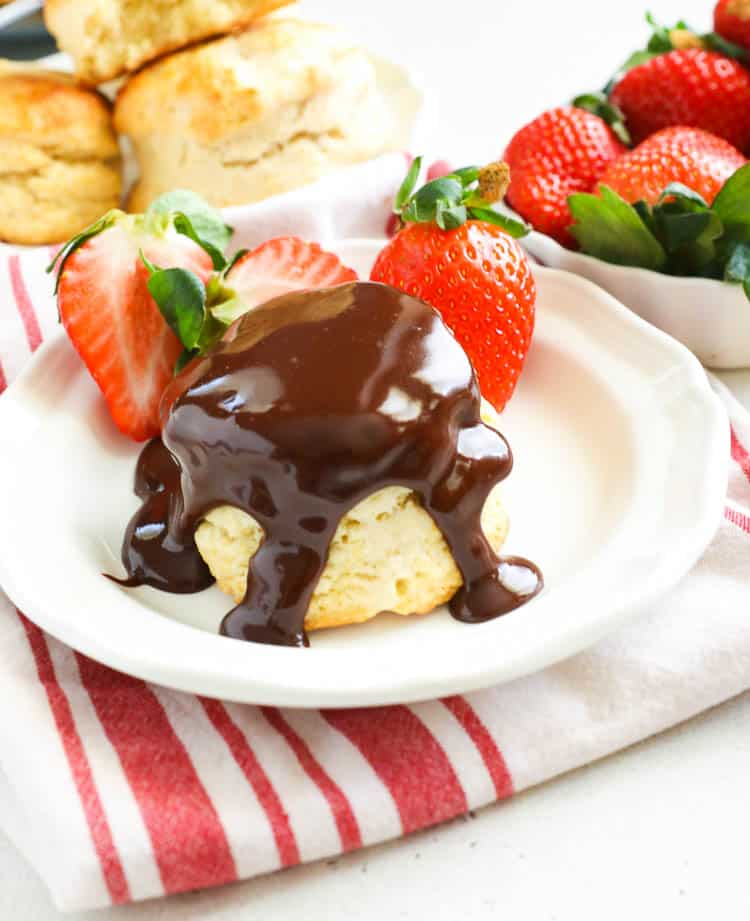 It might sound strange, but trust me when I say that when you try these chocolate biscuits and gravy, you may never want to top your biscuits with a good old sausage gravy again.
Once you master the luscious chocolate gravy, you might start putting it on all kinds of other baked treats too.
Chocolate biscuit gravy goes best with the flaky homemade biscuits in this recipe, but it also goes great drizzled over angel biscuits.
If you're making a whole breakfast spread that includes biscuits and chocolate gravy, definitely include them alongside a western omelet and some southern-style fried potatoes.
After your chocolate gravy cools down to room temperature, you can store it in an airtight container for up to two weeks in the fridge. Keep biscuits in an airtight container on the countertop for 2-3 days or in the fridge for 3-4 days.
6. Red Velvet Cake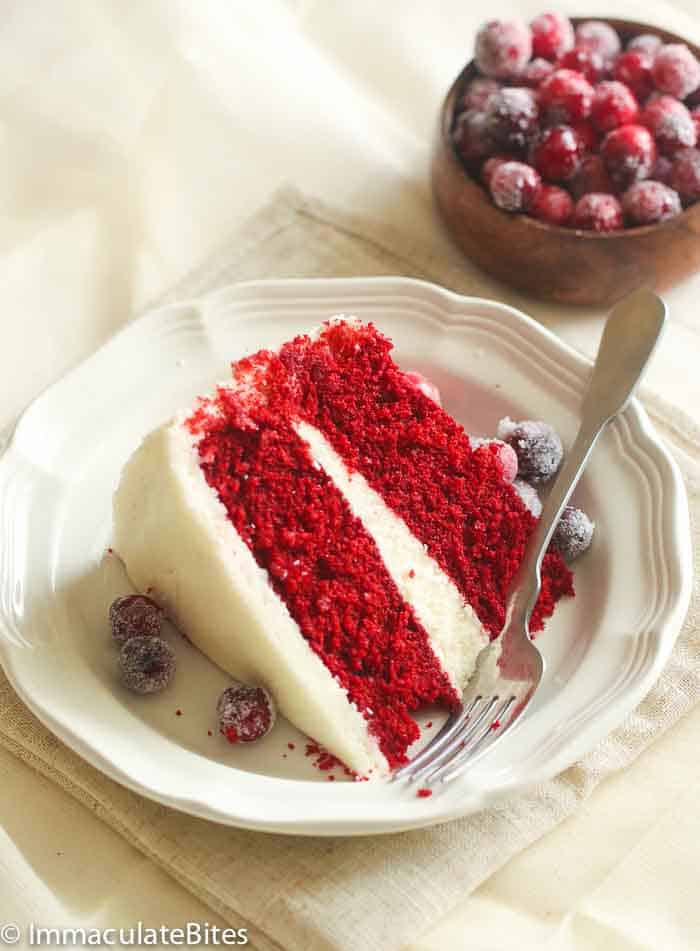 Vanilla, chocolate, and that subtle buttermilk tang make the flavors of a red velvet cake truly original. The iconic rich red color is a big plus, too, adding a flair elegance. It's not the easiest layer cake to make out there, but it's always worth the extra effort in the end.
You can top this cake with candied strawberries or chocolate-covered strawberries for some extra finesse. I also like to use candied pecans and even cake crumbs for decorations that turn this dessert a real showstopper.
You can store this cake unfrosted for a day in the fridge if you want to frost and serve it the next day. Frosted cake leftovers will stay fresh in the fridge for 3-5 days if you cover them loosely with plastic wrap.
7. Chocoflan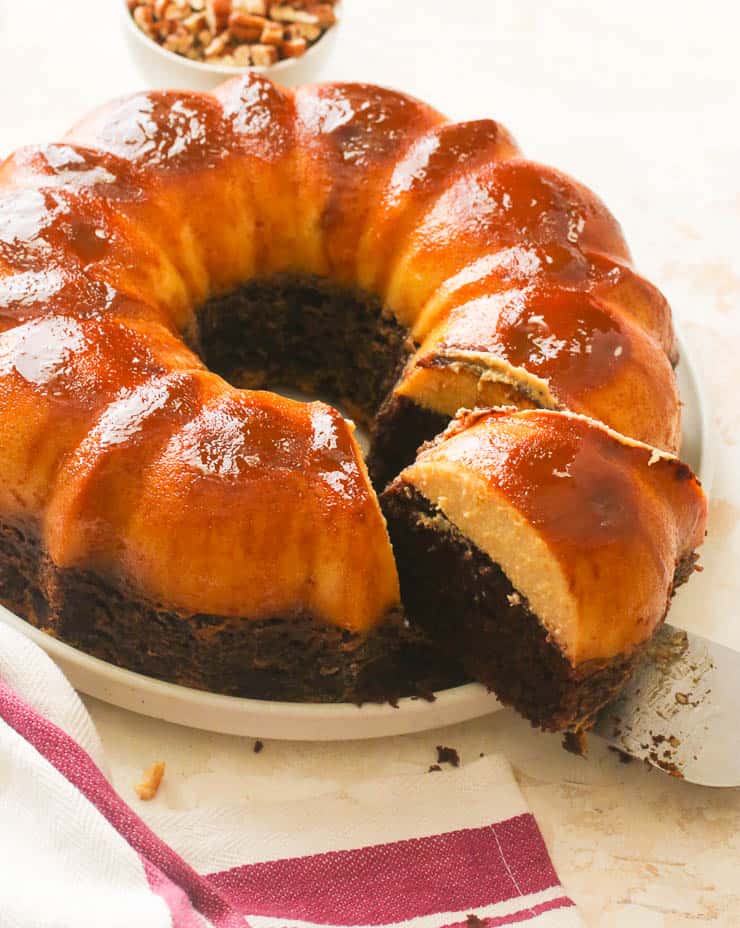 If you thought flan was good, wait until you try this chocoflan. It has all the deliciousness of regular flan plus chocolate cake and a scrumptious Mexican caramel sauce called Cajeta. It also looks beautiful, making it perfect for special occasions.
Chocoflan looks gorgeous when topped with some crushed candied pecan crumbles. And on a side note, technically, you could use regular caramel sauce for this recipe, but the Cajeta really adds something special.
Plus, once you get good at making the Cajeta, you can use it as a filling or dip for churros too! 🤤
This chocoflan is even better the next day. If you have any leftovers, you can store chocoflan in the fridge in an airtight container for 3-4 days.
8. Mississippi Mud Cake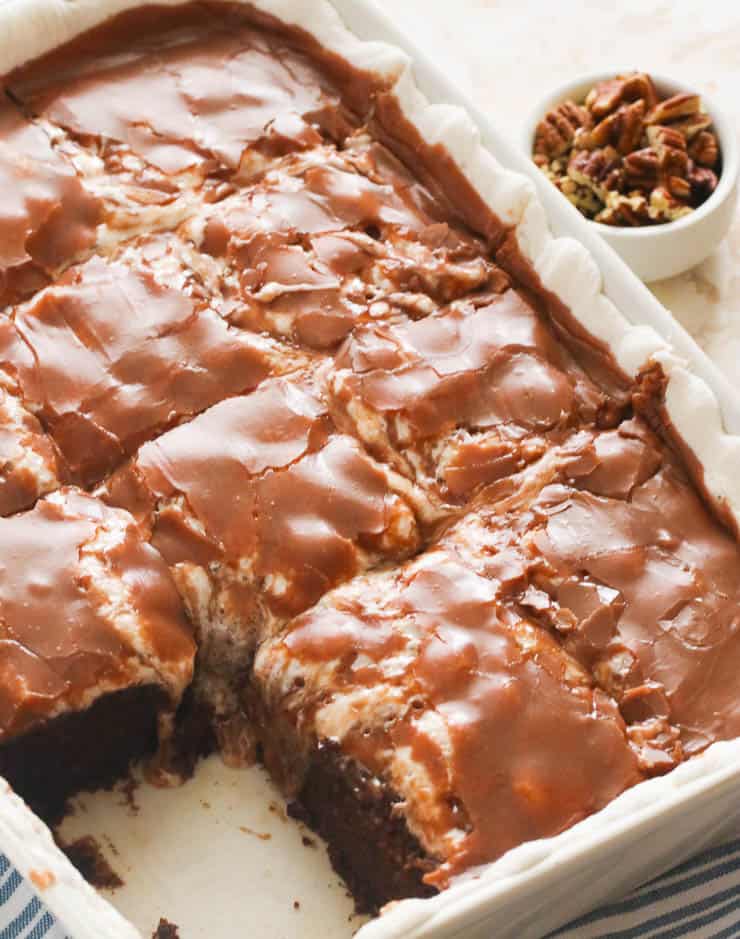 Gooey, melty marshmallows, and a warm chocolate frosting give this cake a muddy appearance that is somehow highly appealing. It's rich, it's dense, and it's decadent. The cocoa powder makes it extra chocolatey for the win.
I like to keep some homemade whipped cream on hand when I make this cake. I add a spoonful to my coffee and another spoonful over my slice of cake for best results. 🙃 Walnuts are optional for a garnish too, but again, candied pecans would work great.
Store this cake covered in the fridge, and it will keep for up to a week!
9. Tiramisu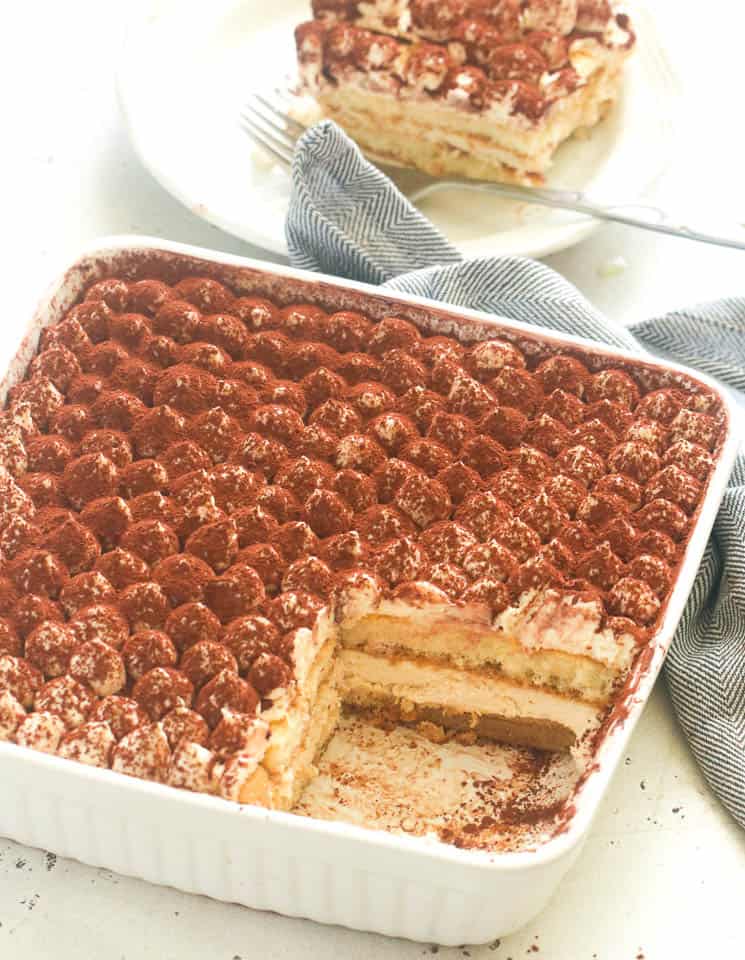 Because everyone loves a good slice of tiramisu, I've got two versions of this recipe ready for you to make – a classic one with eggs and a quick version that only takes 20-minutes. Crowd-pleasing dessert? Absolutely. Respectable breakfast food? I vote yes! 😆
Tiramisu always goes terrific with a piping hot cup of coffee, but if you want something a little more "outside the box," pair it with a chai tea latte or a blended Thai iced coffee – so refreshing!
You can freeze tiramisu wrapped in plastic wrap and foil for up to three months. Or you can keep this dessert in an airtight container in the fridge for up to four days.
10. Devil's Food Cake
Don't worry; devil's food cake is less sinister than it sounds. It packs a rich punch thanks to the cocoa powder, and it will definitely satisfy your sweet tooth. It's also a breeze to make.
Serve this treat with ginger tea to offset the sweetness or a glass of homemade lemonade on a hot day. Make it an extra comforting dessert by adding a scoop of rum raisin pineapple ice cream on top of each slice you serve.
Store devil's food cake in an airtight container. It will stay good for about two days.
11. Flourless Chocolate Cake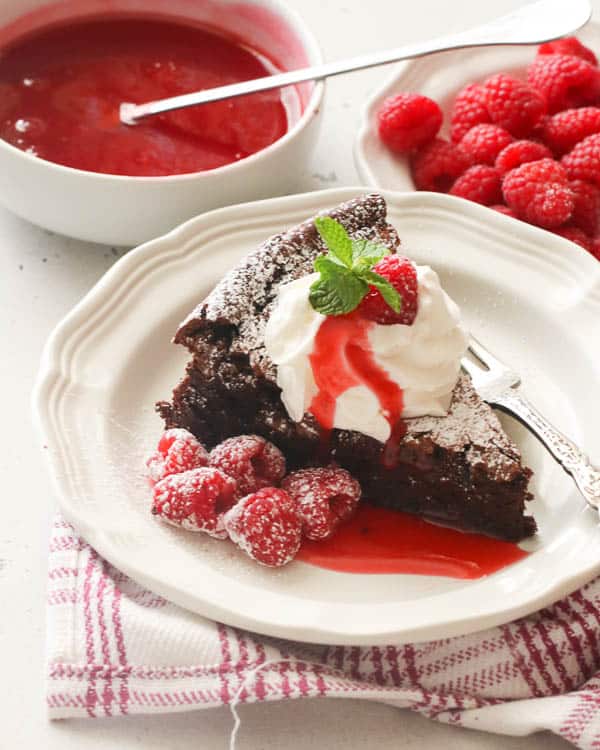 Ok, let's start by highlighting that you only need seven ingredients to make this gourmet-style cake. SEVEN!
And besides that, it's rich and fudgy and perfect for serving up to all your gluten-free friends. Plus, homemade raspberry sauce – need I say more?
One thing I especially love about this cake is there are so many options for topping it! You can use fresh berries, powdered sugar, crushed candy canes, caramel sauce, whipped cream, chocolate ganache, or candied pecans. You've got options for days.
Cover this cake before you store it. It will stay fresh for two days at room temperature or five days in the fridge.
12. Chocolate Zucchini Bread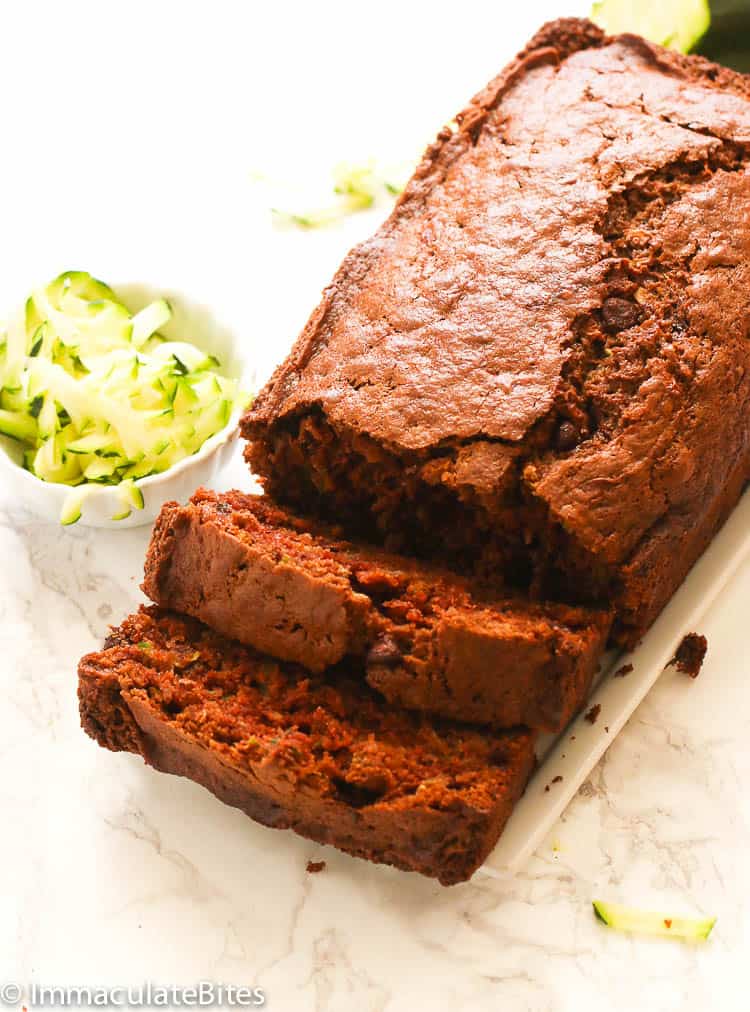 This recipe makes a tender loaf with a crusty top that is to die for. Cocoa powder and zucchini come together for a bread that's perfect for an afternoon snack or a breakfast loaf. It's also an excellent way to get your kids to eat zucchini. 🤫
Coffee goes wonderfully with this bread, as does a warm cup of ginger tea. Though, I've been known to indulge in a slice (or two) along with a chai tea latte too.
Store chocolate zucchini bread in an airtight container in the fridge for up to a week. If you prefer to keep it at room temperature, eat it up within two days.
13. Chocolate Chess Pie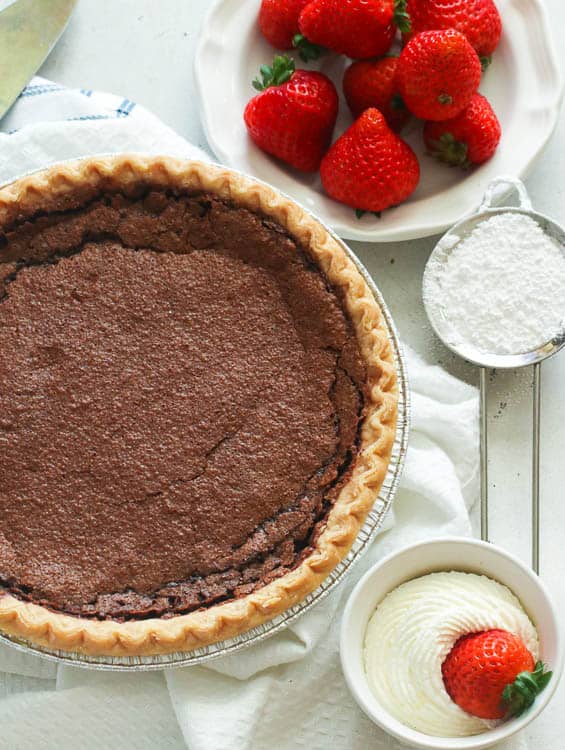 Chocolate chess pie is similar to regular chess pie but with chocolate flavor instead of lemon and buttermilk. It's a Southern gem that lands somewhere between a brownie and a pudding pie. There's plenty of chocolate flavor here to love since the recipe includes both chocolate chips and cocoa powder.
Top this pie with homemade caramel sauce, whipped cream, berries, or just a coating of powdered sugar.
Store leftover chess pie in an airtight container in the fridge. Be sure to finish off your pie within 3-4 days.
14. Chocolate Puff Puff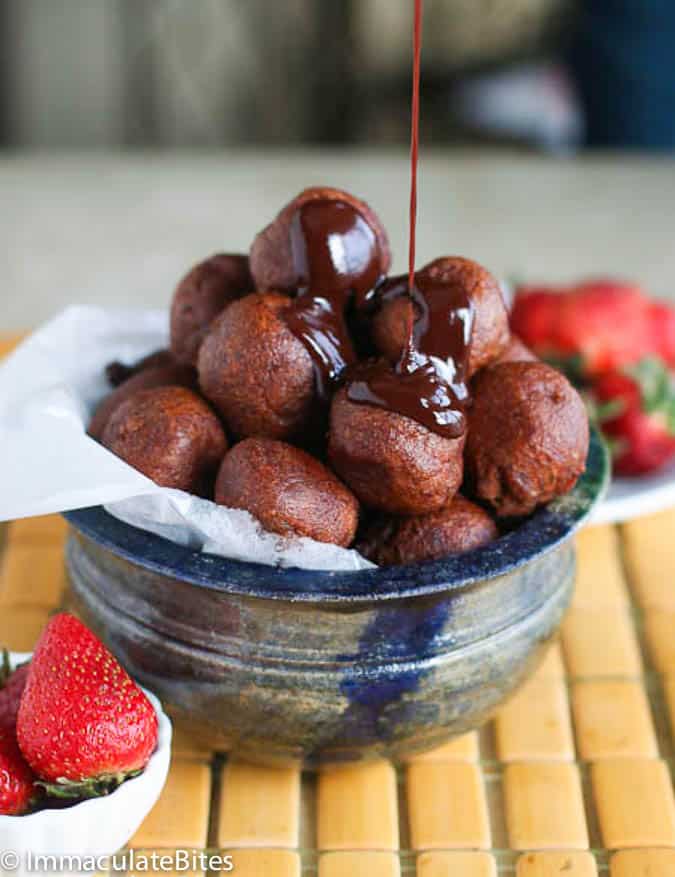 Deep-fried dough is where it's at! But deep-fried CHOCOLATE DOUGH – that's taking it to another level altogether. This crunchy on the outside, chewy on the inside, African-inspired treat will have you swooning.
This recipe features a chocolate dipping sauce, but I say why not make a caramel sauce for dipping too! Serve 'em up with a chai tea latte for bonus points.
Store the puff puffs separately from the chocolate sauce. Keep both in airtight containers in the fridge until you are ready to reheat them. They'll keep for 3-4 days.