Need to find a good Mayonnaise substitute? Its silky, rich, and tangy flavors just really combine well with other food. But, that one big spoon load of calories just makes me think of a better alternative to it, something good and tasty.
Don't get me wrong, I love mayo for its many uses for a variety of my dishes here. I use it for salad dressings, sauces, and even to sear a steak. Yes! Because mayonnaise doesn't burn as much as butter would plus it also gives a nice crust to the meat. Trust me, you wouldn't even taste the difference once you're done searing. Amazing, right?
Being a food blogger and trying to be fit is a big task! Even so, I still want to look for a healthy alternative to mayo because I want to curb my calorie intake as well as to help keep me fit (tiny steps for bigger results).
Mayo Substitutes
1. Sour Cream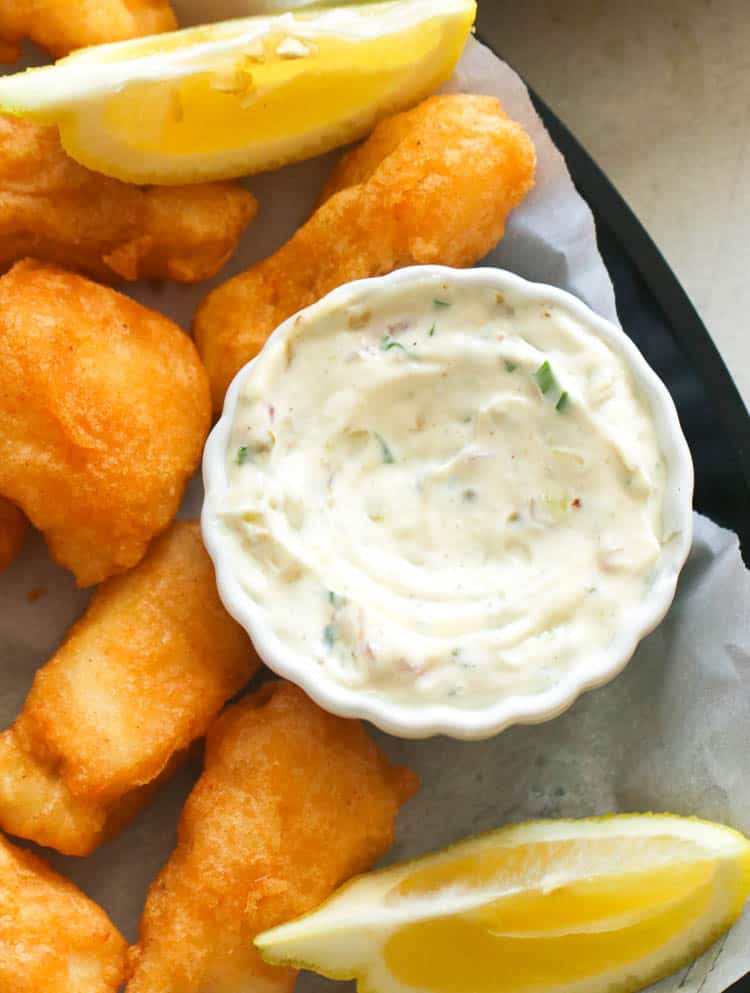 Fewer calories with a light tangy taste are what you get when using sour cream. Substitute mayonnaise with a 1:1 proportion and make this delicious and tangy Homemade Tartar Sauce. Go ahead dip your crispy fried fish or chicken in it. Enjoy!
2. Greek Yogurt
A thick and tangy taste that is also a good source of protein and contains a lot of calcium. This is another healthy alternative to mayo, and with enough seasoning, you can use it in salads and make a creamy Coleslaw Dressing and even as a tenderizer in marinades like this savory Greek Chicken Marinade.
3. Mustard
If it's for making sandwiches and dressings, then mustard is a good mayonnaise substitute for the fact that it gives fewer calories than mayo. Plus, you can choose from different types of mustard- from the classic Dijon to Chinese mustard that has different spice levels.
Use it in making wraps, sandwiches, and dressings. You can also make a sweeter Honey-Mustard Dressing.
4. Cottage Cheese
Cottage cheese has a milky and tangy flavor with a creamy texture, making it a good mayonnaise substitute. It's also a good protein source and could work well in sandwiches and salads. Add some Everything Bagel Seasoning to it for an extra delightful spread.
5. Aioli
You can also say garlic and oil sauce, which is a good mayo substitute for its texture similarity and savory flavor. Aioli is made by emulsifying garlic and oil with salt, you can also add lemon juice for an extra tangy flavor. Use this as a dip, spread it on toast, dressings, and a lot more.
6. Butter
A good substitute for mayonnaise because of its creamy and rich flavor. You can put butter on your freshly baked bread, pasta dishes, sauces, and pan-seared meat! You can also add herbs and seasonings and turn it into herb butter. Lovely, isn't it?
Speaking of butter, this delicious Homemade Garlic Bread is a classic favorite that uses compound butter. Try it!
7. Egg
Texture and flavor-wise, the egg is definitely a good substitute for mayonnaise with its creamy and rich flavor. A classic Caesar Salad Dressing even has fresh eggs in it (I just use mayo as a dressing base on my recipe).
Vegan Mayo Substitutes
8. DIY No-Egg Mayonnaise (Vegan Mayo)
This works especially when using a hand mixer or using handheld immersion blenders. It's very easy to make. Just use my homemade Immaculate Bites' Mayonnaise Recipe and substitute egg with ⅓ cup of other vegan-friendly ingredients like avocado and soy milk.
But if you are stressed out that your mayo would split, then, you can add ½ teaspoon of Xanthan gum or soy lecithin (or other vegan-friendly emulsifiers) to make sure that it's emulsified.
9. Avocado Puree
This fruit is known for being versatile as it can be used in many dishes. Plus, it's cholesterol-free with some of the good fats, hence it's a good mayonnaise substitute. Spread it on toast as you would with your regular mayo. Kick it up a notch and add some minced tomatoes, onions, and peppers with a drizzle of lemon juice. Holy Guacamole!
10. Cauliflower Puree
This vegetable tastes neutral and its opaque white makes it a good mayonnaise alternative. Just add a little of another seasoning like salt, pepper, and a drizzle of olive oil, and you can already mix it to coleslaw, potato salad, or spread it on Pita Bread. It's a light yet filling snack!
11. Chickpeas Puree
This superfood is one of the healthiest mayonnaise substitutes. It's full of vitamins and nutrients that help boost body energy and a base ingredient for the famous Hummus. Its smooth and creamy taste can be made into dressings, spread for sandwiches, salad, and even pasta.
12. Roasted Eggplant
A spongy fruit from the nightshade family. Its taste is mild but rich when cooked. This is a good mayo substitute because of its mushy and flavor absorbing properties especially when you roast and puree it.
Make an eggplant bruschetta (you can also try this lovely Bruschetta of mine) with roasted eggplant puree, sundried tomatoes, chopped fresh basil, and drizzle with olive oil. That's gonna be a flavorful snack or lunch!
13. Dairy-Free Pesto
Leave out the cheese and mix together fresh basil, roasted pine nuts, garlic, and olive oil then puree. I'm pretty sure it tastes different than mayo but you'll get this savory and healthier spread for your salad, sandwiches, and paninis. Have it with dairy-free mozzarella then toast it a bit and top it with arugula. So much better!
14. Olive oil
It doesn't have the mayo texture. But it gives an extra depth of simple aromatic and fruity flavor. Simply drizzle it in your salad, toast, savory bread such as Focaccia Bread, and other dishes. Most of all, it's waaay healthier than mayo.
Make Your Own Homemade Mayonnaise
If you're not in a rush to get a mayonnaise substitute, then, maybe you can spare some 10-minutes of your time to make this 4-ingredient mayo recipe.
You'll also be sure that it's preservative-free, aside from that it's creamy and flavorful! Plus, I also included some valuable tricks and tips for the best ever mayonnaise!
Recipes Using Mayonnaise
Now that you've seen my list, I think you already get the idea that in substituting something, the alternative must have, if not all, the texture, flavor, and benefits of the original ingredient replaced. Plus, healthier shouldn't mean tasteless but instead, it should be better. 😉