Cajun Shrimp Boil – an easy and tasty classic shrimp boil with baby red potatoes, corn on the cob, and Andouille sausages generously seasoned with Creole Seasoning and garnished with lemon for a fresh and vibrant summer outdoor meal ready in less than an hour.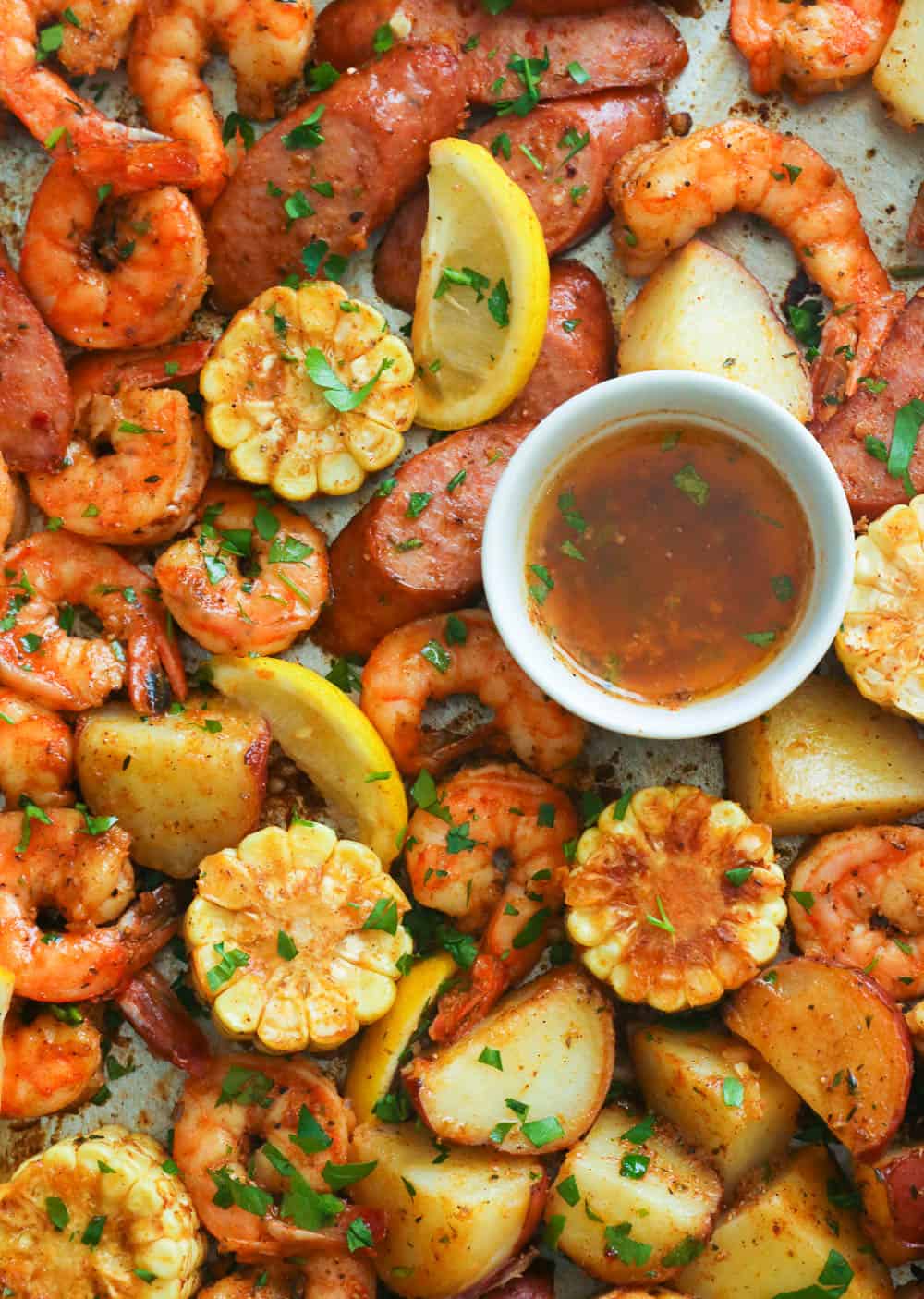 Nothing screams summer to me than outdoor meals like this easy cajun shrimp boil recipe here. In fact, it's on top of my list of go-to summer meals when I feel so lazy grilling outside. If you think grilling is easy enough, this one here is the most-laid back summer meal you could ever have.
You just have to generously season the shrimps, potatoes, sausages, and corn, mix it well. Transfer them to a baking sheet and bake them for a few minutes and you're all set for a wonderful meal.
And the best part?
It's a delicious meal with little to zero clean-up! Now, what's not to love? It's a must-try summer weeknight meal. All you'd ever worry about is how to make everything fit in your belly. 😉
Enjoy!
What is Seafood Boil?
Seafood Boil is generally a term referring to different types of social events that involves shellfish, like crawfish, shrimp, and crabs. The Crawfish Boil is the most popular Louisiana Cajun Tradition. They even have Crawfish Boil Festivals. Churches and other organizations hold Major Crawfish Boils in Louisiana for fundraising events. While smaller events are mostly held with family and friends for a weekend get-together and on some Holidays like Memorial Day.   
The cooking preparation includes boiling, steaming, baking, or sometimes just raw. The kinds of seafood used and side dishes differ according to what Region Seafood boil is being held.
Traditionally, in Louisiana Shrimp Boil the ingredients are being boiled in the water to cook, drained, tossed in seasonings, and then being served. Immaculatebites Cajun Shrimp Boil on the other hand is not your ordinary Shrimp Boil. Because I like a little more action so I bake mine after coating the shrimps, potatoes, carrots, and sausages with my special secret sauce. You'll know more about my secret as you read along. 😉
Recipe Ingredients
Shrimp

– The star of the show. What I like about shrimp is that not only it's high in protein but also low in carbs, calories, and fats.
Baby Red Potatoes – Because of their low starch content, they are able to keep their shape even when boiled or roasted. Plus, they also have a creamy texture because they are high in moisture. 

Andouille Sausage

 – Has a unique distinct flavor with a coarse, smoky, and sharp taste. The sausage is already cooked so you can cook it along with shrimp and corn without worrying if it will come out raw.
Corn – I suggest using sweet corn. It is naturally sweet and has an extra crunch when you bite on it. If you have extra corn, you can also try my Oven Roasted Corn on the Cob or click here to learn How to Boil Corn.
Creole Seasoning – is the secret to the best Cajun boil recipe. I suggest buying the Salt-free Creole Seasoning. If you can't find any, try Immaculatebites Creole Seasoning here. 
Minced Garlic – By cutting garlic into smaller pieces you can really get the flavor and aroma to soak into the shrimp, potatoes, and corn. You can use store-bought or mince it yourself by cutting into tiny pieces using my guide, How to Mince Garlic.
Thyme – The subtle minty and earthy flavor with a hint of sweetness and floral notes add character to this dish.
Butter – A super versatile ingredient that gives your seafood boil a moist and flavorful sensation.
Salt and Pepper – The ultimate seasoning duo. Without these two, any dish will taste bland.
Onion – This is optional. I prefer to use yellow onion since it's sweeter and has a nice astringency taste. You can also check How to Cut Onions here. 
Lemon – Is used for garnishing to make it more inviting and appetizing. It also masks the distinct "seafood" smell and taste.

Cilantro 

– For garnishing. I personally love the aroma and fresh flavor but if you are one of those who doesn't like cilantro, just leave it out completely.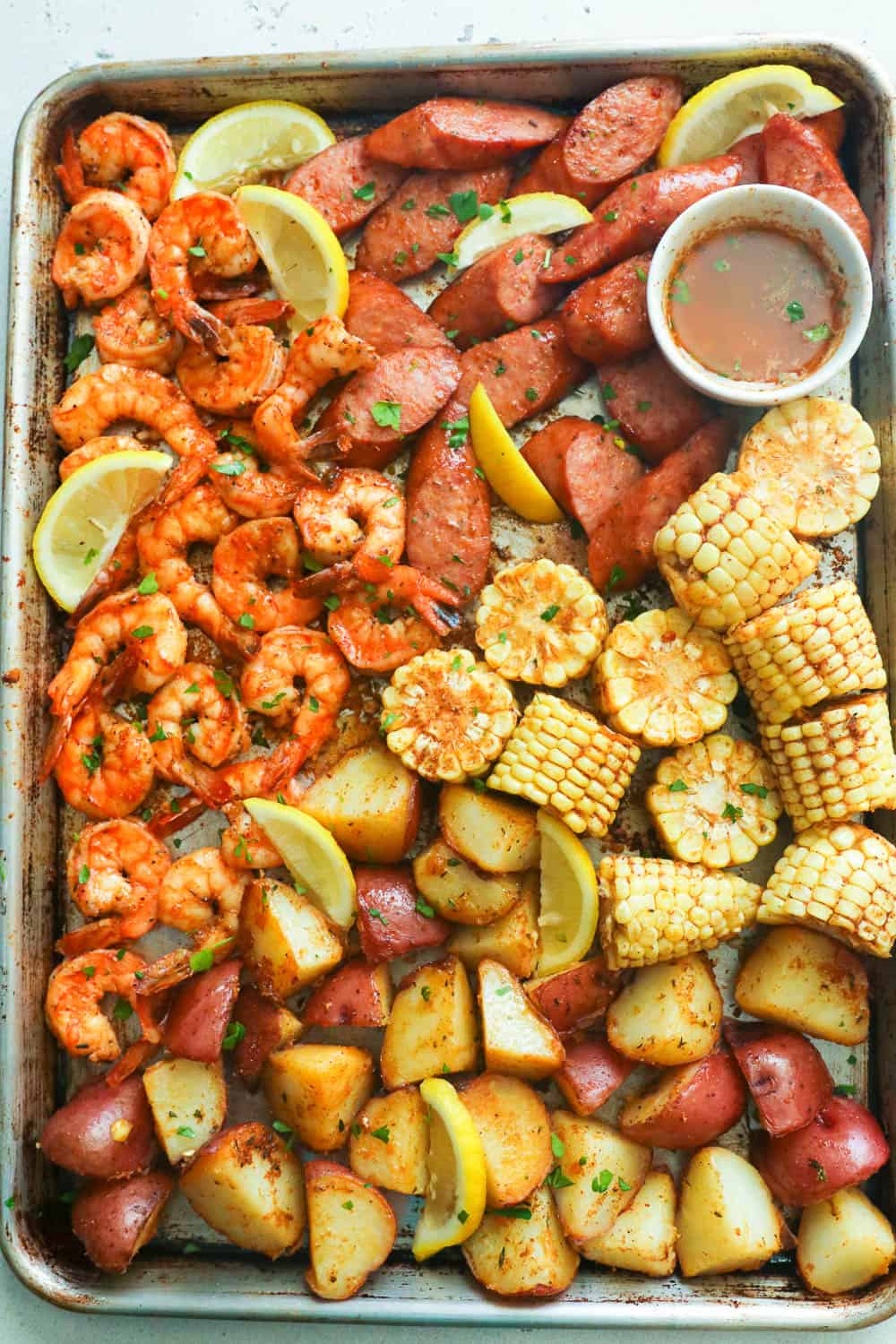 Recipe Substitution and Additions
Andouille Sausage Substitutes
Kielbasa Sausage – is a smoked sausage often made with pork. It has a distinct garlic flavor and with a kick of heat.
Smoke Beef Sausage – is very similar to Andouille Sausage. Coarse ground smoked sausage, lightly spiced, and less garlicky.
Chinese Sausage or Chinese Chorizo – is generally sweet and salty in taste, perfect to use if you want to add some Asian touch to this dish.
Vegan Sausage – yes, they exist! Mostly, they are made from buckwheat flour, white beans, or tofu.
Additions
Lobster – If you have extra bucks to burn, why not? It will make your dish extra special and fancier.
Crabs – like shrimp and lobster, it has a delicately sweet taste bursting with flavors. Just add crab and you'll have a Cajun shrimp recipe boiling crab.
Clams – has a salty taste chewy texture.
Mussels – like clams, it has an "oceany" salty flavor with a slightly chewy texture.
Bell Peppers – to add more color and veggies to your Cajun Style Shrimp Boil. The contrasting taste of bitterness and sweetness adds character and depth to the dish.
Chili Peppers – Serrano, Jalapenos, or Scotch Bonnet Peppers are the best choice to make mouthwatering spicy Louisiana Shrimp Boil.
Note: It is better to precook these kinds of seafood before putting them in the oven or grilling them in foil packets to ensure even cooking.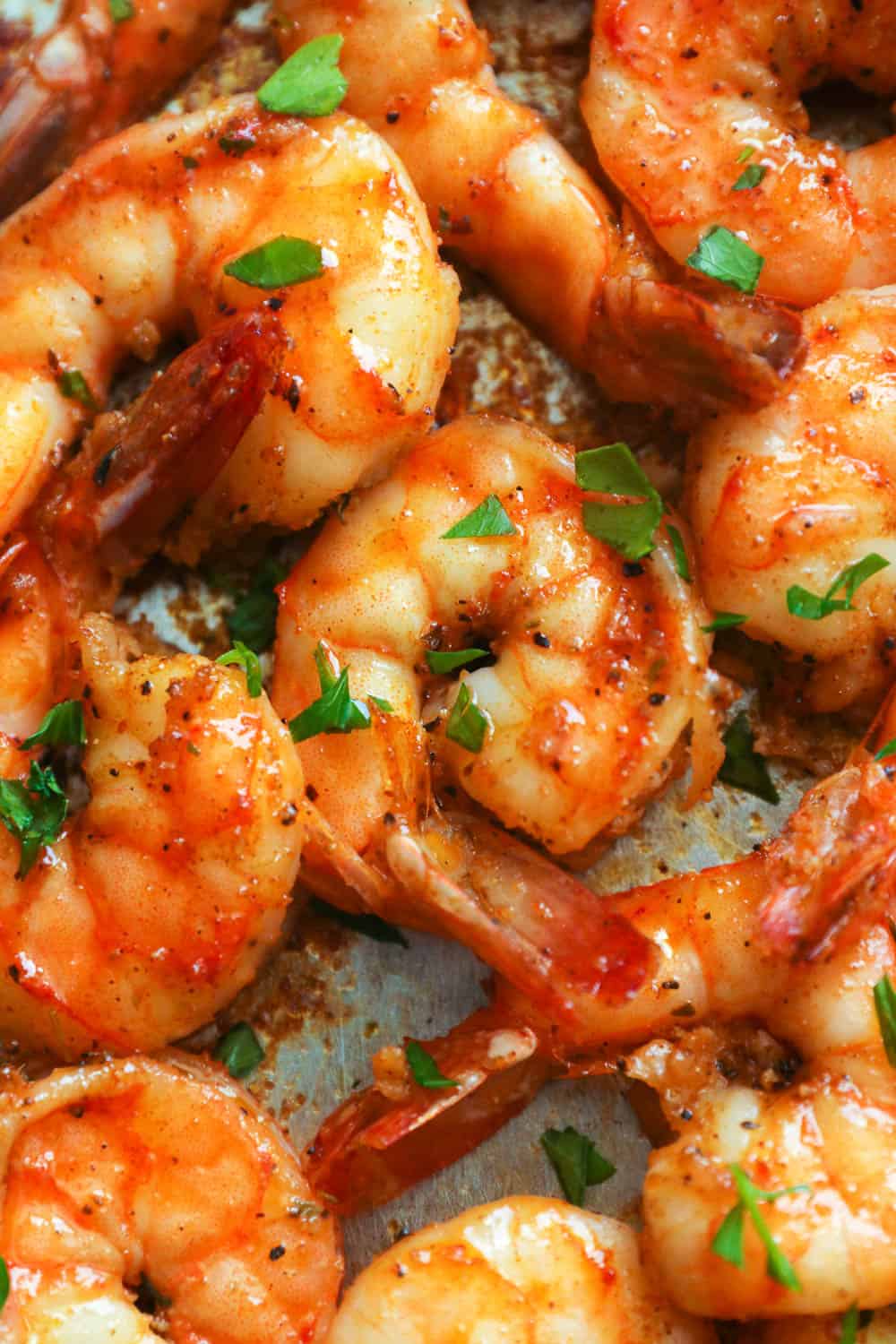 How to Peel and Devein Shrimp?
Peeling and Deveining shrimp is very easy to do especially on large shrimps. It is done mostly for aesthetic purposes and nothing to do with hygiene.  You can skip this process for small shrimps. Though it is called deveining, the black "string" found in the shrimps are actually their digestive tract and are not harmful when eaten. 
Just follow these steps to peel and devein your shrimps easily:
Remove the head and legs.

Peel the outer shell starting with the head end. Keep the last part of the shell with the tail tip, for decorative purposes.

Using a paring knife, make a shallow cut on the outer edge of the shrimp's back about a half-centimeter deep until you see the vein.

Pull the vein with your fingers or using the tip of a paring knife.

If you want to keep the shells on, make a shallow cut on the shell and the outer edge of the shrimp's back using kitchen scissors and pull out the vein.

Gather the shells and place them in a secured plastic bag and discard them properly or you may freeze them to make shellfish broth or stock.
How Long to Boil Cajun Shrimp?
In Immaculatebites Cajun Shrimp Boil Recipe, only the potatoes and corn need to be precooked. Both are being boiled in water for about 8-10 minutes since they take a longer time to cook. While the shrimp and sausage are being baked along with precooked potatoes and corn for about 12-15 minutes.
How long to boil shrimp depends on the size of the shrimp used. Shrimps cook very fast, as soon as they changed into a bright orange color you'll know they are done.  Small to medium shrimp only takes 30 seconds to 1 minute to cook and large to jumbo ones will take about 2-4 minutes to cook. So you really need to watch out to avoid overcooking the shrimp.
More Tips and Tricks at the end of the recipe card. Don't forget to check it out! 😉
Making Ahead and Storage Instructions
Make-Ahead
You can literally prepare everything ahead and pop them in the oven the next day.
Place the seasoned corn, potatoes, and sausage in a clean bowl, covered, and the seasoned shrimp in a separate container. So the "fishy" aroma of the shrimps won't be absorbed by the potatoes, corn, and sausage.

Or line the seasoned ingredients in a single layer on the baking sheet and cover with a cling wrap. Again, place the shrimp in a separate container.

Refrigerate for up to 24 hours.

Proceed with cooking instructions and add extra 5 minutes to cooking time.
Storing Leftover
You can place them in foil packets or airtight containers.

Refrigerate for up to 3 days.

Reheat in the oven at 350°F for 10-12 minutes or Microwave on high for 3-5 minutes.
What to Do with Leftovers?
Soup – you can turn it into a creamy cajun shrimp chowder or cajun shrimp soup.
Omelette – get the corn off the cob and then chop the sausages, shrimp, and potatoes into small cubes. Add them to scrambled eggs or make an omelette.
Pasta or salad – you can add them to pasta or salad of your choice.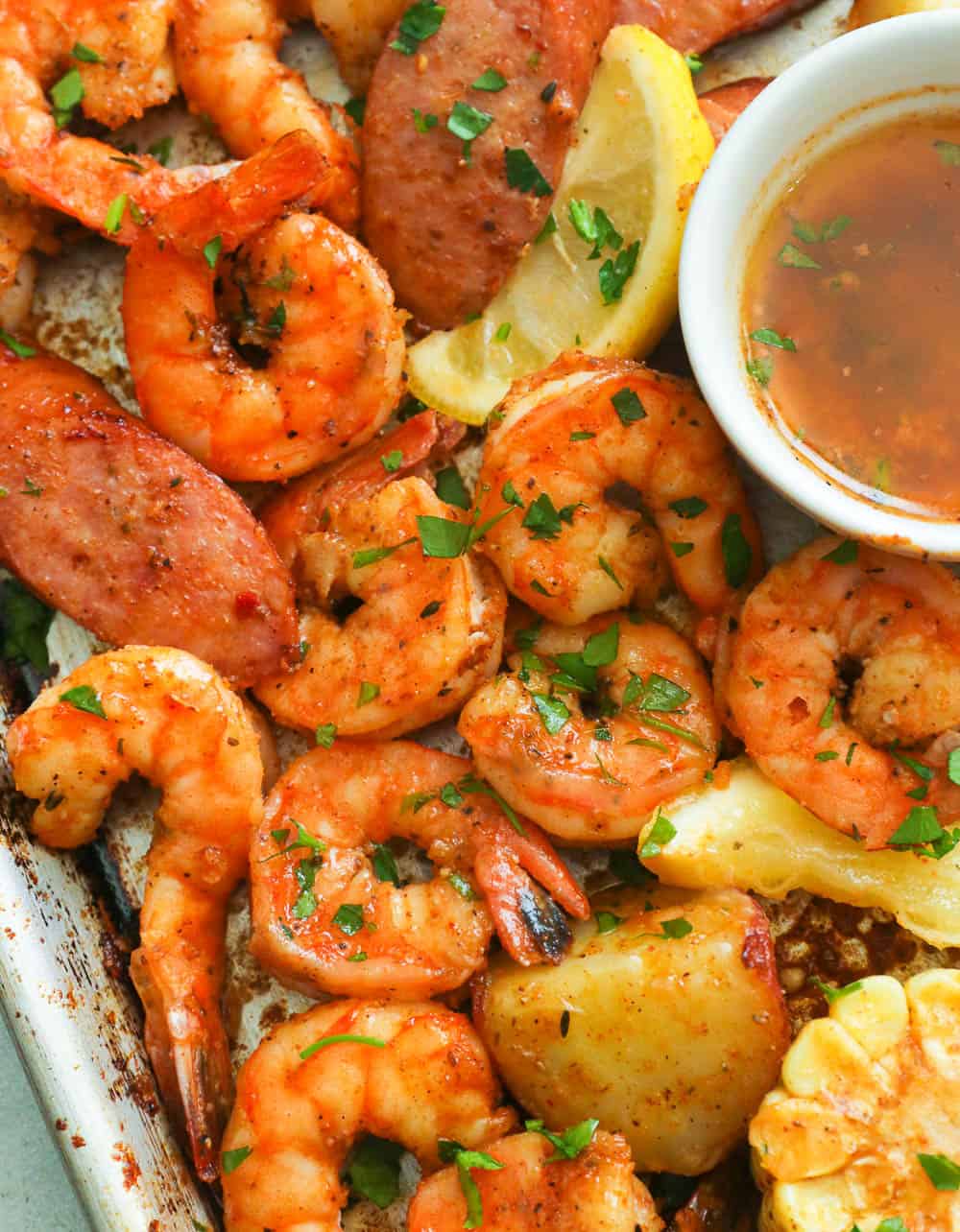 What to Serve with Shrimp Boil?
While waiting, you can make your side dish for a complete summer outdoor meal. You can work your way through the recipes below.
More Southern Seafood Recipes to Love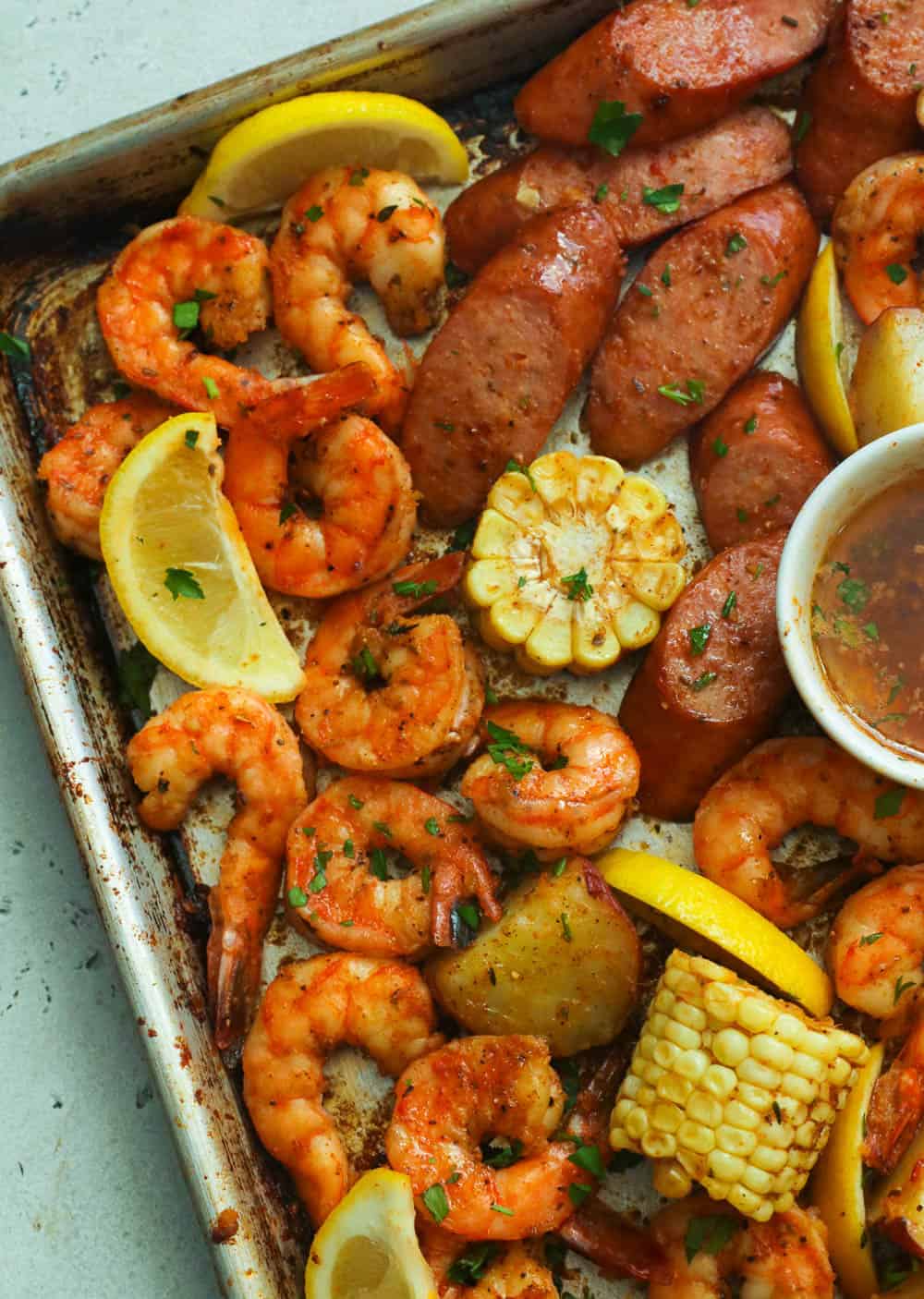 How to Boil Shrimp Cajun Style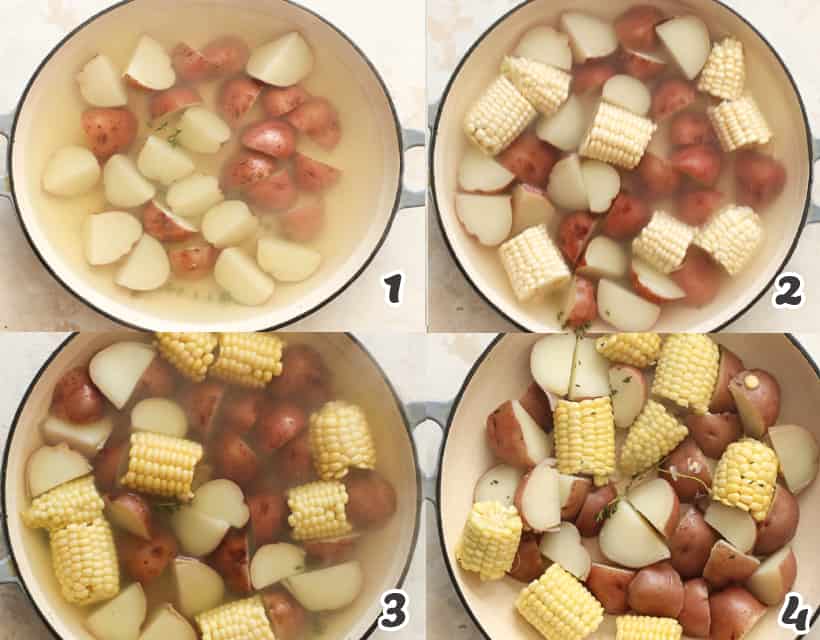 Precook Potatoes and Corn
Preheat oven – to 400 degrees F. Then spray with a nonstick spray and set aside.
Boil potatoes – fill a large pot with water, season with salt, and then add the potatoes, and thyme sprigs. Cover and bring to a boil, then reduce to a simmer and cook about 8-10 minutes or until tender. Potatoes should be firm. (Photo 1)
Add corn – and cook for 3-5 minutes. Drain water. (Photos 2-4)

Make the Creole Butter Sauce
Combine – in a small pan, combine the butter, creole seasoning, garlic, and thyme. You may also add onions. (Photo 5)
Heat and saute – in medium-low heat, saute them for 30-60 seconds and remove them from heat. (Photo 6)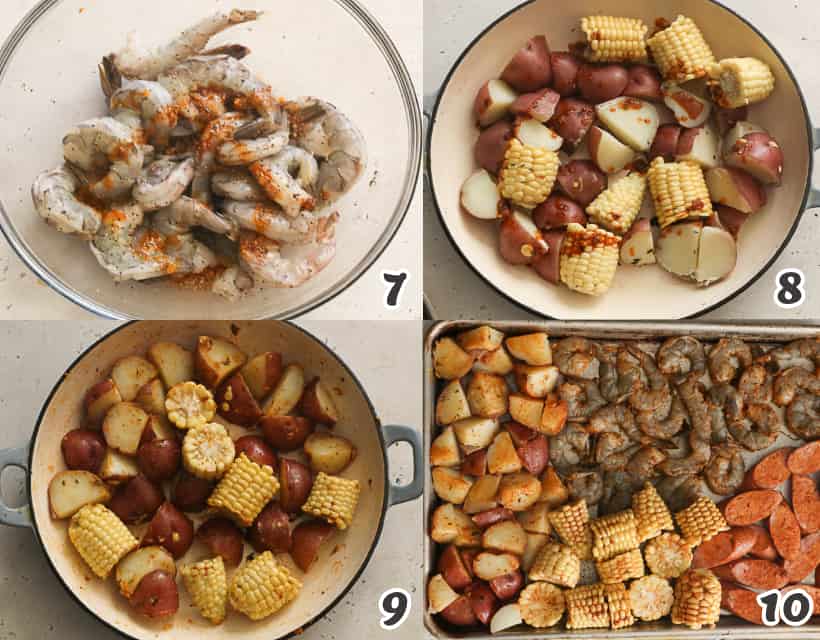 Season and Bake
Coat with Creole butter sauce – add the Creole butter sauce to the shrimp, potatoes, and corn and give it a stir until everything is evenly coated. (Photos 7-9)
Line and season– line them in a single layer on a baking sheet and add the sausages. Sprinkle with salt, pepper, and Creole Seasoning. (Photo 10)
Bake – Bake for about 12-15 minutes, or until shrimp is pink and cooked through.
Serve – Garnish with sliced lemon and chopped cilantro.
Grilling and Packets
Divide into 3-4 portions – Divide between 3-4 packets of aluminum foil. Fold edges of foil up around the food to close the packet, for heat retention and keep liquids in.
Grill – Place on preheated grill over medium-high heat for about 8 minutes per side.
Serve – Serve immediately garnished with lemon wedges.


Print

Cajun Shrimp Boil

An easy and tasty classic shrimp boil with baby red potatoes, corn on the cobs, and andouille sausages generously seasoned with creole seasoning and garnished with lemon for a fresh and vibrant summer outdoor meal ready in less than an hour.

Ingredients

salt

to taste

2

small

sprigs of thyme

1

pound (453 g)

baby red potatoes,

cut into large chunks

4

ears

corn,

cut into chunks

1/3

cup (76 g)

butter

1

tablespoon (12 g)

Creole Seasoning

2

teaspoon (6 g)

minced garlic

1

teaspoon (1 g)

thyme

1/2

onion,

sliced (optional)

1

pound (453 g)

shrimp,

peeled and deveined

12

ounce (340 g)

Andouille Sausage

salt and pepper,

to taste

2

lemons,

halved, plus wedges for serving

cilantro,

chopped, for garnishing

Instructions

Preheat oven to 400 degrees F. Then spray with a nonstick spray, and set aside.

Fill a large pot with water, season with salt then add the potatoes, and thyme sprigs. Cover and bring to a boil, then reduce to a simmer and cook about 8-10 minutes or until tender. Potatoes should be firm. Add corn and cook for 3-5 minutes. Drain water.

In a small pan, combine the butter, creole seasoning, garlic, and thyme. You may also add onions. In medium-low heat, saute them for 30-60 seconds and remove from heat.

Add the Creole butter sauce to the shrimp, potatoes, and corn and give it a stir until everything is evenly coated.

Line them in a single layer on a baking sheet and add the Andouille sausages as well.

Sprinkle with salt, pepper, and Creole Seasoning.

Bake for about 12-15 minutes, or until shrimp is pink and cooked through.

Garnish with sliced lemon and chopped cilantro. Serve with Creole butter sauce on the side.

Grilling and Packets

Divide between3-4 packets of aluminum foil. Fold edges of foil up around the food to close packet, for heat retention and keep liquids in.

Place on preheated grill over medium-high heat for about 8 minutes per side.

Serve immediately garnished with lemon wedges.

Tips & Notes:

Buy fresh and large shrimp.

If using frozen shrimp, make sure to thaw it first.

Use peeled and deveined shrimp for tastier shrimp and for easier eating.

Fresh sweet corn is the best to use, they are sweet with a slight crunch.

Make sure to cut the baby red potatoes in chunks and quarter the corn for it to cook through. 

Don't overcook the shrimp so they won't turn our rubbery and tasteless.

You can mix Andouille Sausage and Kielbasa Sausage for flavor variation.

Use salt-free Creole Seasoning. Use less salt if using Creole Seasoning with salt.

Add Serrano, Jalapeno, or Scotch Bonnet Peppers if you want to make your shrimp boil really spicy.

You can also replace Creole Seasoning with Old Bay Seasoning. 

Nutrition Information:

Calories:

610

kcal

(31%)

|

Carbohydrates:

31

g

(10%)

|

Protein:

50

g

(100%)

|

Fat:

32

g

(49%)

|

Saturated Fat:

12

g

(75%)

|

Monounsaturated Fat:

464

g

|

Sodium:

1877

mg

(82%)

|

Potassium:

1014

mg

(29%)

|

Fiber:

5

g

(21%)

|

Sugar:

6

g

(7%)