Indulge yourself with these amazing 8 Easy Air Fryer Recipes from entrees and appetizers to snacks. They are totally fuss-free, mess-free, and guilt-free. Eating fried food has never been this healthy! It's the ultimate dream come true. Thanks to our ever-reliable air fryer for making this possible! Hooray!
Undoubtedly, the air fryer is my new kitchen bestie! Not only does it makes our life easier with air fryer recipes, but it also lets us enjoy our favorite comfort food in a healthier version. And above all, you can air fry almost anything. Such an amazing tool, indeed!
What I love about these air fryer recipes is that I get to enjoy fried food without the greasy and messy oil spills and with less effort in cooking, too!
For example, air fryer potatoes and air fryer zucchini still come out incredibly crispy and tasty, even with little to no oil at all. And believe me, there's really not much difference in taste compared to the deep-fried ones. Truly magical! 😉
And because of that, maybe I'll come up with air fry desserts to try, too. So, watch out for that.
But for now, let these 8 Easy Air Fryer Recipes convince you to join the air fryer bandwagon!
Pros and Cons of Air Frying
Although an air fryer seems to be a good buy, there are actually a few things you need to consider before purchasing one.
For example, budget, your food preference, the size of your family, how often you'll use it, etc. So, I've listed a couple of pros and cons of having an air fryer to help you decide whether to purchase it or not.
Pros of an Air Fryer
Healthier Meals

– With an air fryer, you won't need much oil compared to regular frying. Therefore, that means fewer calories and less fat, too. In fact, you can cook your food in the air fryer even without oil.

Cooks Food Faster

– Unlike regular ovens, the air fryer takes only a few minutes to preheat. And considering its size, the heat is evenly distributed, resulting in more efficient cooking and quicker cooking time.

Easy to Use

– Obviously, because they are designed to make cooking easier. It's as easy as pushing a few buttons or turning knobs, and you're all set.

Safe to Use

– Since this appliance is self-contained, you don't need to worry about getting minor burns from oil splatters as you do when frying. Additionally, it automatically turns off once the timer is done. Thus, it prevents your food from burning. Unlike when using the stove or oven, where accidents mostly happen when you suddenly get busy and forget all about the food you're cooking. Oops!

Easy to Clean

– Compared to the deep fryer, the air fryer is easier to clean since we're using less oil. Although some of its parts are not dishwasher-friendly, so you'll need to clean them manually, too.

Space-Saver

– Because of its compact size, it doesn't take up so much space in the kitchen.
All-Around Cooking Buddy – Air fryers can do so many things such as frying, baking, roasting, grilling, broiling, and even reheating. More importantly, it can restore crispiness to your soggy fried chicken, fries, nuggets, and more. Depending on the size of your air-fryer, you can even roast a whole chicken or turkey, too!
Cons of an Air Fryer
Expensive

– There are lots of cheap air fryers available nowadays, however, we can't be quite sure of their quality. And more often than not, buying a cheap air fryer may be more expensive because it's easily broken. Obviously, the expensive and branded ones are guaranteed to perform well and are sure to last.

Not Ideal for Large Families

– You can only cook enough for small families because of its size. You'll have to cook in batches for big families and it will undoubtedly take more time when preparing meals.

Trial and Error

– Although cooking time and instructions are provided together with the manual, it will take a series of trials and errors before you get the desired results. Fortunately, there are lots of air fryer recipes available, including tips to make the learning process easier.

Limitations

– Just like any other appliance, your air fryer can only do so much. For instance, the size of the basket can't fit a large turkey for Thanksgiving. Also, the power cable is too short, thus finding a place to plug in the air fryer might be troublesome. Lastly, it can only be used for a limited amount of time given its small mechanism.

Possibly

Dry Food

– Yes, it's easier to cook in an air fryer. However, if used improperly, food tends to dry out because of the amount of heat in this compact appliance. Also, not all air fryers are the same. Some recipes might work on a certain brand of air fryer, and others may need few temperature and cooking time adjustments.
Two Kinds of Air Fryers
Basket Type

– This is the most common type of air fryer and is more affordable, too. It has a smaller capacity compared to a countertop convection oven. Also, it requires a little work, such as flipping or tossing the food when cooking. On the other hand, the paddle-type air fryer is more convenient to use because it is self-stirring. Of course, it costs more because of the added feature.

Countertop Convection Oven

– This has the same features as a traditional oven but is more efficient because the fan distributes the heat evenly throughout the oven. Also, it has a larger capacity compared to the basket-type. And it's more expensive as well.
FAQs
What does an air fryer do?
An air fryer is a popular kitchen appliance that cooks food in a healthier way by limiting the use of oil. Instead of frying with oil, it uses a fan to circulate hot air inside to cook food and produce a crunchy and crispy exterior. Basically, cooking anything with less oil.
What can you not cook in an air fryer?
For obvious reasons, you cannot cook wet-battered foods unless they're pre-fried or frozen because the batter will just fly all over. However, battered food coated with breadcrumbs and flour will work fine.

Green leafy vegetables are not advisable either, since they are light and thin. They will just fly around and get burned easily due to the high-speed air. You'll need something heavy to hold them down while cooking. Lastly, foods that easily melt should be avoided, too.
Can you put aluminum foil in an air fryer?
Yes! Unlike the microwave, it is safe to put aluminum foil in an air-fryer, provided it is secured and won't fly around inside. The rule of the thumb is, whatever you can put in the oven is also safe to use in the air-fryer.
Air Fryer Chicken Recipes
1. Air Fryer Southern Fried Chicken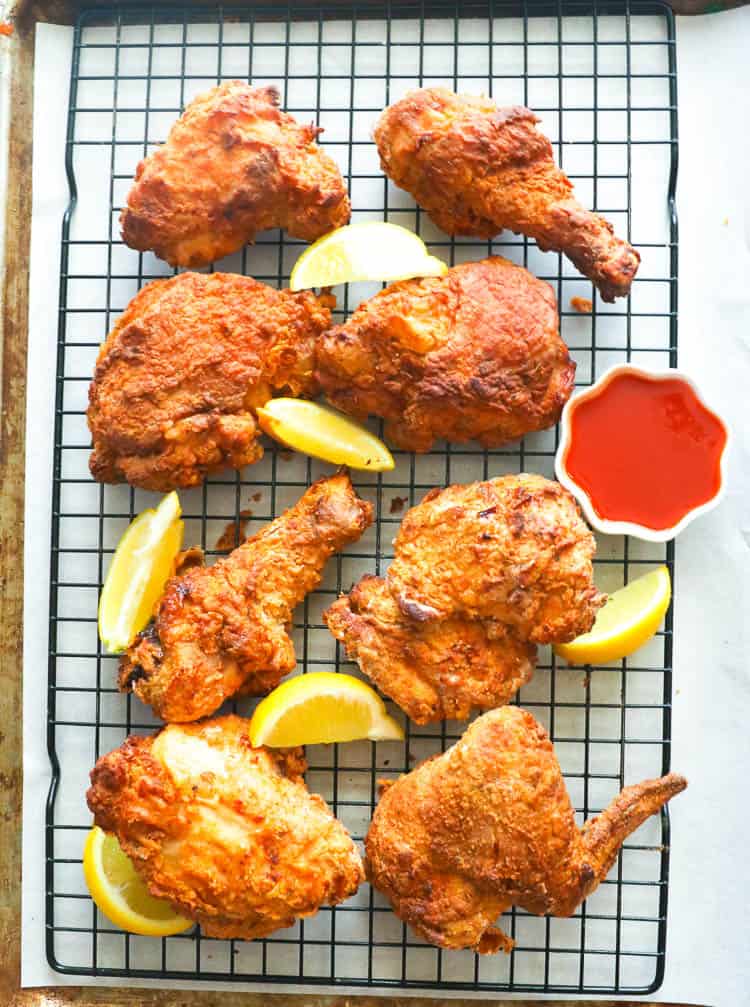 Obviously, this Southern Fried Chicken holds the top spot in the best air fryer chicken. Simply irresistible with its savory flavors from Creole Seasoning and paprika. Plus, it's guilt-free and grease-free but with the same crispy-licious and juicy-licious goodness. And it's done effortlessly without sacrificing the taste. Wow! 🤩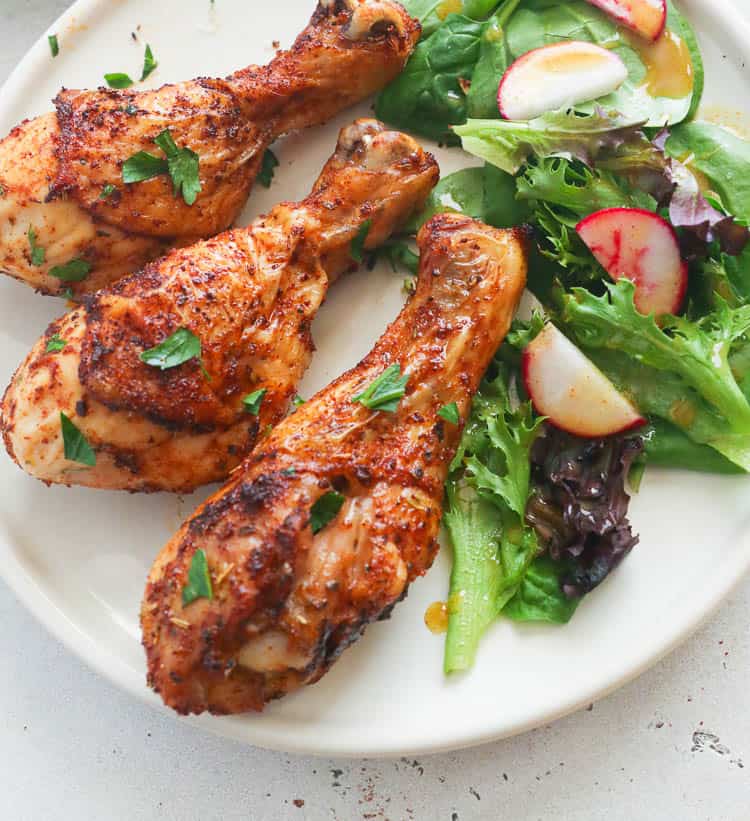 Another reason to love air fryer recipes! You can enjoy these tender and juicy herb-infused chicken legs without guilt. And it will still give you the same flavorful sensation minus the messy oil splatters. And the best part is… It's keto-friendly! Double yaaaay! Best eaten with a Tossed Salad to make it more filling and satisfying. 😉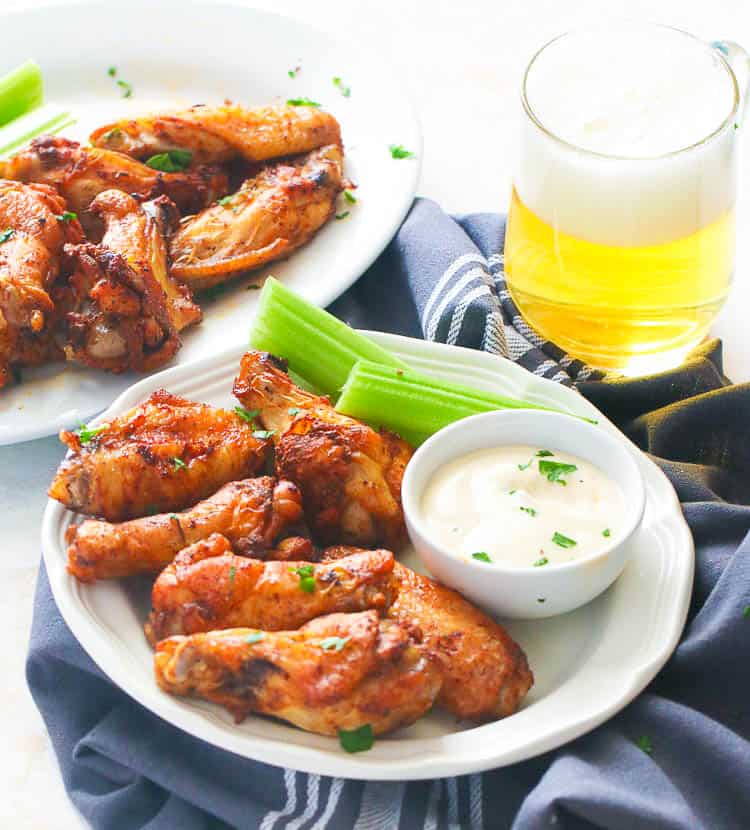 Not only are chicken wings the tastiest part of the chicken, but they're also the most affordable too. Amp up the flavor with thyme, paprika, and cayenne, and serve it with my Homemade Remoulade Sauce or BBQ Sauce for the ultimate comfort food satisfaction. Certainly, one of the best air fryer recipes you'll ever make!
Air Fried Appetizers and Snacks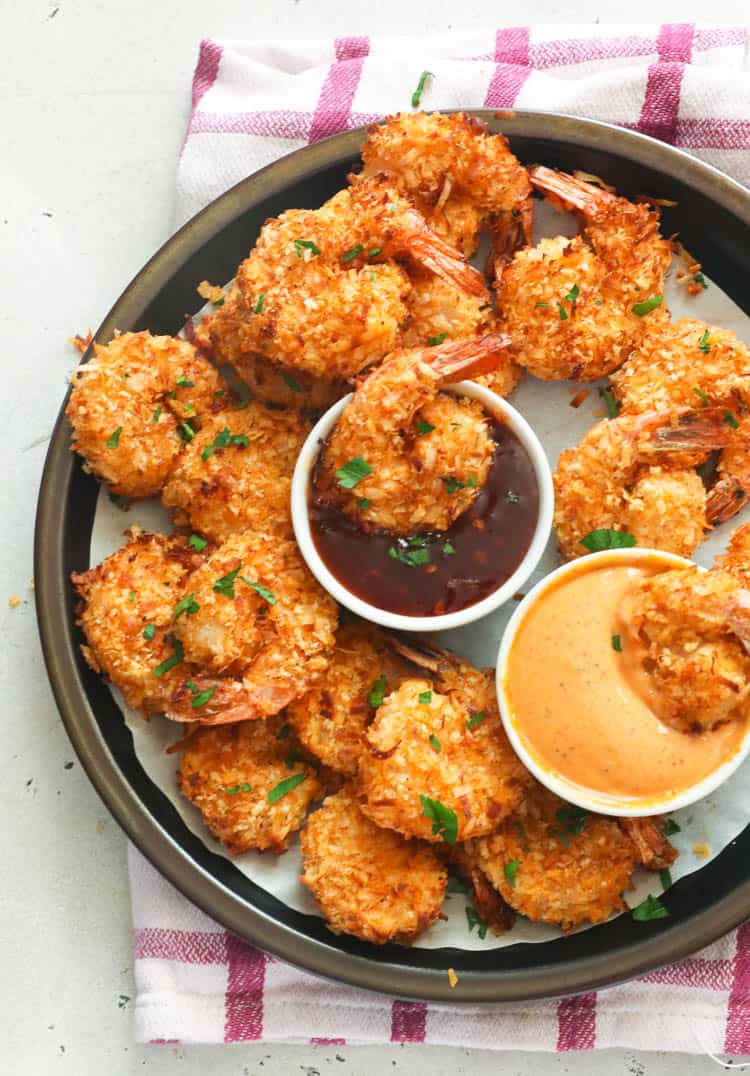 And, of course, these crave-worthy coconut shrimp complete the list of the easiest air fryer recipes. In fact, you can make this recipe in less than 30 minutes! Apart from that, the marmalade and sriracha sauce perfectly matched the shrimp's crispy and well-spiced breadcrumbs and coconut flakes coating. Yum!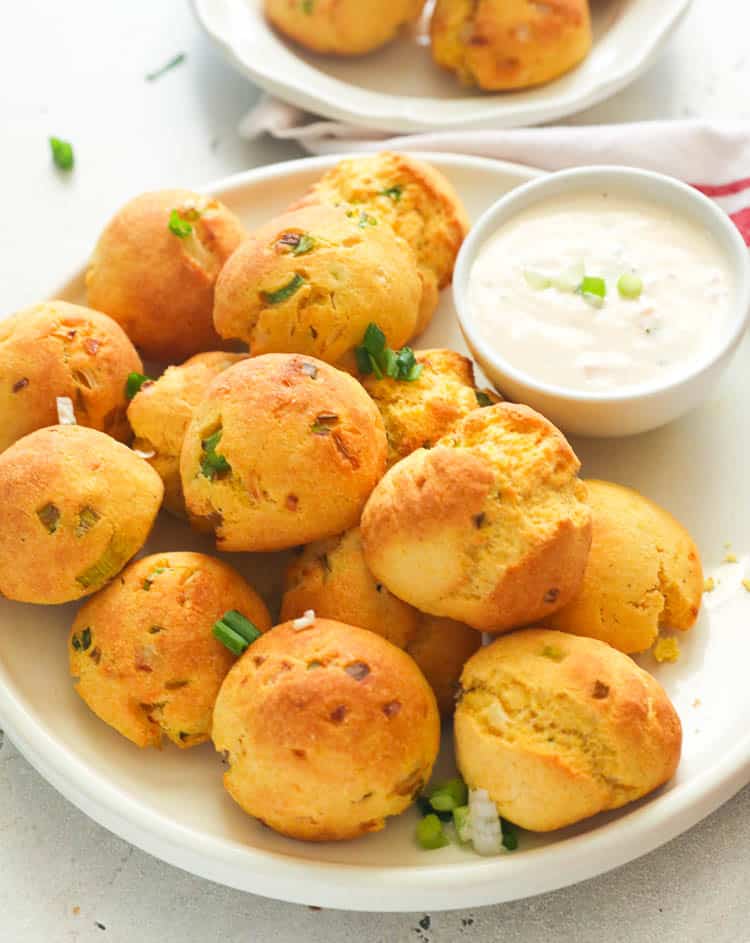 And if you're looking for air fryer recipes for snacks, these hush puppies definitely won't disappoint. Just like the regular hush puppies, this version uses the same ingredients, only healthier because it's air-fried. Also, they cook faster than deep-fried ones. All the more reason to love the air-fryer version! ❤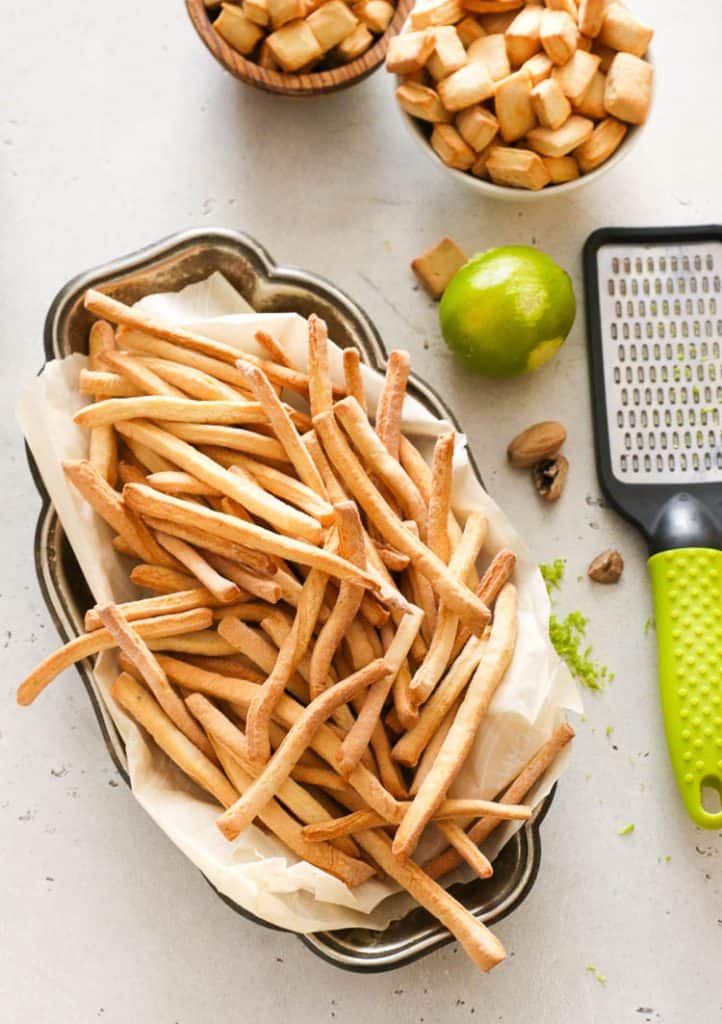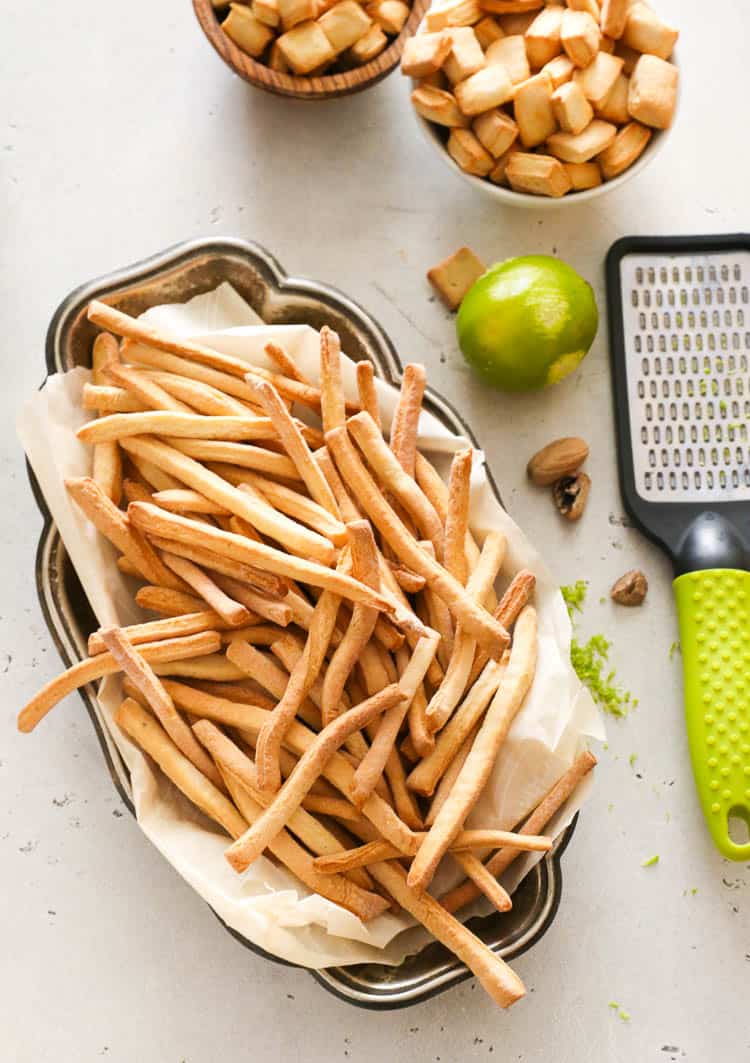 This version here is similarly prepared as the Ghana Chin Chin but without the savory flavors of pepper, onion, and garlic. Don't worry, though, because they are equally delicious. In fact, even better because they're healthier and with fewer calories. Woohoo!
Healthy air fry veggies are now a trend, too, such as air fryer potatoes and air fryer zucchini. And of course, you can try it with eggplants as well. Just load them up with parmesan cheese and Italian breadcrumbs for that perfect crisp. Veggie snacking has never been this tasty! A keeper, indeed!
8. Air Fried Mozzarella Sticks
Lastly, if you're looking for air fryer appetizers, then you're in for a delicious treat! Just add your favorite blend of spices such as Italian Seasoning or Creole Seasoning to your breadcrumb coating, and you're minutes away from enjoying these crispy and chewy cheesy sticks. Awesome!